Some more pics:
Scipio & PetraJ
Tshukudu & Bunnyhugger
The Prings
Son Godin & PRWINN
?, Bushmom, Wild Dreamer, Cheetah2111, Bushbaby30
Vlalvarksevrou, Bushbaby75, Michel367
Bush Brat & RobertT
Just Nature & Mads
"I think the environment should be put in the category of our national security. Defense of our resources is just as important as defense abroad. Otherwise what is there to defend?"

SAY NO TO HOTEL DEVELOPMENTS IN KRUGER
---
Senior Virtual Ranger

Posts: 1904
Joined: Fri Jan 02, 2009 9:14 am
Location: Pretoria, South Africa
Wow, this thread is moving along well!
Another photo: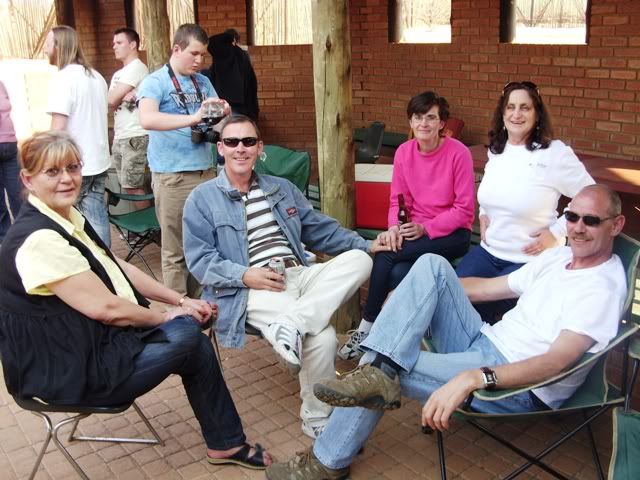 (Dikdikkie, Scipio, PetraJ, WildDreamer and Michel367. At the back...Cheetah2111, Lettuceleaf and Dewald, PJ's son.)
Last edited by
TheunsH
on Sun Jul 24, 2011 12:54 pm, edited 1 time in total.
---
Junior Virtual Ranger

Posts: 378
Joined: Fri Oct 16, 2009 10:56 am
Location: Pretoria
(FB,
I am Vlakvarkvrou and not Vlakvarksevrou
)
The morning after:

20-24 Feb 2018 - Croc Bridge
24-28 Feb 2018 - Tambotie
1-4 March 2018 - Skukuza (Cricket)

24 - 31 Aug 2018 - Ngwenya, enter every day - Croc Bridge
---
ELzet and Theunsh thanks for organising the meet. It was great to meet so many of the forumites for the first time.
Love to come again even if I am not a Gautenger. At least the N17 is there and no excuses not to join you again.
Mads thanks for organising the game drive and spotting that cheetah. I knew I had to come to this meet if I wanted to see any CATS in Pretoria.
It was cold but the sightings made up for all. Would have love to stay longer at the Lapa, but I had to attend to puppy duties.
Will post some pics later.
Jan 2018: Next trip to KNP - Tamboti, Talamati, Maroela and Satara
---
OK heres some pics taken on the game drive at Rietvlei.
Blesbokke in the light afternoon sun.
Red hartebeest taken before sunset.
Following a cheetah on the night drive - the other brother not spotted by Cheetah2111.
Last sighting: Otters at the dam wall
Jan 2018: Next trip to KNP - Tamboti, Talamati, Maroela and Satara
---
So disappointed to have missed this meet, had a great day at Walter Sisulu Gardens with the Junior Rangers and got back late but seems as though we could have come through after all. Spent today at Rietvlei for a social with our Honorary Ranger region and when I mentioned Chettah to some of the folk I could see the disbelief on their faces, last nights pics prove it
great sightings there guys sigh...........FB hope you are feeling better.
---
Posts: 6
Joined: Mon Mar 21, 2011 5:58 pm
Location: Somewhere in Ancient Egypt a long long time ago
Good evening everybody,
my mother (vlakvarkvrou) taught me to respect my elders.
Here is a photo of 3 of the Gauteng elders:
Uncles Dan, Tshukudu & Scipio
Last edited by
Sekhmet
on Sun Jul 24, 2011 9:08 pm, edited 1 time in total.
Next visit to KNP:
9-16 September 2011
---
Posts: 6
Joined: Mon Mar 21, 2011 5:58 pm
Location: Somewhere in Ancient Egypt a long long time ago
Another 2 photos of the Cheetah:
Next visit to KNP:
9-16 September 2011
---
Junior Virtual Ranger

Posts: 378
Joined: Fri Oct 16, 2009 10:56 am
Location: Pretoria
Dear David and Lorraine,
I am glad you are back home safely!

Thanks again for being the inspiration behind a wonderfull and enjoyable Gauteng Forum meet.

Untill next time.
Rina and Sumari (Sekhmet)

20-24 Feb 2018 - Croc Bridge
24-28 Feb 2018 - Tambotie
1-4 March 2018 - Skukuza (Cricket)

24 - 31 Aug 2018 - Ngwenya, enter every day - Croc Bridge
---
---
Who is online
Users browsing this forum: No registered users and 2 guests