We've caught several of these over the last few days in the house. They have all the characteristics of sac spiders, ie: the agressiveness, the very black mouth parts, the elongated 2 front legs etc. These ones are all tiny, no bigger than a 1 cent coin, and not the usual fawn/yellowish colour of normal sac spiders. However, I think these may be juveniles? It's missing 2 legs though.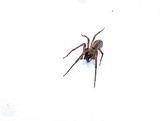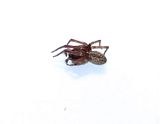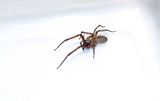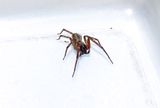 Any ideas?
---
Posts: 27
Joined: Tue Jun 24, 2008 7:33 pm
Location: Scratching around West Africa
Hi Folks

It's not a Sac Spider (most common species is Cheiracanthium furculatum). It's either a Wolf spider (Lycosidae sp.) or one of the Nursary Web spiders (Cispius sp). I'd go with the Wolf Spider.

I can see that it's not a Sac spider but the photos are not clear enough for a positive ID. Where are you in Southern Africa? Where do you find the spiders (In bathroom at night?) During what kind of weather do you find them in your house.

Kind regards
ScorpionKing

Conservation through education
---
Distinguished Virtual Ranger

Posts: 17062
Joined: Sun Oct 07, 2007 1:41 pm
Location: Johannesburg - where they cut down trees and name streets after them.
"Until one has loved an animal, a part of one's soul remains unawakened."
~ Anatole France
---
Senior Virtual Ranger

Posts: 3877
Joined: Sun Mar 20, 2005 5:53 pm
Location: Cambridge, MA (and home from home in Darling, WC)
WoW
What a fabulous photo and fascinating gogga!
RSA 2017
9-11 November Cape Town
11-29 November RMS St Helena: St Helena & Ascension
29-30 November Cape Town
1 December-21 January Darling
---
---
---
Return to "Insects and other invertebrates"
Who is online
Users browsing this forum: No registered users and 1 guest