Junior Virtual Ranger

Posts: 368
Joined: Fri Oct 16, 2009 10:56 am
Location: Erasmuskloof, Pretoria
Good evening,
Can anybody tell me what this spider is please. We saw it at Nkuhlu in the KNP. It is tiny (about the size of my pinkie nail). It was posted in our (me and Me Skarabee's) TR and Smitherson asked us to identify the spider. Could it be one of the jumping spiders?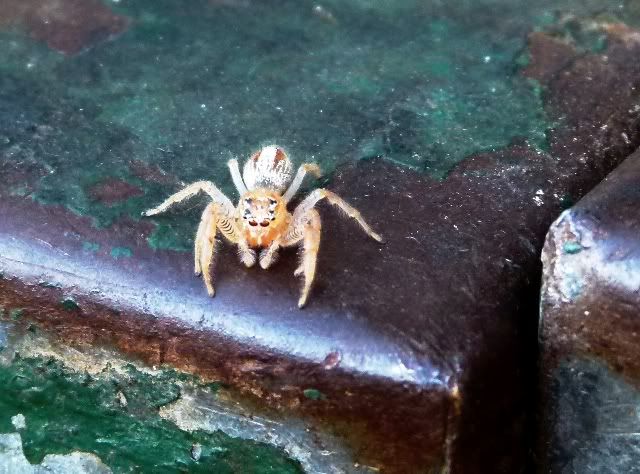 Regards
VVV
4-5 Feb 2017: P/kop
6-10 Feb 2017: Ngwenya Lodge
Orpen: 26 Feb - 1 Mrch 2017
Skukuza Camp: 1-5 Mrch 2017 (Cricket at Skukuza)
---
Forum Assistant

FAC Member (2015)
Posts: 7941
Joined: Tue Aug 03, 2010 8:49 am
Location: Brecon Beacons National Park
I notice no one replied to the previous ID request, so I am hoping that I have more luck!!!
This oke was seen near Kruger in 2013.
I had assumed it was a rain spider, but since there has been an ID request on Facebook, it seems there are various spiders who are similar.
Many thanks.
---
Moderator

Posts: 14260
Joined: Tue Mar 22, 2005 6:31 pm
Location: Sheffield Beach KZN North Coast, South Africa
From my book it looks like one of the Rain spiders, but then again I'm not a spider expert.
---
Forum Assistant

FAC Member (2015)
Posts: 7941
Joined: Tue Aug 03, 2010 8:49 am
Location: Brecon Beacons National Park
---
---
Return to "Insects and other invertebrates"
Who is online
Users browsing this forum: No registered users and 1 guest