Whilst in Letaba rest camp doing some work on bats at the beginning of the year I encountered this fella, Parabuthus transvaalicus, an awesome specimen and I was beyond privileged to have spent time admiring it!
For those of you who do not know, this species, and in fact all the other species in this family, are considered medically important and one should seek medical attention immediately if stung. One should also be careful of getting too close to some of the individuals in this family as they are said to be able to spray their venom a short distance however I have never personally had the privilege of seeing this.
Avid birder, wildlife enthusiast and photographer with a special interest in Bats and Birds
2014 Birding Big Year- A 365 Day quest for 800 Species of Southern African Birds
---
Senior Virtual Ranger

FAC Member (2015)
Posts: 1454
Joined: Sun Apr 19, 2009 4:09 pm
Location: In the heart of the Waterberg; Deep in Limpopo
Ah! yes! We found one of these in our chalet in Shingwedzi last November....... in the bedding
Fortunately neither of us were stung and, having reported it to the camp manager, it was removed and deposited back into the veldt. It had apparently made a nest(?) in the base of the bed underneath the mattress and could have been there for some time.
Would not recommend walking barefoot when these are around.........
"Democracy is two wolves and a lamb voting on what to have for lunch. Liberty is a well-armed lamb contesting the vote."
Benjamin Franklin
---
So I bought myself a UV torch.
Searched the ground and trees thoroughly in the camps we stayed in: Skukuza and Satara yielded nothing.
But there were loads of these in the trees at Lower Sabie.
Mostly in small holes or under bark, but this one came out and was walking along a branch.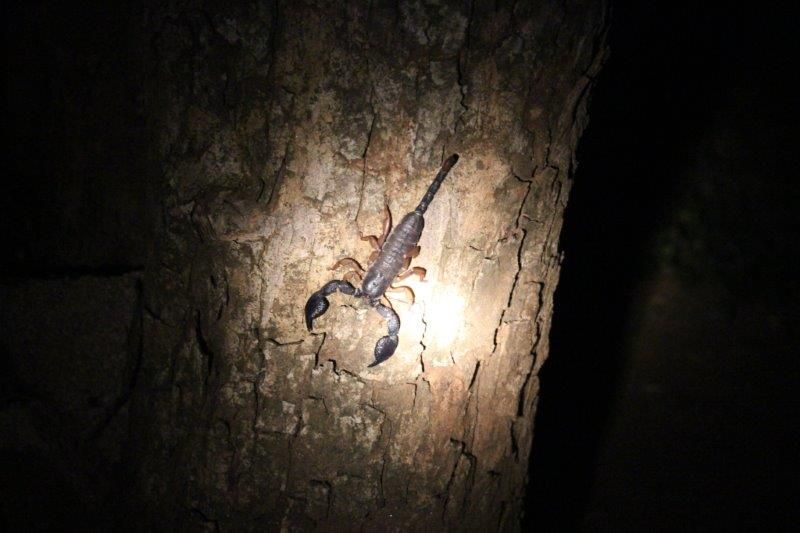 Using a normal torch.
Under the UV torch.
---
Trrp-trrrrrrrr wrote::big_eyes: That is one massive scorpion

...Yoda.

Thanks for sharing
Thanks.
Yup, it was about 10cm or so.
Does anyone know what species it is?
I have Jonathan Leeming's book, but can't quite seem to match it up.
---
Any takers on identifying this critter? Looks like it could be a juvenile parabuthus Transvaalicus? Saw two of them in Shingwezi around the braai last week - probably about 2 inches pincers to tail, so small in size. Had a confirmed sighting of a large parabuthus Transvaalicus last month, also in Shingwezi, but this one is much smaller and far lighter in colour.
"Take nothing but memories, leave nothing but footprints"
Photographs help to crystallize memories, but cannot be seen to be a replacement of them!
---
I am coming to Kruger for the first full week in August. Trying to see as much wildlife as possible, and this includes the little ones as well. Definitely would like to see a scorpion. However, I know it will be winter there. What are the chances that I would be able to see scorpion in August? 3 nights croc bridge, 3 nights Tamboti. Was going to purchase a UV flashlight, but may hold off if no chance in seeing one. Thanks in advance for any help.
---
Junior Virtual Ranger

Award: Newcomer of the Year (2015)
Posts: 601
Joined: Wed May 06, 2015 7:37 am
Location: Pretoria
Hi Kssager,
You get relatively cheap UV flash lights (priced around R100) if you want to go scorpion hunting, although they are less active in wintertime during the really cold nights.
Please just ensure that you don't lift rocks while you are scorpion hunting as you might discover something bigger than a scorpion and that will liven things up a bit
---
I bought a cheap UV light off the internet (Ebay).
Was about £5. (R95)
I saw Scorpions regularly at Lower Sabie.
But despite extensive searching, did not see them at Skukuza or Satara.
---
Junior Virtual Ranger

Award: Newcomer of the Year (2015)
Posts: 601
Joined: Wed May 06, 2015 7:37 am
Location: Pretoria
Snoobab wrote:Need some advice. I really enjoy scorpion searching at night with my UV lights but there has to be a trick. Last year the first week in October we were in Satara camp and almost every tree I shone my light there was a scorpion. In November I was in Punda and I looked everywhere and did not see one scorpion. This year first week October we were in Skukuza first and then Croc Bridge and once again no Scorpions at all. Is there a certain climate or temperate or what is the trick? I'm back in Punda on 19-22 Nov and would love to see some there.
Thanks
Hi Snoobab,
WHEN
1. The best times to "hunt" seem to be 1-2 hours after dark. Early morning before sunrise is good too.
2. Just after it rains (at night) is an ideal time to hunt. As the rain flushes out scorpions.
3. New moon or cloudy nights are better.
WHERE
1. Strangely enough, on sides of trees that does not face the setting sun, so, look on the east side
2. Between leaf litter
3. Cracks and rocks... but obviously there might be other types of slithering crawlies hidden.
I hope you come right as this usually works for me.
---
Junior Virtual Ranger

Award: Newcomer of the Year (2015)
Posts: 601
Joined: Wed May 06, 2015 7:37 am
Location: Pretoria
Snoobab wrote:Thanks George_Brits

I will certainly put it to practice in Nov.
You're most welcome! I hope you have a fantastic trip. As you are aware, there is about 20 different species of scorpion recorded in the Kruger National Park, and the rarest is the Uroplectes chubbi. Look for the dark hands on the pincers, and lots of little dimples on the ventral and lateral surfaces of its tail segments.
---
Forum Assistant

FAC Member (2015)
Posts: 5542
Joined: Tue Aug 03, 2010 8:49 am
Location: Travelling in South Africa.
In 40 years of visiting SA (much of it in KNP) I have never ever seen a scorpion(which suits me!!!)
Maybe I am just not very observant!!!
In my beloved South Africa!!!!.

Addo Feb 2-5 2016
Storms River Feb 5-8 2016
Kruger Feb 21-Mar 10th 2016
---
---
Return to "Insects and other invertebrates"
Who is online
Users browsing this forum: No registered users and 2 guests