A large heavy orb-web spider, 30-70 mm in size. The abdomen is lobed and yellow with black spots or stripes. It has thin black striped legs. The head is silvery grey. As is the case with many spiders, the female is much larger than male.
The female always hangs upside down
in the centre of the orb web. The front two pairs of legs are often held together and forwards, and the back two pairs together and backwards, forming a cross. Their webs are usually built within a metre of the ground.
A special characteristic of the garden orb-web spiders - although other diurnal orb-web spiders build them too - are the stabilimenta (sing. stabilimentum) in their webs. These are mostly zig-zagged (but other shapes as well) constructions woven of loose white silk. A stabilimentum's consistency is different from the silk in the rest of the web which is formed by the catching or structural threads. The shape and form not only differ from one species to the other, but also between different individuals of the same species. The stabilimentum breaks up the spider's outline, making the inhabitant of the web more difficult to detect, but also makes the web more visible, and thereby keeps larger animals from breaking it accidentally.

Other examples of theories regarding stabilimenta are: they adjust web tension, they lure pollinating insects by imitating the reflective patterns used by some flowers to attract insects, or that they simply strengthen the web. They might even fulfil all of these functions.
(Source: Leroy A., Leroy J., 2000)
---
Senior Virtual Ranger

Posts: 884
Joined: Sun Sep 04, 2005 7:10 pm
Location: Golden Mile,West Coast, CFG
These are beautiful spiders with truly awesome webs! Only problem I have with them is absent mindedly walking into a web while watering the garden
it takes a while to remove all the web from your face and hair
Ofcourse I never remove, kill or use poisons in my garden as spiders are really awfully good at combatting a lot of the so-called pests.
---
For the same reason: always be end of the line on morning bush walks!
If you see a web with a stabilimentum in your garden, would you mind taking a pic for us? I have images but they're all copyrighted.
---
Also dont use poisons , the predator insects and lizards keep it cleaner than poisons after a couple of months .
Try always being the tallest in a walk , all the nasty low branches hit you on the head as you go past also
Why I am posting though , What is a stabilimentum ?
---
What is a stabilimentum ?
Thicker (white sometimes) pieces of loosly woven silk across the orb web. (various patterns- cross shaped. dics, zig- zag lines etc. It differs from species to species)
Functions? Maybe to stabilise web, maybe to make it visible to large organisms like birds (which are not prey) so that they can avoid it. Spiders might use it to hide behind, It might reflect UV light to attrack pollinating insects, to tension/ strenghen the web....There is no hard evidence to what the pupose of stabillimenta really is.
---
(800x533 - 102 K)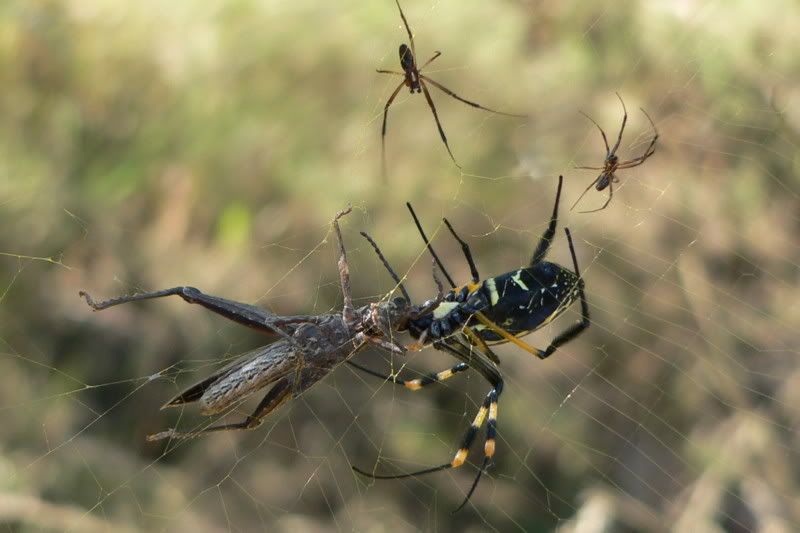 ---
---
Return to "Insects and other invertebrates"
Who is online
Users browsing this forum: No registered users and 1 guest