Virtual Ranger

Posts: 604
Joined: Fri Dec 30, 2005 10:33 am
On our last visit we had the privlidge to sit & have lunch at this dam it is well positioned on a hill & offers a great view of the dam & Vurhami River. The vegetation is a combination of riverine forest & grasslands.

Somehow I think its prime Leopard territory. We sat at the dam for 30 minutes & managed to spot a herd of Waterbuck swimming in the dam while a Crocodile just watched them swim! He was probably not hungry & decided to just laze around on the banks. Later large herds of Kudu, Wildebeest & Impala showed up for their drinks. There was also an aggressive fight between 2 Baboon large dominant males.

What have you guys seen here?
---
Junior Virtual Ranger

Posts: 695
Joined: Sat Jan 15, 2005 1:29 pm
Location: Durban, Kwa Zulu Natal, SA
I believe that there is a resident leopard who is frequently seen both on and under the road bridge. Billie has seen him often and when the sunset drive stops for drinks he warns folk to not go beyond the bridge when stretching their legs!
NO BAIL - JAIL AND NO TRADE IN RHINO HORN EVER!
[color=#FF0000]NO TO BUILDING OF HOTELS IN THE KRUGER NATIONAL PARK[/color
24 Sept 2015 Hlane, 25-2 Burchells, 2-4 Elephant Plains, 4-7 Satara, 7-9 Pretoriouskop, 9-15 Ngwenya, 16 Hluhluwe
The addiction is fed once again
---
Distinguished Virtual Ranger

Posts: 1507
Joined: Sun Dec 05, 2004 7:01 am
Location: Marloth Park, South Africa
Contact:
Mating lions having a well earned rest on the dam wall, July 2005
and a big male on a mission crossing the road up to the back of the dam July 2006: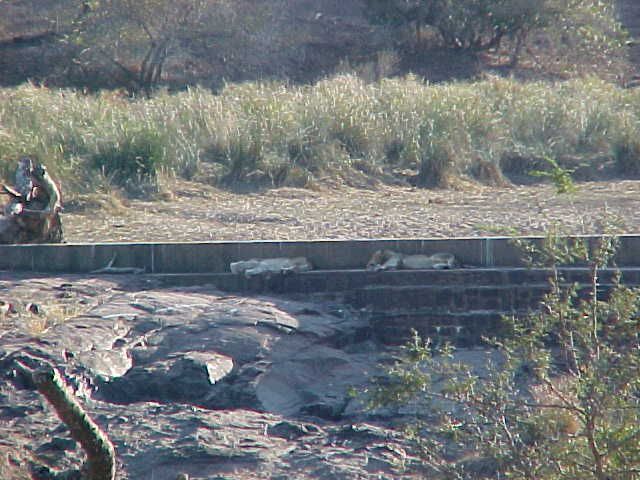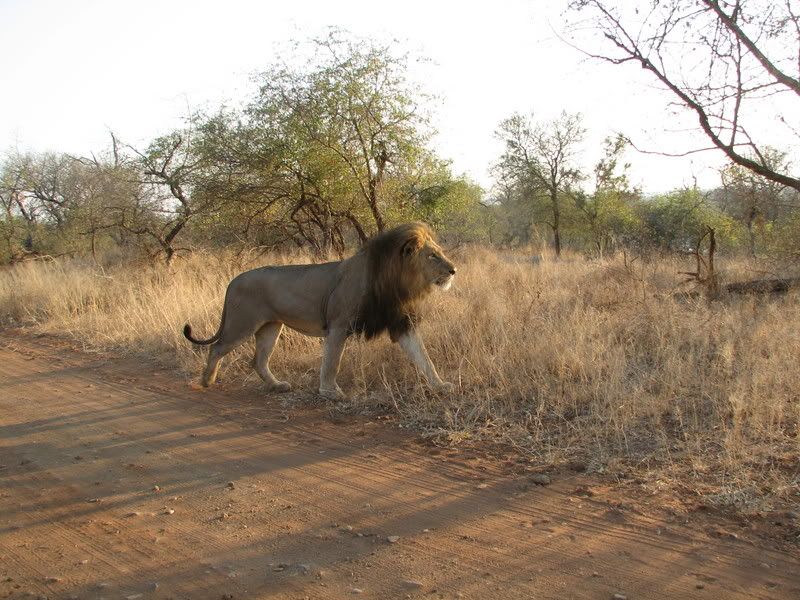 ---
---
---
Sub-adult Fish Eagle just off the bridge. October 2005
Look deep into nature, and then you will understand everything better.
Albert Einstein

Latest lifers from Kruger NP:
Thick-billed Cuckoo Pachycoccyx audeberti Dikbekkoekoek
Northern Wheatear Oenanthe oenanthe Europese skaapwagter
---
---
Senior Virtual Ranger

Posts: 2180
Joined: Sun Jan 20, 2008 2:52 pm
Location: Africa's Largest City
I see no one has commented on this dam for over a year now! In december 2006 we had one of the best sightings of lion here that we've ever had. The adults were lieing on the tar road causing a traffic jam and not just because it was a lion sighting, but because they had blocked the road and you couldn't get around them. All the "teenagers "and cubs mere lying on a sand bank in the ruiver bed just below the dam wall If memory serves correctly there were 12 lion in all. Also saw elephant , Kudu waterbuck etc there on that trip In June last year this dam was completly dry and just 3 weeks ago there was not a drop of water there. This is sad as we had always seen a lot of game at this site. I hope that at smoe stage water will return to this lovely viewing spot
"In the end we conserve only that which we love, we love only that which we understand, we understand only that which we are taught"
(Baba Dioum, Senegalese Ecologist)
---
Legendary Virtual Ranger

Posts: 6884
Joined: Wed Mar 16, 2005 12:38 pm
Location: In the shadow of Table Mountain
Never seen leopard here, must be all the lion sightings I have had here that keeps them away.
Whatever (according to BB): "You are correct but I don't want to admit it".
In a world of grey, be
RED
---
---
Legendary Virtual Ranger

Posts: 5002
Joined: Thu Dec 02, 2004 10:27 am
Location: Chasing down the rarities
I was amazed to see how dry this dam was. In all my years of being in that area I have never seen it bone dry like now.
---
Moderator

Posts: 16321
Joined: Tue Mar 22, 2005 6:31 pm
Location: Tinley Manor, KZN North Coast, South Africa
---
---
Who is online
Users browsing this forum: No registered users and 2 guests