Distinguished Virtual Ranger

Posts: 3958
Joined: Wed Nov 03, 2010 9:51 am
Location: Johannesburg SA
Today:
4 Cheetahs on the S90 by the Mavumbye waterhole at 10:00am
Kruger 2014!!!
16-23 August - Lower Sabi!!!!
---
Joao
That is great Cheetah. I don't wish that I was there. I wish you were there!!!
---
Distinguished Virtual Ranger

Posts: 3958
Joined: Wed Nov 03, 2010 9:51 am
Location: Johannesburg SA
This road appears quite dry even in December! So I would ignore it in dry months ... General sightings were not that frequent. But we had all the sightings to ourselves on the drive!
And the open plains animals are around in the grasslands around the s90 toward Balule
Secretary birds
Steenbokkies!
Jackal
And lions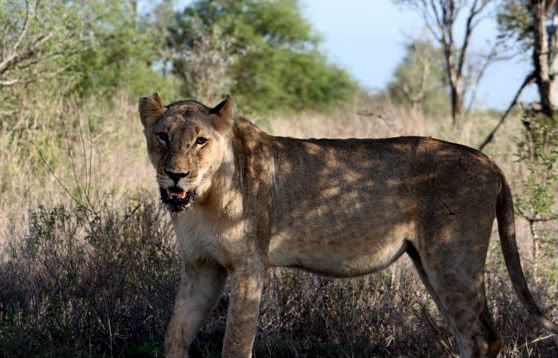 Kruger 2014!!!
16-23 August - Lower Sabi!!!!
---
Legendary Virtual Ranger

FAC Member (2015)
Posts: 5888
Joined: Mon Nov 30, 2009 9:21 am
Location: SA
We enjoy driving this road for the scenery although we have never seen Cheetahs or lions on this road – so far. We usually/always see Steenbokkies on this road – different sightings in one trip
.
"Whether it's the best of times or the worst of times, it's the only time we've got."
---
Has anybody driven this road recently?

I was thinking of taking the S90 via the S100 and S41 to Balule from Satara rather than the H1-4.
NJ Vermaak
___________________________________________________________________________________________

NO HOTELS IN KNP

Marakele - Tlopi Tented Camp 22-27 December 2014
KNP - Tamboti 7-9 January 2015
---
Distinguished Virtual Ranger

Posts: 11825
Joined: Tue Dec 23, 2008 5:22 am
Location: Midway between the infinite and the infinitesimal!
Although I've yet to see a gobsmacking sighting on this road, I always love the scenery, the quiet, and indeed the expectation that, just like Lotto, we'll hit the big one some day soon.
---
We saw our only Sable in 6 visits along this road about 10 years ago. An underrated favorite of ours.
---
Is this a good road to drive in the winter or should one rather take the main tar road?
---
Junior Virtual Ranger

Posts: 543
Joined: Sat Oct 07, 2006 8:24 pm
Location: Somerset West
Hi Div,

It depends on what you are looking for. I did it twice in July, against the advice of people. Sure, Bangu waterhole is dry, and I only saw a huge herd of buffalo plus the usual kudu, waterbuck, wildbeest, zebra and impala. Grass was pristine, unburnt, and I saw NO vehicles on the whole trip!
The tar road had more animals, many more cars, and sections were burnt...
Enjoy and God bless,

Friedrich von Horsten
``God, I can push the grass apart and lay my finger on your heart'' -- E. St V Millay
---
---
Being back at work pretending to busy
(reading the forum's trip reports and "road advice"
) I find this road now so teasing I intend on giving it a go on our next trip for the first time. We only drove the S90 between S41, S100 and S1-4, but it was raining and all we saw was elephants, ostriches and the general game…my biggest worry was keeping the car from getting stuck
…so maybe the S90 towards Balule would deliver……….
Anyone else drove the road recently?
Heck, I'm considering changing our booking to include a few nights in Balule (But don't tell SO that)
GLORY be to God for dappled things—Gerard Manley Hopkins (1844–89).
Next KNP Visit: 28 February 2016 - 10 March 2016
28,29,01 Crocodile Bridge 02,03,04 Letaba 05,06 Balule 07,08,09,10 Phabeni Gate
TR: KNP Dawn to Dusk Jan/Feb 2015
---
Junior Virtual Ranger

Posts: 447
Joined: Tue Apr 19, 2005 4:51 pm
Location: Kleinmond, Western Cape
The part of the S90 between the H1-4 and S41 junctions, can be very rewarding. We have seen one of the biggest buffalo herds (a rough guess of ± 800) on 26 July 2015. I also saw the largest herds of Sable (13 together) on this piece of road. Wildebeest and zebra are all over. Also saw one (of only two seen in the park - over many years) African Wild Cat on this stretch of road. And lions mating. I reckon it to be a very good road for great sightings.

Further north (of the S41 junction), luck has not been particularly good on our side.
Chris Boucher
26 Apr - 1 May Karoo
5 - 11 May - Punda Maria
12 - 18 May - Shingwedzi
19 - 25 May - Tsendze
26 - 28 May - Letaba
29 May - 5 June - Satara
6 - 12 June - Lower Sabie
16 - 19 June - Addo
---
---
Who is online
Users browsing this forum: No registered users and 1 guest