Me again!!
Well these are general as opposed to raptors or LBjs, but I still need confirmations please!
Possibly a female collared sunbird?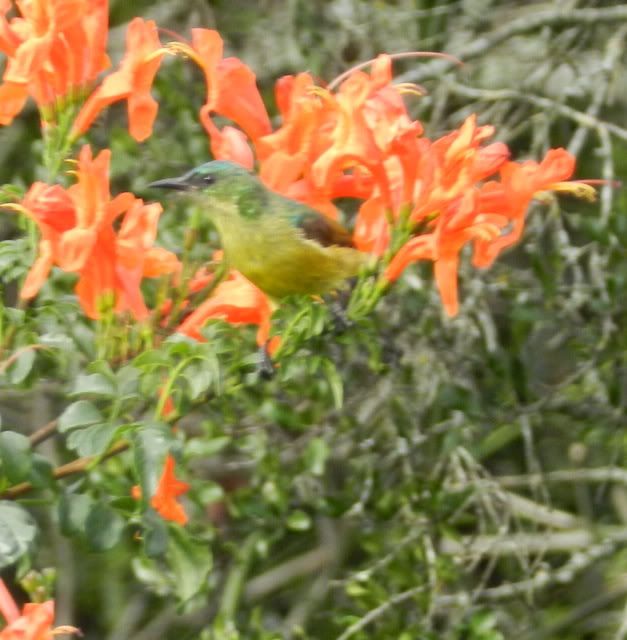 Thanks again.
---
I agree with your ID Rookie!
---
Agree with your ID
---
adrianp wrote:Agree with your ID
Thanks for the confirmation, couple of ticks on the list for me!
---
Distinguished Virtual Ranger

Posts: 1697
Joined: Sat Jan 29, 2005 12:52 pm
Location: My business...
The Collared Sunbird, (Hedydipna collaris)
Current IUCN Red List category - Least Concern
Mainly insectivorous
Oribi Gorge, KZN
Satara and Biyamiti booked for May 2018.
---
Junior Virtual Ranger

Posts: 257
Joined: Tue Aug 06, 2013 6:29 am
Location: Benoni, East Rand
Hello all
So I thought this is a white-bellied sunbird. But maybe I'm wrong because the beak looks like it isnt long enough and the colours dont look right according to my Sasol bird app. I took the photographs while waiting for 14h00 at Skukuza, just in front of the offices where it was sucking stuff out of the flowers.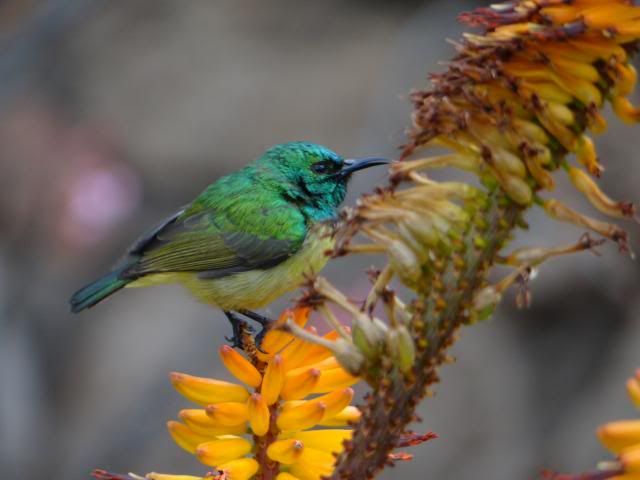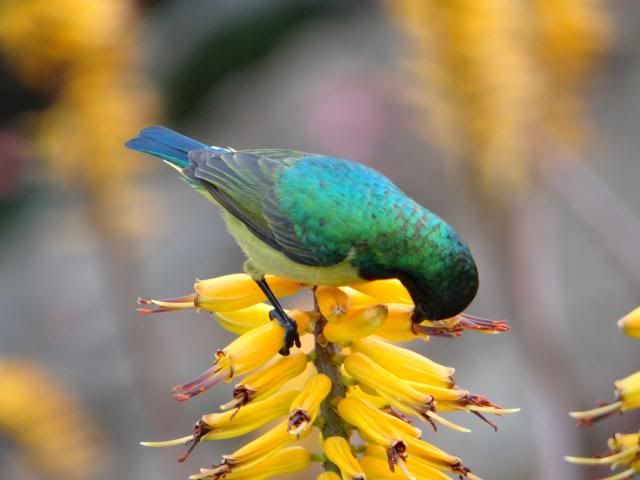 Cjeers - Ed
---
Looks like a female collared sunbird to me. Know they hang about at the aloes near the offices.

John
Moments by Mullineux Photography
Photographer, nature lover, birder
Follow my solo KTP photographic and birding
TRAVEL TALE
Photograph all moments of beauty not to forget, but treasure them in your heart to remember
---
Virtual Ranger

Posts: 667
Joined: Fri Oct 08, 2010 12:09 pm
For Collared Sunbird but its a male the female doesn't have green on the throat and upper chest and the Blueish purple breast bandband is also just for the male.
---
Mapungubwe
"Take nothing but memories, leave nothing but footprints"
Photographs help to crystallize memories, but cannot be seen to be a replacement of them!
---
Legendary Virtual Ranger

Award: Travel Tale of the Year - KNP Kruger Campfire Award (2016)
Award: Sighting of the Year - Birds (2015)
Posts: 7655
Joined: Sun Dec 25, 2011 8:37 pm
---
---
Return to "Birding in Southern Africa"
Who is online
Users browsing this forum: No registered users and 2 guests