Hi folks,
Our single (and not very good) picture of what I suppose to be a Brimstone Canary (Serinus sulphuratus). What do you think? Do you agree?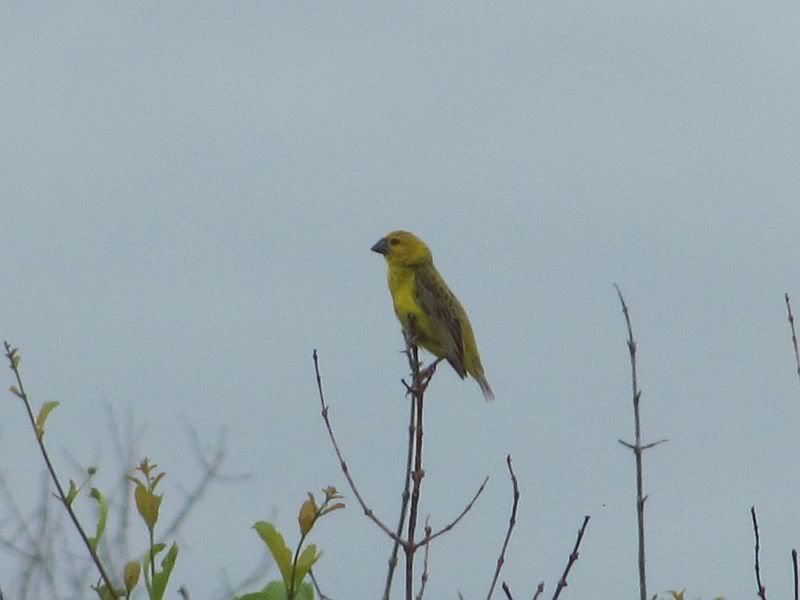 Cheers
Charbel
---
Charbel that big black bill tends me to say Cuckoo Finch.. where did you see it?
---
charbel wrote:Do you agree?
Nope, DotDan is right. That's a male Cuckoo Finch! Very nice sighting. Note the short, stubby, black bill and the small dark eye. The general shape - 'giss' - is also different from the chunky Brimstone Canary.
---
Thanks, you're right, Cuckoo Finch... I thought of it, but then decided to the canary... The lacking information: we saw it at Napi Road.

Cheers
Charbel
---
Legendary Virtual Ranger

Posts: 2545
Joined: Wed Sep 06, 2006 3:33 pm
Location: Jam Street
Cuckoo finches
(Anomalospiza imberbis)
reproduce by stealing something very unusual from other birds: parenting skills. The cuckoos lay their eggs in the nests of prinias and cisticolas, hoping their eggs will pass scrutiny and be incubated. Even though the host birds are able to detect minute differences between eggs and will eject foreign eggs from their nests, cuckoo finches get by following the same brood route as around 100 species of birds worldwide that have the same reproduction strategy.
The host birds have striking variations in the patterns and colours of their eggs from one individual bird to another as a defence mechanism against brood parasites. The base colour ranges from white and cream to brown through pink to olive and even green and blue-green while the eggs are further adorned with reddish-brown squiggles, blotches and spots.
Cuckoo finches have developed a strategy that confuses the host bird. In addition to specialising in mimicking the egg patterns of just one kind of host bird, by placing multiple eggs in the host nest the selected foster parent is confounded and forced to accept the con rather than reject its own eggs by mistake. This is a fatal blunder as the brood parasite's offspring will dominate in the nest, causing the host's brood to starve to death.
To mimic the egg patterns of a single host bird is an unbelievable achievement in its own right, as it's not quite clear how a female cuckoo finch manages to keep laying one egg design, even after breeding with different males.
The Cuckoo finch is a member of the same family (Viduidae) as another group of African brood parasites, the indigobirds and whydahs, but it is the only species in its genus which split off from the indigobirds and whydahs about 20 million years ago.
Unlike the indigobirds and whydahs, which have since split up into numerous species each specialising on a single host species, the Cuckoo Finch has remained one species comprising several host-specific races.
728 Latest lifers: Hartlaub's babbler, Coppery-tailed coucal, Red-billed spurfowl, White-browed coucal, Scharlow's turaco, Copper sunbird, Long-toed lapwing, Eastern bronze-naped pigeon, Malagasy pond heron, Soft-plumaged petrel, Orange-winged pytilia.
---
Lifer 502
Latest lifer
Wandering Albatross, Sooty Albatross, Atlantic Yellow-nosed Albatross, plus other pelagic birds. Land birds - Cinnamon-breasted Warbler, Yellow-throated Woodland Warbler, Agulhas Long-billed Lark, etc
---
Devon - Mpumalanga
---
Senior Virtual Ranger

Award: Forumite of the Year (2017)
Posts: 10472
Joined: Fri Jul 25, 2014 10:56 am
Location: Jhb
Injust need to confirm the following IDs -
(Pilansberg)

Cuckoo finch




---
Legendary Virtual Ranger

Posts: 6884
Joined: Wed Mar 16, 2005 12:38 pm
Location: In the shadow of Table Mountain
Never seen a cuckoo finch Karin, but both look good to me.
Whatever (according to BB): "You are correct but I don't want to admit it".
In a world of grey, be
RED
---
Forum Assistant

FAC Member (2017)
FAC Member (2016)
Posts: 19831
Joined: Fri Apr 06, 2007 6:39 am
Location: Pretoria SA
I agree with BB Karin.
"Like a sunflower, always turn toward the light." Eleanor Brown.
---
---
Return to "Birding in Southern Africa"
Who is online
Users browsing this forum: No registered users and 5 guests