Calling pair of Blue Crane.
Barcud
---
Junior Virtual Ranger

Posts: 2357
Joined: Tue Sep 16, 2008 11:11 pm
Location: Sunninghill(JHB), Vaalwater & Beauty(Waterberg), Grahamstown(E.C)
Heard these guys just outside Grahamstown yesterday!
STIFFNECKS MEMBER
FGASA LEVEL 1
---
Junior Virtual Ranger

Posts: 1396
Joined: Thu May 13, 2010 9:51 pm
Location: Grahamstown, Eastern Cape
These were taken at AENP this weekend
Study nature, Love nature, Stay close to nature. It will never fail you!
---
Our National bird . So beautiful and graceful , but surprisingly and sadly
not very many posts/pics of them .
For those of you who wonder where they can be seen , well , this time of year they are often to be seen in open fields around Worcester area .
and another one
Tread softly , and let your departure not be spoiled by the damage of your arrival
Next :
3 - 6 Sept 2013 - Punda.
7 - 10 Sept 2013 -Shingwedzi .
11 - 13 Sept 2013 - Balule .
14 - 17 Sept 2013 - Satara .
---
Legendary Virtual Ranger

Award: Birder of the Year (2015)
Posts: 2544
Joined: Wed Sep 06, 2006 3:33 pm
Location: Jam Street
During last weekend's
CAR count
we counted 305 blue cranes on route MT05 (Platrand near Standerton) on a recently harvested corn field, the largest flock of blue cranes I have ever seen.
In winter the cranes "migrate" from the Western Cape to the Mpumalanga highveld and gather together in large numbers in relatively small areas. When you are lucky enough to encounter such a congregation, it is a sight to cherish!
This winter gathering starts to dissipate towards the end of August and in the summer months sightings of blue cranes on the highveld are rare.
728 Latest lifers: Hartlaub's babbler, Coppery-tailed coucal, Red-billed spurfowl, White-browed coucal, Scharlow's turaco, Copper sunbird, Long-toed lapwing, Eastern bronze-naped pigeon, Malagasy pond heron, Soft-plumaged petrel, Orange-winged pytilia.
---
Saw these in Mountain Zebra National Park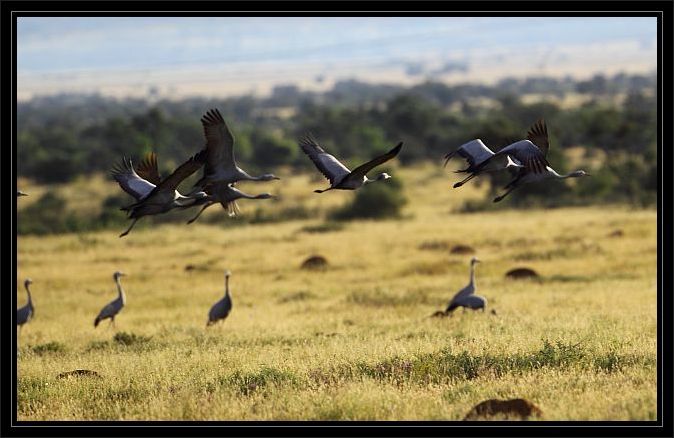 ---
Wow
- would give my front teeth to see 305 Blue Cranes together - what a wonderful privilege!
Stunning pics Sharifa!
---
Senior Virtual Ranger

Posts: 9376
Joined: Fri Jul 25, 2014 10:56 am
Location: Jhb
We saw 53 of these magnificent birds between Colesberg and Willowmore this December, and just more than 30 coming back.


---
---
Return to "Birding in Southern Africa"
Who is online
Users browsing this forum: No registered users and 4 guests