Honorary Virtual Ranger

Posts: 14519
Joined: Fri Jan 14, 2005 5:42 pm
Location: Red sand, why do I keep thinking of red sand?
Black Heron Egretta ardesiaca (Wagler, 1827)
French: Aigrette ardoisée;
German: Glockenreiher;
Spanish: Garceta Azabache, Garceta Gorgirroja.
Kingdom : Animalia
Phylum : Chordata
Class : Aves
Order : Ciconiiformes
Family : Ardeidae
Genus : Egretta
Status: Not globally threatened.

Location:
South of the Sahara Desert, including Madagascar. Its breeding range is between Senegal and Sudan and to the south. It is found mainly on the eastern half of the continent.

Fysics:
Medium-sized 42.5–66 cm, all-black plumaged African heron with yellow feet, usually seen feeding in open shallow water.

Habitat:
Prefers shallow open waters, especially margins of fresh water lakes and ponds. Also uses marshes, river edges, rice fields, and seasonally flooded grasslands. Along the coast it feeds along tidal rivers and creeks, mangroves, alkaline lakes, and tidal flats.

Behaviour:
The black heron has an interesting hunting method - it uses its wings like an umbrella, and uses the shade it creates to attract fish. It peers under the canopy for a few seconds, perhaps also stirring with its feet. The heron then moves on a few steps to form another canopy, usually within a few more seconds. It frequently pauses to shake itself. This type of hunting is called canopy feeding.

Diet:
Small fish, aquatic insects and crustaceans. Some resident black herons feed solitarily in well-defended feeding territories. They also feed in groups of up to 50 individuals, with over 200 being reported.

Reproduction:
The nest is a solid structure of twigs placed over water in trees, bushes, and reed beds. Nests at the start of the rainy season, in single or mixed-species colonies that may number in the hundreds. Eggs are dark blue and the clutch is two to four eggs.
Not posting much here anymore, but the photo's you can follow
here
There is plenty there.
Feel free to use any of these additional letters to correct the spelling of words found in the above post: a-e-t-n-d-i-o-s-m-l-u-y-h-c
---
Legendary Virtual Ranger

Posts: 2545
Joined: Wed Sep 06, 2006 3:33 pm
Location: Jam Street
As fate would have it I found three Black Heron at one of my favorite birding spots in the North West Province over the past weekend. Before the weekend I had never laid eyes one a single one! The series of pix showing the heron practicing its fishing craft is not of the best quality as the heron obliged at dawn only – light was at a premium and I had to use a very high ISO setting (1600) with resultant noise. The series does illustrate the bird's fishing technique, though.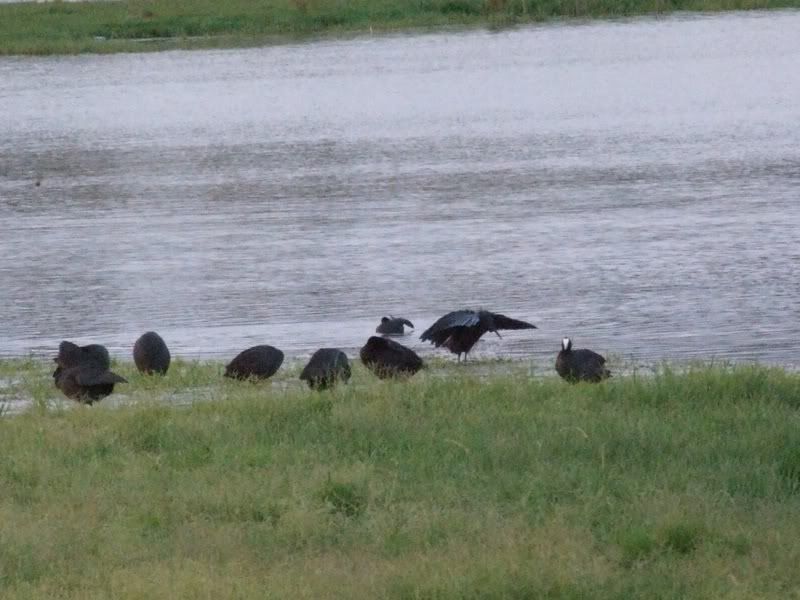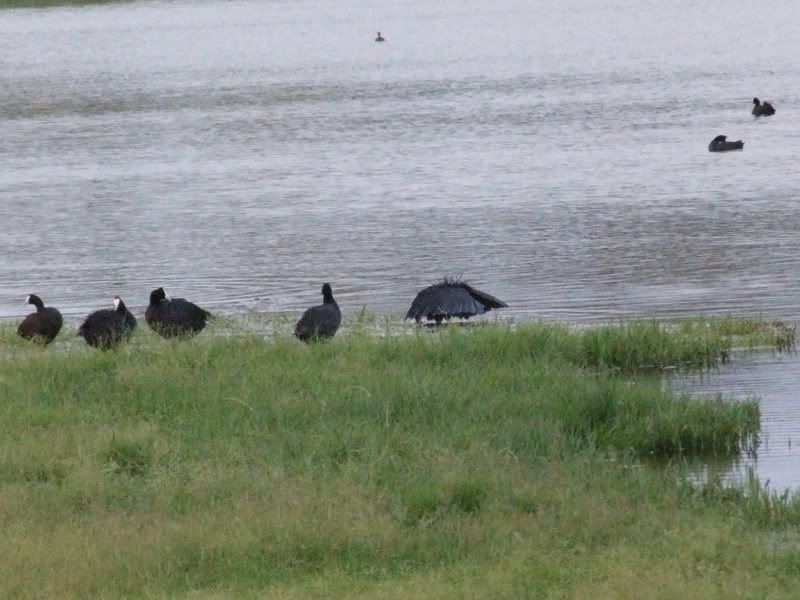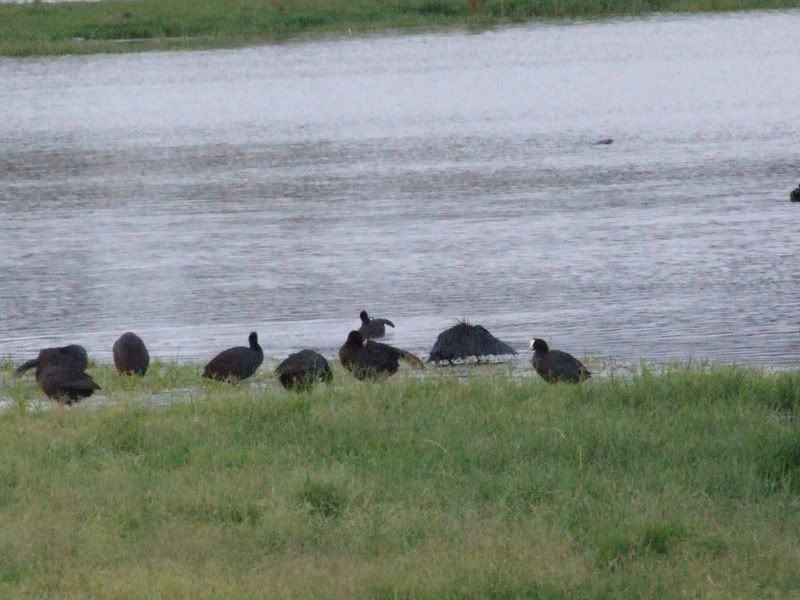 The bird's actions reminded me of karateka performing a kata!
The final pix shows the bright yellow feet that the bird uses as a lure to attract prey into his shaded trap.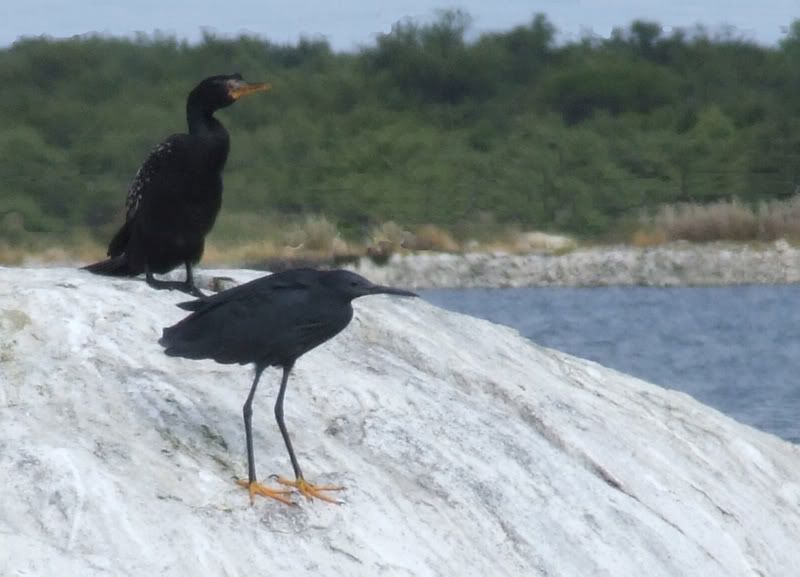 728 Latest lifers: Hartlaub's babbler, Coppery-tailed coucal, Red-billed spurfowl, White-browed coucal, Scharlow's turaco, Copper sunbird, Long-toed lapwing, Eastern bronze-naped pigeon, Malagasy pond heron, Soft-plumaged petrel, Orange-winged pytilia.
---
Johan,

I think you did very well to get these photos.

I saw a Black Heron for the first time from the Matambeni bird hire (Engelhardt Dam) in Kruger in December. It was there on two days, and the second time it was fishing with this umbrella technique. Impressive, but sadly a bit too far off for me to photograph.
---
---
Legendary Virtual Ranger

Posts: 6883
Joined: Wed Mar 16, 2005 12:38 pm
Location: In the shadow of Table Mountain
Seen them from the Nwanetsi lookout
Whatever (according to BB): "You are correct but I don't want to admit it".
In a world of grey, be
RED
---
Virtual Ranger

Posts: 1848
Joined: Fri May 12, 2006 4:10 pm
Location: SA
Contact:
Just like Johan, I had never seen them before, but yesterday found 3 separate individuals!
One was within 3 meters of me, hunting with it's unusual umbrella method.
Back to Letaba in April, July and September
Birding Weekend 2014 - Satara 3
Exploring Letaba - '13-'14
Letaba Ladies, 3rd Edition
- '14 - '15
---
Senior Virtual Ranger

Award: Forumite of the Year (2017)
Posts: 10343
Joined: Fri Jul 25, 2014 10:56 am
Location: Jhb
Scrolling through some photos yesterday, I came across this one from last year - I had to wait 2 hours for this guy to start hunting near me for some decent pics, and the patience paid off - I got a bundle of wonderful photos. This one was my favourite.
_MG_7340_Voels_2017_
by
Karin Mitton
, on Flickr
---
---
Return to "Birding in Southern Africa"
Who is online
Users browsing this forum: No registered users and 3 guests