This one was photgraphed in West Coast NP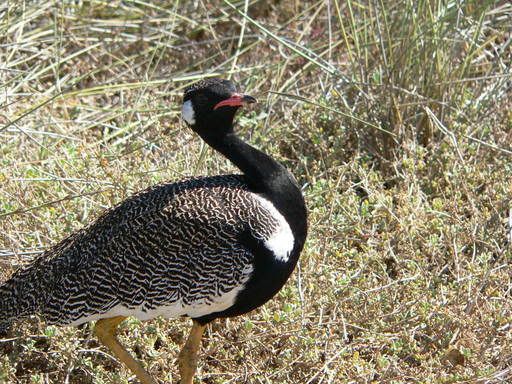 Wildtuinman posted a photo of the Northern Black Korhaan
here
and as you can see they look very similar. You should however not easily confuse them as their ranges does not overlap.
In flight the Northern BK shows extensive white in the primaries (the feathers near the wing tip)
---
Legendary Virtual Ranger

Posts: 2545
Joined: Wed Sep 06, 2006 3:33 pm
Location: Jam Street
In my experience you'll NEVER get this close to a Northern BK!
Another WCNP SBK.
728 Latest lifers: Hartlaub's babbler, Coppery-tailed coucal, Red-billed spurfowl, White-browed coucal, Scharlow's turaco, Copper sunbird, Long-toed lapwing, Eastern bronze-naped pigeon, Malagasy pond heron, Soft-plumaged petrel, Orange-winged pytilia.
---
Legendary Virtual Ranger

Posts: 5000
Joined: Thu Dec 02, 2004 10:27 am
Location: Chasing down the rarities
675
Latest Lifer(s): Burchell's Courser, Cory's Shearwater, Wilson's Storm-Petrel, European Storm-Petrel, Great Winged Petrel, Grey Waxbill, Cape Rock-jumper
Follow me as I bird on Twitter
@wildtuinman
---
---
Return to "Birding in Southern Africa"
Who is online
Users browsing this forum: No registered users and 3 guests