Posts: 6
Joined: Fri Jul 12, 2013 10:35 am
Location: Pamplona - Spain
Hi All
I will travel to Sufafrica in early December and would like to know if I can watch whales in those days. I'll be in the area the first week of December.Please Let me know the best places for sightings.
Thank you.
---
Hi
The Whales start their journey back to the Antarctic in October.
I don't think you will see them in December.
Regards
JDW
2015 - Jun/Jul - Scotland
2015 - Sep - North Wales
2016 - South Africa/USA/Canada?
---
Legendary Virtual Ranger

Posts: 6526
Joined: Sat Feb 18, 2006 10:36 pm
Location: Lausanne (Switzerland)
welcome to the forum zuckermman
I saw some Whales in October at Hermanus, Western Cape
and it was fabulous... for an Europeen who doesn't have... sea
It is only with the heart that one can see rightly, what is essential is invisible to the eye
Le Petit Prince
back home...
---
Posts: 6
Joined: Fri Jul 12, 2013 10:35 am
Location: Pamplona - Spain
It would be Great for me too. in Spain is not usually see Whales.
---
Distinguished Virtual Ranger

Posts: 17062
Joined: Sun Oct 07, 2007 1:41 pm
Location: Johannesburg - where they cut down trees and name streets after them.
Hi zuckermman,
I think it depends on where you will be visiting but I can tell you that you have a jolly good chance down South.
Our family home is in De Kelders just across the bay from Hermanus and we often see whales in December. I think you'd probably have a good chance in False Bay too. Cape point should be a good place to visit!
JDW is correct, they start their journey back in October but every year a few females with small calves stay until later when the calves are strong enough to make their way back to the Arctic.
These pics were taken on the 24th of December. In the first pic, 5 of them, in the 2nd, mom and baby.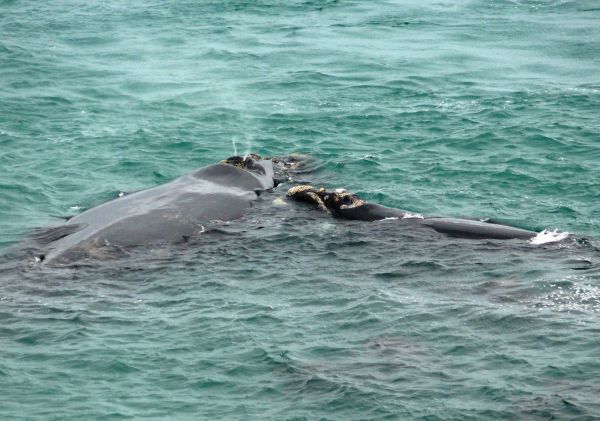 Good luck!
"Until one has loved an animal, a part of one's soul remains unawakened."
~ Anatole France
---
---
Return to "Garden Route Parks"
Who is online
Users browsing this forum: No registered users and 1 guest