We are planning to visit Karoo N.P. coming Sunday. This will be our first visit.

Are there any picnic or braai facilities in the park for day visitors? Are the roads long enough to keep one busy for a whole day?
PHOTOGRAPHY HELPS PEOPLE TO SEE
.
Berenice Abbott.
---
Please find more info
here,
J.J. .
Bulkraal picnic spot with a swimming pool, ablution facilities, and braai facilities.
Picnic, braai and ablution facilities for day visitors at Bulkraal picnic site.
aquila non capit muscas
---
Legendary Virtual Ranger

Posts: 6883
Joined: Wed Mar 16, 2005 12:38 pm
Location: In the shadow of Table Mountain
There is a lovely quiet day visitors area with braai facilities & a pool. The ideal midday stop for an hour or so in the heat of driving.

Yes, about the roads.

It is an undiscovered gem of a park.
Whatever (according to BB): "You are correct but I don't want to admit it".
In a world of grey, be
RED
---
Thanks, Bush Baptist.
PHOTOGRAPHY HELPS PEOPLE TO SEE
.
Berenice Abbott.
---
Junior Virtual Ranger

Posts: 459
Joined: Tue Apr 19, 2005 4:51 pm
Location: Kleinmond, Western Cape
JJ

Bulkraal is a very nice day visitors area with lots of trees attracting many birds. It also has a swimming pool. But it can be very crowded (and noisy) over weekends with local day visitors making use of the facilities.

A new picnic site (Doornhoek) situated about halfway on the ± 50 km Potlekkertjie Loop was recently opened. You may rather consider using this facility and be assured of a much more quiet and peaceful experience. It is a nice shady area (which can be welcome in the Karoo) under big Acacia Karoo trees.

The Potlekkertjie Loop is a very scenic drive. If you do it clockwise you first pass through typical Karoo topography and vegetation - low shrubby area. The route then enters the Doornhoek valley through a narrow gorge. Suddenly you are finding yourself in totally different vegetation with lots of Acacia Karoo. This is one of the favourite areas for the black rhinos and the only place where I have seen them. About 10 km after entering the valley through the gorge you start climbing onto the middle plateau where the vegetation once again changes completely.

Carrying on you later start lowering onto the lower plateau where you will find Rooivalle. With some luck you'll find the black eagles in their nest at Rooivalle. Just before you start decending with the beautiful Klipspringer Pass you'll find a path with some nice views down the kloof you'll be lowering with Klipspringer Pass.

Knowing your photography capabilities I am looking forward to see some nice pics of some Karoo birds. A nice birding spot is in the camping area itself.

If you'e visiting with your 4x4 you can also include the new Nuweveld and/or Afsaal 4x4 Loops. Knowing your love for Addo, I'm sure you will enjoy Karoo too.
---
Thanx Stoffel...I'll follow your recommendations. The long lens will be mounted on the door.
PHOTOGRAPHY HELPS PEOPLE TO SEE
.
Berenice Abbott.
---
Junior Virtual Ranger

Posts: 508
Joined: Wed Feb 25, 2009 5:23 pm
Location: All over the place!!
J.J - Have a great day visit to the Karoo National Park and we are looking forward to your photo's.

I have passed by the Park on a few occasions but have never had the opportunity to visit, so waiting patiently for your report.
If you want something you never had, do something you have never done.

No to Hotels in Kruger

Every time I get the news that another Rhino has died, a piece of me dies too - Edna the Brave
---
So, we did it. My wife and me drove from Port Elizabeth through the beautiful Karoo to Beaufort West. We took the gravel road from Baroe to Aberdeen and we passed the little towns, Klipplaat and Mount Steward railway station.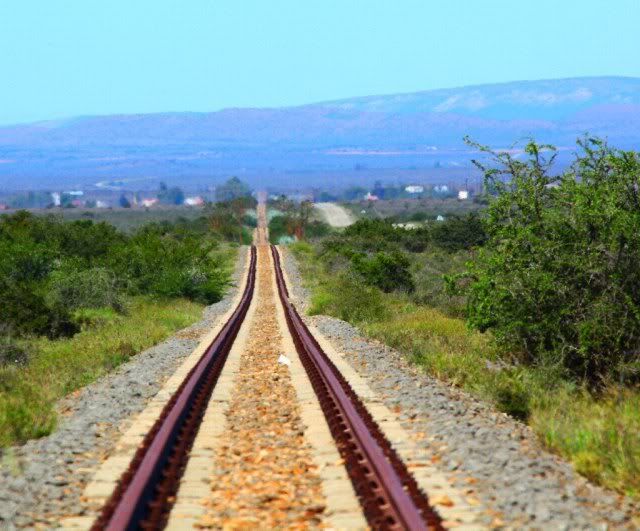 From Aberdeen we took the tarred road to Beaufort West and passed the Camdeboo mountains.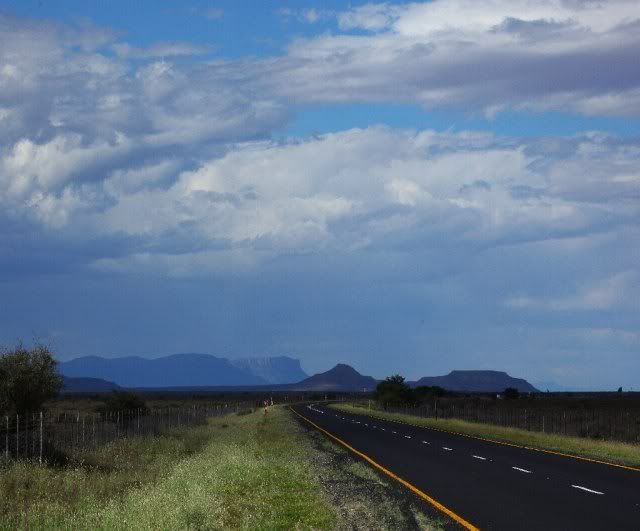 The Karoo veld is really green after good rain in the summer and rainy season.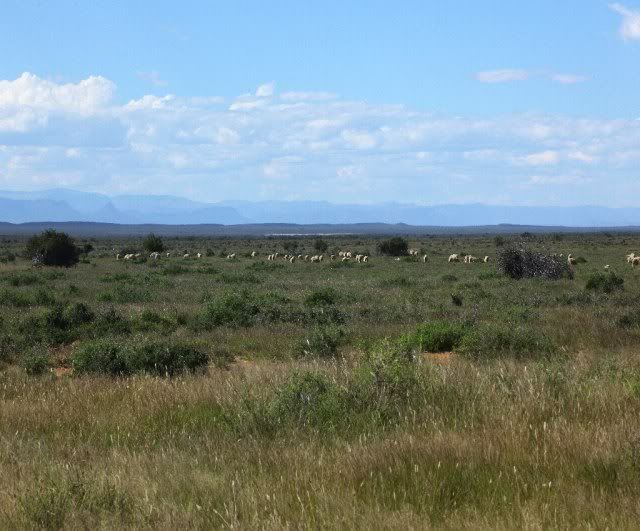 We saw this ???? next to the road....
Sunday morning 7 o'clock we booked in at Karoo N.P. for our long awaited visit. It was quiet at reception and it seemed to me that the park was still asleep. Not that I was used to at Addo N.P.
We drove the circular road and the absence of wild life was surprising. Except for this 2 "hartbeeste" and a few ostriches we saw "nothing". We drove slowly and 2 cars passed us at high speed.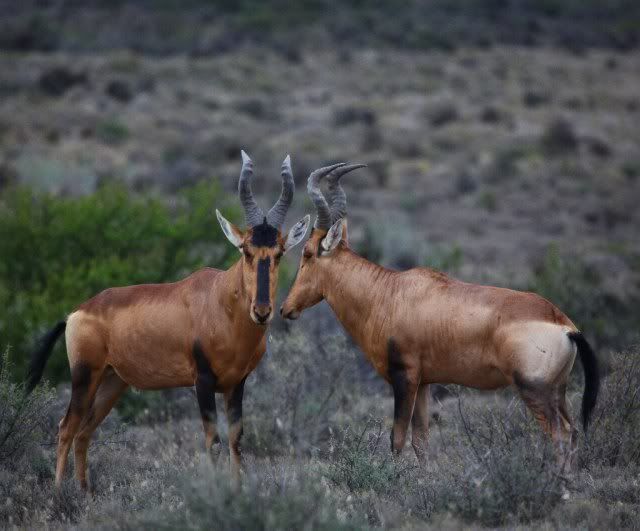 We breakfast at the Doornhoek picnic site...in peace...only one car passing. The braai roosters were "new" and clearly not so popular.
From Doornhoek the road is winding up the mountains to Klipspringerspass. We saw the 2 Black Eagles in flight near Rooivalle...and a Klipspringer on the cliff. This was a highlight for my wife in the absence of any other wildlife.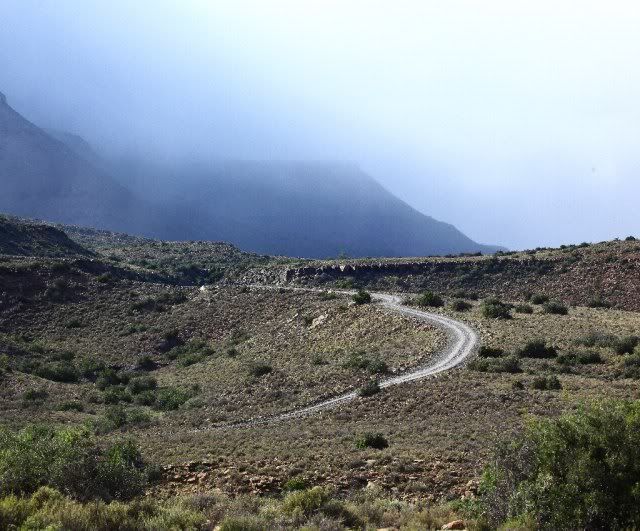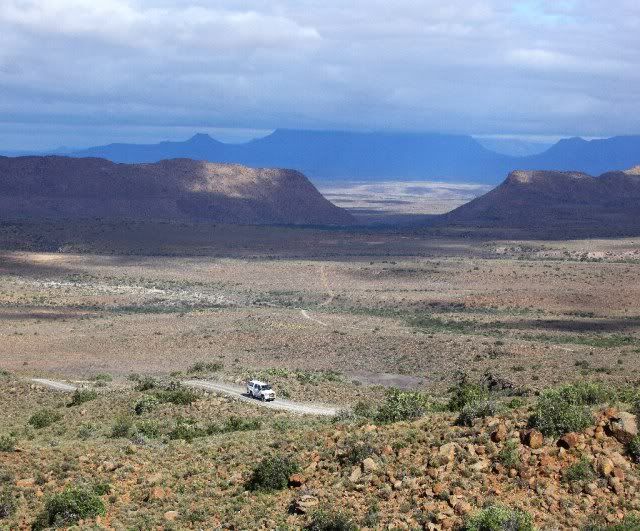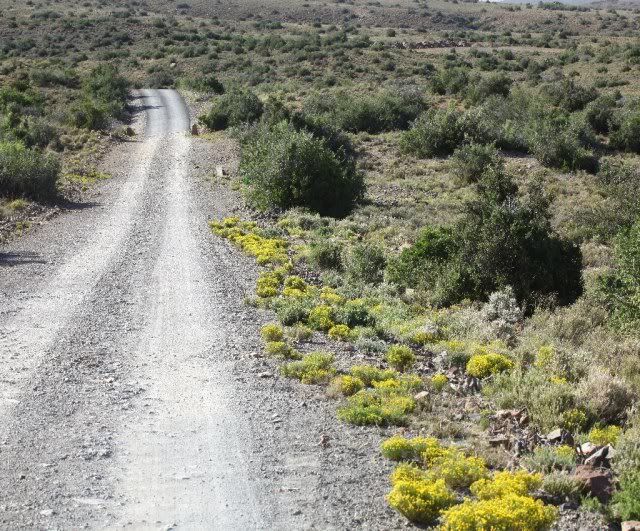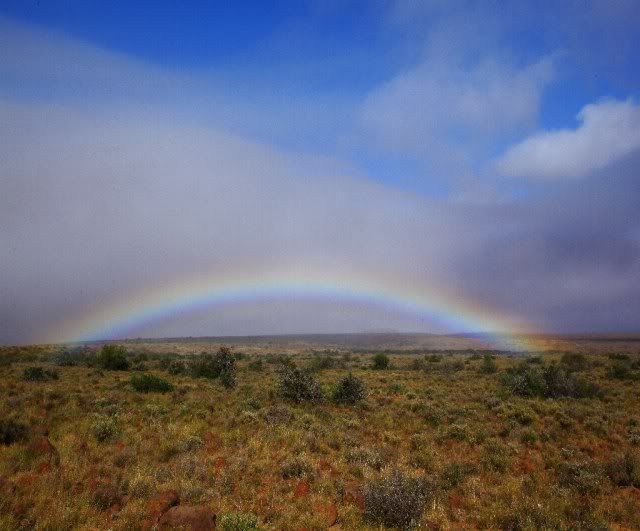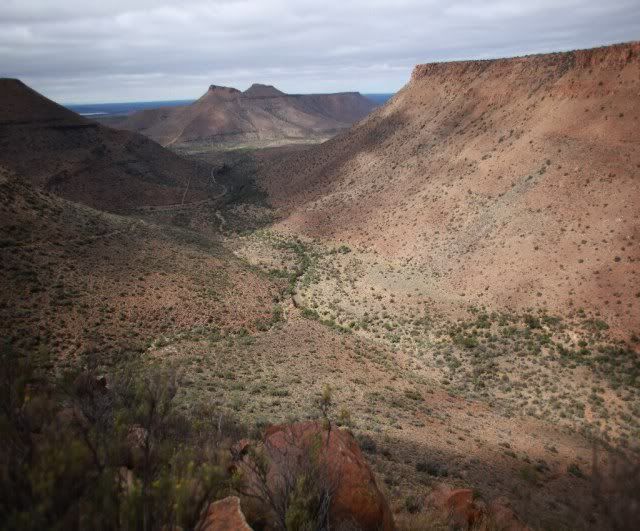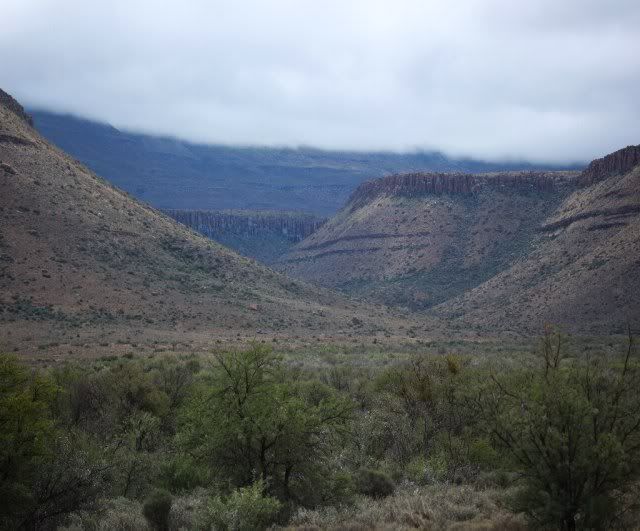 At 13h00 we stopped at the shop for refreshments...only us...again...no one else.
We visited the bird hide and then drove the Lammertjiesleegte circular road where we saw 2 Steenbokkies and a few ostriches.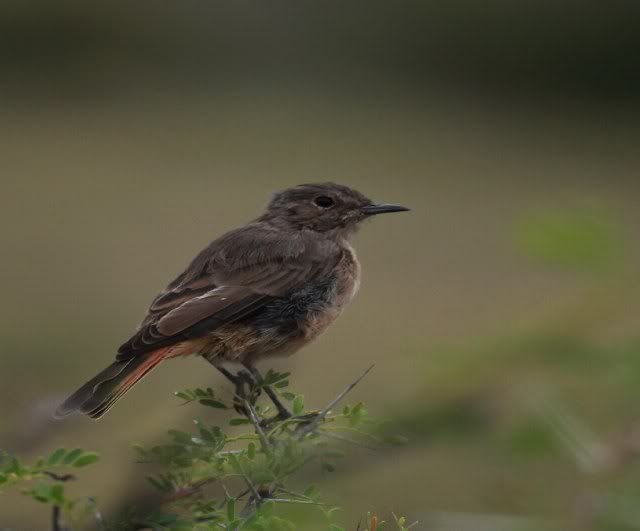 This morning...Monday...we took the gravel road via Rietbron and Willowmore home.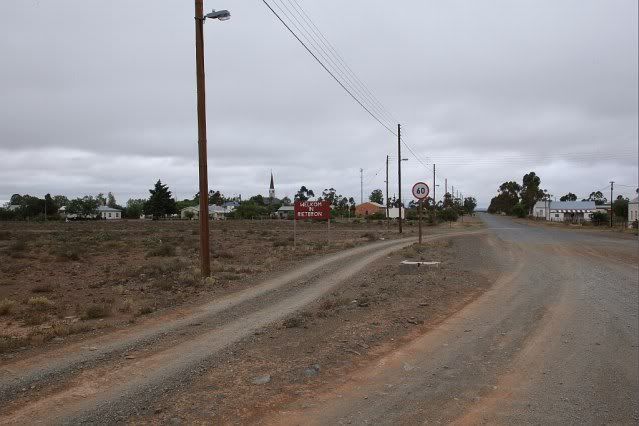 PHOTOGRAPHY HELPS PEOPLE TO SEE
.
Berenice Abbott.
---
Legendary Virtual Ranger

Posts: 6449
Joined: Fri Jan 28, 2005 4:43 pm
Location: 53 days to go!
Although the wildlife might be absent you took nevertheless brilliant pictures
Thanks for that J.J.
---
---
Who is online
Users browsing this forum: No registered users and 2 guests