Welcome to the forums Ciaran
There are no guarantees regarding any specific sightings in SANParks as there is strict control regarding driving off road to preserve the bush and small animals and plants. So it is a case of luck; if the lions are close to the roads when you drive them.
Night drives are a must (to see the little nocturnal creatures and stars) and so is self drive during the day
Happy planning!
Sawubona
Dalene
---
Hi Ciaran
Welcome to the forums
I would agree with DinkyBird that it's really just a case of luck when it comes to lion sightings - but that is the same whichever reserve you visit if the lions are truly wild. Out of interest what other places were you considering as alternatives?
The sunset and night drives can also be a good option in Addo. The park drives are allowed to go along some of the 'no-entry' roads that self-driving tourists are not allowed to go down. This can sometimes get you closer to lions and other elusive creatures. The timing of the drives also allows the guides the chance to find out if/where lion have been sighted during the day and so potentially head that way as the sun goes down and they become more active
---
Melvin and Gibson were on Gorah loop the other morning with a buffalo kill. These boys are looking really healthy which is great to see
Gibson was busy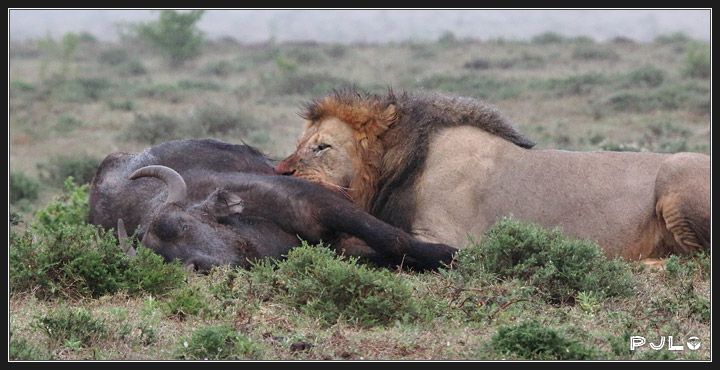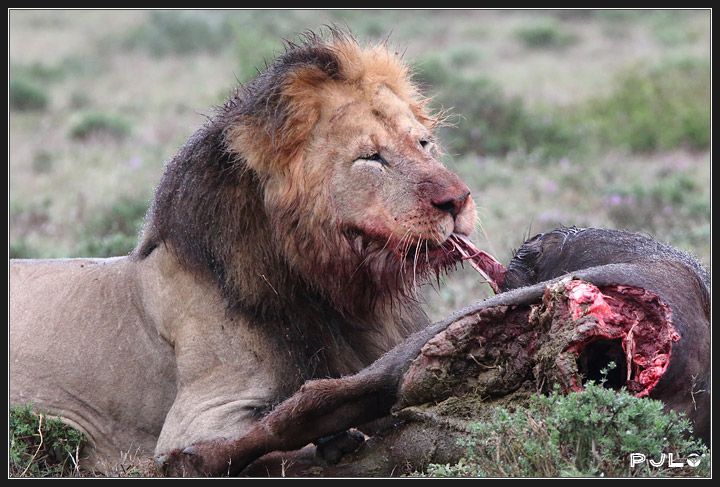 But Melvin was fast asleep!
---
Thanks for replies guys,
I've done safaris years ago and saw lots of lions but my wife didn't have much luck in her only safari etosha 2 years ago.
Obviously I know it is wild and never guaranteed just trying to increase odds by picking good destination. Cape Town to PE. 9 lions seems quite small number in large park, think spotting them is exception but could be wrong.
Also looked at gondwana but very expensive as are most of the free roaming reserves.
Thanks,
Ciaran
---
Have you considered Kruger? That is the ultimate safari destination, offering you so many options - no guarantee of lions either though. Flying from CT to Skukuza is costly, but Kruger itself is very affordable.
Sawubona
Dalene
---
Forum Assistant

Posts: 13773
Joined: Tue Oct 06, 2009 5:03 pm
Location: Upington SA
Wow PJL!! What a wonderful sighting!!!!
Some very special photos!!!
You only live once, but if you do it right, once is enough - Mae West
---
thanks for all suggestions guys,
Kruger is not an option unfortunately (malaria zone and extra flight expense).
We've decided on full day in Addo staying just outside park, following morning game drive in Addo then afternoon game drive and meal in Schotia game reserve. gets excellent reviews. hopefully should be good.
Thanks,
Ciaran
---
Junior Virtual Ranger

Posts: 597
Joined: Sat Oct 07, 2006 8:24 pm
Location: Somerset West
Hi Ciaran,

It is seldom a good idea to sleep OUTSIDE Addo -- by the time you can get into the main game viewing area, predators like hyena and lion have gone to sleep... and the bush is pretty thick around there.
If you are going to Scotia safaris (my friend Colin Lovemore owns a farm next to them), then it is almost guaranteed they will take you to see lions, if I understand their modus operandi correctly...

Good luck and enjoy!

God bless,

Friedrich von Hörsten
``God, I can push the grass apart and lay my finger on your heart'' -- E. St V Millay
---
Legendary Virtual Ranger

Award: Small Parks Promoter of the Year (2015)
FAC Member (2014)
Posts: 3636
Joined: Tue Jan 26, 2010 7:02 pm
Location: Bellville, Cape Town
During our Jul'16 visit to Addo, we were disappointed to miss out on sightings of Josie with the 3 youngsters, but we were rewarded on the Harvey's loop section when we enjoyed a sighting of a very lazy and sleepy male lion. It appears to be 'Norman', if not mistaken. We did not see any other lions around.
Current

: Table Mountain's mood today; Jul'16 ADDO NP
Finalised

: Dec'15 Mokala ; Kruger; Golden Gate; Karoo; Sep'15 Bontebok; Jul'15 Agulhas; Aug'15 West Coast; Dec'14 Kruger; Jun'16 MZNP
Future

: Jul'16 Storms river & Wildernis NP
---
Yes that's Norman - he has such a characteristic scar on his nose
Harveys loop is very far south for that coalition!
---
Forum Assistant

Posts: 13773
Joined: Tue Oct 06, 2009 5:03 pm
Location: Upington SA
Stunning lion sighting!!!
He is such a handsome chap!!!
You only live once, but if you do it right, once is enough - Mae West
---
Legendary Virtual Ranger

Award: Small Parks Promoter of the Year (2015)
FAC Member (2014)
Posts: 3636
Joined: Tue Jan 26, 2010 7:02 pm
Location: Bellville, Cape Town
Thank you PJL for confirming
lion queen, he is handsome, but also seem to have attitude
Seems he thought he is 'at the beach'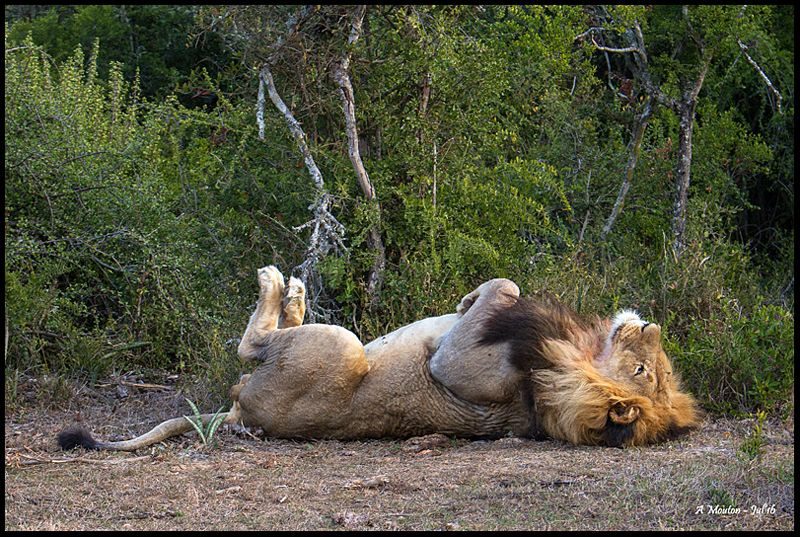 Current

: Table Mountain's mood today; Jul'16 ADDO NP
Finalised

: Dec'15 Mokala ; Kruger; Golden Gate; Karoo; Sep'15 Bontebok; Jul'15 Agulhas; Aug'15 West Coast; Dec'14 Kruger; Jun'16 MZNP
Future

: Jul'16 Storms river & Wildernis NP
---
---
Who is online
Users browsing this forum: No registered users and 2 guests