In December we booked flights and accomodation for a trip to KNP in Feb/March 2014.
Since our last SA / Sanpark visit in July 2010 I haven't spend much time on the Forum, as it is simply too tempting to read all the trip reports.
A couple of months before a new Sanpark visit I start to check webcams and read the forum on almost daily basis. I'm so impressed by all the excellent advices and well written travel tales.
I have promised myself that I will do my best to write a TR this time, and blend it with a number of the
hopefully good pictures my husband will take.
While we have visited SA, including KNP and other Sanparks 3 times before, this will be different, as it will be out first visit without our kids. Travelling without teenagers will for sure be different. I trust there will be less discussion about how long time to stay at Lake Panic and other bird hides.
While I wait for the departure day, let me share our travel arrangement, and test how to add pictures.
KNP visit Feb/March 2014:
Feb 22-23: Copenhagen-Paris- Johannesburg
Feb 23-24: Stay over in Louis Trichard
Feb 24-26: Tent in Punda Maria (will be first time in Punda Maria)
Feb 26-28: Bungalow in Mopani
Feb 28- March 2: Luxury tent in Tamboti (first time in Tamboti)
March 2-4: Cottage with view in Biyamiti (first time in Biyamiti)
March 4-6: Perimeter Bungalow in Lower Sabie
March 6-7: Hotel in Hazyview
March 7-8: Johannesburg - Paris - Copenhagen
So 10 nights in KNP - going North to South - 2 nights in each camp. Can't wait........
When testing how to post pictures, I will mix it with highlights of our July 2010 KNP trip.
It was 2 great weeks we had in Kruger, and we had some sightings I could only dream of.
July 2010.
After leaving Letaba when the gate opened we went directly to the Matambeni bird hide.
We all went into the hide. When our kids had spent some 10 minutes and noted that there were "nothing" (meaning only a buffalo, 2 African fish eagles, a close by starling, and a number of water birds) they went back in the car. We agreed that my husband and I would stay some 20-30 minutes more in the hide. All of a sudden we could see some light brown fur coming out of the bush on the other side of the river. I hurried out to the car, and both kids could easily leave their books when there seemed to be a lion approaching. All back in the hide my husband said: Sorry, it's not a lion...... it is a leopard. Even better...... Even though it was in the distance he could get some reasonable pictures. Shortly after another leopard came of out the bush. We soon discovered it wasn't rivals, but a honeymoon couple. We watched them mating, resting, mating, resting an so on for a while before they disappeared into the bush in different directions.
Amazing to withness that moment.
A few days later, on our daughters 17 years birthsday, we where driving from Satara to Skukuza. We asked what type of sighting she wished for her birthday, She said lion, but all cats could do.
At H1-2 getting close to Skukuza, we discussed if we should continue to follow H1-2, or turn off at H12, and then H4-1 towards Skukuza. Both are excellent roads.
As we approached the area we could see a huge traffic jam at H1-2 just after the H12 turnoff. It made the decision easier - we had to check out what was causing the traffic jam. We stopped a car who was just leaving. The friendly family told us it was a leopard resting below a tree. It had been there for a while.
Good news for us - the birthsday sighting was safe. We managed to get a good spot as other cars were leaving.
Here a picture of the leopard as we arrived.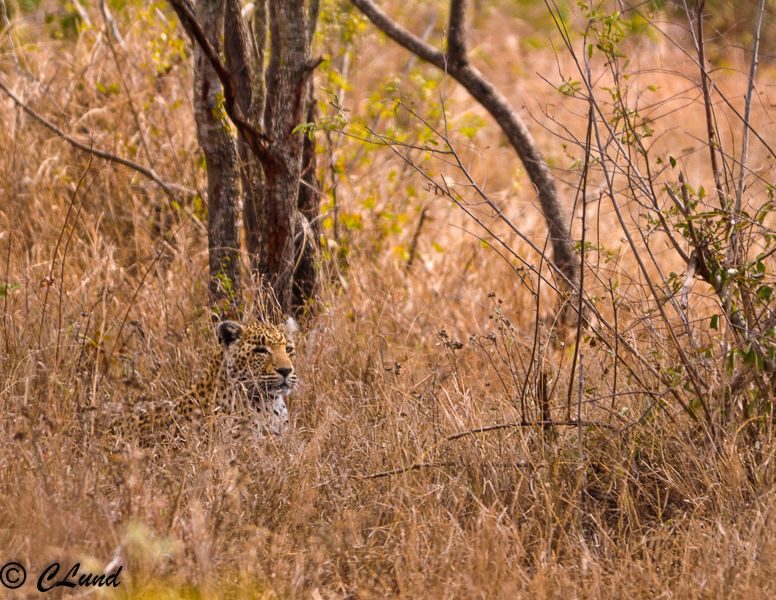 After some 20-30 minutes we talked about if we should leave and let others get close to the leopard. But it was difficult to leave this beautiful leopard.......
All of a sudden we noticed that a herd of some 20 impalas were approaching the area. So we decided to stay !
The impalas didn't notice the leopard, but the leopard indeed noticed the impalas. He managed to turn around so he had his front towards the impalas. He hardly left the ground while he turned around, and no sound was heard.
After a bit more waiting (for us and for the leopard), one of the impalas started to walk away from the rest of the herd. It came in our direction and it passed by the leopard with a distance of about 1 meter. Shown on this photo - if you don't know there is a leopard it is hard to see it behind the impala.
We wondered if the leopard wasn't hungry......
Four impalas passed by - one by one - and the leopard didn't move a millimeter.
Then the fifth came by, and within seconds all was chaos. The leopard and impala both jumped up in the air - the leopard managed to catch the impala by the throat while in the air. The other impalas ran off, but stopped in a rather short distance and started to watch the leopard and their "relative", who was captured.
The leopard was in the grass with the impala, still with his jaws in the impalas throat for about 5 minutes. During that time we watched the impalas eyes change color from the wonderful brown eyes to milky white/blue dead eyes.
When the leopard was sure the impala was dead he started to drag it away. Unfortunately not into a nearby tree, but deep into the bush where we couldn't see it.
We all sat speachless in the car for a while.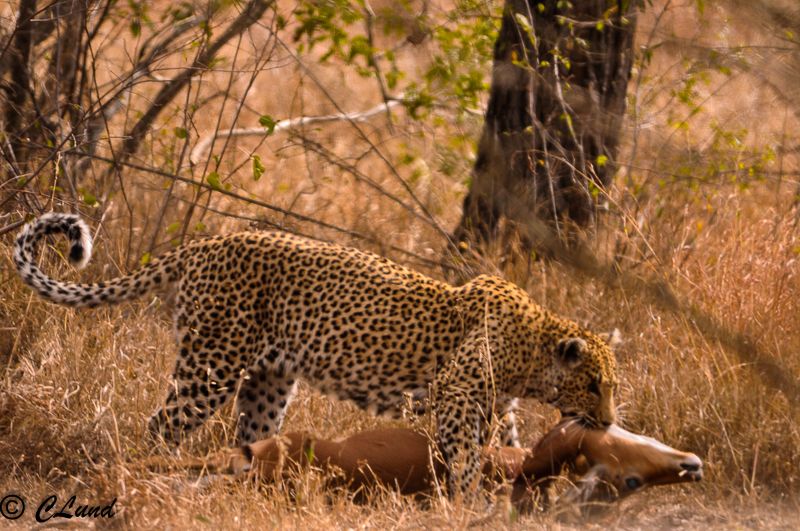 What a birthday present KNP gave our daughter.
A once in a life time sighting.
I hope all photos display as intented, and at least I'm now really in the mood to start vacation. Two more weeks at work, and then we will be back in KNP.
- Lisbeth
Lisbeth
----------------------------------------------------------------------
Next KNP visit October 31 - November 11, 2016
---
Hi anzac-cookie, so nice to hear from you
As I'm busy writing the new travel tale I haven't looked at this old thread since we returned.
You will soon appear in the new travel tale. Hope you add a comment there so I know you have seen it.
It was funny meeting that many times in KNP and then in JNB having flights at the same time
Best wishes to you all.
Lisbeth
----------------------------------------------------------------------
Next KNP visit October 31 - November 11, 2016
---
---
Who is online
Users browsing this forum: harrys and 11 guests