Distinguished Virtual Ranger

Posts: 2955
Joined: Wed Sep 22, 2010 11:37 pm
Location: Pretoria
Day 26… going down South
This morning we had to wake up a tad earlier as we had to pack up, this also meant that we had one week left of our Kruger trip and Lower Sabie was to be the last camp to visit. We packed everything in our cars and went for a quick shower before we left Satara. It was a quiet drive to Lower Sabie with strangely not a lot of cars on the road.
As always I just had to stop to take some kiekies of the sunrise.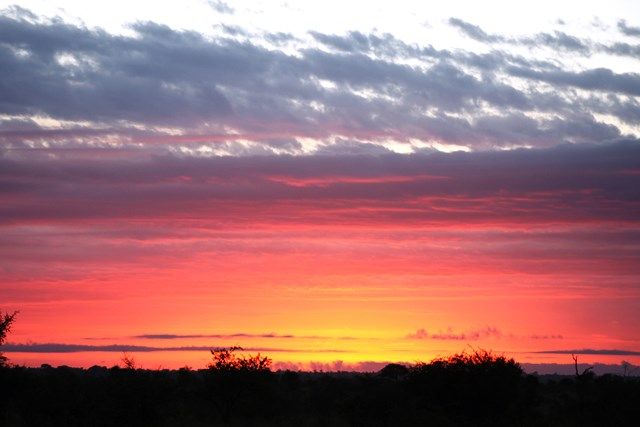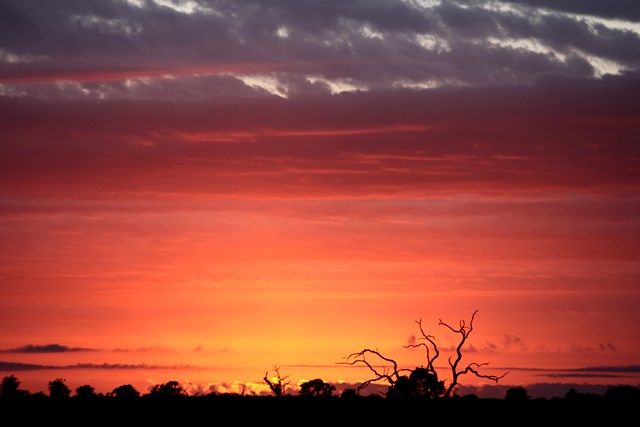 And some gentle giants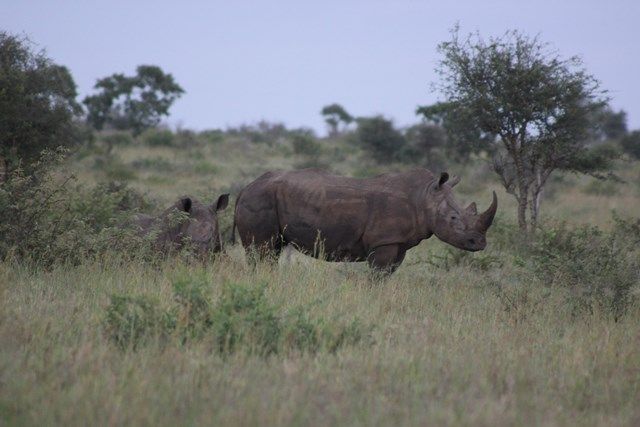 Then a little surprise on our road were these hyena cubs, we spent a long time with them as there were no cars around and they were very chilled in the road.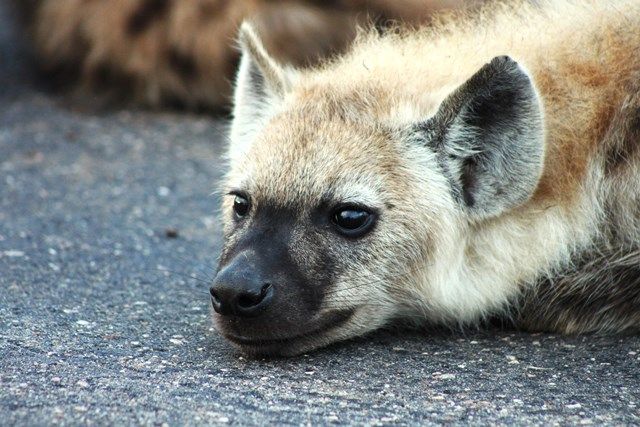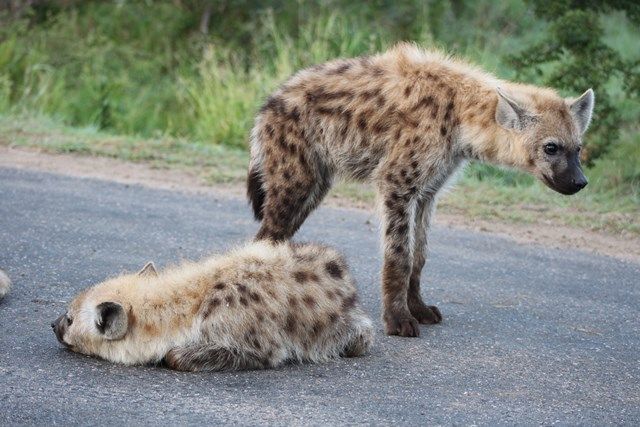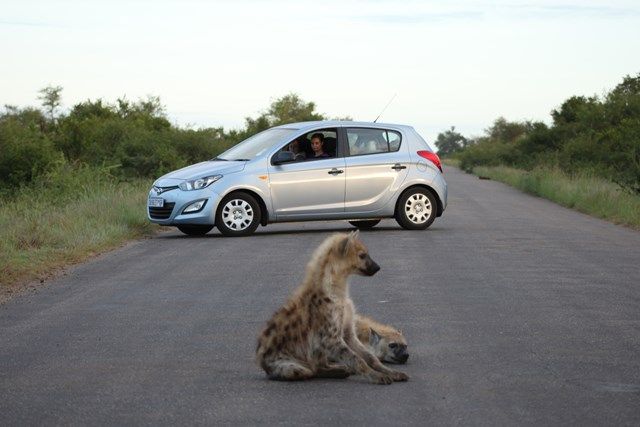 Then at Kumana dam I got to see a male and female comb billed duck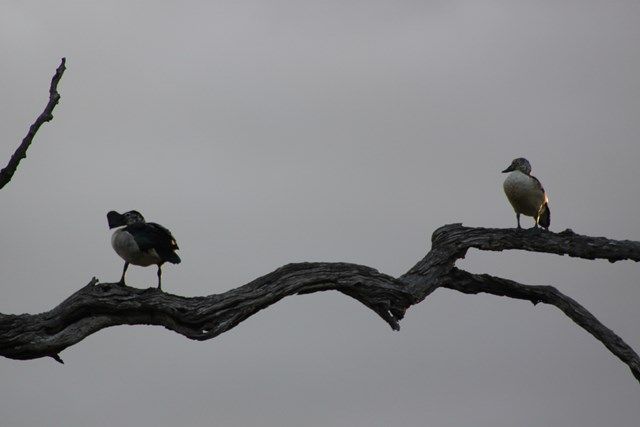 Also some bobbies entertained us on the tar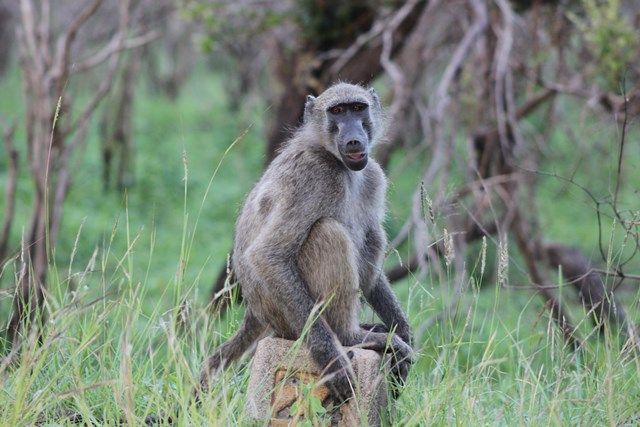 Then just before Tshokwane I got a close up of a Marabou stork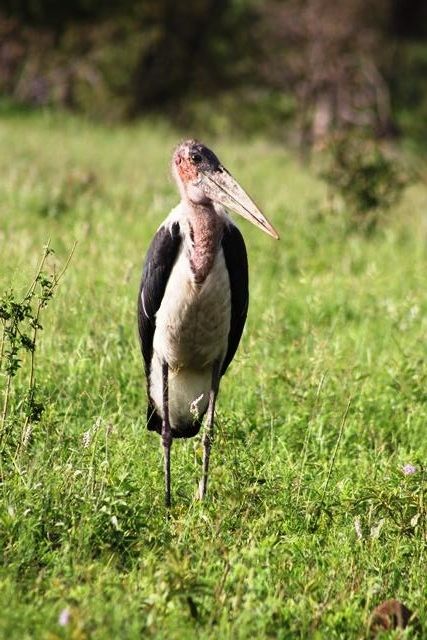 We had a quick bathroom break at Tshokwane and then it was off to the H10 for the last stretch, it was starting to get hot so we were glad that we were almost at Lower Sabie. Just past Nkumbe I saw a huge herd of ellies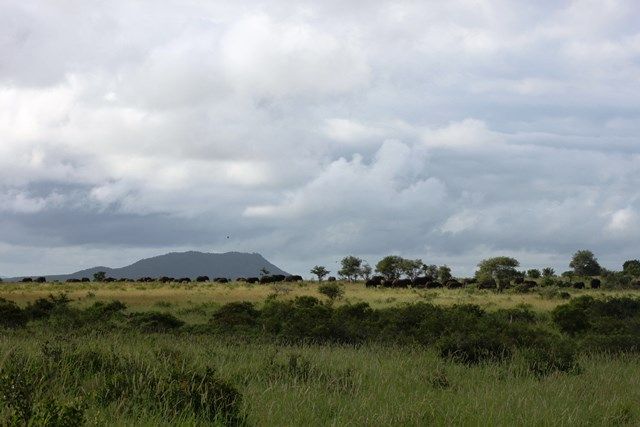 And the sighting of the day for me was this green snake (which I think is a grass snake?)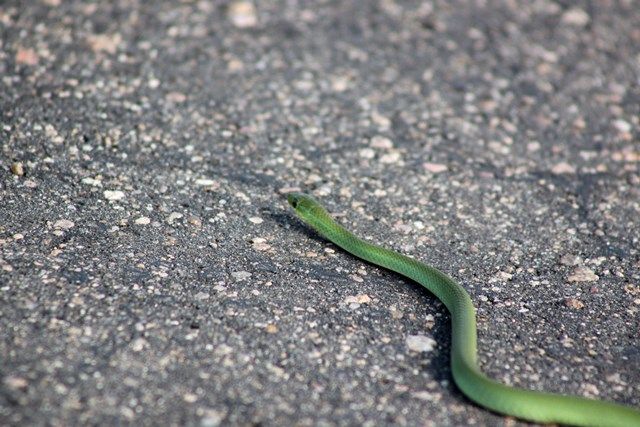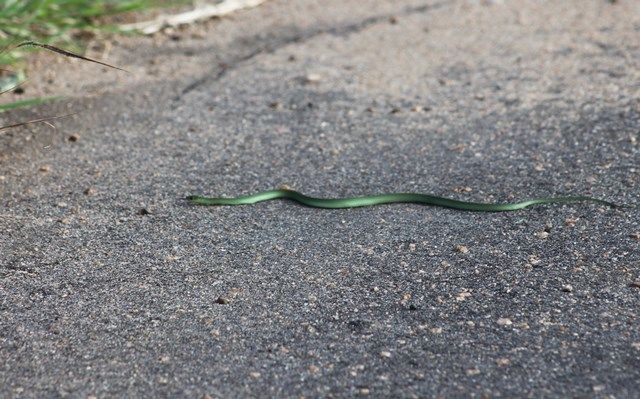 Then we arrived at Lower Sabie, we got a great camp, about 50% in the shade most of the day, that was what we were looking for, and it was across the bathrooms that was a bonus.
We spent the afternoon in camp, I had short nap and mum and sis took the time to catch up on their reading. Then when it started to get a bit cooler we decided to take an afternoon drive, it was short but relaxing. We didn't see a lot but it was ever enjoyable.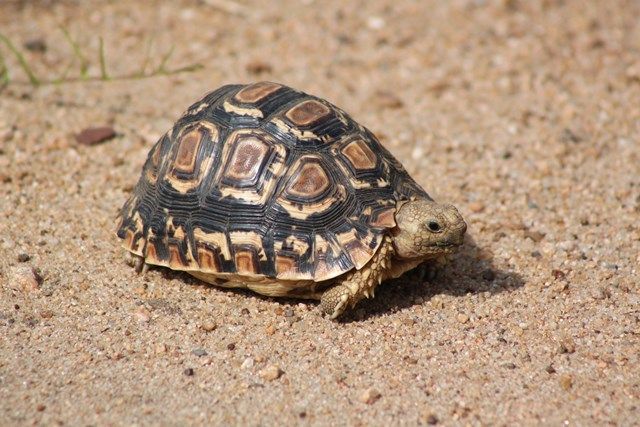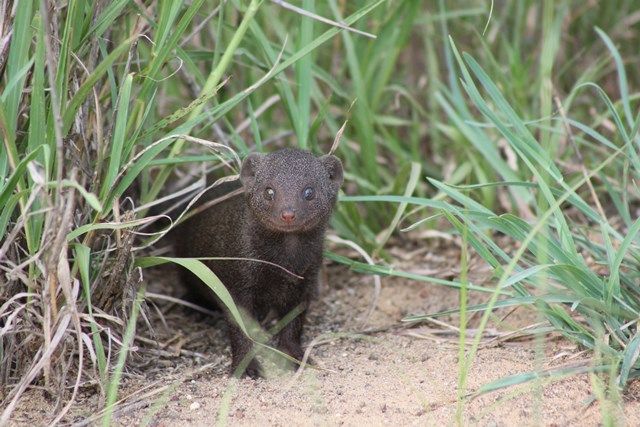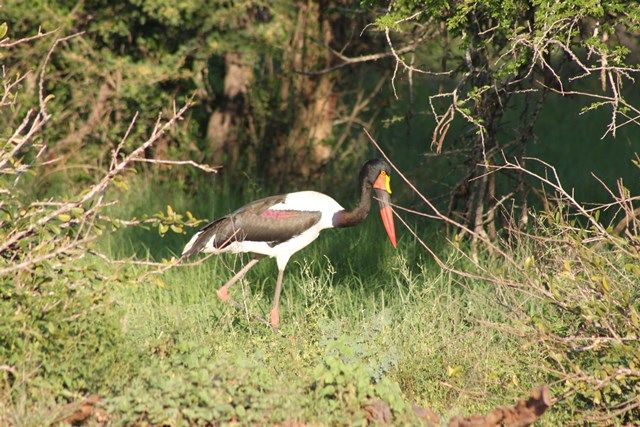 We got to camp and drove into Leachy, who introduced us to RobertT. It was great meeting new mites and old ones, the best is actually to sit and share stories over a fire with some cold beers. But tonight it didn't happen as we bushladies were tired and had an early braai.
To be continued…
2017
2-5 March Skukuza

31 March - 8 April Skukuza

14 -17 July Tsendze
18-22 July Satara

8 Dec - 12 January 2018 Satara
---
Distinguished Virtual Ranger

Posts: 2955
Joined: Wed Sep 22, 2010 11:37 pm
Location: Pretoria
Day 27… a long day's drive pays off
6 January 2013
This morning everybody is up early and ready to explore the south as we have our first full day here were apparently everything is happening, not like we had a dry spell the past few days…
It was an anonymous decision that we would travel the S28 then check out Dukes waterhole and take the S130 to have a brekkie at CB.
The drive starts out slowly and not a lot is to be seen but as we get near Dukes waterhole we stumble upon a huge herd of buffs.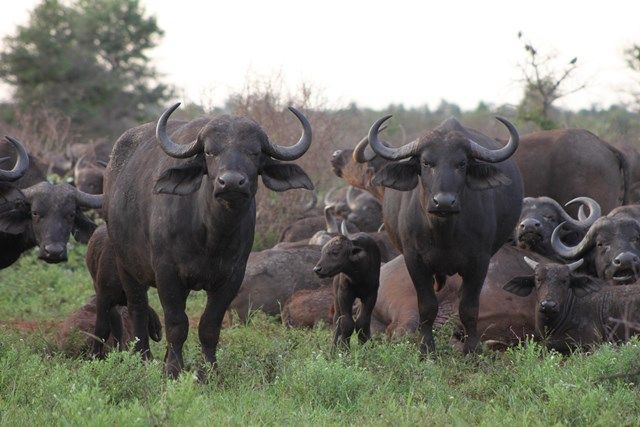 And just after that we came upon a car with very friendly Krugerians telling us that 2 lionesses just crossed the road. We missed them but as we move slowly forward we catch them drinking water from a small puddle just before then S130 intersection and then they look in our direction and immediately start running in the other direction. We turn our heads into the direction they were looking at (which was in front of us) and got a lekker skrik as well…
As this meneer were strolling in our direction and was too close for comfort…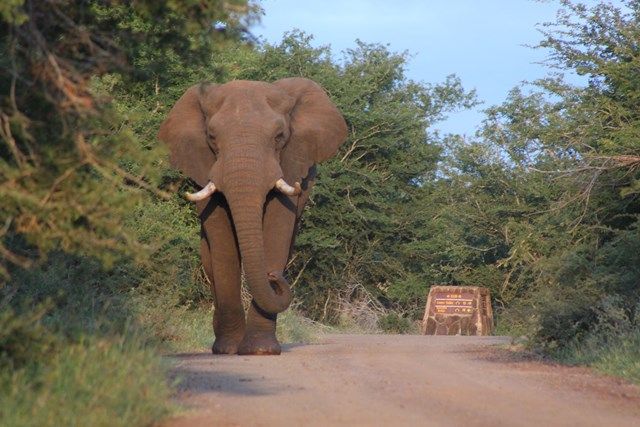 We reverse and wait till he decides to get off the road and then turn unto the S130. We see a few general game and then a car waves us down from the front. He informs us that there were lions with a kill just before CB and there aren't a lot of cars so we will have a great sighting. Very excited we thanked them and then we were on our way again. Well, uhm, we knew that we reached the sighting as there were a lekker traffic jam that greeted us by the time that we got to the camp. But the good thing was that the lions were spread out so no matter where you parked, you had a sighting. We took a few then moved on. We had some left over chicken sosaties and fresh rolls, then we were on the road again. Some more cars and lions that we had to pass…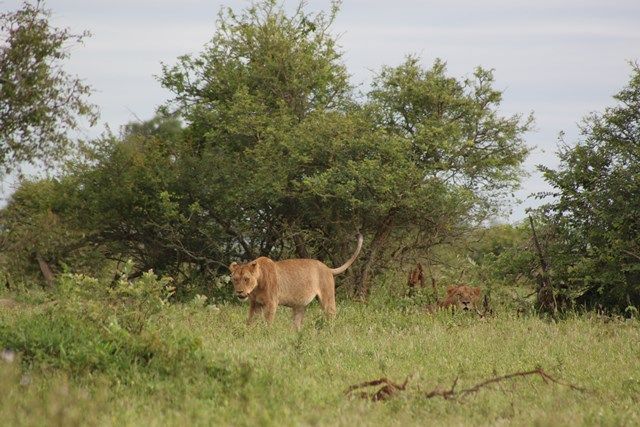 We got a cheeky ellie on our way back that gave my mum a big skrik, I had such a laugh and got to take a kiekie of him.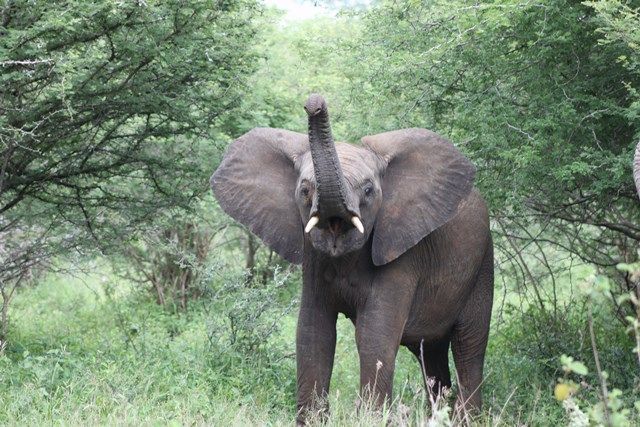 Then also a an European roller with a kill.
We were back in camp by 10:00 and chilled a bit. Whilst reading our neighbours very excitedly called us over as there were a spotted bush snake right next to their camp. I went ballistic, grabbing the camera and calling the fam to join me. Sorry if I went a bit overboard with the kiekies…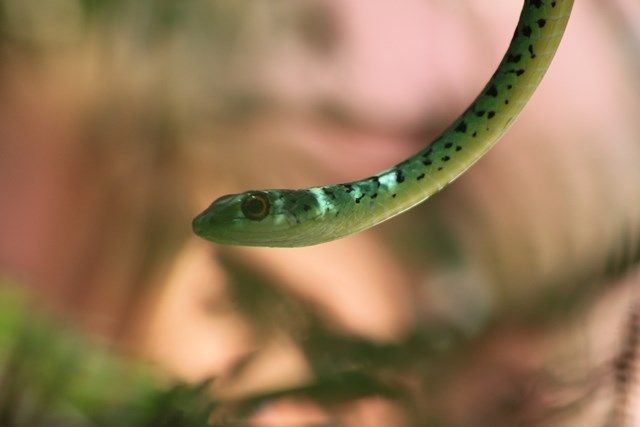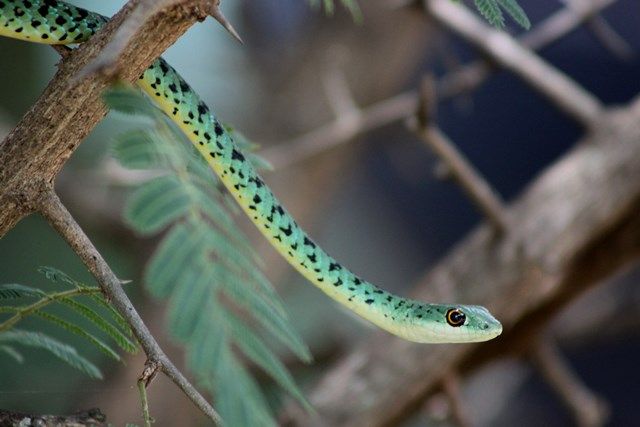 We left the serpent after I got my full and relaxed a bit. By 1:00 it was scorching hot and I decided that I would rather drive around then sweat in camp so I shooed my mum and sis into my car and we were off again. We took the S130 again and about 6km on the road got a JJ, with 2 more cars in the road. We slowly crept near and was soon informed that there were a leopard sleeping under the branch…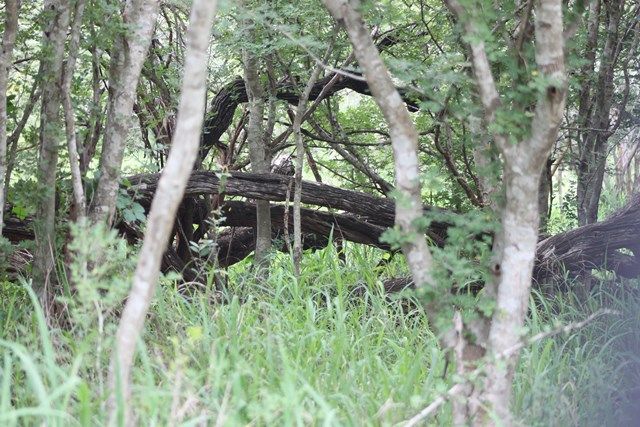 Do you see him? Cause we definitely didn't, so we sat, and waited, and the JJ left after 30 minutes… And every now and then a tail flicked and we waited, then something strange happened. We heard someone screaming, it was in one of the other cars, we peered out of the windows and checked how the girl in the car twice tried to get out of the car, she was screaming at the top of her lungs (maybe some love gone wrong) and the omie in the bakkie next to us started swearing/shouting at them to be quiet… so they just took off. And then it happened…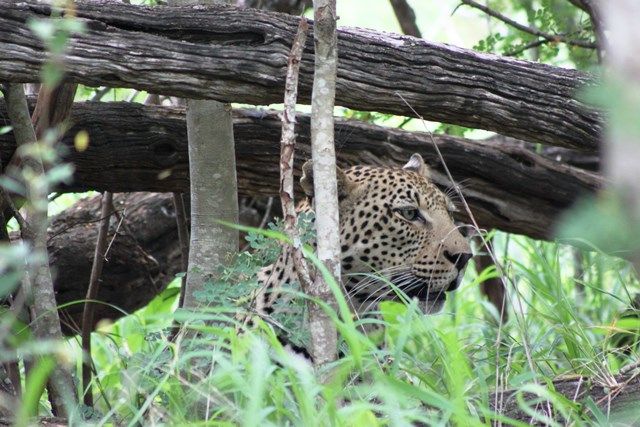 We were very excited as we were able to see a leopard now and we were only 2 cars. Then after a few minutes the crazy mobile returned, there were enough space for them to get past us but the women hooted for us to move so I reversed and then she decide to stop in my spot, the bakkie-oom then shared a few words with her and then rushed off again. The leopard was not happy with the commotion so he stood up and lucky for us, we were facing the right direction so we followed him, he then sat down and yawned a few times and showed off.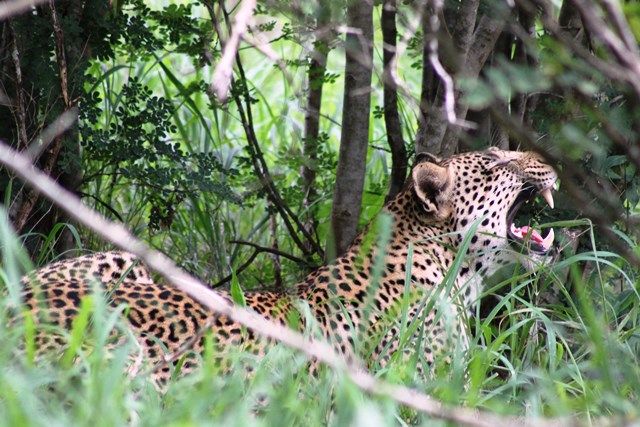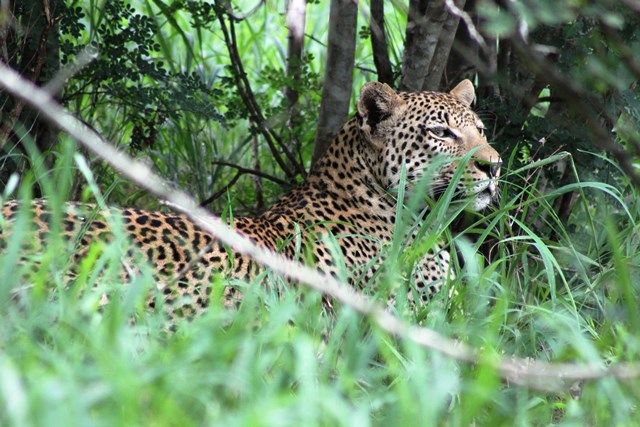 After a about 20 minutes or so, he stood up and walked off. It was about 3:00 now and I was so glad that I decided to take a drive rather than stay in camp. We also made a decision that we would take the S29 for our afternoon drive, so we turned around and were on our way back to LS. We didn't even drive 1km when about 6 cars came from the front, they just missed the leopard sighting and we were blessed not to sit in such a huge traffic jam.
The afternoon drive was full of general game, it was calm and quiet, a great way to end a fantastic day in the South. We also got to tick a rhino today as well which was a bonus as I don't really see so many in the Park. But then when we got to the end of the S29 we were surprised by another amazing sighting. I heard 'yelping', something I've heard before on the Disney DVD 'African Cats' and I just knew what it was. I couldn't see anything but I crawled slowly up and down just listening intently. Then it appeared….
Not a great sighting but a first for my sis and proof that we saw one.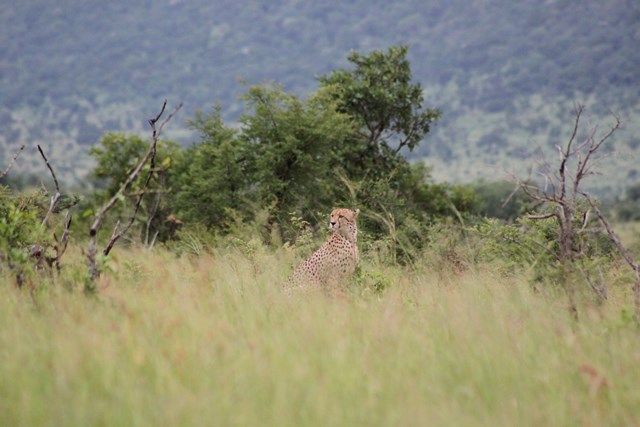 The time was ticking and we had to leave him otherwise we wouldn't make it to the gate in time but we were so happy with our day. That night we had dinner with Leachy at his hut and it was great kuiering with another forumite again. I was already missing my camping crew of the first two weeks…
We talked till late and it was off to bed again as another early morning awaited.
To be continued…
2017
2-5 March Skukuza

31 March - 8 April Skukuza

14 -17 July Tsendze
18-22 July Satara

8 Dec - 12 January 2018 Satara
---
Distinguished Virtual Ranger

Posts: 2955
Joined: Wed Sep 22, 2010 11:37 pm
Location: Pretoria
Day 28… a quiet day in the park
7 January
This morning when we got in our car we didn't have any plans, as we arrived at the exit of Lower Sabie I asked which way they want to drive and it was decided that we should go to Skuks. The road was quiet which we enjoyed a lot and it gave us the chance to appreciate the smaller things, I really just hate it if people drive behind me or speed past me…
We turned on the s79 (Ntwamhiri causeway) and enjoyed a close encounter with a saddle bill stork.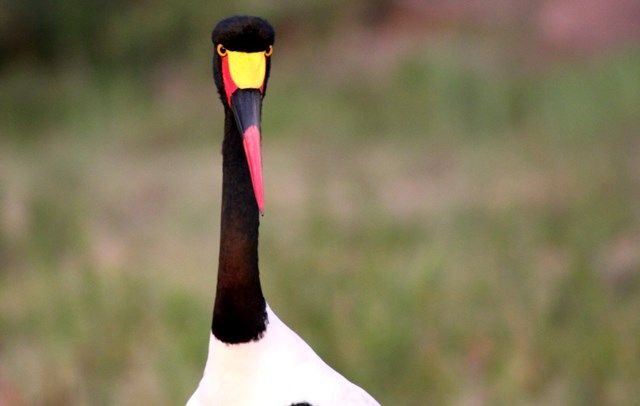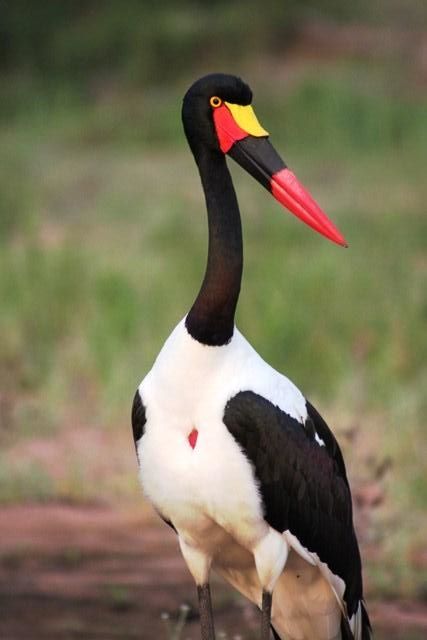 And then it was time for a bathroom break, it took us about 90 minutes to get to Nkuhlu which was only about 25km from Lower Sabie. It was a dead quiet with no one in sight so we had to inspect the grounds, we had a moerse skrik when we past the shop and hear something in the dustbins, but I believe it had a bigger fright as this was all we saw…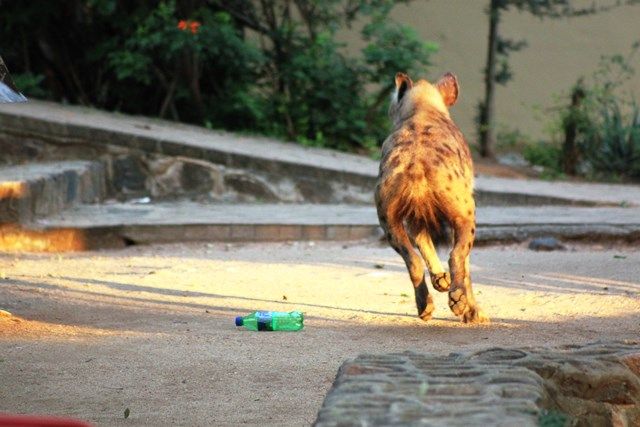 It was time to move on as the morning was melting away and in no time we were entertained by the H12 clan… We spent quite a while with them as they were busy with their morning rituals.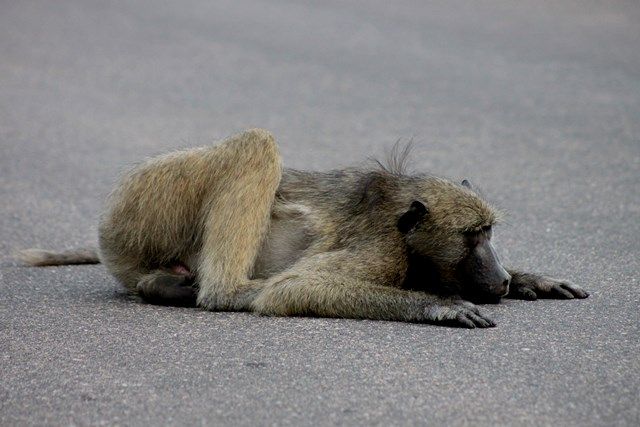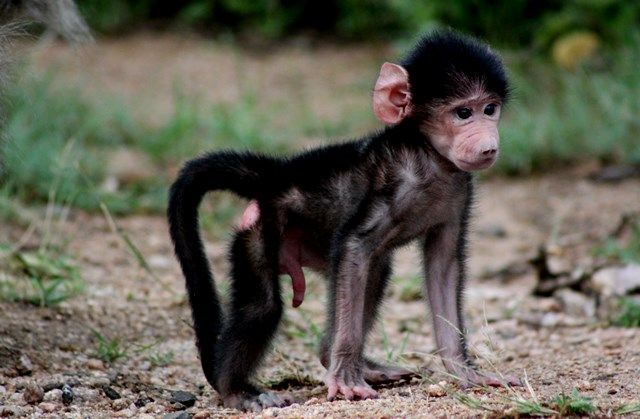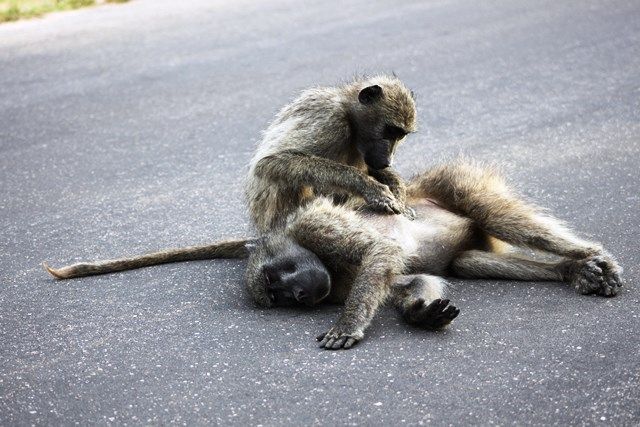 And on the bridge we got to see a Giant King fisher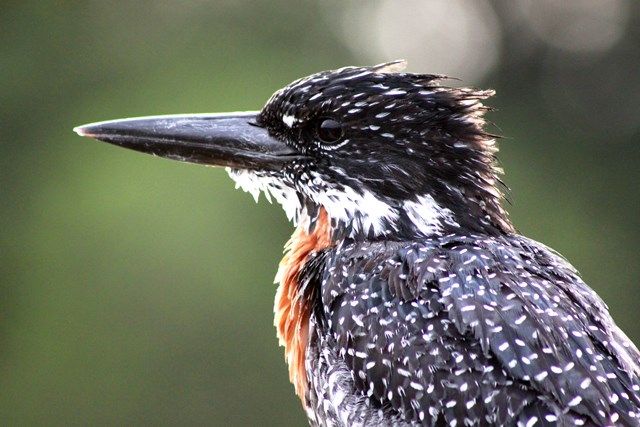 We stayed on the H4-1 and further on the road we got more hyenas, this time some youngsters were playing but they were very shy.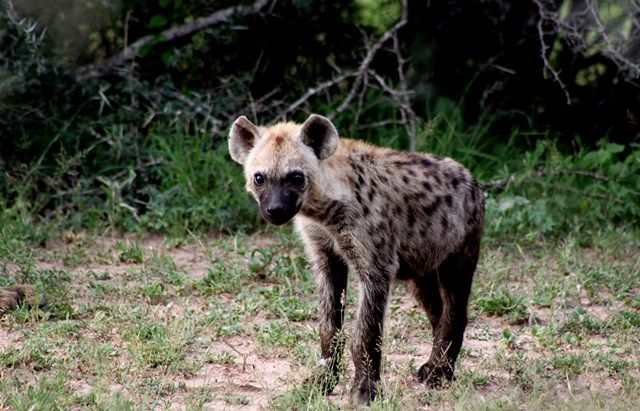 And another surprise sighting this morning was the banded mongoose that crossed the road. They had teeny weenie babies but were too fast for us to take any kiekie of them. But I was fortunate enough to get one kiekie of an adult…
It was 7:00 when we arrived at Skuks and another t-break. Then we went to visit Renosterkoppies and Kwaggaspan.
A lot of general game were seen, and as we drove the S112 we got 3 male lions lazing in the shade. They were too far for any good shots but here is one as proof.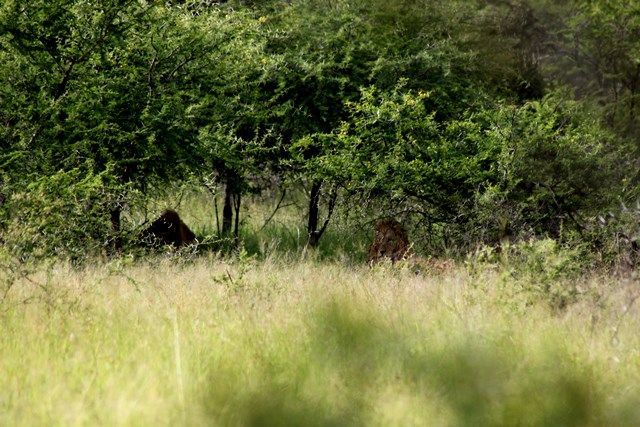 We didn't stay long as I wasn't in the mood to fight with other cars over a 'not-so-great' sighting. We did stop and watched this chameleon cross the road though, I'm always so scared that someone will drive over them so I wait for them to be safely in the bush again.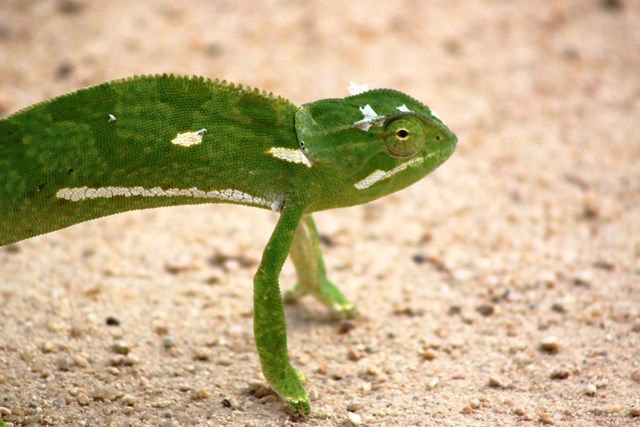 Speaking about driving over critters, I had a close shave with the slithering kind, but not to worry he got away unscathed. I believe that this is a striped skaapsteker.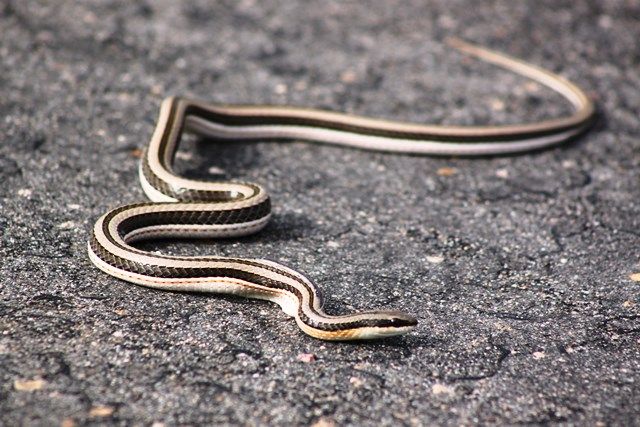 We drove to Kwaggaspan and then turned around, taking the H1-1 back to Skuks and then home via the H1-2 and H4-1. The drive back wasn't as adventurous. That afternoon we chilled in camp as the early morning were taking their toll. We only planned a drive to the Ntwamhiri causeway and then turn back. It was a quiet drive with some colourful birdies.
Little bee-eater
a juvenile scarlet-chested sunbird (I think so, if it is then it is a lifer for me)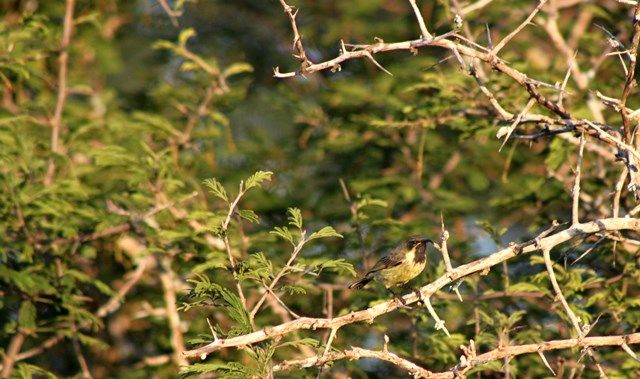 We got to camp and decided that we are going to book a sunset drive for the following night as our time was running out and my mum and sis has never been on a drive at Lower Sabie.
That evening we had a braai at Leach's and I got some education, I always thought the high-pitch screeching in the trees at Croc Bridge and Lower Sabie were the lesser bushbaby but after some investigating with my torch in the weeping boerbone I saw that it was actually fruitbats making the noises. We kuiered till about ten-ish and then it was time to hit the sack.
To be continued…
2017
2-5 March Skukuza

31 March - 8 April Skukuza

14 -17 July Tsendze
18-22 July Satara

8 Dec - 12 January 2018 Satara
---
Distinguished Virtual Ranger

Posts: 2955
Joined: Wed Sep 22, 2010 11:37 pm
Location: Pretoria
Day 29… the day I have been waiting for
8 January
This morning my sis decided not to join us, she wanted to have a late morning and unlike normal people I have been leaving the camp every morning this trip at 4:30… Well I can state that it has paid off in ways you wouldn't believe. So me and mumsy woke up and trudged towards the bathroom so that we can transform into human beings…
It was an easy decision, we decided to take the H4-2 straight to CB and then take the S28 back to Lower Sabie and then take the H4-1 and do the S79 so we can turn back to camp to catch up on some reading and relaxing, as we were going to do a sunset drive we didn't really worry all that much about a lot of driving during the day.
It was raining this morning but it didn't bother us, you guys know it is rather warmish this time of year so the cool air was inviting. It was a quiet drive as it seems that most of the animals aren't really that keen about rain as we thought. So on our way to CB we had an encounter with buffies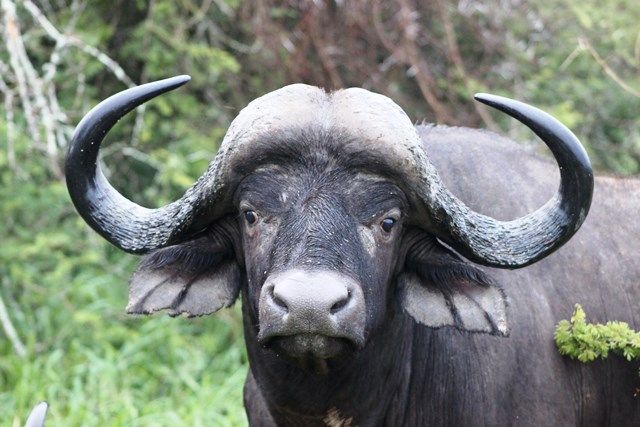 And then after a few kilometres there were two kings coming from the front each with their own entourage. It was strange that there were only two cars with them but we didn't complain.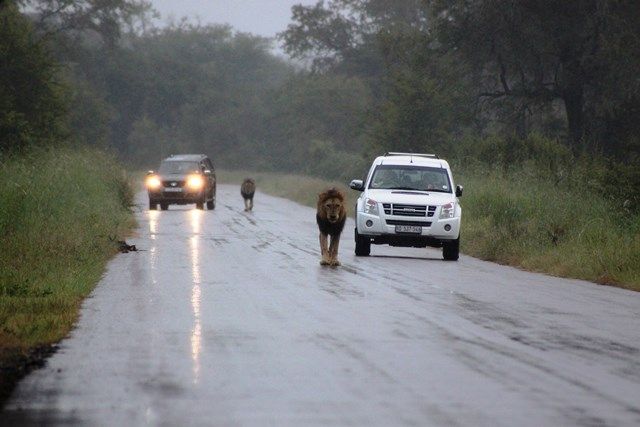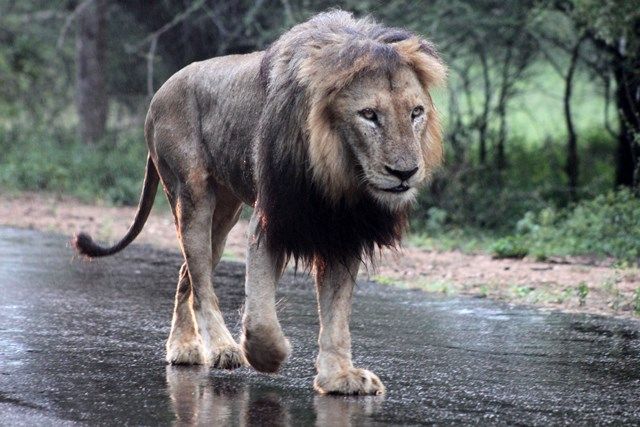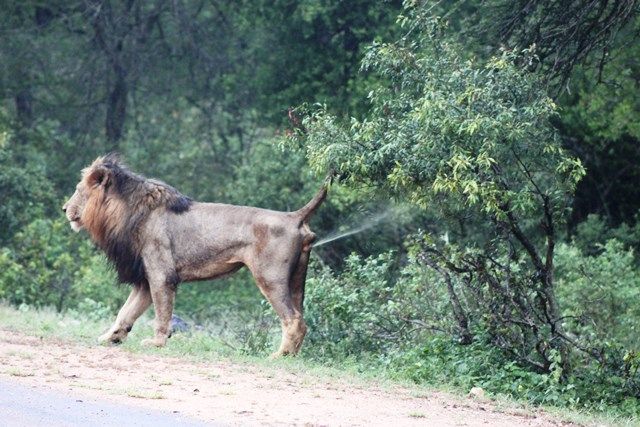 We stopped and the flashes were flying around until they passed us and then we moved on, we weren't in the mood to follow them as we already had a great sighting (I believe these were the same two brothers that I saw on the H5 on 26 December…
Some other sightings on our way to Croc Bridge,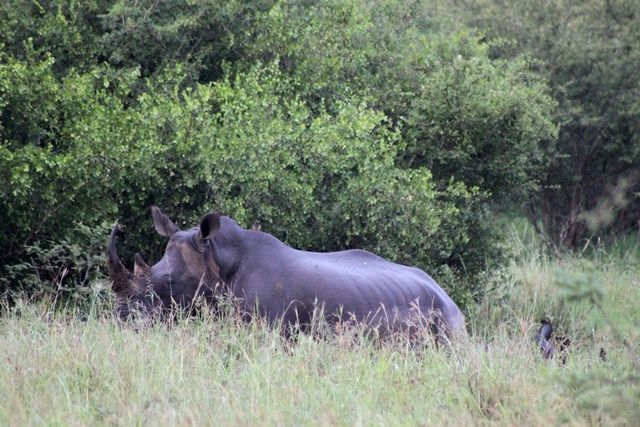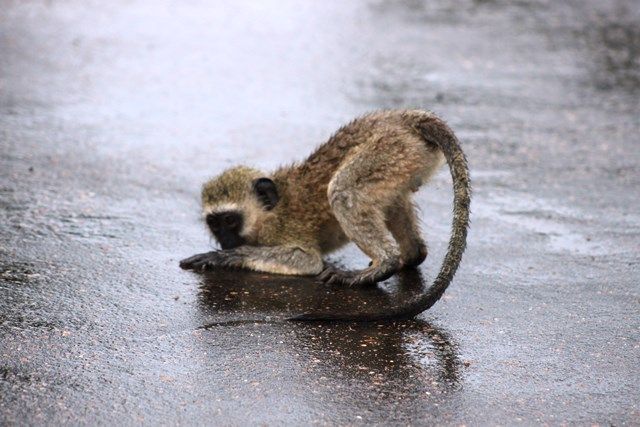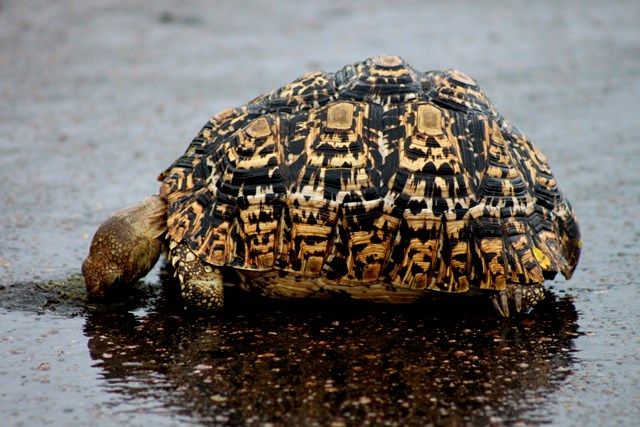 And then on our way back there weren't a lot of sightings, it seemed that all the animals stayed near the tar, less muddy I presume?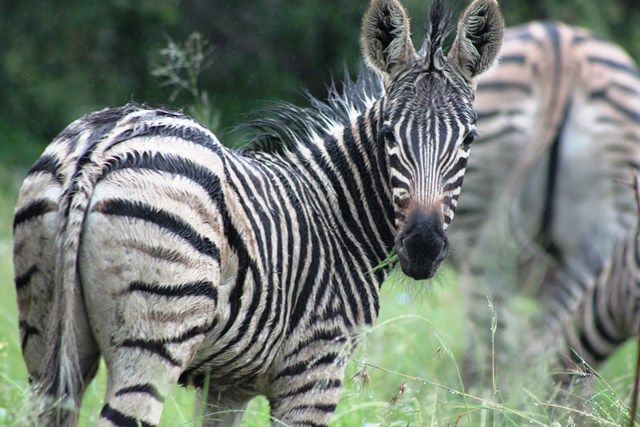 And then a martial eagle with a kill, just before camp…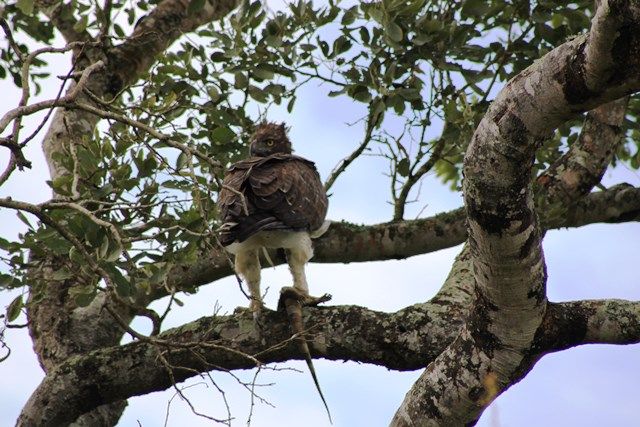 The clouds cleared and the sun was quickly heating up things in the Park, and the cars were also passing us one by one so we were glad that we didn't plan a long drive. As we did the last stretch on the H4-1 to camp mum just shouted: 'STOP!' Which I didn't do quickly enough and after reversing to see what all this fuss was about mum pointed out next to her in the road a baby terrapin as big as a R5 coin.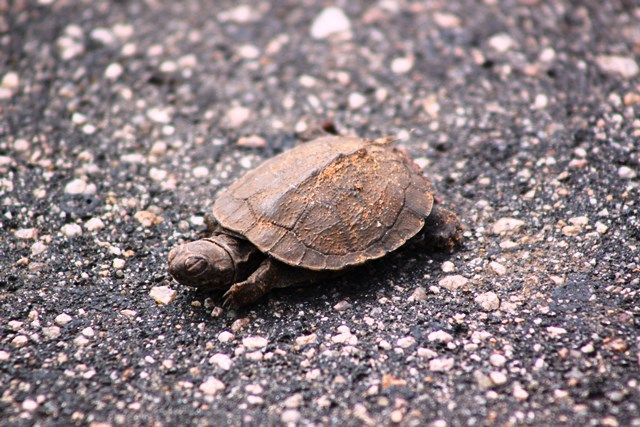 Was the smallest thing we've seen in the Park and we stayed with him till he got of the tar. We got to camp by 11:00 and chilled in camp the rest of the day. We then went to the Lower Sabie deck Restaurant at 15:00 to order some pizza for 'dinner', we don't normally prefer going to a restaurant when you can braai but we decided that because we are going on a sunset drive and will only return to camp after 20:00 and we have a long day tomorrow as we were going to meet Barry and Hilda in Satara, we didn't really want to stay up late.
I know the restaurants have changed in the Park but I just want to say that the service and food that day got 2 thumbs up.
After a delicious meal we waited in anticipation in the parking lot, it was my mums and sisters' first drive at Lower Sabie and they had a lot of expectations. The other people started arriving and I hoped that we weren't a full truck, as it isn't very lekker when you have to peer over people to see something or fight for a great spot on the truck. But thankfully the truck was only about 50% full and after we all settled in the driver introduced himself as Lunga. I have to say that this oke is the BEST gamedriver I have ever had from any camp or gate I've driven, he could answer all the questions that the tourists gave him and also told us many stories and entertained us from start to finish.
We started our drive by going to Sunset dam. We just left the gate when we saw our first animals. The resident bobbies where out and about and entertaining everybody who wanted to enter the camp. We had such a laugh as one stole a bag of bread from one of the tents and they were all trying to get something from the bag.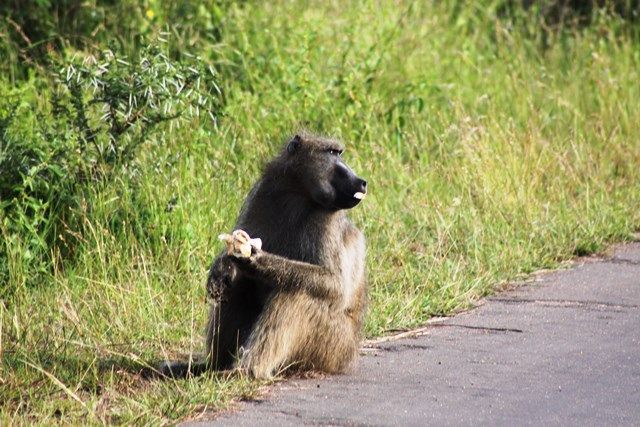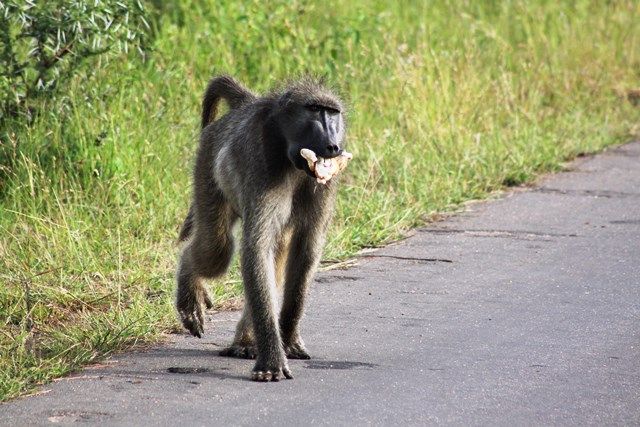 We sat with all the bobbies for about 20 minutes, we got some mating bobbies and groomers as well as babies just fooling around. One thing I've learned that day is that the more inflamed/red/swollen the lady bobbies bum is it means that she is ready to mate (on heat). And then we turned around and was on our way South, we turned unto the S82 and then unto a no-entry road. We had a lot of sightings on this road, it was blooming with life.
Marabou stork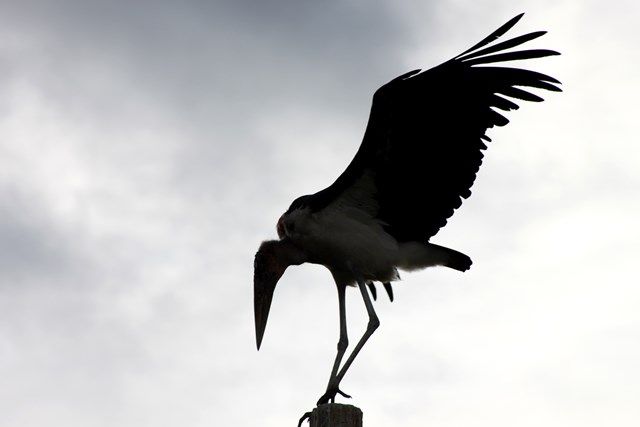 Steenbokkie (you guys must let Lunga tell you where this name comes from, very informative)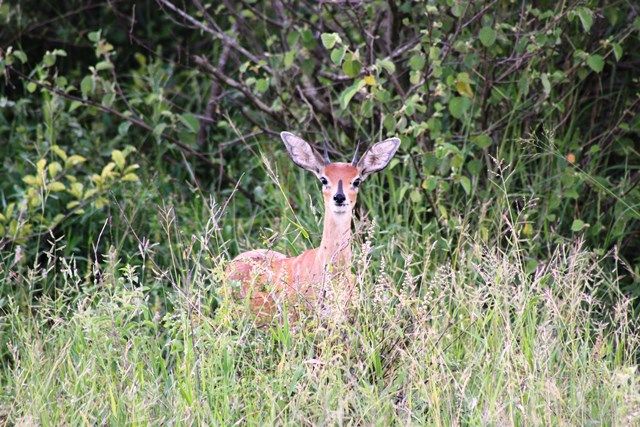 Then a few big animals hanging around together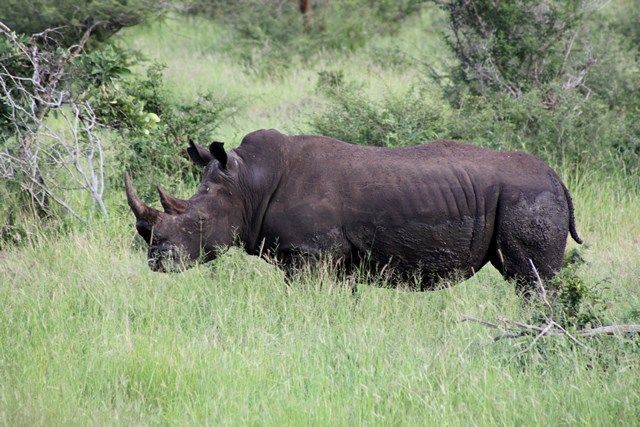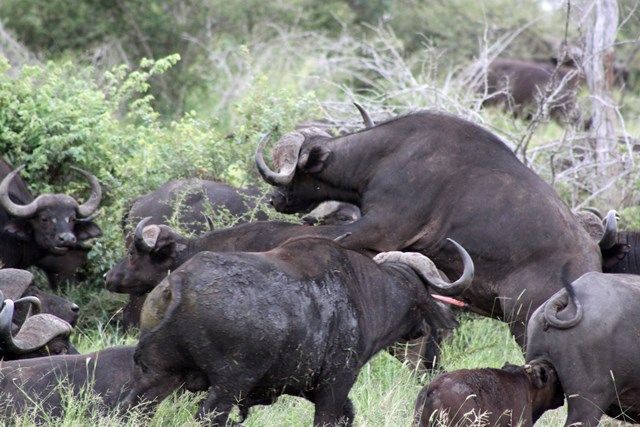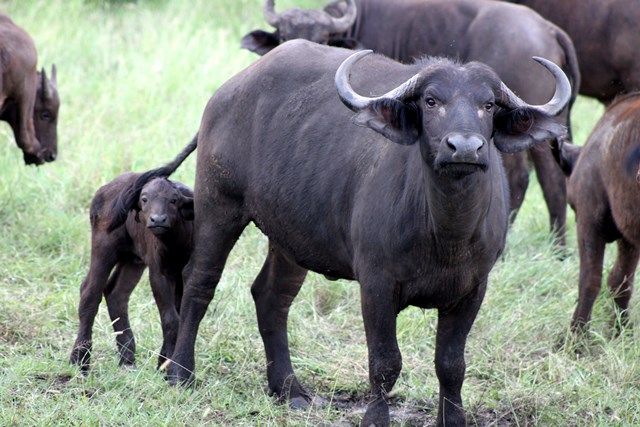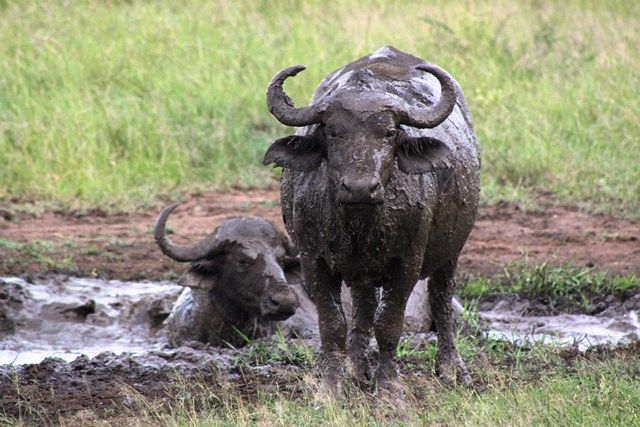 It got dark and the flashlights were out, we didn't see much only a few antelope, we then after about 30 minutes we turned unto the S28. We got to see a fiery-necked nightjar (My first opportunity to take a kiekie of one)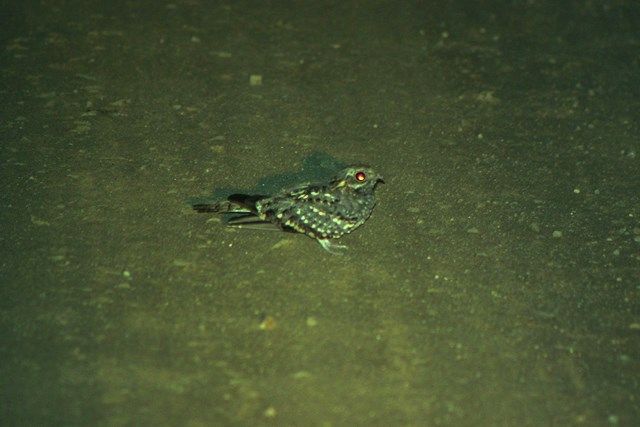 And then it happened, a cat of some sort came out of the grass a few meters in front of the vehicle, Lunga said it is a serval and my heart jumped out of my chest. This was the moment I was waiting for the whole trip and then as soon as the cat appeared, it turned around and melted away in the grass again. We drove closer and I was just hoping and praying in my heart for the opportunity to see one up close and being able to maybe hopefully take a kiekie… Lunga stopped and spotted it, about 10 meters from us. The moment was just too big for me, I was shaking trying to focus on her, and she was so beautiful, what do you guys think?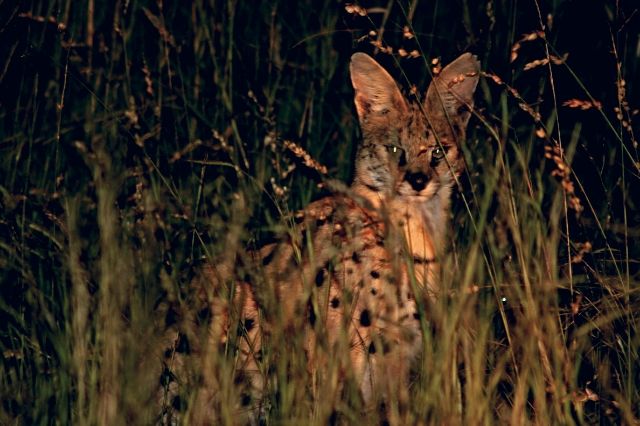 She sat still for a few moments and was off again…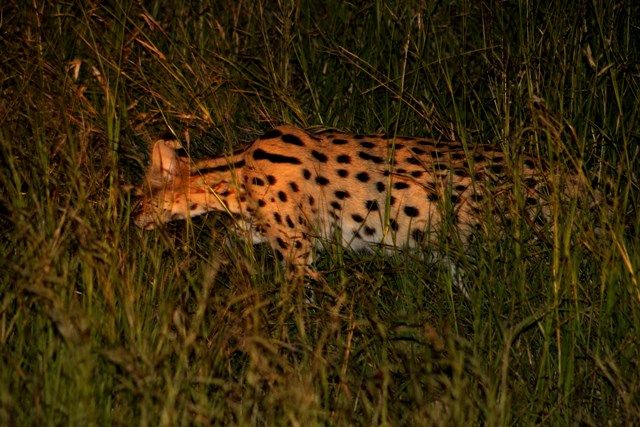 We didn't even get a chance to recover from our excitement when we got to see another 'one of its kind sightings… It was hyenas and a hippo having a stand-off. It was a bit further in so my kiekies aren't that good, but it was great seeing the hippo chasing them and how big his mouth can open whilst the hyenas are cackling around him with it seemed like pieces of dead impala lying around, and one had a piece in its mouth.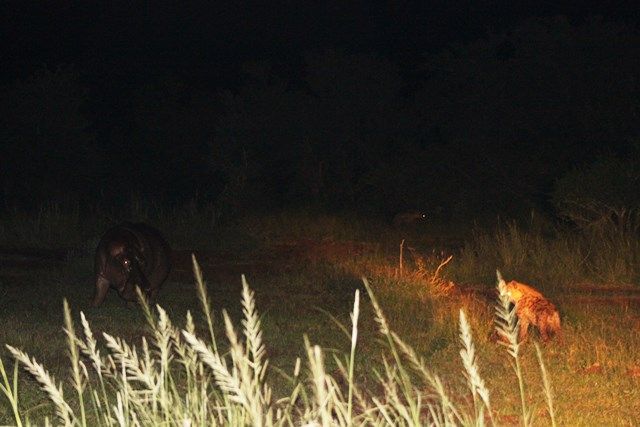 It was very exciting. We had to move on as time was against us, we had a quick sighting of a porcupine as well just before we entered the camp.
Yes, I know we didn't see any big cats, which most people want to see, but that is not the reason I do these kinds of drives. I learned a few things during this drive and I got to tick a special cat that I have had on my list for a few years.
We got to camp and sat there for about 30 minutes discussing our amazing evening, then when all the adrenaline evaporated it was time for us to hit the sack as a full day of driving was waiting for us.
To be continued…
2017
2-5 March Skukuza

31 March - 8 April Skukuza

14 -17 July Tsendze
18-22 July Satara

8 Dec - 12 January 2018 Satara
---
Distinguished Virtual Ranger

Posts: 2955
Joined: Wed Sep 22, 2010 11:37 pm
Location: Pretoria
Day 30… to Satara and back again
9 January
Some fellow mites were staying up North and they are two very special people (Barry and Hilda), so we organised to have a get together at Satara that morning. It meant that we had a long drive planned today and we had an early morning as well.
We left the camp at 4:30 and took the H10 straight to Tshokwane, I do like taking this road early in the morning as most of the other people prefer taking the H4-2 or H4-1. We had no one on the road and there were an abundance of wildlife.
We had BBJ, a lot of ellies, general game and this beautiful kudu…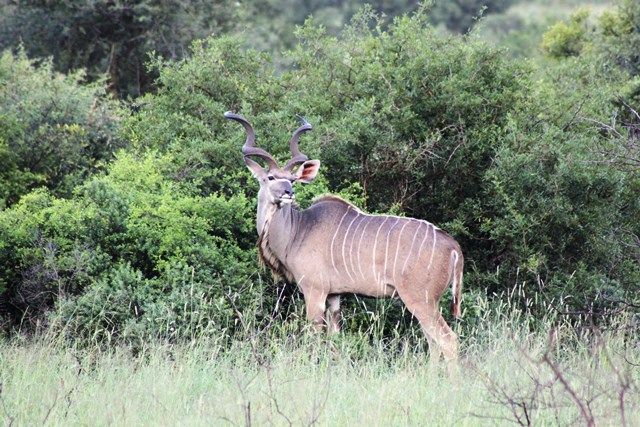 Then when we passed the Muntshe loop, we got a special sighting waiting in the road…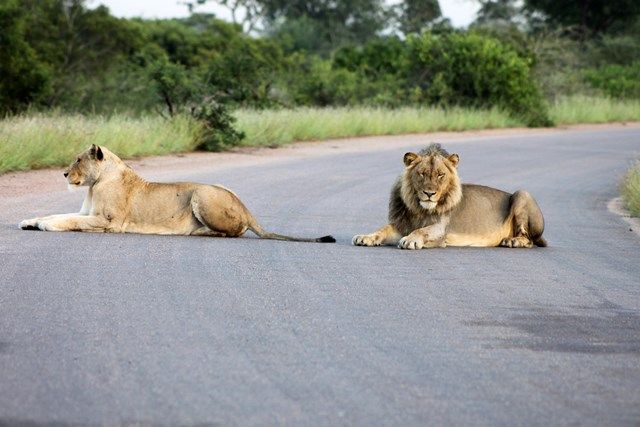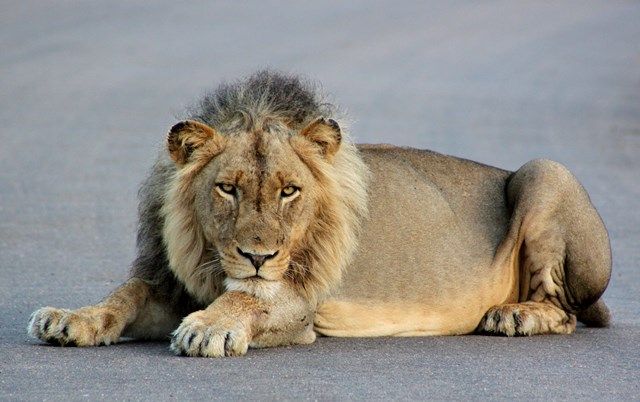 If you look closely you will see that she has one eye missing…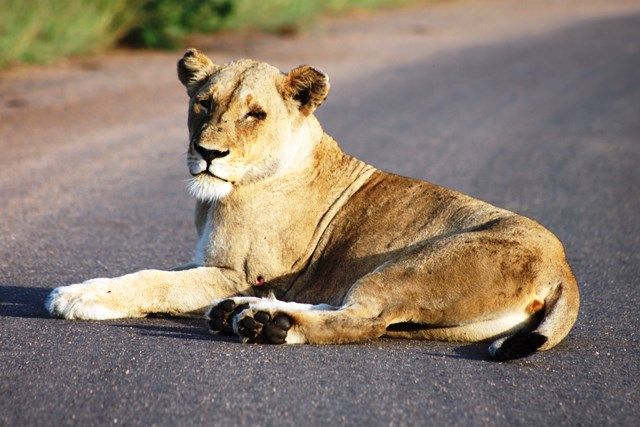 She was all over the road…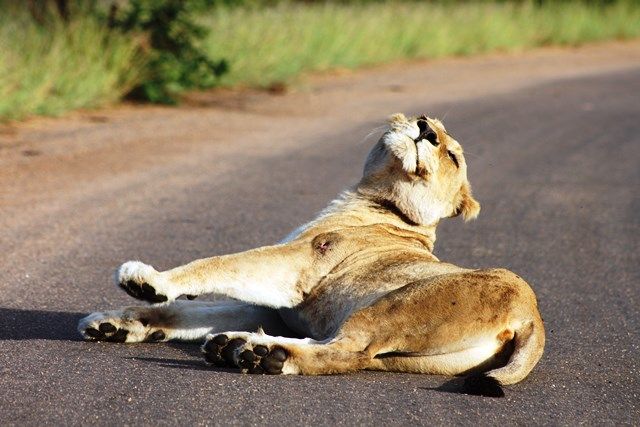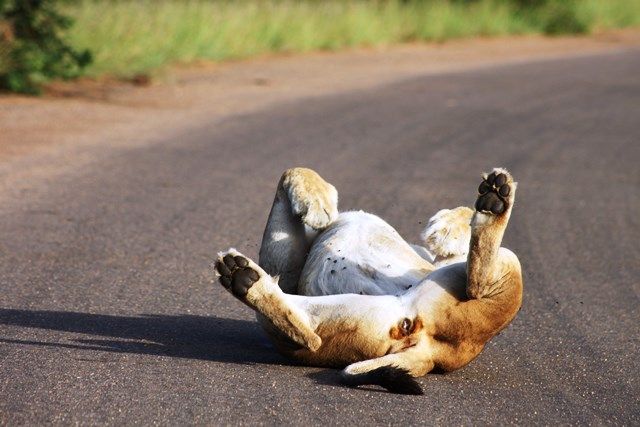 And after about 30 minutes she stood up and strolled into the grass next to us, what then happened was a first for us. She started eating grass. We couldn't get kiekies of that but it was definitely a first for us. We were then joined by another car and then the male decided to go feast on the grass as well. But it seems that he didn't like it that much…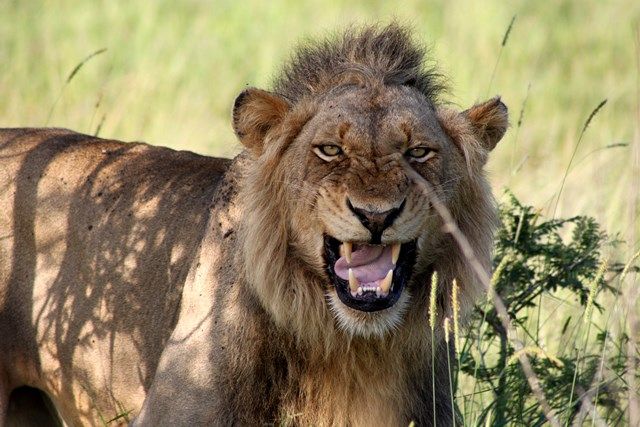 After an hour of kitty bliss we moved on as we still had a long way to go…
Just after Nkumbe look-out point we had a bit of an ellie jam. These bulls were having a wrestling match. We had to wait a few minutes as my paranoid passengers were too afraid and didn't allow me to pass them.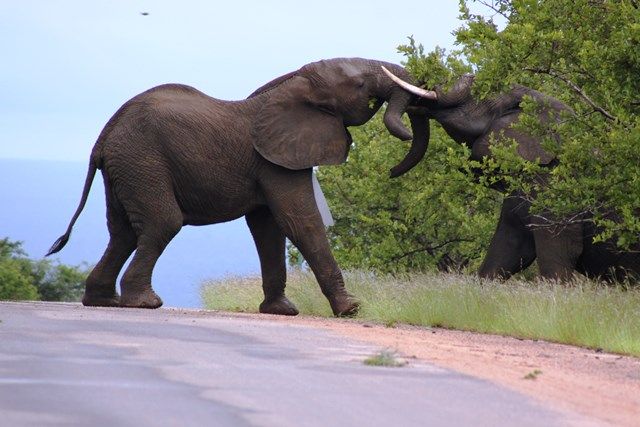 We also got some birdies along the way: Green-winged Pytilia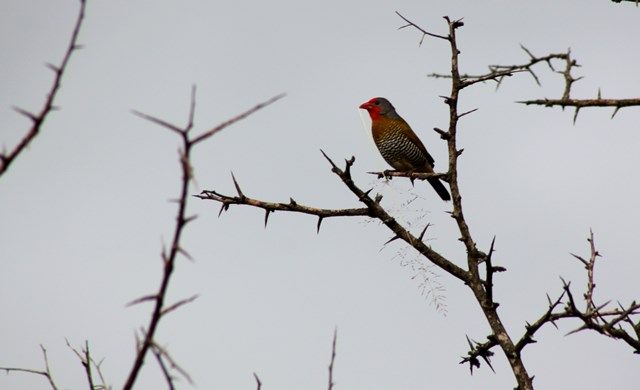 And some European Rollers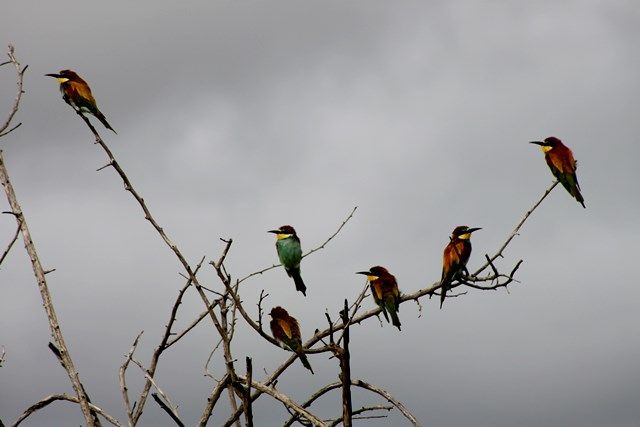 Just before Satara we got some buffalo and this one had huge horns on him.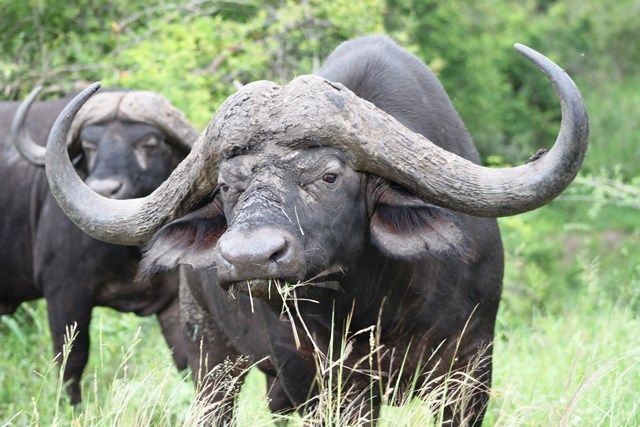 We parked and then went to the restaurant area where we found the lovely couple under the fever trees checking out some birdlife. I got an ice cold KPA and joined them. We had some slap chips for lunch and kuiered with them, I believe till 15:00? Then it was time to say our goodbyes. It was great seeing them in the Park and listening to all their stories, they had a birthday to attend in Skuks in a few days and we were so green as we had to leave very soon. But that is how the cookie crumbles.
Just before we left we had to go search for the resident scopsie and I got a view of him… Was strange seeing him looking down on me.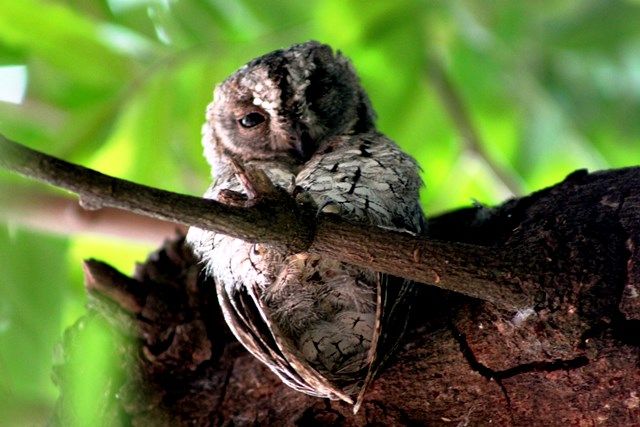 On our way down we saw this vervet, and it seemed that this was the thing that we all should do in this heat instead of driving round in a stuffed up car...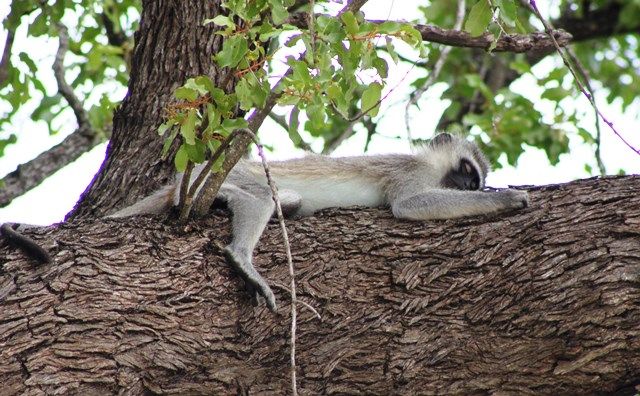 We arrived back in camp just before the gate closed and we were totally knackered. But it was time to start the fire and I poured myself a big glass of Amarula over ice. Another fantastic day was finished with amazing sightings and great people.
To be continued…
2017
2-5 March Skukuza

31 March - 8 April Skukuza

14 -17 July Tsendze
18-22 July Satara

8 Dec - 12 January 2018 Satara
---
Distinguished Virtual Ranger

Posts: 2955
Joined: Wed Sep 22, 2010 11:37 pm
Location: Pretoria
Day 31… the last drive
10 January
I woke up this morning, not believing that this would be my last full day in the park, a month has gone by so quickly. It is really true how the time flies when you are having fun and a month in the bush is definitely the way I would spend every December, if my finances and time allows.
It was already starting to get hot and it was not even 5 in the morning, we went South again for our morning drive.
We had an early start, animal wise when we got these two beauts in the road…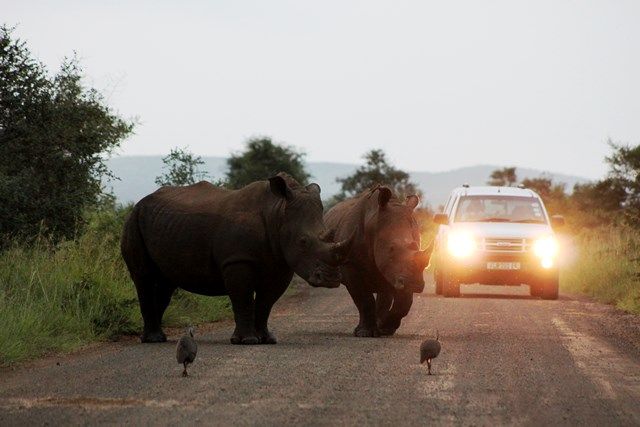 And a highlight for us were 2 African Goshawk, the light wasn't on our side so we couldn't get great kiekies but we did enjoy them 'quick…quick…quick…-ing' around us and their interaction.
We had a bit of a roadblock, as we had to follow this massive truck at about 5 km/h but we were loving it… Another surprise sighting was the black-shouldered kite above the truck.
We were also entertained by some submarines…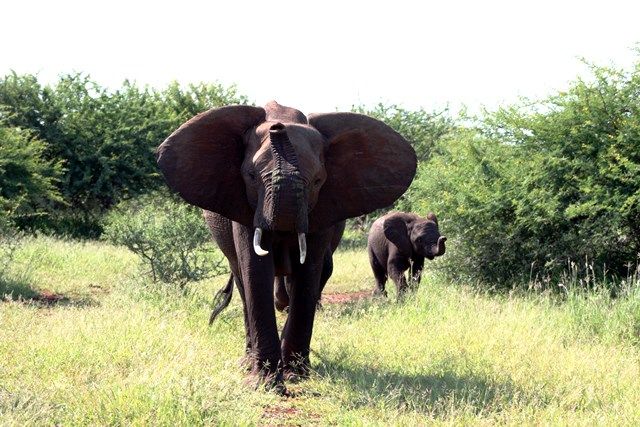 And then we were back at camp, we saw some very dark clouds coming our way, and decided to have a family meeting. It was a hard but unanimous decision. We were going to pack up and leave the Park today, and sleep just outside at our Family house in Sabie Park. We believed that it would be best to pack up whilst it was dry, as I had that wet experience when I moved from Croc Bridge to Satara and it wasn't all sunshine and roses so even though I didn't want to leave the Park and end the trip a day earlier, do I really want to pack up in the rain with everything sopping wet? We didn't want to take the chance so it was set in stone.
We still had a lot of time so I started a fire. We had our last brunch-braai in the park and then we started packing up. We left Lower Sabie by 15:00 so we can do an afternoon drive to Kruger Gate. As we left the camp we got some waterbuck, here is a beautiful bull…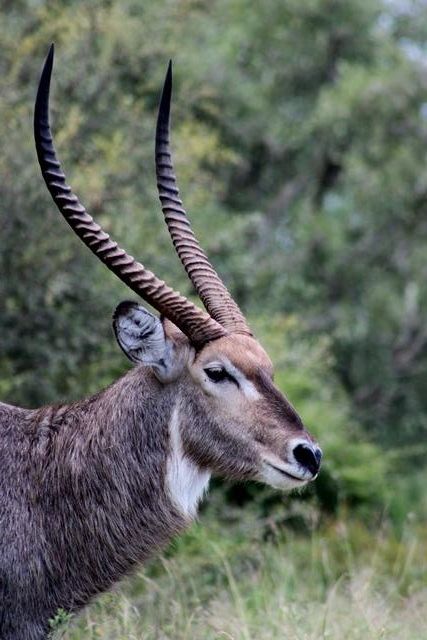 And then we got a kudu bull as well…
We also spend some time with playful vervees...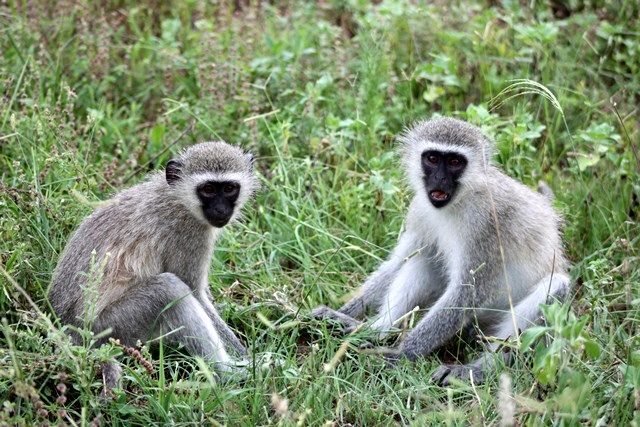 We turned on the H12 bridge deciding to take the H1-2 to Skuks. Somebody waved us down and informed us that there were some lala lions about 3 km N of the intersection so we got really excited, until we got there. First I got very upset as there were a dead tortoise between the few cars which meant that somebody drove over him whilst trying to check out the lions and secondly, even though there were only like 4 cars at the sighting, this is what we saw…
Now if you look at the dam, just in front of it there is a row of darkish-ish green grass, if you follow it towards the bush on the left hand side of the picture just next to it you will see brown/cream 'things' lying around…. Uhm, yes… that are your lions…
So we didn't stay long there, the gate was way too far to even hope to catch closing time by the time they'd decide to move. We got some general game, a black chameleon and rude drivers, swooshing past us the rest of the way, and then when we got to the S1/H11 intersection there were about 6 cars next to the road. It was strange finding such a small roadblock so close to the gate. And then out in the open in a tree we got to see this…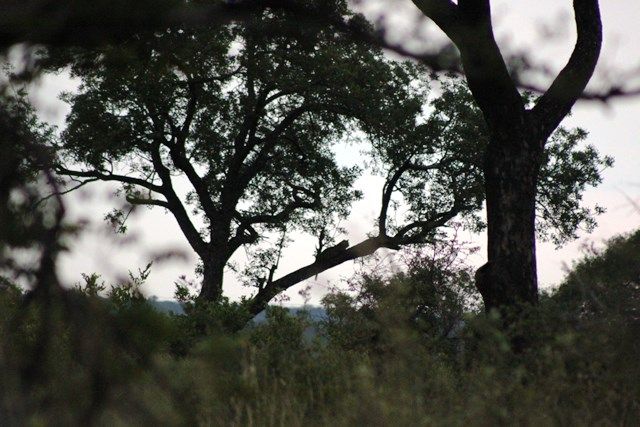 She was a bit far off, and with the fading light you could only see a silhouette but still a great way to end a day. As we stayed with the leppie, we heard lions roaring in the direction of the S1, my heart was aching to go have a look but I didn't know where they were and there were only 20 minutes left till the gate closes… The leppie got such a fright that she jumped out of the tree and vanished. Mum and sis put their feet down and said we should move on, so we drove to the gate and straight to Sabie Park. As we left KNP it started drizzling and we were so happy with our decision to pack up a day early. That night it was my first time in more than two weeks that I slept in a bed and it felt like heaven.
The next morning I woke up at 4:30 as well which felt strange for me, as the gates open an hour after the camps. We waited outside Kruger Gate as we would just drive the S1 to Phabeni Gate and leave.
Whilst I was sitting in the car waiting for the Gate to open I got my first mosquito bite for the whole trip, what is the chances… Just have to say that I only heard the mozzies at Sable Hide and rarely knew where my tabard was during the trip. I have this theory that December is just toooooo HOT for them blood-sucking critters to zzzzzzzz around.
There weren't jaw-dropping sightings on the 40km stretch to Phabeni Gate, a lot of general game though, but I enjoyed the drive non-the-less.
This was such an amazing experience spending a month in such a wonderful place. I had out of this world sightings and spent time with very special people.
This is definitely something that needs to be repeated, so I'm thinking Dec 2015 here we come…
To be continued…
2017
2-5 March Skukuza

31 March - 8 April Skukuza

14 -17 July Tsendze
18-22 July Satara

8 Dec - 12 January 2018 Satara
---
---
Who is online
Users browsing this forum: No registered users and 5 guests