The lyrics by Keane from their song Somewhere Only We Know
Whenever I hear this song it reminds me of Kruger.
Hadn't been for many years, and then in 2004, I took the SO there for the first time.
At the time this song was their latest hit and was being played a lot on the radio.
For me, this song has become synonymous with my all my subsequent trips to Kruger.

And so, at 7am on December 21st 2013, we left my Mom's flat in Jhb, and headed down the N4 towards Melalane Gate and 7 days/6 nights in Kruger.

The itinerary:
1 night Skukuza
2 nights Satara
2 nights Lower Sabie
1 night Skukuza

About half way on the N4 we came to a traffic jam, there must have been an accident ahead. And in an hour, we had done 100m max.
Turned around and went back to Belfast and did the scenic route via Carolina, Badplaas and Barbeton.

100km longer, and 2 hours later than expected we arrived at Melalane gate.

As with my trip report last December, I am not going to do a "day by day" report that most people do.
But rather a "road by road" report. Didn't make notes of exactly which road I took on which drive, but with the help of my photos, do remember what I saw on each road, so will do it that way instead.
---
Had some really fantastic sightings.
Big 5, all of them on multiple occasions.
And some other "specials".

But I did a lot of driving. And I mean a lot.
Did over 200km/day average.
And bearing in mind it was often over 30*C by 9am!

I didn't mind, but sometimes my kids went a bit mental in the car.
Particularly my daughter who isn't as enthusiastic as myself and my son.
The SO's attitude to all that time in the car, is that as long as I am happy, she is happy.
But I always said to the family, that unless we were moving to another camp, no one was forced to come with me.
SO and daughter opted out a few times, but my son came with me on most drives, but one.
---
H3
Elephant
Hippo
Impala
Warthog
Kudu
Waterbuck
Buffalo
Grey Duiker
Saddlebill Stork
Giant Kingfisher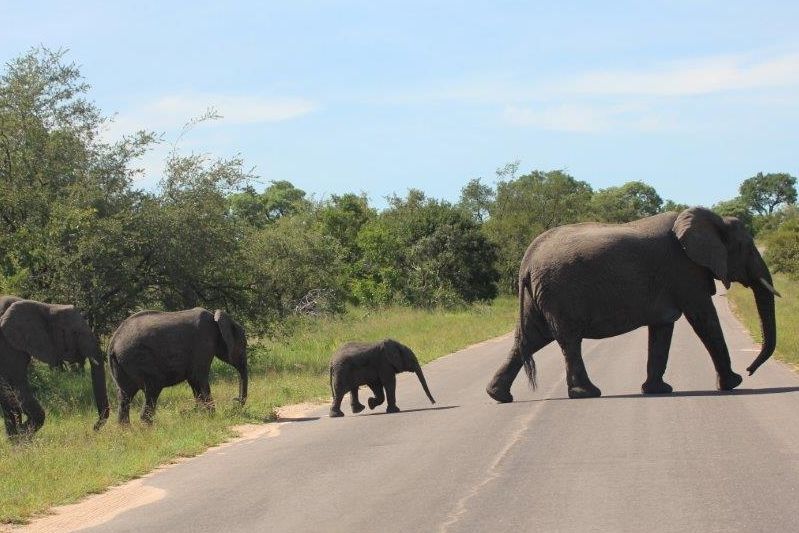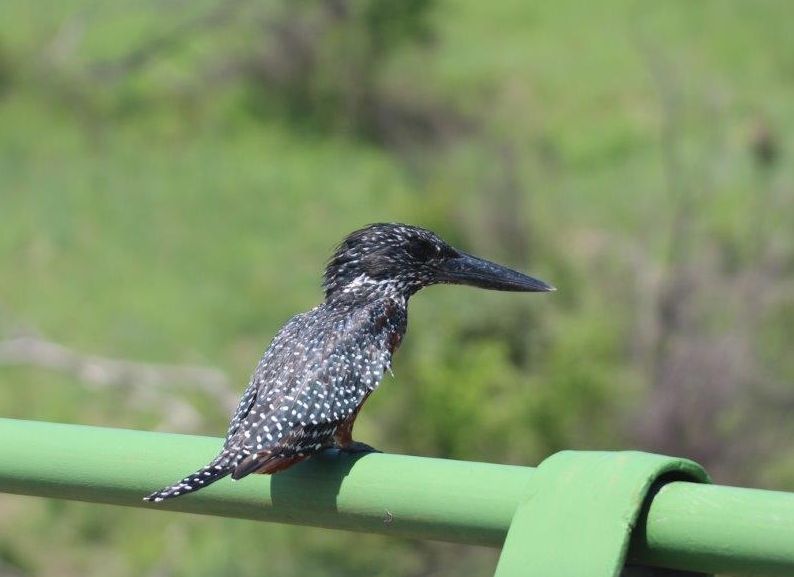 We drove the H3 twice, and the 2 times could have not been more different.
Entered at Melalane at lunchtime on the day we arrived, to drive up to Skukuza. A nice sunny day.
And the sightings were brilliant. What a great way to start the trip.
And we also drove down to Melalane Gate from Skukuza to exit and drive back to Jhb.
It was raining and miserable, and we hardly saw a thing. A few damp looking Waterbuck and a medium sized Buffalo herd not too near the road.
---
Thanks Guys,
Just the start......
We werer to see loads of new born elephants over the course of the trip.
Perhaps a sign of the exploding elephant population?
---
H1-1

Impala
Leopard Tortoise

The section of the H1-1 from the H3 to Skukuza proved slow on both times we did this road.
Sunny time and rain.
---
S30/S128
Leopard
Elephant
Hippo
Kudu
Zebra
Impala
On the first night we stayed at Skukuza, and for the morning drive I drove to Lower Sabie via the Salitje Road and came back on the H4-1
The highlight was definately the leopard sighting.
As I came around a corner by the area where the experimental fenced off area is, it was crossing the road, but by the time I got my camera organised, it had moved into the bush.
Of the 3 Leopards that we saw on the trip, I didn't get any decent photos of any of them.
You can just make out a small smudge of yellow.
This must certainly qualify as the worst Leopard photo ever!
---
---
Been a while since I last added to my TR.
A bit hectic at work at the moment.
And lots happening at home too.
Will try and update soon.
---
H1-2
Elephant
Impala
Hippo
Buffalo
Waterbuck
Nyala
Fish Eagle
WB Vulture
Gymnogene
Crocodile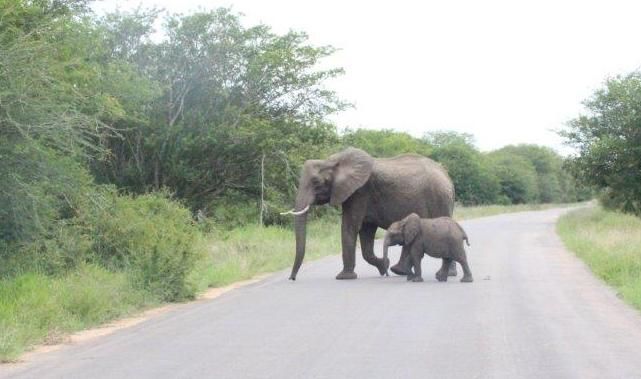 There was this cow and calf alone, with no herd to be seen.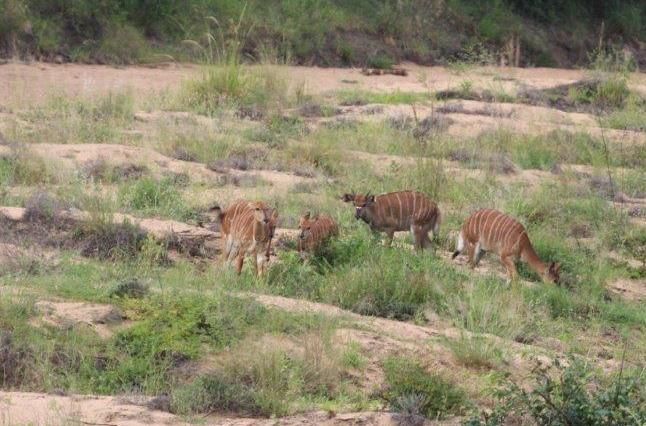 We did the section from the H12 back to Skukuza camp a good few times.
I always like the low level bridges. Often interesting birds to be seen from there.
Not to mention the Croc in the river.
We did the section to Tshockwane once when we went up Satara
The elephant damage to the trees in the Leeupan area shows what a huge impact they are having.
---
S1
Elephant
Zebra
Impala
Grey Duiker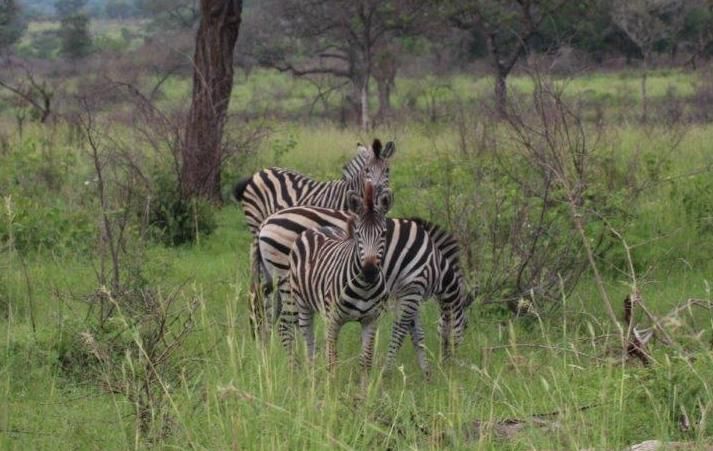 On my last last afternoon drive (we were heading to Melalane gate and Jhb the next morning) I decided to do the H4-1. It had been really productive on the other times we had driven it.
But it was a public holiday and the traffice was really unpleasant. I got gutvol, and decided to head back to Skukuza.
As I approached camp, I thought, what the heck, it was my last full day, I may as well give the H11, S1 a go.
Proved quite a good idea. Although the S1 is a "gate road" it was actually relatively quiet.
The next morning, the SO decided she wanted a lie in. So I thought I would go for a quick drive down part of the S1 again.
I hadn't driven far when a car came towards me. He pointed to an elephant in the distance and said it was being really aggressive and wasn't allowing cars past. I didn't need to be told twice, and as it was really starting to pour with rain, I turned around, and headed back to camp.
I wonder if this was the same elephant involved in the "incident" a few days later? I didn't take a photo of it, so I guess I will never know.
---
H4-2
Elephant
Buffalo
Giraffe
Wildebeest
Zebra
Warthog
Impala
White Backed Vulture
(At this rate I would have gone on my next trip before I finish this trip report
)
This road has a good reputation. But to be honest, I found it fairly poor.
The stretch from Lower Sabie along the Sabie River was excellent for Elephants
And the last few km from the S28 to Croc Bridge was good for general game.
But the bulk of the road, between these to ends, wasn't great. The bush was very very thick. It was difficult to see beyond a meter or two.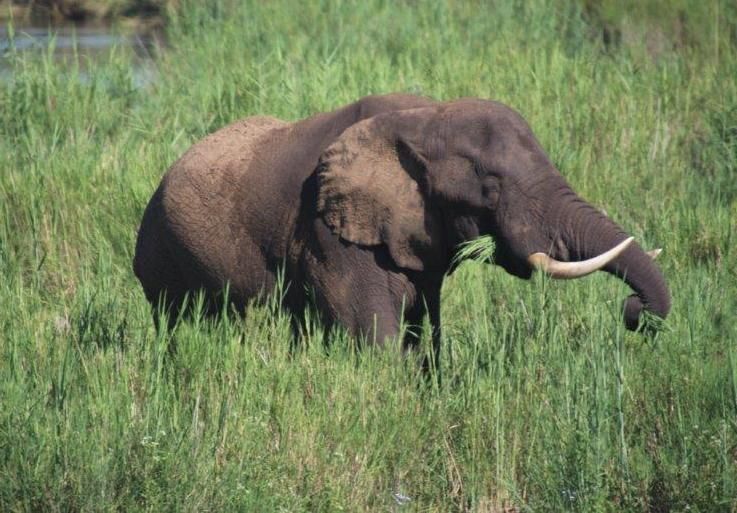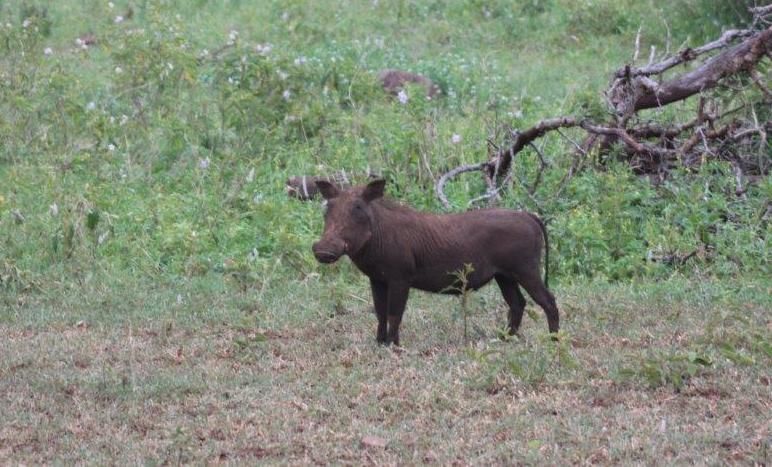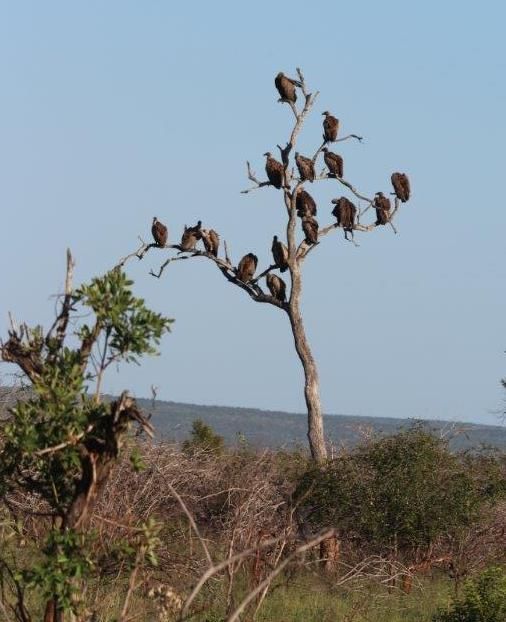 The vultures were in the trees for over a day, but we didn't see the kill.
It must have been deeper in the bush.
---
H1-3
Elephant
Giraffe
Zebra
Wildebeest
Buffalo
Waterbuck
Kudu
Hippo
Impala
Vervet
Fish Eagle
Bateleur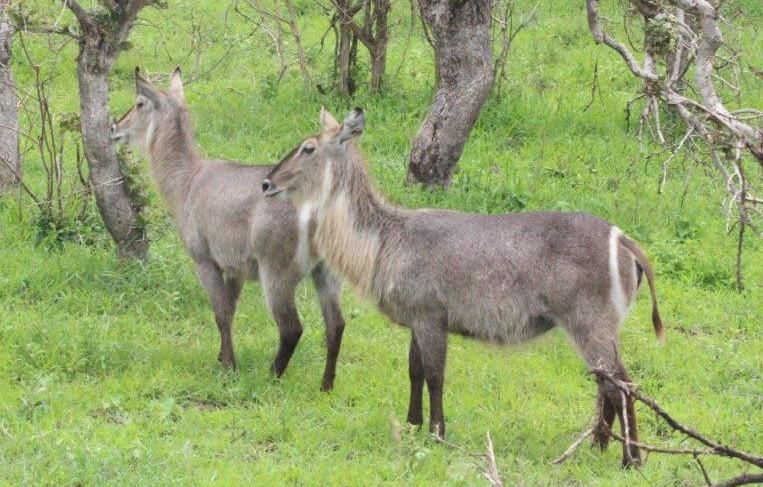 This road has always been productive. And is always well worth driving, as many times as possible.
I particularly like the numerous pans/dams along the way. More often than not, there is something interesting at atl east one of them.
On this trip we did the full length twice. On the journey up to Satara from Skukuza. And then down again to Lower Sabie.
---
---