At last! I've now tied myself to my chair ..... else I will never get any post going. I am so keen to share some of my sightings from one of my visits this year.
It was a last minute decision to visit, and a good one it turned out to be.
I'm not sure whether this going to be a day to day tale or just photos of different sightings but lets see how it pans out.
I have been so fortunate to have visited the park four times this year .... and still counting.
I am posting photos from March, as some of these sightings were so special.
Before I continue, what is the quickest way of uploading photos - I've been using photobucket and it seriously took me half a day to upload a handful of photos.
We entered Malelane and the day wasn't too successful in the way of sightings. In the afternoon we arrived at my favourite place in the park
[color=#80BFFF]LAKE PANIC
[/color]
URL=http://s1004.photobucket.com/user/fee640/media/IMG_5476.jpg.html]
[/URL]
Three elephants walked out of the bushes on the far left side. Two enjoyed a drink of water, whilst the third was stuffing his face with the lush vegetation.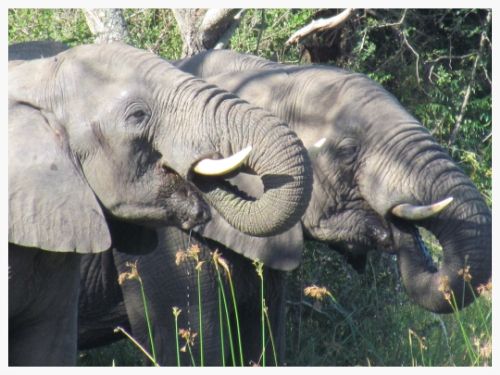 Thirsts quenched, the two entered the water to show off their aqua/synchronized swimming routine
to the handful of spectators sitting in the hide. We were waiting for the band to strike up some music, but the sound of the splashing water and trumpeting was enough for us to enjoy.
Before the show started, "Koning Krokodil" swam to the bank to get a good vantage point for the upcoming show
and then it was show time
I think they were rehearsing for the upcoming contortionist competition ... and we were praying their trunks wouldn't get tied in a knot. Nobody was too keen to play lifesaver there.
A beautiful malachite kingfisher was another of the crowd enjoying the display and it danced around on the branch.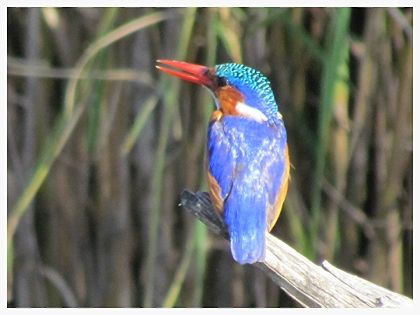 and even these babes were peeping through the bush to share the spectacle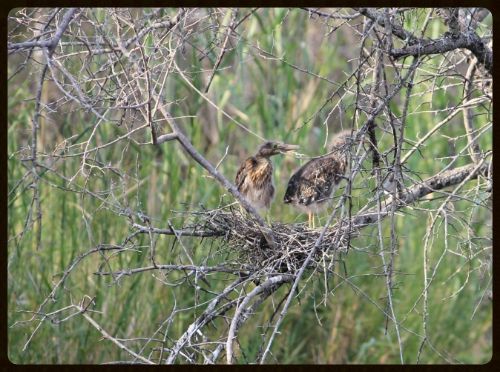 The one-hour show came to an end and our day was coming to a close too.
---
We stayed in timeshare for this visit, and we returned just in time to this beautiful setting.
I think only in Africa do we see such sunsets!!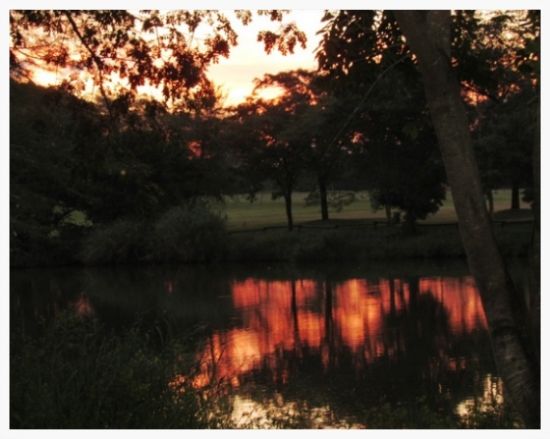 Next morning, we were greeted by a huge herd of dagga boys who looked like they had lived up to their name.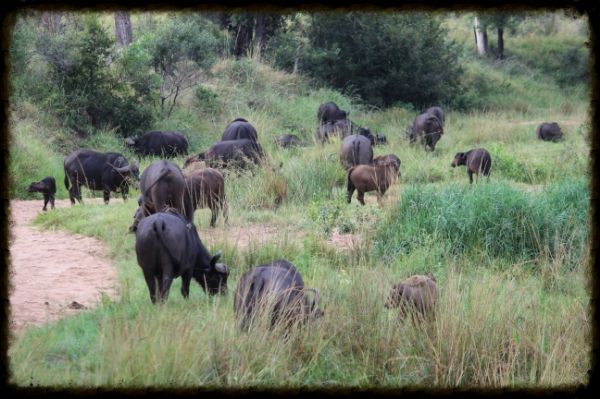 [/URL]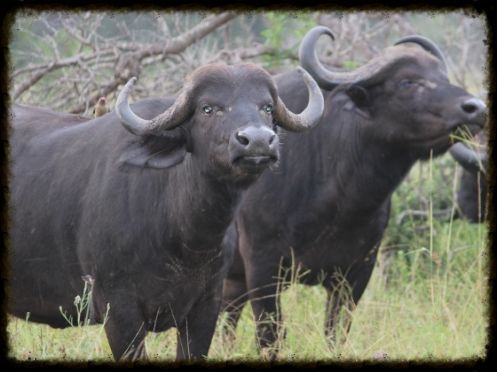 Buffalo Beula remained close to baby Beulas side as the youngster seemed a little insecure with all these big brutes looking half stoned. Must have been one big party the night before.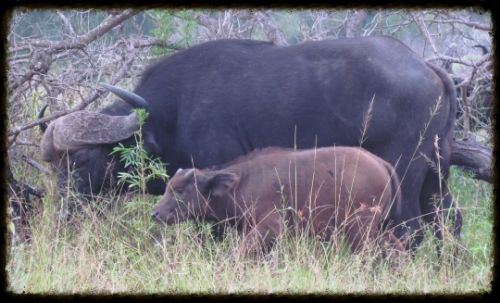 The ox-peckers were pecking away at their free meals on everyone .......
Mmmm, maybe love is in the air with all this grooming taking place ... time to look good too.
This kudu was clearly enjoying the taste of the leaves and having her coat dry-cleaned.
The snake eagle sat with a smirk on his face watching the antics of the buffalo herd. He was just perched, and waiting for an opportunity to grab himself a hearty meal. He clearly missed the chameleon who crossed in front of us ... a half hour journey from one side of the road to the other.
Oh well, as the saying goes in Kruger ... its being at the right place at the right time.
............ And this mamba which looked like it had been killed by a speeding driver
---
Appreciate all the comments posted.
Don't you just love all the flowers showing off their vibrant colours in summer .....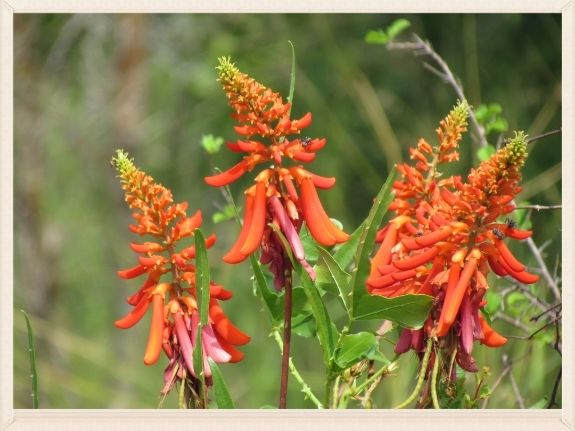 This trip was certainly a show of elephants ... and this guy was doing his patrol duty on the road just past Transport Dam. He was adamant to steal the limelight, and show everyone who was boss
He did not let any car go past , and we had to reverse a number of times to please him. After half an hour, he relented and walked off into the bush ... pleased as punch and I'm sure laughing to himself!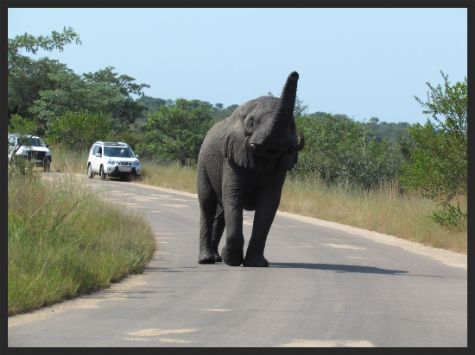 We passed the spa and business seemed to be booming ...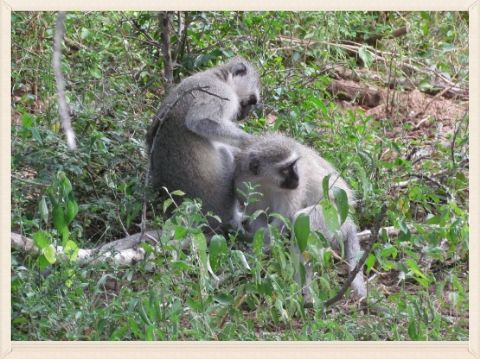 We paid a visit to the famous klipspringer who was in residence on the h1-1 and she kindly posed for us. His partner wasn't available for the photo session with us.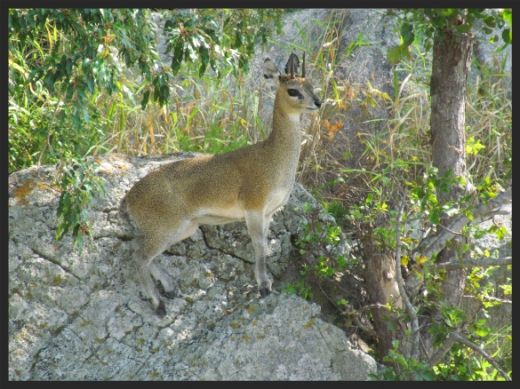 ---
Glad you are enjoying this journey with me .... I am enjoying the comments.
In Gardenia hide, I watched this golden orb?? spider busy at work - its legs were almost as long as mine. I had visions of seeing it at eye level walking next to me out the hide and down the path with us to the car.
A wasp nest was neatly formed above one of the rafters and its residents were busy coming and going.
There wasn't much in the way of sightings, but who says Kruger is only about sightings??
......... Its the roar of a lion in the distance, or the giggle of hyaenas ..... and the chirping and "tweeting" as well as the melodic tunes of our feathered friends ..... Its the element of surprise around each corner, the peace, tranquility and smells of the bush that makes Kruger Park!
So, I was not in a hurry to leave, and was happy to just sit around and enjoy.
On he road again ......... the rock formations always intrigue me, and its amazing how everything balances so well.
All relaxed and gnawing away at some biltong, we were sure we had spotted some impies walking in the distance .....
until our four eyes focused correctly ... I mentioned the element of surprise in Kruger .. well, this is a good example. Two lionesses with three cubs. They sat down in the road - in no hurry to go anywhere.
Well, we were not in a hurry either, so lets
and enjoy each others company!!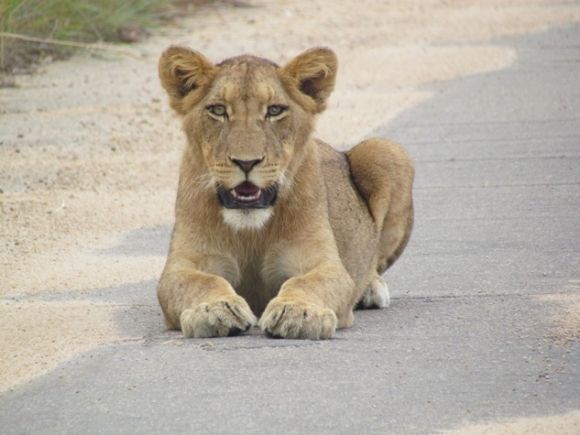 ---
For me its a crime to get to the gate after opening time .... I like to open the gate! So, this next morning we were late - now this is a catastrophe for me. I'm already wondering what we've missed out on.
We decided to go through Numbi Gate and for once, this lateness was to our benefit.
At the gate we heard about a cheetah sighting on theS7 - so we didn't waste any time and moved on our merry way, hoping we didn't lose out.
Lose out we didn't ..... as we spotted this spotted beauty lying in the open on a huge flat rock.
Once again we had this all to ourselves - not another car around for at least fifteen minutes.
She looked up to check us out, and dozed off.
---
---
I was hoping to post some video clips of the cheetah, but its more of a mission than I thought. You can't do it via photobucket, but it has to go via via via .....
So, on with the report ....
This giraffe wanted to give the impression of having a double-head, and we had to endure yet another road-block which we didn't really mind! I kind of enjoy these delays instead of the grid-lock we have on a day to day basis.
This red-backed shrike caught our eye whilst we were being "held-up" ... at the roadblock ... the black band across the eye reminded me of a robber!
Just before the Kruger tablets I spotted "something" on top of the rocks .... klipspringers keeping guard on the top of a high rock about 100m from the road and they posed so nicely for my photo.
---
"What a beautiful set of teeth you have" ....... said I to the crocodile and he replied "Come and say that nearer sweetheart" but I declined the offer and he just gave me a wonderful smirky grin.
]
His mate on another bank was enjoying the sunshine ... not a care in the world
During this visit, we were not short on elephant sightings, and in the Sabie river we watched this herd enjoying themselves in the heat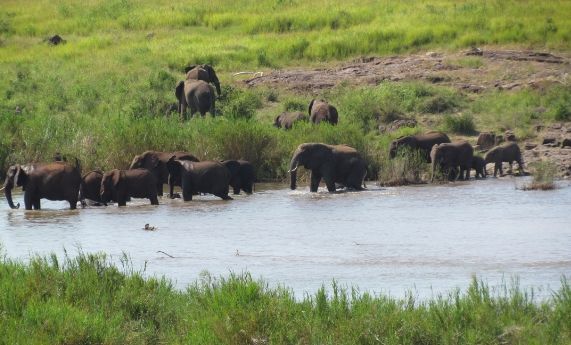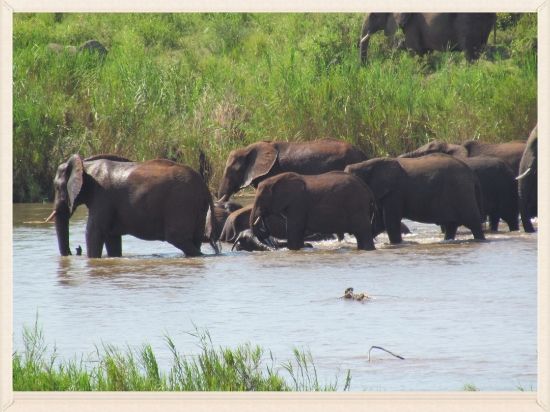 One of my favourite birds ..... probably contemplating the long journey ahead to the north ...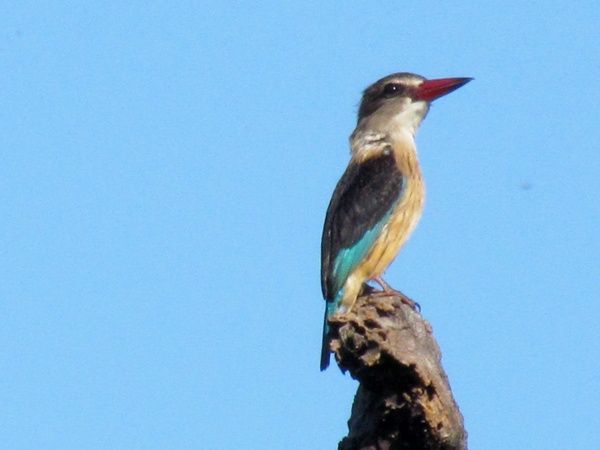 We found this small herd of impies joining us at the picnic site near Pretoriuskop - unlike us, they didn't bring too much padkos along for breakfast, but preferred what was available at no charge. Just love photographing them.
Their cousins and extended family were on the way to join the party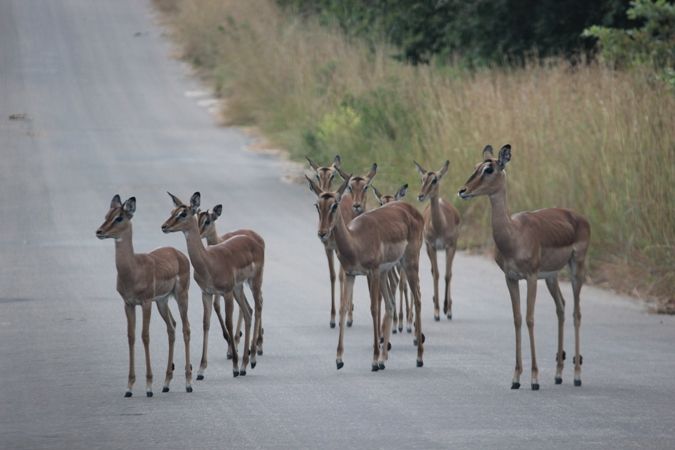 and some of them couldn't wait to get there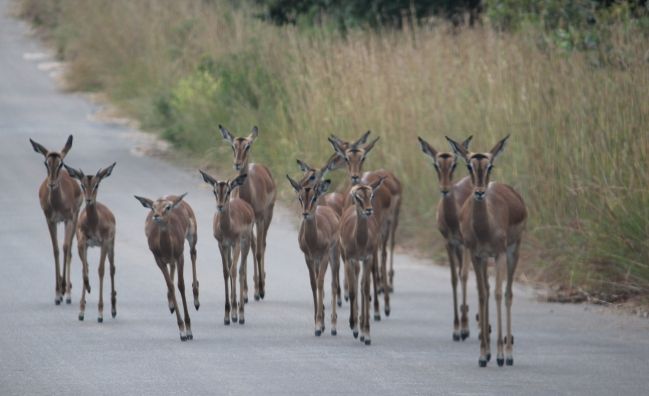 This journey came to an end .... with a heavy heart
it was time to head out the gate and out of the Best Place on Earth.
Thank you for sharing my March visit with me, thank you for your comments, and until next time happy viewing.
11-21st October - Burchells Lodge & Ngwenya
14/15/16th November - Skukuza
29/30th December - Biyamiti
31st December - Skukuza
---
---