---
Earlier that day OomDaan told our friends, he phoned King Lion with a request. Since our friend did not see a cheetah in the Kgalagadi, he asked if King Lion can perhaps arrange that Cheetah can pitch up at about 11.30. Then we will be in the Auob valley . King Lion replied, Cheetah's cell had a flat battery and that he left a voice mail, but can not guarantee Cheetah's appearance.
It was almost 11.30.....
---
Well, as I hand the binoculars to OomDaan , may be he could see what the Springboks were so nervous about, quicker as you can blink an eye, the mother Cheetah dased off, chasing a Springbok. At that speed you could not even focus a camera to get a photo!
It was only a lot of dust, and the Cheetah made her kill.
The 3 youngsters with her were pretty thin. They followed her for a well deserved meal.
One of the Youngsters
Mother waiting at the dinner table.
I am coming Mommy!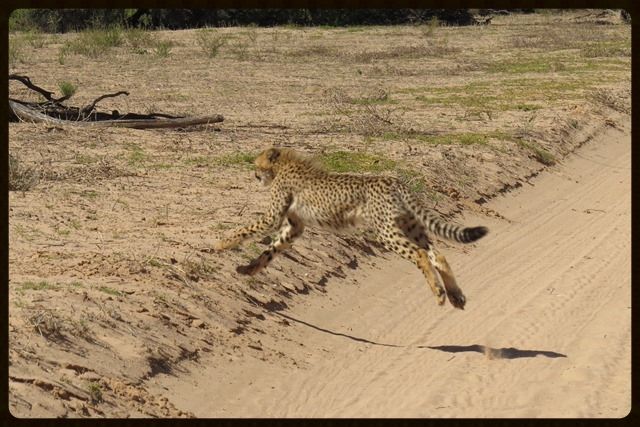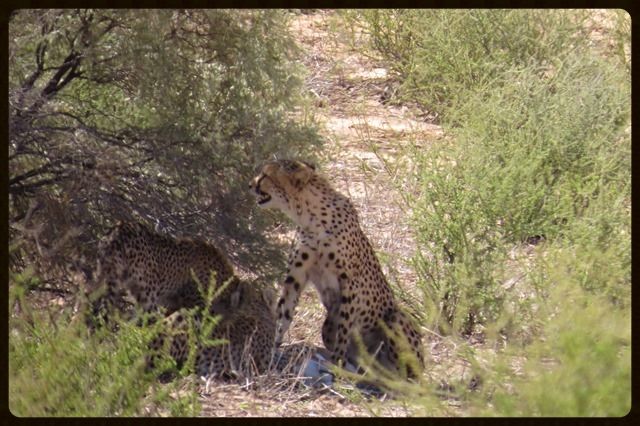 It took a while for her to catch her breath and join them at the meal.
I marked the spot on the GPS. When we got back from Mata-Mata in about 2 h time, they were gone, no evidence left behind.
---
At Mata-mata we had some welcome coffee and something to eat.
We saw this little owl, I think the same one inado saw!
White - Faced Scops-Owl (Witwang uil)
We had to stop at the AWC tree...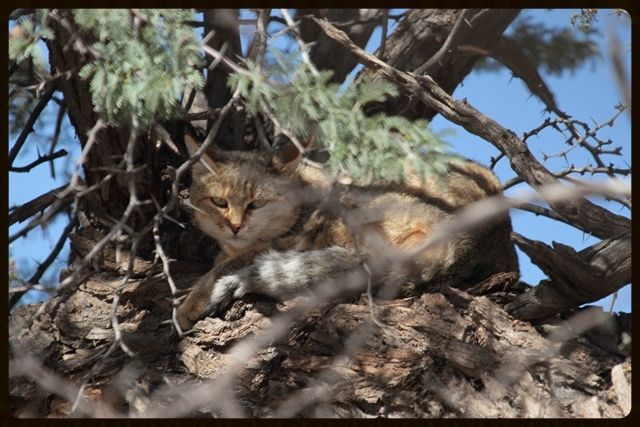 This 2 Steenbokkies were on the dune road.
I Think it is Moravet (?)
OomDaan -
Me - Vivid colours
Back in Nossob - camp , right up in the tree ,
a Pearl - Spotted Owlet! (Witkoluil)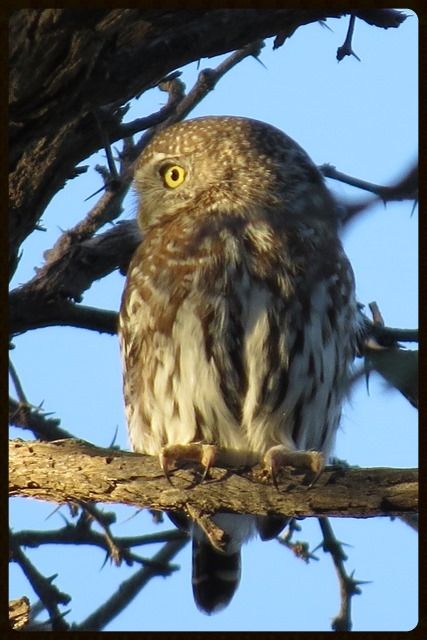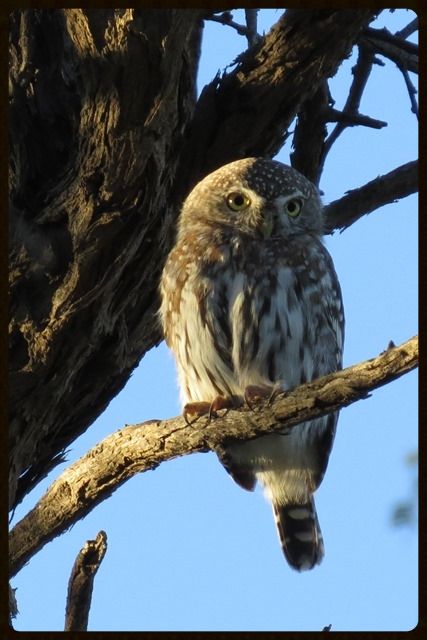 They are the ones that make that spooky call at dawn and dusk....
We had such a wonderful day. Full of surprises . We really felt spoilt and thankful and blessed and happy and so lucky and touched and in awe .....so grateful and humble .
---
Today was our last day @ Nossob. So we choose to take it slow. A morning drive to Marie se draai, and then a walk around the camp.
This is some flowers and shrubs showing off its beauty.
Three Thorn [/b](Drie doring)



[b]Wild Sesame
(
Brandboontjie
)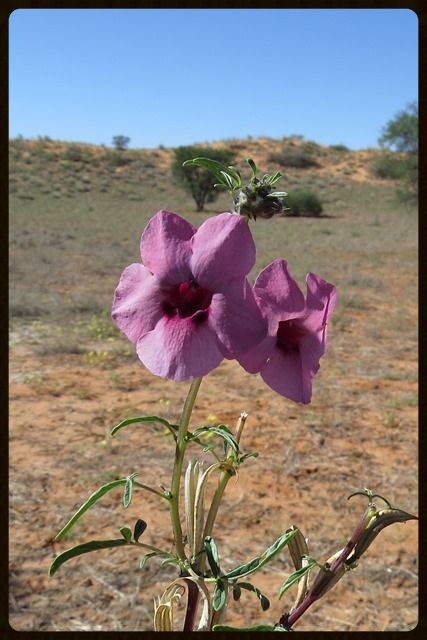 ZYGOPHYLLACEAE Tribulus zeyheri
(
Dubbeltjie familie
)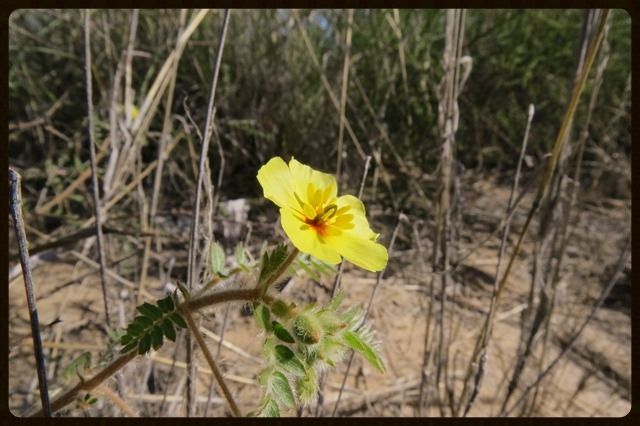 AMARYLLIDACEAE Amarillus
AIZOACEAE
(
Brakbos familie Volstruisdruiwe of rooirank opslag
)
AMARANTHACEAE
(Misbredie familie Katstert
)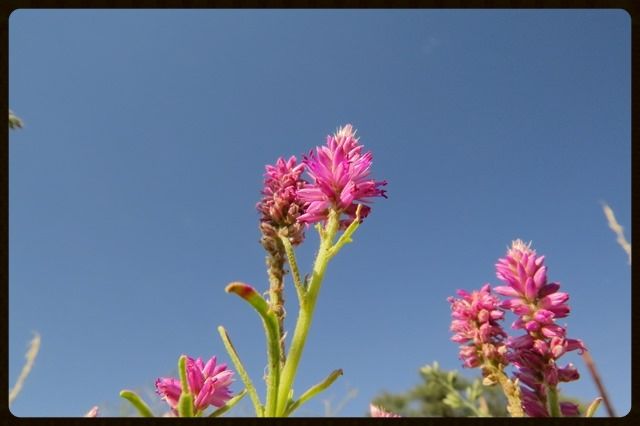 FABACEAE Acacia Erioloba Camel Thorn
(
Kameeldoring
)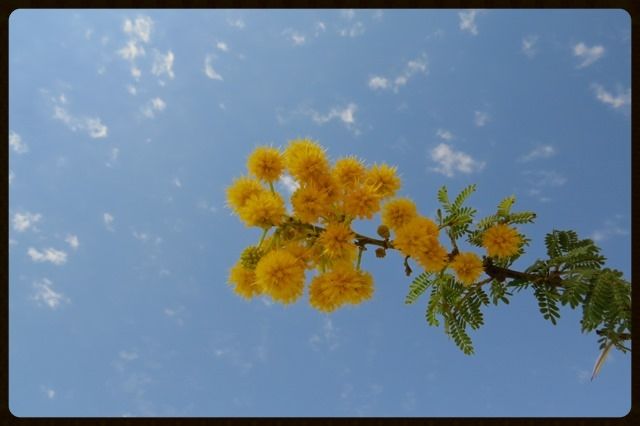 This must be a kind of mushroom .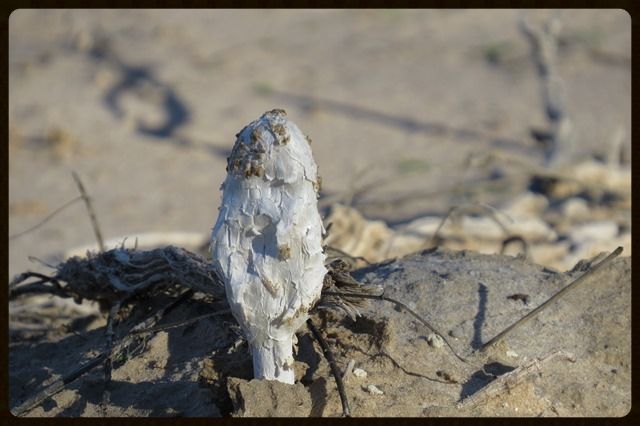 ---
---
---
On our way home: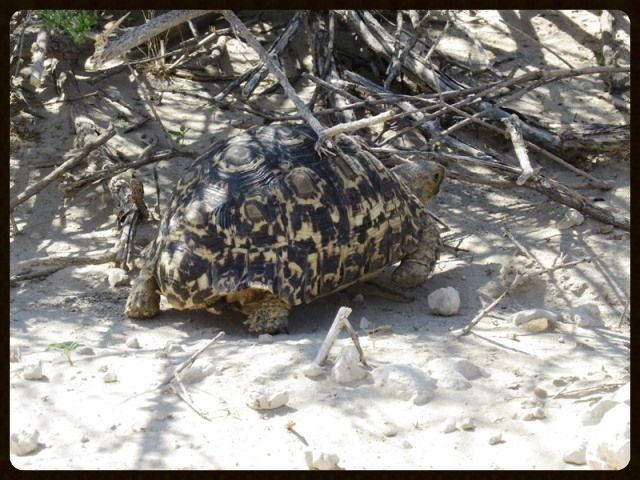 I am so fortunate to visit this very special place again soon.
(Sjoe die engelse taal darm
)
I am thankful that I have the opportunity and means to go.
We will celebrate the awesomeness big and small .
To be humbled and acknowledge our Wonderful Creator .
Just to be there....
My favourite favourite Photo:
Thanks for your time,
The pleasure to share
Surely was mine
---
Thanks
Trrp-trrrrrrrr!
and
katydownunder!
It is fun to share
We were spoiled with that honey badger!
The whole area at Marie se Draai was full of holes (direk vertaal!)
I think there were more than one in the area, and they were busy for more than a week.
May be this is the one we can see now at Nossob's Web-cam!
---
Sterretjie!
Son Godin
,
On a previous trip we camped at Nr 3.
When we arrived there , we found fresh lion tracks though the camp.
During that stay we also heard a leopard rasping very close to our camp at night.
They saw him at nr 2.
When the Polentswa males walk their territory at night , they roar every now and then. To be in your tent and listen to them, announcing where they are, is very exciting. Specially when you hear them coming closer. And closer!!! The chances that they will come through the camp is normally very good when they come from the dunes on their way to the water hole.
Enjoy!
---
---
Who is online
Users browsing this forum: Goronta and 4 guests