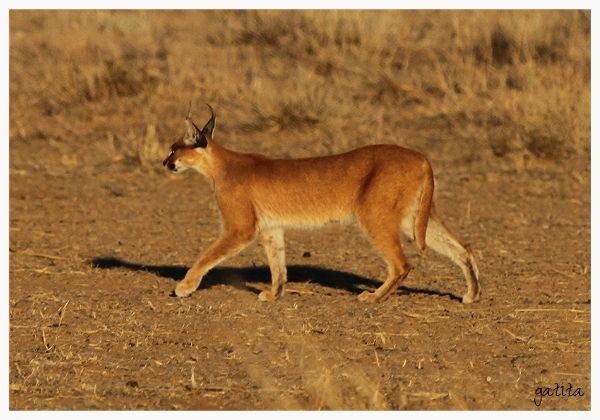 Unfortunately, it was very late by now and we had to return to camp. Still we made a brief stop to tell Sarah who was the guide on the sunset drive about the sighting.
I was over the moon after that sighting and went to say thank you to the Volvo driver who stayed nearly next to us. Afterwards I felt terrible because I think his wife was not very amused that they had left.
---
14.09.2012
Animal wise this day was absolutely quiet but we met some wonderful people.
The morning drive produced some raptors and a cute little bokkie
---
After breakfast we headed towards Mata Mata. Right in the dunes between TR and Houmed we were approached by a truck. The lady inside was not just giving the usual hand signal to say hello. She was waving frantically. Then it dawned on me that I had seen the truck before. I saw that they had stopped and I told the SO to do so as well. We reversed towards the truck and had our first nice chat on that day. It was PetraJ and Scipio who were here for helping with kids in the park.
On the way we saw some birds
Common fiscal
Purple roller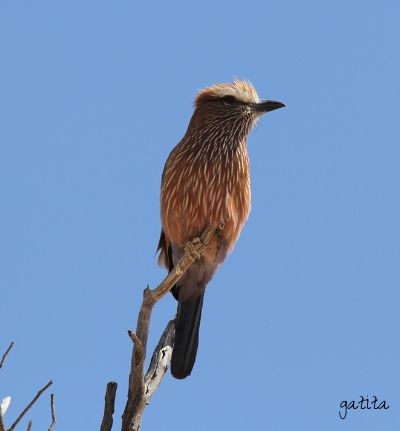 While we were having a break at Kamqua, a bakkie with many ribbons tied to the wing mirror drove to the picnic site. The driver turned out to be anne-marie and we had the next nice chat. It was really a great pleasure meeting all of you in person. Although we did not see many animals, it turned out to be a nice day.
---
---
---
15.09.2012
Today we had to leave the park. Although sometimes it was very quiet animal wise, we were sad. KTP is really special. Visiting is worth it if only to stay at the unfenced camps.
On the way out we saw brown snake eagle, a lark, pcg, a juvenile bateleur
Some tawnies, the AWC at 14th borehole which had moved to another tree
---
---
---
At Samevloeiing there were a couple of cars whose passengers were watching cheetahs
Unfortunately they were a bit far off. Nevertheless, we enjoyed our farewell-gift.
Now we had to inflate the tyres again and to leave towards Upington. On the road we saw a secretary bird, 3 yellow mongooses, meerkats, gemsbok, springboks, a pcg hunting birds, ostriches, an agama, befs and even Emus.
---
I never expected to tick of so many animals of my wish list:
Cheetah - 8
Good leopard sighting - 1
Black-maned lion – tick (14 lions in total)
Caracal - 2
AWC – 7 different ones
Meerkats – 4 sightings
Brown hyena - 2
Honey badger
Striped pole cat - 1
Porcupine
Eland - numerous
Red hartebeest - numerous
Kudu -5 sightings (11)
A kori bustard in flight - 3
Martial eagle - 2
Owls – 3 Verreaux's eagle-owl, 3 spotted eagle-owl and 2 barn owl sightings
Pygmy falcon - numerous
Whistling rat
Bat-eared fox – 5 sightings
I guess, now we have to return to find the honey badger, porcupine and whistling rat. I would not mind aardwolf and aardvark either.
On the other hand I will enjoy anything that we will see.
Thank you all for reading and replying.
I am really in the mood for our upcoming trip now which will begin on Wednesday. I am so much looking forward to it.
---
---
Who is online
Users browsing this forum: Kendall M and 3 guests