SO and myself have been visiting Kruger National Park now for over 21 years. Like many of you, we have accumulated many, many photos, and many hours of video.
We love taking out the videos and having a look at them on a rainy Saturday afternoon - or if couch bound as a result of feeling poorly. Its good medicine
What happens to all these thousands of photos one takes, especially nowadays with us all using digital. How often do you go back and look carefully through your pics taken all those years ago? How often do you dig out your old photo albums
I would like to invite you all to share some of your 'down memory lane' pics and memories here in this topic with me. Lets keep the posts short and the pictures of only our 'pearls'. Add the date of the visit and share a little about the memory the pic evokes.
- Dalene
---
April 2004:
I LOVE to camp on the fence at Satara ... nothing beats sitting right there, with a mere wire fence between you and the sunset. This visit was before the camping sites were 'demarcated' and the taps, bins and lights built. You can see the l o n g lead to the electric box.
Satara0404
by
dinkybird
, on Flickr
Again, the fence - this time at Lebata ... I LOVE this site. We have never seen Letaba camping area so green since.
Letaba0404
by
dinkybird
, on Flickr
One of many photos of this scene that we took over all the years; the Letaba River, from outside the restaurant.
LetabaView0404
by
dinkybird
, on Flickr
Another scene I have many photos of - near Letaba. A very favourite place in Kruger of mine.
FavPlaceEngelhardDam
by
dinkybird
, on Flickr
Sunset Dam ... I wonder how many photos have been taken at this dam over all the years. We certainly have plenty!! This one I really like. Not sure if it is technically correct, but I go back time and time again in the hope that the storks will again line up like this for me to snap
StorksSunsetDam0404
by
dinkybird
, on Flickr
Sunset over Sunset Dam ... one of many pics ... its like a addiction to try capture the sunset when at Lower Sabie.
SunsetDam0404
by
dinkybird
, on Flickr
- Dalene
---
August 2004:
There is always the customary pic of the gate we enter through - here is Croc Bridge, still the 'old' bridge:
CrocBridgeGate0804
by
dinkybird
, on Flickr
Skukuza camping ... always fun! Loved our little site we had this particular year.
Skukuzacamp0804
by
dinkybird
, on Flickr
One of many photos taken of the Sabie River from the high water bridge - it will be interesting to see how things have changed over the years.
SabieRiver
by
dinkybird
, on Flickr
A 'pride and joy' photo taken a long time ago:
MartialEagle0804
by
dinkybird
, on Flickr
Never again has the Sabie River been quite so golden as it was in this photo taken from the bridge outside Lower Sabie.
LowerSabieHippo
by
dinkybird
, on Flickr
GroundHornbill10804
by
dinkybird
, on Flickr
GroundHornbill0804
by
dinkybird
, on Flickr
When leaving the park on this particular trip, we excited via Croc Bridge on a misty morning ... it was lovely.
CrocBridge0804
by
dinkybird
, on Flickr
- Dalene
---
Senior Virtual Ranger

Award: Sighting of the Year - Predator (2015)
Posts: 1982
Joined: Sun Feb 07, 2010 5:26 pm
Location: Seattle
N'wanetsi Picnic Spot Kruger Park Washing Dishes June 2001
Olifants Camp 2001
Memories started many moons ago continue today!
Trip Report July 2015 African Sky Blue, Will you bless my life?
It will be two years since our last visit, 2017 Trip is booked
24 Jul LowerSabie
25-27 Jul Biyamiti
27-31 Jul Orpen
31 Jul - 2 August Shimiwini
2-4 Aug Satara
4-7 Aug Olifants
---
Distinguished Virtual Ranger

Posts: 3311
Joined: Thu Jun 03, 2010 11:27 am
Location: Lost in the travel tales and bird ID challenges
This is a great memory for me, My little girl
and they grow up so fast, and she still likes Krugerparking with the Dad
Isn't it just amazing how potatoes give us fries and vodka?
The rest of the vegetables should get their act together
Did you see this
Fun Time
---
Legendary Virtual Ranger

Award: Forumite of the year - Eagle Award (2016)
Award: Angel of the Year (2015)
Posts: 16697
Joined: Tue Jun 07, 2005 8:47 pm
Location: meandering between senility and menopause
The bird doesn't sing because it has answers, it sings because it has a song.
---
Legendary Virtual Ranger

Posts: 7614
Joined: Sat Aug 11, 2007 7:29 pm
Location: Parklands Cape Town
At Stara they used to have a few of these there long since gone. taken in about 1980
Taken at mooiplaas . about 1983
Those are all grown up and the middle one is forumite Ballechin who will be 40 this year
You all know where that is .
taken in 1983 The small one is now well over the old 6 foot and has 4 children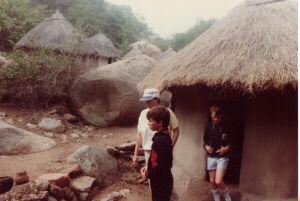 Taken a little later as the boy was 14 at the time and in a drakie tracksuit
Camping:-where you spend a fortune to live like a homeless person
---
Legendary Virtual Ranger

FAC Member (2015)
Posts: 16111
Joined: Mon Sep 24, 2012 4:57 pm
My Golden Oldie Memories
My family in Kruger around 1956 - Father took photo:-
Great grandparents, Grandparents, Mother, Aunt, Brother and Me
Note the Kruger clothes
Note the cool vehicle models on the roads…but at least there where Lions.
We had an old Austin 1950 something, see bonnet nose emblem.
The road were also corrugated in those days
Lion kill 1985, there were also roadblocks to be seen, vehicles are also looking more modern.
Skukuza 1985 the baby Warthogs got hold of the towels and played tug-a-war with them.
The human spirit needs places where nature has not been rearranged by the hand of man.
~Author unknown
---
Distinguished Virtual Ranger

Posts: 14309
Joined: Thu Jan 13, 2005 9:02 pm
Location: mind in SA, body in The Netherlands
---
I was born in Phalaborwa and moved to Germiston when I was only three. After I matriculated in 1988, we moved to the Eastern Cape and 2001 to Louis Trichardt. My Kruger experiences started in 2003 and since then I have become a addict, and I am hooked for life.

One memory that I have of the early seventies of KNP is that my mother lost her wedding ring when it fell into a river whilst standing on a bridge looking down, somewhere in the park.

I am a child of the bush and KNP will always be considered as my home!
I am blessed!
---
Senior Virtual Ranger

Posts: 3950
Joined: Fri Sep 05, 2014 3:15 pm
Location: Strand, Cape Town
This photo only goes back to 2007, but carries such memories for me of a wonderful long weekend at Biyamiti with Dave, my mum and late Dad.
This was taken at what we have always known as Grano Kop, before we left the park on our way home.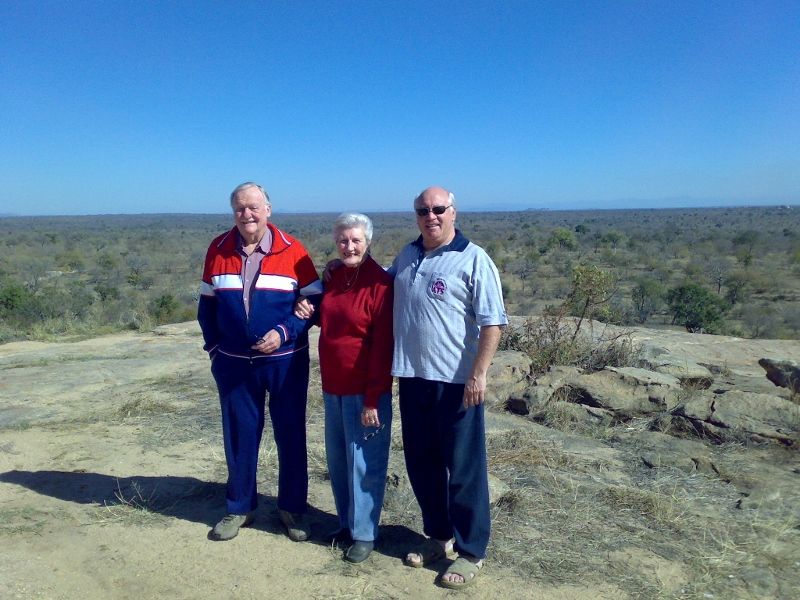 Current TR:
The Awakening of a Parched Kruger - Tessa & Dave Dec 2016/17
TR:
Swathes of Colour at West Coast National Park
TR:
23 Days with Tessa & Dave - From Head to Tail DEC 2015
---
---
Who is online
Users browsing this forum: No registered users and 4 guests