Posts: 11
Joined: Tue Feb 28, 2012 4:24 pm
Greetings all. This is my first attempt at a Travel Tale. I'll try for a 3 or 4 part series culminating in a extraordinary view of vulture aerobatics.
Setting off from Johannesburg bound for Marakele at 9am, we avoided the most direct route via Brits. The last time we used it, it was not a road, merely unending potholes. Only the depth and width of the holes varied. Time for a sharp boot to the rear of the North West Province and Limpopo roads departments. Tenderize them, or is that perhaps the problem? The Pilanesburg alternative route showed signs of heading in the same direction but not yet to the same extent. Occasional pothole fingers reached into the roadway, dangerously reducing useable road width.
Arriving safely at about one pm after a short coffee break we checked in at Marakele reception, a manual process due to a computer failure. Our Wild Card and printed booking receipt for a three night stay saw us into Bontle camp with minimum delay. We received the usual curious stares, driving a geriatric Landrover Overlander motorhome, literally held together with string (the rear view mirrors are retained by string, an effective weak link to prevent mirror breakage when hitting bushes in parks).
A brief walk around the un-fenced camp site brought us a crested barbet posing happily for photo opportunities and a resident female ostrich nibbling at scraps lying about.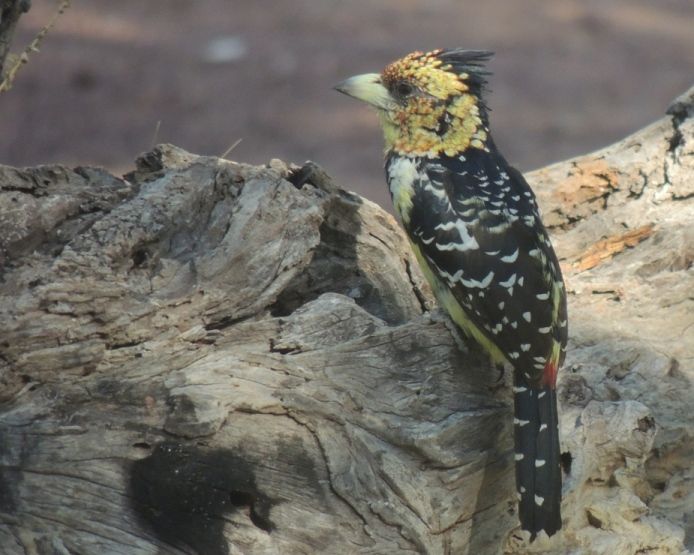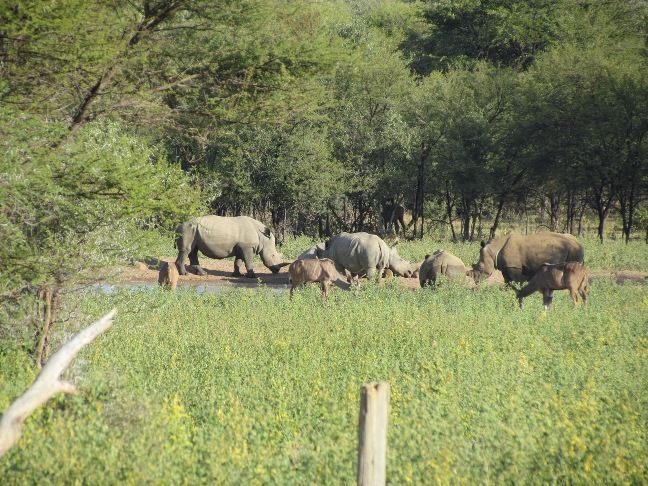 A large white rhino was sleeping under a tree alongside the 200m distant waterhole. During our stay a wide variety of animals visited this waterhole; wildebeest, zebra, warthogs, tessebe, impala. One can stay in camp and see almost all the herbivores the park has to offer.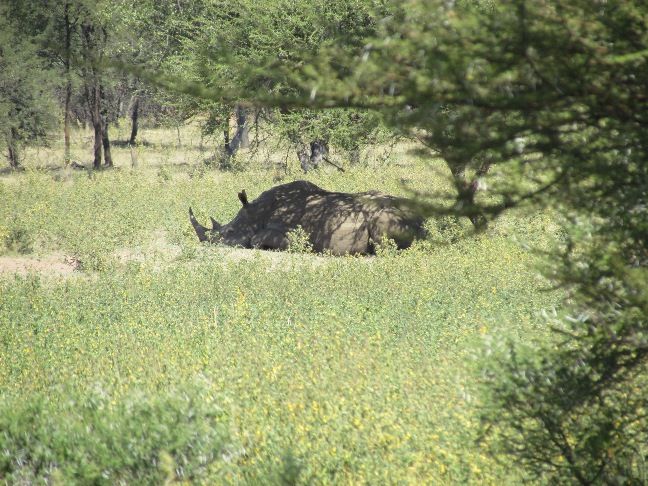 Episode 2 soon
---
Posts: 11
Joined: Tue Feb 28, 2012 4:24 pm
Marakele (Episode 2)
As the afternoon drew in we set off for a short drive. Nothing of interest was seen until we arrived at the Bollonoto hide and waterhole. At first, all was quiet, nothing moved other than reeds bending to the breeze. Then, at first glance what appeared to be a large bird spreading its wings was revealed to be a giraffe head and ears protruding above the reeds on the far side of the water hole. The giraffe moved slowly out from behind the reeds to reveal extraordinarily white inner rear thighs and backs of ears. It moved in stately style into the surrounding bushes, to be followed by two more giraffe moving equally gracefully past the reeds and into the surrounding bushes. Patience and luck made the drive worthwhile.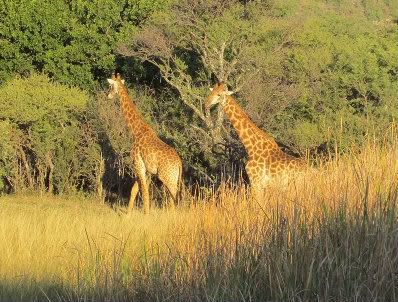 Returning to camp we found a group of five white rhino wallowing in the waterhole, producing a two-tone effect with mud half way up their sides. There was a brief altercation between two male rhino resulting in one moving away. It appears to have an old injury in its neck. Overall an enjoyable first day.
Day two had us heading out to the Thlopi dam hoping for elephant and the ever elusive lion, leopard and black rhino, rumoured to be in this park. Based on what we saw on a previous and this trip, it remains a rumour. With extensive signs of elephant – fresh dung, freshly broken branches stripped of bark- tension was rising. We were rewarded with superb sightings at Thlopi dam. A herd of at least ten, perhaps more, including young.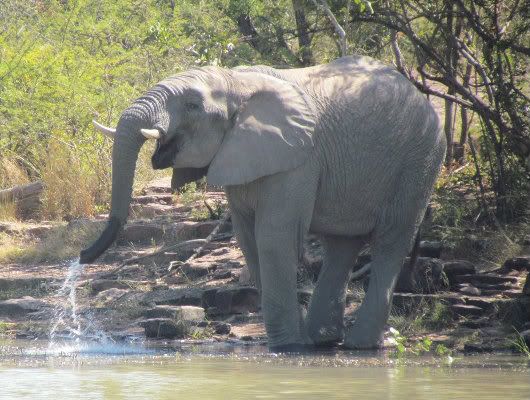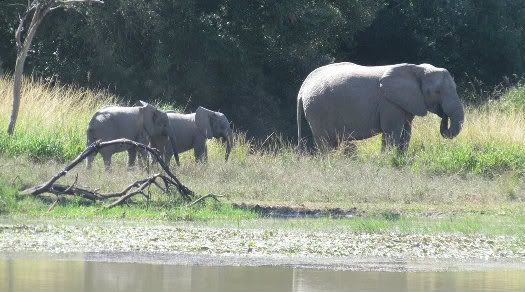 Then disaster struck. I lost my nuts. A bunch of monkeys became extremely excited, distracting me from the elephants. When I saw one of them gnawing on a large brazil, I realized they had got into the vehicle through the window I had stupidly left open. Fortunately only a small bag of nuts was taken, plus a packet of wet wipes. The wet wipes were recovered, clearly not to monkey taste. It is time to acquire a taste for monkey stew. Vengeance is stewed monkey, slow cooked.
The Marakele safari camp was deserted and desolate. The extensive baboon fouling apparent at our previous visit had been cleaned away so perhaps it does get used. There was evidence of elephant with trees pushed over, one on top of a thatched hut, roots exposed and stripped of bark.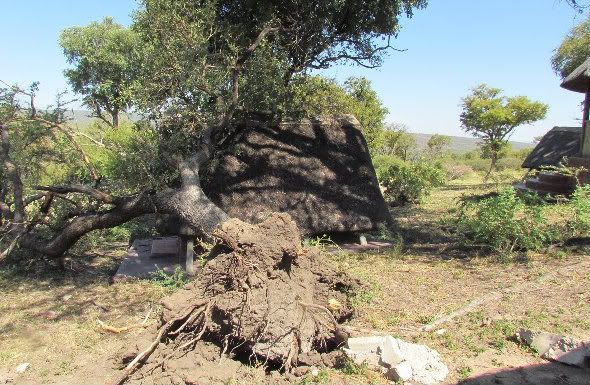 Final Episode to follow.
---
Posts: 11
Joined: Tue Feb 28, 2012 4:24 pm
Marakele, May 2012
Heading up over the Mobipi route provided extensive views of the entire southern park and the distant spectacle of a glider circling above the vulture cliffs before heading off in the Vaalwater direction.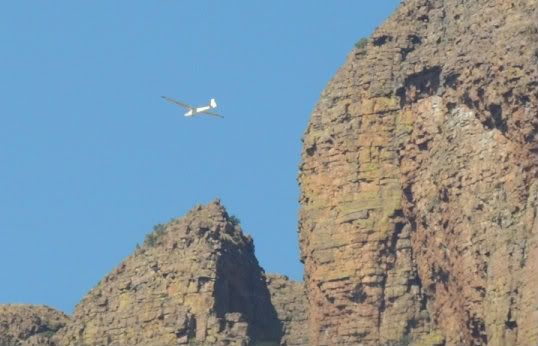 As it was only mid-day we decided to risk the long, steep and narrow drive up to the vulture view point, tarred but deteriorated compared to our visit eighteen months previously. Deep potholes and rockfalls added undesired hazards, exacerbated by our wide and ponderous vehicle. Nevertheless with due care and the consideration of vehicles traveling down, we made it safely to the top.
There we were greeted by a spectacular display of formation flying. The glider was back, apparently accepted by the vultures as Wing Commander in an aerobatic display around the mountain tops. At times the glider passed no more than 100m from our view point, the air rushing over its wings the only sound, followed in formation by at least 100 vultures.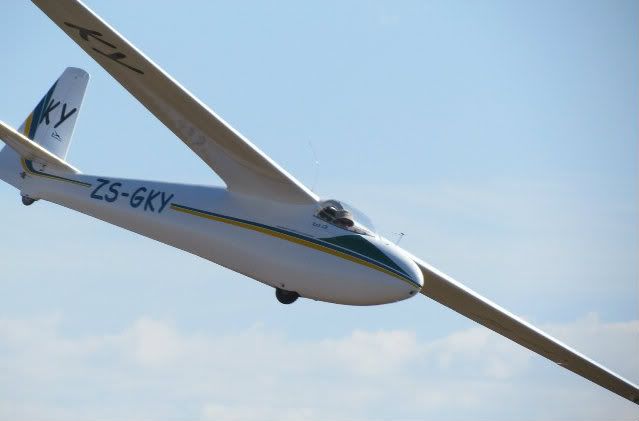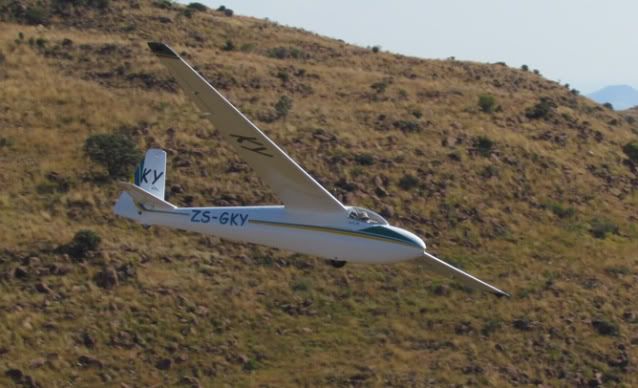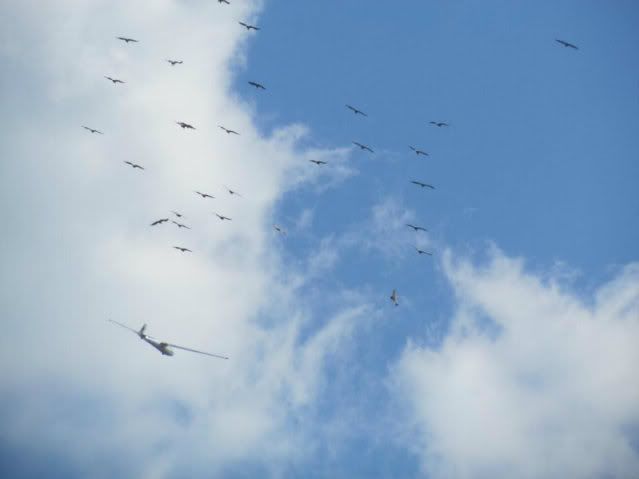 Both the vultures and the glider made full use of the thermals and air drafts to soar and sweep about the crags. With no power other than that provided by nature, the glider pilot was able to sweep deep into the ravines, reappearing effortlessly above the cliffs. What extraordinary flying skill. Videos and photographs cannot do justice to the scene. Vultures are seen by many as disgusting birds but in the air they are exceptionally graceful.
Sadly, the glider and a vulture collided resulting in the vulture plummeting to the ground and the glider heading off to base, presumably damaged. It was too far off to see the detail but a sad end to an exceptional performance by the Marakele Vulture Aerobatic team.
With the afternoon drawing on, we set off back to camp, tired but exhilarated. A very rewarding day which ended with the delightful spectacle of a large white rhino grazing in the camp. Other campers told us it had been in and about the camp for the previous two hours. Shortly after our arrival it wandered off into the bush.
We decided to spend our last day in camp watching the animals visiting the water hole. Throughout the day we had a steady processing of grazers drifting in and wandering off.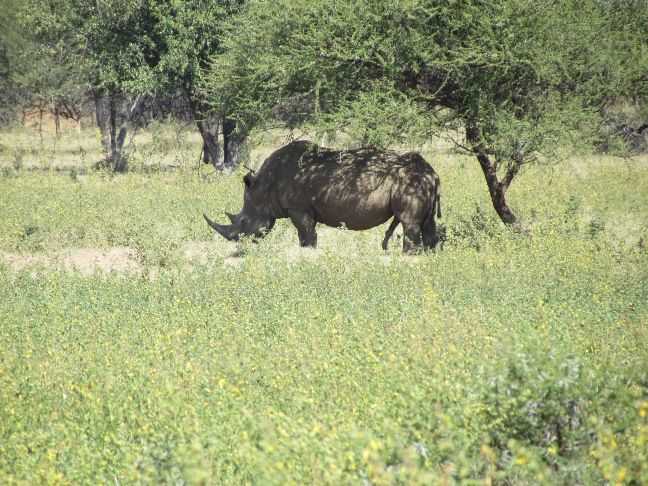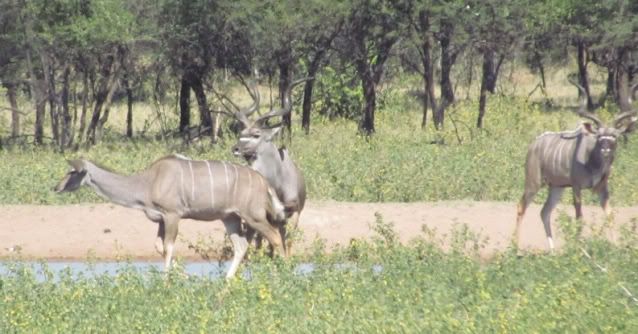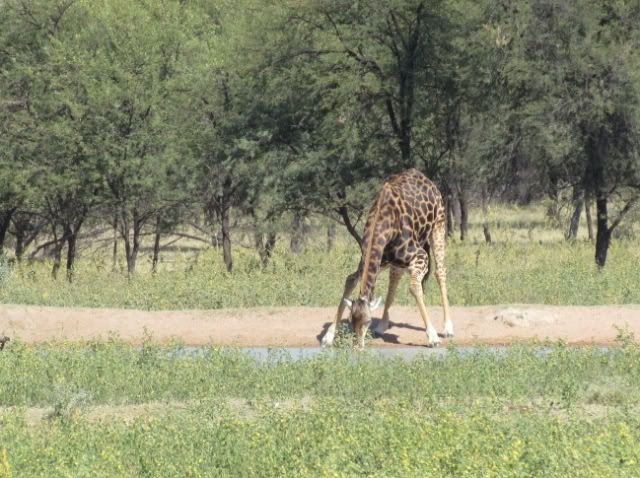 The next morning we headed off for the next leg of our holiday, four nights at Mazhou camp in Mapungubwe.
---
Posts: 11
Joined: Tue Feb 28, 2012 4:24 pm
Thanks all for the positive comments. Mapungubwe coming up next. Here is a foretaste of a Kudu horning the mud.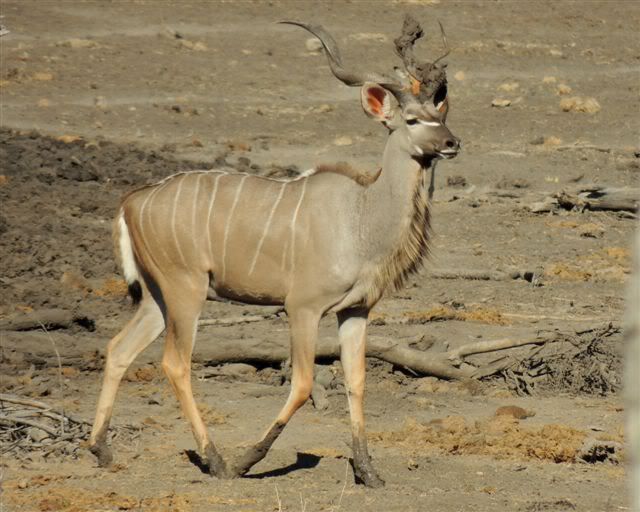 ---
---
Who is online
Users browsing this forum: No registered users and 5 guests