Wednesday September 19
We were out early today. At the Muzandzini picnic spot a vehicle pulled up with a yellow ribbon. It was nice to meet STU and his wife, from Australia. What a small world it has become – Aussies and Canadians meeting in South Africa.
That morning we saw ostrich, jackal, elephants, small group of buffalo, kudu, impala, warthog, wildebeest and a martial eagle. A kori bustard was wandering around
Some zebra were milling about on the road
We found these 2 baboons grooming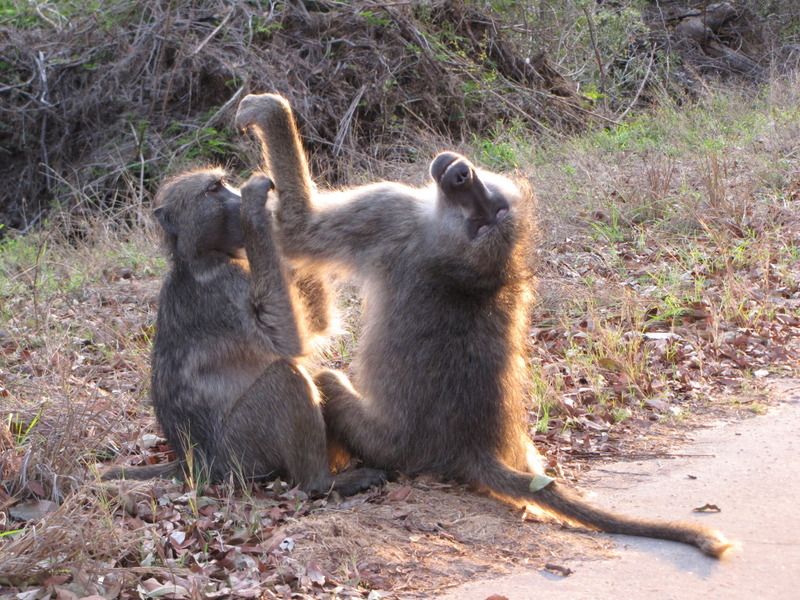 This little one looked like he had been caught with his hand in the cookie jar
Not bad for the morning.
This guy was chilling in the tree right beside the kitchen.
SO set up the bush office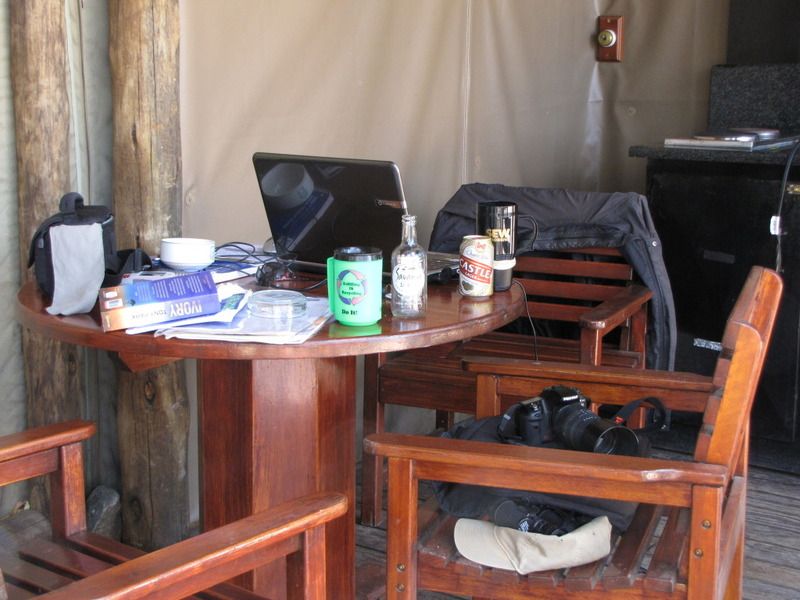 I grated some cheese for roosterkoeks that we planned on having for lunch. I made them, put them on a plate and was going to put them in the tent for safe-keeping. SO was at the computer. I was no more than 1 metre away from the counter and the vervet woke up, swooped down to the counter, grabbed the cheese and scampered to the roof of the tent.
The little thief!!! I know from previous experience that they don't even like cheese (that's another story). I was about to put away some other items (macaroni, parmesan cheese and popcorn) and noticed that something had sampled all of them. I made a quick deposit in the covered garbage bin.
After lunch, we took a quick trip up to Maroela Caravan Park. It's a very nice area. I can understand why people like to stay there for an extended period. We popped into Orpen to pick up some cheese, so that we could have dinner that night (cheese crepes). We travelled the same roads as yesterday. It was rather quiet except for a large elephant that wouldn't pose. I wasn't about to argue with him.
We headed back toward camp and found the same 2 dogs a few km closer to camp than they were yesterday.
They were rolling around in the dirt.
There were only 4 vehicles there, and then we were the only ones.
The dogs were trotting towards Orpen, so we followed for what must have been close to a kilometre.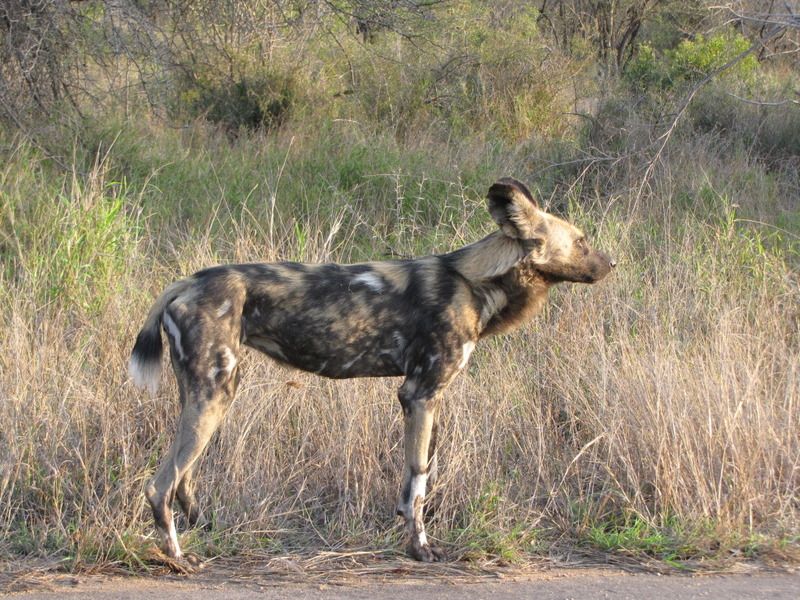 Finally, they stopped by the side of the road and were looking off into the distance.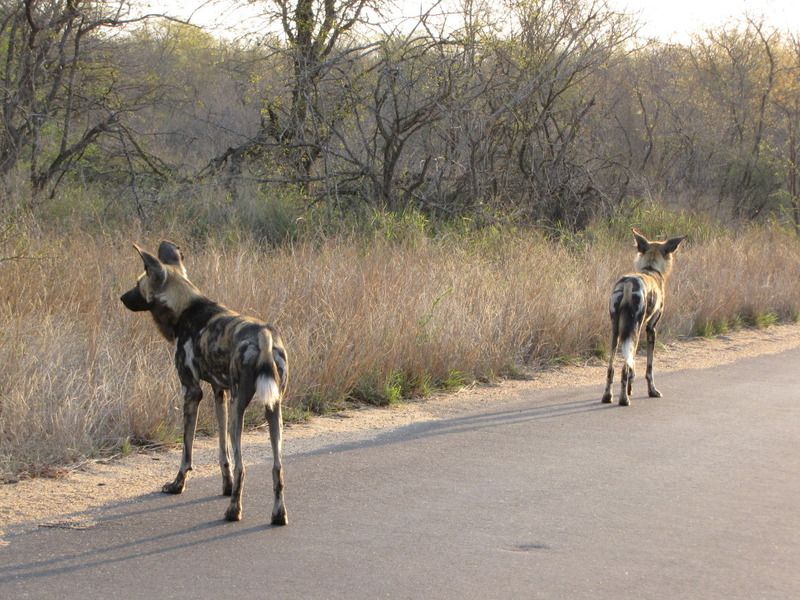 Oh my.
There was a herd of impala, about 500 metres away. The dogs split up, the impala were wary, then one dog started running toward the impala which took off in an instant. The other dog had gone to the right to cut off the impala. Everything was off in the distance, and they were running away from us. By this time, we were at the cutoff to Tamboti. We don't know what the outcome was, but I can well imagine.
It was our last full day in the park.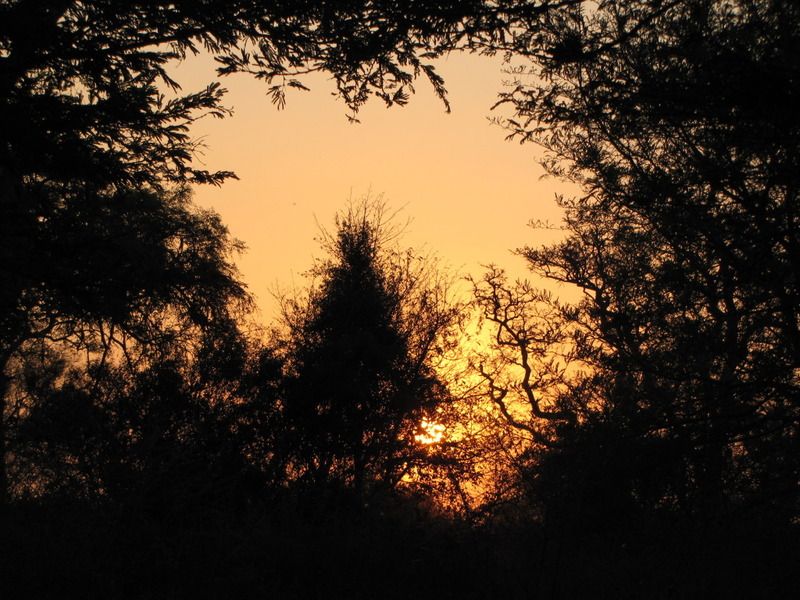 ---
Thursday September 20
All the wine bottles were empty, there was no food left except for a few crackers and a handful of nuts and the toothpaste tube was almost ready to be tossed. That could only mean one thing – it was time to head home.
Yesterday, the sightings board indicated that a leopard had been spotted close to Orpen. We took a quick drive there to try to find it. It didn't happen. No big surprise there
During our stay, we were surprised by how few lilac breasted rollers we saw. This one cooperated and I was able to get a shot.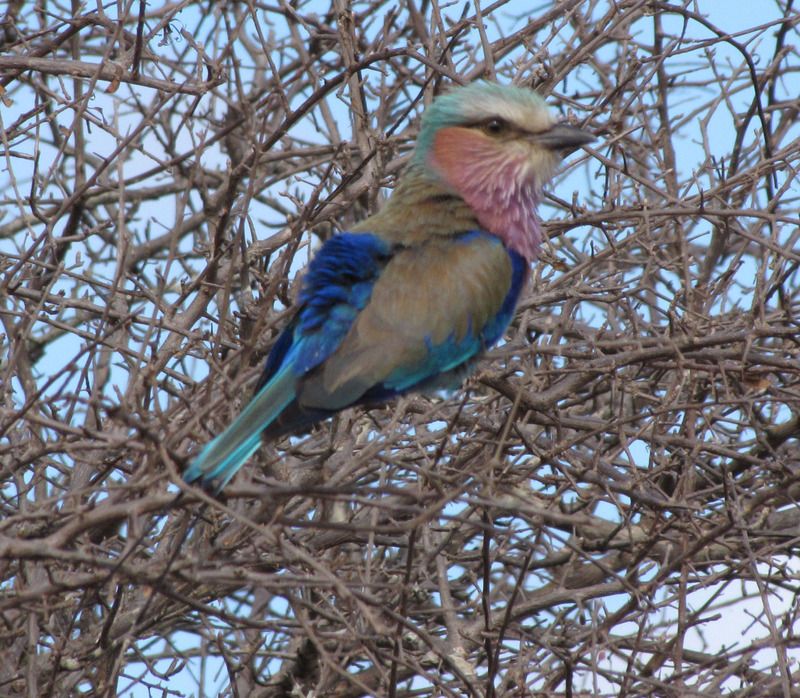 Driving out of the park, we saw some general game and our final sighting was a small family of elephants, with a tiny little calf. They were on the move, melting into the bush. I wonder what the future holds for the little one.
By 1:30 pm, we were on the N4, headed towards Jo'burg. It's always a bittersweet drive where we have time to reflect on the great and not-so-great sightings, but we were also looking forward to going home, and all the familiar things there. Our flight was scheduled to leave at 9:30 pm. We didn't have a lot of time to waste. Because we were flying through the US, there was the additional security and getting though everything at the airport is always long and tedious. We also had to return the car and the modem, and maybe do some duty-free shopping. We hadn't had breakfast, but that was no big deal, we had the crackers and nuts and we would get something on the plane. Besides, we would be home in about 30 hours or so and then we could eat whatever we wanted. Well that was the plan.......
It was almost 5 pm, we were very close to the airport and then we had another amazing sighting. I know others have see rhino on the N4, but we saw them on the N12 close to the airport.
Every other time, we've come in via Pretoria, the airport is very well marked and we've made it there without a problem. This was our first time coming in from the east. We had become complacent and didn't have a decent map. In the excitement of seeing the rhinos, we missed the turning for the airport.
It was late afternoon, the sun was setting, we were in rush hour in Jo'burg heading in the wrong direction with a lousy map. It was not a good situation. We drove around a bit, finally stopped and asked for directions – 3 times.
After about an hour of increasing panic, we found the right road for the airport. We have been to the airport enough times that you would think we know where the fuelling station is. We do know where it is, we just miss the cutoff – every single time!
We went around again and managed to hit the fuel station and then pulled into the car rental. Everything was checked and we were in the airport. SO returned the modem and we checked in. This was when we found out that the flight was actually scheduled to leave at 9 pm, not 9:25. All was fine, except for the fact that the system would not print the boarding passes. Apparently, it's a frequently occurring problem with the US flights. SAA then has to contact the US embassy.......
Except, this time, it was affecting all flights.
After what seemed like an eternity, the boarding passes were printed. We proceeded through security, then passport control, then a pat down where it's men on one side, women on the other, then the contents of our carry-on was physically examined / re-arranged (x-ray wasn't enough), then we got our cards at the beginning of the jetway, only to surrender them about 40 - 50 metres further on, we finally got on the plane. All of the extra security is because the flight was going to the US.
The flight departed, bar service started and we settled in for a long flight (15 ½ hours to New York). About an hour into the flight, just after bar service was completed, the captain asked if there was a medical doctor on board. Shortly thereafter, the captain made a second announcement "We've turned around because we have a life-threatening medical emergency. We may land in Gabarone, we may make it to Johannesburg. We have to dump fuel, so if you see something coming out of the engines, do not be alarmed. More info to follow." The plane went very quiet, everyone with their own thoughts.
We landed in Joburg around 11 pm. An announcement was made that the flight would depart tomorrow @ 8 am. SAA arranged hotel rooms for all, but some decided to stay at the airport. The rooms were at the Birchwood Convention Centre. There was confusion over the shuttle buses – the business class passengers had gotten on the wrong bus, they had to get off, so that we could get on.
We got to the hotel around 2 am. The rooms were about a 5 minute golf cart ride away from the check in counter. The shuttle was returning at 4:30 am to take us back to the airport. If we went to sleep we probably wouldn't be able to get up in time, so we both had a shower. Thankfully we still had some clean clothes too. We had only had a few crackers and nuts during the day, so we were both rather hungry. We always take some granola bars with us. Most times the granola bars return home with us, often having gone through some pretty rough conditions. These had seen the same rough conditions, but were very welcome at 3 am.
---
Friday September 21
The buses picked us up at 5 am for the trip back to the airport. Our driver had been following another bus until we were separated at the traffic lights. Our driver didn't know the way to the airport. Luckily, some of the passengers in the front did and we made it.
We checked in, went through security and passport control. Our bags could only be checked thru to New York. We would have to re-check them there. We would find out in New York what our connection time was for Toronto.
The flight was scheduled to leave @ 8:05 am. The rumour circulating was that there was no crew to fly the plane. No one could give us any information or details. Finally the rumour changed to " the captain was on the plane". We were offered muffins and coffee after a 1 ½ hour delay.
The tables were set up for the US security check. That is the part where the carry-on bag is physically checked followed by the physical pat down. We were first in line. We got through and sat in the departure area. More people were going through security. The departure area was quickly filling up. Ideally, we should have been getting on the plane, but they had not started boarding yet. More people were coming into the departure area and there was still no plane. Soon it was standing room only and still no plane. Finally, a crew and a plane were located and we boarded. The flight left around 10:30 am. Breakfast was served. It was our first (real???) food since we had gotten up – almost 30 hours ago. I ordered the wrong breakfast and left most of it uneaten. Obviously, I wasn't all that hungry.
The flight was uneventful – just long. I can't sleep on a plane, so I watched a few movies, walked around, watched the flight progress channel, played a few games, listened to some music.........
Lunch/dinner was served about 2 hours before landing.
I was so tired that I actually dozed off when were about 300 metres off the ground. It as s a rude awakening when the plane touched down.
Customs was a nightmare. There must have been 3 - 747s land at the same time our flight landed. There were at least 1000 people waiting to get through. We had Quick Connect passes, but so did everyone else on our flight, plus others. Ours was a full flight, approx 300 passengers. Quick Connect wasn't very quick. It was around 8 pm by this time.
We claimed our bags and were surprised that Homeland Security hadn't t broken into either bag this time. Usually one bag is broken into and we're left wondering if anyone had put "questionable" stuff in. They leave a pre-printed card in the bag informing you that your bag was checked for security purposes.
Would you believe that a baggage cart in JFK is $5 ?
I thought Toronto was bad charging $2. In JNB, they're free!!!! Credit cards are accepted so one does not have to worry if they don't have the local currency.
We found the SA Connections desk and were told that we had a connection on Delta and we just had to go to another counter to get our boarding pass.
. We got to the counter and were told that the gate had closed, but there was another flight – tomorrow @ 6:40 am.
We went back to the SA Connections desk. We needed a place to stay overnight. We were first in line but still had to wait about 35 minutes before they gave us a hotel voucher and told us to go upstairs to wait for the shuttle bus. We went upstairs and there were other people there who had been waiting awhile. There was a bus there, but we weren't allowed on. Someone called the dispatcher and was told that the bus was sent to the Arrivals area. We were in the Arrivals area, but they had told us to go up the stairs, which meant we were now in the Departures area. No bus was going to wait to load passengers in the Departures area. Even in our zombie state we could figure that out!
Finally, a bus arrived and took us to the hotel. We were one of the first to check in. It was about 10 pm. They had a restaurant that had a buffet, but it was supposed to close at 10:30 pm. The hotel decided to keep the restaurant open until 11 pm.
We had a quick bite to eat, a shower and got about 3 hours sleep before catching the shuttle back to the airport.
---
Saturday Sept 22
Air Canada's computer system was down, and they had to manually check everyone in, and write out the boarding passes and baggage tags.
The flight left on time
– more or less- and we were in Toronto shortly before 8 am – Saturday morning. There was NO ONE going through customs, and no one at the limo stand.
We arrived home at 10 am – 4 pm South African time. It had taken almost 60 hours from the time we got up in Tamboti to get to our front door.
It had been a long day with very little sleep, but at the moment, that didn't matter. As tired as we were we were looking forward to the kitty welcoming committee. We had a lot of time to make up for.
---
Trrp-trrrrrrrr:
Thank you for joining the ride and commenting.
We were at the airport on Sept 11, 2001 waiting to catch our flight to New York when we heard about the terrorist attacks. We were delayed by 3 days. Not only did SAA do everything possible to make our delay a little more bearable, but so did every single person that assisted us.
The friendly people of South Africa is one of the reasons we keep returning.
I remember waiting at the airport on the third day and overhearing someone comment that they had run out of clean clothes and were wearing their souvenir t-shirts. We always make sure we have at least one set of clean clothes when we leave. You just never know what might happen
---
The Welcoming Committee
Venus, female, born July 2010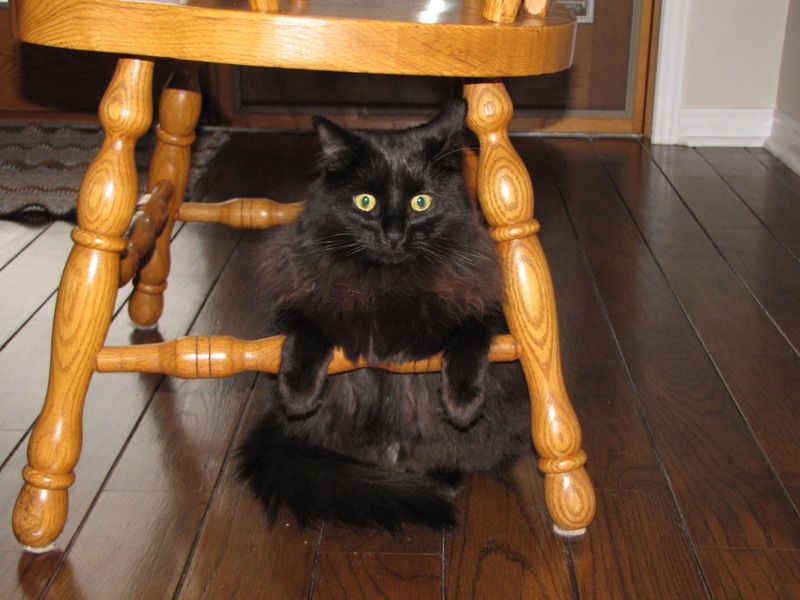 Spook – male born October 2004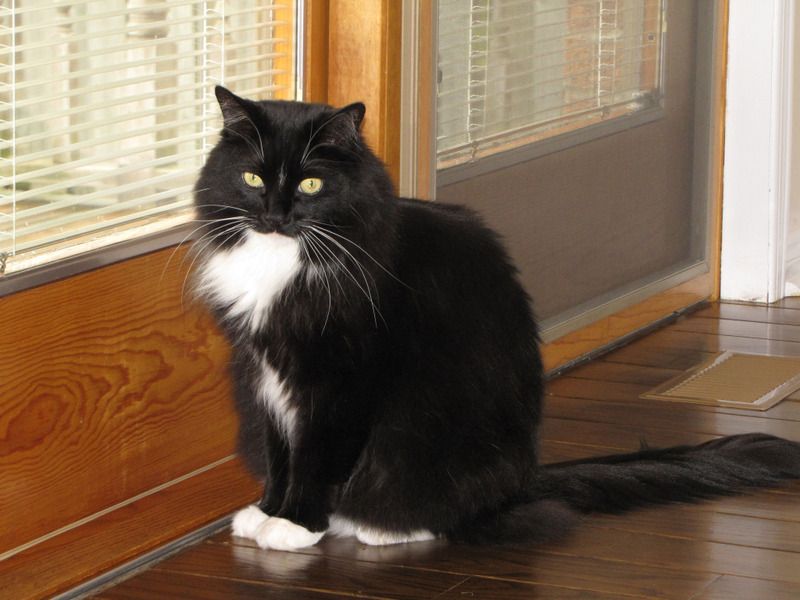 Both were shelter cats. Black cats are always the last to be picked, which is why we chose them. Spook looks like a long haired version of Sokkies the airport cat.
We had to work at it, but have been forgiven. I don't think they have forgotten........
---
---
Who is online
Users browsing this forum: No registered users and 4 guests