Junior Virtual Ranger

Posts: 171
Joined: Tue Oct 18, 2011 7:37 am
Location: Too far away from KNP,KTP or KNP
A view of out abode at Letaba. Number FQ6 (Guest Cottage) number 6 with a view over the river.
Now the Kruger National Park Visitors Guide describe the area around Letaba as Mopane Shrubveld. I might not be an English teacher, but I am pretty sure that these are not shrubs.
We decided to take a slow drive to Mingerhout Dam. We saw very little on this drive, but what we did see was these hippos playing the fool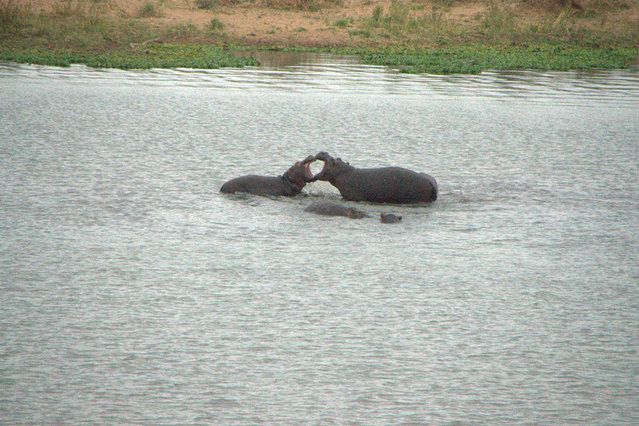 and a family of Southern Ground Hornbills hunting for their next meal.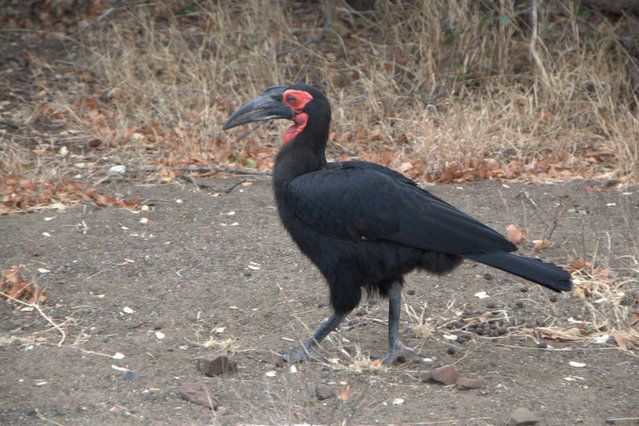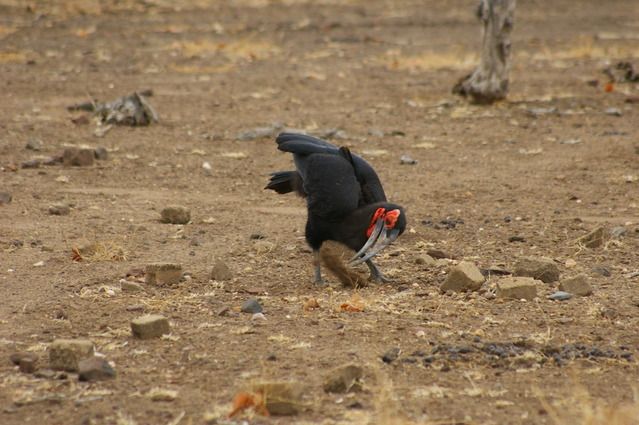 September/October - Shimuwin, Letaba, Olifants, Talamati and Satara
---
Junior Virtual Ranger

Posts: 171
Joined: Tue Oct 18, 2011 7:37 am
Location: Too far away from KNP,KTP or KNP
Day 4 continues
We returned to camp for a hot chocolate. While sitting at the benches outside the restaurant, there was once again numerous animals below in the river bend.
This group of Impalas crossing the river.
This group of Impalas sharing their space with a Waterbuck bull (are they also bulls???)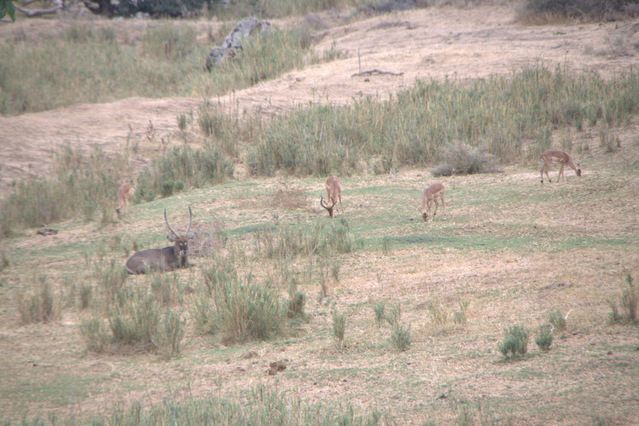 This is the view from the Letaba deck
We were entertained by this Crested Barbet digging in the soil not to far from us,
and Bee-eaters sitting on branches, swooping into the air to catch a fly, settle on their branch again and then repeat the whole pattern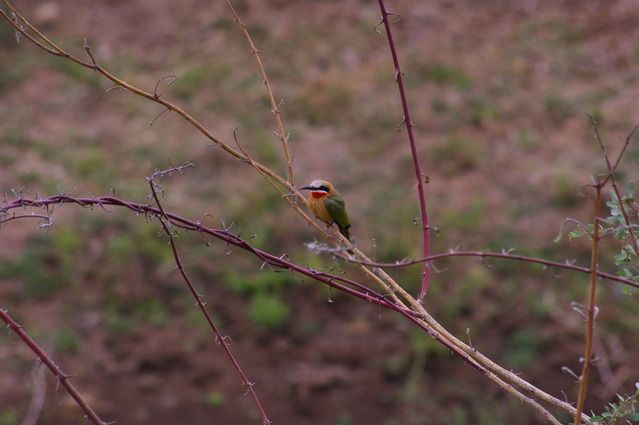 After an afternoon siesta we took a late afternoon drive to Matambeni hide.
On the way there we had our first sighting of a Klipspringer. We were slow and on the uptake, and by the time we got the photo, he had already lost interest and sat down. There were also some more giraffes and this beauty.
At the hide we observed some hippos playing (Due to the grey sky, I got really confused between these pics, and the morning pics from Mingerhout. So it could be possible that I switched them around, or used the same set more than once) and watch some interaction between 3 Fish Eagles. What an awesome sound they make.
As we left the hide and did the quick "dash and jump" into the car before being attacked by any animals out in the open. We just started the engine and turned the car to face out of the parking area when we were again involved in an elephant road block. A rather sizeable herd of young ladies were crossing the road leading out of the hide. This caused confusion in the car as the SO and Eagle Eye Mike were in conundrum as to, do we take pictures of the herd of ellie or the fish eagle sitting on the tree behind us. I was more concerned about the large matriarch eyeing us as we might have been a little close to her girls.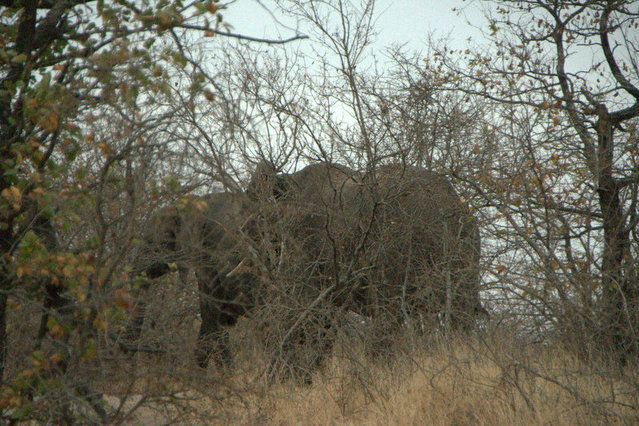 We returned for a supper at the Restaurant. I was surprised at how much the prices have increased since we were last in Kruger. We then went to draw some money because, if you remember there was no cash in the machine last night, but there was no GSM signal, so ATM had no signal. We decided to bye some postcards and drinks from the shop. We could not pay by card due to lack of signal so had to use our now dwindling cash.
We tried to take more night shots, this time with a much higher ISO.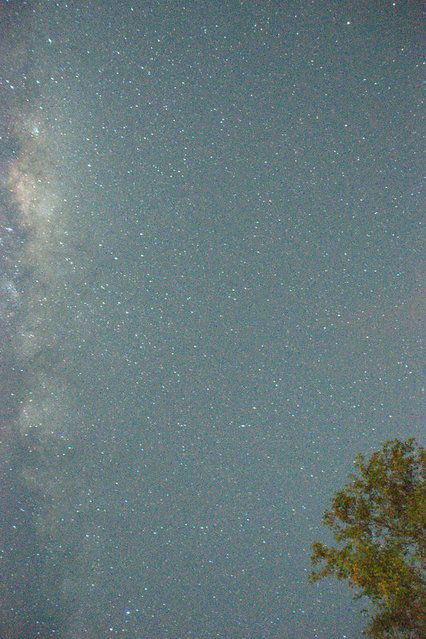 Judith is very proub of the tree on the right, and the Milky Way on the left
Off to bed early to be up in time for a morning bush walk.
September/October - Shimuwin, Letaba, Olifants, Talamati and Satara
---
Junior Virtual Ranger

Posts: 171
Joined: Tue Oct 18, 2011 7:37 am
Location: Too far away from KNP,KTP or KNP
Day 5
Morning Bush Walk
At 04h45 we met at reception for the morning walk. It was freezing cold and threatening to rain. We took a freezing cold drive out to where we were going to walk. It was just the 3 of us plus an Austrian couple.
After the safety briefing it was off into the bush. As always, we enjoyed the morning walk thoroughly.
Oscar talking about dung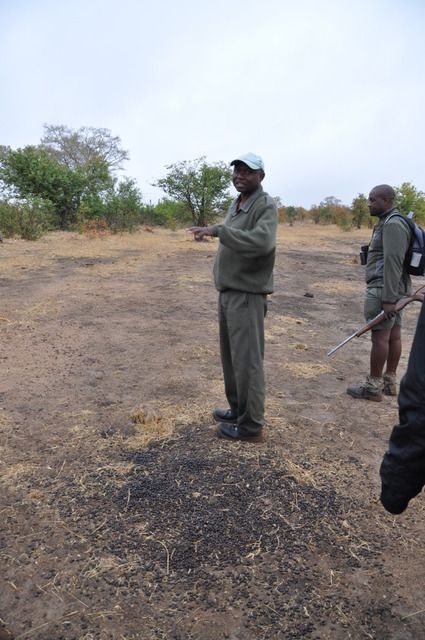 Peter talking about elephant spoor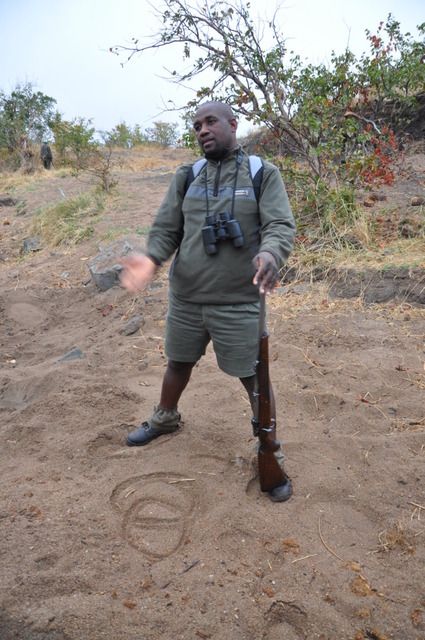 Oscar with a blade of grass (trying to temp community web spiders out of their homes)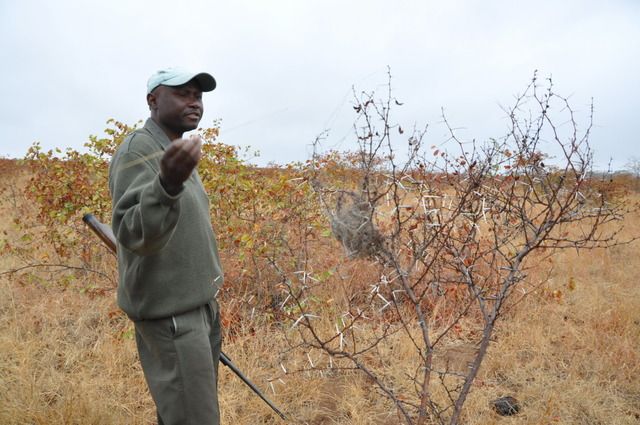 And the trying the same with a buffalo spider.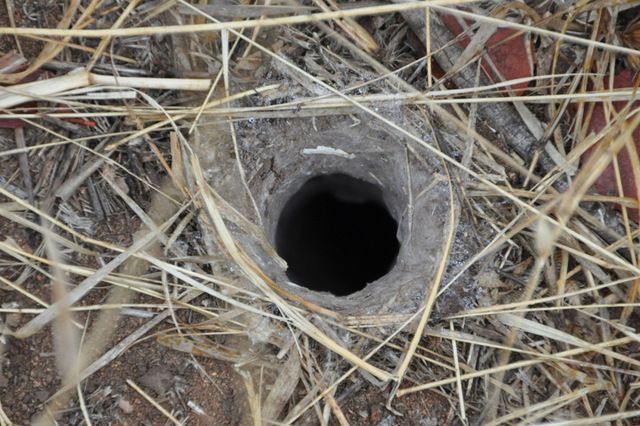 Our troubles continue…
After breakfast it was time for our drive down to Satara for our last 2 nights in Kruger.
Not far from camp this lone buffalo bull was grazing next to the road.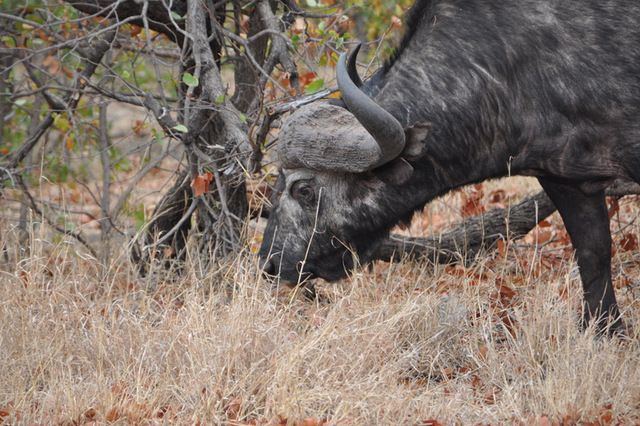 This be the marshal in these here parts. (My first ever Marshal Eagle)
This is the giraffe in the Olifants River 2 days later.
Last edited by
Leaping Lizards
on Fri Oct 05, 2012 7:10 pm, edited 1 time in total.
September/October - Shimuwin, Letaba, Olifants, Talamati and Satara
---
Junior Virtual Ranger

Posts: 171
Joined: Tue Oct 18, 2011 7:37 am
Location: Too far away from KNP,KTP or KNP
Hi CV. It is the first time that we took the drive up to Mingerhout.
It was quiet, but a great drive. Seeing the Sorthern Ground Hornbill was great thought. We love seeing them and watching the go about their business, and it was the first time we saw them north of the Olifants.
Hilda, you really should do a bush walk. The guides are well trained on animal behaviour and the bush. We have done7 or 8 I think, and usualyu you only see birds and the smaller things. In 2010 we did come up nice and close to a very calm White Rhino and her cub.
My SO's aunt was also very very scared, but she also did 2 and loved them.
September/October - Shimuwin, Letaba, Olifants, Talamati and Satara
---
Junior Virtual Ranger

Posts: 171
Joined: Tue Oct 18, 2011 7:37 am
Location: Too far away from KNP,KTP or KNP
Just after the high level bridge we were reminded what a live giraffe looks like.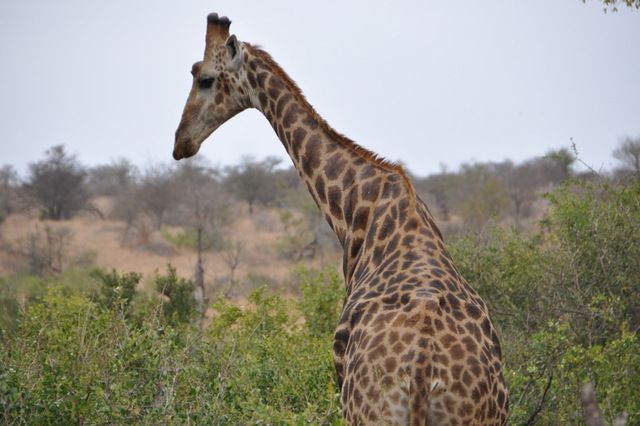 At Ngotso North waterhole we saw this elephant pretending to be a fountain. He spouted water like this 4 of 5 times, but didn't drink a thing.
There was some drizzle later in the morning and this old fella came onto the road for a drink.
Believe it or not, but since we crossed the Olifants 2 days earlier we did not see any zebras until we crossed back south of the river and saw this group.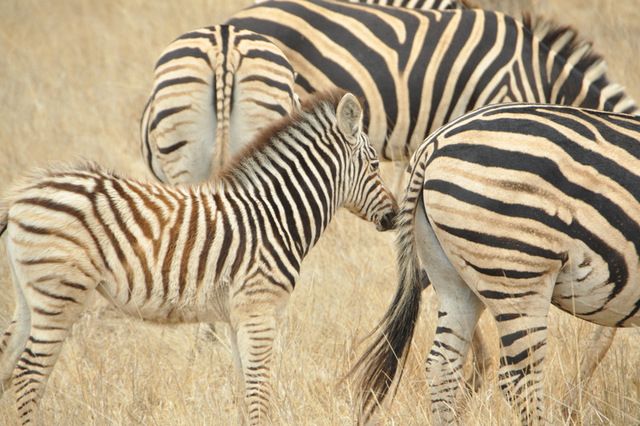 As we approached Satara there was this beautiful scene at Witpens. I don't think I have ever not seen any animals at this waterhole.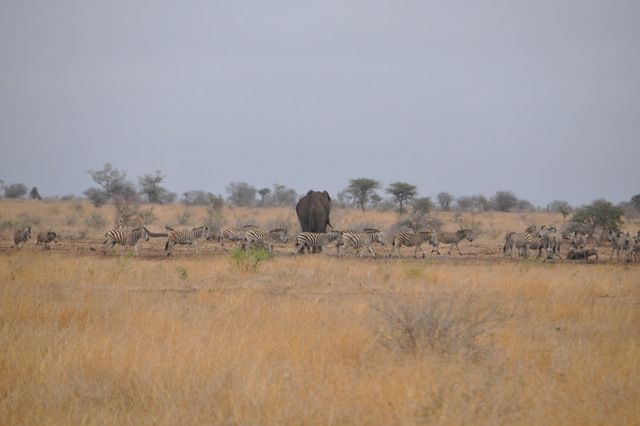 Now we spent some time with this beautiful young bull. He was so calm and moved closer to us as we watched him. We never felt like uneasy with him even though he came so close. He was stripping bark, and using his knee and foot to help balance the branches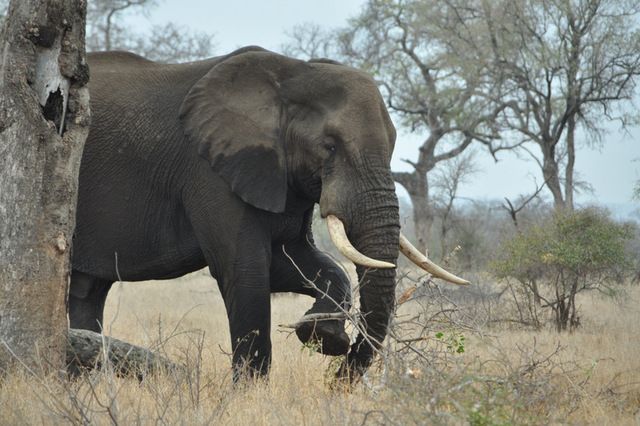 A raiding party of Matabele Ants.
We checked in at Satara. We tried to buy dinner, but there was still no signal which meant that card facilities as well as atms were not working. By this time we were also running very low on petrol. We bought a loaf of bread, cheese and 2 tomatoes and rationed our last R40 for petrol in the morning. First car trouble, now no cash. No signal for 2 days (Could not pay with card or draw money) and an empty ATM the day before the signal went down.
September/October - Shimuwin, Letaba, Olifants, Talamati and Satara
---
Junior Virtual Ranger

Posts: 171
Joined: Tue Oct 18, 2011 7:37 am
Location: Too far away from KNP,KTP or KNP
Day 6
Satara! Big cat country. Satara! Where sweet grasses attracts grazing herds. Satara! Where we have always seen leopard. Satara! Still no signal, no ATM, no card facilities and no money.
So we start day 6 with no money, but what a day it will turn out to be…
We started the day once again at around 04h00 for a early morning drive. It was a freezing cold drive with the drizzle broken up every down and again by some serious rain.
We headed up the H1-4 and turned right onto the S90. We came across these two lioness (only one in the shot) stalking waterbuck from some distance. We spent some time with them, but the waterbuck lead them deeper into the bush.
We also had a great sighting of a Fish Eagle in a river bed on the S41 close to Gudzani. It was right next to the road and as it took off and flew past us we noticed that it had a terrapin in its talons. No time for pics though.
As the sun came up we started seeing some general game, mostly giraffes and zebras.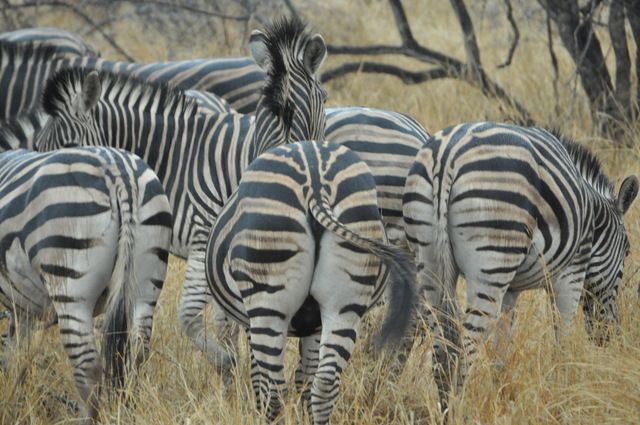 We returned to camp wet and freezing cold for a breakfast of cheese and tomato sandwiches. After that it was back to a warm bed to read and wait for the day to warm up. I had just settled into my book when the lights went out.
We spent the next hour and a half reading when suddenly my cell phone went crazy with incoming messages. The Signal was Back!!!
Up we jumped, pulled on some clothes ran over to Mike's to collect him, jumped into the car and off to the shop hoping to be one of the first to get to the ATM or shops. We decided to divide and conquer. I would drop the other 2 in front of the building, Mike to the shop to get supplies and Judith to the ATM while I parked the car. Parking completed I went inside only to find a dejected Judith and Mike waiting for me at Reception. No power… All the lights where off, no ATM, no card machines, nothing. The signal was back, but no power to use it with. So it was back off to bed to catch up with Spud and the rest of the crazy 8.
The power came on at about 1pm. We got money loads of supplies, had a good lunch and topped up the car. Finally…. We refuelled the car and off we were into the bush again, bellies full and car refuelled.
We took the H6, were we saw this zebra crossing, to N'wanetsi Look out point. Spent some time there then took the S41 North and back to camp on the S100.
The view from N'wanetsi.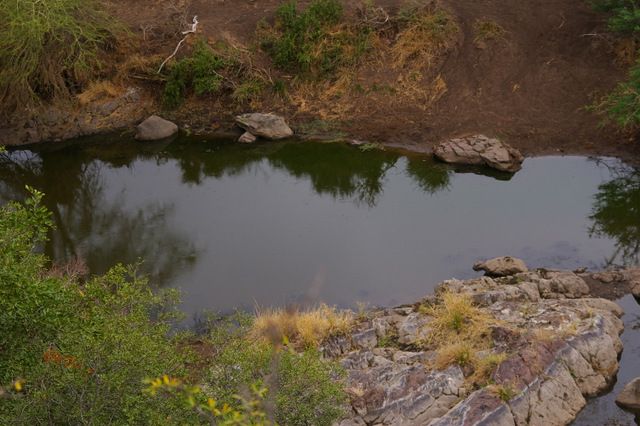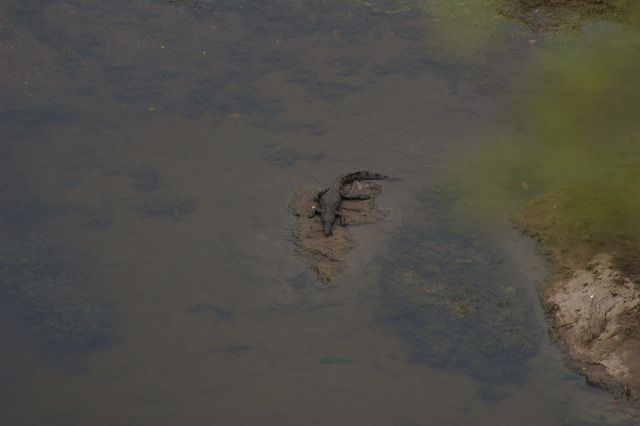 Saw this Vulture Tree as we turned onto the S41. Had some good sighting of Saddle billed stork along this road.
We turned onto the S100 and got some more shots of bush fast food.
September/October - Shimuwin, Letaba, Olifants, Talamati and Satara
---
Junior Virtual Ranger

Posts: 171
Joined: Tue Oct 18, 2011 7:37 am
Location: Too far away from KNP,KTP or KNP
Then we came across these guys sparing. It looked like the battle for 3rd and 4th. We spent about 20 minutes with them. Switched off the engine and just listened to the sound of horned clashing and some grunting.
This is what this impala thought about all the goings on.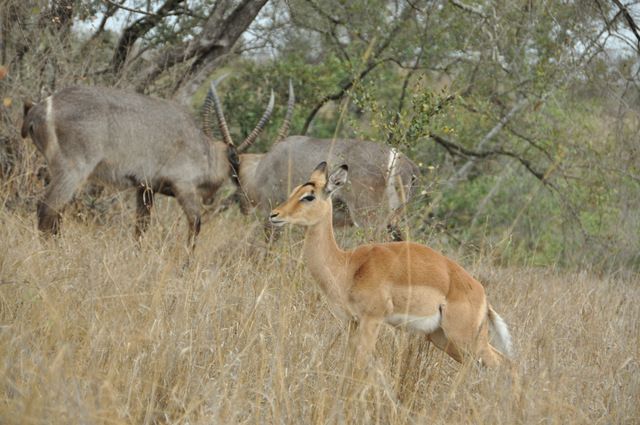 About 20m away was what we thought must be the no1 ram/bull (still don't know if they rams or bulls) As Pumbaa said in his TR, the S100 must have the most majestic waterbuck of all the roads in Kruger.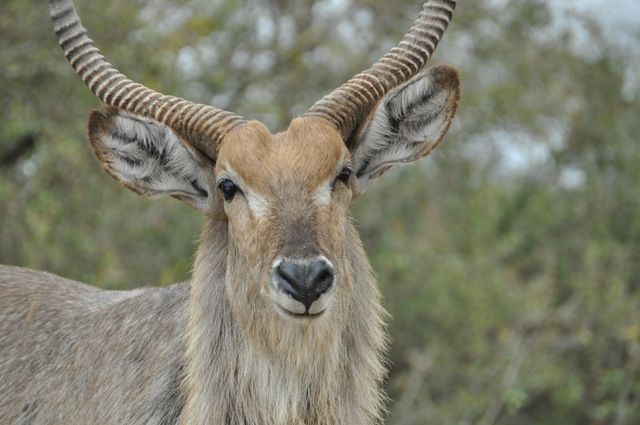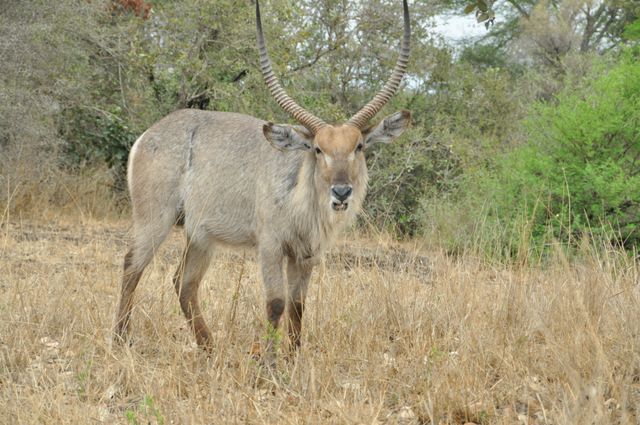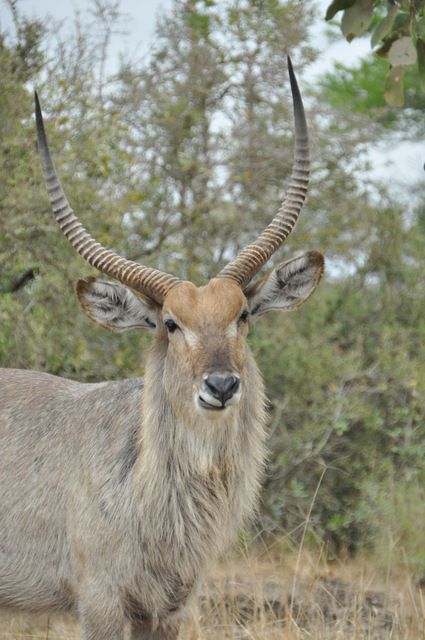 They are so Photogentic
Before returning to camp, we took a slight detour to Nsemeni hoping to see the famous Nsemeni pride. We saw another Marshal maintaining the peace in these part a family of hippos and a few Marabou Stalks. Three in a tree until they decided to take flight.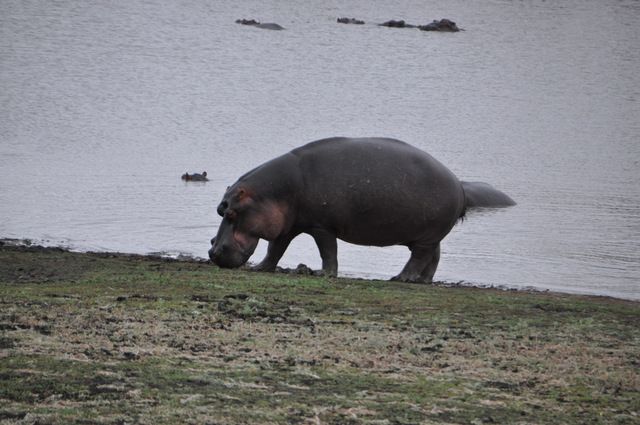 Still to come, our last night, night drive and cute spotted cat with cubs…
September/October - Shimuwin, Letaba, Olifants, Talamati and Satara
---
Junior Virtual Ranger

Posts: 171
Joined: Tue Oct 18, 2011 7:37 am
Location: Too far away from KNP,KTP or KNP
We returned to camp where we found a strong signal and power supply. We spent about 5 minutes staring at the heavens trying to determine if it would rain again later tonight. We decided to chance it and agreed on an early braai before our 8pm night drive.
We stayed BD2N in Satara, unit number 16 and 17 in the A Circle. If you ever stay in BD2N, ask for Units 15 to 18 which are right on the fence. We saw Buffalo, Zebra and Elephant from our unit. Below are some shots of BD2N and of Satara A circle.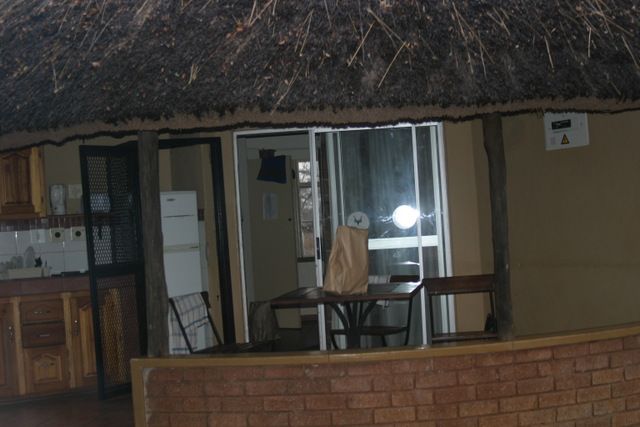 Note the brown paper bag containing all the bread and cheese we bought before we had money.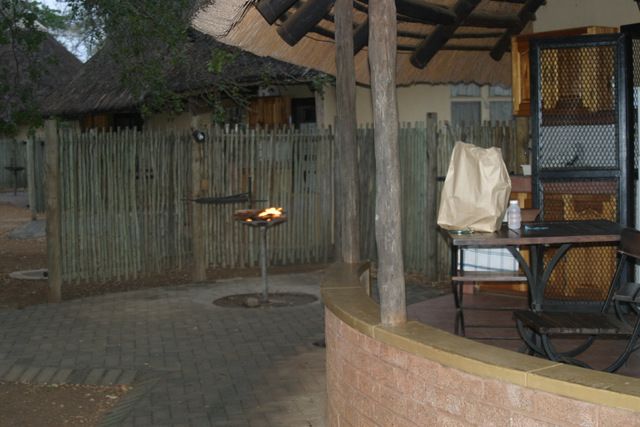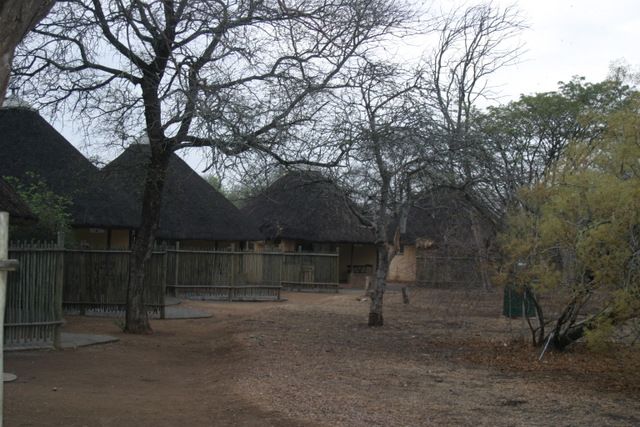 We lit the fire and enjoyed an awesome steak bought from the shop at Satara. We once again met Threedogs patrolling the fence with touches. While we spoke with them, and African Wild Cat ran past us and settle down right in front of our unit.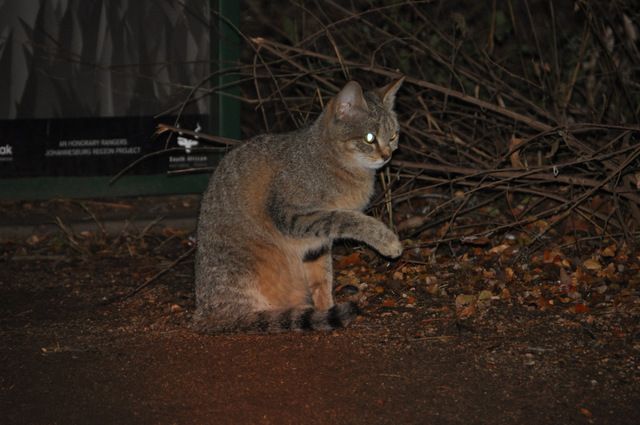 The AWC ended up sitting there for at least 10 minutes. Mike said that he saw a shoulder slinking behind the wooden fence. Judith decided to investigate. She just popped her head around the corner when we heard this hiss and she came running with a Honey Badger in hot pursuit. It stopped and scanned the surroundings, while Judith ran into the bungalow and proceded to lock herself in the bathroom. We then heard her jumping up and down because she finally saw a honey badge. A personal wish of hers for at least our last 4 visits.
Suddenly there was this loud crash from next door and our neighbour shouted out "Bl!cksem!!!" At the top of his voice. Judith emerged from both the bathroom and the bungalow to see what this new commotion was about. We then found ourselves in a reversal of fortunes as she chased the Honey Badger, now with a steak in its mouth, across the A circle.
After all of that, no pictures. The HB ran onto a veranda at the other side of the circle and hid behind the wall while numerous spot lights were trying to locate it there. It was like the scene of a crime movie with the police sweeping the search lights around looking for the "perp" The AWC just sat through all of this, hardly moving, with this I've seen this all before look on its face.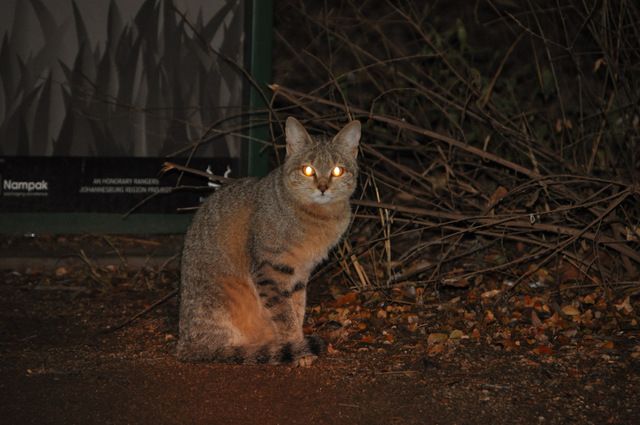 All this before the night drive. If you have ever been on a Satara night drive then you will know to feel excited
Before I share the night drive, I wanted to post a pictures of them that shall not be named. I will not say when I saw them, but I can say that I saw them on the N2 just after Hospital bend where the N2 splits up into the M3. We saw this male, and a mother and baby about a km away.
Night drive to come
… With some very interesting smells
September/October - Shimuwin, Letaba, Olifants, Talamati and Satara
---
Junior Virtual Ranger

Posts: 171
Joined: Tue Oct 18, 2011 7:37 am
Location: Too far away from KNP,KTP or KNP
The night drives from Satara are 2 hour drives that set off at 8pm. By this time in September that is in total darkness. We had some really good sightings of Genet, Jackals and Porcupines, but getting a picture on these drives are so difficult.
We got pictures of this Genet and of this rather playful White Tailed Mongoose.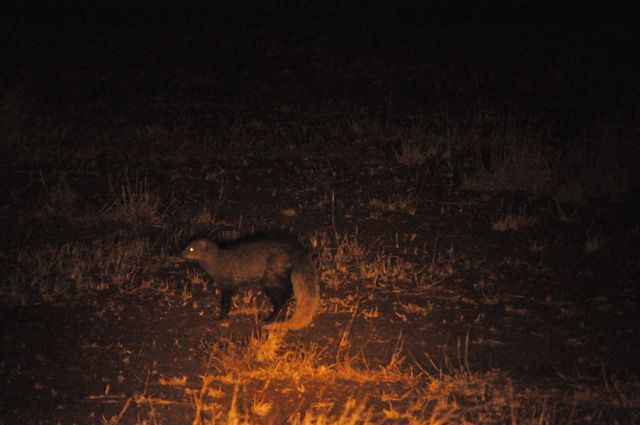 Stretching and yawning like a cat
The drive took us up the H1-5 we took a left onto the S127, made a U turn after about 10 minutes on this road then headed back turning left onto the S90, then right onto what I assume is the road that goes past the air strip.
Its on this road that we came across a scene that can only be described as surreal. It was like truly being in a movie, in one of those wildlife documentaries.
It started with us seeing this male lion drinking water next to the road. He was in perfect condition. We sat watching him drinking for a few minutes when someone panned the spot to the left. Unbeknownst to all of us, the was a massive Elephant right next to the truck on the other side of us. Invisible in the darkness and it did not make a sound.
The lion, now finished drinking started walking along the road. We decided to drive a little further down the road. I first saw a large dark shape lying next to the road. Then I noticed about 4 jackals circling the shape. A Kill.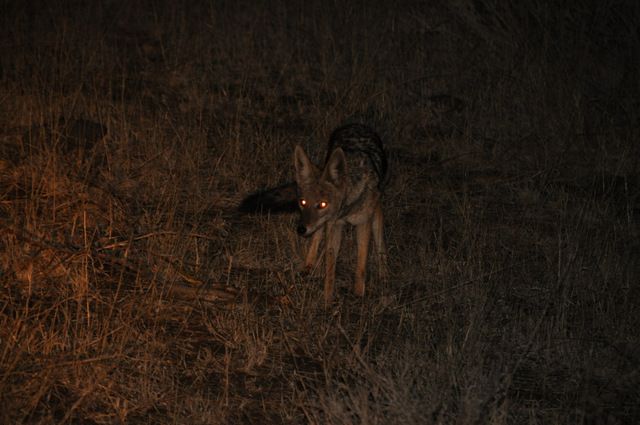 It was only when we were right on top of it that we notice the below.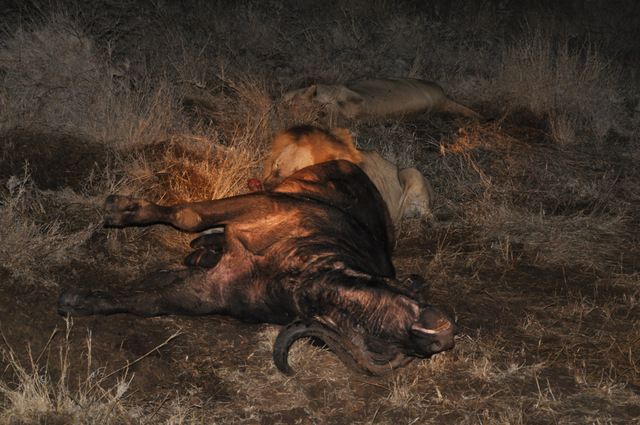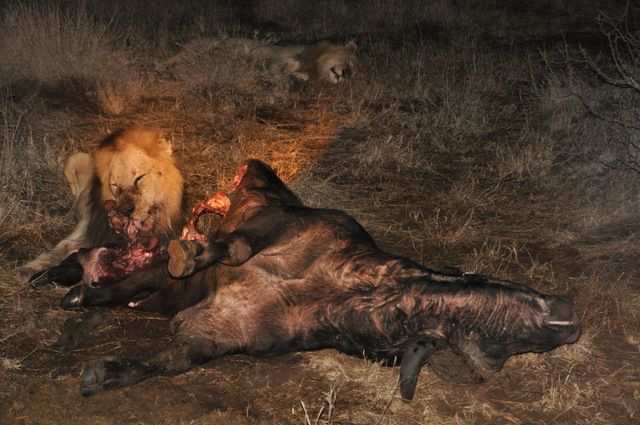 The smell was overpowering but we just sat there watching this lion enjoy his meal. We sat there in that smell, that swarm of flies watching and listening to the sound of teeth grinding again bone. That sound not too different from someone scrapping fingernails across those old dust boards.
It truly became surreal when from behind us we heard this very distinct; 'Wwhhhoooop!' we moved the light to see what was behind us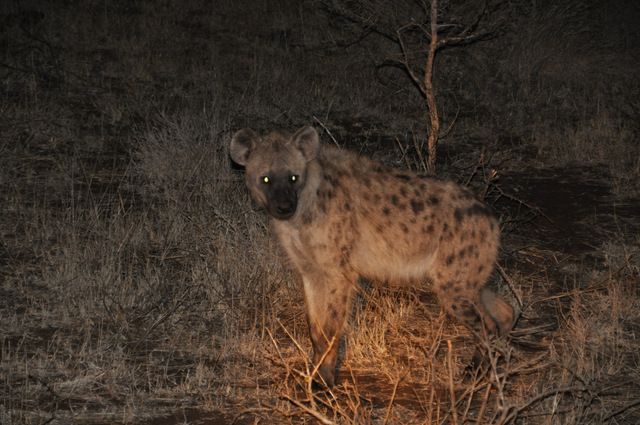 We continued to watch the lion feast while 2 others slept, no doubt with full bellies.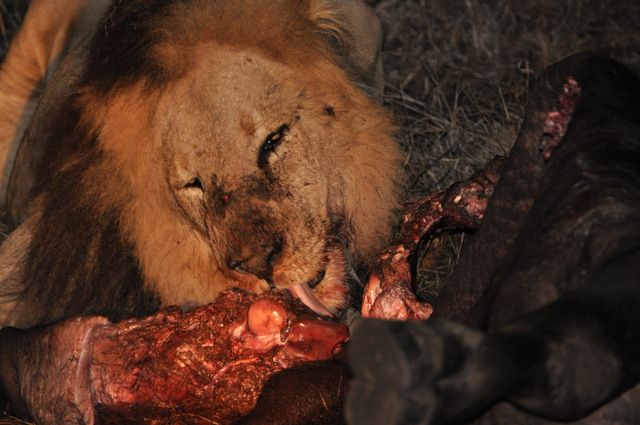 They were joined by their compatriot whom we saw drinking a little earlier. As he walk past the large lion gave him a look that in human terms might have said "and where have you been young man?"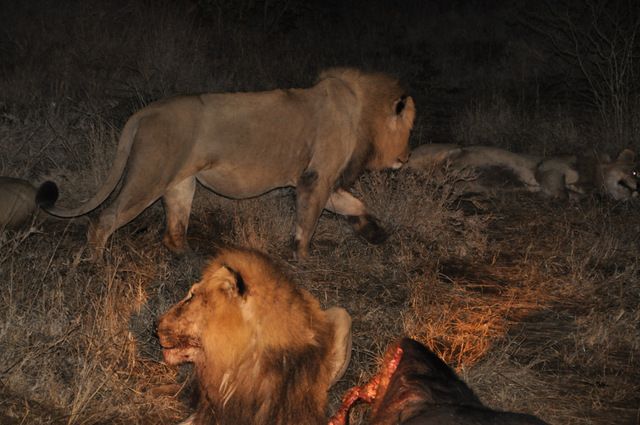 I started getting that feeling that we were being watched. And there were murmurs in the truck that all the spots were out one side of the vehicle. Anything could be behind us. We used one spot to see what was in the darkness. Right next to the truck, right behind our backs were the Hyenas. Not one anymore, not two, but seven, using the truck as cover.
We sat there for another half hour or so, waiting to see if the Hyenas would make a move. When we left, they were still just skulking around the kill, waiting for more numbers maybe. By this time, the jackals had totally disappeared.
We returned to camp. After one of the best night drives we have ever been on.
Mike went straight onto Facebook, and we sat at the table and chairs outside just thinking back over the last hour. Blicksem, lighting struck across the sky and the rain started to come down. After days of threatening and drizzling it finally started raining, lightning, thunder, buckets of water and all.
September/October - Shimuwin, Letaba, Olifants, Talamati and Satara
---
Junior Virtual Ranger

Posts: 171
Joined: Tue Oct 18, 2011 7:37 am
Location: Too far away from KNP,KTP or KNP
Day 7
The day we leave Kruger. This day has come way too soon. We packed up our things, packed the car, filled the car with petrol paying with the cash we now have. Judith made about 8 sandwiches with the left over bread, tomatoes and cheese.
We handed our keys in and made our last drive of the year down the H7. We were down, of course, we were heading out, but Kruger still had a surprize in stall for us.
The drive down the H7 was largely uneventful. We stopped at Nsemani dam. We spent some time there soaking up as much as the atmosphere as possible. Filling up the memory bank if you will.
The drive continued, still very quiet. We drove very slowly as we approached Orpen, knowing that there were lots of Lion and Wild Dog sightings in the area over the last few days.
We passed the S140 and still no luck. A Toyota Fortuna sped up behind us and overtook us. A very friendly woman rolled down the window and signalled for us to do the same.
"Did you see the cheetah"
"What¬?" I asked rather confused, not believing that we could have missed anything. We were driving so slowly.
"The cheetah," she said "just down that road over there. Turn right and 1km down the road you will see the cheetah"
We have never seen cheetah in the wild. Never ever, so we turned around and headed back to the S140, turned right and not a km down the road we came up to 2 cars standing next to the road.
I think it is clear from the pictures below that the friendly and helpful lady did not tell us the full story.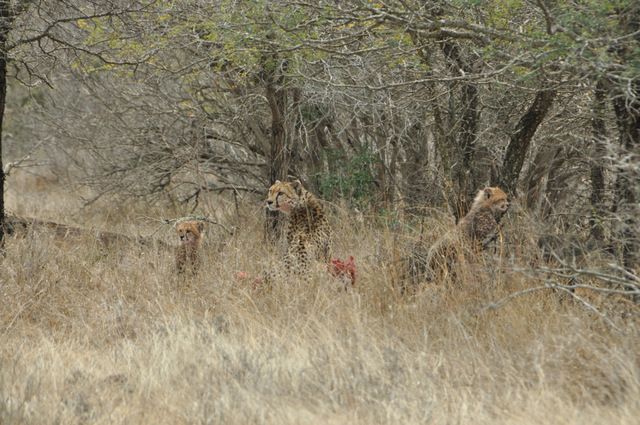 I see it also Mamma!
One family meal "to go" please
This guy also seemed very keen to enjoy the sighting.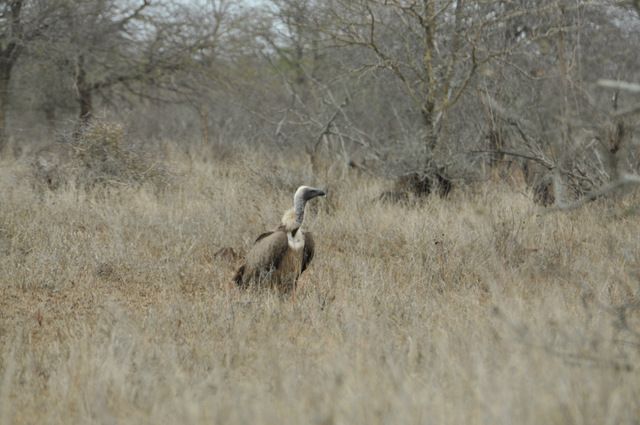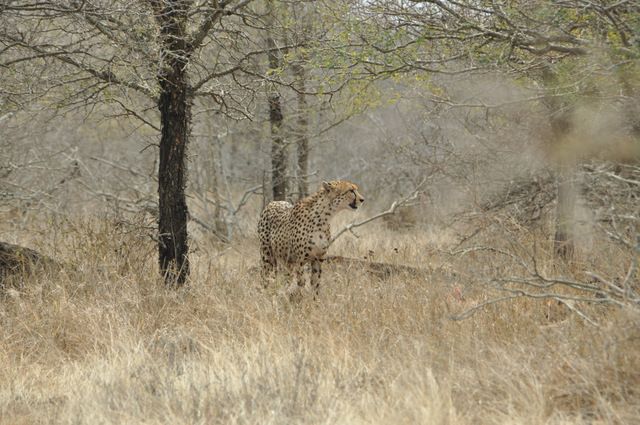 After a bit we reluctantly left this beautiful lady with her cubs and exited the park.
September/October - Shimuwin, Letaba, Olifants, Talamati and Satara
---
Junior Virtual Ranger

Posts: 171
Joined: Tue Oct 18, 2011 7:37 am
Location: Too far away from KNP,KTP or KNP
We have come to the end of the Trip Report.

Thanks to all who enjoyed the journey with us and thank you for your kind words. I passed all the compliments on Judith's photography to her; scouts honour.

In closing I just have a few thoughts.

Firstly, we were absolutely flabbergasted by how expensive everything got in just 2 years. Of course prices cannot stay the same, but the increase over 2 years seems excessive. The food from the restaurants and take aways are most definitely over priced and the quality not that great. It is in the middle of the bush, but still way too expensive for what you get.

On the positive side, and as with Kruger, the Pros always outweigh the Cons 20/1, the camps look to be in excellent condition. We stayed at Orpen(not planned), Talamati, Letaba and Satara. When we were there last in 2010, most accommodation was looking a little tired, however the units we had at Orpen, Talamati and Letaba had new mosquito covers and tiling in the bathrooms as well as new shower heads. Also, the Units at Talamati had brand new furniture. The linen was in good nick and even smelled good.

My last comment is on the staff at Kruger. I have always found them to be good. They did the job with no problem, but we never thought of them as great. We visit the smaller parks much more often and the staff and service at these places like Karoo and Addo is absolutely brilliant, and we always felt like Kruger's service was sort of in their shadows. This year however, that opinion has most definitely changed. From when they received us to the day we left, the staff was brilliant. There is a big change. Don't get me wrong, we have never had a problem in Kruger, but now the staff just genuinely seem to want to help you and just seem friendlier than 2006 – 2010.

Well done SANParks. Keep it up.
September/October - Shimuwin, Letaba, Olifants, Talamati and Satara
---
---
Who is online
Users browsing this forum: No registered users and 4 guests