Junior Virtual Ranger

Posts: 282
Joined: Thu Jun 23, 2011 12:31 pm
Location: Not to far to drive bet yet to close to fly. Roodepoort
Day Six Road Block
So up early again the Friday we decided to make route towards Skukz again and back
But that did not happen
We get to the gate and find that there is a few cars waiting to enter the park, Why is everyone standing still Out the car I get and what's this .For those who don't know yet they are busy renovating the Pkop gate entrance so only a narrow space is available to enter or go out. As I get close walking towards the gate I realized that a Auntie tried to get across the bridge entrance but to close to the edge of it. By inspecting the situation I see that the complete left side of the car is flat on its belly on the bridge and the wheels in the air so we gather a team collecting rocks and tar poles placing it underneath the left side till it reaches the wheels of the car. We eventually got the car to move But another problem We can't move the car backwards because the gate entrance is so narrow. Off goes the team again and start collecting rocks and poles again placing it in front of the car .I then get in the car moving it slowly forward and of the heap of rocks and poles onto the road and whala The auntie thanked us all sincerely and went off on her drive 2hours later As for the local staff at Pkop I also thanked them because without their willingness We would have not been able to move that car and would have spoiled a lot of peoples day in the park
This is what we saw when I got to the gate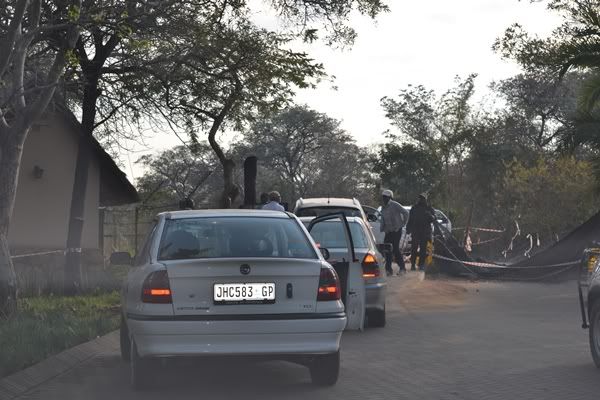 I went back to camp and went for a another shower seeing that I now also had my exercise in for my holiday break
---
Junior Virtual Ranger

Posts: 282
Joined: Thu Jun 23, 2011 12:31 pm
Location: Not to far to drive bet yet to close to fly. Roodepoort
Last trip Around PKOP
So after some excitement with the Aunties car that morning and a nice shower
We decided to rather stay at the camp and make a nice breakfast before heading out . And was that nice ....... This will be our last day around the south as we are heading up towards Letaba for a another week . I will just post the few highlights of the days drive
These guys on there throne PSSSST check out Superman
Long Necks can also camouflage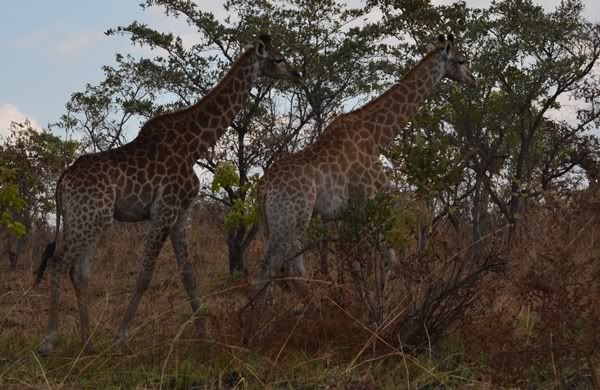 What you looking at? MY bum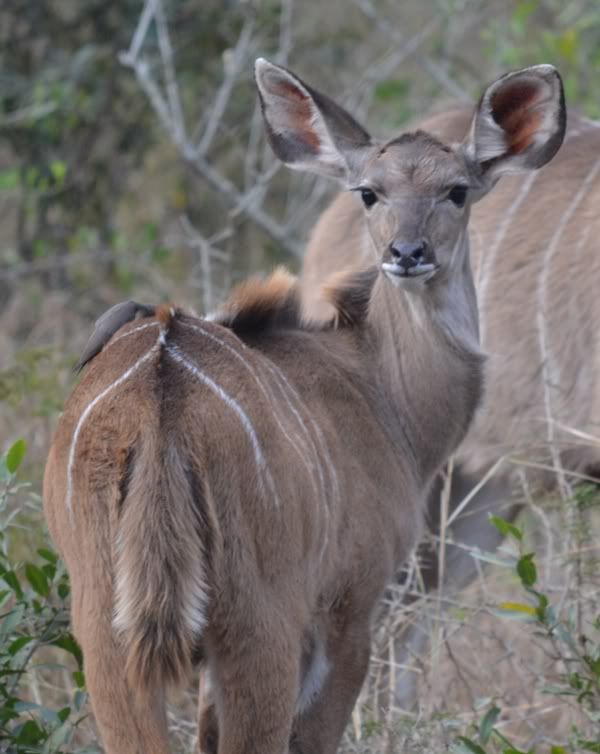 Lonely ooo I am so Lonely This guy was all by him self not another animal in sight Easy Target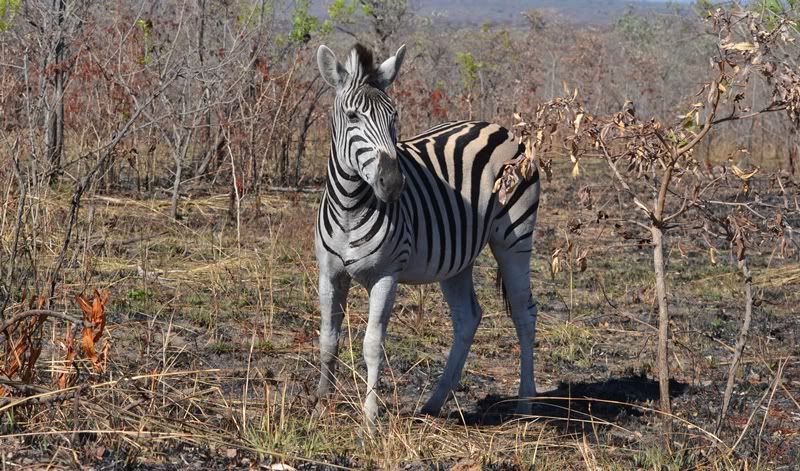 This guy was crying about something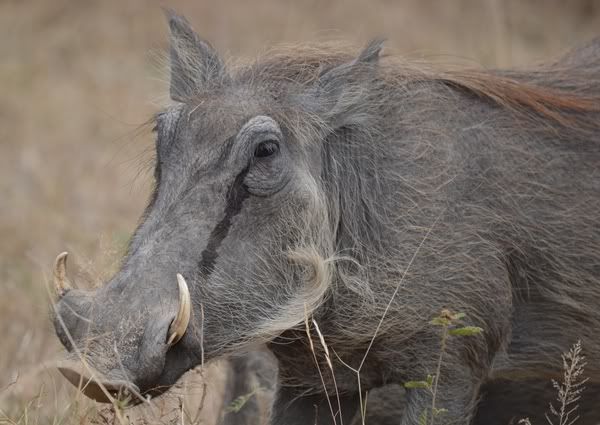 Just love there silhouette e against the sky
And of course the birdies on our route
Beautiful Fish Eagle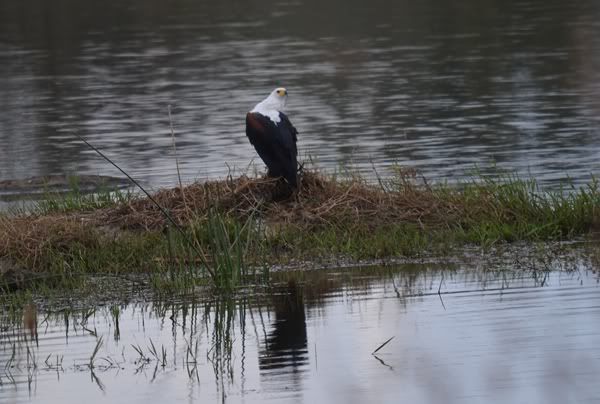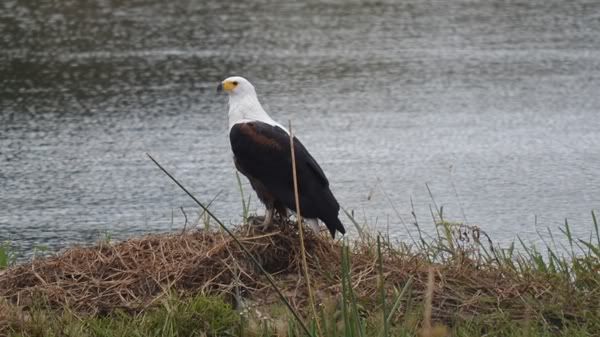 Goliath Heron Puffing its feathers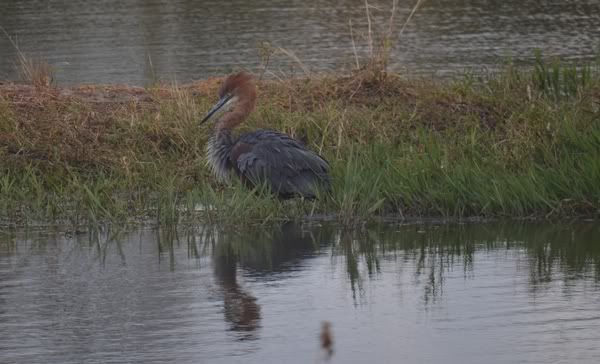 Another First for me African Green Pigeon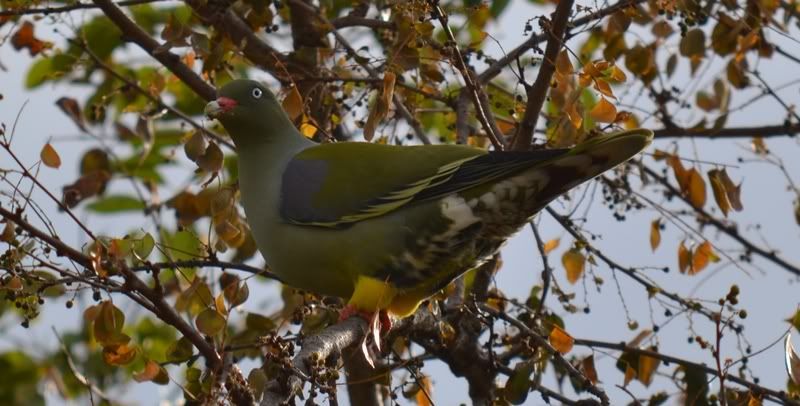 Another Sun Bird ID pls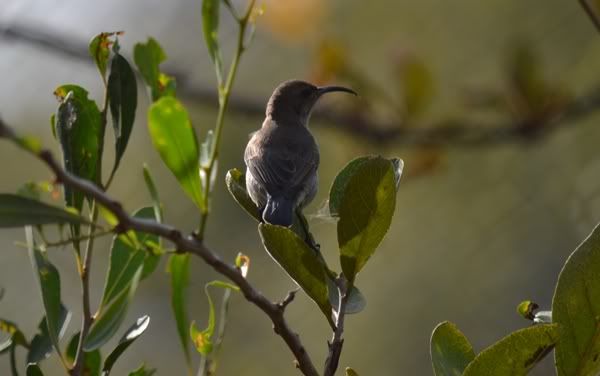 And getting back to camp we found this
We were really worried seeing that our tents (NYLON) was only about 10m away from the fence But these guys new what they were doing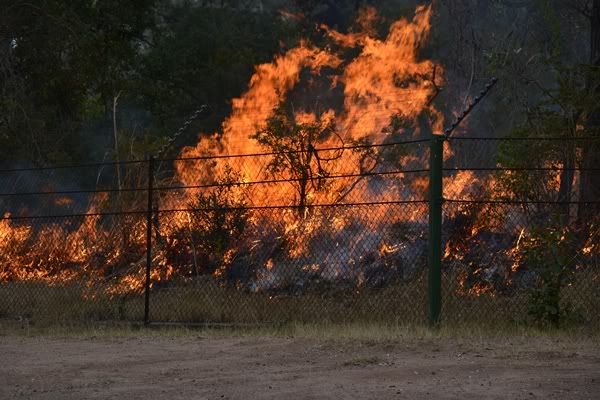 So after that fire I decided to start the fire Braai time
So chopping up the wood that was bought in the shop This is what I find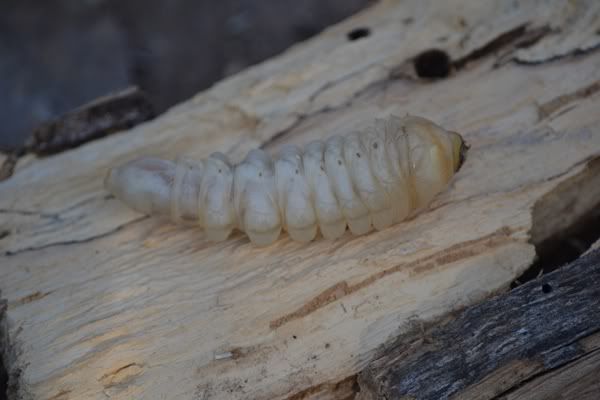 We had a great braai and a few cold ones Few seeing that this was our last day in camp, We had some great chats with some of the neighbors in camp and sharing sightings of the day (Week)
So next installment is our trip towards Letaba
TBC
---
Junior Virtual Ranger

Posts: 282
Joined: Thu Jun 23, 2011 12:31 pm
Location: Not to far to drive bet yet to close to fly. Roodepoort
A long drive with a great scare !!!!!!
Up early the morning with this beautiful view... sending us a wave goodbye from Pkop .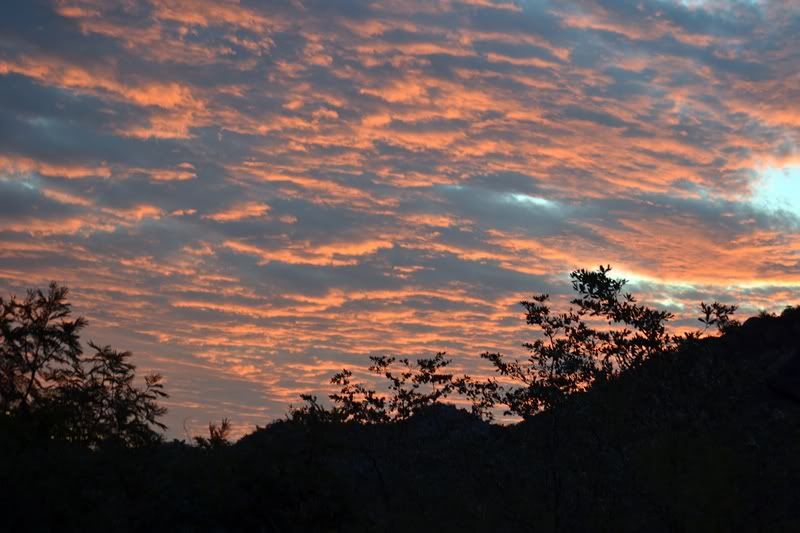 I stayed on the Tar road all the way to olifants were we had to take a detour on the gravel road towards Letaba
This is what we saw Exp for the ellies that almost thru my car and trailer over because of some IDIOTS with Landies mocking a big Herd right next to the road So no pictures as I was really trying to keep my composure and temper for the risk of my family safety .
Her is the Story I told PetraJ on her TR
I had a narrow escape two weeks ago in KNP on the H1-2 between Skuks and Tshokwane But no pictures
As I was moving from Pkop to Letaba I had a 6ft trailer that was realy packed to its limit . So I see two land cruisers next to the road and start slowing down as we get closer I realized it was a breading herd of Ellies all a round us .The guy in the landie in-front started pushing a ellie to move out of the road when the ellie decided he is not going to have any of this and started mock charging Now we all know reversing a trailer is not that easy As I was backing of and then only realized that I am now right in the path of some more ellies now this is when you start sweating and everyone in the car starts to get exited
The cruiser still trying to get pass the ellie in front then realized he needs to back up and that is when I showed him the brights of my car so he can realize we are STUCK there is a better word to describe this situation ....... He then moved to the right of the road where the ellie was now on the left I saw the gap and just put foot down to get out of the situation as I passed the big guy I just saw him miss my trailer in the rear view mirror sheeeewwwwweeee after that I stopped at Tshokwane and stayed there for about a Half hour just to get the nerves back and with our luck as we pull out of the picnic spot what
Road block another herd of ellies crossing the road but I sure kept my distance this time ....
This guy did not what to show us his face
Juvenile Hornbill with its mommy just love the sounds they make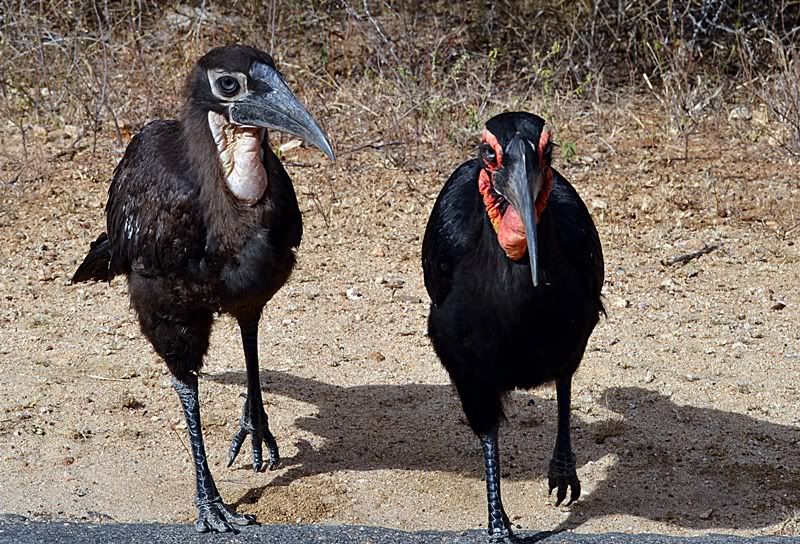 Beautiful Starling just the correct light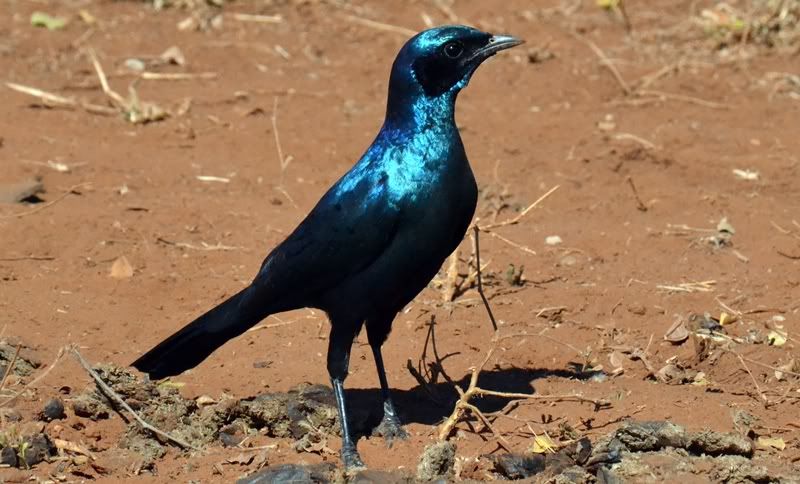 This grounded Horn bill
Black Heron I think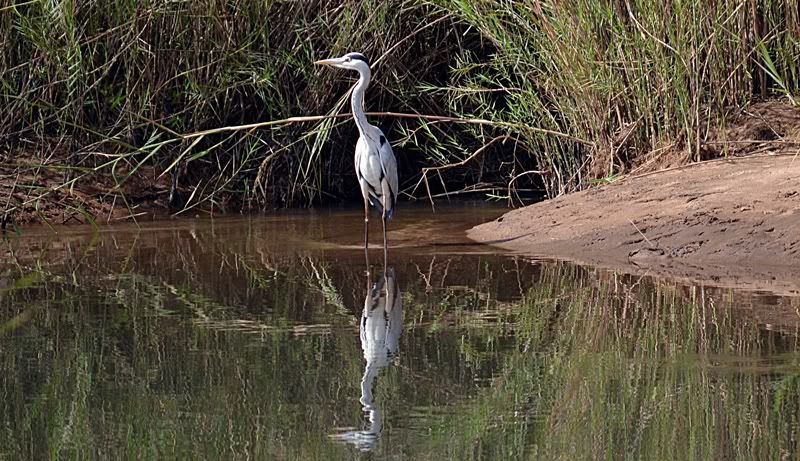 This one the SO capture so nicely Mongoose
This close to the Mazithi dam Just classic Check the ladies ignoring the men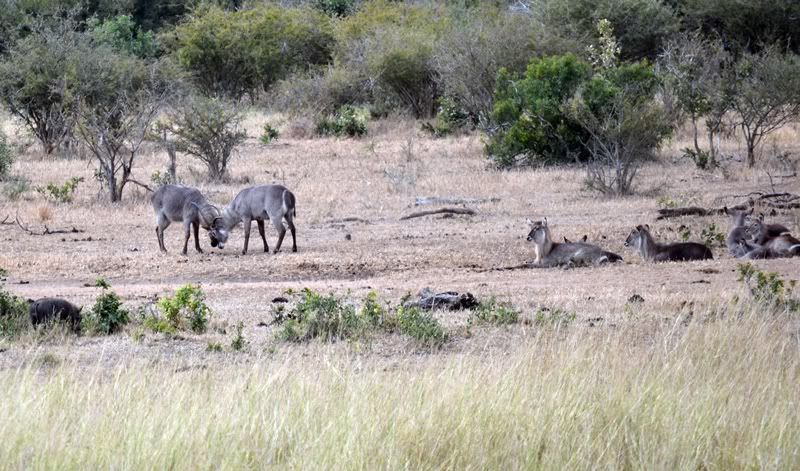 ELIES
Get away this is my turf He chanced this guy for quite some time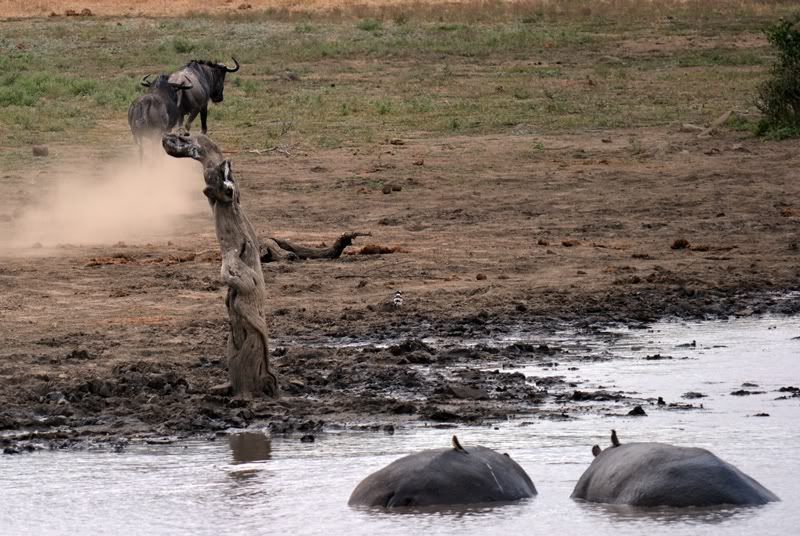 As we came close to Ngotse I saw this big herd of ellies coming to have a drink Can you see all the little ones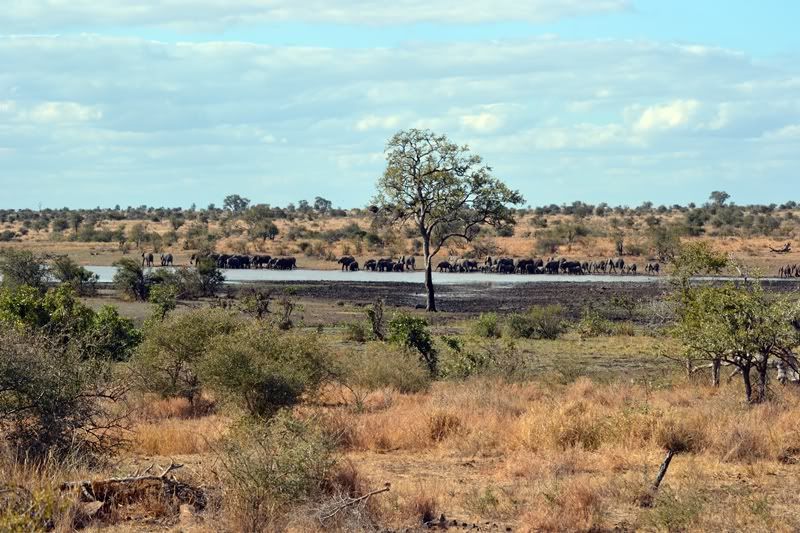 And this is why GET A ROOM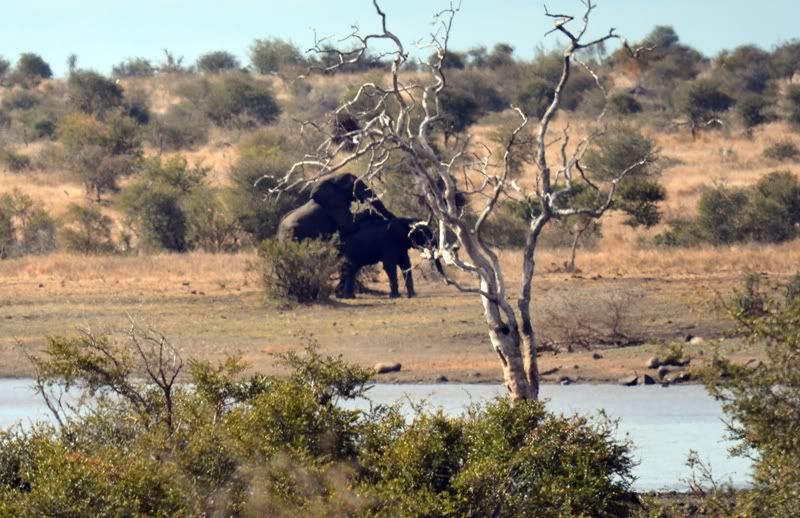 This guy getting to work next to the road
What YOU looking at cant you see I can handle IT Grumpy guy checking us out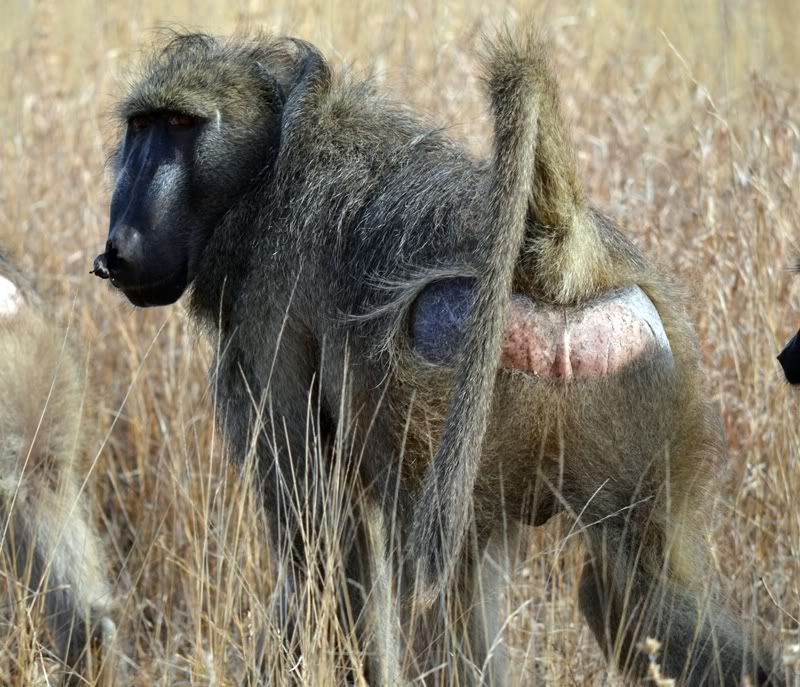 This guy lazing away in the winter sun
And the another highlight for us as we have only seen them ones before about 4 years ago in kruger this was about 5km before camp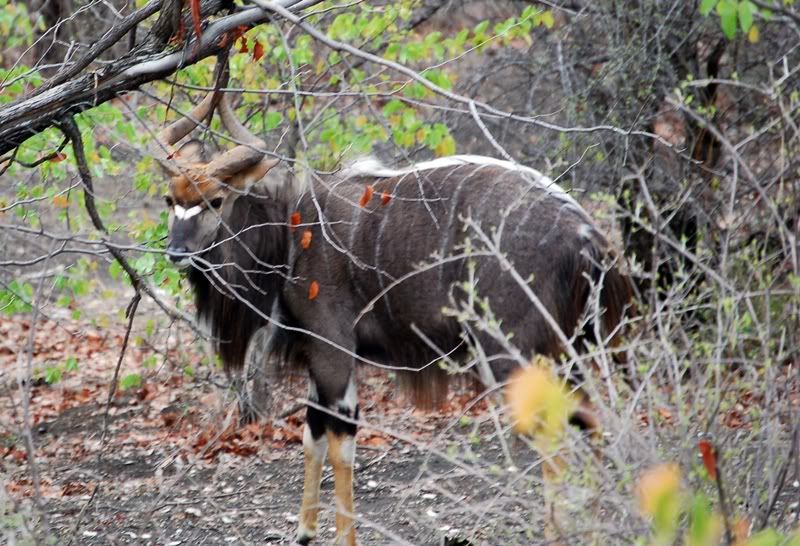 And then it was in to the camp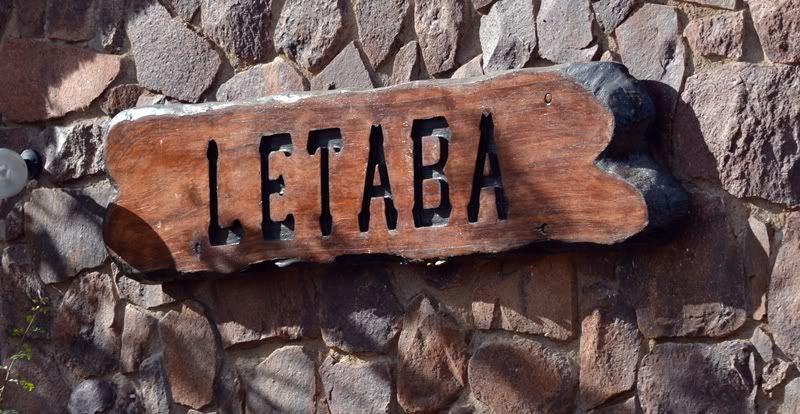 At reception we waited quite a while seeing that it was late already and a lot of people were checking in.
As we all were standing around waiting to get our forms done A auntie and her daughter storms into the Reception Demanding they want to see the camp manager
And really not letting anyone have word screaming at the receptionist to get hold of him right away.
In comes this oomie all relaxed and asked the ladies whats wrong.................... And the aunty reply's Why aint the damn TV not working in the TV room
We want to watch the Rugby and the TV aint working REAL Now I am a big fan of Rugby but this was really the pits. I will not mention from where she was but they were playing against the Springboks that day and I dint even watch the game But hey you must get some fanatics
Ok so we set up camp till late that evening and had a good rest
TBC
---
Junior Virtual Ranger

Posts: 282
Joined: Thu Jun 23, 2011 12:31 pm
Location: Not to far to drive bet yet to close to fly. Roodepoort
MOPANI TREES AND ELLIES
We were up early after a struggled to get the tent pitched up at night ,Not the best Idea When we returned from our drive .I then realized I had to make some modifications to our camping area....... We then Realized we were so close to the laundry and the people in camp doesn't matter what time it is when they switch those machines on at 04h00 in the morning Really
We were out early the morning and what beautiful weather it was compare to Pkop shorts plakies and Tshirt now that is mos the way to enjoy the park comfortable
We had so nice sighting .. We took the S131 turned right on it passed Jumbo water hole an to the H14 H1-6 stopped at Makhadzi and back to camp.
I must mention that I really think the S131 is in serous need of some scraping or maintenance that is really one of the worst roads I have drive Animal can hear you from a mile away
First ones on route BIG and
small
This took a few picture before I could get this one the sun was still rising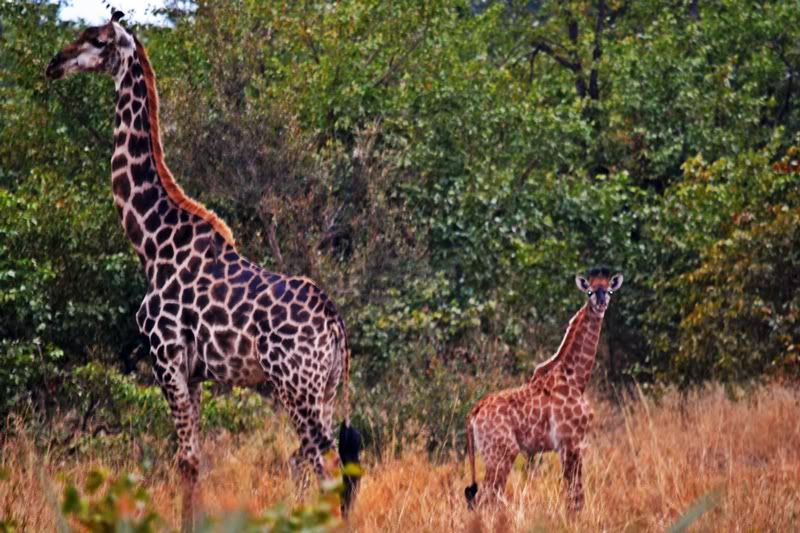 And then some early morning stand off And who won Not the Big boy the Buffy sure stood his ground .And he just move d on
These fluffy ones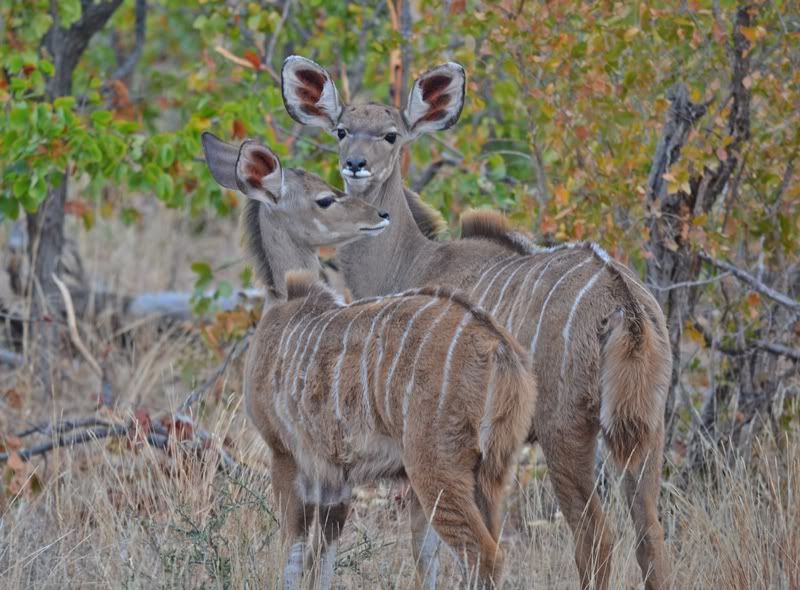 A Black horse Just beautiful I these stripes were any closer he surely would have been black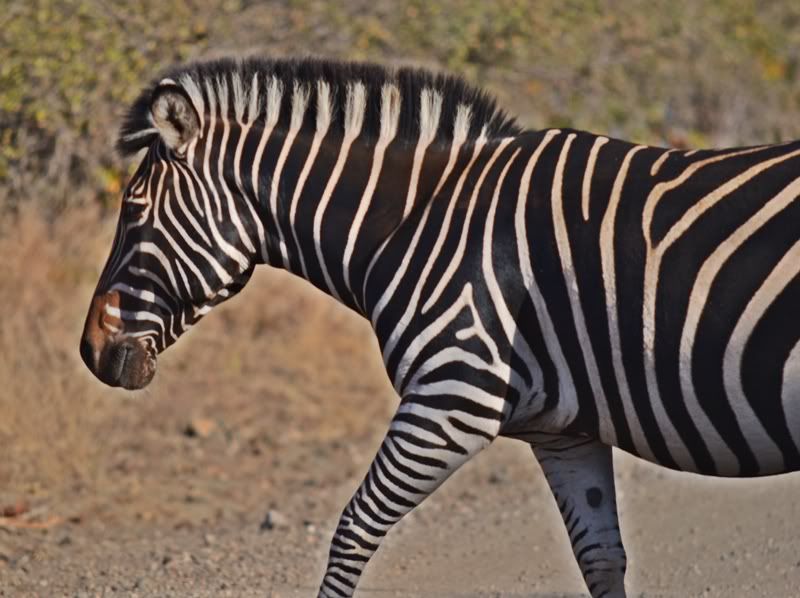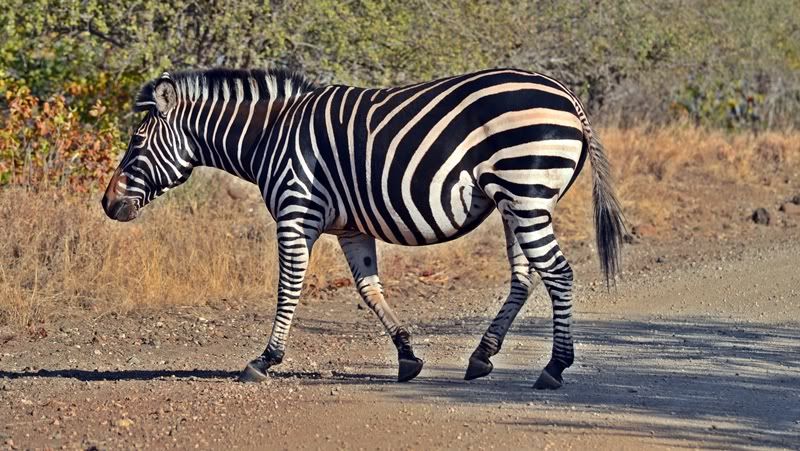 Splish splash I was taking a bath What a gentle giant this guy was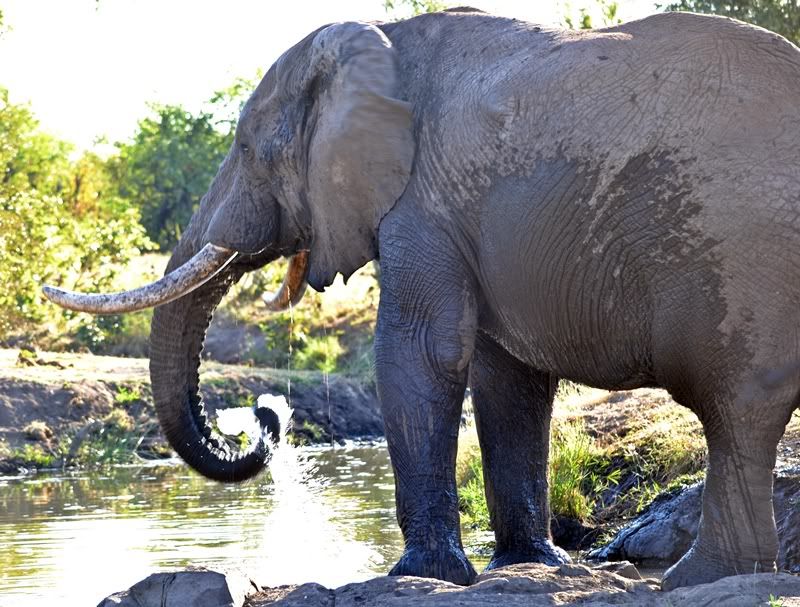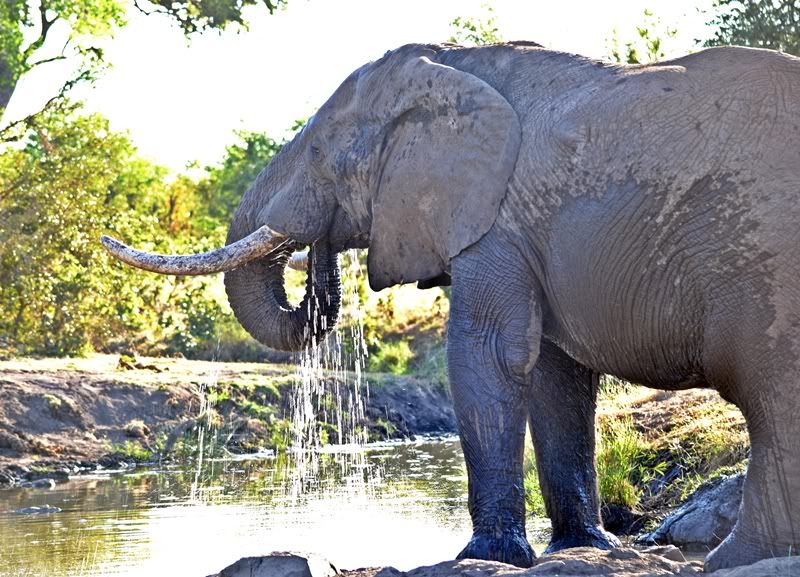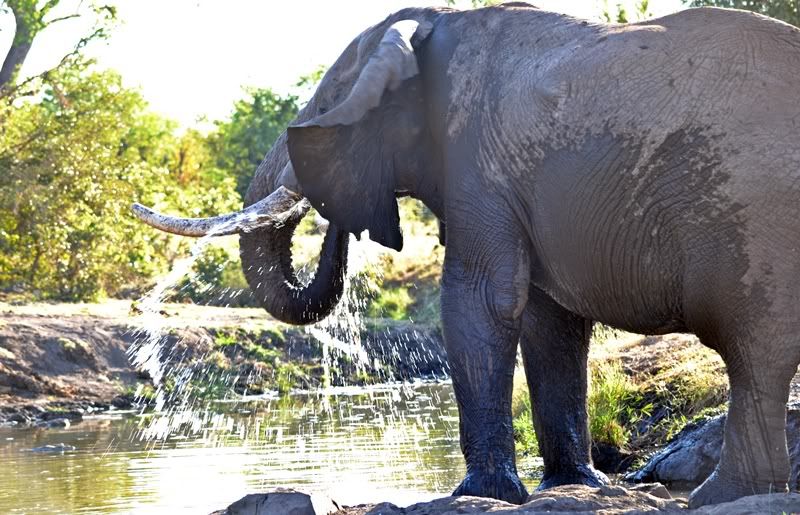 Breakfast time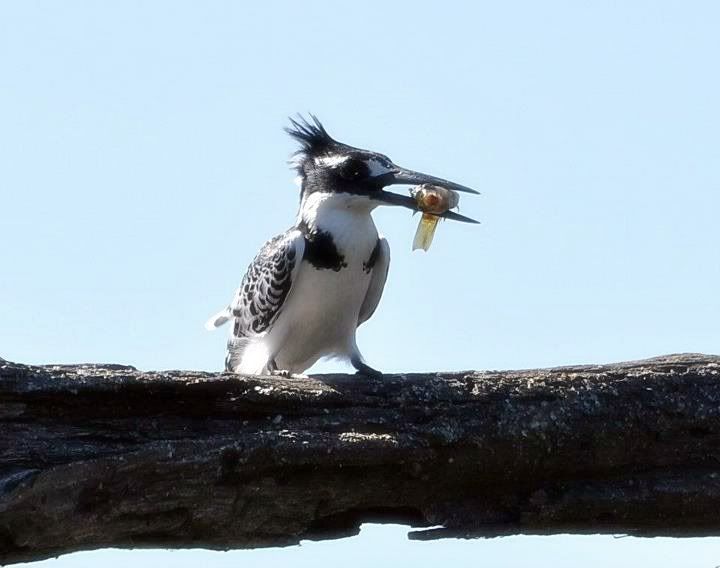 Don't ask me how I'm still trying to figure it out (Glare)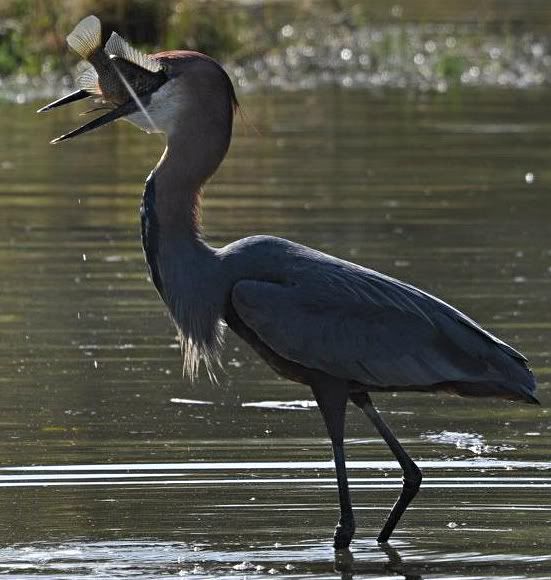 ID please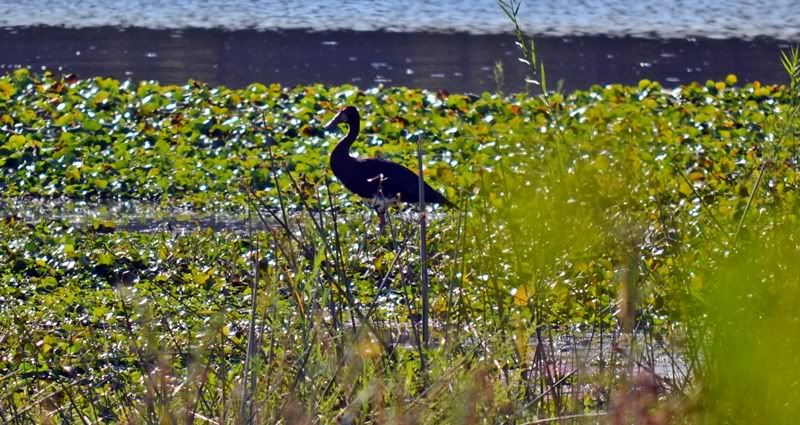 High up in the tree I heard this guy calling what an amazing sound so close to you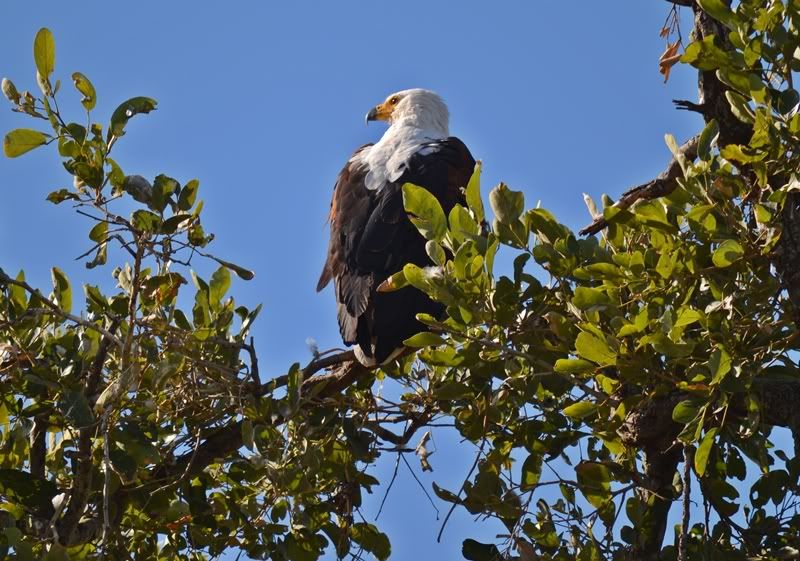 These guys sure look darker up north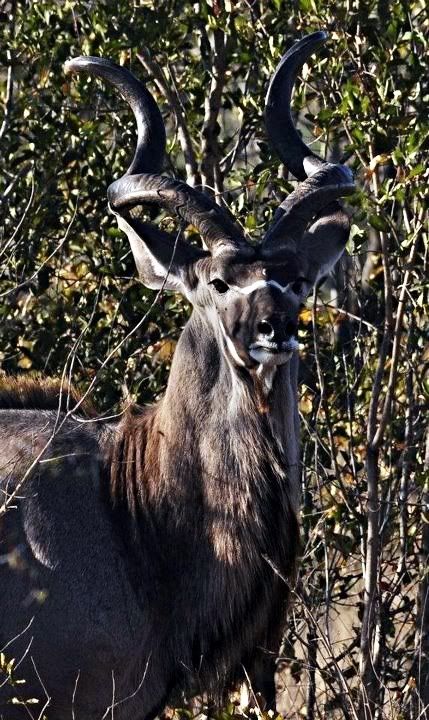 These bobjaankies getting there daily exercise
What a beautiful sight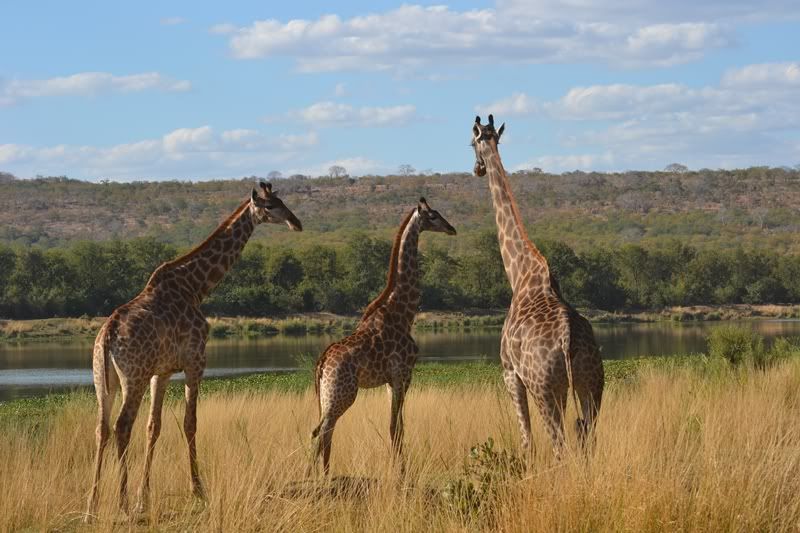 I can believe ho many Giraffes are around this area we must have seen at least 30 this day . I was not complaining seeing that the little ranger love them so much they are called (Karelkies)
And then it was back at camp where the little one kept her self busy with what she could find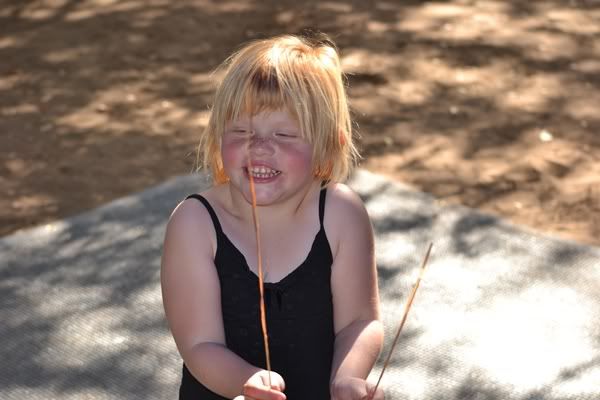 After modifying our camping are we were set for another week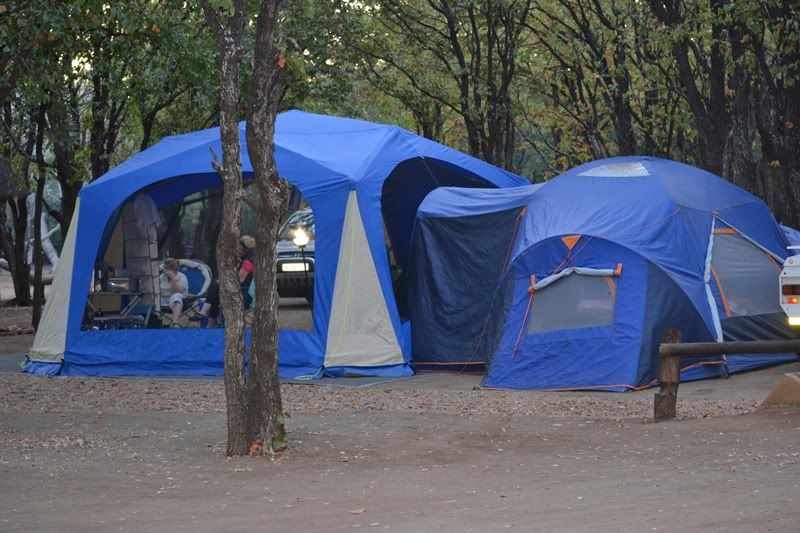 What will await us in Letaba
TBC
---
Junior Virtual Ranger

Posts: 282
Joined: Thu Jun 23, 2011 12:31 pm
Location: Not to far to drive bet yet to close to fly. Roodepoort
Hallo all thanks for sticking around
A hallo from a very cold and snowy Johannesburg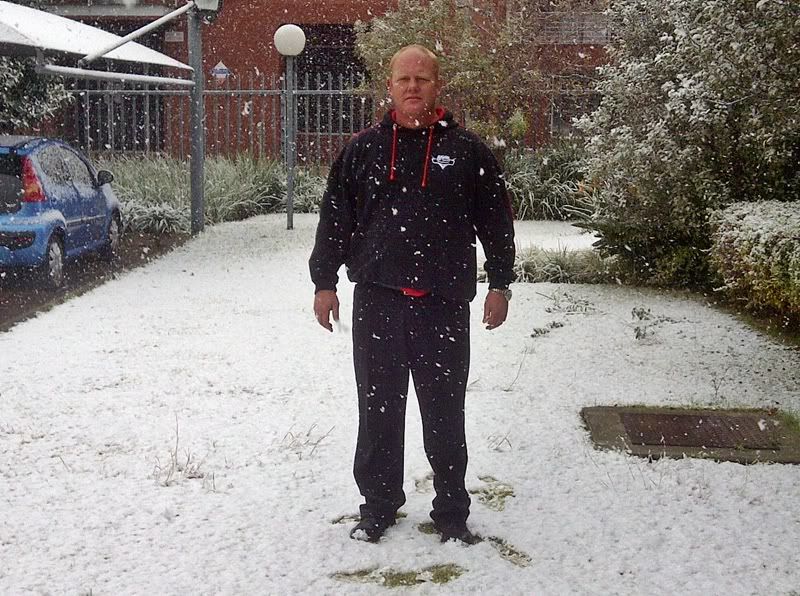 Lucky this was not the case when we were in KNP
I will just post pictures today just to get this TR going Hope you all enjoy Day 2 in Letaba area
So Here goes the Little rangers new friend for the next week we had to go and look for this lady every morning before we left camp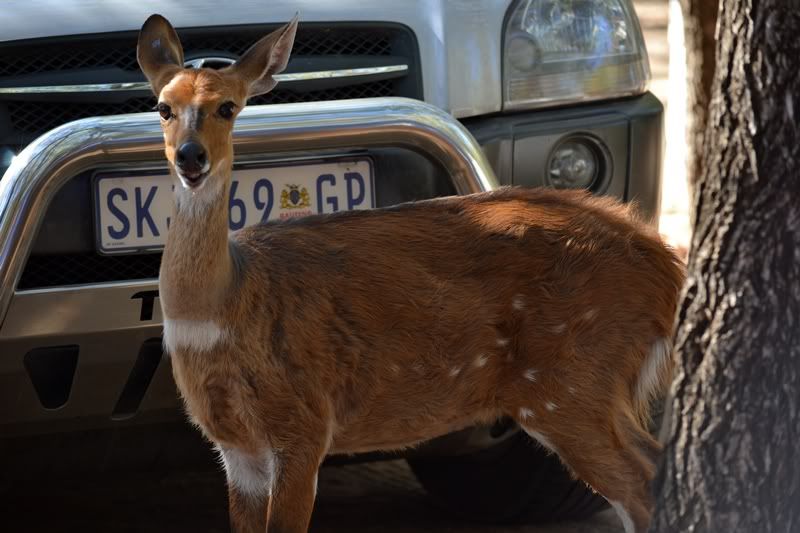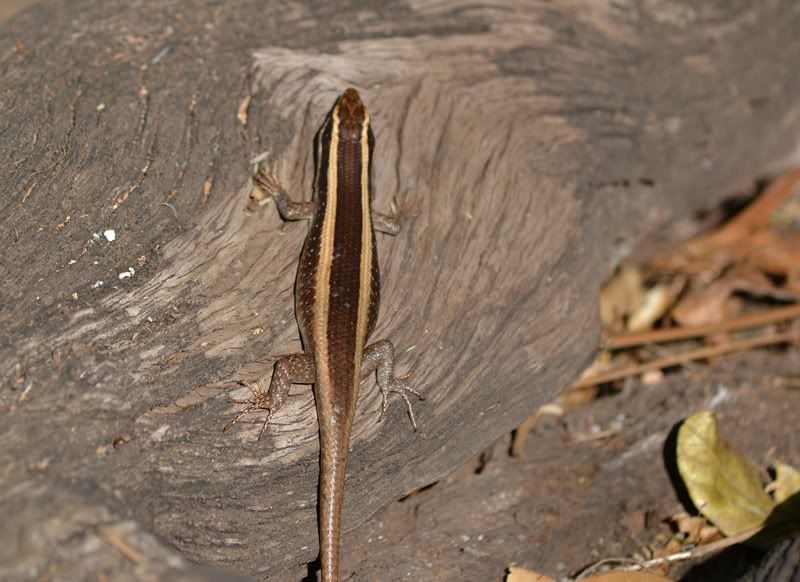 First sighting outside the camp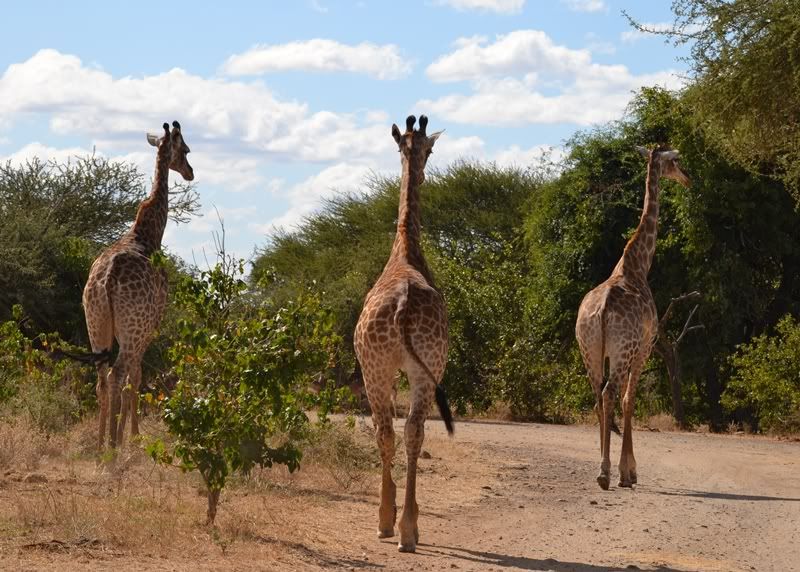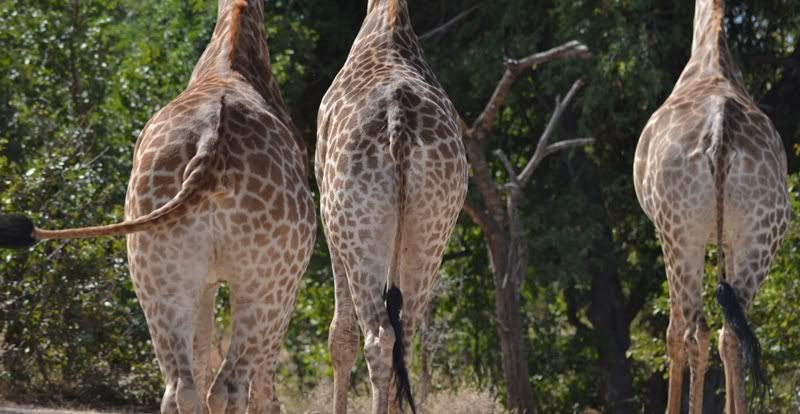 A cast away on his Ireland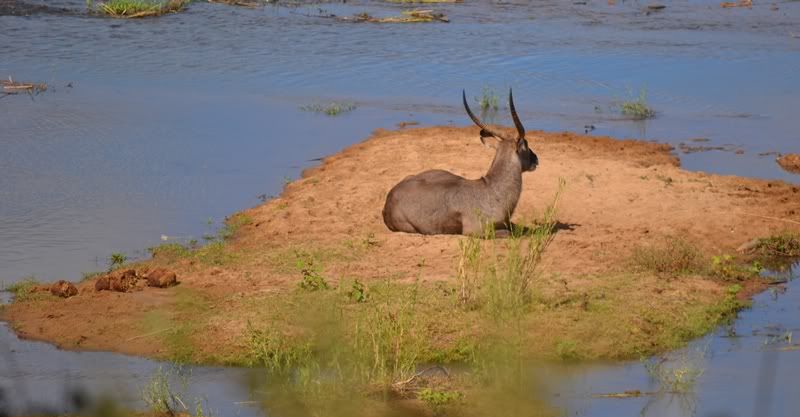 Hippos taking in the morning sun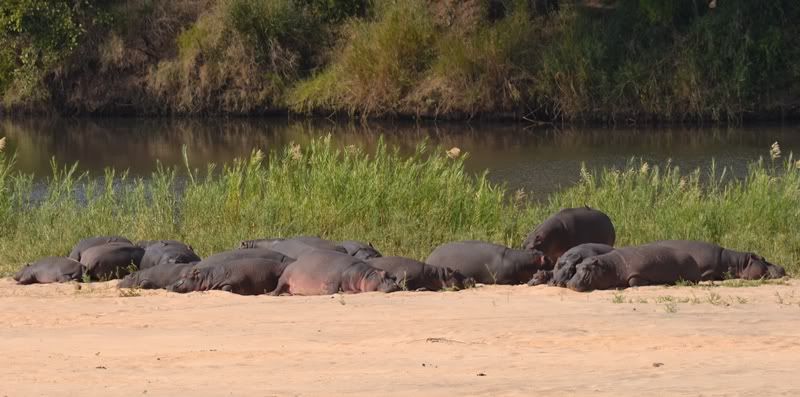 Another fish eagle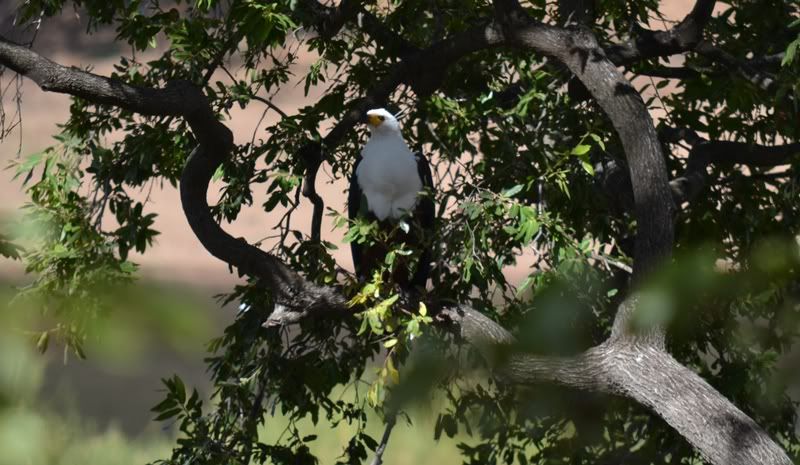 Martial Eagle not wanting to show its face
The sky filled with Vultures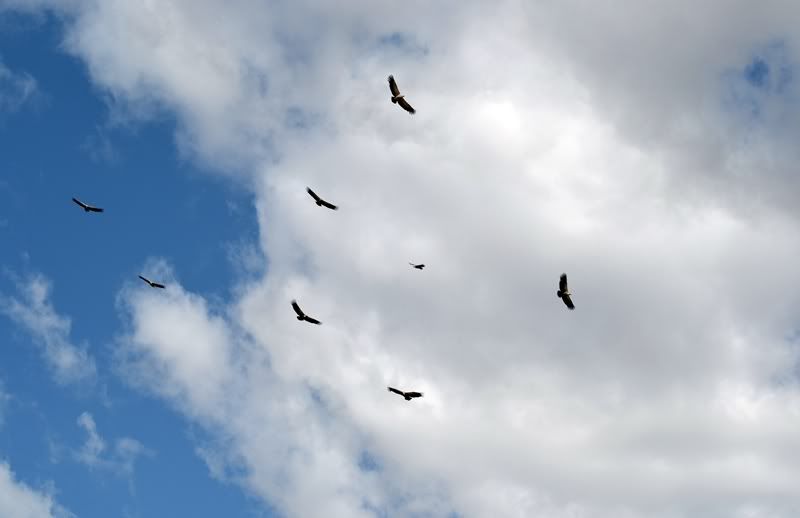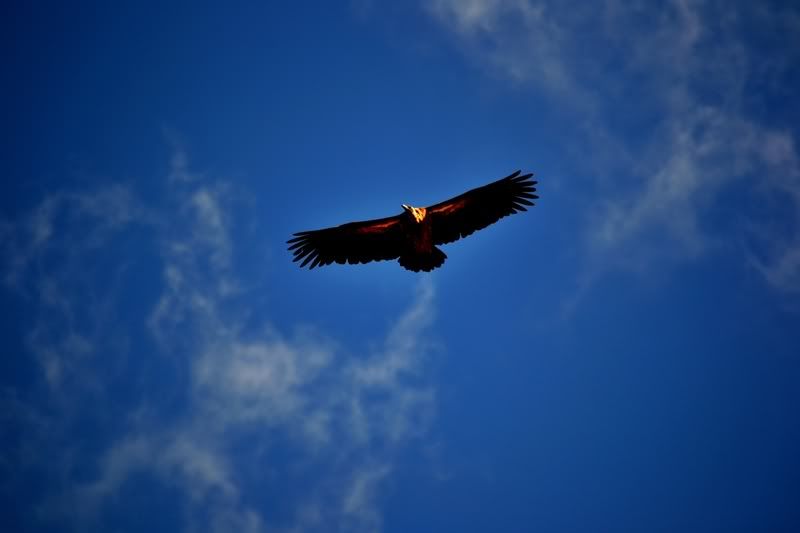 Some sadelbils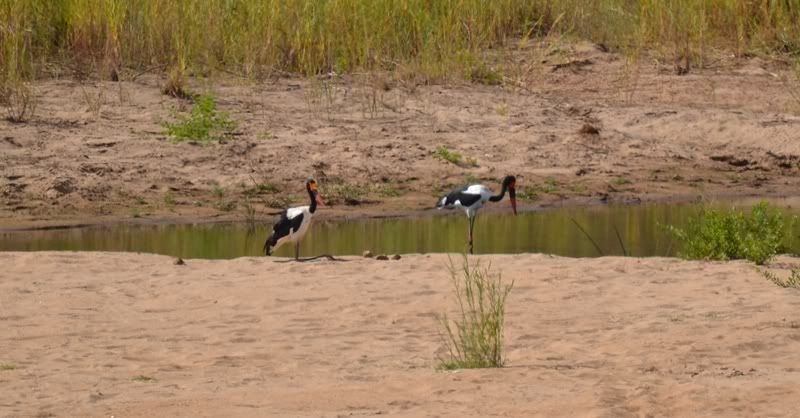 Impies crossing the road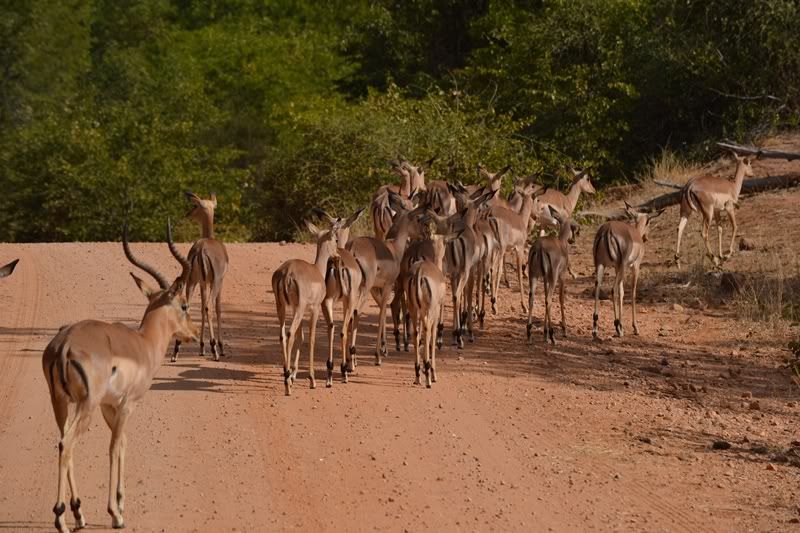 A Tirpie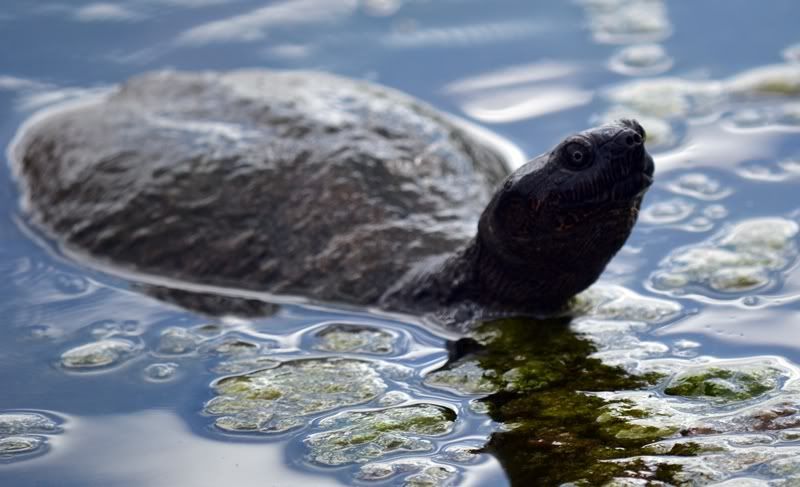 As I took this picture I could Only imagine someones face on this forum that truly loves these birdie Just for you Heksie ?Andrie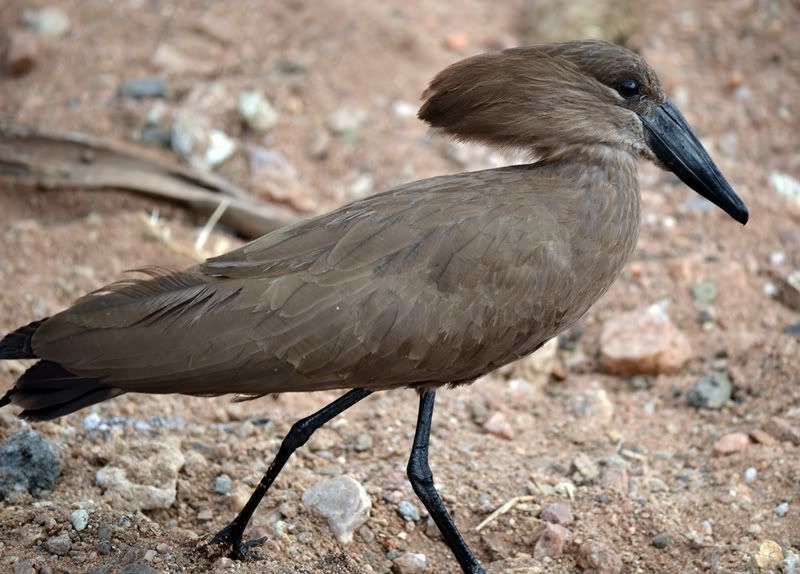 A Duifie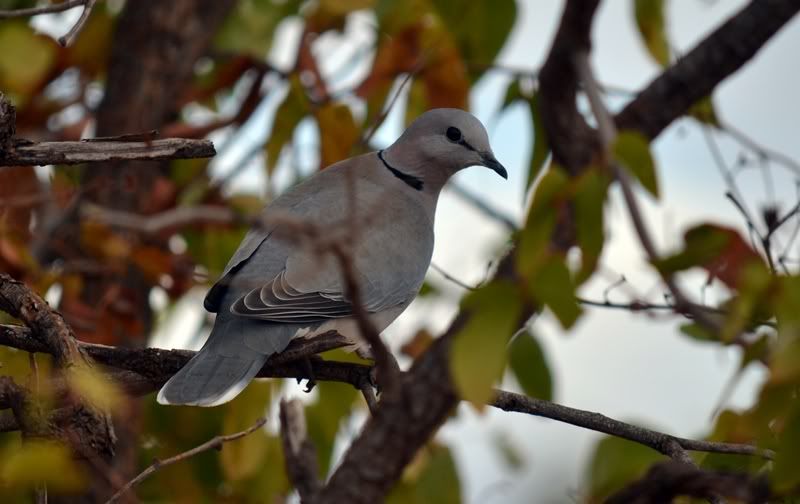 And these guys was spotted at the entrance of the camp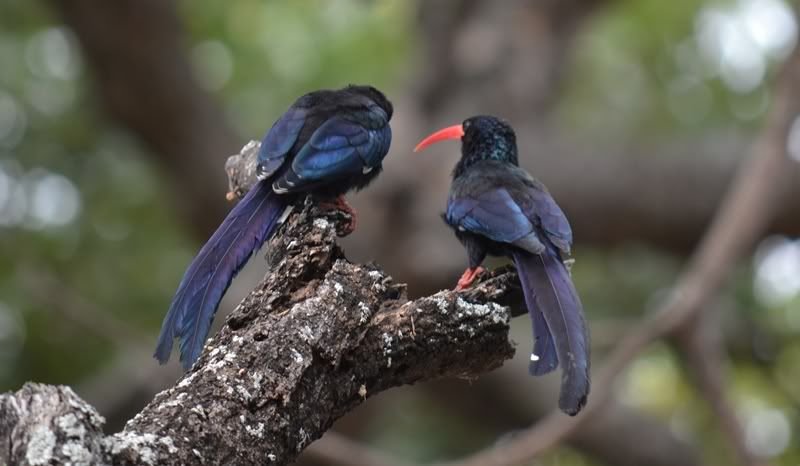 I will get into this TR wit a bit more passion soon just need this period of complete madness to slow down in the concrete jungle Hope you all enjoy and keep warm
---
---