Senior Virtual Ranger

Posts: 2051
Joined: Sun Apr 19, 2009 4:09 pm
Location: In the heart of the Waterberg; Deep in Limpopo
1May
P tells me that the alarm went off at 4am – all I know is that I eventually awoke at 5.30 which explains why we left home at 6.30 and not before 6 as planned. We got onto the N1 north and ambled northwards with caravan following obediently behind. There wasn't much traffic on the northbound carriage but as the morning went on – the southbound carriage became more and more congested with people going back to the big cities after a long week-end. (The Capricorn Toll-gate was utter shambles with south bound traffic trying to force the north bound vehicles off the road!! Fortunately, we were behind a cross border truck who wasn't worried about what or whom he rode over!)We took our normal route – turning right onto the Elim/Levubu road north of Banderlierkop and picked up fresh tomatoes, avocados and bananas from the hawkers at the Elim taxi rank. The road is relatively free of heavy trucks, buses and taxis but there are always cattle, donkeys, goats, dogs and people to look out for. The few potholes didn't trouble us at all but this must be one of the few routes where there are no roadworks/stop-goes! Exactly 2 hours after turning off the N1, we arrived at Punda gate. Smiling faces welcomed us to the park and, like magic, we both began to relax. It took us another 2 ½ hours to get to Shingwedzi which went past in a flash. We saw a couple of elephants, a kudu sheltering from the sun under a tree, some confused looking zebra and a Bateleur flying overhead with something dangling from its beak – snake? grass? Who knows – we couldn't identify it. It was very noticeable as we moved south, how dry this area of the park is – short grass already bleached white by the sun…….and the further south we travelled, the shorter and sparser became the grass. The sun was beating down – it was like summer with the temperature hitting the mid-thirties.
Arriving at Shingwedzi we started putting up camp but the heat cut short our efforts – every half hour or so we had to stop and rest – perspiration pouring off us. Eventually the basics were in place, the showers had been tested and we sat with wine (F) and whisky(P) in hand and relaxed. Tomorrow we'll take a short trip and finish getting the camp set.
"Democracy is two wolves and a lamb voting on what to have for lunch. Liberty is a well-armed lamb contesting the vote."
Benjamin Franklin
---
Senior Virtual Ranger

Posts: 2051
Joined: Sun Apr 19, 2009 4:09 pm
Location: In the heart of the Waterberg; Deep in Limpopo
Thanks for your comments everyone - the signal is poor up here - only GPRS on Vodacom and MTN! Not really worried that my cell phone doesn't work
2 May
Up at 5 – somewhat groggily as we were both still exhausted from the previous day's efforts. We had decided to go out for a couple of hours and then return to finish setting up camp. The night had, thankfully, been cool and I needed a light jacket. As the sun came up we exited the main gate and headed along the river towards the main road. Nothing stirred. As we reached the main road, a large bird flew overhead and landed in a tree nearby. As we watched, we realised that it had landed on a nest where there was a chick. After much craning of necks and manouvering of vehicle we realised that it was a White-backed Vulture and decided to return to that tree at a later time when the light was better in the hope of getting a couple of pics. We took the short Confluence Loop and slowly made our way along. Suddenly, through the scraggy bush, we spotted movement on the opposite river bank – Elephant. A baby was leading a small herd down into the river bed but racing down the bank like an excited kindergarten child.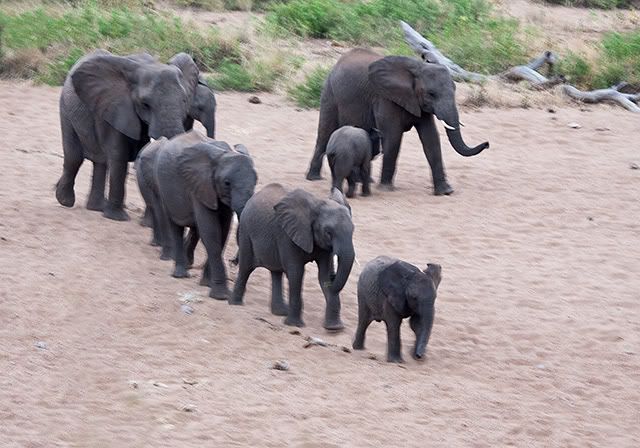 They made their way across the river bed and disappeared out of our view below us. Quickly, we turned around and retraced our way back to the tar road and onto the bridge – sure enough, there they were in the distance, too far for any pics - not even a Hubble telescope lens would have been able to capture them! One of the adults was busy digging a hole in the sand under the river bank where we had been and had a fascinated audience of 2 babies! We watched for a while before noticing movement in the Mopane bushes nearby – Buffalo – two old men quietly going about their business grazing on what grass there was. We took the Causeway road hoping to find more but again nothing was happening. There are a couple of small pools alongside the Causeway but they are not deep – the reeds are short and there are few birds. Our destination now was the Bird Hide at Kanniedood – which turned out to be a shock. There is no water there – the Impala are grazing in the middle of the river bed and the reeds that used to be home to many small birds no longer exist. However, before reaching the Hide, there is an area where one can sit in the car and where there is water in the river bed – it was here that we saw Spoonbills and a Grey Heron. The rain that devastated the southern KNP had not got this far north – here, like back home in the west, this past rainy season was much lower than average. Returning to camp, we finished sorting everything and putting things in their right places. We decided that tomorrow we'll head up towards Punda and, so, sandwiches were made and fruit was packed ready for the next day.
To digress a little – for those of you heading in this direction, here is some info:
1. Toll gates and fees on N1:
Pumlani R8
Carousel R38
Kranskop R29
Nyl Plaza R39
Capricorn R32
2. Fruit and veg in Elim from the hawkers is all R10 a packet! The quality is good even though it may not seem so! The choice is limited and is mainly what is grown locally – tomatoes;avocados;oranges;bananas; butternut and onions.
Now, what will we see tomorrow????
"Democracy is two wolves and a lamb voting on what to have for lunch. Liberty is a well-armed lamb contesting the vote."
Benjamin Franklin
---
Senior Virtual Ranger

Posts: 2051
Joined: Sun Apr 19, 2009 4:09 pm
Location: In the heart of the Waterberg; Deep in Limpopo
Yes MM - it is lovely to watch the interaction - provided one is not too close!
Glad to see you Crested Val!
3 May
For a change, we actually made it to the gates before they were opened! It was still dark and cool as we drove to the main road. There used to be Leopard along this short stretch of road – wonder if it is still here? Nothing stirred as we headed north. The sun rose in a brilliant blue sky – not a cloud in sight which promised another hot day. We passed Lamont Waterhole and the beginning of the Mphongolo Loop. Suddenly P shouted: 'STOP! Reverse quickly' I did so, just in time to catch a glimpse of something in the short grass next to the road. 'There's two of them' he said – I craned my neck and could just make out the disappearing rear ends of a pair of Honey Badgers! Unfortunately they were far too fast for any photo! Just short of Babalala, a brown haze/smoke filled the horizon. As we got closer it turned out to be the dust kicked up by hundreds of hooves – a herd of Buffalo was crossing the road – there must have been several hundred. They were in no hurry but , thanks to the sun – no photos! A few Impala and some Zebra watched us as we drove on and near Shisha West, we came across the first Giraffe that we had seen. We turned off onto the H13 to Punda and stopped about 2kms along the road at a waterhole that we had noticed when we entered the Park. It was full of water – 1 lone Buffalo bull stood on the far side and eyed us suspiciously. Eventually he decided that we were no threat and quickly had a drink and wandered off. On the banks, a couple of Water Thick-knees preened themselves and then went off in search of shade.
As there wasn't much going on, we turned around and took the tar road up to Klopperfontein Dam. As we passed Klopperfontein Drift, we noticed a lot of Zebra, Impala and some Buffalo gathered around there but we headed for the dam itself. There were 2 cars parked there watching 1 somewhat large bull Elephant who was very placidly having a drink and showering at the edge of the dam only a few metres away. Having had several 'Close encounters of the Grey Kind' – I was rather nervous of getting too close but he was not at all put out by having an audience. We sat and watched him for some time – a Grey Heron sat on a branch on the other side calling continually whilst a Hammerkop strutted up and down the bank. Suddenly, from behind us, emerged another Elephant – this was enough for me! Start engine, into reverse and get out – that was my first reaction. But he headed straight into the dam and up to the other one
P was busy taking pics when yet another Elephant emerged and slowly made his way down to the water. Discretion being the better part of valour – everyone left the area - fast! We went to the Drift from where we could safely watch what was happening at the Dam – in the end there were no less than 7 Elephants romping in the water in the Dam! It was getting very hot so we headed back down the tar road towards Shingwedzi. About 4kms from Babalala there is a grove of trees at a waterhole which was sheltering Warthog; Impala; Zebra; Vervets and an Elephant (of course!) Then out from behind a couple of bushes came a couple of Tsessebe trotting off on their own.
Feeling that we had had a pretty successful morning, we carried on. About 10kms south of Boyela, a movement on the side of the road caught P's eye – a family of Southern Ground-Hornbills!
By the time that we got back to camp we were tired but very happy. Tomorrow we are not getting up before dawn and will take things a little slower!
"Democracy is two wolves and a lamb voting on what to have for lunch. Liberty is a well-armed lamb contesting the vote."
Benjamin Franklin
---
Senior Virtual Ranger

Posts: 2051
Joined: Sun Apr 19, 2009 4:09 pm
Location: In the heart of the Waterberg; Deep in Limpopo
Crested Val – homesick? all the more reason to head South ASAP!
WendyA – I'm sure that you and Heksie will enjoy it up here. By the way, overhead someone say yesterday that Amarula and ice was an old woman's drink……
Sure Heksie will have some comment to that!
WFG; Vlakvarkvrou and Hilda – more to come!
BB – Honey Badgers ? Hmm, think they may have a new name when the pics revealed only grass……
4 May
I awoke at 6.30 – it was daylight! P carried on sleeping and only woke up when I told him that coffee was ready. We eventually left camp at about 8 o'clock and set off down the main road and then took the second turnoff onto the S52 heading towards Red Rocks. Our intention was to do a short trip and then relax in camp for the rest of the day. Turning a corner, two large dark brown (or black) and white birds suddenly flew across in front of us. One of them landed some distance away on the top branch of a tree. Whilst attempting to ID this feathered creature another car joined us. The driver gave one glance at the bird and said: 'Ayre's Hawk-Eagle' and promptly drove away. However, when we checked our various books, we came to the conclusion that it was, in fact, Martial Eagles and, as this is their mating season, could have been a mating pair. One book that I find especially helpful in KNP is the "Roberts Bird Guide to Kruger National Park and adjacent Lowveld" as it does help to eliminate unlikely birds that one thinks one has seen! We crossed the river at the causeway near the Lookout point and travelled back along the other side of the river. It was very quiet and hot – not even the ubiquitous Glossy Starling was visible. We decided that we would travel this stretch again tomorrow morning – early!
5 May
6 a.m and we were once more at the gate as it opened. We took the first s52 turn-off and slowly travelled up towards Red Rocks. Suddenly, we heard a commotion in the palms alongside the road and, at a great speed, a hyeana burst through – ran across the road in front of us – and disappeared.
It was only later when we saw the pics that we realised that he/she had blood on its face and must have been in a fight. A couple of kilometres later, a strangely shaped branch caught our attention – this was definitely a Martial Eagle. It sat, quite oblivious to our presence and surveyed its domain. Eventually, it gave up and took off.
With nothing else visible and the sun beating down again – we headed back to camp. It was another hot day – ever since we had arrived, the day temperature had been consistently in the mid/upper 30's – exceptionally warm for this time of year. Despite the lack of rain, game viewing is generally good as the grass is short and animals are already congregating around the available water. However, the cats are eluding us – every night or early morning, the roar of Lion can be heard – sometimes close, sometimes far but, as yet, no sign …… and as for Leopard and Cheetah………….ja, well, no, fine! According to the Weather Bureau, tomorrow will be cooler – how accurate are they this time? Let's see!
"Democracy is two wolves and a lamb voting on what to have for lunch. Liberty is a well-armed lamb contesting the vote."
Benjamin Franklin
---
Senior Virtual Ranger

Posts: 2051
Joined: Sun Apr 19, 2009 4:09 pm
Location: In the heart of the Waterberg; Deep in Limpopo
Thanks Hilda and Pumbaa for your comments.
What a disasterous week for posting - an internet signal that went up and down faster than a roller-coaster (made me feel quite sick!) - a power cut (thanks Eishcom!) BEFORE I managed to save what I had done and then had to start all over again.......
But, here we go again:
6 May
Well, well, well – for a change the Weather Bureau is correct! A grey overcast sky greeted us when we awoke. Today we were going to head south along the tar road. Just before Joao (the waterhole not the mite!) we saw a large herd of buffalo lurking in the Mopane bush evidently thinking about crossing the road to drink at the river. The river has pools of water here and there but they do not seem to be very deep. Then it started raining – then we remembered that we had left the caravan's front hatch open to allow fresh air to get to the deep freeze – quick u-turn and back to camp to fix that problem! Having sorted that out – we changed our minds and took the Kanniedood Dam road intending to go as far as Grootvlei Dam.
Where there is water, there is game – plenty of Waterbuck
and Impala, a couple of Nyala and small herds of Zebra. The odd Giraffe or three and a couple of solitary Bull Elephants were seen on the way up to the Kanniedood Dam wall where we sat for a couple of minutes watching a Reedbuck on the opposite bank. We carried onto Grootvlei – the road was very picturesque with the Mopane in full autumn colours. We were told that this was partly due to the lack of rain which had induced the trees to turn colour earlier than normal. Grootvlei itself was about half full – islands were appearing here and there that we had not known existed! There was a cool breeze blowing although the sun had managed to force its way through the clouds. As we ate our sandwiches, a small herd of Waterbuck made its way down to the water to drink. We decided to go back to the Nyawutsi bird hide to see if anything was happening there. The river had water in it but – apart from some frantic francolins – nothing else stirred. We headed back along the Kanniedood road and saw several water birds on the way – Grey Heron; African Openbill; Egyptian Geese; Woolly-necked Storks and a Goliath Heron. Now there were plenty of Nyala, some fantastic Bulls with great horns but all of them very camera shy!
It had been a pleasant day – the early morning cloud had ensured that it was not too hot by midday – a very welcome relief after the last few days!
7 May
Today, we again left as the gate opened but this time headed north across the bridge. Once more it was grey and overcast – what a pleasure! We took the Lamont Loop but it was quiet. Then we turned onto the beginning of the Mphongolo Loop. The colour of the Mopane and the greenery of the larger trees looked like a painting. Coming around a corner, I braked sharply – there sitting in front of us, on the top of a Mopane bush was:
We sat there for some time hoping that the Eagle-owl would fly. No such luck, he sat there watching us as intently as we watched him. Eventually, we gave up and drove on. There was a lot of Impala – the rams snorting, barking and chasing each other and the ewes hither and thither. Through the trees, we spotted 4 Giraffe in the dry river bed – 2 males and 2 females. The two males were watching the females fighting over the attentions of the one male; necks thudded against bodies and became inter-twined; neither female was giving way to the other. The one male decided that this was now his chance to mate with the nearest female – silly boy! 'cos the other male took exception to this and start fighting with him! Now there was a general Giraffe free-for-all with the two males going at each other and the two females still battling it out. Eventually there was a pause in the fighting and the four glared at each other
We must have sat there for at least an hour enjoying the spectacle, then we left them to it! Just before the turn-off back to the main road, we saw a Sharpe's Grysbok quite close to the road but carefully hidden behind some dead branches under a tree – no chance of a photo with this one.
As the sun broke through the clouds again – we headed back to camp. That evening, we joined friends of ours for a braai at their campsite situated alongside the fence. Whilst talking, B suddenly grabbed his torch and said: 'Look there! ' Highlighted in the light was a Black-backed Jackal scurrying through the grass definitely with something in mind – he had places to go to in a hurry! A short while later, I noticed some movement on the other side of the fence , this time the torch revealed a Steenbok quietly grazing under a tree. We went to sleep that night full of memories of another good day in KNP.
8 May
We have now been here for a week, so, today is housekeeping/laundry day.
It is only now that we realise that the vervet monkeys are starting to venture into the camping area something that had seldom happened in the past. Fortunately, camp management has warning notices everywhere and the monkeys do get a hint after being chased away a couple of times! The birds are plentiful and as opportunistic as the monkeys – the ever present Starlings; Grey/Red and Yellow-billed Hornbills are permanent "guests" when you are eating – sometimes even a Crested Barbet along with a sparrow or two and a squirrel but they get chased away by the others.
In the late afternoon we took a quick drive along the Kanniedood Dam road – Impalas, Elephants and Waterbuck. Amongst the Herons, Geese and Egrets we spotted a lonely White-faced Duck. With nothing else on view, we returned to camp.
"Democracy is two wolves and a lamb voting on what to have for lunch. Liberty is a well-armed lamb contesting the vote."
Benjamin Franklin
---
Senior Virtual Ranger

Posts: 2051
Joined: Sun Apr 19, 2009 4:09 pm
Location: In the heart of the Waterberg; Deep in Limpopo
Crested Val - thought that you guys had permanent seats booked southbound
RayK and Pumbaa - more photos to come but trying to keep them down to the minimum - as per request above
Anyway, here is another episode (before anything else happens!)
9 May
Again we stood in the queue at the gate at 6 a.m. This time we were heading south to Mopani. A lone tusker ambled down the middle of the main road ahead of us, stopping every now and then to sniff the grass or nibble on a tree. He wasn't worried about the queue building up behind him….. then one brave soul decided that this was enough and overtook all the vehicles and the elephant! One elephant got the message and trotted into the bush – we had noted where he entered but in the few seconds that it took us to get there – he had vanished!
Again there were a lot of Impala around – rams chasing each other and ewes trying to avoid the rams and vehicles trying to avoid the whole lot! Then we noticed a strange looking tree branch – ah ha! A Tawny Eagle!
We sat and watched for some time then it suddenly moved and broke off the branch upon which it had been sitting and flew off with it firmly grasped in its claws. It landed in another tree and started breaking off small dead twigs……we were fascinated by this behaviour. Was it trying to build a nest or did it have a phobia about dead twigs? Guess we'll never know. We took the second S144 turn-off and turned onto the Capricorn Loop heading for Thihongonyeni waterhole. As always, it did not disappoint us – the first Wildebeest that we had seen; Zebras by the dozen; a herd of Eland vanishing into the bush and several small groups of Tsessebe. Here and there could be seen an Ostrich or two but they didn't seem to be interested in water. We sat and watched the passing parade and ate our sandwiches. When we had finished, we continued on down towards the S50 – suddenly the car in front of us stopped – there, half hidden in the bush were a small herd of Roan Antelope. They were trotting quickly away from us – only a fleeting glimpse but they were there! At Nshawu 3, we spotted two pale blobs moving through the grass – Secretary birds – they too quickly vanished into the bush. The grass down here is thicker than in the Shingwedzi area but is still not long and general visibility is good. The Mopane bush is also far more green than further north. After filling up at Mopani, we headed home to Shingwedzi.
Later that afternoon, B's wife ran up to us and told us to come quickly to their caravan. There, not 10m from the fence stood a lone Elephant – quietly going about its business of destroying trees but….. this ellie was different. The trunk was shortened as if the tip had been bitten off; the tail was short as if it too had been bitten. As we watched it attacked a small thorn bush and, with the help of one tusk, managed to strip the leaves and then break off the remainder of that branch. For several minutes it continued, totally oblivious to the attention it was receiving on the side of the fence. Cameras were flashing and cell phones were clicking – but it carried on until it had had enough and quietly melted back into the almost non-existent bush!
"Democracy is two wolves and a lamb voting on what to have for lunch. Liberty is a well-armed lamb contesting the vote."
Benjamin Franklin
---
Senior Virtual Ranger

Posts: 2051
Joined: Sun Apr 19, 2009 4:09 pm
Location: In the heart of the Waterberg; Deep in Limpopo
Hilda, Cape of Storms and Pumbaa - thanks and glad to see that you are still following us!
This episode has no pics - when you've finished you'll know why!
10 May
Another early departure – this time back up north to Klopperfontein Dam. It was overcast and there was a chilly breeze blowing. All was quiet – no elephants, no impalas – how strange! We rounded a corner and there, on a heap of elephant dung sat – an Eagle-owl! It took one look at us and decided that it was not staying around and before P could focus his camera, it took off and vanished into the bushes and trees next to the road. P was not impressed. Carrying on towards Babalala , we again saw a brown haze in the distance – must be Buffalo. Sure enough we caught up with the tail end of the herd at Boyela Waterhole – most had already left and were marching off into the distance on the right hand side of the road away from prying human eyes. From there until Klopperfontein all that was seen was Ostriches and Zebra.
The dam itself came as a bit of a shock – in the period of one week it had shrunk considerably. There were now mud banks where elephants had bathed and rocks had appeared on the far bank. We spotted an elephant on the far bank lazily stripping a couple of bushes of their leaves. P cleared his throat and said: "Don't look now but there's an ellie behind us" I adjusted the rear view mirror and replied: " Actually there's two". These two ambled into the water and started drinking not seeming to worry about our presence. Suddenly, the one across the dam started running down towards the water, flapping his ears and with his trunk raised – he veered off to the side before he reached the water and slowed down to a fast walk and carried on in the direction of the Drift. I glanced in the mirror – one of the others had raised his head from the water and was glaring at us as if he had only just noticed us and was not over impressed. "Let's get out of here" said I " Don't trust the gent behind us" with that I started the car and left the scene. We then drove back towards Punda on the dirt road. No animals but an interesting "find". As we travelled along, we noticed something white in the bush – it was a car. Somewhat bashed and battered, the path that it had taken after leaving the road was clear through the undergrowth. What had happened and when? Travelling too fast and lost control or a burst tyre? Pushed off by an irate elephant or swerved to avoid Impala – the possibilities are endless. Later enquiries as to what happened yielded a blank – either no-one knew or no-one was going to admit that they knew!
On the tar road to Punda we spent most of the 4kms swerving to avoid Impalas racing across the road or stately Kudus "demanding" that we wait for their harems! A quick bite to eat at Punda and then back to Shingwedzi. The only notable sighting was that of the Southern Ground-Hornbill family that we had seen a week previously.
We had just finished eating supper when B's wife came running over to us – we must come quickly and bring the camera. There, on a dry tree stump on the other side of the fence, right in front of their caravan was curled a Civet. It must have been a she 'cos it was lapping up all the attention that it was getting! Unfortunately P didn't manage to get any pics of the cat as, each time he tried, some bright spark would shine a torch on the cat or the bush or, one time, on P or one of the other photographers trying desperately to get a shot of the civet! After some futile minutes P gave up – a bit upset that he hadn't got anything for his efforts.
Will try to get "up-to-date" tomorrow but there's no promises
Oh - there are more pics to come - watch this space......
"Democracy is two wolves and a lamb voting on what to have for lunch. Liberty is a well-armed lamb contesting the vote."
Benjamin Franklin
---
Senior Virtual Ranger

Posts: 2051
Joined: Sun Apr 19, 2009 4:09 pm
Location: In the heart of the Waterberg; Deep in Limpopo
Crested Val; Saraf and Hilda - I have the utmost respect for ellies; after all they are a little bit bigger than we are
Sorry, still no photos - but they are coming! Amazing how good the signal is when you're not sending any pics
11 May
Yesterday the car had developed one of those annoying chirree-chirree noises somewhere in front near the radiator, so P was going to find it and fix it today. A couple of hours and some muttered expressions of "frustration" later – he took it for a test run. My cell phone rang – it was P "Get my camera ready, I'm on my way back – there are some black and white things flying around near the sewerage works". OK……message received and acted upon – well, fairly promptly! I got into the car when he returned and back we went looking for these "black and white things" Unfortunately, there was nothing there any longer but, from his description, they were Marabou Storks which had now probably landed near the rubbish dump! The good news was that the annoying noise had vanished! Thank heavens for cable ties! On our return, I went to the shop to see if I could get any fresh bread – that was asking for a miracle, which did not happen. There was bread but the expiry date was somewhat out of date – like 1 May 2012. A guy standing next to me shrugged his shoulders and said: "Well, at least it is this year!"
12 – 15 May
There was nothing spectacular on any of these four days. We did the Mphongolo Loop up to Babalala – found the Verreaux's Eagle-Owl again also some White-fronted Bee-eaters who were too busy looking for food to pose! Another trip along the Kanniedood Dam road turned up a pair of Black-winged Stilts trying to hide amongst some Egrets. There were Lion around – B showed us photos that he had taken of a mating pair in the river bed about 100m down river from the Causeway – despite searching everywhere, we did not see them.
The camping area was becoming busy – very busy. This is not the Shingwedzi that we know – daily comings and goings and a buzz in the air. Others also agreed that, this year, the camp is unusually active and the people camping seem to have changed. There are many more luxury 4x4 vehicles towing off-road trailers; none of which are likely to go any further off-road than this! There is also a disturbing element of selfishness creeping in – 2 off-road trailers parked under trees by the fence (no problem) BUT the tow vehicles parked in between them taking up enough room for a caravan to park there. The owners refused to move their vehicles saying that they wanted "privacy". A family of 3 who tented very quietly and neatly (so we thought) packed up and left a cardboard box of rubbish pushed under a bush – which the monkeys took great delight in emptying. The rubbish bin, which was emptied daily, was only 5m away from their camp site! 2 caravans which parked together, promptly set up a TV dish so that they could watch, whilst their neighbours (including us) could listen, to a well known soapie at 6 every evening………………..
The final straw were two old dears (nicknamed the Ancient Fossils)who parked their caravan almost on top of ours (fortunately they moved the next day 'cos goodness knows where their tent would have gone!) and trailed their electrical connection almost under our tent! "We're moving" said P "this is now getting ridiculous" A quick check on the internet and a trip down to reception and – tomorrow 16 May – we're going to Punda!
So maybe I'd better change the title of this TR……………to what, though? I'll think of something………
"Democracy is two wolves and a lamb voting on what to have for lunch. Liberty is a well-armed lamb contesting the vote."
Benjamin Franklin
---
Senior Virtual Ranger

Posts: 2051
Joined: Sun Apr 19, 2009 4:09 pm
Location: In the heart of the Waterberg; Deep in Limpopo
Thanks Hilda - you're right! Read on! (This time with pics!!!)
16 May
We were up early and finished packing up the caravan. By 6.15 we were leaving Shingwedzi. It was a cool grey morning – absolutely ideal for moving camp. Heading north, all was quiet – not even an Impala was stirring. Just before Babalala, we saw some Zebra then a couple of Impala – and then
Well, no TR is complete without a pic of an LBR! Carrying on, we came across Ostriches, a couple of Elephant in the distance and some lone Buffalo Bulls. We turned off onto the H13-1 and quickly stopped to check the small waterhole about 2kms down on the left – still plenty of water but nothing visible as yet. About 4kms further down, we spotted a small car frantically criss-crossing the road ahead – in reverse …… what was going on? He stopped and we drew up alongside. The driver grinned at us "Just there – quite deep in – Sable" We looked – sure enough, there it was – Sable Antelope. The first one that we had seen for about 12 years! It was, unfortunately, dar too deep into the bush for a photo but we watched it for a couple of seconds before it turned tail and ran back into the dense bush. What a welcome to Punda! With grins on our faces, we drove on towards the camp.
On arrival, we were lucky enough to find a site big enough for our van, with shade and on the fence near to the Hide. The waterhole has been enlarged since our last visit in September. It has been made deeper and now has banks on three sides with a marshy area on the fourth side. Further back into the bush are smaller drinking areas that are more accessible for smaller game such as Impala. We sat and watched the birds and some Buffalo come to the water. Then, suddenly a swoosh was heard and this lady settled down in a tree overlooking the waterhole
Later, as I did the washing-up, darkness had just fallen, - there was a strange slurp,slurp noise – Elephant! There were 3 old bulls in the waterhole thoroughly enjoying the water and having a drink at the same time.
17 May
Again, we were up early – this time to go to Thohoyandou to get some urgently required provisions. The shop at Punda had no bread, no rolls and no vegetables! We left camp just after 7 and were back again at 11 – a total distance of just under 160kms having been travelled. We bought fresh tomatoes and avocados from roadside stalls and all the other requirements from Spar or Shoprite.
We decided not to go out again but to rest in camp, after all, who needs to go anywhere with a waterhole like this one? Today, a Marabou Stork came and sat on one of the banks for a couple of hours followed by a solitary Elephant and, later, a couple of Buffalo. Further down, one of the smaller drinking places was host to a collection of striped pyjamas
P sorted out some of his pics and I cleaned up the van – again!
We have one of the best sites in this camp but, the bottom Ablution Block is under renovation – so one has to walk up to the top block. This does mean that you have to start walking about 5 minutes before you need the toilet! This we do not mind as it is good exercise. The workmen are making good progress and look as if they could finish within a couple of weeks. There appear to be stories doing the rounds that there is a lot of noise generated by these building operations and that the workmen are staying in the camp and generally making life unpleasant for campers – not true! What noise there is, is generated during the day and is usually grinding or drilling for a short period of time. The workmen arrive at 7 in the morning and leave at about 4.30 every afternoon – only the foreman stays in the camp in a newish caravan and makes no noise!
"Democracy is two wolves and a lamb voting on what to have for lunch. Liberty is a well-armed lamb contesting the vote."
Benjamin Franklin
---
Senior Virtual Ranger

Posts: 2051
Joined: Sun Apr 19, 2009 4:09 pm
Location: In the heart of the Waterberg; Deep in Limpopo
Thanks Pumbaa; Elsa and Hilda - yes we did have good sightings that day!
Stoffel - we saw the gazebo that matched our caravan but didn't realise that it was you....
Lennie Senior - between Stoffel's TR and this one you should get a good dea of what to expect. Unfortunately, we have to leave on Saturday
.
18 May
Today we were going to Klopperfontein so we got to the gate before 6 – and were first there! (In Shingwedzi there would already have been a queue since 5.30!) We amble down the H13-2 and then turn onto the S60. Just before the Klopperfontein turn-off, there's a clack-clack-clack noise from the front right wheel. We stop – the vehicle behind also stops alongside us. They check to see if the tyre is flat – no. We carry on again slowly – clackety-clack-clack-clack. P decides that we're going back to camp to see what is wrong. We tell the guys behind us what we are going to do – they say that they'll go on to Klopperfontein and if we're not there within the next hour, they'll come back to see if we're OK. I did a U-turn and we headed back – but – silence. The clackety-clack had gone! After a couple more kilometres, I did another U-turn and we set off, once more, for Klopperfontein. We stopped next to the people who had offered help and told them and, again, thanked them . We sat at the dam for a while – Doves flew in and out; the Grey Heron picked its way along the shore line. In the distance we could the lowing of cattle – cattle? – must be Buffalo on their way down to drink. An Elephant appeared on the opposite side and started drinking. The sound of Buffalo got louder – then they appeared. Coming from the Drift, over the rocks and into the dam – the Elephant was greatly upset but he was outnumbered – with a trumpet he went off at speed towards the Drift, scattering Buffalo as he went!
The dam swiftly filled up with Buffalo; this herd must have numbered about 300 and they were not letting anything get the way of their morning drink. A small herd of 6 Zebra attempted twice to get close to the water but each time were unceremoniously chased away by a couple of Buffalo.
We returned to the tar road (H1-8) and travelled down towards the junction with the H13-1. Along the way we saw more Elephant in the distance and then this Red-crested Korhaan, who couldn't make up it's mind as to whether it was going to cross the road or not.
Our favourite waterhole was empty (for a change!) so we headed back to camp. And as for that clackety-clack? Well, it never returned! We came to the conclusion that it must have been a stone caught behind the wheel trim and that it fell out when I did the U-turn!
"Democracy is two wolves and a lamb voting on what to have for lunch. Liberty is a well-armed lamb contesting the vote."
Benjamin Franklin
---
Senior Virtual Ranger

Posts: 2051
Joined: Sun Apr 19, 2009 4:09 pm
Location: In the heart of the Waterberg; Deep in Limpopo
A bit delayed but here is the next episode..............
19 May
We didn't leave camp early as we were only going out to the little water-hole on the H13-1 and were going to sit there and wait for any action. We got there at about 8 and sat and watched and waited. A Grey-headed Bush-shrike was busy flitting in and out of a bush on the other side of the road; Emerald-spotted Wood-doves flew down to the water and Blue Waxbills shared another bush 's seeds with a couple of Golden-breasted Buntings. Namqua Doves searched the roadside and bank of the waterhole for seeds. It was peaceful – and not an animal in sight! After half-an-hour, we moved away and took the Dzundzwini Loop – the spring was dry and there was not much, apart from Impala, to be seen. Once back on the H1-7, we found the Elephants – a breeding herd was crossing the road in the general direction of the waterhole. We returned to our spot and waited.
Then P noticed something strange – on the bank were 2 Black-winged Stilts and, just gliding over to them was a crocodile! They were keeping an eye on this fellow
A rustle in the bushes alerted us to the arrival of – Buffalo – three old men cautiously made their way to the water. Two stood in the water whilst the third sloshed over in the direction of the croc who decided that this was not a good place to be and quietly slid back into the muddy depths. A loud trumpeting noise announced the arrival of the Elephants – led by an arrogant teenager! The Buffalo continued drinking – totally ignoring the 20 odd Ellies! But as the Elephants invaded the waterhole, the three old men gradually worked their way to the side, climbed out and walked off into the bush. There were a couple of babies and some youngsters in this herd together with a couple of teenagers who had a very high opinion of themselves – the one kept on trumpeting for no evident reason! The babies struggled in the mud to follow their mothers but with the help of older youngsters managed to get to the water. One teenager decided that he wasn't getting into the water, walked up the bank, knelt down and lowered his trunk into the water – it just reached!
By this time a real Northern "traffic jam" had built up – all of 8 vehicles. Everyone had a good view, there was no jostling, no-one tried to get out of their vehicle and the lane furthest from the waterhole was left open for those who wished to pass. All of this made the viewing of this herd an absolute pleasure for all. The herd finished drinking and started walking off into the bush parallel to the road for about 300m where they started crossing the road. One of the vehicles decided to get a little closer and moved up – not a good idea! One of the teens came out of the bush, stood in front of the car, flapped its ears and made as if to step towards the vehicle – vehicle came back towards the other cars in reverse fairly quickly.……….
We returned to camp as soon as the herd had finished crossing and relaxed for the rest of the day.
"Democracy is two wolves and a lamb voting on what to have for lunch. Liberty is a well-armed lamb contesting the vote."
Benjamin Franklin
---
Senior Virtual Ranger

Posts: 2051
Joined: Sun Apr 19, 2009 4:09 pm
Location: In the heart of the Waterberg; Deep in Limpopo
20 May
"Just a short trip to that water-hole" said P "See if there's anything happening". We got into the vehicle and armed only with binoculars and camera set off to our favourite waterhole. On arrival, it was quiet, not a mouse nor a bird was stirring. We sat there for about 20 minutes - during which time 3 terrapins surfaced in the water and climbed onto the mud bank. Then we made a vital decision – go to the H1-7 and head down towards Shisha West and hopefully find yesterday's herd of Elephants. We reached Shisha West without having spotted anything and headed on further South…………..then P spotted a circling Bateleur. We then began the "Photographer's dance" - back a bit; right, no left, stop, forward and to my left – no MY left! Etc.etc. The bird eventually circled away from us without a shot being fired in anger! We carried on further – still no Elephants, in fact still nothing except that Bateleur which returned to tease P yet again! I began to recognise some landmarks that indicated that we were getting close to Babalala and………………..a dust cloud ahead. As we came over the brow of a hill, there in front was a dark stream flowing over the tar road, through the bush and across the entrance to the Mphongolo Loop at Babalala. It was the biggest herd of Buffalo that we have seen for years and is certainly the one that was responsible for the dust clouds that we had previously seen on a couple of occasions when we had come up this way from Shingwedzi. How many Buffalo? Who knows – 800 or more is our guess. They were quiet – not much lowing and no pushing and shoving but were moving with a definite purpose in mind. We waited for a gap and got to the other side so that we were able to pull into the Babalala parking area and get out. P tried to get a few pics but the Buffalo were too many to make any sense of a photo – to get a good idea of how big this herd is, one would have to have been in an aircraft or helicopter. The herd made a semi-circle around Babalala with the leaders heading for the waterhole/dam just to the west of the picnic site. The Loop was closed off with vehicles stopped on both sides, there were about 10 vehicles in the parking area with everyone standing watching – and the animals kept coming! After about half an hour, we got back into the car and drove back towards Punda – there were still a few stragglers wandering around but most of the Buffalo were now at the waterhole. As we were both somewhat hungry and thirsty, the return trip was fairly quick and we stopped for nothing!
Back at the camp there were a couple of moments of excitement at the waterhole. A piercing shriek and the sudden appearance of 6 baboons on the banks of the waterhole had us going to the hide to see what was happening on the other side, out of our view. An Impala ram and his harem were grazing amongst the Mopane bushes when a troop of Baboons had come a little too close for the ram's comfort. For some reason (probably to do with his elevated hormones!) he saw this as a threat and charged at the Baboons – we were told that the shriek had come from one who had not moved quickly enough and had been butted by the ram! The ram was still chasing Baboons and had no fear of the alpha male – in fact he seemed to make a bee-line for him! We all had a good laugh watching this. Eventually the Baboons gave up and left the Impala to "rule" that patch of bush.
A little later, I was sitting, reading a book when I heard a knocking sound. Ah ha! Woodpecker – a search revealed a female Bearded Woodpecker attempting to knock a hole into a nearby tree. She stopped as I got near but the noise carried on…….further investigation revealed a Cardinal Woodpecker on the other side of the same tree! P got his camera out hoping to get a pic of them but the light was wrong and the birds were not co-operating. Then we saw some Blue Waxbills, a Jameson Fire-finch, Dark-capped Bulbul and couple of Brown jobbies that made up a bird party. A flash of yellow flew towards us and settled in the tree next to the caravan. A Yellow-bellied Greenbul decided to sit there and posed beautifully for P
…………..and so ended another day in Paradise!
21 May
We left camp late – it was just after 8 – but this time, we took food and drink with us (not going to get caught again with nothing to eat and drink!). About 1 km from the camp's gates, a car was parked at the side of the road with its emergency lights flashing. We stopped, a lady in the back seat said "7 Lions have just crossed the road into the forest" She indicated vaguely to her left. We thanked her and crawled onwards searching both sides of the road. I noticed that the car did a U-turn and went back towards camp. Suddenly, a tawny shape ran across the road in front of us from left to right.
"Lion. Go, go, go!" said P. I needed no urging and accelerated. I stopped just passed where the lion had disappeared and started a U-turn
"Quickly – she's going for an Impala"
I finished the U-turn – the camera sounded like a machine gun set on rapid fire – in front of me another 5 lions crossed the road. There were 2 adult females, 2 teenagers and 2 almost teenagers.
The 1 female had stalked and caught an Impala ram
One of the teenagers ran up and started practising stalking on the way to the kill
We sat there for over an hour watching as they ate. The females allowed the 4 younger ones to get to the kill first, it was only when the youngsters had had some meat that the older ones also got stuck in. There was very little growling or arguments over whose piece of meat it was – but the older ones seemed to be a little nervous as they kept looking up and scanning the bush every minute or so. Was there a male somewhere around who could come in and take this prize for himself? After all, the lady had told us 7 lions and there were only 6 here…………
Having finished the Impala, they decided to move further into bush. One of the cubs was not leaving his trophy behind and trotted off behind the others carrying the Impala's horns ( attached to a piece of skull) in his mouth! We, and most of the other vehicles, worked out that they were moving in the direction of Coetzer Waterhole. So off we all went onto the Mahonie Loop and to the waterhole. Some vehicles went passed, we and another vehicle stopped and parked there. Out came the food and tea and coffee – and we waited. The other vehicle left. A sudden movement in the bush revealed a very small buck darting from behind a bush to behind an ant hill. Too small for Steenbok, wrong colour for Sharpes Grysbok – what on earth is it? Then it darted again back into the bush – Suni! It could not be anything else but it was so fast that the only pic that P got was of the bush! We had to shake our heads - we have heard that they are around Punda but are very rarely seen. So, we've seen a lion kill and had a rare sighting all within a couple of hours!
We headed back to the tar road and near the site of the kill, were almost landed upon by a large raptor
We were undecided what this bird was and, on our return home asked a couple of knowledgeable friends. They said that it is a Tawny Eagle with weird plumage (!) probably a sub-adult. It landed near the remains of the Impala and started scavenging.
We returned to camp having not found the lions again but highly satisfied – once more, Punda and the far North had delivered!
"Democracy is two wolves and a lamb voting on what to have for lunch. Liberty is a well-armed lamb contesting the vote."
Benjamin Franklin
---
Senior Virtual Ranger

Posts: 2051
Joined: Sun Apr 19, 2009 4:09 pm
Location: In the heart of the Waterberg; Deep in Limpopo
Well, here is the next - and last - episode of a 26 day stay in the Northern KNP.
22 May
After all the excitement yesterday, we were not going out today – a relaxing day in camp was the plan. A lot of things needed doing – downloading pics onto the laptop; re-charging camera batteries etc. which explains why we have no pics of Punda's "Etosha" moment!
It was about 10 – 11 o'clock when we noticed a small herd of Elephant at the waterhole. They drank, sprayed themselves and watched the humans watching them. In order to get a better view, we went to the hide and then the full picture was revealed. Apart from the Elephants, there were Nyalas drinking at one of the smaller pools with Kudu waiting in the background. Another pool was occupied by Zebra whilst Impalas were in the marshy area. Behind them could be seen 3 Marabou Storks standing well back from the water. As we watched a herd of Buffalo appeared and advanced to the water – everything else except the Storks and Elephants – gave way and retreated. The Elephant shook their heads but eventually began a slow retreat forced by sheer numbers to give way. Now we knew why the Storks were standing well away from the water – they must have known that the Buffalo were on their way. The Buffalo overran the smaller pools and headed for the main one but some of them did not seem to be aware that there was a drop from the bank into the water. As they got to the top, they stopped – the ones behind did not. Several Buffalo ended up having involuntary baths! We sat watching this for almost an hour and then returned to our caravan.
This waterhole is magic – you do not see such a concentration of game every day but when it happens, you are entranced. It is, in our opinion, the closest that we have seen in KNP to the legendary waterholes of Etosha.
That evening we sat outside and listened to the night sounds of Punda – a screeching Owl; rustling of something moving in the grass on the other side of the fence; a thump on the caravan roof – hey! A thump? Quickly we went to see if a branch had fallen onto the van but nothing was visible. Eventually we realised that it had probably been a Bush Baby using the roof as an easy means to get somewhere else.
23 May
Up early again and at the gate as it opened. Our destination today was Klopperfontein Dam again. We took the S60 and headed into the rising sun………..early morning this road is awkward to drive as it heads due East straight into the sun and any speed above 20kph is not recommended as one cannot see a) the road or b) any animals in or crossing it. We eventually reached Klopperfontein and sat by the dam for a while. No Buffalo; no Elephants; No Zebra; No Impala – just the resident Grey Heron preening itself on top of one of the trees bordering the dam. The water level has lowered even more since our last visit and looks as if it may not hold out until the rains come again. P turned to me and said "There's nothing happening here – let's go on to Pafuri"
We got onto the H1-8 and headed north – the odd Buffalo or 3; Zebra at Kremetart Waterhole; a few Elephant scattered here and there; a broken down bakkie at Baobab Hill and an abandoned trailer left on the side of the road a bit further on. The Mopane bush here was still mainly green but the Autumn colours were starting to show.
We turned off the tar and headed towards Pafuri picnic site and Crooks Corner. As it was still early there was no-one at the picnic site so we carried on. Plenty of Impala and Nyala, warthogs dashing across the road and the sounds of Elephants happily destroying the vegetation. We turned off onto one of the river loops – a whoosh! And a shadow above and in front startled us – an African Fish-Eagle had been sitting, on a branch that we had just passed under – we didn't even see it, it was so well hidden! It settled on a branch ahead of us, P got his camera ready but the bird crawled through the leaves and hid again! Curses, foiled again! On the one river loop we looked down upon a pod of Hippo, one of them was standing on the opposite bank lethargically munching on some grass. Large crocs lined the bank a bit further down, occasionally one would slither into the water and vanish. The river itself had flowing water but, judging by the Hippos, it was shallow.
We came to the junction where buses and caravans are not allowed to go further and have to turn off back to the tar road. There is an open plain/vlei area on the right hand side with the Luvuvhu river, hidden by trees, on the left. We crawled slowly along this road – P was concentrating on a couple of vultures circling overhead intending to get a good flight shot. Vervet monkeys were foraging under the trees and a troop of baboons were making slow progress towards the river. In the distance I spotted more Elephants; a couple of Eland and a herd of Wildebeest all heading towards water. Then something caught my eye – slightly apart from the vervets was another couple of monkeys – no pronounced facial mask and a dark brown pelt not grey – Samango monkeys! I did a U-turn and we started looking for them so that P could get a pic ………… they had more or less vanished into the undergrowth and all P got was – another good pic of the bush! (We later described these to Frank at Pafuri and he confirmed that they were indeed Samango monkeys!) We got to Crooks Corner to discover that our neighbours from Punda were already there! We parked and got out to stretch our legs. The Limpopo itself is dry here, the only water being that which is coming from the Luvuvhu – a thin stream on the South African side that winds down towards Moçambiq ue. On the sand banks bordering that stream were White-crowned Plover; Hadeda Ibis and yet another Grey Heron! We could hear 2 Fish-Eagles calling – a duet that fitted in perfectly with the surroundings. Then a strange chuk chuk noise from the bush behind the Notice board drew my attention – I peered into the thick undergrowth and suddenly they came into view – a flock of Crested Guineafowl! All four of us watched them as they foraged and moved deeper into the bush. Yes, P did take a couple of pics but – they were so deep in that one cannot see them in the gloom of the undergrowth.
We left our neighbours and headed back towards Pafuri. On the way, we came across what could have been a giant ant hill or maybe an overgrown tree trunk that had been deposited there by the 2000 floods. Upon this mound, Impala ewes were playing "King of the Castle"
We arrived back at Punda at lunch time, highly satisfied with what we had seen although P was still searching for more photo opportunities.
Late that afternoon, we were standing discussing the Pafuri area with our neighbours when a strange car drew up. A SANParks official stepped out and we all recognised him – Rodgers from Tsendze! He was on his way home for leave and had promised our neighbours that he would see them in Punda. He was very surprised to see us and also to have seen yet another couple who would be in Tsendze when he returned to work. After a short chat, he got back into his car and left – homeward bound! Now, that's what we call - going beyond the call of duty! It also makes for return visits to Tsendze…………
24/25/26 May
We went absolutely nowhere on these days – as we were leaving for home on the 26th some cleaning and packing was needed. Punda's waterhole again provided enough action to distract us from those mundane tasks. Elephants, Buffalo, Impalas, Nyalas and Kudus and a "nervous" troop of baboons that were now drinking water and foraging as far away from the Impalas as they could get! The Marabou Storks were there every morning standing mournfully on the bank gazing into the water for hours on end.
It was with a heavy heart that we packed up – we had contemplated staying another couple of weeks but moving down to Tsendze. However, we had friends coming to stay with us on their way through to Punda on 3 June and would need the caravan as an extra bedroom – so had to, very regretfully, scrap that idea! Oh, but the temptation was great……………….
We left Punda at 6 am on the 26th and despite stopping to "shop" at the roadside hawkers in Elim, were home before lunch already planning our next visit to the magic North.
"Democracy is two wolves and a lamb voting on what to have for lunch. Liberty is a well-armed lamb contesting the vote."
Benjamin Franklin
---
---
Who is online
Users browsing this forum: No registered users and 5 guests