Distinguished Virtual Ranger

Award: Small Parks Promoter of the Year (2015)
FAC Member (2014)
Posts: 3564
Joined: Tue Jan 26, 2010 7:02 pm
Location: Bellville, Cape Town
On 30 June 2016 we left
Mountain Zebra NP
in a southern direction for a 5 day stay in another iconic park where we had the privilege in having numerous
'conversations with the gentle Greys'
.
For anyone driving the N10 between Cradock and Addo, I would like to suggest you stop at the Daggaboer farmstall. (Dagga boer = 'da-gat-die-boer' or translated there-goes-the-boer when the Brittish army were chasing them. It also has another meaning dagga = cannabis
). We could not wait to visit it again for roosterkoek, biltongspread and moerkoffie (filter coffee) in true Karoo hospitality style. Mouth-watering!! We also bought extra to enjoy when in Addo.
It was awarded as the best farmstall in SA a number of years ago by the GO!-magazine.
If nature calls, you can visit the very interesting place outside:
"Where wee willy wistles in the wind"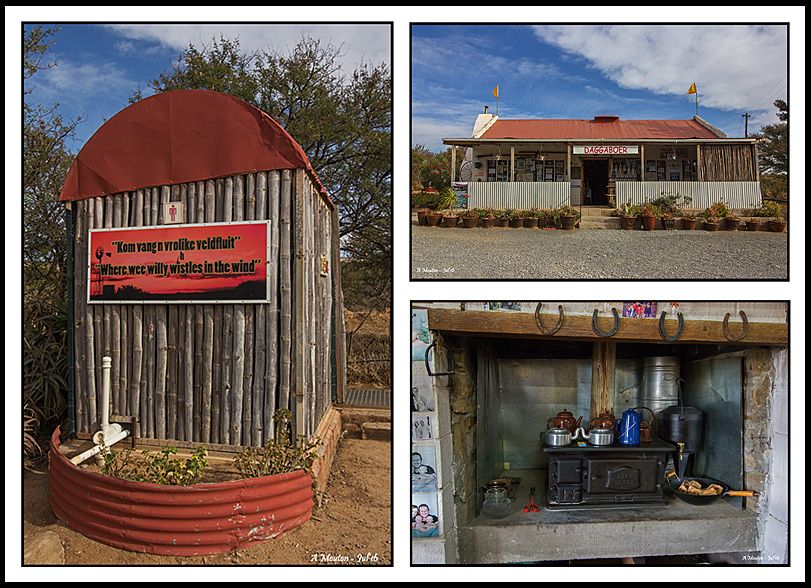 After the 200km drive, we arrived at ADDO Elephant NP's main gate.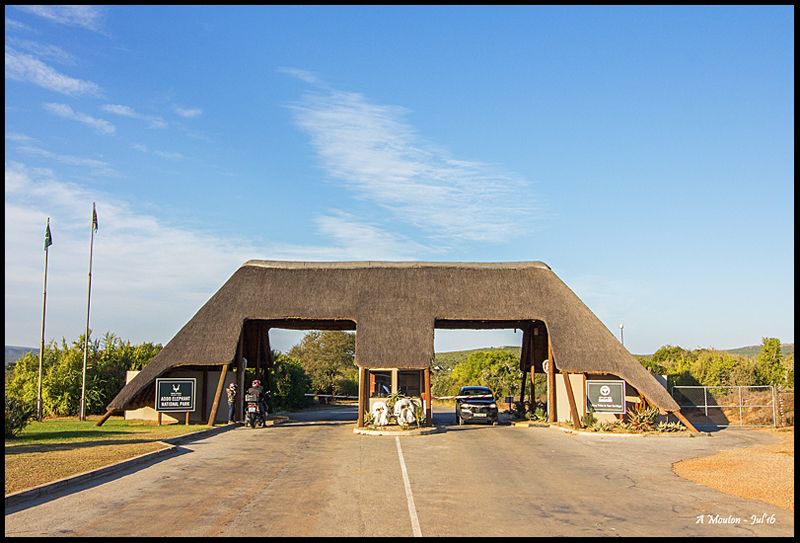 We did not have to pitch tent and enjoyed the luxury of one of their wonderful chalets.
Most of the units have a view over the park to enjoy wildlife from the comfort of the accommodation.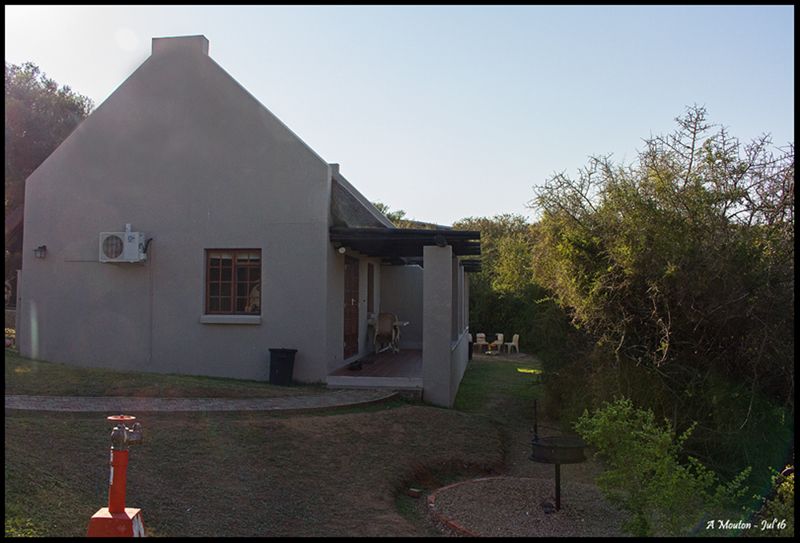 This is a camp view as taken from the Zuurkop lookout point.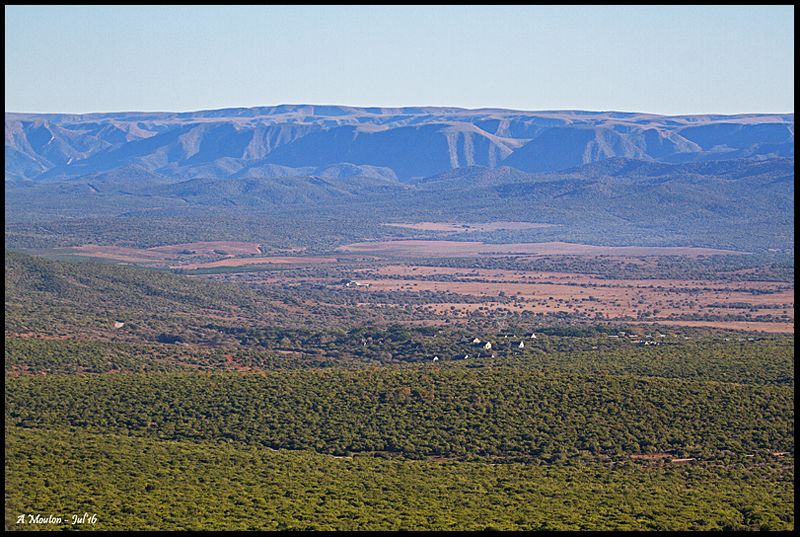 Before departing for our first game drive, let share some moments we enjoyed when visiting the museum.
Wall of Horns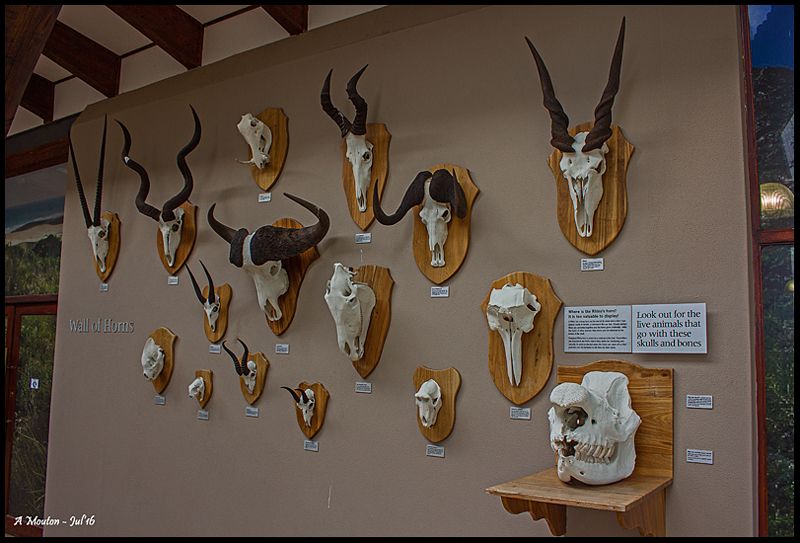 This was very interesting as family tree of the elephants are being beautifully displayed on the wall. This is one of the well known elephants - Hapoor.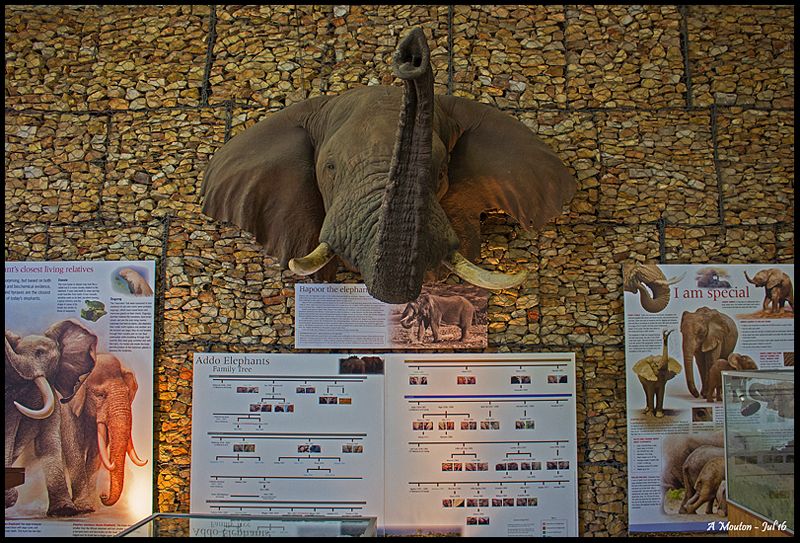 Just outside the museum, there are these rhinos reminding us of how special they are considering the current state of affairs.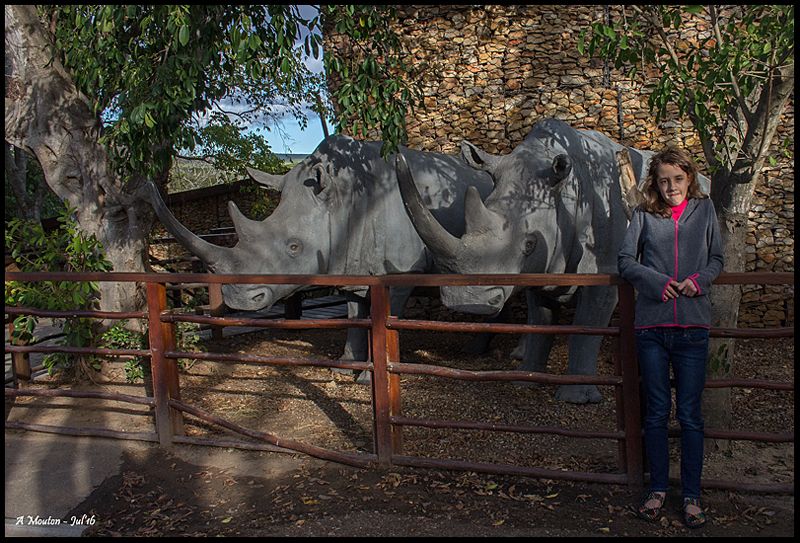 Talking about rhinos, especially when visiting Addo, I cannot help getting flashbacks of a 2012 incident when a black rhino surprised us from behind a thick bush, charging our car and hitting it twice with its horn leaving the radiator punctured and body damaged. Fortunately, the Head Ranger was just behind us to assist.

All ready for a series of game drives exploring every corner of the park?
For ease of reference, I have consolidated all the sightings in one as per each section of the park i.e. 1 = Domkrag dam area etc.
Here is a park map courtesy SANParks (you get one when booking in at Reception) showing all the sections that will be covered.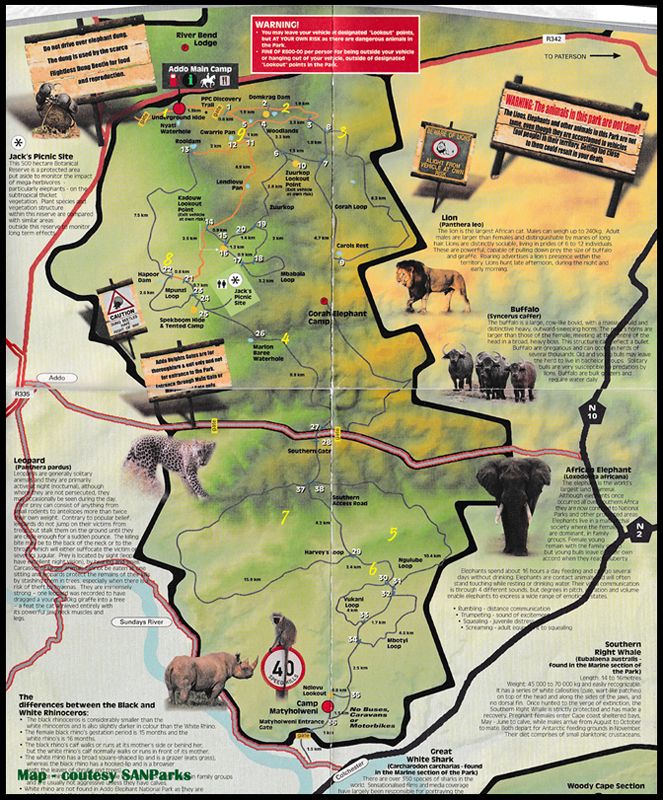 To enrich our visit to this green park with abundance of vegetation types, it was most useful to use Peter's ADDO-guide.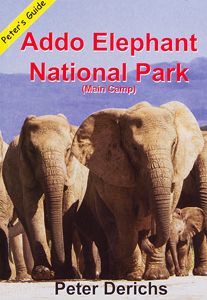 All welcome to enjoy the drive.....the first section we will be exploring is the Domkrag dam area
Current

: Table Mountain's mood today; Jul'16 ADDO NP
Finalised

: Dec'15 Mokala ; Kruger; Golden Gate; Karoo; Sep'15 Bontebok; Jul'15 Agulhas; Aug'15 West Coast; Dec'14 Kruger; Jun'16 MZNP
Future

: Jul'16 Storms river & Wildernis NP
---
Legendary Virtual Ranger

Award: Cammer of the Year (2015)
Posts: 28116
Joined: Mon Nov 19, 2012 8:03 pm
Location: Austria
I'm definitly on Board for this trip Kaapsedraai
Thank you for sharing
Our Tripreport has startet:
KRUGERFEVER? - YES WE HAVE - September/Oktober 2015
Next trip 2017 planned 21. September 2017 - 09. Oktober 2017
only wait for booking
*) Car booked
*) 1 night Hoedspruit booked
---
Senior Virtual Ranger

FAC Member (2015)
Posts: 3777
Joined: Mon Jul 04, 2011 1:34 pm
Location: Comberton near Cambridge UK ...2016 visit completed
Really looking forward to your conversations with the gentle greys
---
Legendary Virtual Ranger

Award: Sighting of the Year - Birds (2015)
Posts: 6194
Joined: Sun Dec 25, 2011 8:37 pm
Yip..........wont miss this one.......
Great start and thank you for all the info
Wow.......I am still looking for a decent shot of the BR and you got hit by one...
Must have been an experience you will remember for a long time!!
---
Junior Virtual Ranger

Posts: 1359
Joined: Thu Jun 17, 2010 8:40 am
I am definatley on this bus
We have in the past, enjoyed a stop at the Daggaboer farmstall....
the babootie pies are yummy
Addo, my favourite park
and my favourite animal...the "Big gentle grey ones"
Looking forward to the Trip and also, your always, beautiful photos
---
Legendary Virtual Ranger

Award: Angel of the Year (2015)
Posts: 13506
Joined: Tue Jun 07, 2005 8:47 pm
Location: meandering between senility and menopause
I agree 100 % with you on the Daggaboer farm stall. I have to go again. It has the most remarkable collection of items from the Karoo farms and tasty boer homemade wonders to munch. I really could spend a lot of time and money there.
about the Rhino. Quite an expensive experience. It seems that all is forgiven and you are back for another adventure.
I am looking forward to this.
The bird doesn't sing because it has answers, it sings because it has a song.
---
Virtual Ranger

Posts: 2555
Joined: Fri Jul 25, 2014 10:56 am
Location: Jhb
Can't wait! This TR is perfect in its timing as I need all the advise I can get for my first visit in December!
---
Senior Virtual Ranger

FAC Member (2014)
Posts: 2065
Joined: Thu Jun 03, 2010 11:27 am
Location: Lost in the travel tales and bird ID challenges
Isn't it just amazing how potatoes give us fries and vodka?
The rest of the vegetables should get their act together
So when is old enough to know better supposed to kick in ?
---
---
Who is online
Users browsing this forum: No registered users and 9 guests