Junior Virtual Ranger

Posts: 342
Joined: Wed Jun 11, 2008 12:31 pm
Location: Langebaan
@ BB it is most probably the dust - very common to get eye infection from it. If it is left untreated it can get really serious very quickly. For that reason I always carry Spersallerg eye-drops when going into the arid areas. It sorts it out in minutes - magic stuff.
In love with God's creation
---
Junior Virtual Ranger

Posts: 342
Joined: Wed Jun 11, 2008 12:31 pm
Location: Langebaan
Gosh.... gone quiet here !
Agree Dreamer. Seems like it is time for my final contribution - as far as video clips are concerned in any way.
In love with God's creation
---
Junior Virtual Ranger

Posts: 342
Joined: Wed Jun 11, 2008 12:31 pm
Location: Langebaan
Wow it was a great pleasure to do the video! Thanks for all the appreciative comments - your feedback really motivated me to see it through to the last clip. KG, if you're not happy with the final production on DVD (coming soon), we wil just have to do it all over again.
In love with God's creation
---
Thanks for all the hard work in taking, editing and posting these for us WKK
Much appreciated.
(Thanks to Muller for the part he played as well).
I have some more pics of the drive to post also, so will get my proverbial in gear before too long and put them here.
---
One of the nice things that I found about the 4x4 trail is that a group of people from all over who for the most part had not met before just got along and had a ball of a time together.
Complete strangers offered you refreshments within minutes of meeting you. Home baked cookies were offered around to all by others and around the campfire in the evenings, the chit-chat was was great to be a part of.
Right Said stretches his aching muscles after being cooped up in the bakkie.
The Flintstones make a brew for the fire truck boys.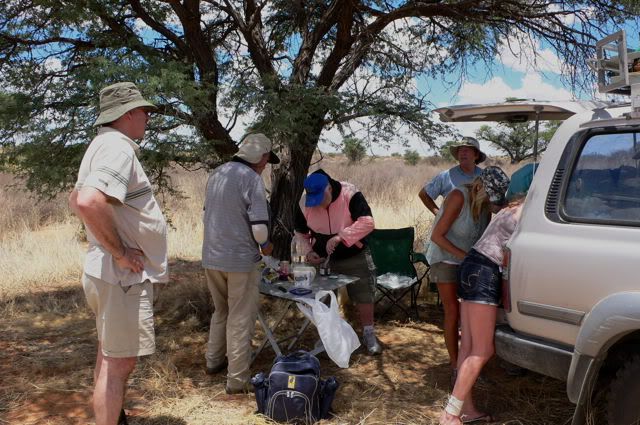 Weskusklong works hard at filming our campsite in glorious light.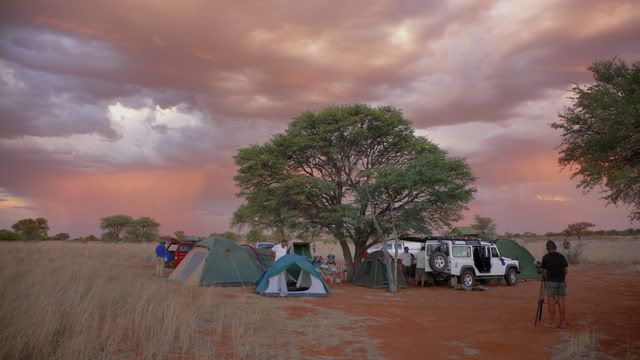 The convoy.
Dark skies loom overhead.
A rainbow forms over the waterhole.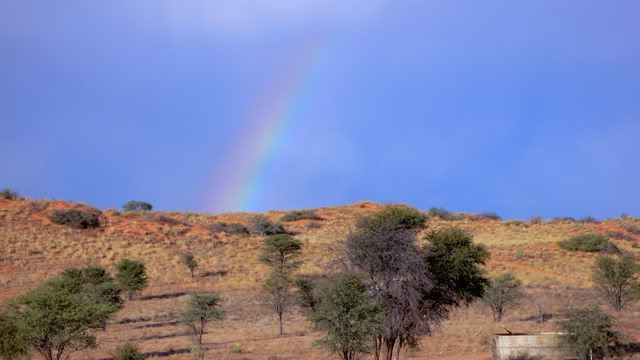 Jannie, Stefan and Switchback discuss the day's events in stunning surroundings.
Parked up in line for the final stop before the end of the trail.
Jannie gives us some interesting facts about trees.
Thanks to everyone who participated for making me feel very welcome, for making the trail a memorable experience and for putting up with a rooineck - I loved every minute of it
---
Legendary Virtual Ranger

Posts: 6883
Joined: Wed Mar 16, 2005 12:38 pm
Location: In the shadow of Table Mountain
Barcud wrote:Welsh was spoken sometimes, especially to say good morning
And when he banged his head on the bakkie while packing.
Whatever (according to BB): "You are correct but I don't want to admit it".
In a world of grey, be
RED
---
Posts: 787
Joined: Mon May 04, 2009 9:32 am
Location: Northwold with KTP on my mind...
Some more pics of the last camp and last day:
Jannie and Stefan:
Stefan enjoying the Kalahari shade!
Final camp sunset:
View from my tent:
Convoy:
Final Dune Landscape:
KNP: 14 June: Skukuza Camping
15 -21 June: Letaba Camping
---
Legendary Virtual Ranger

Posts: 6883
Joined: Wed Mar 16, 2005 12:38 pm
Location: In the shadow of Table Mountain
A few thoughts to put the trail into perspective, as a very glowing report has been compiled by the participants.

In the spirit of improvement, I would like to point out a few things I picked up on.

But before I get shot down, let me state that I met a lot of wonderful people on the trail, and made new friends. It was also great being where you cannot go with a 'normal' vehicle, and having a bit more 'freedom'. Also, apart from the major downer, the other factors are mild observations, not serious moans.

The major downer was as previously stated, KG would not be attending most of it. After 6 months or so of build up, banter and bragging, this was extremely disappointing. Although , as I have explained already, it could not be helped. While his replacement, Aubrey, was delightful, it was not the same, and not what we had been anticipating.

Secondly, 9 vehicles were too many. I know that it was done so that nobody would be disappointed, but when the leader stopped at a place of interest, the last vehicle was rather far off, especially if it was a sighting that required a quick reaction. Often a sighting was over by the time the last vehicle or its occupants came by. Also the campsites are not geared for so many. I didn't hear any comments about 'overoccupied' ablutions etc, but it could have happened.

I also heard rumblings about 'too slow', 'not tough enough'.

Because of the small distances covered per day, I think that the time of year was unsuitable. If you packed up early and left early to try to see animals, you would require long stops in the searing heat to prevent you arriving at the next camp by lunch time. If you packed up at your leisure and left later it would be hot already. There was too much 'dead' time in the heat. It would be better suited to shorter days and longer nights.

I also think that firewood should be provided. This is a bit of a hit and miss if provided by the guests, but the guide would get to know how much is required and should bring it along.

I was also disappointed that the customary nocturnal visitors didn't show up at Witgat, but that was the luck of the draw.

What I did really enjoy, was the unexpected swim in the best tasting water in the park at Witgat. Also the conversations around the campfire in the cool of the evening, and spending time with new friends, and the sharing and helping of one another. I also enjoyed the freedom that comes from being in the middle of nowhere – like when we stopped at the 'pan'.

Would I do it again? Maybe.
Whatever (according to BB): "You are correct but I don't want to admit it".
In a world of grey, be
RED
---
Junior Virtual Ranger

Posts: 342
Joined: Wed Jun 11, 2008 12:31 pm
Location: Langebaan
Every year holidaymakers come to the coast to enjoy their summer holidays. Most of them would have booked their camping site a year in advance, or paid a heck of a lot of money to stay over in a guesthouse. I would guess 90% of them were looking forward to just go to the beach everyday, having a swim and get a great suntan before returning home. As the year went by, they would have got psyched up for those glorious days on the beach and couldn't wait to spread their towels on our beaches. However, here's the reality…
As I'm typing this, the south eastern wind is howling outside. Go down to the beach and you will see that it is mostly the kite surfers in wetsuits that are having a ball. A few die hard sunbathers are hanging on to their towels. Their lotion covered bodies are sandblasted by sticky sea sand. Go to the shops and you will see a lot of sore sunburned bodies standing in long cues at the tills. Go down to the beachfront caravan park, you will see a wind battered camp, with quite a few long faces. However, there are some exceptions…
Those who pre-tanned before their holidays or who were just more careful are looking great after a week or two on the beach. The better informed went to the beach early in the morning when the wind wasn't blowing. The few caravaners that listened to advice did not book that beachfront camping spot, but opted for the wind protected resort a few hundred meters from the beach.
I think there are a lot of parallels between my story and the trail. The forum is an ideal platform to psyche each other up, raising the prospects of the trip to an unrealistic level, where all 20 participants will have the time of their life. As in the case of the beach holidaymakers, I think some forumites got lost in the excitement of the trip prospects and lost a bit track of the real life situation. I was certainly guilty of that as well – hoping for lions roaring through the night, visiting us in camp
.
The trip requirements are spelled out quite clearly on the Park's site. You need to be self sufficient in every way and have to plan accordingly. Everybody knew upfront that the KTP averages 40 degC in November and that we will only do about 50 km a day, so obviously you would have to cater for that in some way if you plan to bring a freezer along. My solar panel costs much less than a decent camera lens – yet mine was the only one on the trip, but virtually every car had top notch camera equipment within. Strange if you consider the value each contributes to your trip experience. Maybe I didn't take the best photos, but thanks to a solar panel we always had cold drinks, could make ice and freeze meat at will.
The afternoon southern winds and thunder storms are basically a given during November in the KTP – so you would have to prepare for it, take it in consideration when you setup camp or prepare dinner.
There is absolutely no way that the trip could cater for the likes of everybody – the group was to diverse. The only thing we all had in common was a true love for nature and more specific the KTP. I'm sure the guru birders got fed-up with us mortals that didn't know the one LBJ from the other and just drove past them without stopping. Similarly the non-birders had to endure the birder's frequent stops. Some people wanted to braai in daylight, others wanted to start the fire when the sun set. Although it was a 4x4 trip I got the idea that there were few real 4x4 enthusiasts. The common thread was a love for nature, not 4x4ing. I can go on and on about the differences in expectations from the trip, but enough said. I still think it was a great rip. I met people I would not have dreamt meeting in the KTP, let alone spend a few nights together in the wild outdoors. It was amazing to see how different people handle the same situation. My only criticism would be to try and filter the group more specifically - maybe a birding trip for the enthusiasts? And yes the cars were too many but it wasn't planned that way. All the bookings didn't go via KG (as it was supposed to be) so he couldn't keep track of the vehicle count.
In love with God's creation
---
---
Who is online
Users browsing this forum: No registered users and 6 guests