Posts: 20
Joined: Tue Jun 16, 2009 6:10 pm
Location: Secunda
Hi there,
This is my first time posting a trip report and I hope I will get it right.
Well first of all I had place in Tamboti for the long weekend(5 to 9 August 2011) but I had to cancel it because our car broke down, I really didn't think that the car would be fixed so soon, but it was, so what happened next was that we had a car that was in working order but nowhere to go for the long weekend.
Well if it comes to camping I am very specific. I am a big Kruger fan, I hate ATKV resorts because there is usually people making noise either with car radio's or the most irritating thing to me is people going camping and then you see the little satelite dishes ready to watch 7de Laan or whatever program they like, so now I ask you why do they go camping they can just as well stay at home
Okay well back to my story, so now I was looking for place in every possible camp in Kruger but as anyone can guess there is no place available anywhere. Long story short I looked everyday as often as I could and Wednesday evening I saw that there were 3 camping sites available at Lower Sabie, I didn't really want to go there because the camping sites are on top of each other, as I saw a previous time when we were staying in a EH3 hut. So I looked at the other camps but still nothing, so I just wanted to see if my eyes didn't decieve me and I checked Lower Sabie again (I mean any place in Kruger is better than being at home for the long weekend) and now there were only two camping sites available for the long weekend, so I said to Shane(my SO) I think we should better take this if it is still available and quik, so I quickly did the online booking and paid and whala it went through, I got my confirmation email.
That evening we quicly worked out a menu for the weekend. The next morning I organized leave at school for Friday. After school on Thursday I quicly went to buy a few things for the weekends camping and I was home at about 3. When I got home my SO was already bussy sorting out the things in the trailor as he worked in his lunch hour and could go home earlier. We packed everything in about two and a half hours and off we went from Secunda to White river where my parents stay, we arrived rather late I think it was about 10:30pm. We said hallo and goodnight and went off to bed (we were very tired).
6 Dec 2013 - Tambotie
7 - 13 Dec 2013 - Satara
---
Posts: 20
Joined: Tue Jun 16, 2009 6:10 pm
Location: Secunda
I just want to thank Lion Queen for the big help with the advise on posting the pic's.
So let me try again.
At 5: 30 the alarm went off so we had a short visit over coffee and rusks and left at 6:30.
We had to stop at the Pick and Pay at Malelane as we forgot the headlights I bought two and we swore that it would stay in the trailor.
We arrived at Crocodile bridge at about 8:00am. And as soon as we drove through the gate, the peacefullness just flooded my soul. I was in my beloved Kruger and everyting would be fine.
Okay let me tell you, Shane got a new toy so this meant I must do the driving and he will take the photo's. I love this because in a way it makes me feel as if I am in control.
We first stoped at Crocodile Bridge rest camp for a toilet break and then it was me behind the steering wheel. We took the H4-2(tar road) towards Lower Sabie. First up was this Giraffe.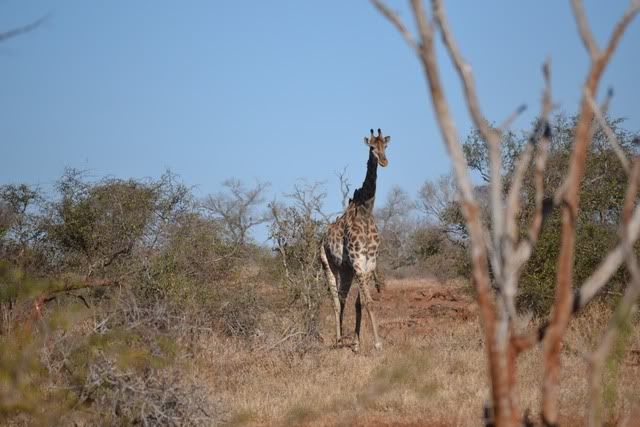 I really don't know why some animals just wanna run or show their backsides, but whatever it is a photo.
I still like stopping at these guys even though they are seen a lot, they still are beautifull.
So on we went with the drive and further down in the road there was a roadblock, my first thought was it's a lion because we have often encountered lions on this road. So now I had to have a look and give Shane the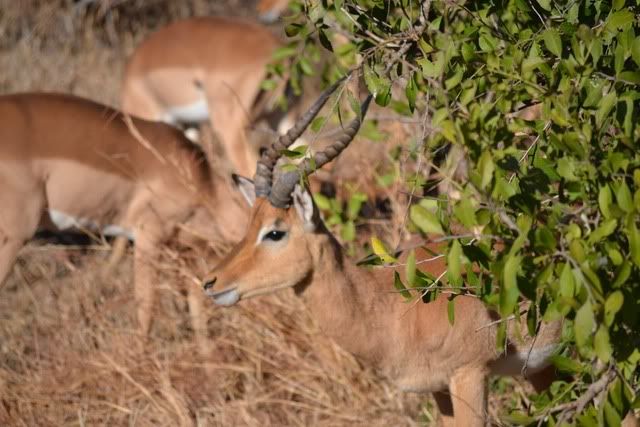 chance for a pic, and the trailor is behind me, and I don't know how to do the reverse thing with the trailor. So I went forward slowly and stoped as soon as I saw the outline of something that looked like a cat. It's a lion I told Shane but he couldn't see anything because the sun was in our eyes. So he just took a photo in the direction I showed. But as I went forward slowly and had a better view, to my surprice it wasn't a lion but a big leopard.
She/He sat for a short while and then she/he lyed down.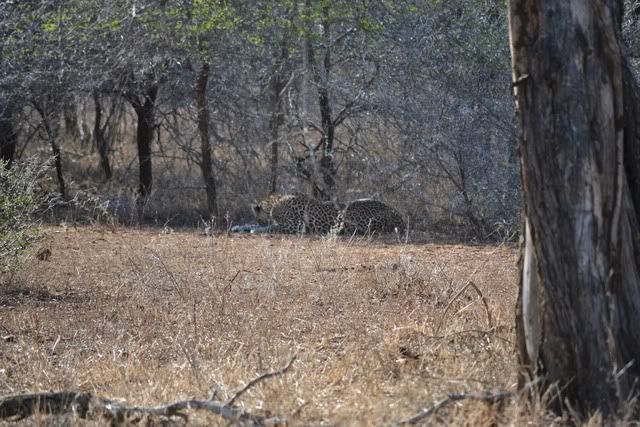 After Shane took the pictures I drove on as there were cars coming and I also want to give them a look at the nice sighting.
Then we saw this little guy.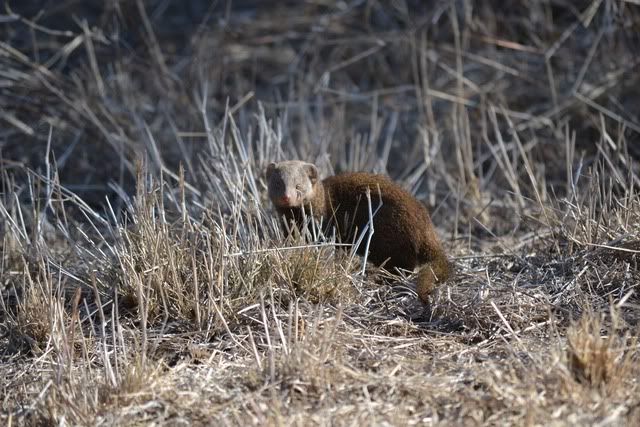 And then this hornbill, they are truly synonomous with the African Bushveld.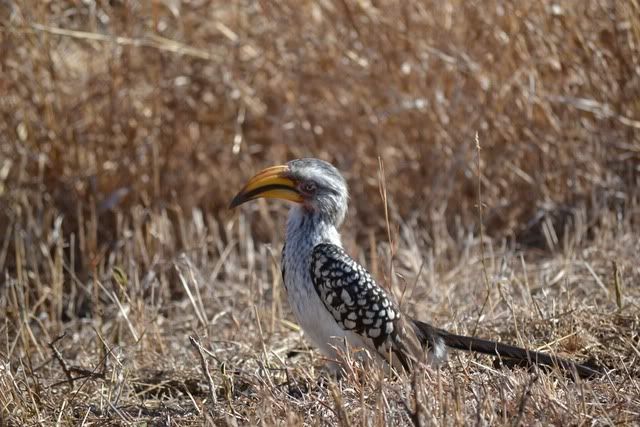 Another thing Africa's rivers wouldn't be the same without. Some hippo's in the Sabie river.
So just before we got the turn-off to the camp, a family of Warthogs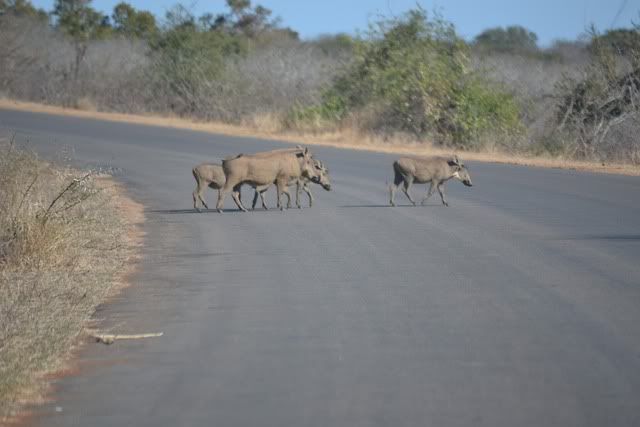 Last edited by
wildtuinmal
on Sat Aug 13, 2011 10:17 am, edited 2 times in total.
6 Dec 2013 - Tambotie
7 - 13 Dec 2013 - Satara
---
Posts: 20
Joined: Tue Jun 16, 2009 6:10 pm
Location: Secunda
Thanx for all the support it makes it worth while
Meandering mouse
- Thanx for the compliment and support
Magriet
- There was a time that I thought maybe it's not as easy as I thought but as soon as I downloaded photobucket and got the pm from Lion Queen, all was well
Leanawel
- It's a pleasure. Thanx for the support
Cheetah2111
cheetah2111 wrote:

LEOPARD! straight off the bat
After that sighting I thought to myself this is going to be a great trip
Mgoddard
- I feel very privileged that you replied, I followed your blog, it was my happy time
Mgoddard wrote: LS for camping was my least favorite camp...but sightings were of the highest standard
That was what I thought
Lion queen
- You are my HERO
Watch this space
Salamanda
- Yes we were very lucky
Elsa
- Thanx. What can I say
, That was good luck
Setting up camp
First we went to the camping area, it was now about 10:00am, a lot of the sites were still open so we could choose a nice camping site. We took nr 2 it is close to the road and dayvisitors area, with nice shade in the afternoon should we choose to take a afternoon nap (the shade was where our tent stood, Gareth's (my son) tent though was in the sun, so he had to come and sleep in our tent in the afternoon if he didn't want to bake in his own tent)
First we pitched up the tents, note to self listen to your husband when he say's the kitchen tent must stand a certain way then you won't have to move the tent twice over the trailor.
Our campsite works like this we have a old canvas tent that we got form good friends it's in the shape of a square, it's kind of part of a caravan tent. So we pitch this tent up over the trailor and this is our kitchen area it works good in rainy wheather and even sunny wheather because if it rains we have enough space to sit in that tent and if it is hot the trailor is shaded. We put all our food stuff and cutlery as well as our freezer in the trailor, so when we go for a drive or whatever we just lock the trailor and no monkey's or baboons will bother at our campsite. The fridge is also in the tent and we just strap it with straps so that it can't be opened. Just for fun we also put Susan our pet rubber snake somewhere in good view of our campsite we move her every day
. Then Gareth has his own tent and me, Shane and Zoe sleep in another tent. This time we didn't put up the gazebo as our tent was in the shade and then we can also see the stars at night.
I sorted out the matrasses, bedding and bags, while Shane sorted out the trailor, fridge, freezer and bend a few tentpeggs in the hard as rock ground. The children played in the dirt while we set up the camp. After about three hours we were set. While we were bussy setting up the camp walking about we saw this: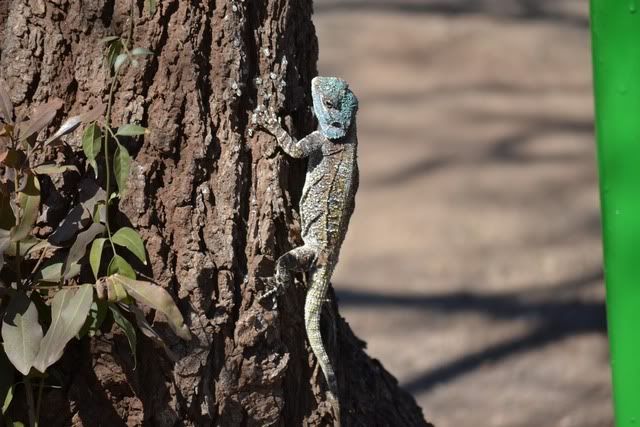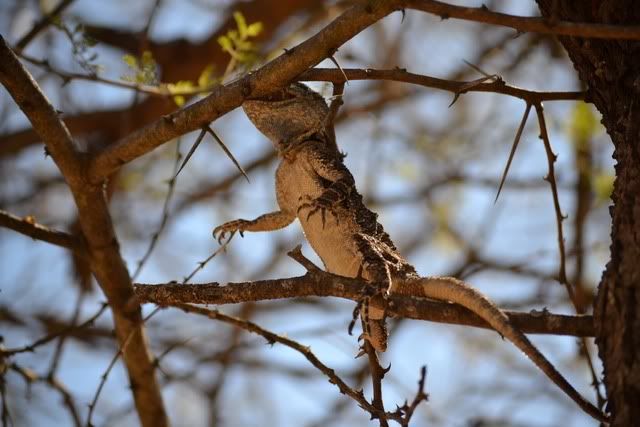 A "bloukop koggelmander" I don't know what you call it in English, eating the glue from the treebark. This is the first time I have seen it.
We had some crisps as I totaly forgot that I did put in buns and cold meat for lunch
. After "lunch" we decided to take a well deserved nap. When we woke up about 45minutes later we decided to take the kids for a swim as Gareth has been nagging to go for a swim since we got to the camp.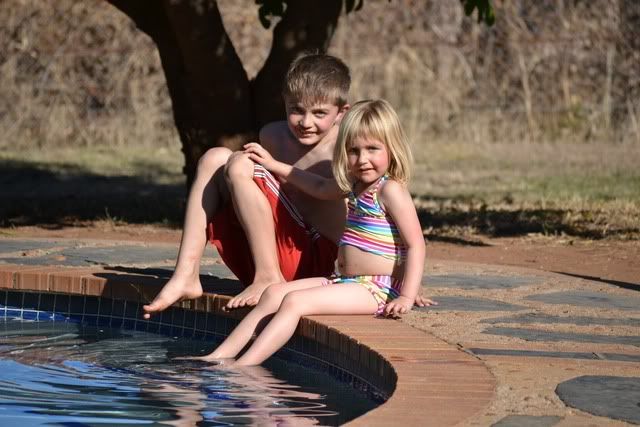 They didn't go very deep into the water as the water was icecold, only the feet got wet, after this they didn't ask to swim again during the trip.
The swimming spree didn't last very long, so we bribed them, by telling them we will go for an icecream on the deck, so off we went. Before getting the icecream we first checked in, but clever me didn't take the slip that showed my wildcard number, I only took our previous check in document of April 2011, with the idea that the wildcard number will be on it, but it wasn't. The man at reception checked on the system, he asked for my id nr and typed it in but he couldn't find a wildcard number for me, so then he typed in my id number again and luckily this time it reflected on the system. All done and off we went to the shop. We didn't take icecream but rather opted for the frozen yoghurt. We sat on the deck enjoying our frozen yoghurt and this is what we saw:
The usual beggers
and the hippo's on the sand bank
When we were finished checking out the scenery, we had to top up with water for the day's ahead
6 Dec 2013 - Tambotie
7 - 13 Dec 2013 - Satara
---
Posts: 20
Joined: Tue Jun 16, 2009 6:10 pm
Location: Secunda
WOW WOW WOW You guys following my TR really makes it worth my while!!!
Sorry for only posting now, but you know the drill, so many things to do and so little time
Leanawel
- Thanx for the compliment, Shane is smiling he enjoy's the compliments
Foxy
- Welcome aboard
Salamanda
- Another grin from my husband for your compliment
Lion Queen
- At this rate my husbands head is going to burst from all the compliments on the photo's
Vlakvarkvrou
- It's a pleasure, there is alot more where those came from (the family)
Puppy
- Tell me about it, I feel for you guys staying so far away but I see you are coming to Kruger soon
Tedredrum
- Welcome aboard, the taking time thing... for sure but as long as someone is reading I'll be typing
Meandering Mouse
-
Son godin
- My neighbour! Welcome
Well Gareth has been sleeping in his own tent since he was 4 years old
Thanx for the help offer I will surely make use of it if needed.
About the pictures off the campsite I am sorry to say that clever Shane never took a picture of our campsite, I don't know why
he usually take pictures of the campsite but not this time sorry
Steamtrainfan
-
I couldn't agree with you more
Afternoon drive
So where should we drive??
The phone rings and it is my brother Juan he is a Jeep Jockey for Eastgate Safari's and he has the same question:" So where are you going to drive for the afternoon?" Me:"I don't know yet uhm they saw cheeta's on the H10 tar road towards Tshokwane, maybe I should go that way or I know the S28 has also been good to us before" Juan: "Yes the S28 is hot especially in the early mornings, I have once done a transfer and I saw 4 out of 5 (That's now for the big five, that's how they talk, but I must say he is not just a big five chaser he show's the tourists small interesting things aswell like the chameleons etc. I also want to add that he can look a leopard out of a tree, bush or rock when I see absolutely nothing and then after he shows me I will see it.) I can also add that when we are in Kruger he will phone me at least twice a day to hear what we saw and where. Juan:"Okay then talk to you later bye"
Uhm now what must I do is the thought constantly running in my head
. So I said to Shane: "Let's go and see what's happening at Sunset dam" This became a ritual on our trip we would go and make a turn at the dam before we went on a drive no matter which direction and then before we went back into the camp we would go and check out the dam again.
So this is what was happening at the dam and may I add we left camp at about 16:30.
I think it's some kind of stork, he was constantly looking for fish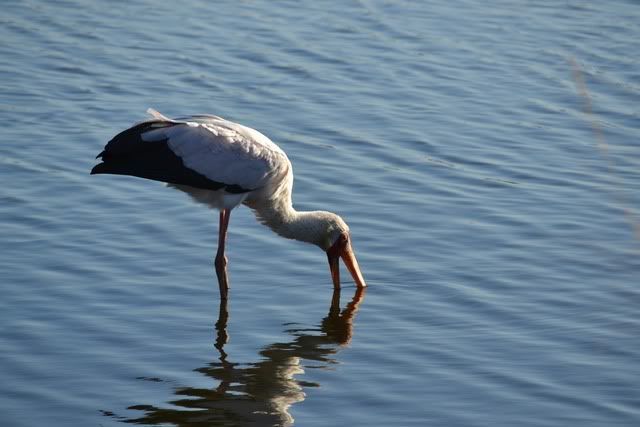 Very big Croc's and they were there everyday on the same spot, I wonder if they ever moved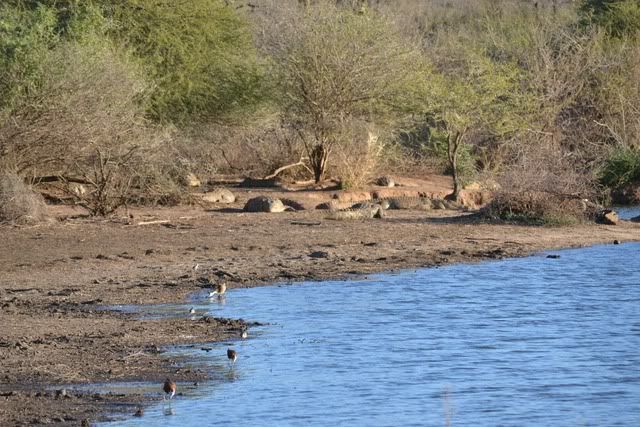 The Hippo's were more out of the water than in the water
Also some members of my extended family
Shane said he got the photo's that he wanted at the dam, and we could go for a drive.
I still didn't know, should I do the S28 or the tar road H10 towards Tshokwane. Sigh .... so when we got to the turn-off (H10 tar road) that goes over the bridge, I thought ag what the heck let's just go and see maybe we are lucky, so the tar road it was.
I just love the big dry tree's in the Kruger especially if they have a Birdie or two or three.... (It was now around 16:55pm)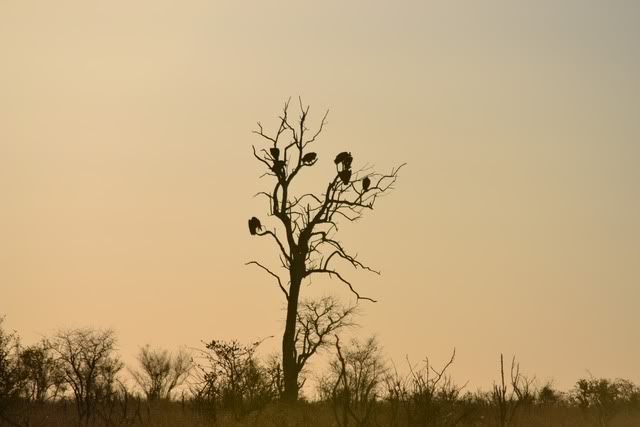 So on we went, nice open plains..... what about seeing a Cheeta? This is exactly the kind of surroundings that people usually see Cheeta's in. A few seconds later... two cars standing still in the road and what could it be???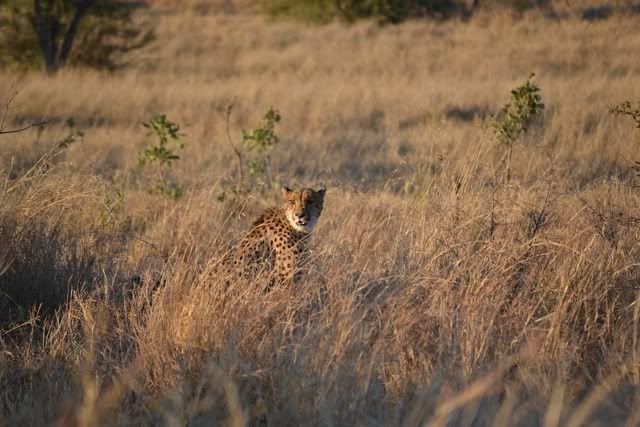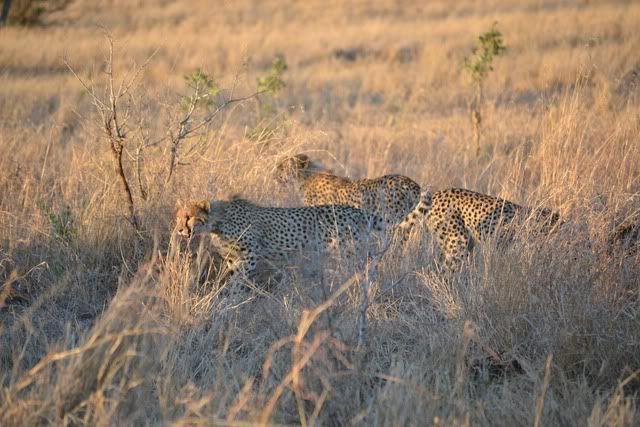 It was a mommy and her not so tiny anymore cubs eating a impala.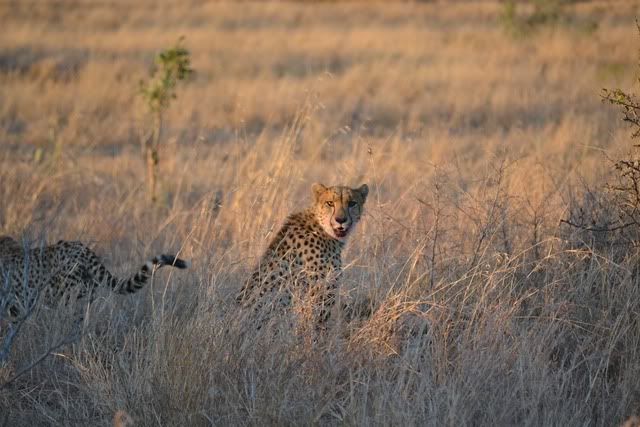 We saw this at 17:00 and this time we just sat at the sighting. I told Shane that we are going to sit here as long as we can because in all the time I've come to Kruger since childhood this was the second time that I saw a Cheeta in the Kruger. The nice thing was that we were only three cars at the sighting. And another thing we were exactly 5km from camp not to far, or what do I say? So at about 17:20 the one car left, it was a friendly lady telling us that they were very fortunate because they saw the kill as it happened, I think they were still heading to the camp as she was towing a big camping trailor. We decided it's time to head back to camp as the sun was very close to setting. We turned around and the first car that we saw was the people going on a night drive from the camp. I stoped at the vehicle to tell the driver(lady) about the sighting but she already knew about it and was on her way there.
And so a wonderfull first day ends in the Kruger
Well as soon as we got back in the camp we quickly stopped at the shop for wood, we usually take our own "sekelbos" wood from home but lately we couldn't get any in Secunda and great was our surprise when the lady rang it up and now it was R28.00 last time in April a few months back it was R20.00
Back at camp we made "Worsbroodjies" (Boerewors) after supper I took the kids for a well deserved bath(on the way to the bath I could hear the fruitbats) and Shane did the dishes(GOOD HUSBAND
) Then we braaied marchmellows, tucked the kids in and then it was first my turn and then Shane's turn for a shower. We fell asleep with the grunting of Hippo's in the background and the lonley howl of a hyaena
Last edited by
wildtuinmal
on Sun Aug 14, 2011 8:02 pm, edited 1 time in total.
6 Dec 2013 - Tambotie
7 - 13 Dec 2013 - Satara
---
Posts: 20
Joined: Tue Jun 16, 2009 6:10 pm
Location: Secunda
Hallo all you wonderfull forumites,
Lion Queen - Thanx for the compliment, that makes me feel good
wbevents - Welcome aboard, children can be demanding
Vlakvarkvrou - Thanx for the id because Shane and myself weren't too sure so I didn't want to put a name
anne-marie - Welcome aboard
Elsa - You can say that again
bertru -
Meandering Mouse - We got it from my grandparents, they loved the Kruger and took us to the Kruger during school holiday's, mom and dad as well
jennet, Flutterby, Sheenaugh-Lee - Welcome aboard
Cheetah2111 - I knew you would like the Cheeta's and yes you will have to plan that trip soon
Fotomaljohan - Not too long for you, then I can read your TR?
Bushcraft - I am happy to see you are still alive, we looked out for you guys but no luck during the long weekend, welcome O ja and I'm looking forward to reading your new TR
Day 2
Morning Drive
During the night there was a time that it was very cold and believe me we did take precautions, underneath our matras was a matras of previous camping sprees that wasn't usuable(for inflating) so we usually put it underneath our matras and that helps if there are sharp stones or whatever that might want to give our matras a puncture. And on top of that we put a blancket to keep the cold out from the ground. But when just before we woke up it wasn't that cold anymore, the reason for that I saw when I got out of bed and outside, it was overcast but I told Shane don't worry the sun will break through later, but it never did, it was overcast the whole day.
So today we were going to go down to Crocodile bridge, we started on the tar road, we slept a bit late so we only got out of camp at about 6:50am and this was the only bit of sun we saw
Then we saw Impala, Kudu, Rhino(but it was lying down) and a buschbuck but the pic's weren't great so I'm not going to post it.
This was oraait a Giraffe very close
Further on we saw Warthog, Buffalo and Blue wildebeest but once again not very good pictures because of the overcast day.
Before long we were at Croc Bridge for a toiletbreak and then we took the road back to Lower Sabie but this time we would do it via the S28. But first I wanted to show Shane the Gasanftombi dam but I accidently turned off too early
because I remember the road was very short but after a while this road was getting long I turned off on the S25 but we had this sighting there
I made a u turn and we went to t the dam there was a few impala's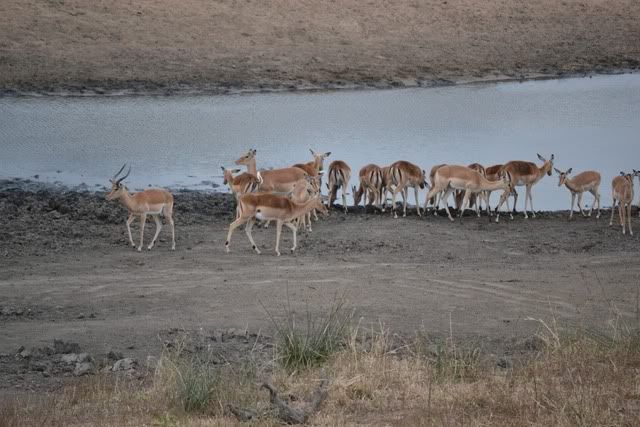 And after sitting a while I saw a "impala" in the tree. But actually my eyes was playing games with me, because eventually we realised it was a eagle(brown in colour)
So off we went again, we saw a Swainson's francolin, Impala's, Fish eagle and Blue wildebeest but not nice photo's. I said to myself on this trip I would not drive the S28 again because it was burned from bottom(down at Croc Bridge) all the way to the top (Lower Sabie)
But it will look nice once the rain falls in Spring
Further on on the tar road we saw monkey's , a lone Buffalo and a Lion next to the river but once again the pic's .......(catch my drift)
So just before we went into camp we went to see what was going on at the dam
And our Yellowbilled stork got lucky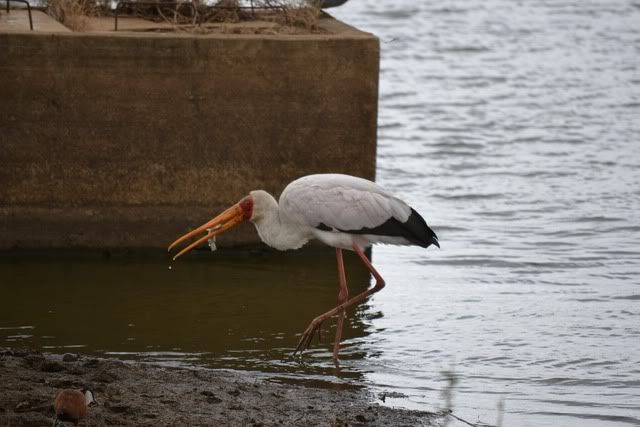 This guy was sitting on this spot everyday, there was a time that we thought he or she was a statue but if we got to the dam very early or late he or she would be gone
On our way back to camp this lady posed for us
It was now about 10:50am
6 Dec 2013 - Tambotie
7 - 13 Dec 2013 - Satara
---
Posts: 20
Joined: Tue Jun 16, 2009 6:10 pm
Location: Secunda
Hi there all, what a bussy week, I think it's time for another Kruger trip
Leanawel - Thanx for the Birthday wish and understanding
anne-marie - thanx for the ongoing support
cheetah2111 - Good thinking
salamanda - Thanx for the id on the statue
I think I'll have to go as soon as the grass starts to grow
Elzet - Welcome aboard
Bushcraft - Ja ja, well we didn't see any yellow ribbons, I bought a yellow ribbon for our car but we never put it on as we thought the people would think you know what so it's still in the car
lion queen - You are so funny
Mgoddard - You must enjoy every minute of your upcoming trip. Hope there will be a TR
steamtrainfan - Thanx for the ongoing support
Afternoon
2nd Day
We went to our Campsite and decided to make Hamburgers as everyone was hungry, till the food was on the table. Shane and Myself enjoyed the Burgers but the kids didn't think much of it.
After the burgers we didn't feel like taking a nap so we decided to walk to the deck at the restaurant and check out what's happening there. On our way there we saw this: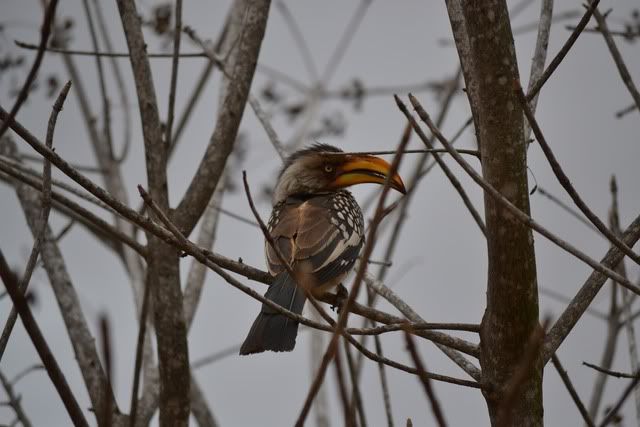 The day's low temerature didn't put a damp on these guy's fun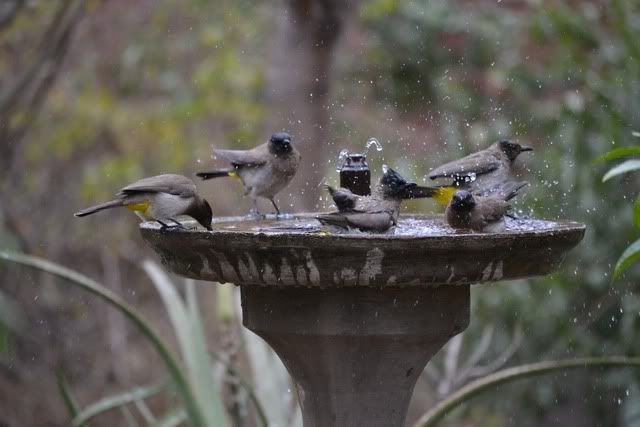 Alway's beautifull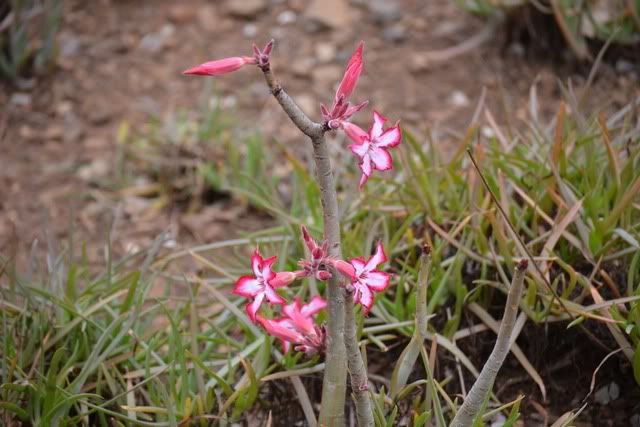 Nothing much was happening at the deck, and because the day wasn't hot we decided to go for a drive to Mlondozi picnic site.
Before we went we first went to Sunset dam to see what was going on there. Another Bushveld Birdie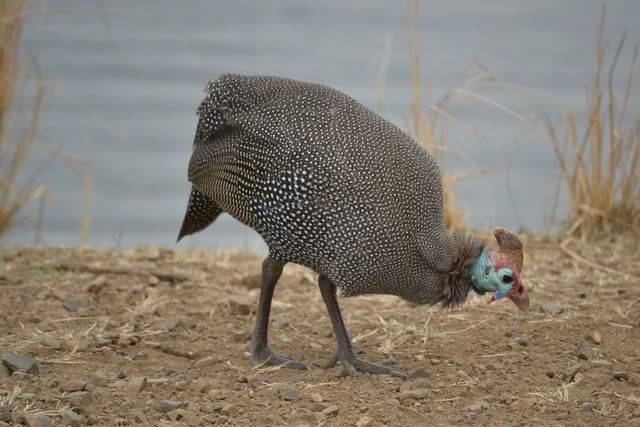 The usual hippo's lying outside of the water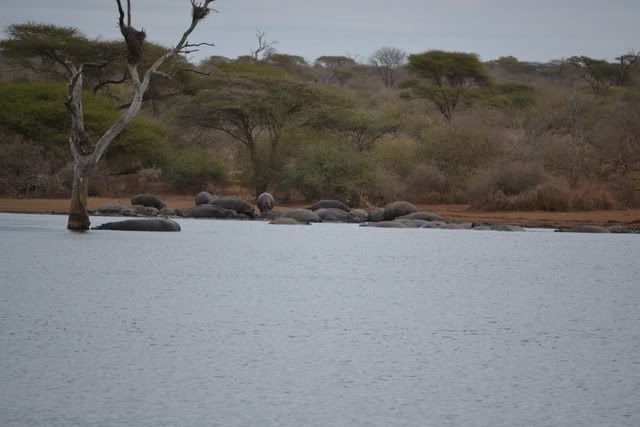 And then it was off to the picnic site, on our way there we saw this one, for Vlakvarkvrou, but I think this one is missing you because it look's like it was crying.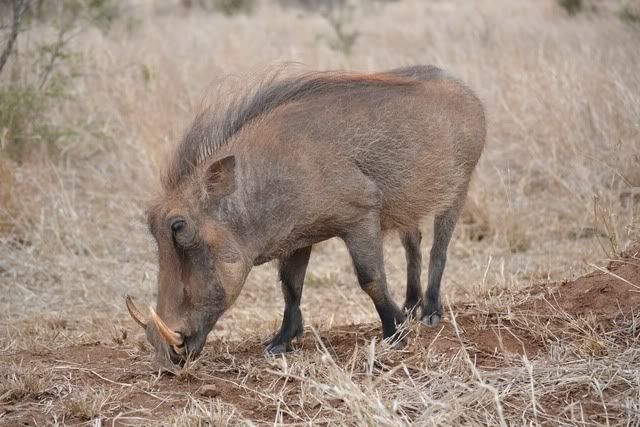 At Mlondozi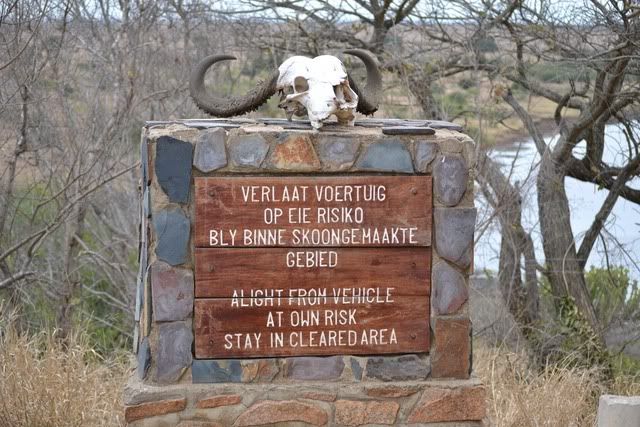 A few Waterbuck coming for a drink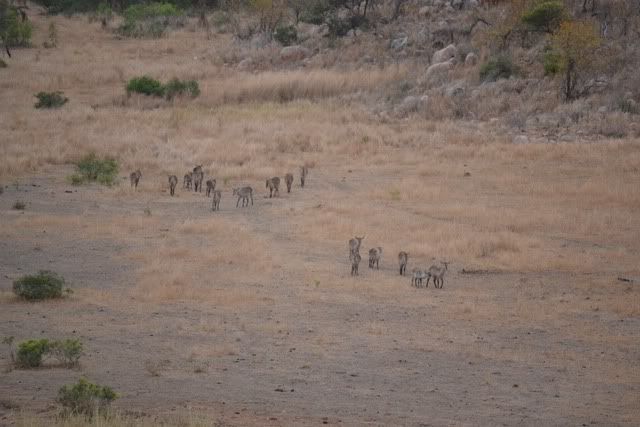 Our view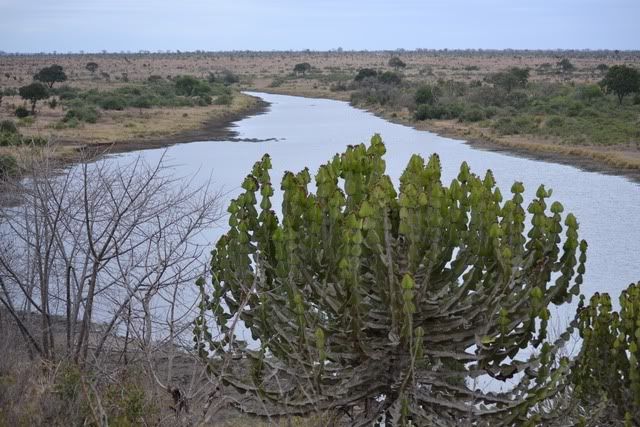 Visitors sitting there with us, minding their own business
We sat there for about 45minutes and then we left. On our way back to camp we saw a lone elephant very far off into the bush. And when we went over the bridge we saw a Giant Kingfisher and some Baboons
We quicly went to Sunset dam again, but nothing new and just before we went into camp we saw this little one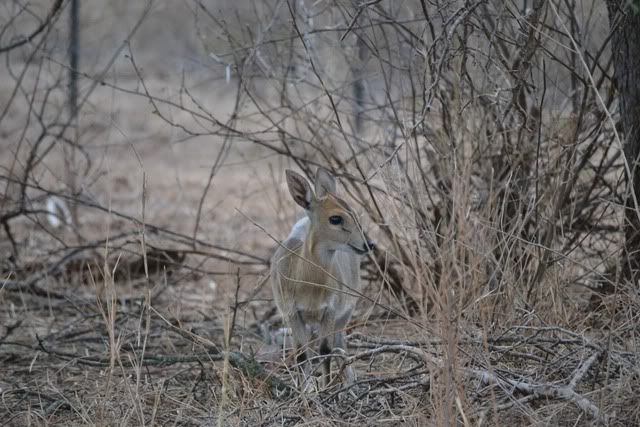 It was now 4:30pm so we decided to make supper. On tonights menu were Chicken flatti, potatoe, salad and Carrot salad. I thought that it would be to cold outside to make the food, but as soon as the fire was going it was kind of cosy in the campsite.
Well after supper it was of to the bathroom to bath the kids, luckilly during our stay I never had to wait for the bath to open, it was always open when we got there. On my way back from the bathroom I had my first chat with my neighbours, they were out early this morning and got home(their campsite) late so I told her that I was wondering whether they would come back tonight, she told me that eventhough they camp( it was her and her mother) they don't braai, they just go and get something at the restaurant. I asked her about their sightings and route. She told me that they went to Tsjokwane and then came back to camp via Skukuza. I asked about their sightings and she said that they saw the usual animals, and that they just like it to be in Kruger. Well I felt the same I just love being in Kruger even if the leopards, cheetha's etc don't show themselves everyday.
So after the childrens bath we had marchmellows, tucked the kids in, I went to shower and then Shane went after me.I was rather tired so I fell asleep nearly before Shane got to the tent after his shower.
I must say I really thought that because the campsites were so close I would hear the neighbours conversations, but you know what I didn't. I think the crowd that stayed there for the longweekend were very well trained campers, because at night it was nice and calm no loud talking or any noise everybody respected each other. That was something I didn't really thought could be possible at Lower Sabie, but it was.
6 Dec 2013 - Tambotie
7 - 13 Dec 2013 - Satara
---
Posts: 20
Joined: Tue Jun 16, 2009 6:10 pm
Location: Secunda
Hi all,
Vlakvarkvrou - always a pleasure
anne-marie
thanx for the support
steamtrainfan - Wil do so
Morning drive
Day 3
During the night the wind was blowing and I heard a lot of tent zip's unzipping and then I heard pegg's being hit in. I was still lying in the bed thinking poor people when all of a sudden something outside our tent fell over. Guess what, it was our towl rack, luckilly it didn't fall on the tent otherwise it would have fallen on Zoe.
So I just gave Shane a hit in the ribs, he went huh (lekker deur die slaap) and I said: Lovie, something just fell over
so he (Good husband as he is
) went out and had a look, and that is how I knew what had fallen over. (When we set up the camp on Friday we never hit the rack secure with tentpegg's it was just standing loose
). Shane just let the rack lie nice on the ground till morning and got back into the tent and slept further.
Sometime in the early morning I could hear raindrops falling on the tent, so we just slept on, no waking up early today
. We eventually woke up and this morning we took our time, I even did the make-up thing which I never do while being in Kruger. I even dressed the kids because usually I just leave them in their pajamas and robe and dress them later at our first stop. So when we wanted to leave the camp we saw that we had a slow pucture on one of our tyres, so we first went to the garage to pump the wheel
.
While there we saw this birdie, Shane was very happy as he wanted to take a pic of this bird the whole time, but every time he either missed it or it flew away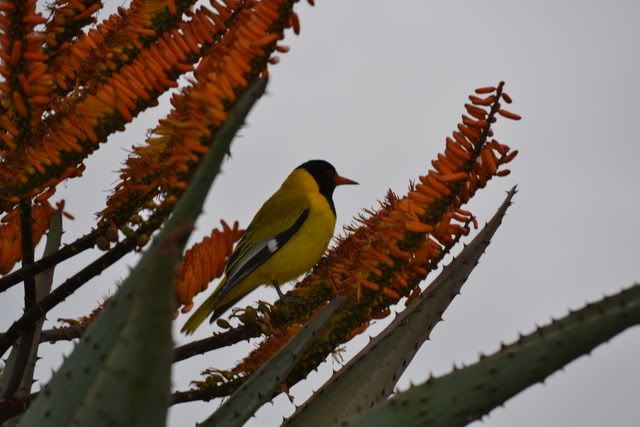 Sorry to say that it was already late because now it was 8:00am
. We just came out of the gate and as we turned to go to Nkuhlu not even turned yet we saw a lot of car's and the next minute this came out of the bushes next to us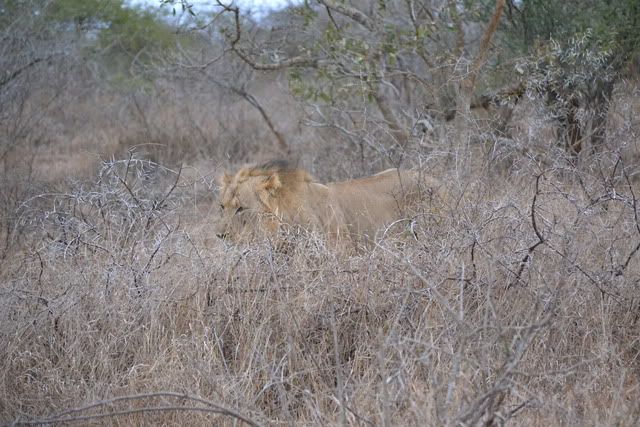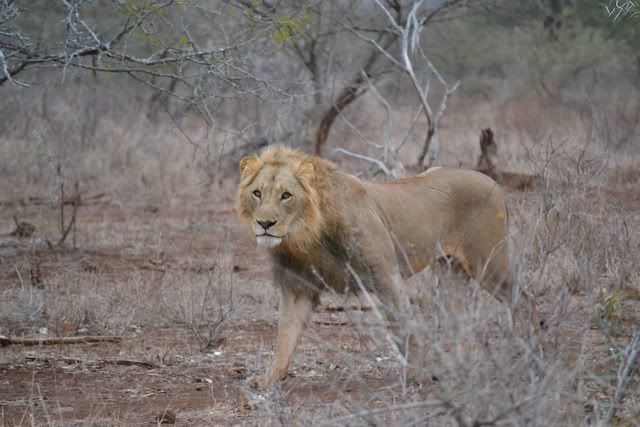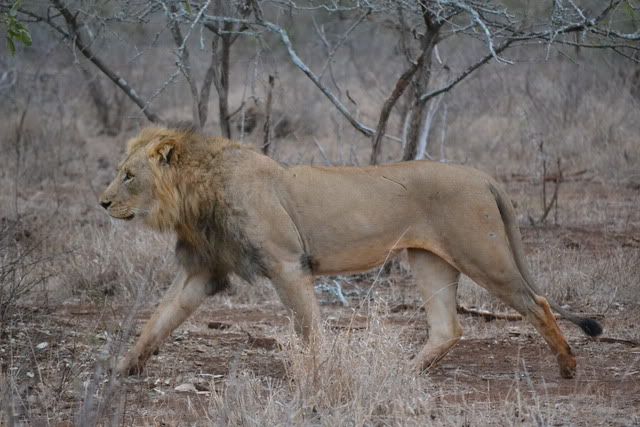 I couldn't believe my eyes
, we were so close to camp, basically just out of the gate.
Just then Shane saw that his camera's battery were nearly flat
, so we went back to the camp to see if we couldn't find a car type of charger. When we stopped at our campsite we saw that our neighbours was just about to go, and so I told them about our lucky sighting of the Lions just outside the camp and I told them that they were walking in the direction of Crocodile Bridge. So they said they will be sure to go and look for them. At camp we couldn't find something to charge the camera but the GPS charger seemed to work a bit, but we're not too sure about it
.
So off we went to Nkuhlu for breakfast.
But first we had to stop at Sunset dam, guess what we saw? The Statue
Further the same old, same old
So on we went, another overcast day, we really drove wery slow towards Nkuhlu so that we don't miss a leopard in the riverrine bushes, but this was all that we saw
And a very interesting looking tree
It was very cold at Nkuhlu
, I even took out the small blankets for the knees
. We found a friendly worker there and asked him if we could please charge the phone's battery there and he helped us
. We first had to wait a little while for a gasbraai as there were a lot of people there having the same plan as we did. So then we started with breakfast, on the menu was hashbrowns, muchrooms, bacon, cheese sausage and hot chocolate. Ooh and was that a nice breakfast
, just what we needed. After we had breakfast we took some photies at Nkuhlu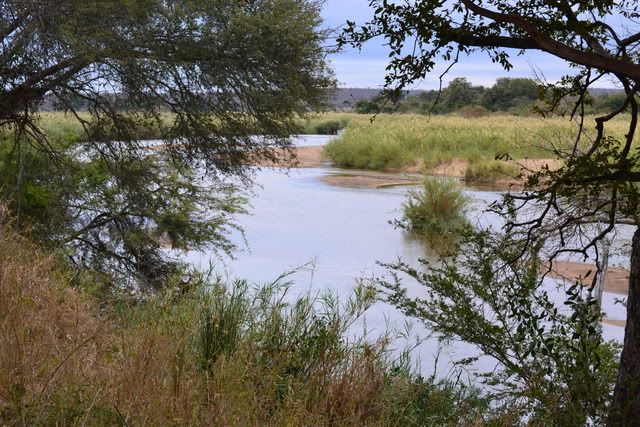 And then my clever husband decided that we should go to Skukuza for ice cream, but I think if we knew how much this desicion would cost us we would rather have left it
. Watch this space......
Last edited by
wildtuinmal
on Sat Aug 20, 2011 7:49 am, edited 2 times in total.
6 Dec 2013 - Tambotie
7 - 13 Dec 2013 - Satara
---
Posts: 20
Joined: Tue Jun 16, 2009 6:10 pm
Location: Secunda
Hi all,
Meandering mouse - I am glad that you like my TR
salamanda - It's a pleasure and I am glad that you like it, thanx for the Id on the birdie
Leanawel - I don't know what to say, because sorry won't do but I also feel homesick all the time when I'm not in Kruger
anne-marie - Alway's a pleasure, yes you are right on the bird id according to salamanda
Vlakvarkvrou - that is very interesting information, now I can also id he or she from each other
steamtrainfan - Thanx
I am sure you will have great sightings
Can't wait for your TR, You must enjoy every second of your upcoming trip
lion queen - I love hearing them roaring at night
I am glad that you like the photo's. You will hear just now what happended
Day 3 Continued
So off we went to Skukuza and on our way there we saw this rather big heard of elephants, but we only took this photo
Some impala
A lonely hippo out off the water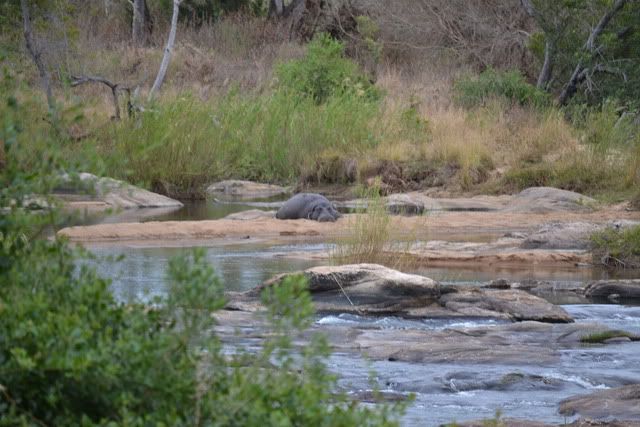 Crossing the bridge, Giant kingfisher
Some Ground hornbill's with babies(but only a photo of the mommy or daddy)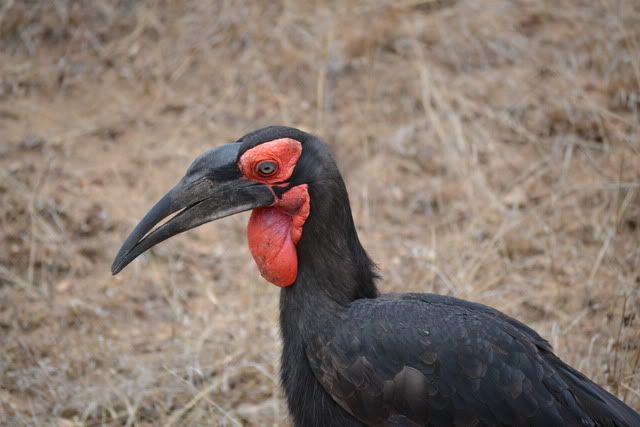 And then we arrived at Skukuza for "our icecream"
So we drove into the camp, it was very bussy and we really had to search for parking, we drove twice through both parking area's and then we got a parking. First we went to the bathroom, there was a line so we waited, and then after that we went into the shop for the ice cream.
Gareth was nagging us for a while now for a camera to take photo's when we go to Kruger (we actually came up with the idea, because usually driving in the car is boring for the kids and eventually they fall asleep or fight, and I really want to help develop the love for nature)
We were still looking around in the shop and he came with a big smile on his face and said Mommy the guy at the camera stand said there is a camera for not too much money, so I had a look and can you believe it, the camera was cheaper than the one's at Game, it was just a small digital camera so we decided ahw well let's take it. But then Zoe also wanted something, I asked the guy if they have any toy binoculars and he said yes and wanted to show me the binoculars but when he got there, it was sold out, so now Zoe was crying because she wanted something. After a while the guy came back with a really cheap bionocular so we ended up buying it for Zoe (He really felt bad that the toy binoculars were sold out for Zoe's part) So we paid for it and then we went to get the ice cream, but the kids decided they don't want icecream they want chips and this is where the paw paw hit the fan. We were still looking for chips when a tourist (no badmouthing) teenager steped backwards, didn't look where he was stepping and he tripped Zoe, she fell flat on her face(I don't know why young children don't use their hands to stop the fall) I picked her up and it was just blood streaming out of her mouth (the teenager said sorry a few times) , so I ran with her to the bathroom to wash off the blood so that I could see how bad the damage was, but it was badly cut so I knew this is stich stories. It was Sunday afternoon, so I had all these thoughts running through my head, is the doctor going to be here? What are they going to charge me? Is our holiday being cut short? Bla bla bla bla.
I remember I took Gareth once to the doctor at Skukuza because he had a bad cough, so I had kind of an idea where the dr's office's were. I was running with Zoe in my arms towards the car to go to the dr (obviously Shane and Gareth as well) when I saw some off the workers outside the shop and asked if the dr would be available because it was Sunday afternoon and after hours. I showed her Zoe's mouth and she said well it's an emergency she will help me. She explained to me that there was a telephone outside the dr's office and that I should just pick it up and phone the dr and then the dr would come. She called one of her co-workers to show me where the dr's offices are and off we went. Luckilly we didn't have to phone the dr as the office was already open. She(it was a lady dr) was already bussy with another patient. The guy that showed us where the dr's offices are quicly interuppted the dr to tell her about us. She came out to have a quick look at Zoe and told us that she would be with us soon. The guy helping us asked if we're alright and then said bye and then walked back to do his work(What a nice guy, he really helped us a lot) The dr quickly finished helping the first patient and then it was our turn, she was really proffessional and friendly. She first cleaned Zoe's mouth nicely and said that the cut was deep and that Zoe would have to get 2 stitches. I had to lie next to Zoe to hold her still, so that the dr could put in the stitches. I must say Zoe was really brave and she really gave her cooperation. For me it was bad that my child had to go through this, but at least I now knew that she was going to be fine. This accident really costed me a lot of money, This is what Zoe's lip looked like afterwards (Gareth took the picture with his new camera)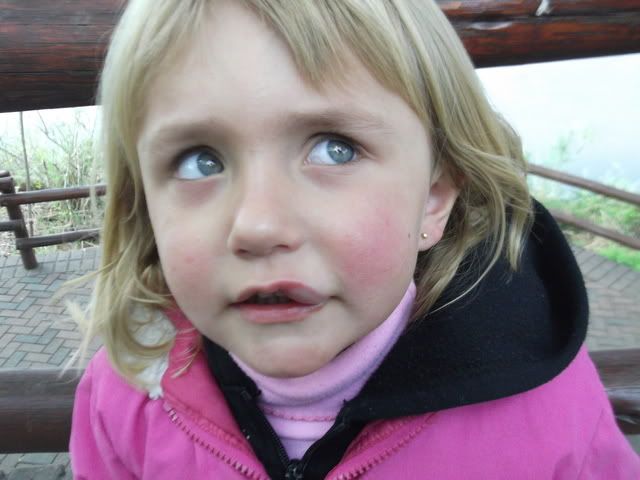 6 Dec 2013 - Tambotie
7 - 13 Dec 2013 - Satara
---
Posts: 20
Joined: Tue Jun 16, 2009 6:10 pm
Location: Secunda
Hi there,
Thanx to everyone for the interest in Zoe getting hurt. She is fine now, all is forgotten. Here is a pic we took last week on her birthday while she was chatting on the phone to "Grandma nr 3"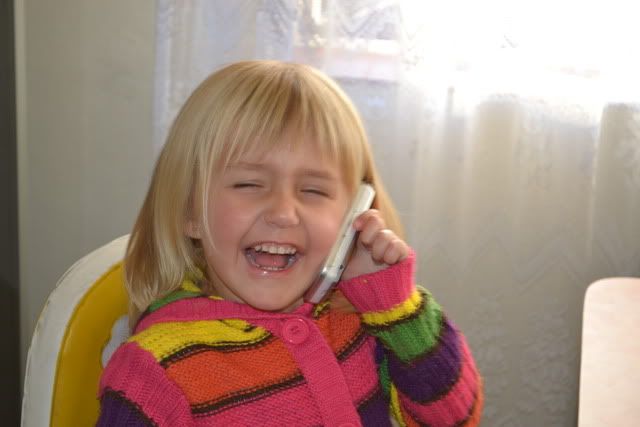 Day 3 Afternoon
So after all the drama we went to the shop to eventually buy the ice cream. I must add that we made sure that someone was holding Zoe's hand, just incase she fell again. In the back of my mind I was wondering if she was going to be grumpy after the ordeal, but she was just fine, she never moaned or complained.
We got the icecream and sat on one of the benches at the river. Then the monkey's arrived and because of irrisponsible people they were very naughty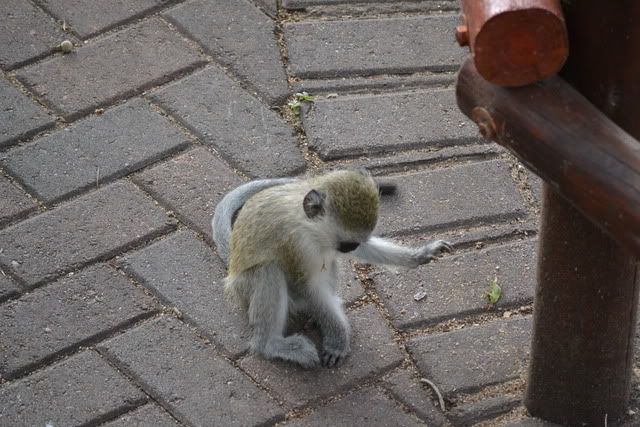 After the icecream we had to hit the road as it was getting rather late. On our way back to Lower Sabie, Zoe slept the whole way and Gareth was clicking away with his new camera and he loved it. This is what we saw
A Kudu close to the road
Some impala's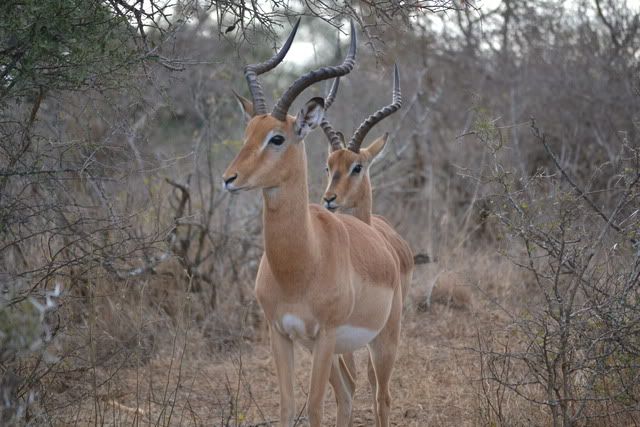 Monkey's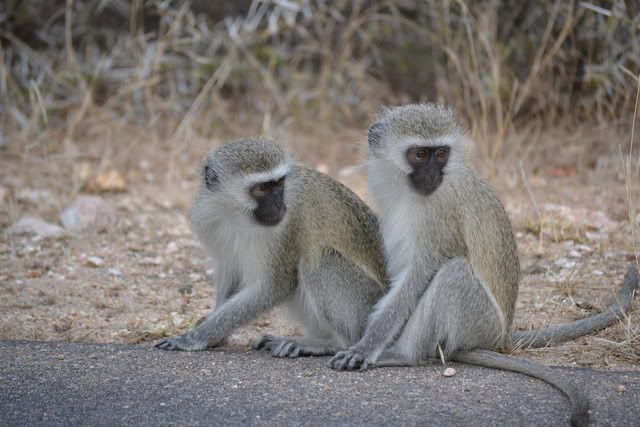 And some baboons having a good relaxing time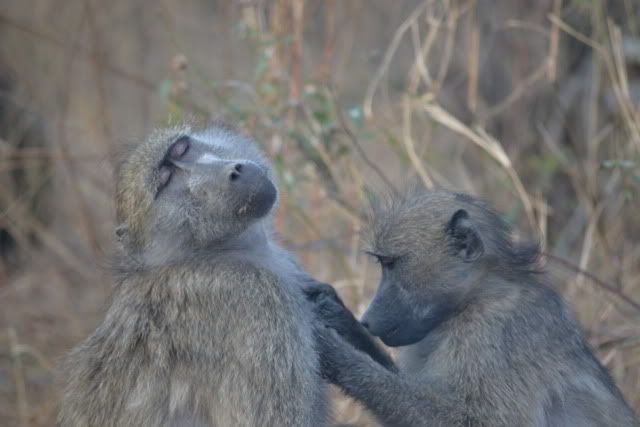 Dusk was at hand
And just before we went through the gate, a lone ellie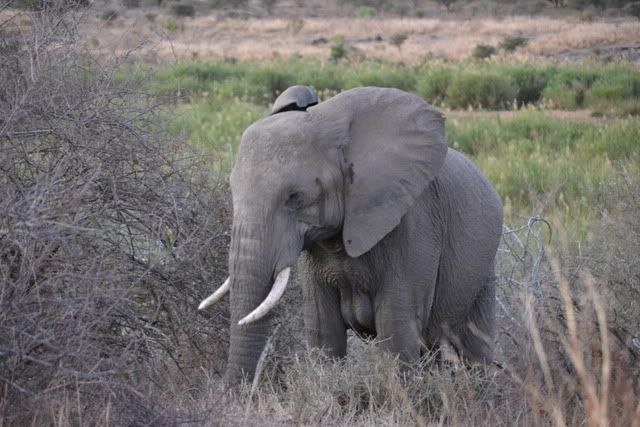 We got to the gate just in time, and tonight on the menu was "Potjiekos" with lamb shanks. So guess what we ate rather late. The kids was really hungry because usually they pull up their noses for "potjiekos", but tonight they enjoyed it. I thought Zoe would moan because of the salt in the food but she didn't, Good girl. Tonight I heard a very strange sound but Shane told me that it was a owl. We got to bed at 11:30pm, much to late and tomorrow is a early morning.
6 Dec 2013 - Tambotie
7 - 13 Dec 2013 - Satara
---
Posts: 20
Joined: Tue Jun 16, 2009 6:10 pm
Location: Secunda
Hi there all, sorry for not posting for a while but these past few week were really too bussy, but it seems there might be a bit of a breather for me.
Thanx for the guys still keeping up with my TR. So let's go on.
Day 4 Morning
So today we wanted a early start, but guess what we forgot to fill up the petrol tank so we had to wait for the petrol station to open.The car was nearly empty and we wanted to drive all the way to Tshokwane. I remember a previous time we were in the same dilemma at Satara but luckily the petrol station were open early so all was fine. But for some reason today it didn't work that way. We waited and 6:05am we decided to go and look what was going on at the dam. Then we went back to the petrol station it was now about 6:20 but still no sign of a worker so we decided to go and see what's going on at the bridge. Then we went back and saw this sunrise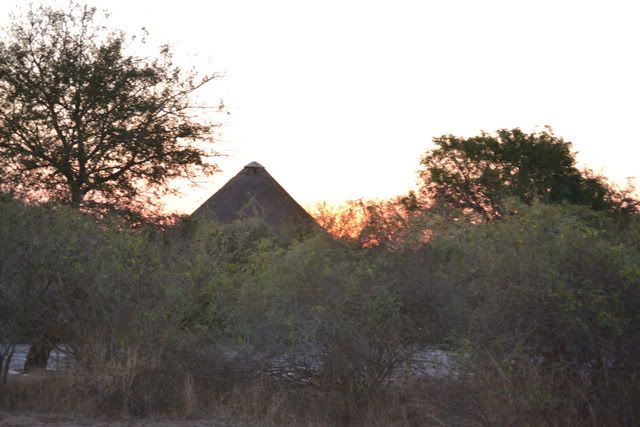 and at 6:40 the worker was there. We filled up and off we went, we just stopped at the dam once more just to make sure that we didn't miss something. At the dam were the usual hippo's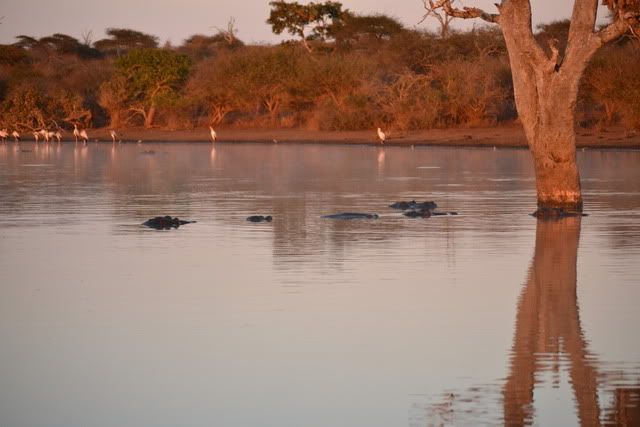 The statue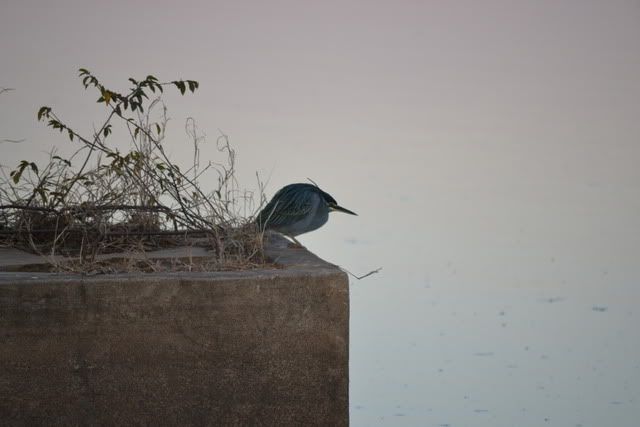 And some Egyptian Geese
This little bird was also there but I am not sure of the id
Because it was getting late we decided to do breakfast at Mlondozi and lunch at Tshokwane. Towards the bridge we saw this elephant
Then we went over the bridge, what a peacefull setting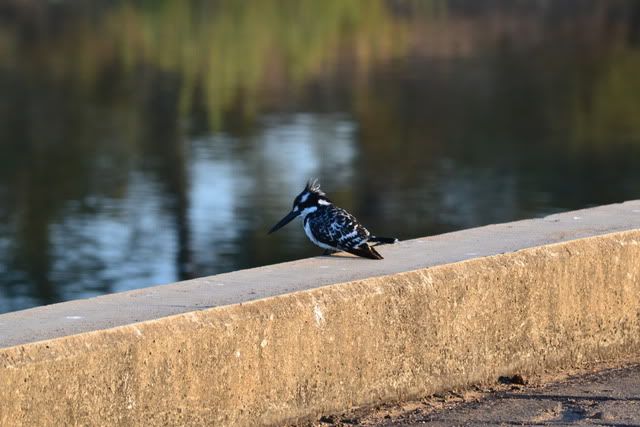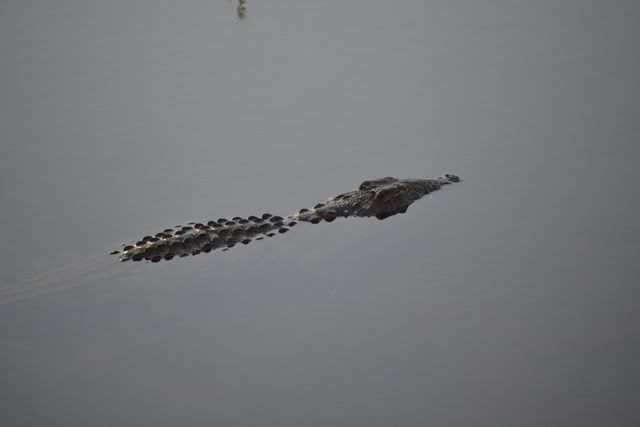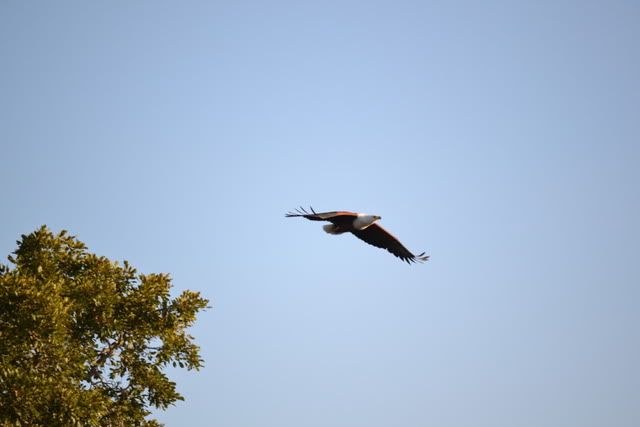 So further on our way to Mlondozi we saw this
Some vultures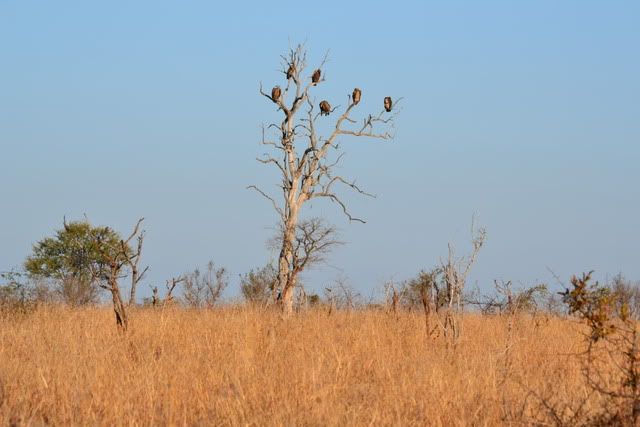 This bird
Some Kudu and Zebra going towards the water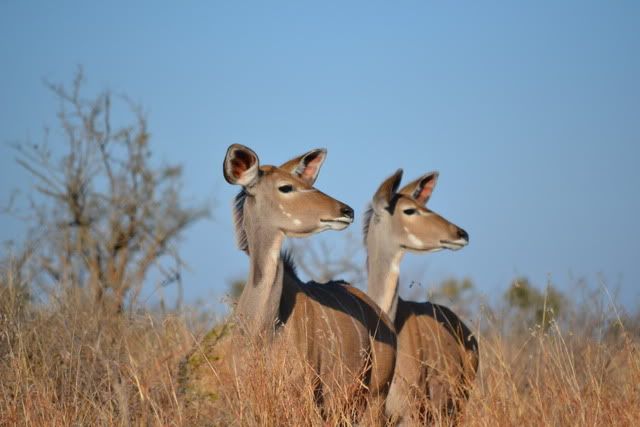 This elephant looked really peacefull, but trust me looks can be deceiving. He just stormed my car when I passed it. I just put my foot down on the petrol but it was like a dream the wheels were spinning but the car didn't seem to move. I just kept my foot on the petrol and luckily the car moved and the elephant didn't step on it.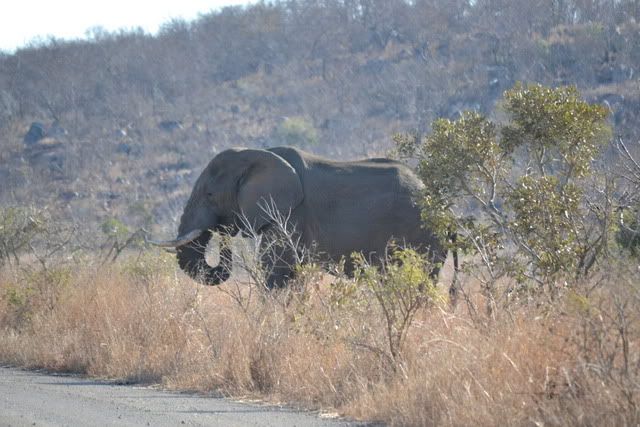 I was really shaking, it took me a while to get over that one.
A giraffe walkig in the grass close to Mlondozi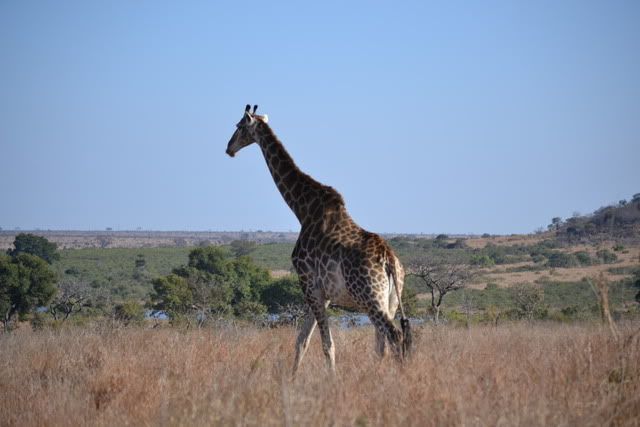 We had some left over "potjiekos" for breakfast. This bird kept us company. I think it is a Mocking Cliff-Chat.
Some Hippo's in the water and a lot of Zepbra's having a drink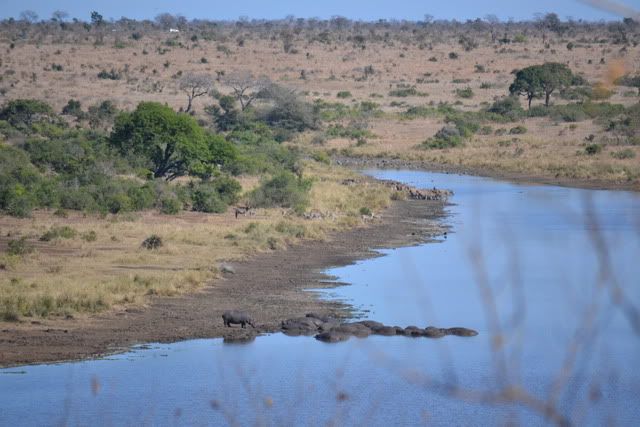 While we were there Shane took this pic of Gareth checking out his camera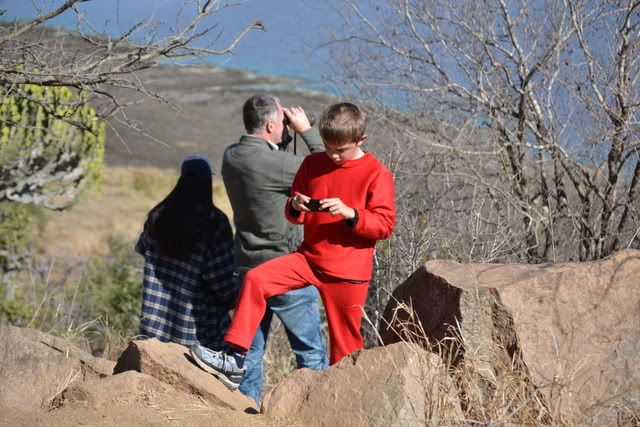 And then he made Shane set up his camera to take a family pic
Last edited by
wildtuinmal
on Wed Sep 21, 2011 8:51 pm, edited 1 time in total.
6 Dec 2013 - Tambotie
7 - 13 Dec 2013 - Satara
---
---
Who is online
Users browsing this forum: No registered users and 5 guests