Junior Virtual Ranger

Posts: 214
Joined: Mon Oct 12, 2009 7:46 pm
Location: United Kingdom
Hello everyone - this is my first post on the forum and I feel strangely nervous?!
Is that normal?!
First off I must say THANK YOU so much for creating such a great site - I love reading about everyone's adventures - heightens that wonderful sensation of anticipation for our next visit every time I look at the stunning photos! I also have the webcam running in the background at work and at home 24/7 just to make sure that I have a little bit of Africa close to my heart - it is amazing what you see! My favourite was while I was on a business trip in the States and I went back to my hotel after a meal out with colleagues tired and ready for bed - but a quick glimpse at the webcam had me transfixed for about half an hour as I watched a pride of lions coming and going from the water hole - amazing - forgot all about my jet lag!
We are so excited! We (including me -South African through and through, my English husband and our hybrid two daughters aged 13 and 11) fly out from LHR to Jhb to Nelspruit on Thursday/Friday 1th October to start our adventure in the KNP! We have two timeshare units next door to each other on the Hippo Bend at Ngwenya Lodge where we will be staying the first week. The 2nd unit is a gift to my son for his 21st which is in May and we plan to buy the two girls each one for their 21sts so that the whole family can come together for one week in our beloved Africa every year. Unfortunately for him he is at university now and cannot join us on this trip
Last year, also in mid October we had daily sightings from our deck: elephants, buffalo, rhino, hippos, waterbuck, kudu , impala (of course) , crocs ...and the most exciting thing of all ... 4 young lions trying to take down a buffalo - we felt like we were in the midst of a David Attenborough documentary! Today's Ngwenya post reads that 4 of the big 5 have been spotted from the decks as well as a huge croc taking a kudu but having to share it with 5 hyenas and a jackal – hope that KNP is saving some osf that action for us too!
We took daily trips to the Park via Crocodile Bridge and on the first day within 10 minutes from entering the park we saw 2 young cheetahs! There were no other cars (we'd already been told that there was LIT as soon as you turned off on the S28) so we enjoyed our private viewing in peace for about half an hour watching them grooming each other and playing – MAGIC!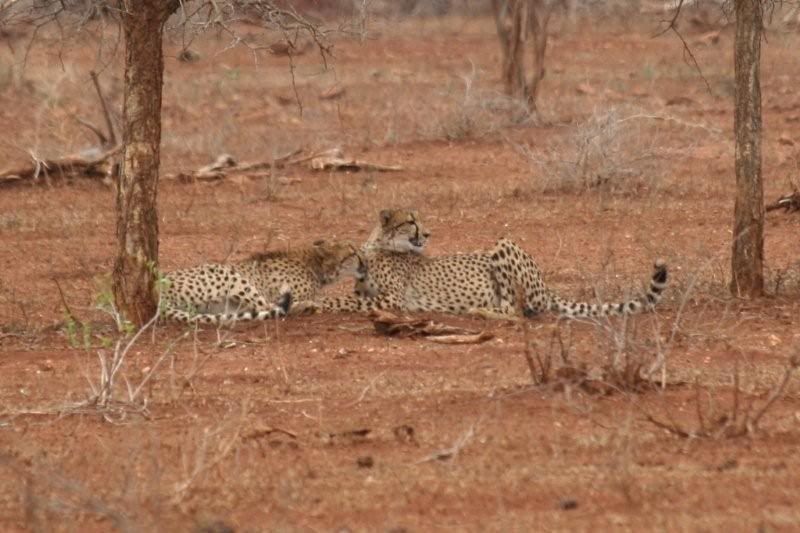 We then drove on to join the back of the queue viewing the LIT – stunning! A very special moment for us because despite visiting Game Reserves on an annual basis for the entire 42 years of my life – this was my first LIT!!! If you look at the photo carefully you can see the impala kill in the top right branch of the tree...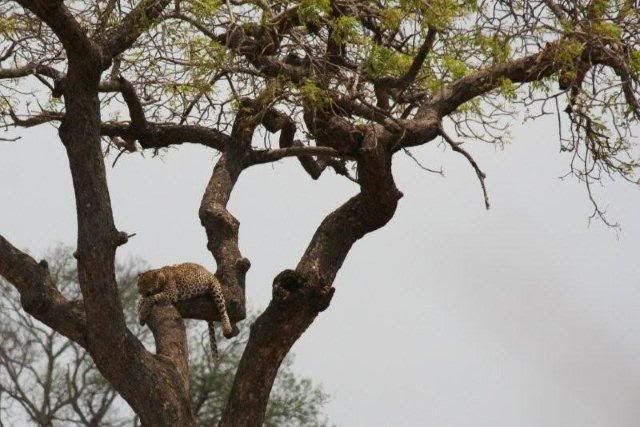 The leopard looked full and snoozed so we moved on – and what did we see not ten minutes later – a pride of lions sleeping in the shade! The girls were beside themselves as they had spotted them!
We drove to the Nthanyathi hide and as we came out we were lucky enough to spot a white rhino peering at us as we came out of the hide – a bit too close for comfort as we made a dash to get in the car!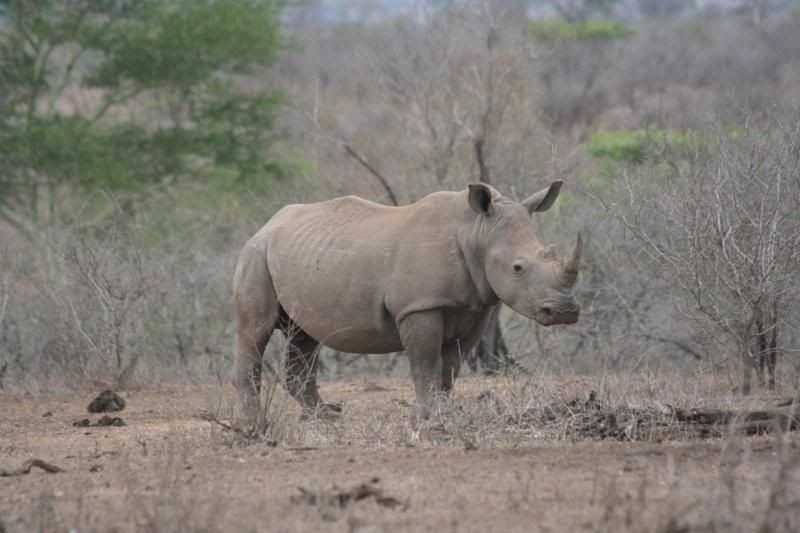 We stopped for drinks at Lower Sabie and delighted with the success of the day decided to head back to the Lodge for an afternoon cooling off in the pool ...but we were in for more treats! A HUGE herd of buffalo crossed our path – we had to wait almost an hour before we could get moving again as they all sauntered down to the stream to have a drink...they were joined by a lone white rhino – just wonderful listening to them snorting and watching them play fighting.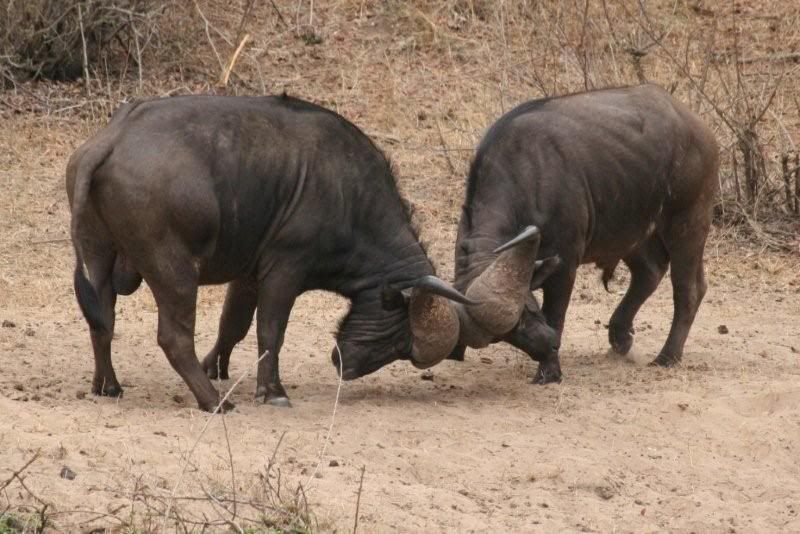 We drove on and to our delight a huge herd of breeding elephants crossed our path making a total of 5/5 of the BIG5 in a mere few hours!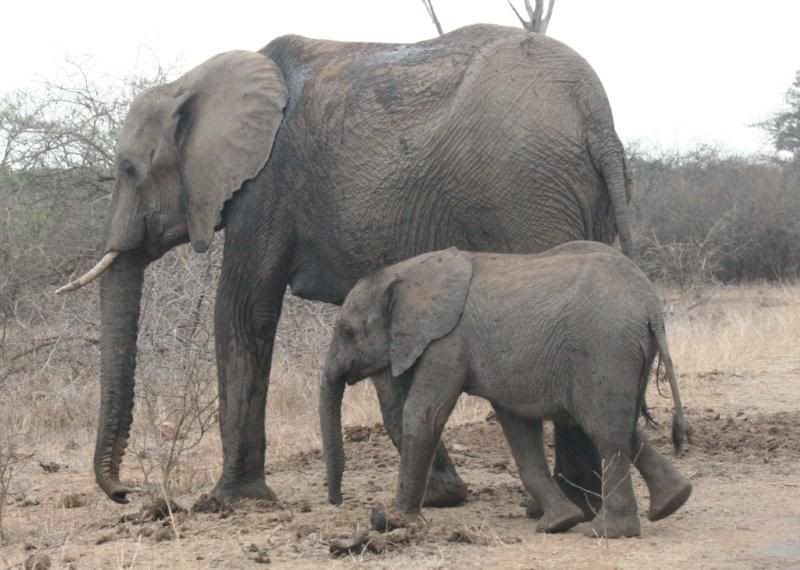 It was now 40C and heading back to Ngwenya thinking about cold beers and that cool swimming pool so we were rather startled by this big hippo that suddenly ran out across the road in front of us – scary moment! Closest we have ever been to one! Don't know who was more shocked!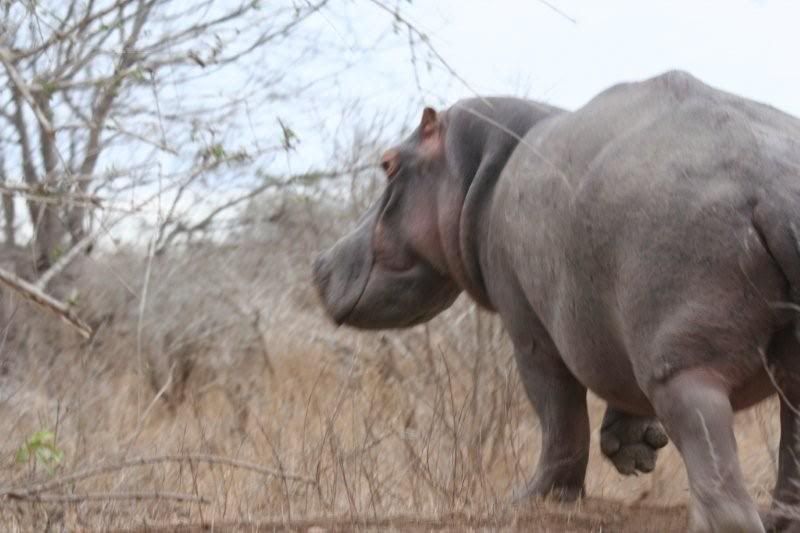 As we were approaching the Crocodile Bridge exit this hyena was on the side of the road watching the world go by!
What a wonderful day! Just to top it all off, we had a quick peek from our deck before our swim to see who was visiting the river – and saw a lively troop of baboons – We LOVE Africa!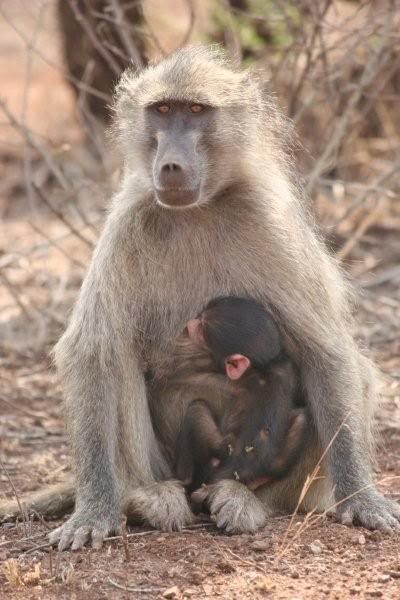 Our week only got better with more of the Big 5 on a daily basis with the cherry on top of a lions feasting on a kill on a night drive and WILD DOG! Just fabulous...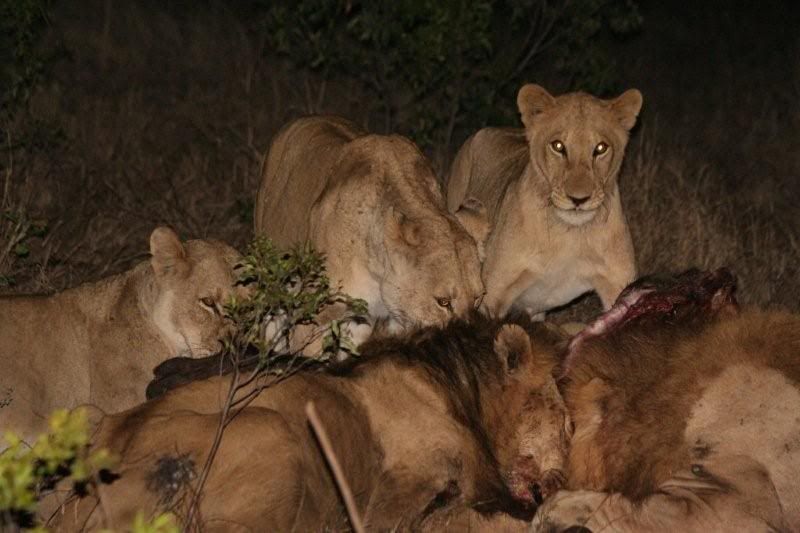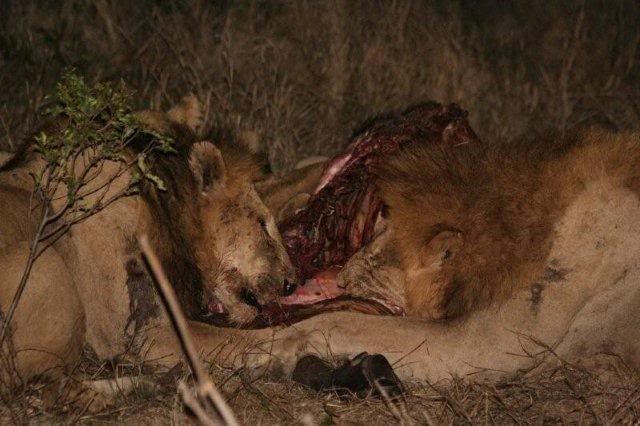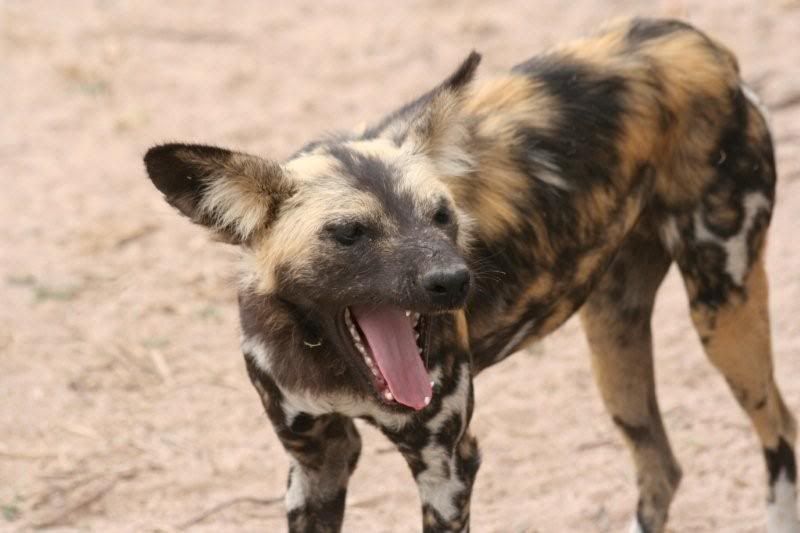 My hubby is very excited as he received a Canon EOS 7D with a 500mm lens for his recent 40th birthday – can't wait to use it! On this trip we plan to learn more about the birds of Southern Africa – so hopefully the new camera will come in handy! We'll fly our yellow ribbon, so be sure to say hello if you pass us by – I'll post a TR after the trip...after KNP we head off to a private game reserve near Hluhluwe, then to Cape Town to dive with the Great Whites, then to Vic Falls before camping out in the Okavango Delta with a mokoro for 5 days...bliss! Until November...
Adieu from the Earwakers...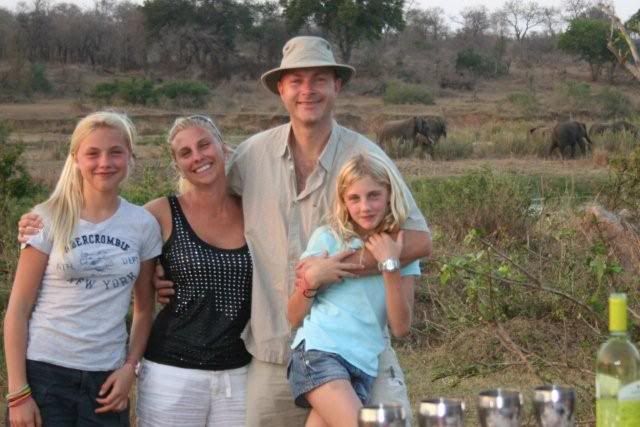 2017:
3-5 July: Bateleur Camp, Timbavati
6-9 July: Sand River Bush Camp, Kruger National Park
16 - 18 November: Tamboti Tented Camp, KNP

2018:
6-9 December: Djuma, Sabi Sands
Kgalagadi
---
Who is online
Users browsing this forum: No registered users and 3 guests