Ok, I think I might have fixed it!!
PART 1
Hi All
Unfortunately I dont have the time to write a proper trip report, so here's the condensed version.
Last year we (my mother and I) had the most amazing trip with sightings that were definately once in a lifetime. We had 5 different wild dog sightings, saw honey badgers, side stripped jackal, porcupine, civets, 3 leopards, and many many lion sightings.
So we were a little worried that because we had been so spoilt last year, this years trip might be a bit of a let down (we will always enjoy kruger even if we dont se any animals, but you know what i mean).
Oh how wrong we were!!
6-16 Sept 2010
We flew to Nelspruit and spend our first 3 nights at Biyamiti, 3 nights at Satara, 2 at Pretoriuskop and 2 and Berg en dal.
This is a bit of what we saw: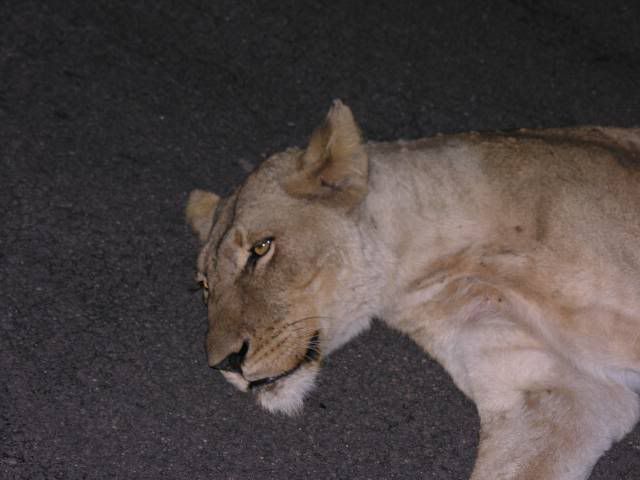 This is on a night drive at Biyamiti. There were 2 young females and a male who we followed for ages. They were very relaxed and didnt mind that we were so close.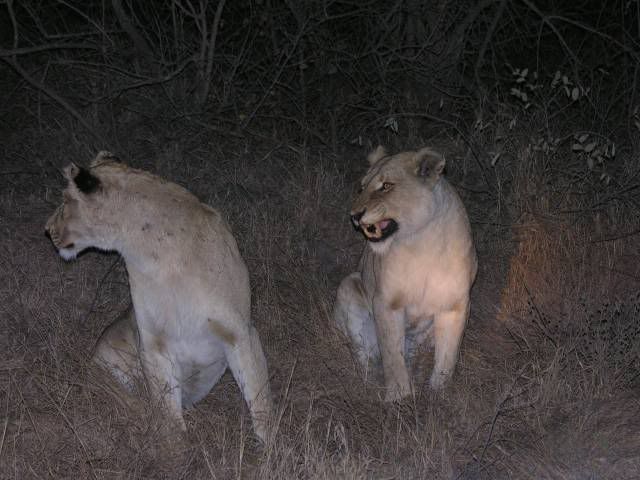 We also saw a honey badger on this night drive. I never thought I see one again in my life because they are so rare! It ran across the road with a tortoise in its mouth! too quick for a photo.
On our way to Satara we saw our first 2 cheetah (ever, not just on this trip!!!)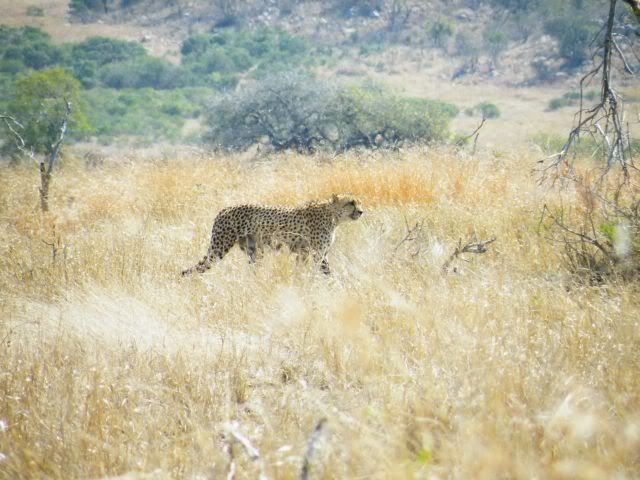 We were so excited I cant even explain it in words!! Our trip had just turned into more of a success than we could ever have hoped for!
On to Satara, and the two male lions that we spent the afternoon with. These guys are obviously very used to people because it was as if they didnt even notice the cars!!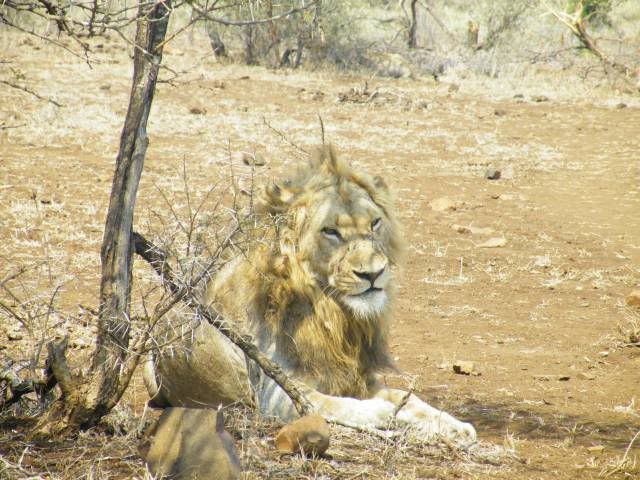 He was so beautiful!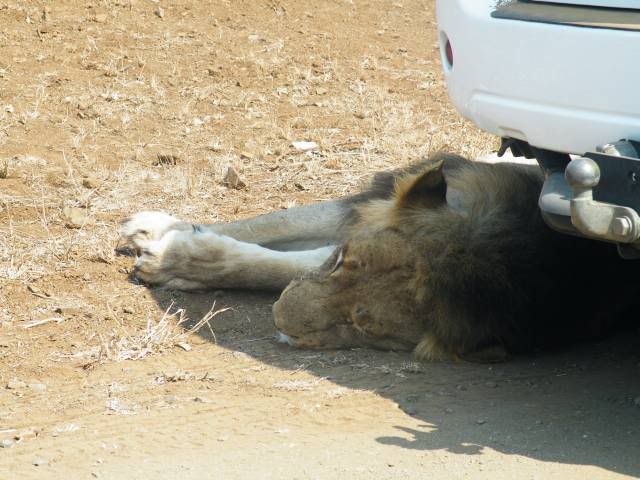 This guy wasn't going anywhere!! The car had parked to have a look at the lions, and this guy went straight for their shade and was fast asleep!!
---
On the drive from Satara to Pretoriuskop we came accross 7 leopard sightings!! 4 of them we just missed by literally seconds!
But we did see three leopards in one day. One was in a tree with its kill- right next to the riad. I have lots of photos, but the tree was quite thick and they arent that great. The other leopard was lying in the middle of the road and got up as soon as we came around the corner.
And the third: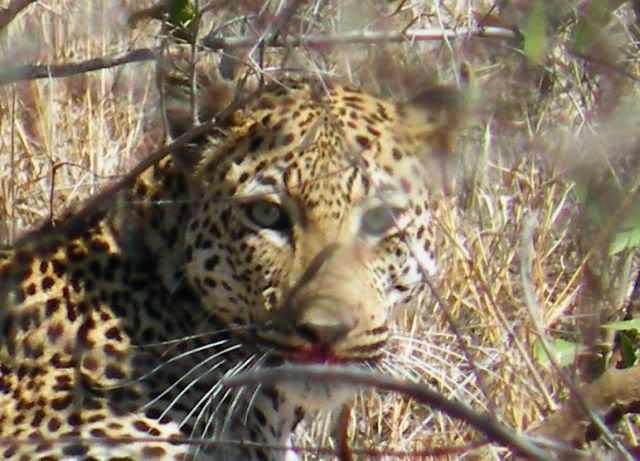 yes thats blood on his lips.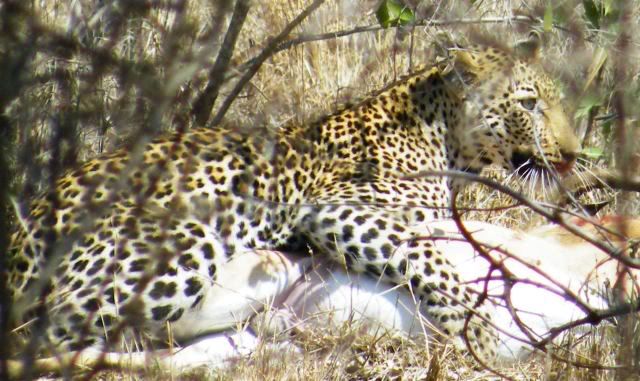 This video is taken with a stills camera so the quality is very bad, and please excuse my mother in the back ground freaking out because she thinks the Impi is still alive! This leopard had killed an impala literally metres from our car. We were only the second car to stop (the first car must have seen the kill) so we had an excellent view! This is just a few seconds after we arrived:
sorry, I see that my videos are not working, any advise?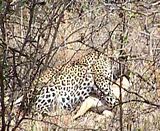 Unfortunately we literally saw him for about a minute then a huge bus came passed and he ran away (not too far I'm sure). This bus was making such a loud noise, I'm surprised that the tourists inside ever get to see any animals because they can hear you coming from miles away!! I really dont think busses should be allowed in the park.
Just as we thought it was a bit unfair that we were having such amazing luck, and that it was only fair that we didn't see anything else for the rest of the trip:
video
And our final cat sighting was this lovely pride with 5 absolutely adorable cubs:
video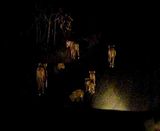 ---
Thanks everyone!!
It really was the most amazing trip ever!
I've already booked for next year, but what could we possibly see that could top our last two trips- a family of servals cuddling in bed with me maybe?

The leopard with the impi was really amazing, we'll never see a leopard sighting as good as that again I'm certain. It was literally a few metres from our car, we could hear him!!

If I get some time this weekend I'll try to write a bit more about where we were etc, and maybe post some more pics.
---
Hi All
Thanks for all the comments- yes, it truly was the most amazing trip!
Just a little more info about the trip:
We started off at Biyamiti. As it always is- what a pleasure. This camp has something so special about it that sets it apart for the rest.
It was on our night drive that we saw a honey badger (running across the road with a tortoise in it mouth!), and the 3 lions on the road. All of this on the Biyamiti private road. A word of advise- everything happens within a few kms of the camp, so if you ever stay at Biyamiti, make sure you travel up and down the private road close to the camp, that where the sightings often are.
Next it was off to Satara. On our way from Biyamiti to Satara we saw our first 2 cheetah near Mlondozi, Apparently there were 6 of them that were chasing a wildebeest (but didn't manage to catch it). Four of them had already crossed the road by the time that we got there, but we were lucky enough to see the last two crossing just in front of us. It was all over in a matter of seconds, but as this was our first cheetah sighting ever, we were like little school girls grinning and giggling for ages afterwards!! It was really special!
Satara is a great camp, and we had some lovely sightings there including the one of the male lions right next to the road. It was quite funny because we had heard about the lions but didn't know exactly where they were, so on the way we stopped someone to ask them. They told us how to get there and then warned us to look out for the lion that was right next to the car.
So off we went and we found a huge male lion lying very close to the world- dead to the world in his slumber. It was about midday and hot, so he wasn't even aware of us. We assumed this was the lion lying right next to the car because he was very close to the road.
Then while we were watching him and taking some pics, the lady next to us gestures to her passenger side, and through her window we can see another male lion lying right next to a car, actually touching the tyre! This is obviously the lion 'right next to the road' that we were told about! This was on the s41 between s100 and H6.
We also saw side stripped jackal, 2 more honey badgers, and a civet. These were on a sunset drive so I wasn't paying attention to which roads we were on!
Next it was off to Pretoriuskop, and it was on this leg of the journey that we had our 7 leopard sightings- but we only managed to see the leopard 3 times.
The sighting of the leopard killing the impala has to be one of the most amazing things I've ever seen- and probably will ever see. It was just so close to the road that we could hear the leopard breathing/panting.
It was a bit sad to hear all the impala making out their warning 'barks'. They were all close by, so they could see what was happening to their fellow impi!!
I showed my video to a few of the rangers I saw on the rest of the trip and even they were envious!
Pretoriuskop is another great camp. This was our first visit to this camp and we thought it was lovely.
This is where we had our amazing cheetah sighting. The two young cheetahs were sitting just a few metres from us, it was AMAZING!! It was close to camp on the corner of the H1-1 and a no entry road a few kms before Shitlave. I must say, the 2 dams on the H1-1 are both really stunning!
Unfortunately we had two bad experiences in our 2 days there that left us not wanting to return- but it wasn't really anything to do with the camp, it was the people visiting it.
On our second night there our neighbours were having a party! In Kruger! I was too tired to get up and shout at them, or phone the manager, so I just suffered through it until I finally fell asleep after midnight- but I don't even know what time they went to bed.
Then on our night drive we also had a huge group who were using the experience as a chance to get drunk in the bush, and weren't really interested in anything else!!
Like I said, it wasn't the camps fault, but due to our overall experience we won't be returning.
Our next and final camp was Berg en Dal. We had a great perimeter cottage. These cottages are a bit dated to say the least, but they are comfortable and functional- and the showers are always superb!!
On our night drive we came across a pride with 5 tiny little cubs!! They were so cute and we were able to stay with them for quite a while. Unfortunately their mother has TB, so you will see in my pics of her that she is wearing a collar. That's because they treat lions with TB because it can be life threatening for them.
In total we saw just short of 100 white rhino in 10 days! On one sunset drive we saw 16 rhino at Biyamiti! And on our drive from Biyamiti to Satara we saw another 18 (on the same day, so it was 34 in one day!)
And at Berg en Dal we saw a group of 11 together under the shade of a tree. I had never seen more than 4 together, so it was quite a sight!
I have a few final words about the camps-
We had a great overall experience of the camps. The staff were always great, everything was handled efficiently, and the guides on our drives were always fantastic!
Some of the accommodation could definitely do with a face lift (mainly BnD and Pkop), but none of it was dirty or tatty.
As with our last trip, we found the aircon to be very noisy in all of our accommodation (Biyamiti doesn't have aircon). On some days it was 37 degrees, and the nights were sweltering and it's terrible because either you are too hot to sleep, or its too noisy to sleep (and I really mean noisy, not just an annoying hum!!)
The other thing that really annoyed me is that we did drives in all of the camps we stayed at, sometimes two drives per camp, and only at Pretoriuskop did we have enough spotlights (except Biyamiti that uses a small game truck where you only need to spotlights)!
There are meant to be 4 spotlights for each of the big game trucks, 2 per side. When it gets dark and you have less than 4 spotlights, it decreases your chance of spotting animals, which is essentially what we were paying for! So I feel a bit cheated when there aren't enough lights and I'm sitting there for 1.5 hours staring into the darkness and we don't have a single sighting!
Anyway, the pros beat the cons one million to one, so after I'm done ranting I need to watch my video.
I put together a short video of our trip.
Now some of you might see a slight resemblance between my video and one posted by Floriscathy in April.
Well, my video is in fact a blatant copy of FlorisCathy's, even down to the music, and for this I must appologise. You see, when I saw her video in April, I was absolutely blown away, it was so stunning! And from that moment onwards I was set on making a video of my own for every Kruger trip in the future. It actually fuelled my photography!
So I'm sorry Floriscathy, but that's what you get for making such an amazing video!!
I hope you guys like mine:
http://www.youtube.com/watch?v=xvjbBB4lNQs
" onclick="window.open(this.href);return false;
---
---
Who is online
Users browsing this forum: No registered users and 4 guests