Well after many many requests from anne-marie and others to write a story, I finally decided to pull the plug on "Best of KNP August 2010" and rather bite the bullet and write you a looooong booooring story named " My 2010 Kruger Trip Report"
So here I go:
Well a trip to the Kruger National Park in reality starts at the entrance to the park. In my case it was the Malalane gate. I will spare you all the detail of getting up early and drive the 518km (felt like 1000) with the usual fill up and wee stops to get there.
So…here I am, standing on the Malalane bridge with my newly acquired second hand 40D and a nice shiny 70-200 F4L IS USM lens and WOW, I'm so eager to take a snap of the crocs greeting me for the past 2 years laying on the sand with my first DSLR ever. See picture below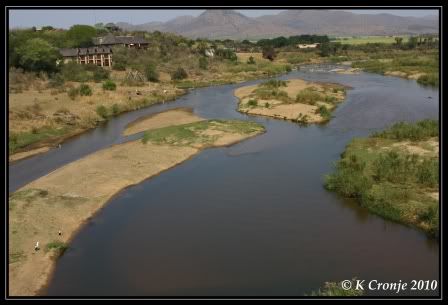 NO crocs !!!!
I cant test my newly acquired second hand 40D and a nice shiny 70-200 F4L IS USM lens. I dreamt of this moment for 369 days !!!!
Well I had such an outstanding sighting year last year and I thought to myself that this is maybe just a little accident, surely when I enter the gate today my luck is going to change. So I got into my bakkie and drove the last couple of meters to enter the gate.
What a breeze, no people, is was 1:30pm and I walked straight up to the guy behind the counter. I know now what my next years arrival time will be. Took me about 5min to finish the formalities and I went back to the bakkie to tell wifey how good the service was.
Well she was very pleased and indicated that a wee for her was in order. By now I was desperate to get SOME pic of something with my newly acquired second hand 40D. I screwed on my 28-70 F2.8L lens which I acquired 20 years ago (was sooo cheap then) and I got to this little frightful plant. Yes the plant in front, my bakkie at the back. Those of you that don't know it, please don't touch the plant, especially the flowers, you WILL regret it.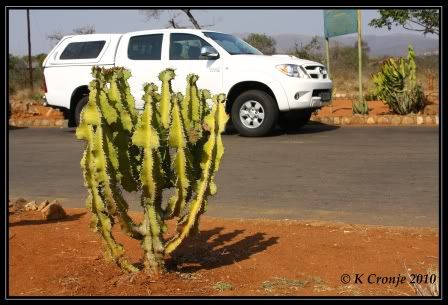 Good, wifey returned and after the usual pose and picture taking at the gate we finally entered the Kruger National Park. Like we all do, the stresses of life at the civil side of the fence flowed out of me like magic and I shoved into a nice relaxing position behind the wheel. I had lots of time to get to Skukuza.
Well we drove…….and….drove….. and yes at 2:01pm FINALLY, I got to test you know what on this 3 little Impalas.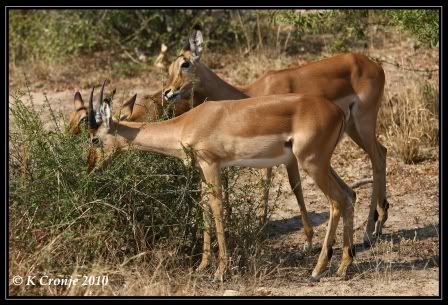 Renosterpan wasn't far from here and for the past 2 years it always delivered the goods and I decided to pay the pan a visit. Wasn't long on the dirt track that we saw cars parked in the usual Kruger sighting way and there was this fine Rhino fast asleep. I'm so glad the poachers did not get to him. I saw him and his buddy or maybe his wifey (I don't really know the difference between them) many a time almost at arm length in this area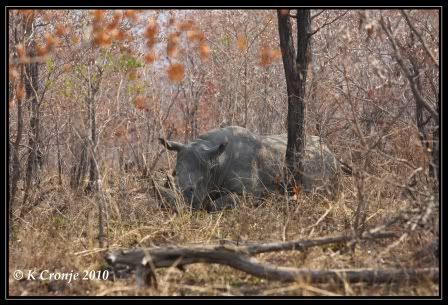 Well this time the pan was dead quiet, but I saw this skillies parked on the branches there. This was something I saw for the first time so my time was not wasted at all. I think they look cute !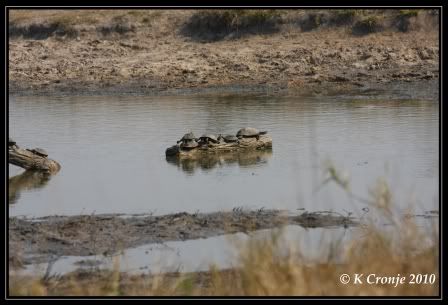 We soon arrive at Afsaal and of ALL the yellow Hornbills this was the best I could do with my first DSLR ever.
The little buck was a treat, I took the pics of him/her from a distance of maybe 2m?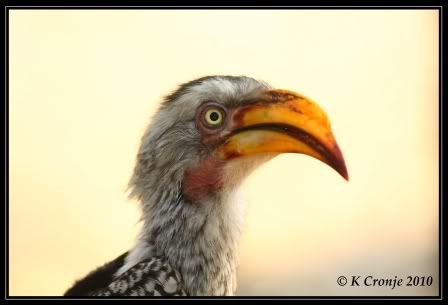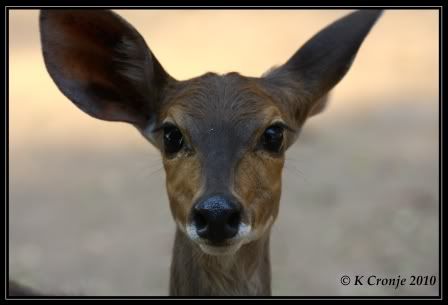 Well we finished our refreshments at Afsaal and it wasn't long before we saw our second Rhino.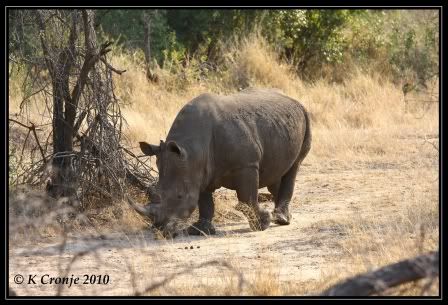 ……. And of course a few more Impala. I had to take this shot because it just might be a better one than the first one and the animals wasn't quite as plentifully as I hoped for. Can't help blaming the pitch black environment for this and I sort of wish they stop the burning but somehow it got to be done for the good of man and beast.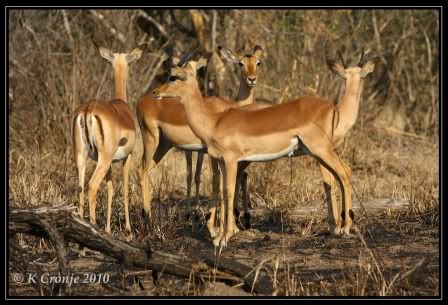 Nothing much happened for the rest of the trip to Skukuza and after a quick book in, the Impala statues got my attention and I decided to pay a visit, of course with my newly acquired second hand 40D.
Well I suppose my artistic side got hold of me here….no explanation given…..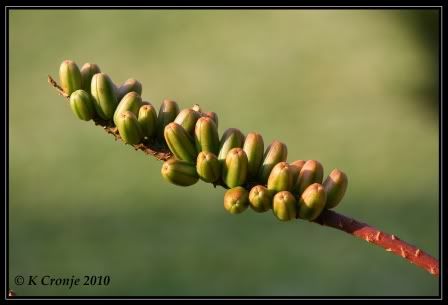 After this photo session me and wifey got in the bakkie to go sort out the bungalow and unpack. It was much later when we decide to pay the shop a visit…..well not me. I decided to go for a walk to see what creepy crawlies I can take a pic of at the river. There were quite a lot of them.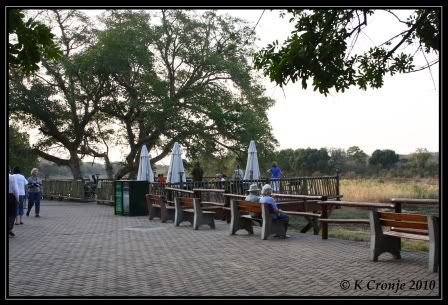 Back at the bungalow I went through my usual routine of fumigating
ourselves with a can of Mortein aerosol and of course switching on the electric mosquito killer. Those nice new ones with the little liquid bottle screw on. Well just for in case an unwelcome mosquito want so have a bite, a little insurance you know……
………….Yea is was time for a sleep and as I was lying in my bed daydreaming of all the animals I'm going to take a snap of tomorrow I dosed off into dream land with the roar of a Lion the distance. Wifey on the other hand was awake all night trying to spot a spider dangling off the straw roof.
After all, it is the jungle we're in.
…………..to be continued
Last edited by
boogels
on Thu Sep 23, 2010 11:01 am, edited 1 time in total.
---
Day 2 Continued morning session………..
The next morning I was wakened by the sound of vehicles passing by the bungalow. I knew we had overslept but who cares it's only 6 in the morning and there is ample time to do what we want to.
I need not woke wifey, she was awake the whole night remember!! Nothing beats an early morning in the bush, for some reason I love to be in the bush during winter. Nothing beats the straw colored grass and the trees deprived of leaves. I especially like the Mopanies at Letaba this time of year still with winter colored leaves on them.
At home I punced in a route for every day into my GPS and soon our day started and I followed the purple route indicated on the Garmin. Pretoriuskop was not far off.
I decided to take the S3 from Kruger gate hoping that there would be a lot of animals along the river bed. Till today I don't know if I made a mistake or not but there was absolutely zero animals or birds till I got to this lone baboon. I started to feel just like him and I was starting to blame the farmers across the river for maybe taking pot shots at the animals this side. Well it was just a thought how would I know?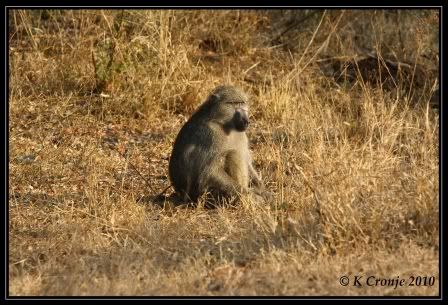 Not long after this fine sighting, I came across the S4 leading to the S1. It's decision time. Do I carry on, or do I turn here to get on the S1?? I finally decide that the farmers along the river are to blame and I took the S4. My GPS of course, protesting with an off route warning and it started recalculating like mad. In the end it was purple routes all over the place. Lucky me, I had an old school real map of KNP with me….problem solved. One can't really relay on this electronic gadgets. I remember spotting a lone Blue Wildebeest and a huge Buffalo heard at a distance along the S4
Yes of course I thought I made a mistake taking the S4, of course it would have been better to stay on the S3, Murphy's Law. You all know that!
On the S1 we spotted a few Kudu cows also too far for a pic.
Well, well then our luck changed. Again a bunch of cars parked like an accident made us see one of my personal highlights of the 3 year visiting.
I think of a Ground Hornbill on the ground. I would have never try and spot them up a tree!! There they were all 3 up a tree. Fantastic to see them in a different way. I managed to get few snaps and this is the best of the bunch.
After a few minutes drive from there, we turned onto the S3 again to Pretoriuskop. Soon after that we got to some lovely Giraffe and Zebras.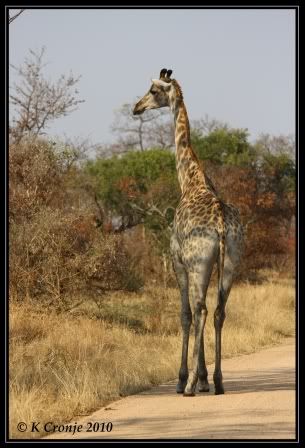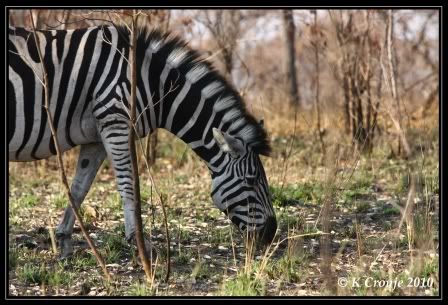 Don't know why the animals are always on the passenger side but I managed to get these 3 shots of 2 species that is to me, some of the most beautiful on the planet.
From there we turned onto the S7 and I could not resist taking this beautiful landscape pic. This is one of my personal favorites of this years visit.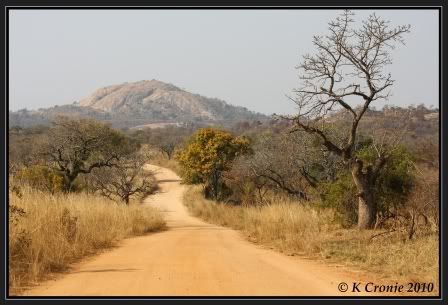 I decided to go round the rocky outcrop on the S10 and I took this photo opportunity.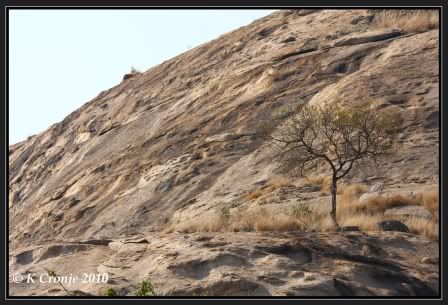 I'm quite pleased with it I think…..
It was around 9:30am when we arrived at Pretoriuskop…the right time for a cup of coffee and a snack while admiring the tame Impalas.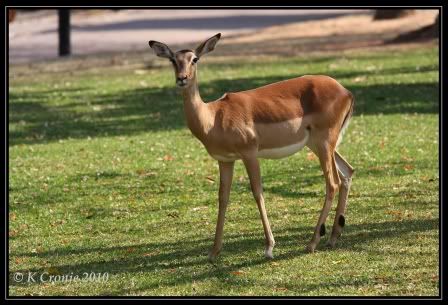 Starting the next leg of our morning trip back to Skukuza 45min later, we carried on onto the H1-1 where we had an encounter with this guy. We had to wait our turn to get to him because a lot of cars were hold up by a bakkie and caravan making a U-turn in the road.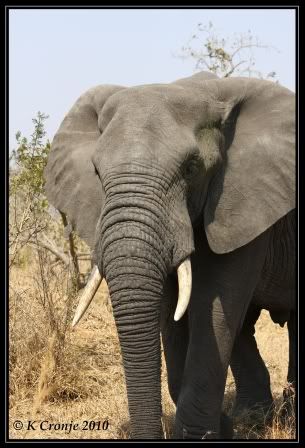 To be honest we did not see this Elly till we were almost alongside him. Strange how one can overlook a huge beast like this.
Not long after this we had the privilege of spotting this family of warthogs.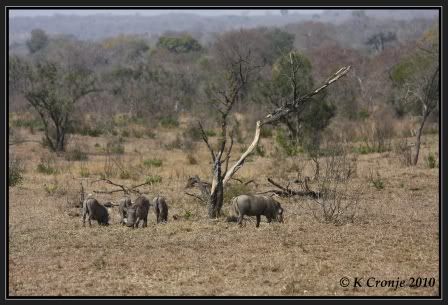 I LOVE these strange little gritters. Asses in the air minding their own business. Always putting a smile on my face.
It became quiet again after these piggies I'm afraid. Strange, I don't see animals in the burnt patches, Maybe this is why but let me tell you round about Nov- Dec after the rains I think it will be a different story altogether. Wish I can do the same route then!!
…….. to be continued
---
Day 2 continued afternoon session …….
We arrived back at Skukuza at round 12:00 noon. This was too early for a stop and I ask/told ……. maybe more ask than tell wifey that we are going to do a short trip out on the H1-2 to the Mantimahle, N'watindlopfu and Oliphant waterholes. This short trip was planned for yesterday but we arrived a bit late to do it. It's hot and maybe we can spot a few animals at the water. Wifey agreed it's a good idea!!
Well, no big deal. The route was already punched into the Garmin. I activated it and like magic the purple route appeared and I got directions again. All I had to do was ….follow it!
It worked like a dream and when we reached Skukuza gate the thing said turn right and I could not. A no entry sign forbid it! Wardens or staff only or something the sign said. Can't remember the exact wording.
Good, I like my little GPS more and more…….
After consulting the REAL PAPER version of the GPS it's only a kilometer back, make a left and a left again on the H4-1 and we are in business, and with the GPS on track , everything were running smoothly.
We saw a lot of Impala on the H1-2 ………….
I started to trust my GPS again when it said make a left turn at the first waterhole… that was Mantimahle. There were really a good number of animals. I recall Zebra, Waterbuck, Impala and Blue Wildebeest. No pics taken here because of the distance. Wifey and I decided it's time for a pit stop and lunch and as we munched away we admired the beauty of nature and some of her animals.
After lunch I tried to reach N'watindlopfu waterhole. I never got there??? ….. or did I and it was dry??? Or did I take the wrong turn?????. Maybe I stopped too early and turned back prematurely?????? It was purple routes to the left and right and to the North and from the north, they were everywhere.
I'm really going to get there next year..promice !
Oliphant waterhole was a treat ! !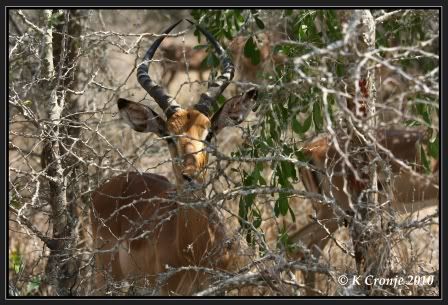 I will remember Olipants not for the variety or the number of animals but for the special moments like the little guy staring at us for a good 3 to 4 minutes……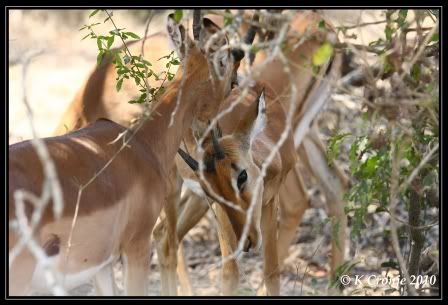 ……and for these two youngsters taking turns to lovingly scratch each others heads …….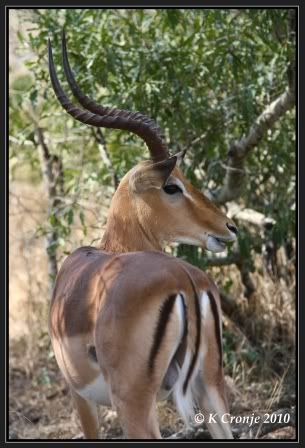 ….. and for this fine ram with his attention everywhere else but on us. What made this so special was the fact that all the shots were taken at a distance of no more than 5m and all the Impala seemed unaware of our presence and they stayed put.
We reached the far end of our afternoon trip and we headed back to Skukuza via The H12 and H4-1. We decided to make a little detour to Nkuhlu picnic site for refreshments.
Let me tell you a little secret. Since my return to KNP 2 years back I was so inspired by Yellow Hornbill, especially at Afsaal that I desperately wanted to take a typical Yellow Hornbill picture ever since. I sort of became a Yellow Hornbill stalker to say the least. I got lucky at Nkuhlu.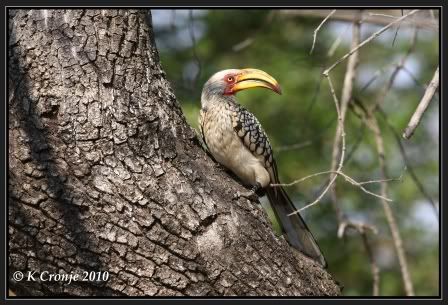 I'm particularly proud of this one. The focus was there, composure I think is good. The bird struck a good pose as well I think. Actually I wanted to zoom in a bit more but my 70-200 was at its outer limits here. In all it's another KNP 2010 favorite of mine.
Good, so wifey downed a 500ml Coke and I finished of my second ice cream topped with chocolate and almonds, first one at Pretoriuskop. This in fact officially sunk my diet plans for now.
So off we go for the last stretch to Skukuza.
I don't go fast, say 25 to 30km/h so I spotted some buffs down at the river.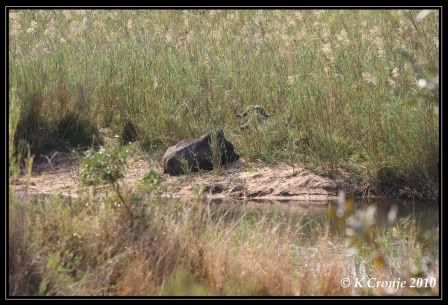 I decided to take a pic although they were a bit far. It wasn't like all that walk and crawl passed right in front of us these 2 days.
I min or two later these fine Giraffe made a photo opportunity. One that I gladly accepted.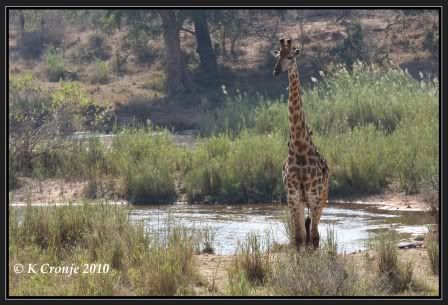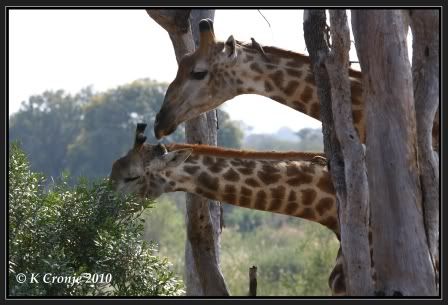 Skukuza's gates appeared in front of us much too early to my liking. After unpacking and stretching out on bed I realized that this was actually a long day. I took a tiny nap…..for wifey it was another story.
With the nap behinds us, we took a walk to the river to leisurely watch the sun go down… or so I though. Getting there we saw this PRIME Buffalo…….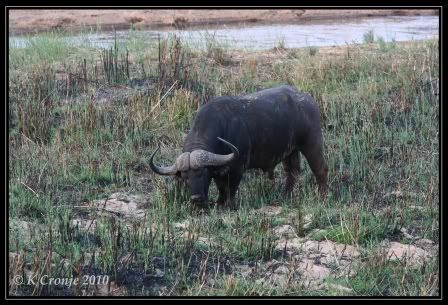 ……….. the Buffalo was there……my camera at the bungalow……..
I found out VERY quick in what hectic state my cardio vascular was trying to fetch a camera before the already setting sun sets. I think I got back some time during the twilight zone.
Lucky me there is something like IS on the camera lens and a wooden pole fence at Skukuza. Maybe the telephoto made him look a bit fatter than he really is, but I still think this is one heck of a Buff.
Tomorrow we are on our way for a one night stand at Under-Sabie.
…………. Day 3 Under-Sabie to be continued
---
Day3 Under-Sabie ……….
Well as promised I will keep the writing to a minimum and maximize the pics.
Me and wifey got up early and soon we got onto the S114 to Renosterkoppies to get onto S21 to eventually meet up with the H4-1 next to the Sabie-River.
It wasn't an eternity on the S21 when we got to this beautiful little Steinbuck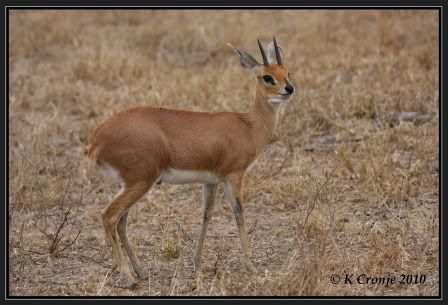 He allowed me to take quite a few shots and remained there when we drove off. So tiny but one of my favorite animals of KNP
We got to about the mid section of our S21 trip. I unfortunately can not tell you if it is Ntomanene or Nhlotini waterholes. I honestly think it is Nhlotini when we saw the remains of maybe a Lion kill scarce 30m from the road.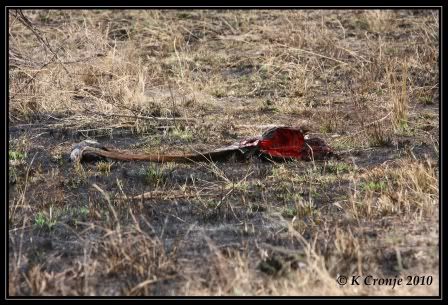 Wish the Lions if it was a Lion kill were still there but nothing in sight.
Anyway I think this is an excellent water hole to come back to sit there for a few hours. There were plenty of animals and quite a number of different species.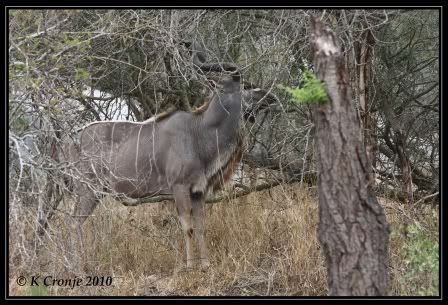 Amazing how a Kudu can blend in with its surroundings.
There were plenty animals on the S21. This is a little route I'm going to take again next year.
I got a shot or two in of these Impalas…..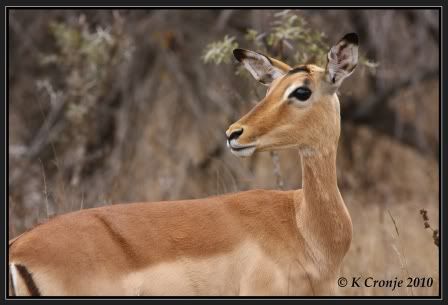 I just love the beautiful huge black eyes of this abundant antelope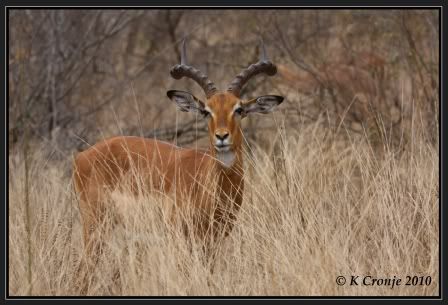 This one is one of my personal favorite shots for 2010 and also one of my best ever of an Impala ram.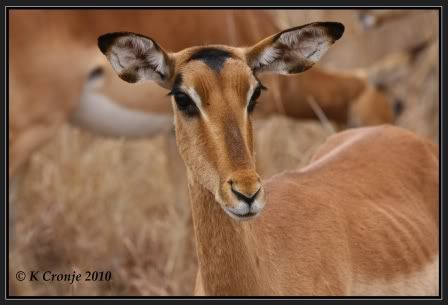 This one sort of shows you the "older look" of the Impalas face compared to the sweet faces of a Stein buck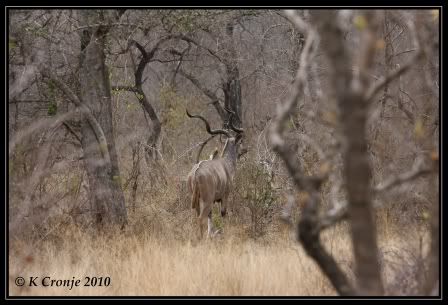 For the next shot I actually had to stop and back up.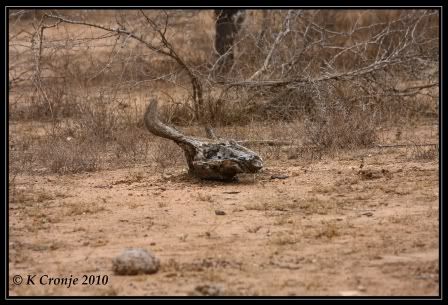 At first it looked like a scull but not exactly. I actually had to take the shot and enlarge to see what it really was. Nothing more than a peace of tree truck
We got to yet another waterhole on the S21.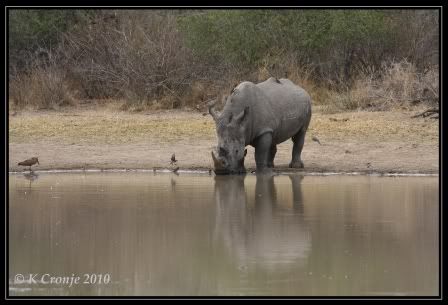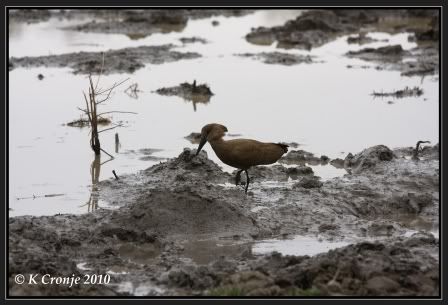 Here we sat for a good 45min's and I managed to get a few shots of some of the antelope and other wildlife visiting.
Soon after the waterhole I got to take a pic of this fine Kudu cows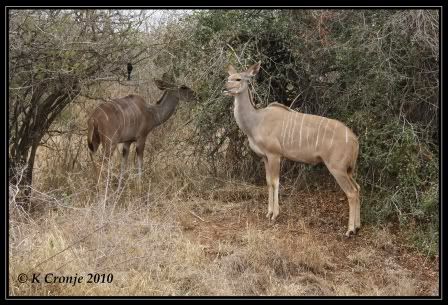 And not long after that we came across a heard of Elephant totaling maybe 15? Not a big heard but that was actually our first encounter this year with a meaningful number of Elephant. Strange the 2 years before we saw them in NUMBERS!!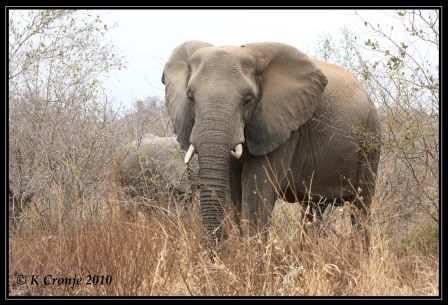 Soon after the fine Elly sighting we arrived at the H1-4 where we took a left turn to cross the bridge on the H12 to get onto the S30…a route that I wanted to take since my return to the park two years back.
About 5 min's on the H1-4 a car flashed its headlights and the driver flagged me down. Apparently there was a Leopard kill 1 min drive from there.
Well, well ……….
After a 1 min driving …nothing….
I decided that I will rather keep my leisurely pace and enjoy what is presented to me rather than go for the Leopard to find it not there. A decision that I will pretty much pay dividents.
Soon we came across this sighting.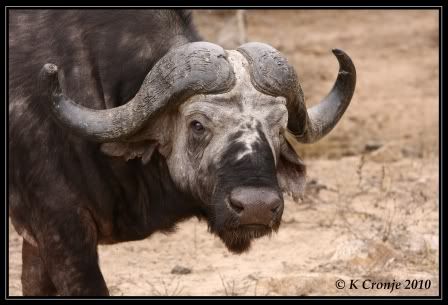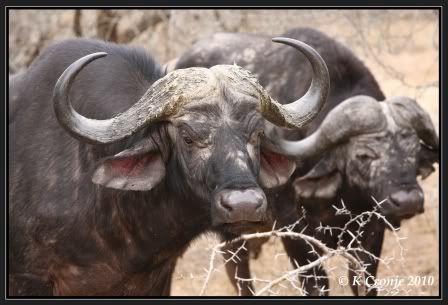 I feel very privileged to be able to shoot some pictures of actual Dagga boys. I enjoyed EVERY moment of this encounter.
We eventually came across the Leopard kill, in fact there were 2, one just before Nkuhlu and one about 100m past but no Leopards only the kills up the tree.
We turned onto the bridge on the H12 and as we were getting to the far end of the bridge, two cars were parked there, one behind the other ….. and there they were…. LIONS!!!!!!
This became my best Lion sighting ever. About 10 Lions stalking Impala. They crossed the H12 in the direction of Under- Sabie about 20m in front of us with the one female, well I don't lie if a tell you she passed maybe 1m in front of us. We could not see her as she passed. For the first time ever, I was in the front row of a Lion sighting !!! Could not believe my luck…..
A few shots of this fine sighting…….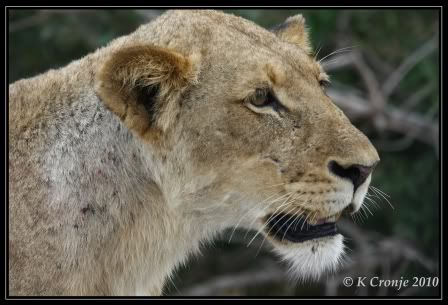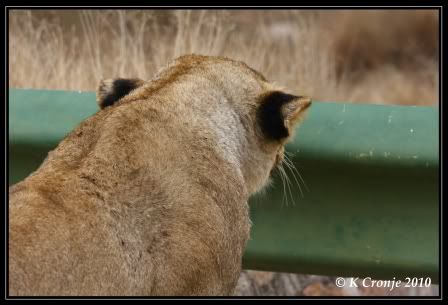 This is actually the lioness that got that close to my bakkie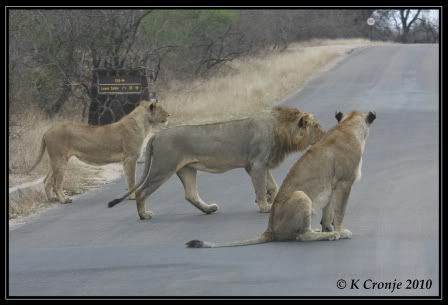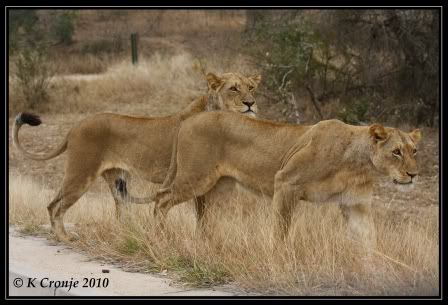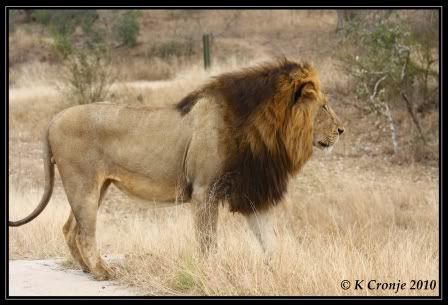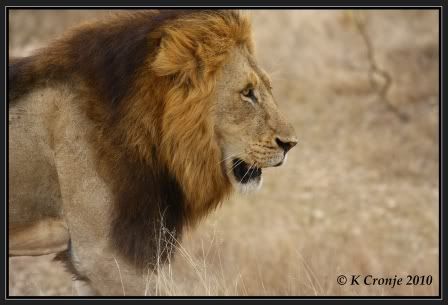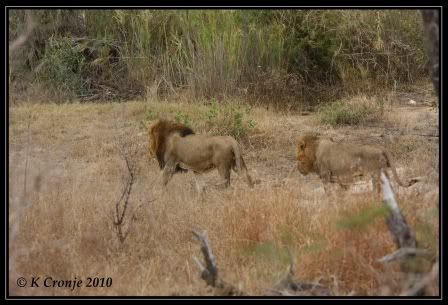 Our spirits were high when we turned onto the S30 after the adrenalin pumping moments we just had. Just show's you, the right time the right moment and you are in luck.
Well the S30 ……
It was quiet……..
I don't know what the distance was but we eventually got to only these two sightings. The Zebras of course were about 10 in number.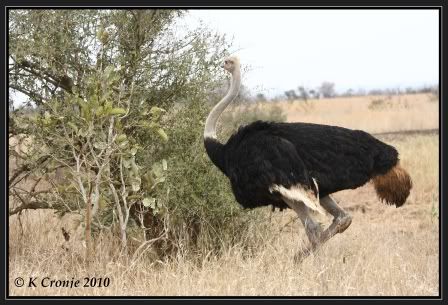 Really a disappointing route and I wanted to do it for such a long time!!
Getting onto the H4-1 to Under-Sabie we immediately spot this fine opportunity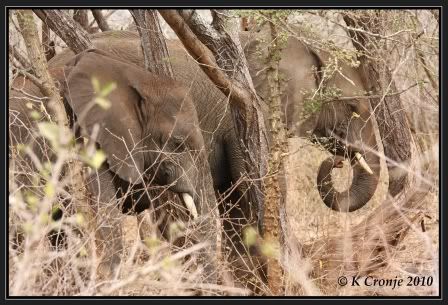 At the camp I could not resist taking this pic right next to reception.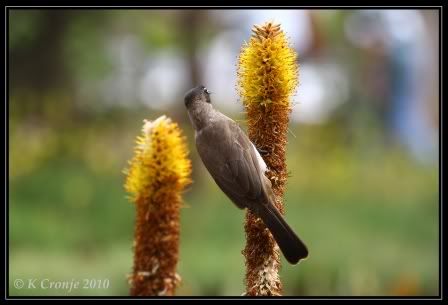 It's time too book in, unpack and take lunch. I favor the beef bolognaise they are selling there.
With the S30 behind us we were looking forward to the S29/S122 for the afternoon session
I don't know what this is… Blue Crane???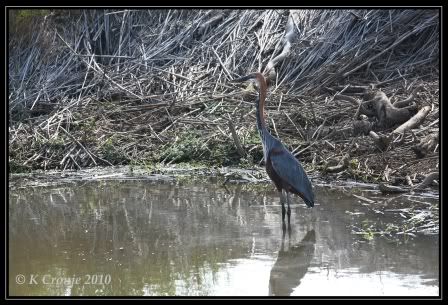 I took this on the other side crossing the river.
About 4km onto the S29 we got to this cute pair of piggies.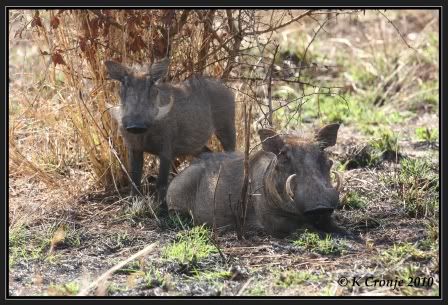 Shame, they are soooo pretty…..
I can't really comment on this one…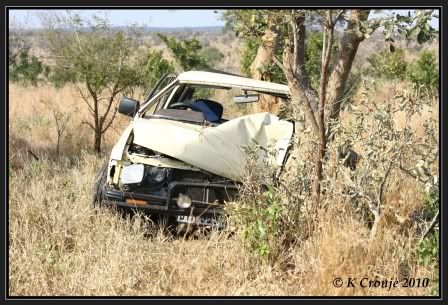 The S29 make a 90 degree left and as I can gather they/he/she came from the other side and carried on straight!!!
Close to the S122 these Zebra were minding their own business and they gave me ample time to get quite a number of shots off. This was the result..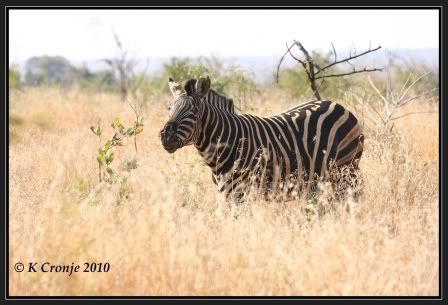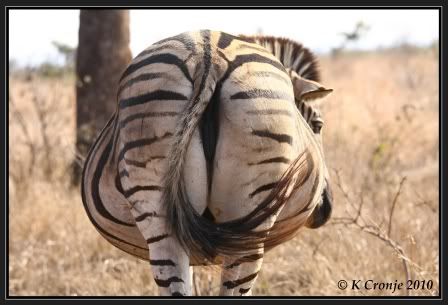 We had one sighting on the S122.
Strange how desperately animals want to get on the other side of the road when you make a stop.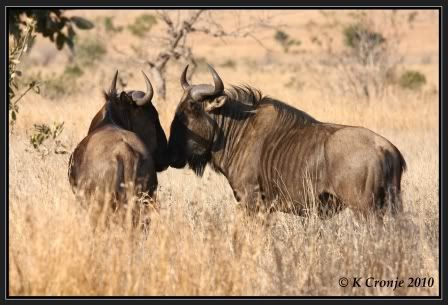 I got these two on the one side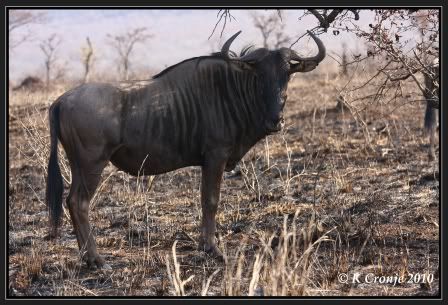 …. And these shots on the other side…an amazing contrast of surroundings….
Now left onto the H10 back to Under-Sabie.
Wasn't long before we spotted this fine Warthog.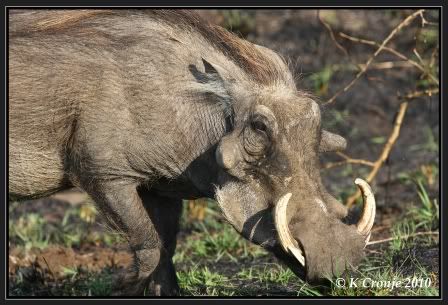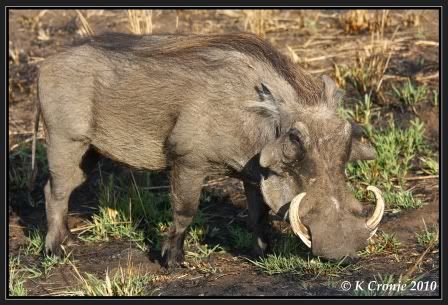 A good sample of a Warthog don't you think?
At Under-Sabie we decided to pay Sunset dam a visit and I managed to get my last few shots of the day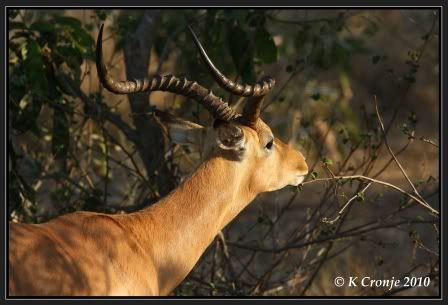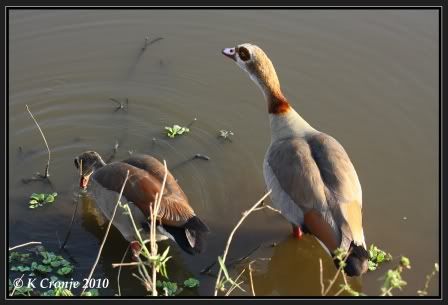 66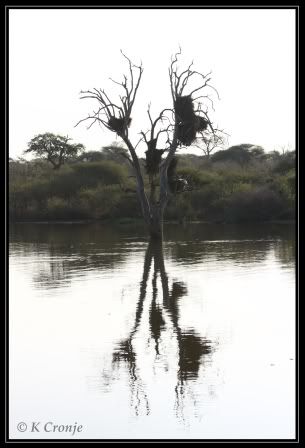 …….. Berg-en-Dal to be continued
---
Day 4 Berg-en-dal……..
What a beautifull sight when you woke up at Under-Sabie.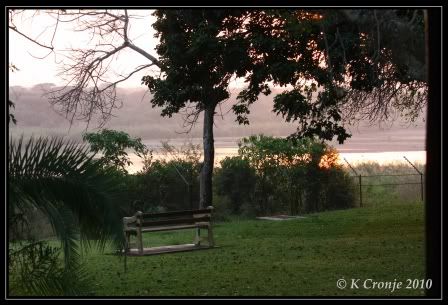 Wish I could stay another nigh.
I decided to go via Crocodile Bridge to Berg en Dal but I'm going on the gravel S28 route. We turned off the H4-2 onto the S28 to get thousands of spider webs like this. They were shiny white against the morning sun from behind and what a beautiful moment. I will call that first 1000m or so Spider Valley from now on.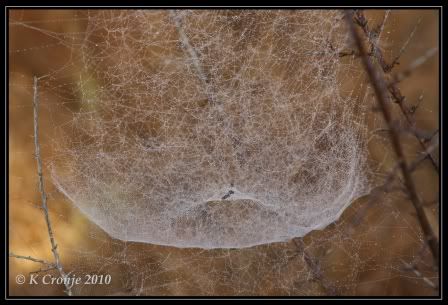 I kind of like this tranquil shot of this few Impala in the early morning sun.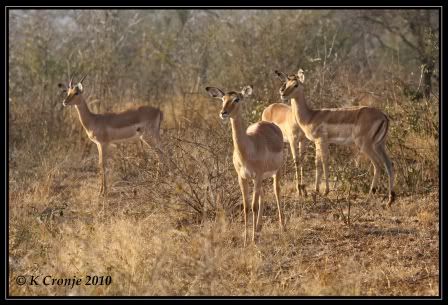 I got off at the Ntandanyati Hut. I'm glad I did and this is one of the places I'm surely returning to next year.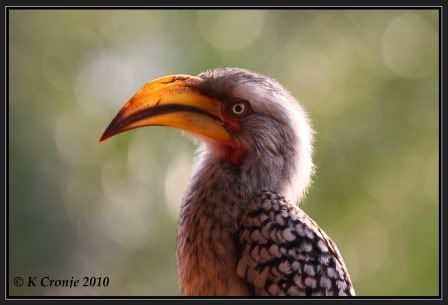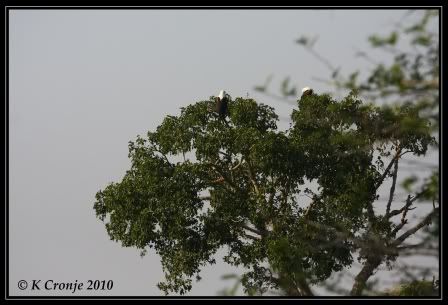 Pity this Fish Eagle were a bit far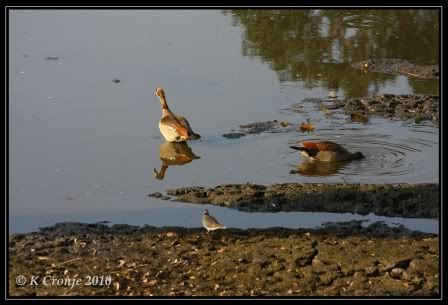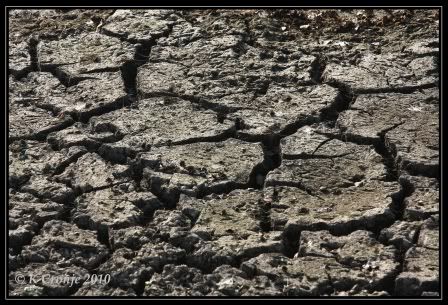 Yeah well, another creative moment….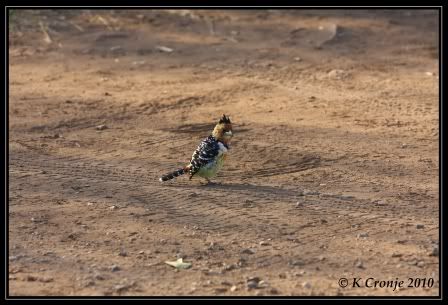 What kind of bird is this? Strange colored feather coat it got.
Next turnoff was Duke waterhole, and I got some sightings on the way there that I will remember for a long time..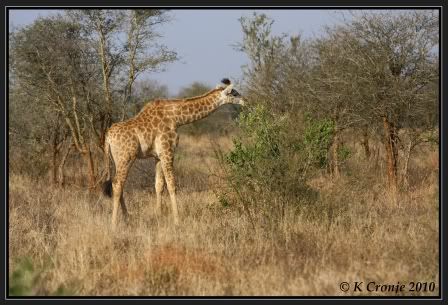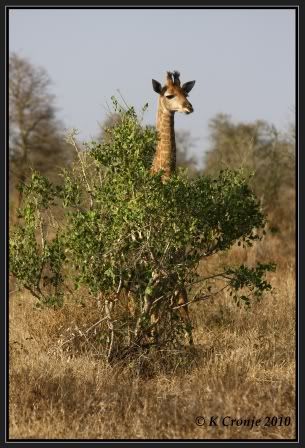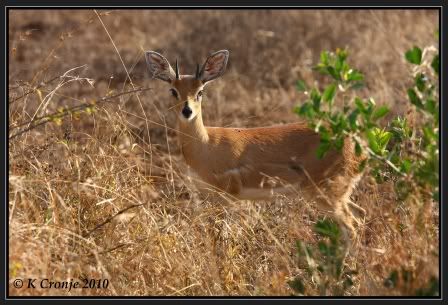 My best Stein buck pic till date I think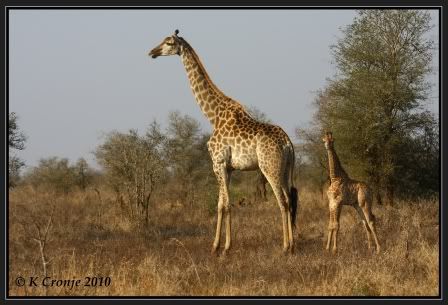 I like the little one…. Something does look out of proportion…..
The S107 only turn up this little bird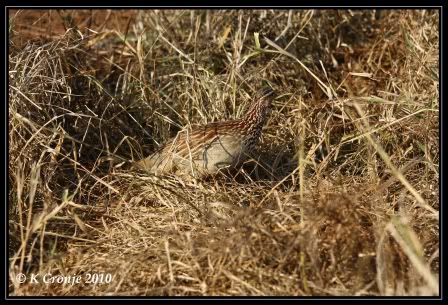 Well somewhere on the S28 we stopped at this Blue Wildebeest and stayed with the guy for almost 30min. This was the best I could do.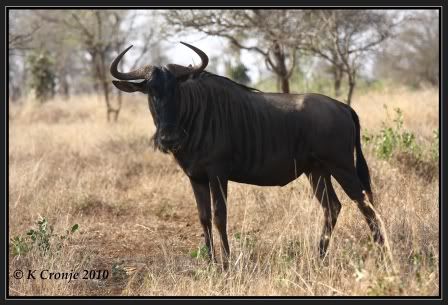 I could not resist trying another landscape pic a few minutes later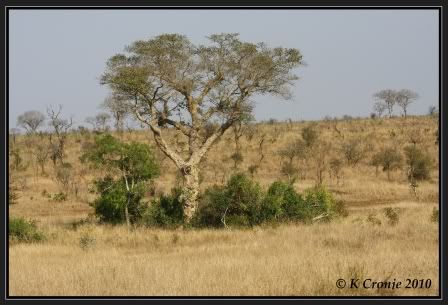 Somehow there were a lot of Blue Wildebeest on the S28 and I tried a few more shots of them. Sorry for taking the same species again and again but well we did not see a good variety this year.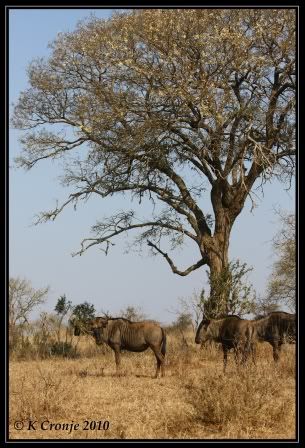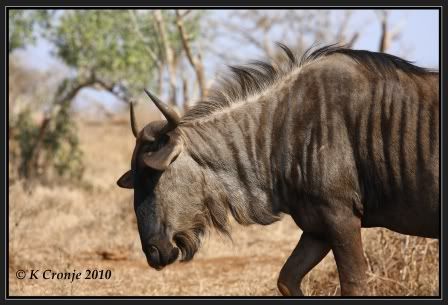 We got onto the H4-2, the last few kilometers to Crocodile, when I got this Giraffe picture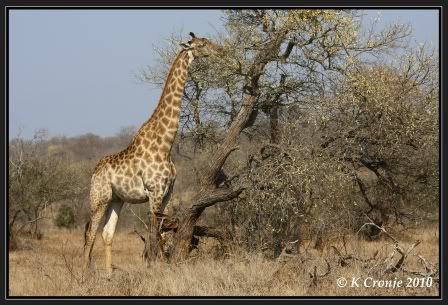 I'm satisfied that I got my Giraffe keeper right there. This one is going to the porofolio…
It was still early morning when we arrived at Crocodile around 9:45am and we slowly browsed through the Parks Shop and leisurely finished a cold drink outside before we started the next leg of our trip to Berg-en-Dal.
It was about 3km from the H5 turnoff when we spotted some more Ground Hornbills. What a treat. I don't know if they respond to movement but when my car is moving they stood still, and when I stop to take a pic they move. I managed to get a few shots..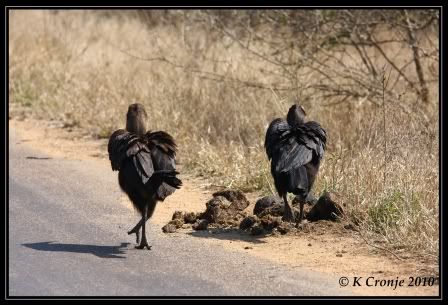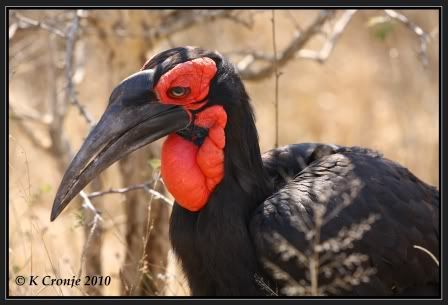 At the turnoff onto the H5 not far in I stopped to take this landscape pic. I'm actually mad at myself for not backing up maybe 60m or so. Would have made this one a bit better. I like the tree though…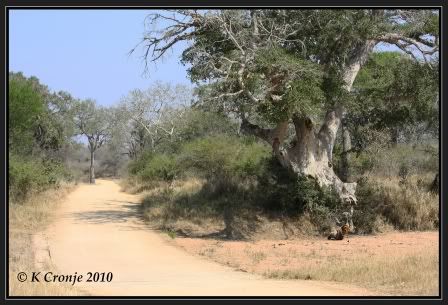 Well I don't know, I'm considering not taking the gravel route between Berg en Dal and Crocodile ever again. It's the 3rd year that it delivered not much at all. Maybe a few Impala this year.
This was my last pic before we got to B&D to book in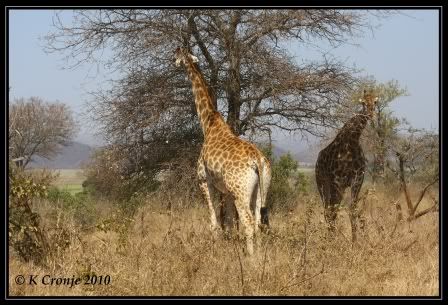 Me and wifey decided to take a rest and it was around 4:00pm when we got up for our last afternoon trip of this years visit.
This year I was particularly lucky with Ground Hornbill and we spotted a few just exiting the camp. I think the on above is a male and this one is a female.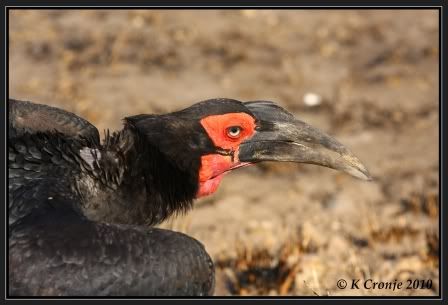 I heard rumors of a huge buffalo heard in the B&D area and soon I got lucky. This was about 7km from the B&D gate when I had the opportunity of taking some pictures of these majestic animals.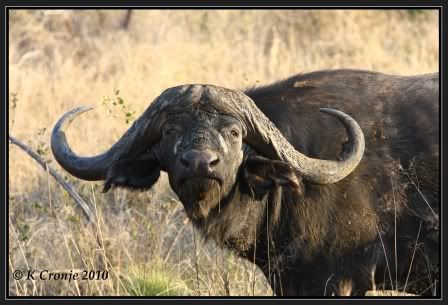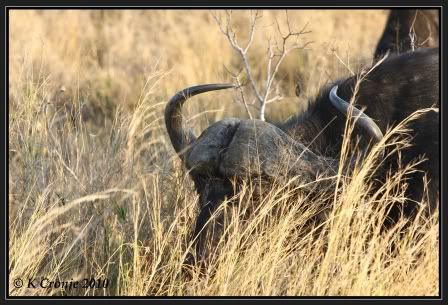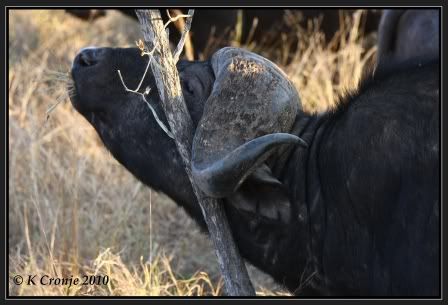 This ended my official visit to the park. What a time I had, like always……
The next morning on the Malalane Bridge this little big guy was there to say good bye,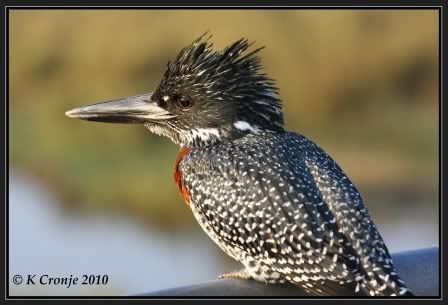 As well as these two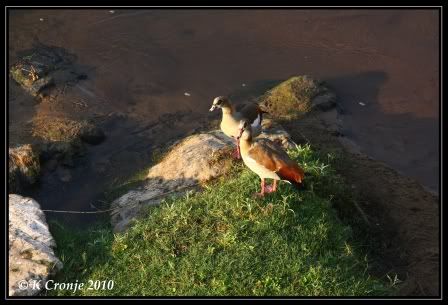 AND ……… THE CROCS !!!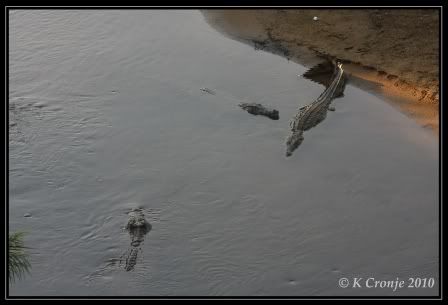 At last a picture of them with my newly acquired second hand DSLR..
Well this is the end.
Tx for visiting everybody and a special tx for the people that took some of their personal time to write a comment. Much appreciated!!!!
Hope you all found a little something that you liked.
---
Your landscape/tree pics are wonderful
wanted to take a typical Yellow Hornbill picture
Looks as if you managed
Your two giraffes look so romantic
Impala and egytian geese
The long necked bird is a goliath heron
The colourful one is a crested barbet
Stupendous pics all of them.
---
---