Yesterday (Friday 17th Sept '10) I was frantically trying to get things done and caught up before our few days in KNP. The more work I got done, the more my staff piled it on, "because you won't be here next week to sort it out"
Finaly I pushed my chair back, feet on the desk, hands clasped behind my head and bellowed "Enough, I'm in KNP mode!!!!!" and continued in that relaxed state, allowing happy thoughts to slowly scroll through my brain. Then the usual planning thoughts followed, you know...the mental check list, "what's left to do? I'll do that tomorrow, that on Sunday etc".
Then I have a vivid picture of the Landy loaded and us driving out of our yard early on Monday morning. I started wondering how early. I know the SO will be frantically repeating herself 100 times giving "last minute" instructions to the housekeeper, telling the dogs to behave whilst we're away, unplugging electrical stuff etc. with me sitting in the car patiently tapping on the steering wheel. I know not to hoot, that could cost me my life, so patient it is
Finally I see us on the road, the R40 from White River, over Bushbuck Ridge to Orpen and Maroela Camp, our heaven for 5 days.
I'm brought back to earth with a jolt, how many times has this happened over the last few weeks,10, 100, 1000? Too many times to count and it never makes the time go quicker. The waiting is the worst part, the counting down, knowing that everything is sorted and not leaving enough stuff to do to keep us busy and make the time pass quicker. Oh well, I know there are 24 hours in a day, 60 minutes in an hour, 60 seconds in a minute and time does not change, so no matter what, it will become reality either way.
This morning (Saturday Sept 18th) we woke up to a brilliantly clear Lowveld morning, I couldn't wait to get going. Pick up meat from the butcher, a few last minute supplies from P'n P and get the gas bottles filled. Oooops nearly forgot the bottles with the golden tassle and a few gold & red cans, naturally just to make the Engel Fridge not seem so empty. Fiddled and scratched around in the garage, not really doing anything, but looked oh so busy and now it's only 16:00 hours......"sigh". Why do we do this to ourselves?
Just because it's all part of the experience and every time is slightly different. All I know is that in 1, 1/2 days time I will be in the Park, my mirror adorned with our YR, free of the concrete jungle (Nelspruit is getting that way), more than that...really free for a while.
"Sigh!!!!!!"
Last edited by
TonyP
on Sat Sep 18, 2010 3:57 pm, edited 1 time in total.
---
VG, Kamadejo, fenwickh, charming1 & SusieB, thanks for the well wishes, it is much appreciated. I know you have all been there, the waiting I mean, and know that it aint easy.
Honey Badgers in camp bring back memories from my days in Etosha, I rescued a very small pup that had been injured and abandoned. I nursed her back to health and received many playfull nips for my troubles. I love their one track minds - search for food and more food, head down, go through anything in the way, I don't think they no how to reverse. Anyhow she recovered fully and because my intervention was very low key, returned happily to the wild overturning garbage cans in Halali camp for many years after.
Last edited by
TonyP
on Sun Sep 19, 2010 9:05 pm, edited 1 time in total.
---
Hi vg, 9 hours till we hit the road...provided I can get SO to stop panicking about leaving. She is one of those ladies that has to check,re-check,tripple check everything, whilst I wake up, have a shower and dress, walk down stairs,get in the car and I'm ready. I suppose that's why she checks things, 'cos I certainly don't.
The day started off pretty early for me. I was having a great sleep when it was rudely interupted by the car alarm going off at 04:30. The car was parked in the driveway as it won't fit in the garage with the tents etc on the top. I "fell" out of bed and stumbled down the stairs in the dark, nearly landing on the opposite side to my head a few times. As I got the front door open the alarm stopped by itself but I'm sure not until it had woken the whole neighbourhood. Sorry neighbors, it was not intentional.
SO says she was watching out of the upstairs window at this dingbat skulking around the garden with a golf club over my shoulder, trying to see what set it off, a really funny sight according to her. She says she saw me open the car door and looking inside and the next thing I was waiving my arms around like mad in the driver seat. Then I got out of the car, locked it again and came inside to find her holding her stomach and crying with laughter. I didn't even attempt to tell her that a huge moth had somehow got in yesterday and it was flying around inside the car and set off the alarm. My Landy has an internal motion sensor. I know if I had tried to explain she would have broken into fits of laughter again. After that there was no more sleep for me.
Well everything is set. The Land Rover is loaded with all the camping gear, food, tassled bottles, bird books, cameras etc. All I have to do is unplug the 220 volt cable to the fridge and plug in the 12 volt power supply. Then it's coffee in the thermus "pomp pot" and we're on our way. Kruger and more specifically Maroela, here we come
I am taking my laptop and 3G card so will try to keep you all updated as we go, watch this space.
---
Monday 20th Sept
finally dawns, it's a crystal clear morning in White River, but who cares. Rain, snow, searing heat, whatever, today we're off to the park. The coffee is made and packed with the required rusks. Everything is organised and the greatest shock of all, we leave exactly on time, SO is amazing and I am amazed
We are off in a puff of cold engine deisel fumes, nothing stopping us now. As we go down the final street in White River before the turn onto the R40 a guy flags us down, oh no, our first delay. The poor guy has a flat battery and is going to be late for work. Fortunately I know exactly where my jumper cables are and I'm able to get to them without unpacking the whole Land Rover, I good connection and his car comes to life. Finally we get on the "highway".
By Hazeview I feel some tummy rumblings and decide a good breakfast is in order, we turn into Perry's Bridge and sit down to a great breakfast of fried eggs, bacon, mushrooms, susages, toast and coffee, enough to last for 3 days, far to much but it was good.
The drive up through Bushbuck ridge, Acornhoek and on to Orpen is very uneventfull but as we pull up at Orpen gate to register I open the car door and get hit by a blast of heat with a hot dry wind out of the north east, a real scorcher of a day and it's only 10 in the morning. I greet the gentlemen behind reception in my best Shangaan to which he graciously replies and then switches to english for the business at hand. He hands me my permit and Maroela camp permit in about 2 minutes flat, everythings done and dusted then it's a brief exchange of pleasantries in Shangaan and a final "Enjoy your stay with us". A sprint through the heat to the car and we pass through the gate.
Imeadiately we pass the Orpen water hole to be greeted by my favorites a herd of elephant cooling off, how I envied them.
(Click on the thumbnail to enlarge the pics)
We hang a left onto the Maroela Camp road and SO spots this beautiful Kudu bull dodging the heat in one of the few decent patches of shade.
Within the short 2 km's we spot Impala, Zebra, a young bull elephant and a group of warthogs and we're through the gate of our "cage" for a few nights.
Last edited by
TonyP
on Fri Sep 24, 2010 10:02 am, edited 2 times in total.
---
Now comes the shocking part.......we drive into camp slowly and survey the scene, which one of the various sites should we choose from; the one next to the observation tower or a few in the centre along the fence. After a few "you choose, no you choose" discussions we make our decision and I manouvre the Landy into position to give us space to offload and set up camp. Now from past experience I know that if an argument is going to break out, this is the time "hold that pole there, thread that other pole through the loop, no like this" any one who has camped has experienced it, so in the searing heat I force myself to remain cool. Shockingly it works and we're set up, but all the points have to be awarded to my beautiful SO, she was just great. But wow, that ground is hard, after bending a few pegs I resort to my trusty six inch nails which work well. We open the fridge and select a bitterly cold beer and really start to relax.
I get up and stand up against the fence watching 2 elephant showering themselves with cool river sand drectly in front of us, my arms leaning against the fence above my head. SO creeps up behind and playfully tugs the hair on the back of my leg, I jump and my forearm touches the electrical strands. Zap a few thousand volts shoot through my body.
Suddenly my hair goes straight, but boy am I now fully charged and ready for the game drive we were about to undertake. Hilarity reignes amongst the chaos of me running around in small circles. Finnaly I jolt back to reality and calmly sit down and finnish my cold one.
OK we're ready to go.... the chances of seeing a lot of game in this heat is slim, but we're here to see animals, not other people.
We head NE on the H7 towards Satara and turn onto the S140 at Rabelais Hut, there's not much happening and the road is really bad with those annoying corrugations, but we're in a Landy so it can take it. For about 25 k's it's Impala, the odd Wildebees and a troop of Baboons that cause us to stop and watch their hilarious antics and facial expressions for a while. In all this time we have seen no other cars so really feel like we are in the wilderness on our own. We move on and come across a few giraffe with a bull showing much attention to one of the females.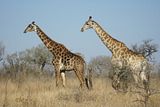 We rattle and shake around a corner when SO shouts "stop, stop, reverse a little" and there resting in the shade is a small group of Sable. How she spotted them I don't know. They were quite far away and difficult to see.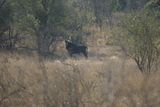 The S140 becomes the S145 and then joins onto the S36, we see a few more lone elephant and warthog amongst the numerous herds of Impala when up ahead I see a large breeding herd of Elephant making their slow purposeful way towards the road. We stop, switch off the engine and wait, giving plenty of space for their intended road crossing. I hear the noise of another vehicle comming along behind us at speed and waive him down in warning, the elephant are within 50 metres of the road. He skids to a stop right in front of us blocking our view completely
I move up along side him and we wait side by side on the road. An adolesent bull steps out of the bush onto the road followed by young and mature cows. SO looks to her left and a large bull is all but invisible in the bush alongside us. As the breeding herd completes their road crossing he slowly and majestically tags on behind.
We move on and around the corner is Shimangwaneni dam, the herd's private swimming pool. The youngsters break into a shambeling run and head straight for the water with the older cows bringing up the rear.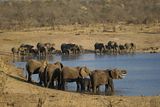 We sit and watch thier antics for quite some time until the GPS informs us that we need to move on to make camp by closing.
Just before reaching the tarred H7 again, we come across a big herd of Zebra, these three youngsters were inseperable. They stuck together like glue, moving together, stopping together, moving amongst the rest of the herd together. I wonder what the story is.
We arrived back at camp at 17:55 to end our first day in the park. The setting sun seemed to be saying "remember.... you have just had another priveledged experience in this eden"
Last edited by
TonyP
on Fri Sep 24, 2010 11:37 am, edited 4 times in total.
---
Having had a small taste of what it's like to experience the electric chair, I'm currently a real live wire, those of you who showed concern - no need, it was nothing, those of you who found it a hoot, you'd get on well with my SO. Seriously it was a huge joke. Thanks to all of you for your comments, I'm glad you are enjoying my first TR on this forum. We do undertake quite a few day trips into Kruger, so you can expect more on those in the future.
---
At this stage of the TR may I make a few observations as they occured to me particularly concerning the Orpen area of Kruger.
The few days of our stay in that area were extremely hot, certainly unpleasantly so around the camp, although the evenings cooled down nicely making it great for sleeping. The park is extremely dry, but sufficient water in the bigger dams for this time of year. Usually we do get a few winter rain showers in the Lowveld, but this year there was not one. The spring rains should arrive soon, this will make a big difference.
I found Orpen (Maroela) as a base a great venue, the camp was clean, ablutions spotless and of coarse having that real "bush" feel to it. A small troop of vervets made camp their home, but were surprisingly well behaved, this I'm sure was due to the responsible behaviour of the campers as well. From a game drive point of view, In my opinion, the Orpen area is not ideal. All roads are east of camp, so it entails traversing the rather tedious H7 over and over again to get anywhere. Generally speaking there are 2 main routes being the Talamati route and the Timbavati route. Of coarse one can go further afield towards and past Satara, but the distances are then big enough that this becomes a full day drive and in the heat we experienced these distances entailed being out there when animals were taking shelter, so hours of very little action.
One huge plus is the lack of high volumes of traffic in the area, it certainly aided the impression of being in the wilderness. Dirt roads are in extremely poor condition although the grader was out on the S36 from the H7 to S126 junction. What a pleasure it was to drive that section. I appreciate the fact that roads can't be worked on until the rains arrive, just another reason why we need them soon.
It was a wonderful few days in this beautiful park of ours, please don't see my comments as being negative, we thoroughly enjoyed every minute and conditions will be completely different once the rains arrive.
---
Monday night tales What a beautiful evening, a gentle breeze out of the NE, bright stars and the peace and quiet is just amazing. It's cool enough for SO to put on a jersey as we sit around our little fire, our chairs about a metre from the fence. We sip on Amarula poured over ice and cold Castles with dew trickeling down the can, no thoughts of supper as yet. A soft padding sound signals the first of many visits by one of the 3 hyaena that patrol the fence for most of the night. One young female decides she likes our company and lies down within touching distance. She stayes put for about 15 minutes but finding no snacks from us decides to move on.
Oh the beauty of the bush at night, we're so engrossed in it and the night sounds, hardly a word passes our lips for a few hours, the introspection and thoughts fueled by the flikkering flames.
It's 10 P.M. and we realise that our hunger needs to be satisfied, some tasty spare ribs on the by now perfect hardwood coals accompanied by potato salad, food fit for a king.
The whole camp has gone to bed and we head for the showers, on the way back SO almost trips over a spotted genet whilst the hyaena's continue their padding up and down the fence. Suddenly a new set of eyes shine from the undergrowth, an African Wild Cat makes a brief appearance and just as quickly melts away.
Lying in bed I hear the yipping of a jackal across the river, later followed by the whooping of hyaenas off in the distance, I drift off to sleep. Awakened by some small creature brushing up against the tent at about 2 AM I listen for a while. Suddenly the crash of an overturned garbage can signals the purposeful activities of a honey badger, vaguely disernable in the shadows and then I hear the low grunt of lions somewhere out there. Satisfied, I fall asleep again.
This for me is the reason I go back to the bush as often as possible, the activities of the day are just a bonus to be mulled over in the peace of the night.
Last edited by
TonyP
on Sat Sep 25, 2010 5:13 pm, edited 1 time in total.
---
Tuesday 21 Sept
. A warm cup of coffee with delicious rusks kick starts our day in that half light just before sunrise. There is a slight chill in the air, but the night breeze has died, today promises to be another hot one. We are the second vehicle through the camp gates and within 10 metres of the gate we spot this middle aged bull peering at us through dry branches.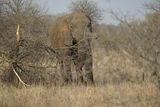 We don't hang around very long as we have planned to try our luck along the S39 northwards to the Timbavati picnic site and then on to Satara. As we turn onto the S7 a family of warthogs are out, some shuvelling earth on their knees.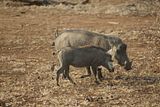 A few kilometers further on we spot a beautiful Marshal Eagle surveying the scene from his vantage point
Before we know it, we turn left onto the S39 and settle in to enjoy this fantastic route which follows the now dry Timbavati river bed for 32 kilometres. We spot groups of Impala, Zebra, Waterbuck, Wildebees, and Giraffe, but are taken in by the scenery. Around a bend a herd of Impala are standing in the road, posing for some lovely photographs and are not in the least worried about our vehicle.
Things go a bit quiet for a while until we catch up to 3 vehicles from KZN. A troop of baboons has attracted their attention and to our dismay one of them tosses out a banana which the dominant male scoops up in the flash of an eye. I can only think they are surprised to see us coming up from behind and pull off in a hurry, not waiting to see the old guy enjoy his "luck". If people know it's wrong, why do they do it anyway?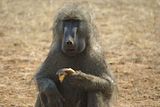 Not yet satisfied, he waits for more...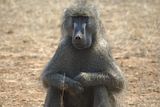 We pull into the parking lot at Timbavati and find it jam packed with cars. Not being the kind of people who can take crowds we decide to give it a miss and head down the S40 for Satara camp where I run into the shop to get some snacks. From Satara we head along the S7 westwards and find a huge herd of buffalo at Nsemani dam and a large herd of elephant on the other side of the road trying to all fit under one tree for some respite from the heat and harsh sun.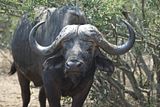 Herds of Waterbuck, Zebra and Wildebees come down for a drink and we sit and watch the goings on for quite a while. Eventually we leave on the long drive back to Maroela, the heat causing most animals to seek shelter, various groups of Impala being our only sightings along the way. We get back to camp by about 15:00 and I decide to take a power nap whilst SO catches up on some reading, the heat is oppresive. When I eventualy surface it has cooled down a little and we make the decision not to go out again, but rather to continue our relaxation in camp.
Another beautiful evening in KNP spent quietly staring into the flames, downing our favorite beverages.
---
Wednesday 22nd Sept
When I wake up I get up, no lying around for me. Today I have an excuse....my old bones are aching after the air matress slowly deflated during the night and I need to go stretch some sore muscles. Now I don't have a lot of hair on my head (read none), that's SO's input to this TR. Anyhow, I jump out of the tent in a hurry to get the water on for coffee. The erruption from our tent obviously startles and terrifies this little guy directly over my shiny kop and the next thing I feel something wet splash off the pate, the little bugger wee'd himself. After much jumping up and down on my part things settle down and I take his picture for posterity.
One thing's for sure, the aches and pains have dissapeared, forget the gym, just have a vervet pee on your head first thing in the a.m.
We're soon in the car and off on our morning drive. This morning the route is east along the H7 for 26 k's onto the S36 to check out Shimangwaneni dam again and then on the S126, up the H1-3 to Sitara and back to Maroela. We're by now so accustomed to seeing game as we go through the camp gate and today we are not dissapointed.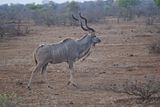 The H7 is buzzing with general game, but we're keen to get to the dam so don't spend too much time on the "highway". We turn onto the S36 and after a few 100 yards I think we're on the wrong road... heaven! They have graded it into a smooth, luxurious soft sand thoroughfare, what a treat. At the Muzandzeni picnic spot turn off we see this nesting white backed vulture and every now and then a chick pokes it's head out from under mom.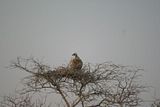 Other than a lone hippo at the dam there is nothing, but we decide to sit and have another coffee with a rusk or two incase something comes to visit, but alas - nothing so we backtrack for 2 k's and head east on the S126. This route was full of Impala, Zebra, Wildebees etc and at Sweni waterhole we discover these buffalo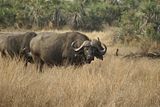 one or more of which I would assume has been bred from a TB free herd. The brand marking is a little disconcerting in the wild, but this disease has to be managed somehow.
This is a great route and I can really recommend it. By now it's really hot again and my supply of the golden liquid has run low so I dash into Satara to re-stock and we're back on the H7 toward Nsemani dam. About 4 k's from the intersection below Satara we catch this rather large fellow having fun with the traffic. It's the old Kruger ellie game of scare the tourist. He stands quietly on the side and as you make a move to pass, he shows a whole lot of false aggretion until you back off again.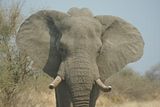 A "person" comming from the Orpen side positions his car so that his co-driver can get some pics and in doing so doing negates any escape route, some people just don't think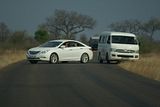 Eventually Mr Ellie gets bored and saunters off. He has a pair of the most symetrical tusks I have seen in a while.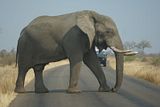 Wednesday PM to be continued......
---
I tried to get in the car like that just to teach SO a lesson for thinking it was so funny, but she locked the doors and wouldn't let me in until I had had a proper shower.
Chip, if it works we can market it and make some loot
---
Wednesday 22nd Sept contd
On leaving Nsemani dam we decide to head back to camp to have some lunch, let the temp cool down a bit and then go on a late afternoon drive. The drive back is very uneventful other than a few groups of Impala trying to dodgethe sun.
We arrive back at Maroela and then try to decide what to eat, suggestions are aplenty but the answer to everything is "mmmmm naaaa". We just plain aren't hungry after all the biltong and snacks in the car. OK then how about a power nap, "mmmm naaa" it's too hot, so then what to do, "how about a drive". Can you believe it, now I know that Chip's hair restorer has an effect, maybe not on the hair growth yet, but certainly on the brain. Where do we decide to drive to? East of Satara. So it's back in the Landy and off down the road where we have just come from. At the Satara junction we turn left onto the H6 and drive to N'wanetsi without seeing an animal. SO has a little doze whilst I sip on a few beers, then it's left onto the S41. A few hundred metres along we run across these lovely Waterbuck
A few giraffe etc later we turn left onto the S100. Now I've read on this forum that this is the road to traverse, so I'm excited and hoping to fill the camera's memory stick with pics. At the low level bridge over the N'wanetsi we spot this baby croc and a few terapin sun bathing
There's no traffic so we sit on the bridge for a while hoping for something, but no such luck. A little further on we find this young herd of ellies. This youngish female's left tusk is growing straight down under her mouth and trunk.
Near the Shibotwana waterhole we spot 2 Secretary birds and just past them some Ground Hornbill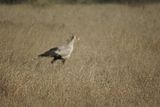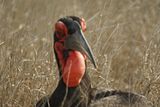 By now it's time for us to make tracks back to Maroela. Just before the H1-3 a guy coming the oposite way stops us and asks "where are the lions". Either they weren't where they were supposed to be or we just plain didn't see them. Oh well that's the way the cookie crumbles I guess. Back along the H7, nothing at Nsemani and as we arrive at our camp site our friend is already waiting for us at the fence. Oh Ja, and the monkeys have gone to bed.
A lovely peacefull evening around the fire, sipping on cool liquid and doing exactly what I love doing in the bush........nothing!!
---
Thursday 23rd
This is sadly our last day in the park. After packing up our very comfortable camp we are going to drive through the park and exit at Numbi and from there just down the road to home. For us braking camp after a wonderful few days is a sad occassion and we do it reluctantly, you know how it is, in slow motion, not saying much. Finally the chore is done and everything loaded onto the Landy, we set out along the H7 one last time for this trip, getting to the H1-3 intersection without many sightings. Then it's down to Tshokwane where we stop for a great venison pie. We continue down the H1 and turn left to cross the Sabie river and then turn right to do the "river run". Suddenly a group of cars in one of the lookout points signals some action. Close to the river bank are 2 lion, they laze a round for a while and then the male gets up and saunters off towards the water. SO manages to snap one or two quick pics, but they're not great. There is the usual pushing and shoving by a few ill manered people and I make space for a guy behind me and get out of there, not wanting to be a part of the rabble.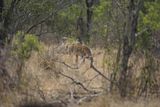 We carry on towards Skukuza and see a juvinile herd of Imapala standing in another entrance to one of the many viewpoints. SO thinks "they're so cute" so we turn into the viewpoint for her to get a few pics of their "cuteness"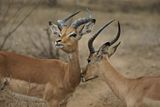 Out of the corner of my eye I see some movement and low and behold the great spotted one comes around a bush and flops down in the shade. We get quite a few pics and then the traffic starts arriving so I get out of there.
From there it's down the road towards Numbi. At De Laporte waterhole we catch a glimse of 3 more lion, but the cars are already there and their josteling for better position is not for me, so we don't even stop. Near Napi hill we watch 2 massive fires to the south, the winds are pretty strong so the fire is moving rapidly.
About 3 k's before Numbi we spot 2 white rhino off to the left but SO has already packed the camera away and we continue to Numbi gate. It is a sad moment leaving this beautiful place, but living only 35 k's away, we know we will back soon.
Thanks to all of you who have followed this TR and especially for the encouragement. I sincerely hope you have enjoyed it and that in some small way I was able to bring our trip - live into your lives. It will certainly not be the last TR from us as we intend to step up the frequency of our park visits in the future.
Keep well and those of you who already have reservations for a trip, good luck and enjoy it as much as we did, those of you who are still thinking about it, get there quickly.
---
---