Senior Virtual Ranger

Posts: 986
Joined: Wed Sep 30, 2009 11:11 pm
Location: Here...there, somewhere, where's my GPS?
Here goes with my first attempt at writing a trip report. I will give a little background to our trip before I start with the report. Our trip started on the 21st July and we departed Kruger on the 29th July. My SO and I are currently staying in Ireland, I am from Jo'burg but followed my (Filipino) wife to Ireland. My mother is currently also working overseas, so it was up to my father in SA to arrange all for us. My parents and me have been coming to the Kruger since 1994, this will be my spouse's second Kruger visit, but first proper visit where we stay inside the camps.
The plan for our trip, was to join my parents for 3 nights in Skukuza, 3 nights in Orpen and then 3 nights in Olifants. After checking the dates properly we saw that my mother had to return on our day of departure on a lunch time flight, so we had to cut our trip short by one day
.
We were lucky to find, when checking the availability, that guest houses were open at Skukuza and Olifants at the times we were looking at booking. We were able to book Absa Guesthouse and Lebombo for Olifants. We then set about inviting family and friends to join us at Skukuza, as the house is way too big for only 4 people. After much discussions and wonderous storytelling of the animals and experiences we would have, we were able to rectruit 4 newbies to the Kruger and my uncle and aunt as well. The 4 newbies would be one of my mother's colleagues from Dubai and also good friends with their 3 year old daughter from Jo'burg (have to start them early
) My mother arrived a few days before we did, so the family was able to enjoy Sun City with our overseas guest for the weekend before we arrived.
The plan from there was for me and SO to arrive early on Tuesday, do some shopping and relaxing and early on Wednesday we would leave for Middelburg to meet up with my uncle and aunt. Then to drive to Nelspruit and meet up with my mother and her friend from their JHB to Nelspruit flight. We would hire a car for the first 3 days to have all of the party in one car for the game drives. The plan was also to try and get in a game of golf with my uncle at Skukuza.
There is the background to our visit. We were ready to go. Our plans were made. Routes were planned. Lots of food packed and we are ready...first snag, where does my golf bag go?
Hmmm
, ok so I will try to hire clubs if I can, seeing as I have already packed golf clothes and shoes and the shoes is wedged between the 3 cooler boxes...
Off we go
, with a heavily packed vehicle and only the promise of wonderful trip full of animals and sunshine up ahead.
More to follow....
Last edited by
Weltenman
on Mon Sep 20, 2010 9:37 pm, edited 1 time in total.
Study the past, if you would divine the future.
Confucius
---
Senior Virtual Ranger

Posts: 986
Joined: Wed Sep 30, 2009 11:11 pm
Location: Here...there, somewhere, where's my GPS?
Thank you so much everyone for the replies.
Day 1, July 21 2010
So the Double Cab is packed to the point of tipping over, I couldn't fit my golf bag in, it is standing very lonely in the garage as its refuge for the next week and a half. We are on the way out of Johannesburg...which way to drive to avoid traffic at 05h45am...we go the N1/N3/N12 to Witbank. Traffic is not too bad and we are out of Jo'burg at 06h20ish and on the way. Meet up with my uncle and aunt in Middelburg. My uncle has remembered his golf bag so the game is still on. Drive from there with a 3 car convoy to Hall's, to meet up with the rest of the party.
Just a quick note, the roads were great, and apart from the roadworks in JHB, we had no problems at all.
Everyone met up in Nelspruit, photo's of the stadium taken, a quick coffee and shopping and we are now on the way to Phabeni Gate. The convoy of 4 vehicles now is up and running, but the combination of a slow vehicle and some bad timing at the traffic lights means the SO and I get seperated from the convoy, and I miss everyone going to the airport to sort some documentation. In White River some 45 minutes later after some haggling to get a sim card to make a call, the plan has changed, we will all meet up at Numbi gate.
No worries, off we go, meet up with convoy again on the road...and then we see the beautiful sign that awaits...
Soccer goodies are still there to see...
Kruger again, after 2 long years, finally a proper stay. But my yellow ribbon...I forgot...I know my father was asked about procuring one for us, but both of us have forgotten, so no yellow ribbon.
Anyway, no crying over spilt milk, we are off and bush awaits.
We are off in the Kruger, watching intently. My first time driving in the Park, I seem to stress a lot when we always see elephants...but I think that is more to do with the fact that I am not in control, my father usually tries to tap the elephants with the car to see them properly when we see an elephant. I never stress when on a drive with the guides...lets test the theory out...
First animal is...not in impala...it is very quiet...we see nothing...not even our convoy, the SO and I had to take a bathroom break just as we were supposed to leave, we are alone again. It takes about 30 minutes before we see this fellow...on his own. Doesn't matter, great to be back.
It is great to recall all the sightings we have had on the H1-1, the gravel road to Albasini where we saw a black rhino back in 1994. The day we saw a leopard on the corner of the turnoff to camp. The 2 days in a row we saw lions on the road to Skukuza. But back to reality, we try out the waterholes. Shitlhave is quiet, not even birds...although I am not a birder and might have missed them. We do see these birds having a stroll in the veld.
Transport Dam does have some activity, things are looking up, nice looking stork? I know someone can help with an ID
.
Scene of the famous battle, and some Impala, they are still around then...some waterbuck as well, but hiding behind the bushes to confuse my focus on the camera.
I do spot the, idiot out of his car, at Transport Dam, I politely tell him he is not allowed outside of his car
. His reply to me, "Who are you?", just shrug and tell him its the rules, take it up with management if he thinks it is wrong.
Trying to forget the idiot, we are on the way again and we do see our first Ellie, he is walking quickly from the right to cross the road, and I only see a glimpse of him walking towards me before we are passed him, breaks on and we have this nice shot of him. He looked a bit moody so I made sure I was pointing the right way.
I didn't die...I am still here and the car is fine and the elephant didn't attack the car...I think I might survive the trip...in fact I enjoyed that a lot, the jolt of adrenaline to see him walking towards the road and the car, bring on some more please...
We then get a flurry of activity, first and young impala in a hurry to eat some leaves/grass on the other side of the road, then another couple of youngsters playing. They dissapeared when we approached the area where they were, I was crawling at 5km/h hoping for them to dissapear...
, still a little cautious...
Our last photo sighting was our favourite road runners...the guinea fowl.
We did see some impala to Skukuza gate. No time to stop as we had the vehicle with all the food and the potjie had to be made, already approaching 3pm, we were expecting some stern looks from my folks for being late, but they were still busy checking in.
Check in done, party settled at ABSA House, wonderful view to accompany a wonderful house. The guest house is too big for only 4 people, but we had 10 people and it was great with the seperate bedrooms for all the couples and families.
The other cars didn't get to spot the elephants on the way. We hope to drive to Lower Sabie in the morning and have a afternoon walk in the afternoon for day 2. My parents actually feel a little embarrassed that we didn't get to see any "great" sightings for the newcomers to the Kruger. We would have loved to inspire them with herds of elephant, buffalo, prides of lions and maybe the odd leopard in the first few km's, but that isn't what Kruger is about. We have a relaxing potjie that night with good conversation as it starts raining lightly (in July??), ready for tomorrow and what it might bring.
Day 2 to follow...
Study the past, if you would divine the future.
Confucius
---
Senior Virtual Ranger

Posts: 17362
Joined: Fri Jul 24, 2009 9:51 am
Location: Germany, busy planning next trip
Lovely start of your TR Weltenman and gorgeous pics.
It is definitely a Wooly-necked Stork.
Looking forward to read more
Katja
____________
Only two things are infinite, the universe and human stupidity, and I'm not sure about the former.

Einstein
Kamadejo returns to KNP after 7 years
Balm for the Soul
---
Senior Virtual Ranger

Posts: 986
Joined: Wed Sep 30, 2009 11:11 pm
Location: Here...there, somewhere, where's my GPS?
@ Kamjedo, thank you for the confirmation, I still have some unknown birds pictures...hope you guys can help..
@ Shi, here we go with the second part, hope you enjoy..
Day 2, Thursday 22 July
Wake up early...very early, 4h30am early. Amazing how quickly you adjust to Kruger time. There is some strange noise coming from outside...some sort of whooping...get up out of bed and walk outside. Yes, definately whooping and then some, laughing? Yes, Hyena's, and it sounds like something exciting is happening. There is a lot of noise and whooping. Walk out to the kitchen area and look up, all I see is stars, and now I am in Kruger. The hyena's really are making a lot of noise, and to add to it all a lion starts making himself/herself known. I try to wake up my wife, but after a few groans that meant, wake me up and you will not get any peace for the rest of the day
, I give up and sit outside and enjoy the african serenade.
My parents are awake and we get everyone up and ready for a close to 6am kick off to Nkhulu for breakfast.
As we are more than anticipated (our 2 friend's and their child only confirmed they will join us 2 weeks prior to the trip), we have to take 2 cars. Once again I am in the bakkie with my SO and Charlotta, mom's colleague from Dubai. We are off and spot a mystery bird...but at least a good picture of the thorn bush.
It's a quiet drive to Nkhulu, not much to spot. We do see a giraffe having a early breakfast. And we do find some buffalo waiting for the brunch call to come. The bush is still very thick, the rains have been good around Skukuza, thus our sightings aren't what we promised our guests. We are really being let down....
Nkhulu is reached and breakfast is made. It has gotten cloudy now with a little drizzle. We do spot a crocodile, or at least our youngest traveller spots the crocodile in the water, and some birds on the sandbanks. No pictures as the camera's are safely tucked away from the few drops falling.
Off we go to Lower Sabie, surely the trip making sightings are just around this corner...we see a "herd" crossing the road, not the one we were hoping for, but nice baboon pictures at least. Once again I have lost the lead car, and its only the three of us enjoying the sighting.
We cross Lubyelubye, no lion on the rocks. I am sure most have imagined seeing a lion on these rocks. Maybe next time.
Once again the road is quiet, Sunset dam is full of the usual, Hippo and crocodile, and we spot this fellow lying quite far from the water. Any speculations on what happened? The hippo's were very active in the water with lot's of splashing and noise. I am thinking there was a fight and this fellow was banished from the water...
After a longer than expected stop for coffee at Lower Sabie, the drinks took forever to come to us, but the staff were all smiling and, like all our stops in Kruger at the shops and restaurants we were welcomed and served with a smile, we are off again.
We spot an unfamiliar fellow s l o w l y making his way across. We alert the oncoming traffic of his presence and we are off, as he is still now probably trying to cross the road...
Some buffalo in the river bank having a lie down. We spot more game and things are starting to look up. Lots of general game on the opposite bank, but too far for nice pictures.
We are surprised by another hippo, this time going away from the water and going somewhere I never expected to see one at 11am. He scared us a little and I was very aware that when we pass we would be between the water and our fat "little" friend. Tried not to stop between him and his route back to the water, but that means more bushes between the subject and the photographers
.
A nice picture of a Brown-hooded Kingfisher, I think, please let me know if anyone can identify. I like the way the tree frames the photo.
We spot some more guineafowl and a Lilac Breasted Roller posing beautifully. No need to be a good photographer when your subject co-operates nicely.
And then, finally, jackpot for our newbies. Elephants on the opposite bank coming for a drink. We can finally breathe a sigh of relief as we had mentioned culling needing to be introduced due to the population becoming too big, yet we hadn't seen any Elephants. We even tried to convince ourselves that they all migrated to Zimbabwe for winter...
Also showing up is a beautiful Steenbok.
Just before we all fall asleep in the car, a Gound Hornbill to keep us awake a little more. The we reach camp for lunch. A nice drive, although not the sightings we wanted to see, still more than enough to talk aboutand more promises of exciting sightings that might be waiting around the bend.
For the afternoon 4 of the party went on a afternoon walk. Our guides were Oupa and Roulani (spelling?). We were 8 in the group, the 4 of our party, an American tourist and a group of 3 men from UK, South African and Saudi Arabia.
The walk was very informative. We didn't get to see a lot of animals. We only saw a Kudu far off, and a Steenbok on the walk. We did get a lot of explanations from our guides on rubbing posts and middens. The 3 guys were very playful and did get a stern talking to from Roulani a few times which spoiled the walk a little.
For sunset we walked up a little koppie. You can see the koppie close to Kwaggaspan on the H3.
We did get to see some rhino and elephant and also side stripped jackal on the way back.I couldnt get any pictures of the rhino or the jackal.
That ended our second day, we returned to a nice braai. The next day we planned to drive a little south to find some rhino for our guests, and maybe the much anticipated golf game planned for a while now.
Last edited by
Weltenman
on Fri Aug 06, 2010 8:42 am, edited 1 time in total.
Study the past, if you would divine the future.
Confucius
---
Senior Virtual Ranger

Posts: 986
Joined: Wed Sep 30, 2009 11:11 pm
Location: Here...there, somewhere, where's my GPS?
Thank you everyone for the kind words and encouragement. Here goes part 3 of our trip...
Day 3, Friday 23 July 2010
The plan today was to drive down south a little to see if we can see some rhino. We did see rhino on the drive back from the walk, but it were only 4 that went on the walk and we wanted to let our youngest traveller see one as well. After lunch the plan is also to see if we can get a round of golf with my uncle at the golf club, something we both have been looking forward to.
So with the customary wake up at 5h15am, I am off to the kitchen to check if all is ok and to discuss the route with my parents. We decide to take the H11, S1, S65, H1-1, H3 to Afsaal. The house starts stirring with people waking up, then the first let down, my uncle has been ill the whole night. He is not well enough to take the drive or play golf.
I will have to play the next time we visit. Another reason to visit Kruger...as if we need more excuses...
We are ready to go at 6h15am and we are off. Once again the road is very quiet and we spot almost nothing the whole day. I am not too concerned as I am just happy to be back in paradise, but I feel bad for our newbies. We do see zebra on the S65, and kudu and dwarf mongoose on the H3 before Afsaal.
At Afsaal we are reduced to taking pictures and enjoying the antics of the locals.
The hornbills are particularly feisty this morning and are eyeing everything, even scraps from the tables out of their friend's beeks. Whilst it is all interesting to see, you do feel a little aggrieved that the birds are such a nuisance and feeding from the human's scraps.
On the way back we see some more kudu, this time some nice males with beautiful horns not behind the bushes.
We also run across a breeding herd of elephant feeding a little in from the road. They seem very relaxed and we can get a few photo's of the little one with its mother.
We return for lunch to check on our fallen travel partner, he is better but no golf.
We go for lunch and a stroll around the museum and the camp. Whilst I find Skukuza a little busy for me, it is the best camp to bring someone for the first time. Lots of activities to do and things to see. For our afternoon drive we decide to go to Mathekenyane for the view.
We decide to drive over the low water bridge over the Sabie river and we get to see a warthog run next to the road at the day visitor's area, deciding and checking where he needs to spend the night, picture courtesy of one of our travel partners. We also spot a nile monitor on one of the sand banks.
We return to the camp and have some more braaivleis (bbq meat), wonderful wors (sausage), with pap (porridge) and tomato and onion sauce. Tomorrow morning we say goodbye to the friends and family. One of our travel partners will go the Kruger Mpumalanga International for her flight back to JHB and on to Dubai, and the friends and family will leave us to go home to JHB and Pretoria. It was a wonderful trip with them, I was a little dissapointed with the game viewing, as we really wanted everyone to experience the special sightings, but everyone one of our travellers have said they will return. Our job is done in that respect, we can now plan for better game-viewing areas next time our friends join us and really show them what paradise can be like.
For us, my SO and I along with my parents, we need to travel to Orpen for 3 nights and then onto Olifants for our final 2 nights.
Study the past, if you would divine the future.
Confucius
---
Senior Virtual Ranger

Posts: 986
Joined: Wed Sep 30, 2009 11:11 pm
Location: Here...there, somewhere, where's my GPS?
Thank you MM, I guess the trick with Skukuza is to try and visit out of season. I like the fact that you can have the variety of choices, either a small and intimate camp (Tambotie, Orpen and Crocodile Bridge), or you can have a camp with all the amenities (Skukuza, Satara).
Day 4, Saturday 24 July 2010
Today will be the end of one part of our trip and the start of the second part. We will have to say goodbye to our travelling partners for the trip and we will continue north to the central plains for the rest of our holiday in Kruger. We expect a long day as we have to drop off one of our party at the KMIA airport and return to Skukuza for the trip to Orpen. We will also drop the rental car off at the branch in Skukuza and carry on in the Double Cab.
I wake up at 5h15am and see there is already activity in the house. We pack the car with the luggage and we are off for the short trip to Kruger Gate. In keeping with our trip so far we do not see much. It is still dark and photo's are impossible. We are out of Kruger Gate at 06h45am and off the to the airport via the R40, returning after our friend has checked in and we are back at Kruger Gate at 10h00am. Thank goodness the check out times have changed, we would have been in trouble if check out was at 09h00, but my mother and SO has checked out and the Double Cab is packed for our trip. We said our goodbye's earlier to our other friends who are returning to JHB and Pretoria, so we are alone when we get ready for our trip.
The good news was one of the departing party did stumble into the middle of an elephant herd on their way out to Phabeni Gate, and the experience is one they will remember for a long time.
We will travel all the way along the tar roads today, up to Tshokwane and onto Satara for lunch, then onto Orpen. H1-2, H1-3 and the H-7
I think everyone in the car has been a little bit disappointed with the game viewing, but we recognize that the bush is extremely dense in the Skukuza region and we can only hope for better in the Satara region. I will be honest, I have never considered the Satara area to be great for game viewing. We have never stayed at Satara extensively at Satara, so my experiences have been limited. We are also staying at Orpen for the first time, something we have been looking forward to.
After a quick bathroom break for my father and me after our return from KMIA, we grab some take away at the cafeteria and we are off. We do say goodbye to our flying friends, we will be back to see how they are doing.
We are off, I am driving and we cannot wait to get out of the dense bush to spot something special. That should be around Thsokwane. So we are settling in for the long haul. We turn left towards the H4-1, and we see something in the road. It's cat like, and it is crossing the road. Leopard!!
At 11h00am? It is quickly crossing the road. The Bakkie is overloaded and I can't get it to the place he crossed quick enough, but then again I don't want to chase it away with the roar of our engine. We see him/her again. Not a lot of time to take a picture, but my SO is able to get a few off.
We are happy, we are ecstatic, we are now ready for the long road. We are a little sad our friends isn't with us, but that is Kruger, right place at the right time. We are the only car to spot the leopard, even though 2 cars appear within seconds.
We spot some general game on the way to Tshokwane. We are all still a little tired and want to get to Orpen as soon as possible. We do stop to take a few photo's.
I like this photo with this type of tree that makes me think of Kruger.
We arrive at Tshokwane, and enjoy the Milktert and the Carrot Cake. I can highly recommend both for any visitor. They sadly do not have any Kudu Wors rolls.
We depart Tshokwane, and my father take over the driving. The bush starts opening up, and we spot some giraffe and stop to take a few photo's.
We arrive at Mazithi Dam and we come up on a few big boys taking an afternoon drink. We also see waterbuck and a lazy fellow hitching a ride.
A giraffe is also on the way for a drink and we hope we will see him in his drinking position. He does approach the water, then takes a shortcut. We miss out on a nice photo, but at least the he is safe for this drink.
On the way to Satara we come across a Kori Bustard, but he keeps the bushes between him and us, and most of our photo's are out of focus.
We start seeing more game and I am beginning to really like the central plains. We see warthog, wildebeest, southern ground hornbill, a herd of buffalo and vultures in a tree. We do not see if there is a carcass for the vultures in the area.
We have a quick break at Satara and we are off again to our destination. It is now almost 3pm, and we have been on the road for 11 hours. There is now no stopping for anything other than the special sightings. We do see general game, but only a lonely elephant on the way to Orpen. We finally arrive at Orpen and we are welcomed like family. After more than 12 hours on the road for me and my father it really makes a wonderful impression on us. We are told to expect an uninvited guest at our guest cottage. We do not spot the guest at night, but we do hear him and spot his "work" the next morning when our bin is upturned. We did empty the bin in the big, animal proof bin outside before we retired to bed. They are trying to keep the honey badger out at night, although it is not successful at the moment.
So we settle for the night for another braai. A wonderful day as we saw leopard and a lot more game on the way to Orpen. We are in full relax mode now, 4 days into our trip. Tomorrow we plan to go to Timbavati for breakfast. We are off to bed with the hyena's calling each other before they meet up for the night, and the jackals making themselves known to Orpen, Maroela and Tamboti. A perfect ending to another day in paradise.
Last edited by
Weltenman
on Thu Aug 12, 2010 8:24 pm, edited 1 time in total.
Study the past, if you would divine the future.
Confucius
---
Senior Virtual Ranger

Posts: 986
Joined: Wed Sep 30, 2009 11:11 pm
Location: Here...there, somewhere, where's my GPS?
Day 5 - Sunday 24 July 2010 Part 1
Another day full of promise in Kruger.
The original plan was for us to take my SO on a drive around the panorama route on Sunday, to show her the beauty of the area. We later decided it might be a little busy with the motorcycles on the roads around Graskop and the plans were changed to rather go on Monday, when it would be quieter. The previous evening we saw a hyena at the waterhole on 2 occasions having a drink.
After a good nights sleep we wake up around 5h30. We didn't hear the honey badger, but the overturned bin outside suggests he was in attendance. We did make sure there is nothing for him to eat in our bin. We get everything ready for our planned breakfast at Timbavati. We did visit the picninc spot once before, when we stayed at Talamati about 4 years ago. The road that day wasn't too inspiring, but then again the surface was extremely corrugated and we hardly had time to look at animals with all the shaking being done.
We set off again around 06h10ish, we just cannot seem to get our timing right to leave as soon as gates open, and we are off. The sky is dark, although it is starting to brighten ahead of us as we slowly proceed to try and see some cats. We slowly drive down to H-7. We see a couple of cars ahead of us and start getting excited. We see a hyena in the veld. He is soon joined by another hyena. It is still a little dark so we cannot get any decent pictures. We enjoy their company for a little while and follow them down the road before deciding to leave. "Wild dog in the bush", from my SO. I am about to tell her, yes we did see the hyena but the lions are waiting for us up ahead, and sometimes you can confuse wild dog with hyena. The confirmation then comes, there is a wild dog as well!!
Our excitement is bubbling over in the car. We turn the double cab around (with a 15 point turn, trying to stay out of the bush) and see the wild dog and the hyena's involved in dance where they chase each other back and forth. The wild dog does not seem too bothered at all by the hyenas, he has more than enough speed to outrun them if there is troube. It looks like the wild dog is looking for the rest of his pack. We are eagerly waiting to see if they appear as we think it is a little strange to see one on his own at this time of the day. The wild dog and hyenas keep moving back and forth along the road. It appears to me that the wild dog has a collar on, at least that is what I thought at the time. It looks like a dog collar more than a tracking collar. Only after viewing our photo's on the laptop do we see what looks like a snare wound. I have no idea why we didn't pick it up when we were viewing him. We did report it to Orpen Camp on our way out of Kruger.
You can see the red marks around the neck of the wild dog.
We reluctantly turn around and move on down the road after 10 minutes as the hyena and wild dog head down the road to Orpen. We have breakfast to get to and head down the H-7 again. Our day has been made, our trip has been made already. We have seen leopard and now wild dog as well. Even if we get to see nothing for the rest of the trip we will still remember the trip with fondness. We drive down with the excitement still in our veins. We see an eagle in the morning light.
Finally the excitement is starting to go down in the car and we settle for more game viewing. We come up to the turnoff for the S39, but there is a road block ahead after the turnoff. We decide to see what they are looking at. We speculate what the sighting ahead is thinking it must be elephants as we cannot be lucky enough to see lions after the wild dog earlier, never mind leopard. We approach slowly, there is nothing like approaching cars stopped on the road and trying to figure out which way they are looking and then, trying to see what they are looking at.
We don't even have time to see which way the cars are looking, the sighting passes the cars up ahead and crosses the road. Cheetah
, this is only the second time I see cheetah in the Kruger. the cheetah passed all the cars on the road and is now walking towards us. I switch off the car and allow him to approach us. He walks along the road and zig zags from one side to another. As he approaches us he walks to side of the road. In the car we are in heaven. We snap as many picture as we can.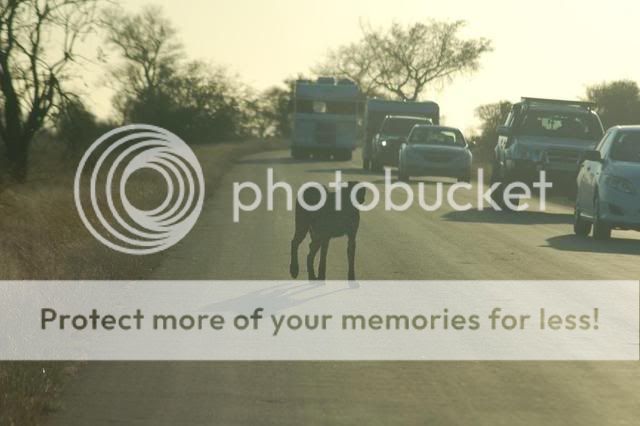 We have to wait now for the string of cars to pass us before we can turn around. The cheetah is still walking down the road and is heading to the turn off of the S39, maybe he will guide us to the picnic spot? We see that he is scent marking as he is going along. We are at the back of the queue but we still get good views of the cheetah.
We are then given the picture of a lifetime, one everyone has seen on flyers and articles about Kruger, the magnificent cheetah on a road sign. We use the long lense to capture the moment, although the caravan does spoil the picture a little (not the caravan's fault, he was just in the queue).
We do unfortunately have an idiot spoiling the view.
Thank you for driving into the bush and spoiling the view, for that you can have your picture on the forums.
The cheetah then decides he doesn't want to go for a picnic breakfast at Timbavati and is thinking if the S36 and Muzandzeni might be better.
This time there is no one to spoil our view and we are able to get nice pictures. The cheetah goes down the H-7 and there is quite a few cars from the front as well now so we decide we will go on to Timbavati now. We see zebra crossing the road and a hyena again. We have seen a lot of hyena already today and we see one again, although the picture is a little out of focus.
We head further on the gravel and we are made up with the sighings we have had. I also have a new favourite camp and road. In the car we have discussions on what we have seen already and agree this has been one of our best drives ever. My SO comments that she would like to see a leopard sighting for a long time. I duly inform her that the sighting we had was as good as it gets, unless you get to see a LIT and the leopard is sleeping. We are happy to just have a relaxing drive to Timbavati and then to have breakfast and just revel in the 2 rare sightings we have experienced. We enjoy the feeling of the bush as we drive around. There is something in the road ahead. I shout "Lion", but lions do not have spots. Leopard and walking slowly along the road.
We follow the leopard and we are trying not to get too close, but also to get as close as possible for photos. She (I have decided he/she must be female, but seeing my luck with all my prophecies today and how they are being disproved at every turn, it might be male...
) finds a nice shady spot and lies down. The car is switched off and we enjoy another moment no one will forget, our third this morning. While she is resting there is movement in the bush ahead, a female kudu crosses the road ahead, the leopard merely keeps her eye on the kudu. We are joined by another vehicle, but this seems to disturb the leopard and she gets up and moves off.
We spend 10 minutes with the leopard, it feels like a lifetime in the presence of such a beautiful creature, and it finally crosses the road and head to the Timbavati River. We try to spot where she went into the bush, but merely melts away, like she was never there. About 20 minutes later we see an elephant walking down the road. We also see general game, with giraffe, impala and a curious male kudu.
Just before Timbavati we spot a white rhino.
We arrive at Timbavati picnic spot, elated at our morning. We enjoy a breakfast that just seems to taste better than any other we have had before. Reliving the day has been wonderful, I will pick up part 2 in a shortly...
Last edited by
Weltenman
on Thu Aug 12, 2010 9:55 pm, edited 1 time in total.
Study the past, if you would divine the future.
Confucius
---
Senior Virtual Ranger

Posts: 986
Joined: Wed Sep 30, 2009 11:11 pm
Location: Here...there, somewhere, where's my GPS?
Thank you so much to everyone that has taken the time to read my report and to comment on it. Here we go with the second part of our day.
Sunday July 25 Part 2
Let me continue with the trip report. My apologies for the long delay. Whilst we were having breakfast at Timbavati, we all were thinking about how great our morning had been. It certainly was the best morning I have ever had in the Kruger. I think I got a little greedy and I was hoping for a magnificent lion sighting on the way back to Orpen...
, but by the end of breakfast I was more than happy to just enjoy the drive back and savour the memories. We decided to head back to Orpen via the S127, H1-4 and the H-7.
We left Timbavati after about an hour and had to take a photo of the beautiful boabab tree.
We saw an unidentified antelope, though for some reason I couldn't get the driver, my father, to stop the car and try and take a decent photo. If anyone can help...
We saw some bufalo way in the distance taking a lie down. They were a bit far away for a nice picture. We then turned right onto the H1-4 to Satara and spotted a hyena den with two hyenas. They were well camouflaged in the grass. We also saw ground hornbill walking in the bush and then walking on the side of the road. The road was proving very good for sightings and it seemed like every minute or two we stopped for some animal, or even bird in a tree.
The nice sightings continued with a double helping of elephant on the right and kudu on the left of the road.
We arrived at Satara, all excited to pin our sightings on the board and to prepare for our last leg of the journey.
We left Satara and headed down the H-7 for Orpen. At Nsemani Dam we came across another wonderful sighting. There were 3 elephant herds drinking at the water, soon to be joined by a 4th herd. The elephants were enjoying the drink and then a mudbath as well.
We did see this female with quite big tusks, at least it seemed big to me.
Back on the road we enjoyed the winter sun beaming down on us and making us lazy. We saw general game on the way back but nothing to really shout about. We arrived back at camp to enjoy the atmosphere and the waterhole. We spotted a young zebra at the waterhole in the afternoon.
For our afternoon drive it was only me and my SO. We decided to drive down the H-7 and go down the Rabelais road a little. We spotted this little bird, I think it is a Black-bellied bustard, along with giraffe, zebra and elephant on our short drive.
As our final farewell to a magnificent day the sun greeted us as only a bushveld sunset can.
We had another relaxing braai that evening. There wasn't the activity at the waterhole that we had the previous evening, but it was still nice to just gaze out onto the waterhole at night. For the next day we had booked a morning walk from Orpen and after the walk we would try to drive the Panorama drive outside of the Kruger.
Study the past, if you would divine the future.
Confucius
---
Moderator

Posts: 15677
Joined: Tue Mar 22, 2005 6:31 pm
Location: Sheffield Beach KZN North Coast, South Africa
Another wonderful and interesting episode.
I am not too sure what your antelope could be, other than possibly a Reedbuck if you thought it looked different.
Your one bird (Bustard) is a Red-crested Korhaan.
Website Community Choice Award - Kudu Awards 2017 - Nominations Open!
---
Senior Virtual Ranger

Posts: 986
Joined: Wed Sep 30, 2009 11:11 pm
Location: Here...there, somewhere, where's my GPS?
Thank you everyone for the kind replies. I am sorry for the delay, but continuing with the report is very much like our trip as well, we are now over halfway to the end of the trip, and just like our trip I do not want the report to come to an end...
, but continue I must, before I forget everything that we saw and I only have photo's of random places...
So here goes our next chapter.
Monday 26 July 2010
The plan for this morning was for me and my SO to have a morning walk and after the walk we would go for a drive to God's window.
We woke up early at 04h45 to get ready for the 05h15 departure for the morning walk. We quietly made our way to reception to meet our guides, nervously chatting along the way. We meet our guides, Phillip and Thomas. There are only 2 of us from Orpen and no-one else from the other 2 camps. We depart hoping to see some night animals on the way to our get out point. We do see serval in the dark and another side stripped jackal. This time I do see the jackal properly, but I haven't brought my camera as it is heavy and not fit to walk with. I only have a small portable "point and shoot" and I cannot get any pictures, but great sightings in any case.
We do not spot anything else and we turn off the H-7 into a no-entry road. I am thrilled as it is always a little more exciting when you are taken down one of these roads. We arrive at out get out point, and it is still dark. There is cloud cover and it has made the morning nice and comfortable.
Me and Phillip
We start our walk, and we do not see anything, we hear an owl on the other side of the Timbavati river, and we hear baboons making a lot of noise as well. Phillips informs us that its an older baboon teaching a younger one a lesson.
Timbavati River
We do see a kudu, she briefly looks at us and quickly departs the scene. No time for a picture as my SO first skirted away when Thomas pointed the kudu out, thinking it was an meat eater, not a beautiful antelope he is pointing out.
We arrive at an old bufallo skull. A great moment to take some pictures with our guides, and to have a relaxing break as well. We are enjoying the walk a lot more than out previous walk. I guess it is to do that we are the only ones one the walk and it is easier to talk to our guides when they explain and show something to us.
I think the guides are looking for rhino, we have passed a few middens and they talk quietly amongst themselves and discuss the direction we must walk in. We do not spot any rhinos however but we are shown an area where they are known to congregate. We have our breakfast and enjoy the sun rising in the bush.
With our snacks we enjoy the stories from Phillip and Thomas, and through our conversation and laughter, if there were any game in the area we have surely chased them away from us now.
We depart on the way back to the vehicle and we see and hear a widebeest making a racket, and a giraffe looking at us all the way. It is amazing to me how quickly the animals appear from nowhere in the bush without you knowing they were there. I am once again in awe of the guides and game rangers, and their ability to know where the animals are in the bush, as I see nothing until it is right in front of me in the open.
Further along we see some vultures sunning themseves and waiting for the sun to rise to use the thermals, we are shown some snail shells and a porcupine quill. We also find an old zebra skull and are reminded that the bush is a harsh place to live in. We arrive at the vehicle and get ready for our return to camp.
On the way back we see a herd of bufallo and the guides share funny stories about previous walks and buffaloes. We turn onto the H-7 and see an elephant with some nice tusks.
We also come across a small traffic jam, and only have a glimpse of a wild dog crossing the road a few hundred metres ahead of us. When we arrive at the spot they are deep in the bush and we are unable to spot them anymore.
We arrive back at camp at 10h00am after a great walk and a wonderful time with our guides. I can reccommend to anyone to have a walk with Phillip and Thomas.
We get ready to depart the Kruger for the day and head to God's Window. After a quick bite to eat we are off. We leave the camp gate and travel on the road out. We have driven this road many times before and remember you can spot game on the other side of the fence in the Timbavati Reserve on your right.
While driving we notice that there is no more fences on the left or right of us. The speed limit hasn't changed to 80km/h either, and is still at 50km/h. Suddenly we see a lion on the right. A quick stop and reverse reveals a young male with a kill.
He is protecting it from vultures close by. We get as good photo's as we can. I now have my camera, but not the long lense, as I was sure there was nothing to be seen.
Less than a kilometre ahead we finally pass the gate out of the Greater Kruger. We have some administration to do at Hoedspruit, and enjoy the sights at God's Window. We arrive back in the evening and relax with a braai. The next day we head up to Olifants, and plan to drive up to Satara for breakfast and then try the S100.
Study the past, if you would divine the future.
Confucius
---
Senior Virtual Ranger

Posts: 986
Joined: Wed Sep 30, 2009 11:11 pm
Location: Here...there, somewhere, where's my GPS?
Thank you to everyone that has read my report and taken the time to post a reply, it is appreciated.
Tuesday, July 27
We continued our trip up to Olifants. Our plan was to drive to Satara on the H-7 and have breakfast, and then take the S100 and up the S41 and the S90 to Olifants. We wanted to see some lions on the famous lion road...
We are up at 05h30 and the re-packing of the car starts. With everything on the back of the bakkie, we are off again at around 06h10.
On the way on the H-7 we are eager to see all that we saw two days ago. The hope in the car is that the animals will be at the same place as they were previously, but this is the Kruger and if we only want to see animals we can go to the zoo...
We do strike some luck, we see two lions cross the road ahead of us. The light is not great and there are no pictures. They quickly dissapear into the bush.
We drive on and do not see much. We decide to see the sun rise from Bobbejaankrans. The light is wonderful and makes you feel at peace. Surprisingly there are baboons at the lookout point.
We head back down the road and it seems like we have used up all our luck inside the park. The roads are quiet with nothing interesting sightings wise. We just enjoy the morning in the car and in the bush. We arrive at Nsemani dam and spot some more baboons, with a little one playing with its mother. There is a lot of "ooohhh's" and "ag shame's" from the inside of the car.
At the dam we only see some waterbuck, at the waters edge and on the other side of the road as well. Before Satara we also seem some beautiful giraffe having a snack.
We enjoy breakfast at Satara and check the waterhole and the webcam. After a relaxing breakfast and a stroll around the camp. We leave camp and with eager anticipation we drive the S100. We see nothing...well not excactly true but the lions on the road has gone to sleep or the cardboard cutouts have been blown over.
We see a lovely eagle in a tree. We also see a lone bull elephant, although no pictures of the elephant.
We drive up the S41 and then the animals start showing up. We see some Saddle-billed stork and at Gudzani waterhole we see a white rhino who is a bit unsettled. I think the sound of our car startled him and he just decided to go for a run.
We had a little discussion in the car on whether it was a black or white rhino. The behaviour of the rhino was not something we have witnessed before, dashing off and running away from our vehicle. We decide to see if we can determine whether is is a white rhino by going back to the road. We do not see the startled rhino, but we do come across some other visitors, who upon questioning can only tell us that the rhino was in a big hurry.
On the S90 we start seeing more general game. First up is a herd of zebra, followed by elephant far off into the bush and a group of male kudu, all with beautiful horns. At Bangu waterhole we see what I think is a Secretarybird.
We finally arrive at the Olifants River at midday and find the river dirty with some green algae. We also do not see any animals at the river. We do see a hippo from the low water bridge in the water.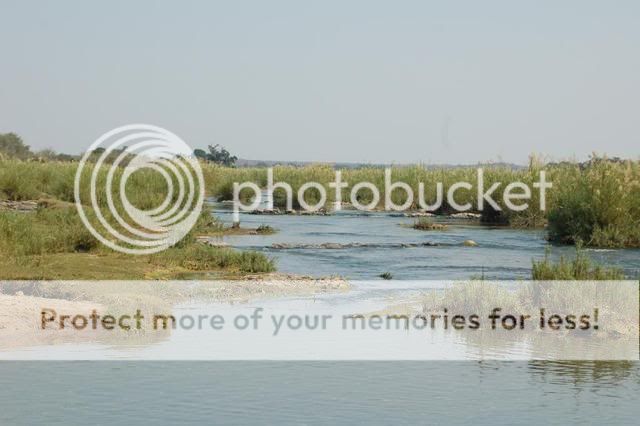 We drive onto the camp and check in around 1pm. The unit isn't ready yet so we head for the restaurant and enjoy the view and a lunch. We decide to rest for the afternoon in the camp and just enjoy the view and the river.
Study the past, if you would divine the future.
Confucius
---
Senior Virtual Ranger

Posts: 986
Joined: Wed Sep 30, 2009 11:11 pm
Location: Here...there, somewhere, where's my GPS?
My apologies for the late completion of my report, I have finished it now and it will conclude below. A big thank you to everyone that has read and replied to my report. I hope you have enjoyed reading the report as much as I have enjoyed reliving the trip.
Wednesday 28 July
Our plan for today was to drive to Letaba to enjoy breakfast and then to just relax once we are back at Olifants. We had the wonderful view from the accommodation and we didn't want to not take advantage of it. I think, it being our last day before we had to leave as well, no one wanted to rush around and have the time slip by too quickly. We left early to try and catch the sunrise from the bridge and enjoy coffee and tea whilst watching the sunrise. We left a little late but managed to enjoy the sunrise.
We enjoyed the antics of the hippo in the river. There were 2 younger hippos that really kept us entertained on the bridge. It seemed like they were just returning from a night out foraging, but the younger ones, one a baby and the other a little bigger, just did not want to settle for the day in the river. The mother, or at least an older hippo, had to chase them into the water time and again and everytime they are all in the youngsters just ran out again and the chase started all over again.
On the road again to Letaba and our main attraction is the Mopanie trees and bushes...or at least that is what my pictures suggest. We see little of note and we arrive at Letaba to enjoy breakfast, the view and the Elephant museum. I am sure everyone has been in the museum a few times already, but the huge tuskers, and the information you learn just never gets old. We decide to check out the day visitor's picnic area, it's really nice but we have no use for it today.
On the drive back to Olifants we have slightly better luck with sightings, seeing buffalo twice on the way back.
We arrive back at camp around 12 and set ourselves down for a restful afternoon. The previous afternoon we didn't see any animals in the river below and we were speculating that they all might have left the area for some unknown reason. We were mistaken as we see 5 or 6 elephant herds in the river today. We also enjoy the monkeys and their antics. One of the monkeys must have been having problems with his digestion and helps himself to some yoghurt from another hut. We get to see him eat it, using his hand as a spoon.
My SO and I decide for a small drive to see if we can reach the lookout, having never been there before. We left around 16h30 and on the way we do come across another couple elephant herds. I am not sure where the lookout point is, and we decide to turn around and stop a little at the elephants and to take some pictures as well. We also spot a Duiker before we get back to camp.
We are back and enjoy the fire, stars and tranquility of the African night. We are lucky that the moon doesn't rise until 8pm and we can see the stars in all their glory for a short while. We are rewarded that night by a moon rise.
Thursday 29 July
Our last day and our traveling day back to Johannesburg. We had decided to drive down to Orpen rather than Phalaborwa to give ourselves more chance for sightings. We leave around 6am and remember that we didn't obtain an exit permit the previous night. We check the reception to see if anyone can help. They aren't open yet, but there is someone there and he gratefully helps us with the permits. Once again the hepfulness of the Kruger staff makes this sad day feel a little better.
On the way out of camp we are also surprised by a wonderful sighting, a male lion on the way to the H1-4, the light isn't great for photo's, and the camera might have been on manual focus, but we manage a extremely blurry picture.
We stop at the river lookout to say our greetings to the Olifants river and we also enjoy another magnificent Kruger sunrise.
On the H1-4 it is a little slow at first, but then we spot guinea fowl and also a Kori Bustard walking in the bush. They really are magnificent birds to behold.
The sightings are coming quickly now on the way down to Satara and we spot this little fellow on a tree branch and a few minutes later white rhino as well. We are thick into the white rhino this morning, you could mistake this as the south of the park, five minutes later we run into more rhino and then 10 minutes after that a mother white rhino with her baby. The baby just decided it had enough of walking and fancied a mound as a couch, he gracefully as he could fell down and had a rest.
Rhino isn't the only animals we see as we also scratch off big five number 3 for the day with these buffalo.
Some ostriches make their presence known to us as well. The male seemed particularly frisky this morning and is chasing one female. We also see another Kori and what I think is a Reedbuck again, if anyone can help with an id. We reach Satara and enjoy our final breakfast in the picnic area. It is a wonderful area as you are right on the fence. There is nothing like the previous nights braai left overs for breakfast the next morning, along with some over boiled, i.e. blue, eggs.
On our way again and at Nsemani Dam we come across herds of elephant again. It is amazing how you sometimes see 2 or more herds drinking at the same time only to then disappear a few minutes later leaving almost no sign of their presence for the cars arriving late.
We spot a nice eagle in a tree, and I make a mental note to myself that the next time we visit Kruger I will be more proficient in spotting the birds.
We are now on our final few kilometres and a sense of melancholy has desended in the car. We are all spotting, but not really looking for any animals. I just make sure the car doesn't drive into the oncoming traffic, or into the bush and then just stare ahead and to the sides. We have to stop for an giraffe crossing, and just before Orpen we get to say goodbye to the Warthogs as well.
We leave Kruger with a sadness that will only be replaced once we drive into one of the gates again. It was a wonderful trip full of great sightings. I only saw one yellow ribbon, and that was on the road to Orpen on our last drive. I didn't have a yellow ribbon myself and by the time I had realized what I had seen the car was past us already. We left Kruger around 11h30 for the drive back to "civilization" and to our homes, starting to plan our next trip already, even if we don't know when that will be.
---
---
Who is online
Users browsing this forum: No registered users and 6 guests