Junior Virtual Ranger

Posts: 261
Joined: Wed Apr 05, 2006 6:59 am
Please help to I.D these two plants.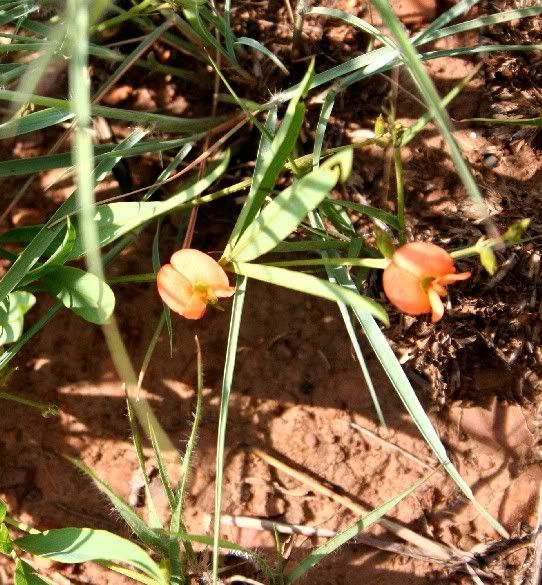 I have taken this photo near Delmas as well as a photo of the same plant at Marekele. There is a vast differance in climate between Delmas (cold) and Marekele (worm)
Can this be some sort of Orchid ?
---
Hi Pieter

The top one I know but cannot remember the name but it is in the pea family. Don't have my wild flower book nearby.

The second is a leeubekkie/snapdragon Lobelia species I think.
Dec '11 - Storms River
June '12 - Berg-en-Dal
---
Distinguished Virtual Ranger

Posts: 492
Joined: Thu May 26, 2005 12:00 pm
Location: At work longing for the outdoors!
Hi Pieter;
Your first one look like a
Tephrosia
... looking at the photo i can unfortunately not say for sure which one.
It can be
T. longipes
,
T. marginella
or maybe
T. elongata
The 2nd one looks like
Nemesia fruticans
- Mauve nemesia (Eng), Wilde Leeubekkie (Afr.)
---
Junior Virtual Ranger

Posts: 261
Joined: Wed Apr 05, 2006 6:59 am
Thank you Senyetse and jakkalsbessie.

Witch book do you use?

I have "A Photographic Guide to Wild Flowers Of Southern Africa by Braam Van Wyk"

It does not have all the flowers in.

Can you suggest any books?

Regards

Pieter
---
Hi Pieter

1. Elsa Pooley - A field guide to the wild flowers of KwaZulu-Natal and the eastern region
2. Braam v Wyk - Wildlflowers of the Highveld
3. Plants of the northern provinces of South Africa: keys and diagnostic characters - E. Retief & P.P.J. Herman
Dec '11 - Storms River
June '12 - Berg-en-Dal
---
---
Who is online
Users browsing this forum: No registered users and 1 guest