Virtual Ranger

Posts: 169
Joined: Sat Sep 17, 2005 6:28 pm
Location: S25 59.901 E28 06.513 - SA
Contact:
This is probably one of the trees nobody can miss with its lime green bark. And to see a few of them together is amazing. We've seen them from the Crocodile River up to Pafuri.
The common names are: Fever tree
(English)
, Koorsboom
(Afrikaans)
, mooka-kwena
(Northern Sotho)
, umHlosinga
(Zulu)
, nkelenga
(Tsonga)
, munzhelenga
(Venda)
.
A single tree in the Nwanetsi gorge
By the pumpstation at Pafuri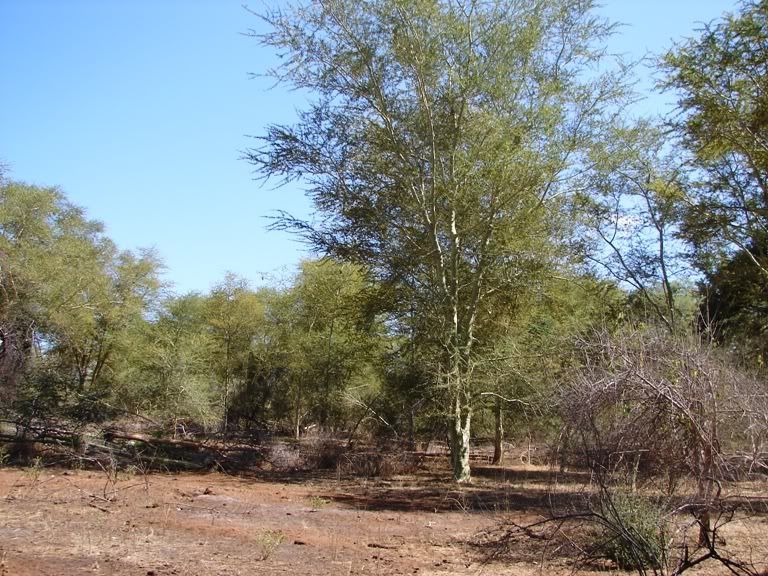 ---
Moderator

Posts: 16328
Joined: Tue Mar 22, 2005 6:31 pm
Location: Tinley Manor, KZN North Coast, South Africa
There is a fabulous speciment just off the S28 on the Southern end, I always meant to get a pic of it when the light was best but somehow have ended up not doing it.
I am going to make a point of it next trip.
---
One of our favourites too. There are a number on the H10 beyond the Mlondozi dam and Muntshe hills. We had a dear, now departed, friend who loved them and we bought one from the Skukuza nursery for her. It flourished in their Kensington (Jhb) garden.
Long live
Cricket@Skukuza
Si thi
Ready for the next Cricket Weekend!
---
Legendary Virtual Ranger

FAC Member (2017)
Award: Forumite of the year - Eagle Award (2016)
Posts: 17837
Joined: Tue Jun 07, 2005 8:47 pm
Location: meandering between senility and menopause
I notice a number of people have planted Fever Trees in my area, north G'teng and they seem to do very well. I was told that they will never reach the lovely proportions that they do in the low veld, due to our weather.

For those going to the cricket at Skukuza, one of the most magnificent specimens is in Skukuza Village, close to the church.
The bird doesn't sing because it has answers, it sings because it has a song.
---
My daughter (piker) has two beautiful Fever Trees in their garden in Broadacres and last year they gave me one. Mine must have doubled in size in 12 months. I agree with you MM - I don't think they will grow to the same proportions that they do in the low veld but they are beautiful non the less!
Addo and Tsitsikamma 2nd - 9th December
Cricket in Skukuza in March 2008
---
---
Who is online
Users browsing this forum: No registered users and 1 guest