Oh lucky you for your sighting of an eland
Last time we saw was this one in 1970 , in Pretoriuskop area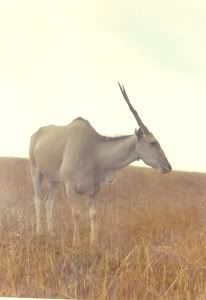 Tread softly , and let your departure not be spoiled by the damage of your arrival
Next :
3 - 6 Sept 2013 - Punda.
7 - 10 Sept 2013 -Shingwedzi .
11 - 13 Sept 2013 - Balule .
14 - 17 Sept 2013 - Satara .
---
Virtual Ranger

Posts: 2480
Joined: Sat Jun 06, 2009 2:49 pm
Location: Burghausen, Germany
My first and only sighting of an Eland in Kruger was at Boyela last November. I already saw the Eland from a far distance but it took half an hour until it came to the waterhole which was occupied by an Elephant. On the first pic you see it on the right. As soon as the Ellie left the stage the Eland and a Tssessebe came to drink
Akukho nyon' endiz' ingahlali phansi. (Zulu)
There is not a bird that flies and never sits down.
---
Distinguished Virtual Ranger

Posts: 3958
Joined: Wed Nov 03, 2010 9:51 am
Location: Johannesburg SA
I have read that those Eland released near Pkop from an antelope camp.
The Eland died from ticks. It is not their natural area
Kruger 2014!!!
16-23 August - Lower Sabi!!!!
---
Posts: 37
Joined: Fri Sep 24, 2010 7:44 am
We saw small herds of Eland on the Tropic of Capricorn Loop, most days in late May 2013. They were very aware of our presence and they were only distant photo opportunities.
---
Legendary Virtual Ranger

Posts: 5002
Joined: Thu Dec 02, 2004 10:27 am
Location: Chasing down the rarities
We found two over the weekend along the Tropic of Capricorn loop. Will post some photos later.
675
Latest Lifer(s): Burchell's Courser, Cory's Shearwater, Wilson's Storm-Petrel, European Storm-Petrel, Great Winged Petrel, Grey Waxbill, Cape Rock-jumper
Follow me as I bird on Twitter
@wildtuinman
---
We saw a single Elland bull on the Tropic of Capricorn loop,at distance,this month.Also saw a small herd on the Tsendze loop the following day.
---
---
Who is online
Users browsing this forum: No registered users and 2 guests