Yellow-spotted Hyrax (Heterohyrax brucei)
Classification:
Order: Hyracoidea
Family: Procaviidae
Genus: Heterohyrax
Species: H. brucei
Other names:
Yellow-spotted Dassie
Bush Hyrax
Bruce's Hyrax
The Yellow-spotted Hyrax is found only in the extreme northern parts of the Kruger National Park. These two were photographed near Lanner Gorge in the Makuleke concession.
The Yellow-spotted Hyrax is told apart from the more common Rock Hyrax (Procavia capensis) by the paler undersides and pale spots above the eyes which are generally absent in Rock Hyrax. Some Rock Hyrax individuals do exhibit some paler colouration above the eyes though so this feature by itself is not diagnostic but combined with the paler undersides and distribution an identification can usually be reached quite readily.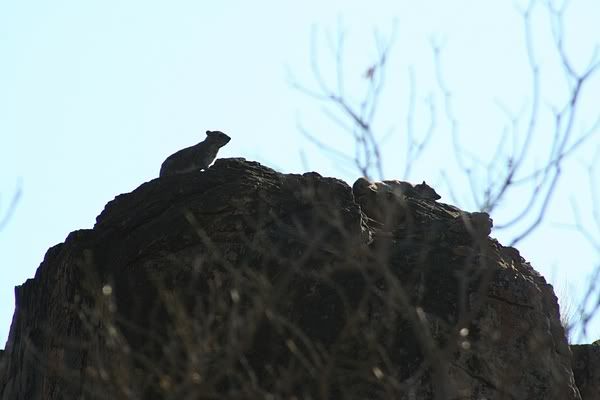 "Weaseling out of things is important to learn. It's what separates us from the animals ... except the weasel." -Homer Simpson
---
Junior Virtual Ranger

Posts: 92
Joined: Mon Feb 14, 2005 3:54 pm
Location: Venetia, Limpopo
Mapungubwe is good park to see them, and one sees them side by side - with rock dassies..
---
---
Who is online
Users browsing this forum: No registered users and 2 guests