Senior Virtual Ranger

Posts: 311
Joined: Wed Jan 12, 2005 12:55 pm
Location: Neither here nor there.
Black Wildebeest are from the Cape Province and Eastearn Cape and as such prefer Karoo type of veldt as opposed to bushveldt. That is they prefer open plains to graze on. They were almost extinct about 50 years ago, but through the forsight of a couple of people they were succesfully brought back to viable populations.
They are the clowns of the antelope world. They fuss about and tend to run in circles snorting and cavorting like mad things. They are inquisitive too, and will come and inspect what they cannot ID. Usually a flapping of your cap is enough to get them interested. Interestingly, if one of the herd is injured, he will be fought off by the males in the herd. I presume this is a defence stratergy as a wounded weak animal will draw attention to the herd.
Another animal who shares similar habitat with them are the Bontebok and Blesbuck who are also not found in the park.
All your snakes are belong to us.
---
Distinguished Virtual Ranger

Posts: 492
Joined: Thu May 26, 2005 12:00 pm
Location: At work longing for the outdoors!
totally forgot about this until reading this topic
During a nightdrive few weeks back at Orpen, we had some Spanish guests with us on the truck. When stopping at wildebeest they all immediately said gnou...
The guide then said
no it is not a gnou
We asked him why that is wrong to say gnu and his response was that the
BLACK
wildebeest is a gnou (scientific name Connochaetes
gnou
) while the blue wildebeest is Connochaetes taurinus.
Thought this was very interesting (still have my doubts though
)... someone else know about this?
---
Senior Virtual Ranger

Posts: 672
Joined: Fri May 20, 2005 8:48 am
Location: Johannesburg, South Africa
AFAIK Bluewildebeest is referred to as Gnu and it is right. Technically the guide is correct though.
Operation "Duke" Member

Being African is not determined by race, but by what's in your heart
---
Distinguished Virtual Ranger

Posts: 492
Joined: Thu May 26, 2005 12:00 pm
Location: At work longing for the outdoors!
fevertree wrote:And apparently the word/name "gnu" comes from the sound the wildebeest makes.....
Yep that's what i knew about the gnu part (the sound of the bellowing snort they have), and therefor thought there were no problem calling both of them that.
I know Gnou is a Hottentot name for them but did however never realised it was actually also part of the scientific name of the black wildebeest.
---
And here as some "Black wildegnu"
photos from Mountain Zebra NP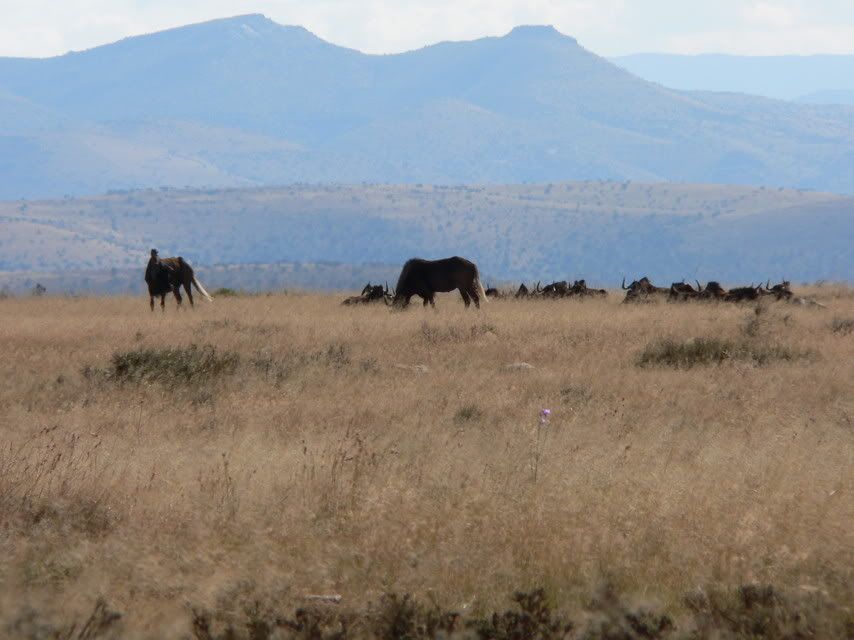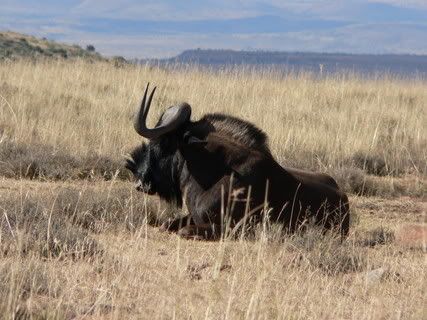 ---
---
Distinguished Virtual Ranger

Posts: 13635
Joined: Wed Aug 31, 2005 12:28 am
Location: Pretoria, RSA
I will eruditely try my best!


The two species do not occur in the same habitat. Their natural distribution areas are totally different.

Blue Wildebeest is associated with savanna woodland. That simply means that they need areas with shade (trees or bush) but still plenty of grass, and where water is easily available. Typically areas such as Kruger NP, etc.

Black Wildebeest is a plains species. They love areas of open grassland. Typically the high-veld of SA, areas such as the Freestate and even areas in Natal. They are not dependent on shade!

As I said, their distribution areas do not overlap. Where there is contact, caused by human activity, cross-breeding will take place, and this is a threat especially to the Black Wildebeest with the much smaller population. It has now been forbidden to keep the two species together, to prevent this from happening.

Black Wildebeest do not occur in the Kgalagadi. Blue Wildebeest do, and that is what you saw on the webcam.
Imberbe = Combretum imberbe = Leadwood = Hardekool = The spirit of the Wildernis!

"Wilderness cannot be conquered, it becomes part of you and enriches your soul." - Louis

Want to know more about the SANParks Honorary Rangers? Visit www.sanparksvolunteers.org
---
---
---
love the black wildebeests! during my year in gghnp got the chance to see them quite often....

the horns are a dead give away like the earlier post as well as the black's white tail while the blue has a black tail!
"Nature never said to me: Do not be poor; still less did she say: Be rich; her cry to me was always: Be independent."
---
Distinguished Virtual Ranger

Posts: 3529
Joined: Sun Apr 29, 2007 1:12 pm
Location: New Brunswick, Canada
Contact:
I did see one in Golden Gate last February.........
Appreciate what you have before it becomes what you had.
---
In pre-colonial times the distribution ranges of the Blue and Black Wildebeest did infact overlap. Both species occurred north of the Orange River in the Free State and Gordonia. There was even a sighting (in the 1800's) of a old Blue Wildebeest bull at Britstown in the Great Karoo (south of the Orange River). Both the Blue and Black Wildebeest (and quagga and Burchell's zebra) occurred and migrated in large mixed herds with other plains game (blesbok, red hartebeest and springbok) over the plains of the Free State, the seen was probably very similar to the migrations of the Serengeti today.

The wildebeest hybrids that occur today is a result of keeping both species on small confined properties.
---
---
Who is online
Users browsing this forum: No registered users and 2 guests