Virtual Ranger

Posts: 975
Joined: Thu Jun 19, 2008 12:53 pm
Location: Port Elizabeth
Black Rhino on foot!!! Awesome
Wonderful to hear about the Honeyguide, would love to follow one one day!
Great sightings and thanks for the report back Saskia!
---
Saskia,
really enjoying reading your posts, however, often forget to leave a comment
Thanks so much for keeping us informed what's up around Letaba - must have been thrilling to see a black rhino on a walk
Nevertheless all the other sightings were great too
Thanks so much
Did you have any rain recently????
---
Morning Walk - 21 December 2009

We walked in and along the Mahudzi sandstone koppies, hoping to find elephants that like the area on cool overcast days. The dense Mopani woodland closed in on us and we moved along a path. The fresh tracks of 4 buffalo bulls crossed over the path, after some thought we decided to pursue them.
The buffalo were zig-zagging but were clearly on the move, the tracks crossed a road and headed towards Shongile. We managed to stay on the spoor but lost it at the catchment, after retracing our steps found them again as they now went uphill then back down towards the catchment.
The spoor became clearer and the dung wetter so we knew we were catching up to the buffalo. They joined a small breeding herd for a hew hundred meters then parted, stopping to feed now and then.
Just before reaching the drainage line again oxpeckers flew up and we knew we had them. In front of us was a steep bank with a pool below it with the 4 buffalo having a drink of water. We watched them from the top, they detected us, ran off then came back in their curiosity.

We left them alone and headed back, along the way finding giraffe and zebra downwind.
We moved over a rocky area and suddenly a Sabota lark flew up from the ground. On closer inpection we saw a cosy little nest tucked away under the side of a grass-clump. 2 Tiny eggs rested vulnerably inside.

Other sightings on walks have been of:
Lions, elephants, white rhino, crocodile, hippo, buffalo, kudu, waterbuck, steenbuck, blackbacked jackal, glossy ibis and black heron (Engelardt Dam), dwarf and banded mongoose.

Morning, Sunset and Night Drives

As usual, our drives have been successful with some of the following sightings:
White rhino
Elephant and buffalo
Lion
Leopard with kill
Kudu, zebra, blue wildebeest, giraffe, waterbuck
Mozambique spitting cobra
Egg eater (snake)
African rock python
Black mamba
Snouted cobra
Spring hare
Large and small spotted genet
Civet
Blackbacked jackal
Spotted hyena
African wild cat
Hippo and crocodile

The bush is green and lush, the ground is covered in grass and forbs. We have had a lot of rain, the entire park has had a lot of rain. No other Wood owl sightings that I know of but we should keep looking, Letaba Camp and Engelardt Dam has amazing ability to keep us birders happy. There was a melanistic Black sparrowhawk around 2 weeks ago.

Letaba Field Guide
Saskia Taylor
---
Morning Bush Walk - 8 January 2010

Riana and I walked in west of Mantambeni bird hide, having not walked along the river in that area for a while we had no idea what to expect. The Engelardt Dam and upstream have the unwaning ability to surprise you with unusual bird sightings. We approached the river and watched a group of 10 sleepy hippos. I scanned the other side for waders in the shallow swamp like area and much to my surprise saw 8 Glossy ibis' and a Greater flamingo youngster. My previous post speaks of a Glossy ibis but this time there were 8! Among the Egyptian geese, Black winged stilts, sandpipers, African jacanas and others, there were a few Black herons as well.

Parting with the hippo and feeling very inspired by the bird sightings we moved inland. Joining hippo paths meandering through Mopani woodland we found impala and then later a warthog. We came within less than 10 meters of the warthog, he stared at us and then ran to a safer distance, turned around and continued staring. This is the closest I have every been to warthog on foot. If you have seen warthog on foot you will know that they are very shy and run from you long before you get near them. That is certainly something that will remain in my memory.

Moving back towards the river and finding a lot of porcupine activity from the previous night, we approached a den we know of. Under a large canopy of trees along a slope we neared it. Expecting nothing but flies and an odour (while the porcupines sleep inside out of sight), we were pleasantly surprised with 2 adults and 1 young outside the den. They moved around clumsily between the lush green grass and saw us then stood still. We walked towards them and they scurried off away from the burrow. We watched them as close as 10 meters for a long time. What an amazing sightings - Another to be remembered.

Morning Bush Walk - 12 January 2010

Walking in along the Ndziho spruit / Bulweni pans, we got ourselves onto a rhino path with the intention of doing a good distance in. The walk was very quiet, after 2 hours we found very fresh elephant bull spoor and feeding signs. But he was on the move so we did not get our hope high. We came to a large vlei-like area, dotted with lala palms and surrounded by big water-thirsty trees, we stopped for a break.

I walked off away from the group and noticed some white rhino not too far off. We approached downwind, found a comfortable spot and allowed them to approach to about 10 meters. The cow and her calf saw us, ran off a bit and then settled soon after. The calf lay down for a snooze and in the meantime a bull and 2 other rhino groups approached. The bull was agitated, marking regularly and harassing the female. More rhino came into the area and in total we counted 11. We did another close approach and then saw a civet female with 4 babies in the distance, bouncing through the thick grass. What a successful morning. The experience of sitting there for a long time with all those rhino around us, various birds calling and the civet family passing by is invaluable. There are no words for it.

Other sightings on foot recently:
Giraffe, zebra, waterbuck
Buffalo herd
Tadpole shrimp
Dwarf bitterns
African hobby
Steppe buzzard
Pallid harrier
Black kite
Elephant
Ground hornbill
Lioness carcass
Steenbuck

Game Drives

There is once again a lot of lion activity around the camp, 3 males and a female and a group of females with young all moving within a 6km radius of the camp at the moment. We anticipate a buffalo kill soon. Leopard sightings have been regular on Sunset drives.
General game has been abundant and nocturnal animals have been moving around a lot. Spotted hyenas and sidestriped jackal are common sightings these days late afternoon and at night.

Other sightings:
Tawny eagle at impala carcass
Elephant
Buffalo
White Rhino
Porcupine
African wild cat
Genets
Tsessebe
Giant eagle owl with eggeater (snake)
Lesser bushbaby
Spotted eagle owl

Saskia Taylor
Letaba Field Guide
---
Morning Bush Walk – 12 February 2010

Driving to Jim windmill on the way to Olifants camp, I was feeling sceptical about seeing anything. This area has the reputation of being extremely quiet. But nevertheless, I really like it there and took the once-a-month Jim windmill chance. No fresh animal signs driving in, it did not look good. My hopes were quickly disappearing.
Half way through we noticed elephant feeding signs from a few hours back but did not think much of it as we were not hearing anything and what we found was quite limited.
We stopped for a long break in the catchment, at some remains of an extremely old hippo, told by the worn/missing teeth and huge canines. We spent some time there and then packed up and starting walking back. By chance I glanced to the side and saw the elephant bull we were searching for, feeding on lush green grass next to the spruit. We approached him and watched for a while as he moved around feeding on different things. Leaving him alone, we walked to higher ground, taking a short route back and not anticipating much more for the morning.
It was getting hot and uncomfortable and everyone was focused on getting back, the ground was soft, the Mopanis dense and walking was difficult. Suddenly there was a huge scurry of a big animal just in front of us, not much more than 6 meters from my backup and I. My initial thought was a hyena, but on looking up to see what it was, 2 fully grown lionesses were noisily and clumsily trying to get away (sometimes what they do is not cat-like). They ran into some thicker bush to our side and watched us quietly while we left.
Well that was a surprise. A good day at Jim windmill.

Afternoon Bush Walk – 1 March 2010

We parked along the Letaba River just west of the large bridge, it is such a beautiful place. There are some alluvial soils around Letaba, giving life to acacias, crotons, appleleaf and leadwood trees. We walked inland towards a large pan quietly hidden from sight, known only by a path that runs directly to it. Large trees towered over heads as we flushed grasshoppers from the grass with each step we took. It is truly an amazing place. Impala, waterbuck and warthog tracks were evident and a bateleur was flying above us. We walked right up to the pan and spent some time there. Lots of bird activity, we looked down and noticed tracks and faeces of an exceptionally large crocodile. He must have just moved in as those signs were not there before.
We headed towards the river and found some rocks to sit on, in the distance there were some elephants feeding in the reeds and close by was a lost Egyptian gosling. The gosling walked around looking very unsure of itself or what to do, somehow separated from its parents.

Other bush walk sightings:
Buffalo
Elephant
Hippo
Crocodile
Zebra, giraffe, waterbusk, warthog, kudu
White rhino
Klipspringer
8 Glossy ibis
8 Greater flamingo
Pearlspotted owl
Giant eagle owl
Great spotted cuckoo
(A lot of cuckoo breeding behaviour of various species)

Morning, Sunset and Night Game Drives

We have had fantastic sightings on the drives recently, here are just some of them:

Crocodile and hippo
Honey badger
Various vultures
Ground hornbill
Spotted hyena
Sidestriped and blackbacked jackal
Zebra, giraffe, waterbush wildebeest
Elephant
Buffalo
Lion
Male lions mating with eachother
Hippos playing
Hippos fighting
Leopard
Leopard stalking impala
Large and small spotted genet
White rhino
Spring hare
Bat hawk
Chameleon
4 Cheetah together near the camp
African wild cat
Porcupine

Saskia Taylor
Letaba Field Guide
---
Virtual Ranger

Posts: 2463
Joined: Mon Oct 19, 2009 9:49 pm
Location: Back :-(
Hi Cheetah2111! Wonderful that you'll be in letaba soon!
60 km...
...our favourite drive was longer - we went north and did the s50 , then the s143 - and back H1-6 - that's an awesome route.
For 60 km i would recommend you in the morning:
H9, then into the S131, turn right into S47 then S95 and back to camp - about 40 kilometers
It's along the Tsendze river, seen beautiful birds, saddle billed storks, fresh lion tracks, ellies and many common game there
or
H1-6 left into the Tsendze loop S48 and back the H1-6 - very good for lions at Tsendze loop and leopards the first km H1-6 near the camp (abot 55 kilometers)
or
H9/S69/H9/S96/S131 (40 km) - seen big buffalo herds, kingfishers, ellies and hyaenas there
For the evening drive i would take:
S46/S94 or S46 and H1-5 and the the few kilometers up to letaba bridge (sundowner) and back to camp - there were always very large tuskers in the afternoon near the tar road around the camp and the local leopard showed itself (not to us
) near the street and in the trees - the 5 kilometers around the camp always delivered great sightings!
Have a great time!
Last edited by
Rookie2009
on Wed Nov 03, 2010 5:55 pm, edited 1 time in total.
Honeymoon in Kruger
12.03.2012-22.03.2012
BergenDal, Lower Sabie, Satara, Shindzela Lodge
_______________________________
Michael
---
Virtual Ranger

Posts: 2463
Joined: Mon Oct 19, 2009 9:49 pm
Location: Back :-(
Letaba is a wonderful camp - there's so much to see in the riverbed from the restaurant, not much traffic around it, many routes to go, so much animals around, helpfull staff and and and....just have a look in my TR - three days Letaba are comming wih all details
I'm sure you will love letaba!!
P.S: Met people who were very thrilled about the walk and sundowner drives there - maybe you'll like to do one
Greetings
Michael
Honeymoon in Kruger
12.03.2012-22.03.2012
BergenDal, Lower Sabie, Satara, Shindzela Lodge
_______________________________
Michael
---
Graeme & Nicky wrote:Good for you, you got to spend more time

with them without being bothered to much
Spot on
A quick pic - there were 7 in total.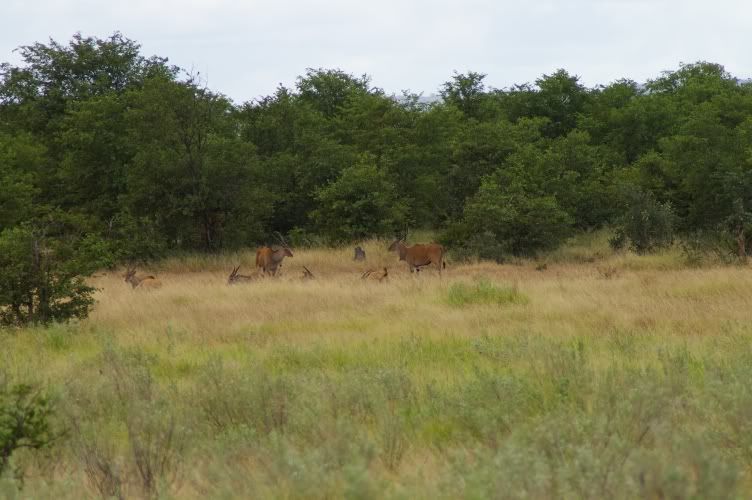 ---
Distinguished Virtual Ranger

Posts: 3958
Joined: Wed Nov 03, 2010 9:51 am
Location: Johannesburg SA
THERE are the Eland in KNP!
Kruger 2014!!!
16-23 August - Lower Sabi!!!!
---
Morning walk - 21 April 2011
Lower Mahudze

A lovely cool morning welcomed us as we prepared for our walk. Binos, rifles, ammunition,water, hats and a wind check. We were ready. We moved into the alluvial soils accomodating stacks of Acacias (a highly palatable legume with thorns as defense against browsers). The trees, showing depressingly high elephant impact attract giraffe and impala into the area.
We found 8 giraffe, 3 youngsters playfully running around together. They glared with curiosity at us as we advanced towards them with the prospect of some nice photographs. Standing side-ways, heads bent awkwardly towards us and ears pricked forward, I have in all my life never felt so mistrusted as I do with giraffe. In an instant the giraffe decision was made, 'let us leave before something happens'. They clumsily cantered off, leaving us feeling lonely and misread.
In natural circumstances we would have hunted them down, as we have done for thousands of years. With our intelligence we evolved very quickly and found easier ways to obtain food. The giraffe just don't know that, or any other animals for that matter. It is quite unfortunate that our technology-driven lives make things easier for us, but to the absorlute detriment of our natural environment. And unbeknown to most, the natural environment and its resources are the baseline of all life on Earth.

The rest of the walk was uneventful and we found a large fallen tree to have a ten minute break. Moving back towards our vehicle we were not expecting much as it was becoming quite warm. Suddenly in the spruit below on our right, a Spotted hyena shot out from the grassy edge, then another. 2 Large females. We recognized the abnormality of their behaviour and where they were and on looking up into the trees, noticed an impressive male Warthog carcass half eaten and splayed over a tick branch. A leopard kill, and the hyenas where hanging around below the tree hoping the carcass would drop on their heads... Some easy meat... But not that easy! There are a lot of misconceptions about Spotted hyenas, this is my favourite animal alongside Elephant. They are more successful hunters than what lions are and more than half of what they eat is hunted and not scavenged. In some areas scientists have found lions to be scavenging more than hyenas. The females make excellent mothers. Read up a little on them, you will be surprised.

26 April 2011
Mahudze Koppies - East

Fresh Buffalo dung dotted the road in front of us, it was only just getting light and I was unsure of where would be best to go. Switching the vehicle off at the buffalo dung, suddenly the bush on the right came alive with bellowing, grunting and other vocalizations a large Buffalo herd make. We stopped right there and walked in, trying hard not to step on steamy soft dung we headed with reason quickly down the path - Afraid they would get away. Tracks of young and old, all heading downwards into a large dense stand of Mopane.
Battling to get into a position to view them, finally we found a reasonably safe area to view some males and a few females on the back edge of the herd. The bush was thick and Oscar and I were as alert as ever, hearing them to our sides closeby as well and not seeing anything. As with any Buffalo herd, there are more elderly and sometimes grumpy bulls at the back edges of a herd.
The group we were watching were tense, we saw males trying to mount a female and a lot of vocalizing going on. Suddenly without warning 3 buffalo came running out at us, very quickly. Within a second Oscar and I cocked our rifles and aimed and shouted as hard as we could while our sights were lined up on the one in front. The buffalo turned away less than 10m from us. The group was shaken.
Fresh Elephant spoor marked the new path we joined, hoping to find him (a young male) but with no luck. Leopard tracks from early that same morning caught our attention - We were in perfect Leopard habitat.
Later we found an old Impala carcass in a tree and a Buffalo bull wallowing on our route back home. It was also an absorlutely beautiful morning, with the sun shining onto green yellow bush as it rose up, with a dark blue sky behind.

Saskia Taylor
Letaba Head Guide
---
Virtual Ranger

Posts: 975
Joined: Thu Jun 19, 2008 12:53 pm
Location: Port Elizabeth
Great to hear from you again Saskia, wow you had some wonderful walks, can't wait to read more!!!!
---
---
Return to "KNP Activities & Sightings"
Who is online
Users browsing this forum: No registered users and 1 guest