Black-winged Stilt
Duke Pack Member- Mapoisa Mat²
Alrighty then!
I refuse to fight a battle of wits with an unarmed person
---
Senior Virtual Ranger

Posts: 3875
Joined: Sun Mar 20, 2005 5:53 pm
Location: Cambridge, MA (and home from home in Darling, WC)
RSA 2017
9-11 November Cape Town
11-29 November RMS St Helena: St Helena & Ascension
29-30 November Cape Town
1 December-21 January Darling
---
Junior Virtual Ranger

Posts: 109
Joined: Sun Aug 21, 2005 4:30 pm
Location: Cape Town
Contact:
Very nice little birds,
I just love it when they fly, they tuck there long red legs behind them and then fly with their small bodies
The Blacksmith Plovers don't seem to like them that much. Every few minutes a BS Plovers would dive bomb them, but this behaviour is probably to do with the BS Plover protecting there newly born chicks.
Plover and Stilt (left) Fighting Stilt's (right)
---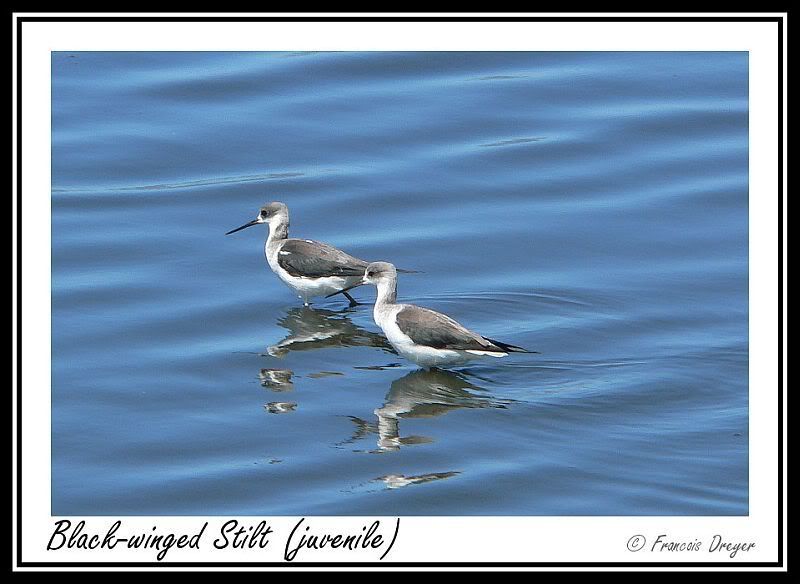 ---
Posts: 20
Joined: Thu Aug 23, 2007 9:37 am
Location: Johannesburg
Here's that bird again....Sunset Dam 10 Nov 2008!!
A bit shy about its legs - then so would I be!
Dave
[i]A Bird in the "BUSH" is worth two ANYWHERE ELSE![/i]
---
The legs are improbably long but quite elegant don't you think?
---
Saw mine at Mopani on the dam
Avid birder, wildlife enthusiast and photographer with a special interest in Bats and Birds
2014 Birding Big Year- A 365 Day quest for 800 Species of Southern African Birds
---
Got these two doing some formation flying at northern farm
Adventure is out there. Go find it
---
Distinguished Virtual Ranger

Posts: 17062
Joined: Sun Oct 07, 2007 1:41 pm
Location: Johannesburg - where they cut down trees and name streets after them.
Identification:
Size medium; slender build; legs very long, red; bill long, slender, straight; mostly white; back and wings black (male) or brown (female). Immature: Like female with greyish nape and hindneck. Chick: Above yellowish grey, with irregular black stripes; below buffy white; iris dark brown; bill shortish, black; legs and feet pinkish grey; weighs about 17 g at hatching.
Voice: Puppylike yapping yip-yip-yip-yip, loud and penetrating; shrill chek-chek-chek alarm call.
Distribution:
Almost worldwide, except n Holarctic and S America; throughout s Africa.
Status:
Locally common resident; highly nomadic.
Habitat:
Shallow waters of estuaries, pans, dams, sewage ponds, vleis and marshes.
Habits:
Solitary or gregarious; occasionally in large flocks of up to 500 birds. Forages by wading quickly with high-stepping gait in shallow water (rarely by swimming) sweeping bill over surface and pecking at food; may submerge head and neck. Flight somewhat flapping, long legs trailing out behind, often accompanied by loud calls.
Food:
Insects, crustaceans, molluscs, worms, seeds.
Breeding:
Season: April to November in Zimbabwe, October to November in e Cape, April to September in Natal; probably most months in s Africa, depending on rainfall, but usually in dry season in E. Nest: Scrape on ground or mud, lined with twigs, grass, and mudpellets; sometimes substantial pile of plant material built up in shallow water or on floating water plants.

Source: Roberts.
"Until one has loved an animal, a part of one's soul remains unawakened."
~ Anatole France
---
Richprins
Here's a nice one at Sunset Dam, Kruger, Thursday!
---
I saw these water birds at Moravet waterhole in KTP. Can somebody please help me wiht the confirmation and ID.
I would guess a Black-headed Heron, an egret, but don't know which one and the bird in the front, I don't even have a clue!
It is not the greatest photo, but hope one of you can have a stab at it.
Thanks
---
You're corerct with your Black-headed Heron ID and the Egret is most likely a Great White Egret considering the size. Unfortunately it offers no real ID features for us to go on. The smaller bird is a Black-winged Stilt.
"Weaseling out of things is important to learn. It's what separates us from the animals ... except the weasel." -Homer Simpson
---
Thank you so much.
I helps to ID birds if you actually know where to start looking in the book - a Stilt was not even on my list, but now I know!
I also thought it was a great white Egret, but according to my Sasol book, they are not usually found in KTP, so that threw me.
---
---
Return to "Birding in Southern Africa"
Who is online
Users browsing this forum: No registered users and 2 guests