Very exciting to spot little animals as well. Also seen in May.
---
Legendary Virtual Ranger

Award: Forumite of the year - Eagle Award (2016)
Award: Angel of the Year (2015)
Posts: 15807
Joined: Tue Jun 07, 2005 8:47 pm
Location: meandering between senility and menopause
Love these little creatures
Photogenic, even for MM.
on Voortrekker road, 2006.
Close to Stevenson Hamilton memorial on AAA trip.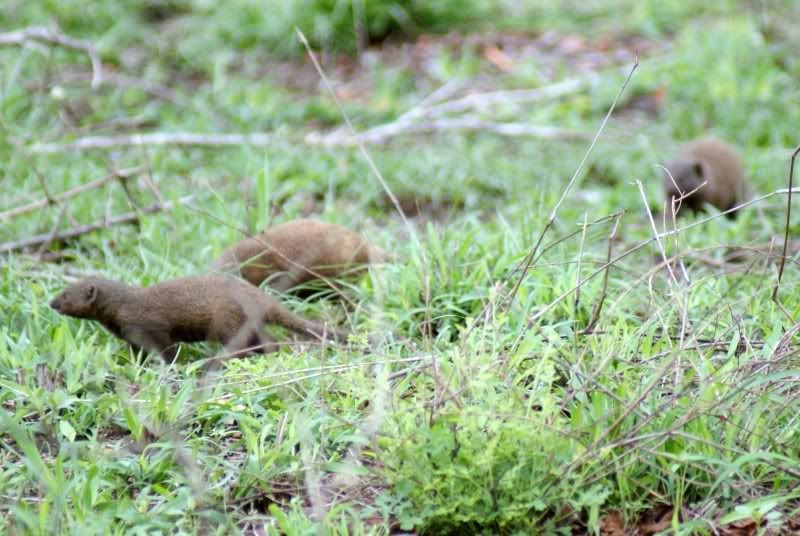 The bird doesn't sing because it has answers, it sings because it has a song.
---
Virtual Ranger

Posts: 1837
Joined: Fri May 12, 2006 4:10 pm
Location: SA
Contact:
Along the H3
Back to Letaba in April, July and September
Birding Weekend 2014 - Satara 3
Exploring Letaba - '13-'14
Letaba Ladies, 3rd Edition
- '14 - '15
---
Richprins
Some youngsters on the S-114 near the Timfenene turnoff:
---
Excellent pictures everyone.

SO and I play a game in the car where points are awarded for each sighting and at the end of the day there is always only one winner. We have come to know that spotting a dwarf mongoose ALWAYS is a bad omen for points. Without fail the first person to spot one of these will not win the day.

Lovely as they are, they have never brought luck..................but I still love to see them.
---
Distinguished Virtual Ranger

Posts: 3958
Joined: Wed Nov 03, 2010 9:51 am
Location: Johannesburg SA
They always shoot off into the grass before you can get a pic!
But on the rare occassion a Lucy Mongoosy does stick around for
Kruger 2014!!!
16-23 August - Lower Sabi!!!!
---
Posts: 71
Joined: Sun Jul 15, 2012 9:21 pm
Location: Pretoria
Unlikely visitor to this Dwarf Mongoose colony. All parties seemed very relaxed, and all though the book says Lizards are part of these Mongooses diet I guess this one was just too big. Wonder what the Lizard was doing there though
Near Skukuza 18Nov12.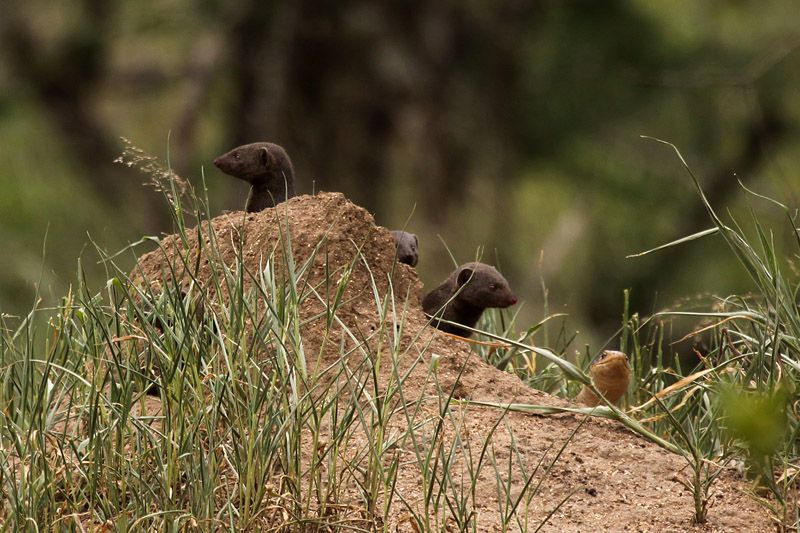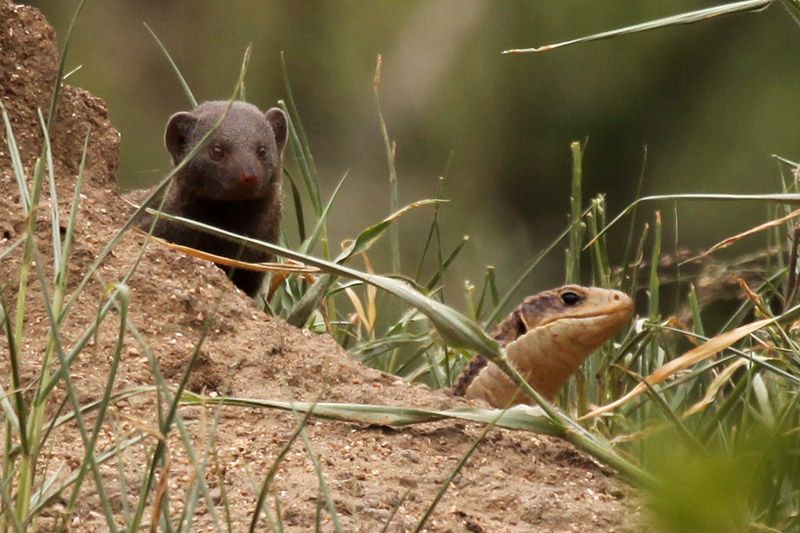 /Michael
---
The first time one posed for me longer than two seconds enabling me to get some shots off. This was the best of the batch.
Clicking on image will open the original
Look deep into nature, and then you will understand everything better.
Albert Einstein

Latest lifers from Kruger NP:
Thick-billed Cuckoo Pachycoccyx audeberti Dikbekkoekoek
Northern Wheatear Oenanthe oenanthe Europese skaapwagter
---
---
Who is online
Users browsing this forum: No registered users and 3 guests