Posts: 6
Joined: Tue Jul 28, 2009 11:21 pm
Location: Cape Town, South Africa
Tomorrow morning, yes that's right, tomorrow! I'm excited. We're excited. Yes, we truly are. The weather forecast is RAIN but alas- tomorrow is the only day that we can make the trip. And we're going. Rain, snow, floods...Whatever. It's happening and it's going down tomorrow.
THAT'S RIGHT: The Lovely Moose and the Sly SandSquirrel are teaming up and heading West: The West Coast National Park- In search of flowers, caracals, eland and the like. And Moose has promised that regardless of the weather, she's swimming. So I'll certainly be holding her to that! Brrrrrrr!!! I don't envy her when she has to (and she really does have to- she can't back out of this one) jump into that freezing cold Atlantic Ocean in the middle of Winter! Good luck to you Ms Moose!
We are both really looking forward to bringing you this trip report, albeit a one day trip report. But I sense that there will be plenty to show, share and spread
Last edited by
SandSquirrel
on Tue Aug 04, 2009 10:48 pm, edited 1 time in total.
~Formerly CTMole~
---
Virtual Ranger

Posts: 563
Joined: Fri Nov 07, 2008 6:46 pm
Oh my goodness! I totally had a dream about this last night!
So SandSquirrel and I got to the West Coast just fine, but when we got there we started to hear reports that the infamous WCNP tigers were attacking people down by the beach. I decided not to go to the beach. I was mad at SandSquirrel because he kept on eating food that I thought was going to attract sharks (?). Soon the rain began to boil and I was thankful to be in a car. BUT THEN, SandSquirel started to panic about the ever increasing tiger-threat and went crazy, dropping me off at the tiger infested beach and bolting for Cape Town. Exit SandSquirel from dream.
At the tiger beach, I was getting burned by the rain, but was thankful that my car was going to be properly clean, even though it was now stolen. Took refuge in a cave, where I was met by a tiger. Thankfully, I used my cheetah experience to stop the tiger attacking. He was even purring (tigers don't purr). Then I woke up.
Yay! Today is going to be just as exciting as this!
Caracal and Dreamer: But come anyway! The rain will be FUN
And, what's OBS?
---
Posts: 6
Joined: Tue Jul 28, 2009 11:21 pm
Location: Cape Town, South Africa
Moose and Sandsquirrel: We're back! had an awesome day out @ the WCNP, managed to dodge the rain and Moose even went for her promised dip in the lagoon
We'll share all in due course
~Formerly CTMole~
---
Posts: 6
Joined: Tue Jul 28, 2009 11:21 pm
Location: Cape Town, South Africa
The weather forecast was rain. But we were going regardless...And the rain stayed away (except for a 2 minute downpour on the way out). We had a wonderful day photographing flowers, animals and beautiful scenery. This amazing park is only an hour away from Cape Town and more than worth the visit in flower season!
Moose driving
Welcome Sign
Moose and SandSquirrel proudly displaying their wildcards
Moose on the beach, chasing flamingos.
The landscape is beautiful- and less than an hour away from Cape Town to the WCNP.
83 (SandSquirrel count) or was it 96 (Moose count) Eland
Flowers
Gemsbok, flowers and BLUE skies!
More to come
~Formerly CTMole~
---
Virtual Ranger

Posts: 563
Joined: Fri Nov 07, 2008 6:46 pm
Okay, here it is! A personal experiment to see how long I can drag out a one-day trip report
My goal: Simply, the longest WCNP trip report in history... Kind of like that TV show, where each hour, is actually an hour... yeah... or something like that...
August 5th, 2009 10am
So our morning begins in Table View. The weather had promised to be terrible that day, but a plan is a plan and there was no backing out! There were clouds around, but to the north it looked pretty sweet. We reached the gate at about 10am after a very sun-shiney drive, full of great conversation and having taken many random photos of things like car door handles. We were determined to document as much as possible this day, even door-handles. We paused outside the gate to take photos of us and our Wild Cards.
Is there anything better than the multiple 'Beware of the Bees' signs at the gate? They really mean it too. Trips to the bathroom are far more exciting when the sink is blackened by thousands of bees. Today was pretty bee-less, but I've seen the gate bees in full swarm mode before…
After some confusion over SandSquirrel's Wild Card, we were let in. I cannot game-drive without playing music from Jurassic Park, so we were soon rolling though WCNP at 20km/h with some very appropriate music. Just meters from the gate, we came across our first ostrich! I had some photos of it, by I accidentally deleted them
, because I am a Moose (and to be honest, I don't care much for ostriches. They do taste good though).
Then, a few minutes later, SandSquirrel made the first ultra-cool sighting of the day- Steenbok! (Or is it a Steenbok? I'm sure someone will correct me if I'm wrong). Anyway, the Steenbok posed quite happily for photos, which was pretty special. This was going to be a seriously awesome day.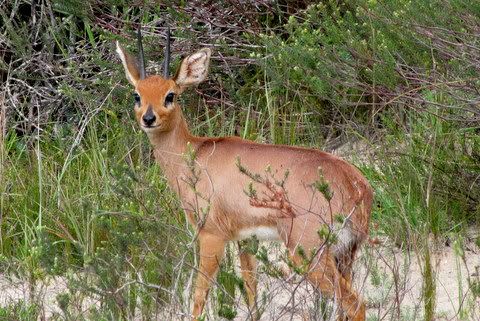 On the way to the beach, SandSquirrel pointed out the very first flower (okay, it wasn't the first, but it was the most obvious) of the park. He got out and took a photo. Moose stayed in the car with her head down, hoping no one would drive by…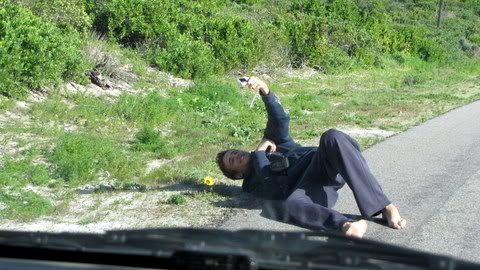 We stopped briefly at the beach for a walk around. We didn't want to be too long, as the never visited (by Moose) Postberg section was calling. As I climbed out of my car into the empty parking lot, I wasn't to know that I was about to see an animal I'd been longing to see my whole life, and another I had NEVER expected to see…
---
Virtual Ranger

Posts: 563
Joined: Fri Nov 07, 2008 6:46 pm
It's coming! Patience!
I've been busy with university stuff...
But... SandSquirrel has the best excuse ever. He won't be around for a while. Everyone needs to send him happy thoughts over the coming weeks. Today he went to the hospital to get a new kidney tomorrow
---
Posts: 6
Joined: Tue Jul 28, 2009 11:21 pm
Location: Cape Town, South Africa
Hi all...
Thanks for the kidney transplant wellwishes, the op went really well. It's been a tough few days, but I'm getting there day by day...
So sad to have missed out on the CPT meet last night, but will try for the next one!
I'll try and post something in the next few days re our trip...
SS
~Formerly CTMole~
---
---
Who is online
Users browsing this forum: Google [Bot], hilda, john n poppy and 4 guests