Virtual Ranger

Posts: 1261
Joined: Thu Mar 02, 2006 12:11 pm
Location: Back on earth.....
Contact:

Alrighty then, left 'drive' again…


Day 7: Part 1 (6 April 2009)

The last day we intended to visit Shingwedzi, the area that I have intensively inspected in December 2008. A wonderful world of nature, filled with extraordinary vegetation, and full of surprises.

It was already light, and relatively early when we left the gates of Mopanie behind us. We were all fully recovered from the backpack trail, and ready to the long round trip towards Shingwedzi. I suggested we do the Red rocks loop, as some of us were newbies to the area, and have never been there. Secondly, I knew from my previous visits that the s52 red rocks loop is a very scenic one, and prefer it to the H1-6 tar raod heading north as well.

Bowkers Kop was shining in all it glory in the soft early morning sun. We were all in an excellent mood, despite the knowledge that or 8 day stay in Kruger was almost at an end. This was the last full day, and we intended to enjoy it till the last minute. That said, I decided to give myself a break, and didn't take half as many pictures as I normally did…..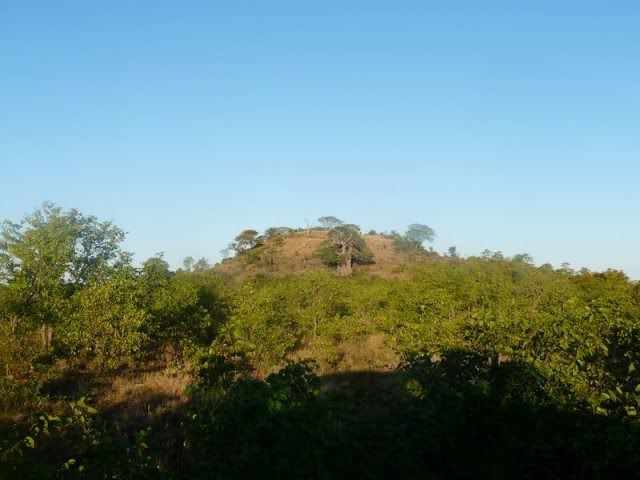 At Bowkerkop waterhole, a small herd of elephants crossed the road. They were mostly young ones. No aggro ellies this time, just a peaceful group of Nomads roaming in the area. As said, I was lazy and as we have seen so many of them around there, I didn't even switch on my camera. Further on, the odd impala and warthogs greeted us. It was relatively quiet on the tar road. Grysbok waterhole didn't have any grysbok around this time. Similarly, Olifant's drinkgat was occupied by the ordinary Egyptian geese, 3 impala rams. Nothing very special to report!

Nkokodozi delivered us a lone elephant bull. But the fella was hiding, so pics were a bit difficult….Soon, we hit the 'entry road' of the s52. I still remember how wet and muddy it was in December last year! We almost didn't come through the mud with our low BMW…! This time of the year, all signs of mud and water pools next to the road had vanished.

I LOVE this road: it's is VERY scenic with lots of big trees, and the surrounding vegetation along the southern part of the Shingwedzi is very different to the large Mopanie veld it is surrounded by.

Red rocks is an awesome place, and one can easily spend 15 minutes by just watching the stunning rocks, and the lush vegetation around there. Amazingly enough, there was more water in it than in December!! We were the only cars, and after standing around for 5 min, we only then noticed a young elephant bull that was quietly drinking from the water below as he moved out of the think bushes. Imagine it being a leopard, we wouldn't even have noticed it!




We enjoyed the view a little longer. I still remember the wonderful 'biltong' and 'dry wors' I chawed there! Tasty kudu that was! The whole of the s52 was relatively quite, but we enjoyed small sightings such a dwarf mongooses, baboons, groups of impala and of course the unlimited birds in the area. For birders, I guess it's the best route of that part in the Park. I got quite excited when I saw a HUGE group of vultures circling in the air!! That means a dead animal, possibly a kill!!! And it seemed luck was with us, and the road lead towards the spot….. (Sometimes my imagination runs to fast
) Anyway, just before we thought we were REALLY lucky, my bubble burst as the road turned to wards the wrong direction…. And the 'kill' seemed to be on the other side of the road!! Bad fella's those vultures. Makes you so happy, and then disappoint…. Almost like BEEP*****


Almost at the end of this road, we noticed the increase of kingfishers. Every regular Shingwedzi visitor will remember the sounds of the woodland kingfisher, which is extremely abundant in that area. BUT, here there were lots and lots of Grey headed kingfishers (gryskop visvanger). However, they didn't want to pose, and after numerous attempts I got this one….I suspect it's an immature one, as he didn't really have partly blue wings… tell me if I'm right
There were many more birds, and we watched a few hoephoep's having an 'argument' with the local red eyed dove population…. Quite amuzing if you're interested in small things as well.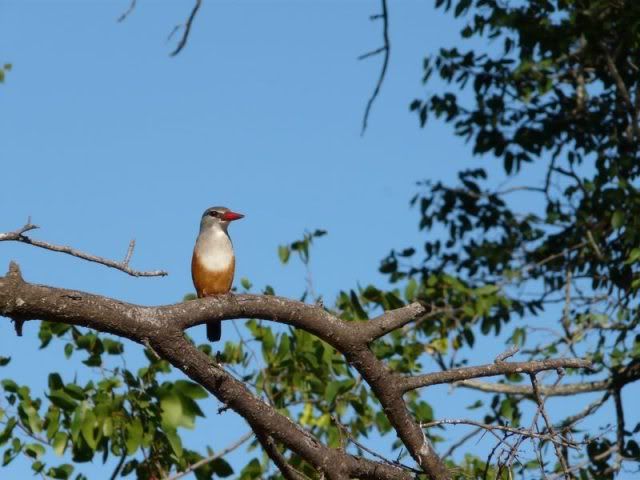 The last 3 km tar before came provided us with 2 lone buffies. The buffalo were a bit nervous, and walking as if they're not sure where to go… The Shingwedzi river on our left was dry. Well mostly, as at some places there were small patches of water. The river must have been flowing for quite a while then….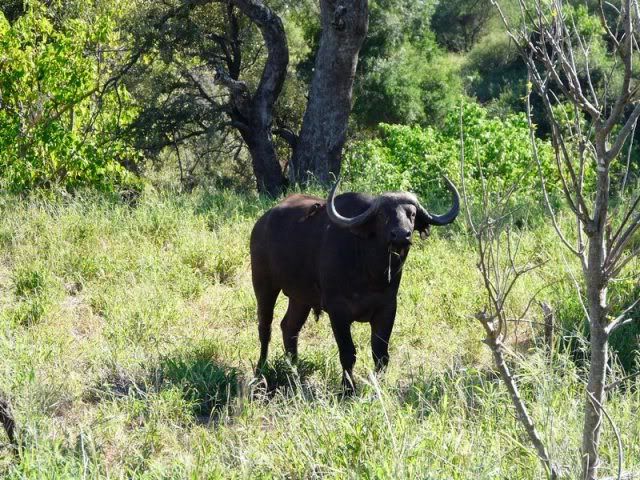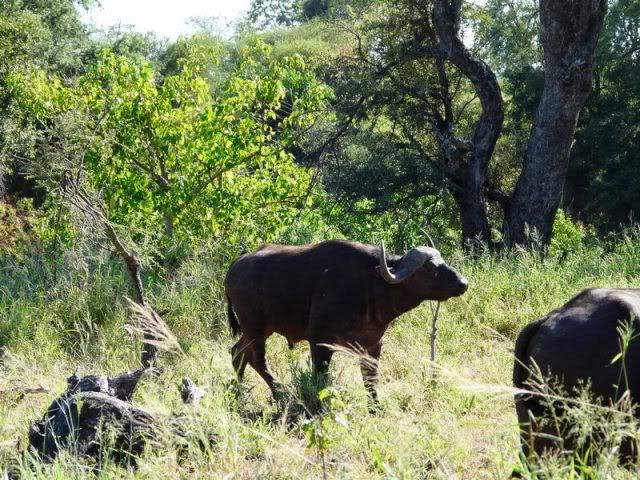 It was a relief to be back in Shingwedzi after 4,5 months of absence
Somehow, I have started to like the place. Do not ask me what places I DON'T love. Quite true on the other hand! But what I mean to say is that Shingwedzi is quite different to other camps. It has this old sphere. Maybe it's the gate, maybe the old reception area. Maybe it's just me. Who knows….We had a nice meal at the take away restaurant area, and the service was pretty good (for Kruger and Saffie standards!
). Would recommend it to anyone. Being last day and all that, I tried to enjoy every small detail as long as I could. The restaurant area has a splendid view over the (often dry) Shingwedzi river. There were a few bushbucks close to the fence. I've seen them there every time I stop here…..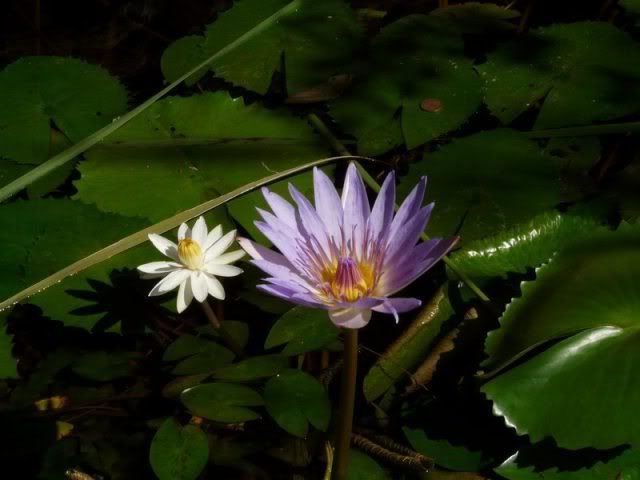 In camp, I asked around where Matthew Burnett was, as I did a walk with him last year. He wasn't in camp, as he was on leave. Nice chap, Matthew
So, we decided to take the looooong dust road, the s50 Kanniedood dam route along the Shingwedzi, and then all the way down to Mopanie. Lots of interesting pins on the 'sightingsboard'….

As we wound our way through the think vegetated banks of the Shingwedzi river, we spotted uncountable impala, crocodiles and also a few hippo's. Sadly for us, most sightings were far. Still, the birds around kept us very busy. Lots of fisheagles to follow. At some big Sycamore figs and Weeping boer-bean trees, a huge flock of African hoopoe, as well as Violet Wood-hoopoe were fighting about this one particular tree. They seemed black, but when I inspected the pictures, they are violet, and their tails so distinctive….. I wonder if this is an uncommon species to Kruger….




As watched them fight for a while, and these small feathered friends can get quite ferocious! It must have been a fight about the fruits of the boer-bean, which ripe in autumn

There were quite a few bushbuck around, but they were difficult to get on camera. So too, I missed the small Njala that crossed the road….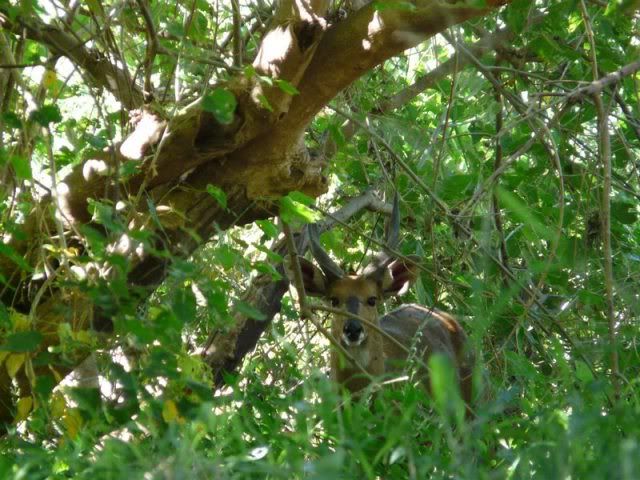 Birdies stayed with us… this time it wasn't a birdy, but a full grown and full developed Martial eagle!! The nice thing was that he sat VERy close to the road, and Sawubona had the great idea to drive right under him, so we could photograph him
through the sunroofs!! This gave us an unusual angle, and he stared right into our lenses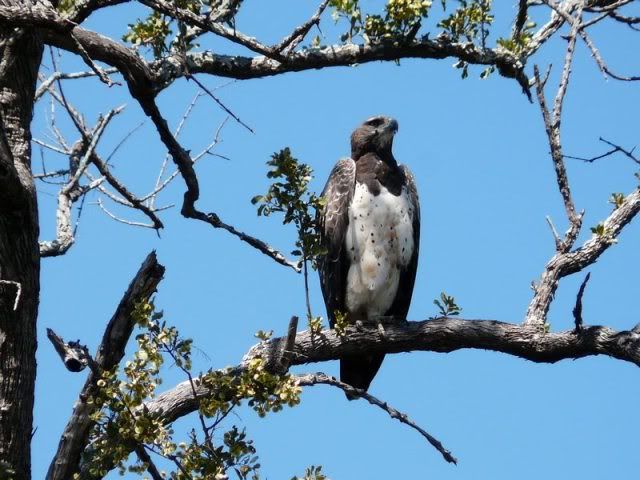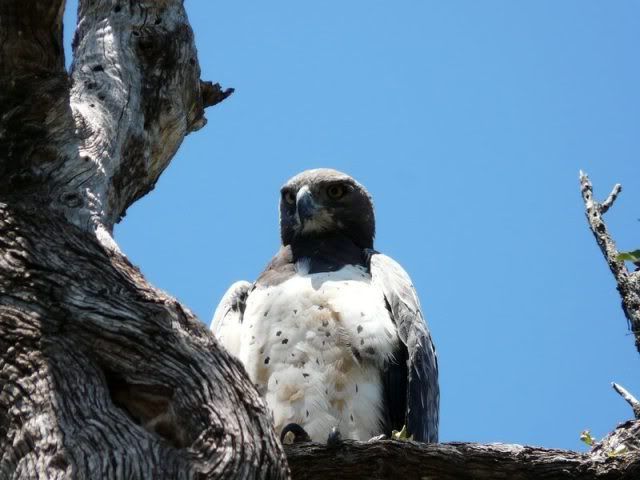 We just missed a herd of ellies crossing the road by a few hours. The 2 dung beetles beat us by it, and were already doing what they do best……. Preparing elephant rolls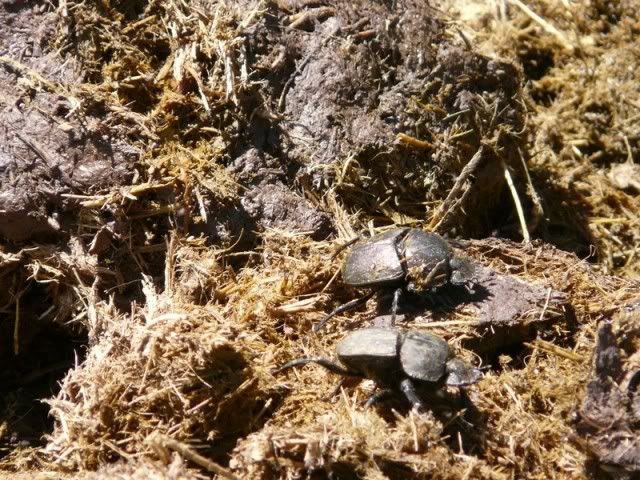 We noticed a rather tired saddle billed stork. It looked almost like he was very depressed, sitting on his knees. The funny thing is the knees are bending backwards, making it an unusual sight. The s50 is a nice road to drive on, no heavy corrugation and easy on the tyres. For us, the next 12 km or so was VERY VERY quiet. Nywutsi hide was dead quiet, and no animals in sight, & also no water in sight!! I guess because the area was very dry, that most of the animals were headed to more permanent sources of water. The area really seemed much drier that the other regions we had visited recently.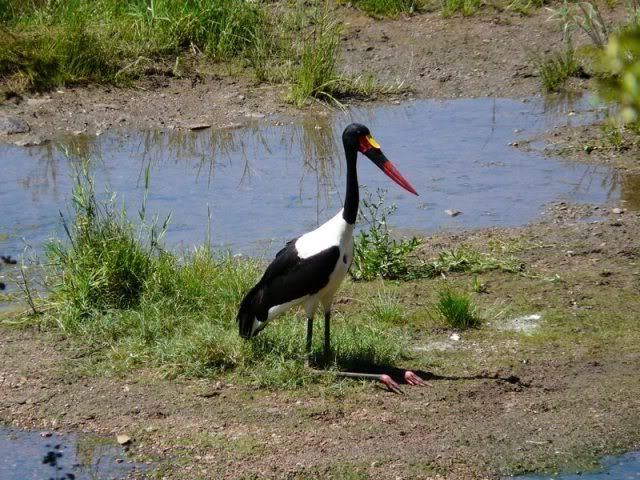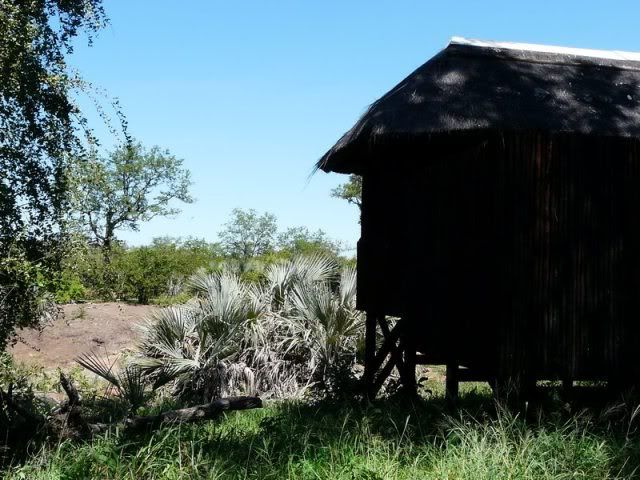 We encountered some zebra's and giraffe at Grootvlei dam. It's a BIG dam, and actually a better spot to put up a hide…. The dam must have been pretty full the recent summer, as it left clear 'tracks' of the water level. However, by now it was almost completely dry, with only a small corner of muddy water, not worth to be called a mudpool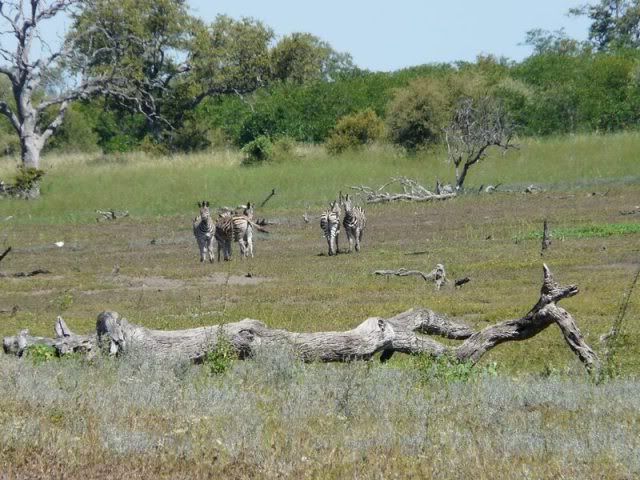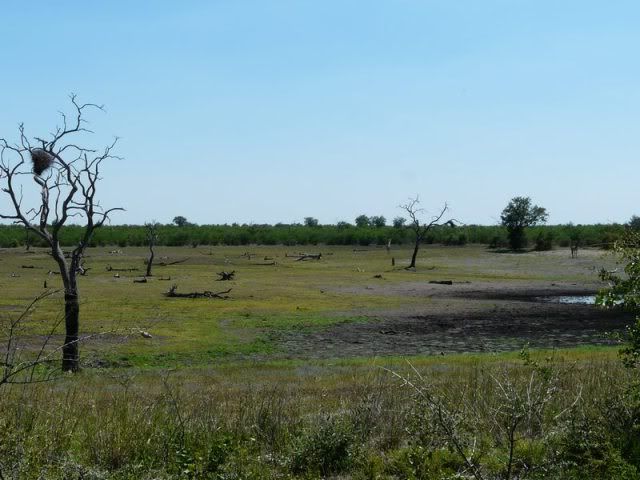 5 Zebra's and a giraffe strolled around, very slowly, not willing to spill much energy at this place. We drove onto the dam wall, where the actually is a track. Very nicely laid out I must say. I really want to see this place in summer again…! Southwards, along the s50, we drove up to the viewpoint of the Shibavantsengele , which is 482m high. It's almost on the border of South Africa and Mozambique, and reminds me a little bit (only a little
) of Nkumbe. The view is not so nice though, and one also can't climb out there… Close to camp, at Nshawu 4, a herd of Tsessebe dived for cover into the low scrubs just as we appeared on the horizon.




Right before the last T junction close to camp, a ellie bull and a buffalo bull stood their ground, claiming their space… Similarly to the giraffes, zebras and Tsessebe, they also tried to avoid too much movement due to the heat of the day. It was quite hot for an Autumn day.. Both looked like they had a recent mud bath… Maybe even together, who knows!




Although we enjoyed this trip a lot, we didn't find any cats the last 2 days. Or should I say, we didn't find them YET….. I think it's time for a 'break'……..hehe.

To be continued…….
Kruger Selfdrive under review: click
HERE
to join the discussion and influence the future of Kruger's selfdrive options
Contribute to a viable solution and participate in the discussion!
---
Virtual Ranger

Posts: 1261
Joined: Thu Mar 02, 2006 12:11 pm
Location: Back on earth.....
Contact:
Hi all


Thanks again for the kind comments and indeed very special memories that pop-up! One of the main reasons I write these detailed trip reports


Now, that afternoon we were really lazy, and Donavan who lead us on the backpack trail, advised us to take a sunset drive with Michael at Mopanie. Being the last night we would be in the healing sanctuary, some of us decided to do a sunset drive. Obviously, I couldn't resist and joined the 'gang' ......
Luckily I did, as we once again came upon a lifetime sighting. VERY rare stuff!! But, hold a minute, we'll start from the beginning..


Day 7: Part 2 (6 April 2009)

So: put on your jacket as the April breeze is cold, remember your coffee, brownies, make yourself comfortable, and drive along with us, on this special sunset drive @ Mopanie Camp....


Michael was sitting alone in the front, so I joined him with his permission, to keep him company. I've done quite a lot of sunset drives before, so I didn't mind giving up the prime game viewing height from the 'truck'. We were asked what we wanted to see. so once again I demanded leopard & wild dog cubs with a grin
Honestly we didn't care, but we were just there to enjoy the coming 3 hours. It definitely was worth every cent!!

We told Michael about the nervous zebra's at Mooiplaas waterhole, and he told us that somewhere in the area there should be a pregnant lioness….
So, in a good mood we left camp. Right outside the gates, to our right a herd of giraffe's enjoyed the branches of some tall trees. Maybe 500m further, a herd of ellies moved in the distance… This was going to be a great drive! At Mooiplaas, the zebra's were still there. This time, the group stood a bit further away, while the male was watching the waterhole motionless. We stayed there for a few minutes and after a while an alarming call by the zebra, and so they all disappear into the Mopanie shrubs, followed by a cloud of dust!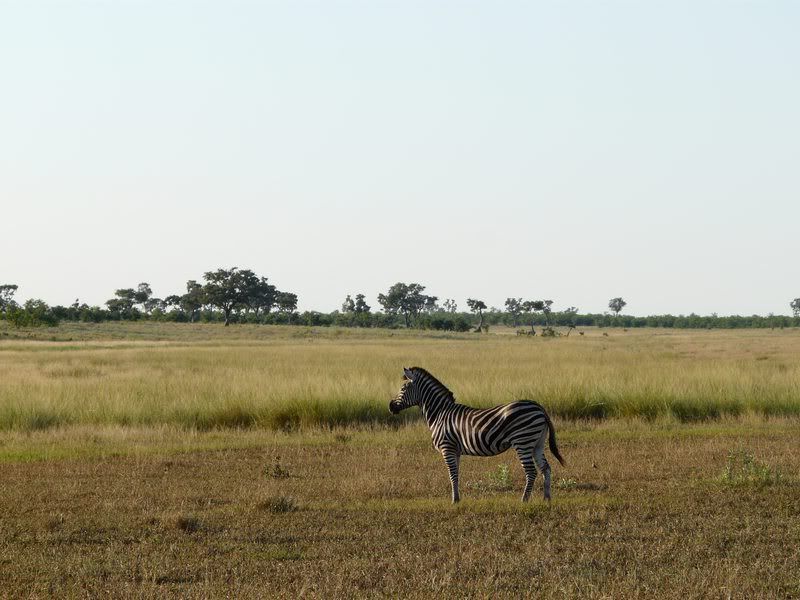 After a while, we continued North, towards the Nshawu waterholes. A herd of kudu crossed the road in front of us. Very gentle, and also very nervous. It took some time before the last female had the courage to cross. The low sun provided us with a perfect warm light..




Around the next corner, a lonely elephant showed himself. We noticed that he had only 1 thin, long tusk. He wasn't keen on coming closer, so we drove on to find another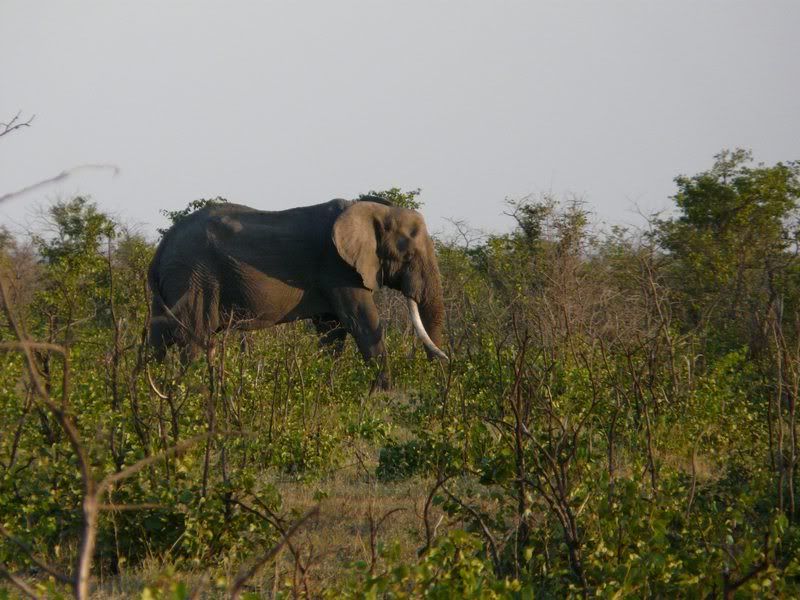 At Nshawu 4, we were stopped. By a traffic officer
No, just kidding, but we were stopped by an excited Italian couple, who informed us of 3 rhino to our right
This was the only and last 'trophy' we needed... I'm not a BIG 5 hunter, but it's always nice to have seen them all in 1 trip. We missed it on foot this round, so we needed to get it on this trip
Well, there it was, 1 big grey monster
The double & long-horned 'monster' decided to play hide and seek, so this is the only shot we could get..... Bloody evasive, those northern KRUGER rhino's


For the last time this trip, we had the privilege to awe at the absolute stunning and amazing sunset. Every time, every day we experienced the beautiful contrast of the losing sun. Such a privilege, and such good memories: To watch the sun slowly disappear on the horizon, greeted by the guinea fowl and francolins, as well as the late hadida joining his clan in a middle sized tree. How long, till the next trip? How long...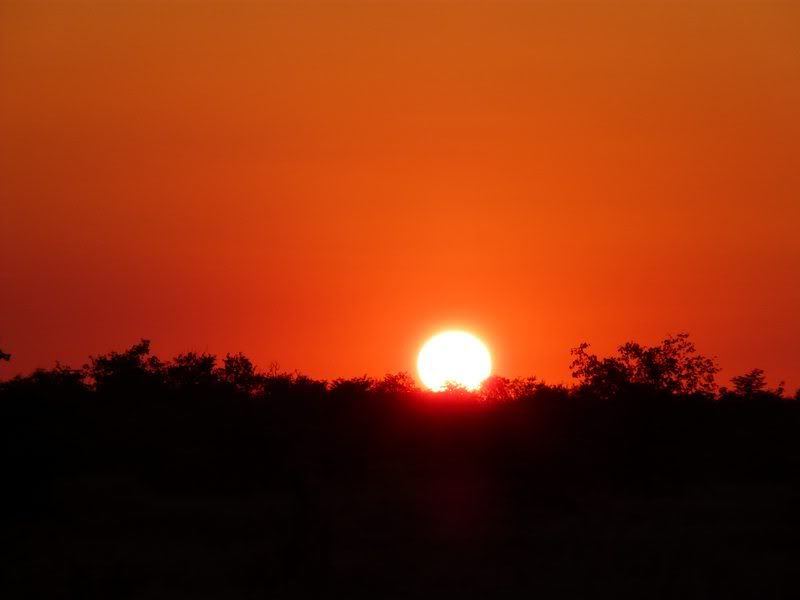 The crackling sound of the diesel engine ended the dreaming, and we were well on our way to Tihongonyeni waterhole on the s143 Tropic of Capricorn loop. According to Michael, it's one of the best loops to spot the rare Tsessebe, Roan and the elusive Eland. Especially an hour before sunset, this is the place to be, I was told....

I was eager to 'tick' Eland on my extensive Kruger sightings list.. "We had to many sightings to get there on time", was Michael's reply. Maybe next time? Who knows! As Dotdan says: "Kruger is like a box of chocolates, you never know what you're gonna get'. VERY true.


Just before the waterhole, we came long a group of Tsessebe! I think it must have been around 13 of them, quietly grazing close to yet another herd of wildebeats
Tsessebe are most abundant in the Mopanie region.
These are the fastest antelopes in Kruger. Yet, these one's were quite relaxed, and did expect any danger. Unfortunately for us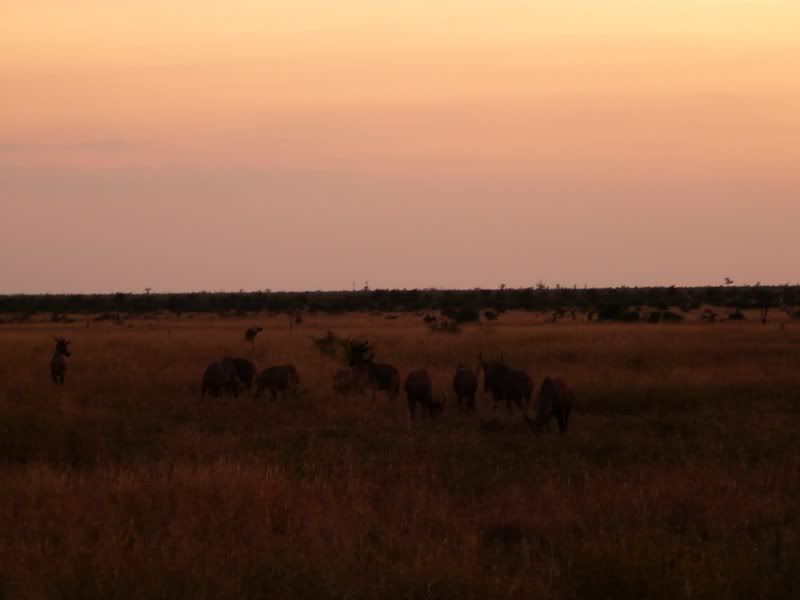 Some 200m before Tihongonyeni, 2 young elephant bulls closed in on us.. The one was very cheeky, and stood his ground in the middle of the road! So we gave him his share of time. Still, he simply won't move
So, Michael started the engine, and 'pushed' him backwards. With a loud trumpet, headshaking and 'stiff' retreat, the elephant decided it's enough let us through. Quite funny, as he didn't seem to be impressed at all
Young fella's......eish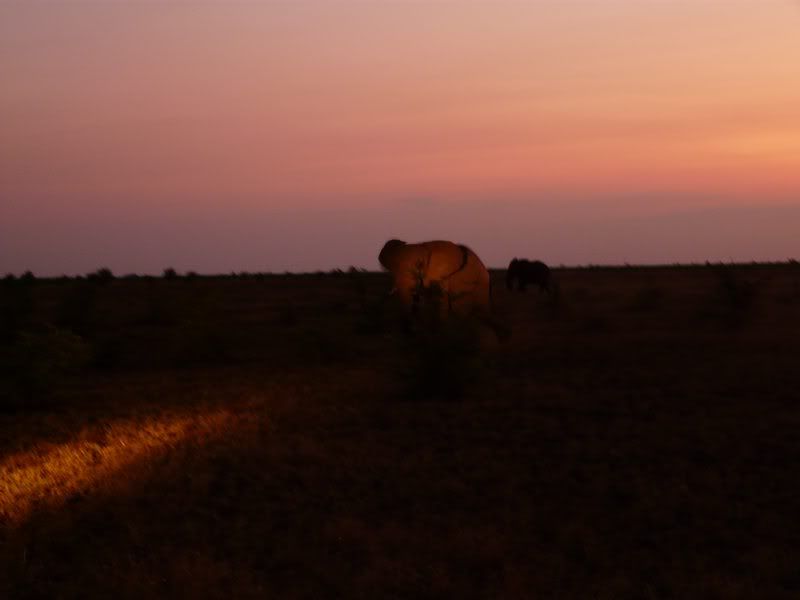 At the waterhole, we were allowed to have a short stop, and stretch a bit. In the distance, we could still see 2 buffalo bulls. But they were far, and very relaxed. Once again, the sun provided me with a excellent opportunity. This time, the 'windpomp' as subject. Around Mopanie, there are still quite a few windmills, but it won't be for long I guess....
It gives one such a rustic sphere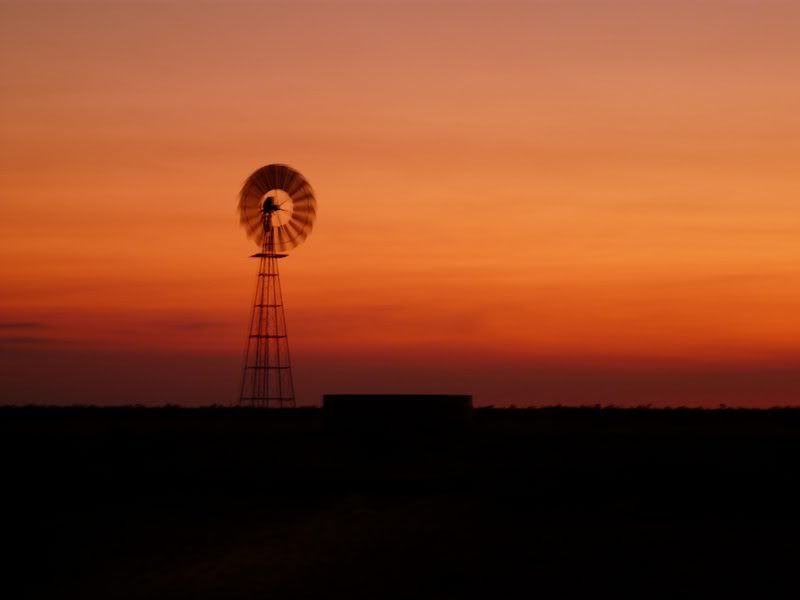 The next 18km was relatively quiet. We spotted a duiker, herd of impala and elephant. But not anything worth a picture by low light! At Bowkerskop, along the tar road, a BIG lone buffalo was grazing right next to the road. With the engine switched of, we sat 2m away from this giant. he wasn't bothered at all. Time was ticking, and we had to continue......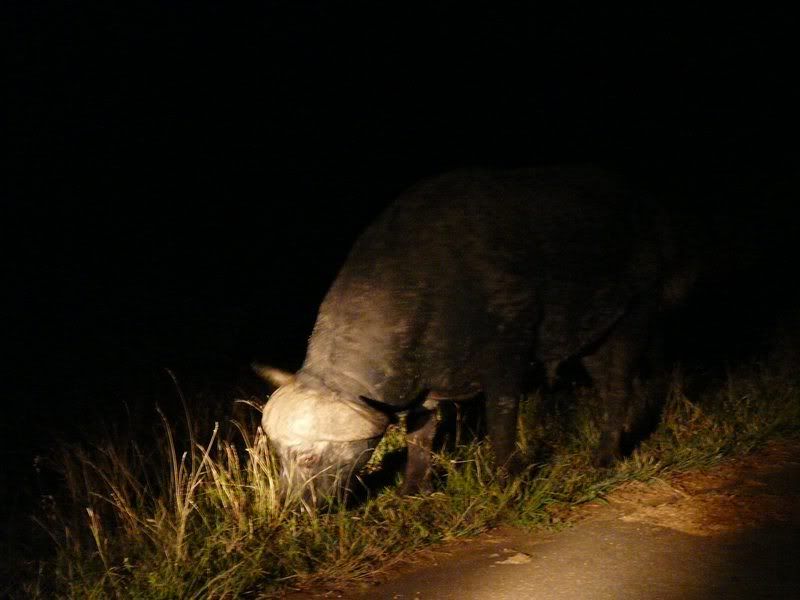 AND THEN, right at the T-junction 1,5 km from camp, where we had seen the buffalo and elephant that afternoon, and right where one thinks the 'drive is over' a small wonder walked on the road!!!


Michael grabbed for his camera in his bag, while switching off the engine not to scare this SMALL.....CAT!!!!


It was a very young cat, and at first we couldn't properly identify it...It looked like a small leopard! Only when it crossed the road, and looked at us, did we see we were looking at a

baby SERVAL!!


It looked at us as if it has never seen any humans before (maybe it didn't
) and gave us plenty of time to take pictures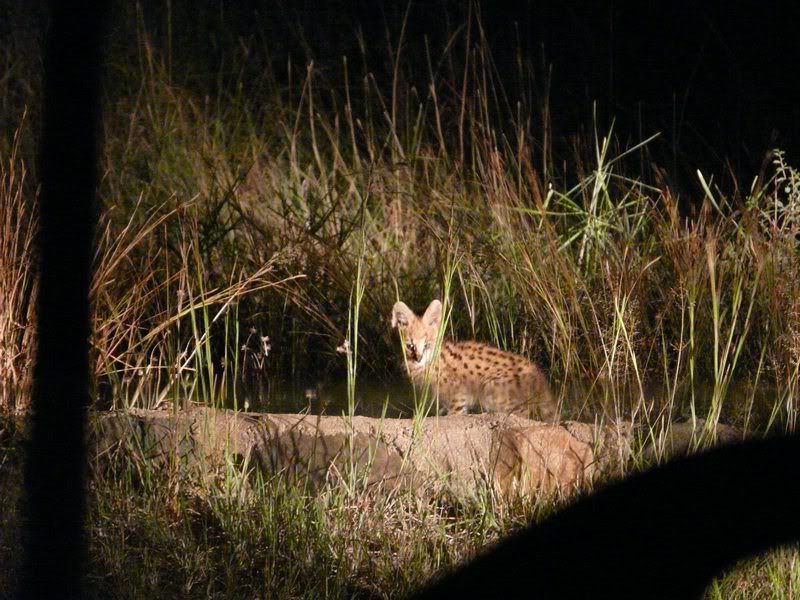 I could not believe our luck...!! A baby Serval is indeed a special and rare sighting. Probably better than a group of Eland at Tihongonyeni

So, again a 'rare' sighting to add to my long list. Such a 'cute' animal, those kittens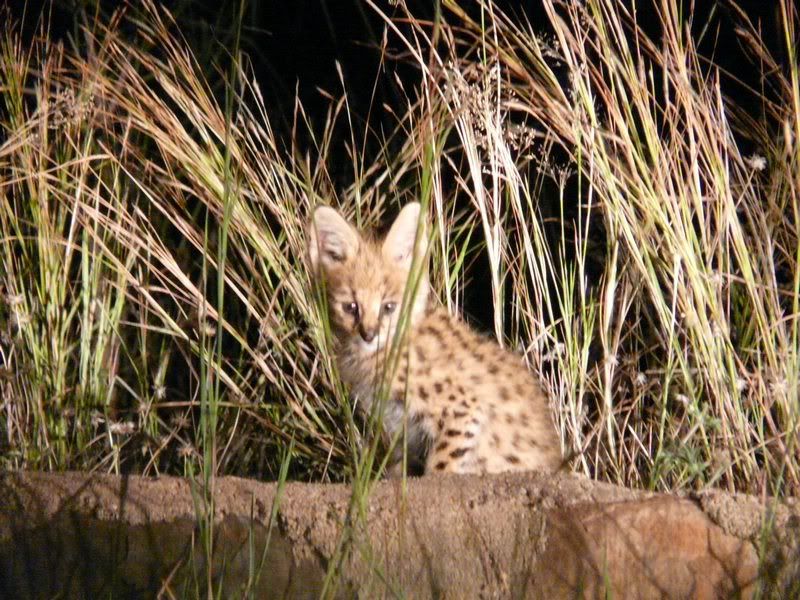 This was the dessert of our 'meal' , and a tremendous sighting to end our last night in Kruger. There is always something special to see, and yet again we were very privileged


Then, greeting us right in front of the gate a small group a waterbuck stood close together, alert as always.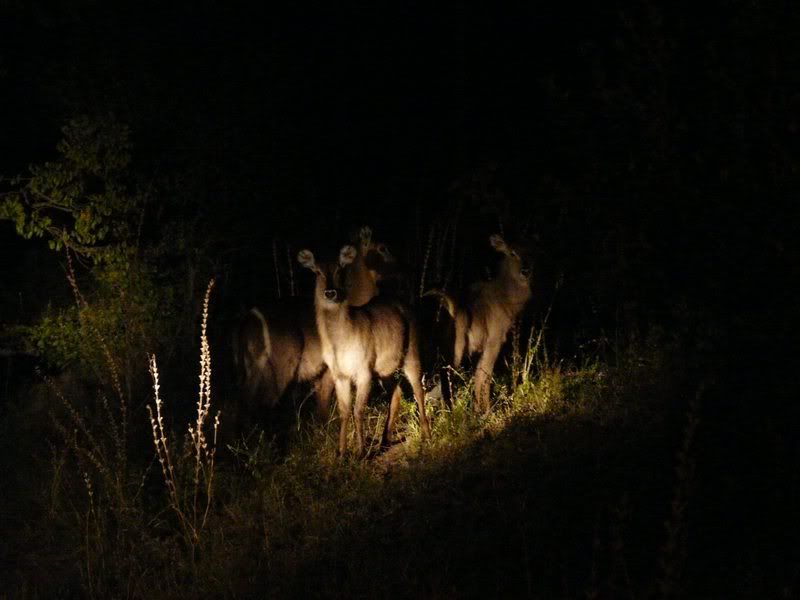 We quietly walked to our units.... Very tired, I soon was gone with Alice in 'wonderland'


To be continued, for one last time. FINALLY
Kruger Selfdrive under review: click
HERE
to join the discussion and influence the future of Kruger's selfdrive options
Contribute to a viable solution and participate in the discussion!
---
Virtual Ranger

Posts: 1261
Joined: Thu Mar 02, 2006 12:11 pm
Location: Back on earth.....
Contact:
Okido


I guess I have to write my final piece of this treasury of wonderful memories


So close your eyes, and do a short drive with me from Mopanie camp to Phalaborwa


THE FINAL DAY
Day 8: Tuesday 7 April 2009

When we all woke up, heavy clouds were hanging in the sky. Dark, low-hanging clouds filling the air with a rather sad. The hippo's grunted for the last time as they soon were to leave the water to bake in the sun. That grunting was like a swan song to me. A final good-bye.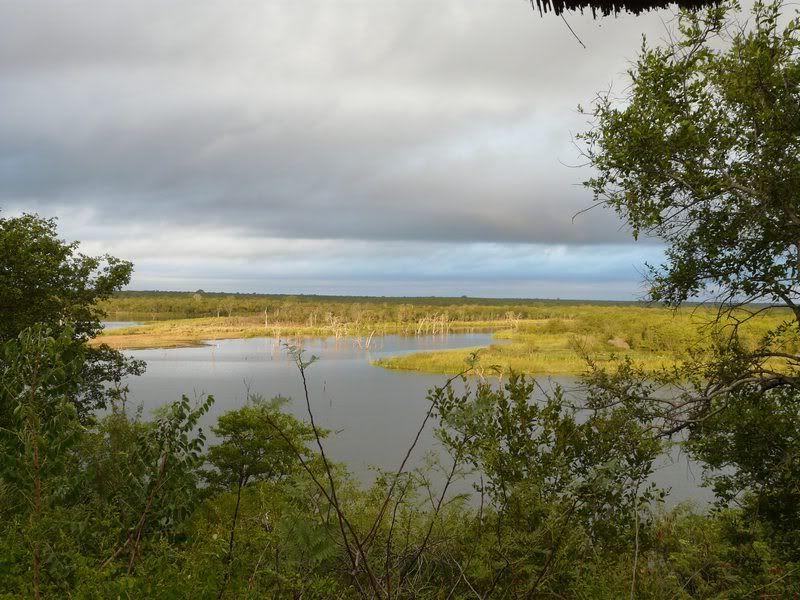 After an hour of full time packing, we managed to gather all our stuff, hooked the Venter trailer and left. As the wheels rolled through the gate, we all said farewell to the place whe had come to like so much. Ten years back, I was eager to see cats, lions in particular. I never really liked Mopanie. This has changed now...... there is so much more to marvel at. The camp has it's own sphere, it's own beauty. So the area to, is special in it's own way...

We planned on taking the H1-6 southwards, and then take the H14. Also, one of the few roads I could not remember what it looked like. The first 10/12 km was pretty quiet. A few impala, the usual francolin's etc, but nothing really big. We drove past the entrances of Tzendze, Boulders and Shimuwini camps. It's good to know that there still is so much to discover, so many hidden jewels in this wonderful place called the Kruger park. That aside, right in front of us 2 beautiful giraffe's appeared. I suspect they were still close because of the mating season. have seen them mate so often in March/April! Apart from a few waterbuck, the raod was quiet all the way to the Letaba river crossing.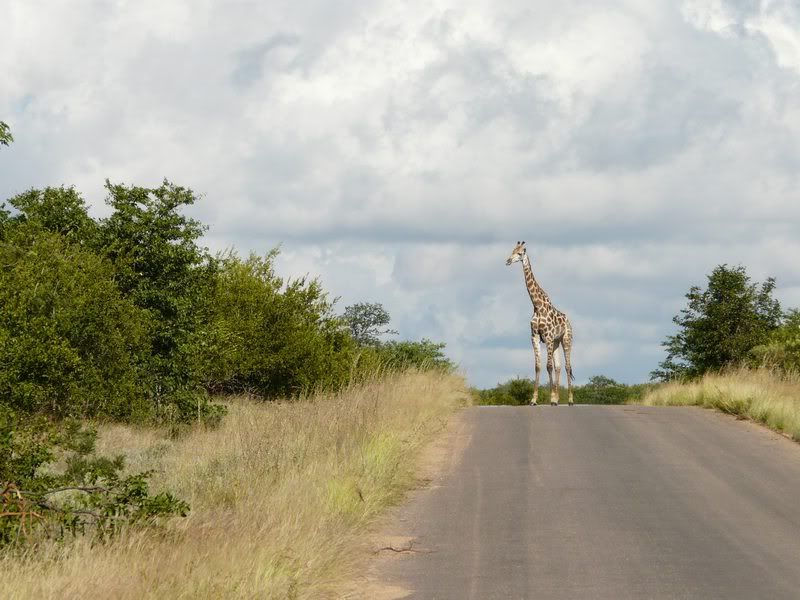 This is a beautiful spot
The Letaba has eroded the riverbanks quite significantly, and I guess the effects of the floods in 2000 were still visible. It's a pity one needs a concrete low-water bridge here, as it actually spoils the scenery....




We stopped and searched for a last special sighting. However, it wasn't meant to be, as the area was pretty quiet. Apart from a few egyptian gooses, and a single giant kingfisher, the area was rustic & peacefull. This kingfisher had no fear at all, and we stood next to him, and I could almost touch him. It was as if he knew he had nothing to fear, and sat there quietly observing the helpless fish below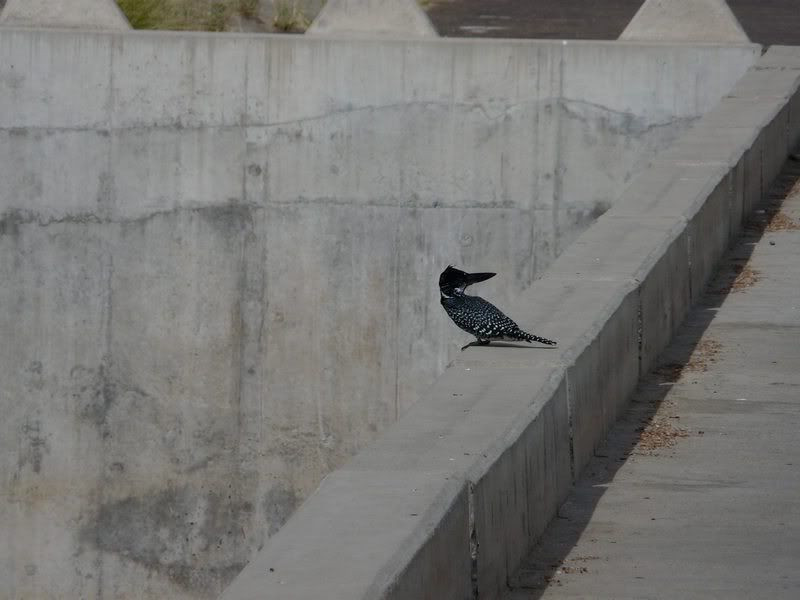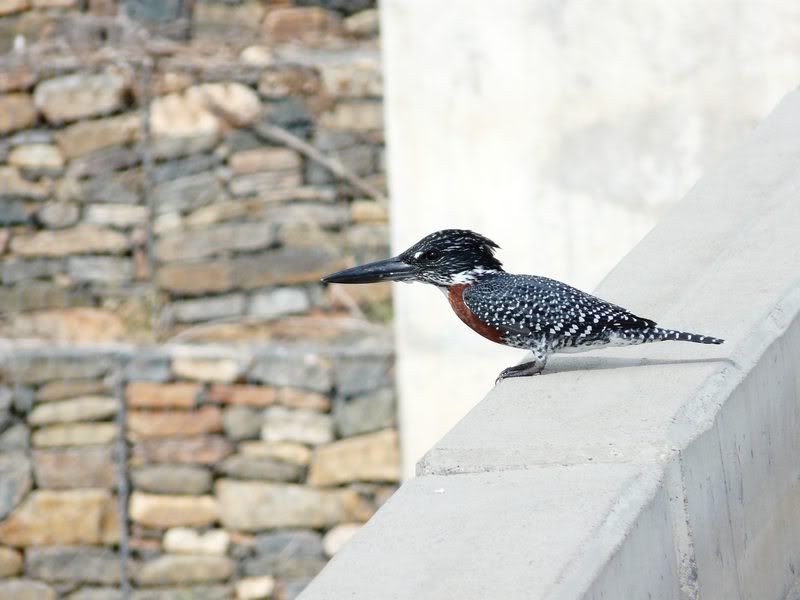 But, time was pressing and the road home was still long. So we greeted our feathered fella, and continued our trip. Somewhere along the next peice of 17km of tar, a herd of buffaloes stood next to the road. We decided to wait, and let the cross in front of us. After the leader checked whether the area was save, the first buffies crossed! It was a group of nearby 70, with a few young calves, and 4 or 5 HUGE bulls. They make me think of the American Bisons, just without 'fluffs'


As a last treat, a HUMANGOUS baffalo bull crossed the road. This was only the second time I have seen such a big bull. His hooves bashed the tar as he crossed. he wasn't too much in a hurry, and stopped from time to time as if he was telling us to back off. I feel sorry for the lions who will one day meet his fiece and brute strength.....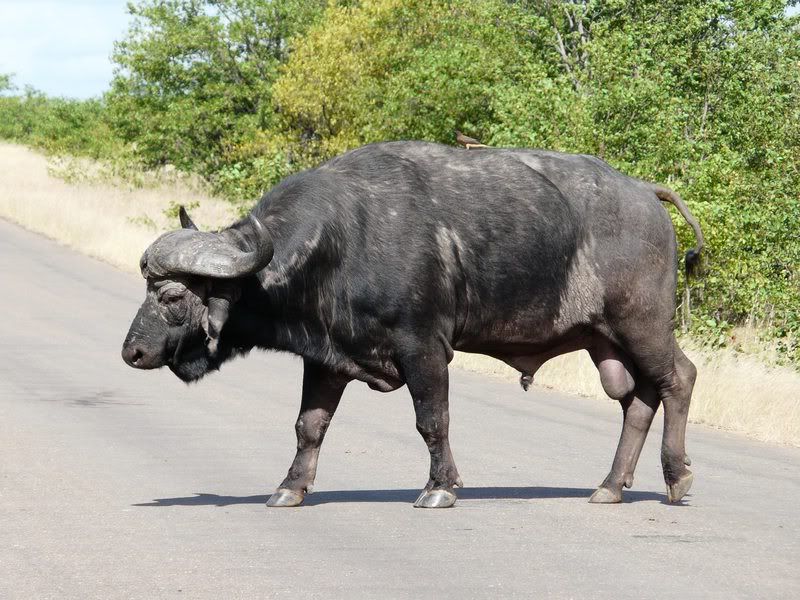 There where the Ngewnyeni river crossed the H14, a bateleur showed us some stunts. Circling high in the air, the played with the wind as if he owned it, masterfull rolling and diving local wind currents. Awesome to see.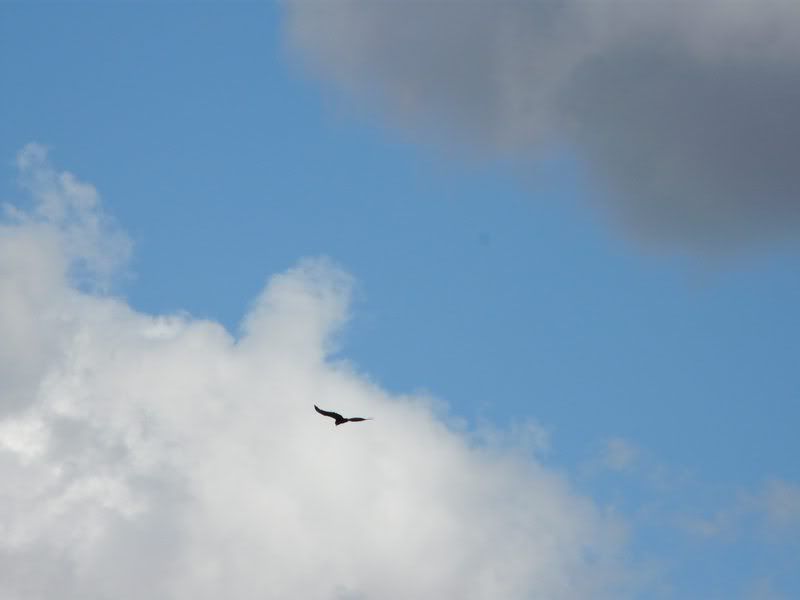 I found this road more scenic than expected, and also the vegetaion is a bit different that at Mopanie or Phalaborwa. Although still plent Mopane trees around, there is quite a variety of other vegetation, including big trees. I guess it's becuase the road closely follows the Ngwenyeni stream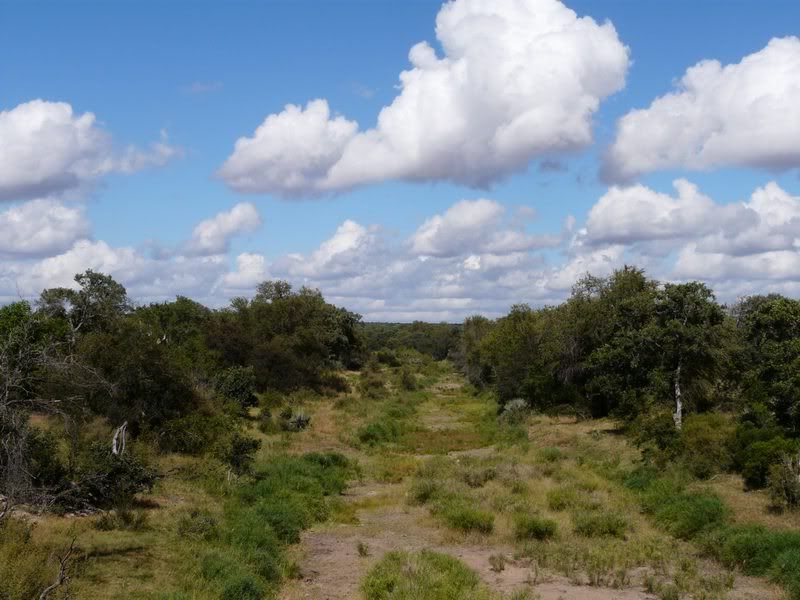 At one of the sandloops close to the 'river' a herd om Impala enjoyed the fresh water of one of the last few water pools in the area. The one impala ws constant of the look-out keeping an eye on the ever present danger in the thick branches and bushes. One never nows....
Lastly, the rocky ourcrops of Shikumbu hill appeared on the horizon.... It is an area quite unknown to me, yet I have vowed to return one day! The impala's were the last animals to greet us. Too soon, the gates to the big wide and hard world appeared. Reality has hit us hard!




Well, and so our 8 day trip come to an end. However, it was THE BEST trip of my life, THE HIGHLIGHT of my ALL my visits. We had so many tremendous experiences, were so privileged to visit such an awesome place, and to have such wonderful interaction with nature. Never will I forget the fisrt night in my small 2 man's tent, the lions that surprised us, the aggro and PLENTY buffalo who kept us in stress. Nor can I forget the grunting and blowing hippo's watching us bath in the Olifants river, nor the fire-fly I have held in my hand, or the call of the distressed baboons, and the sudden appearance of a leopard on foot. So too, the small serval baby so funareble & close to us........

My list can go on and on and on. Somehow, I have tried to portray the beauty of this place. This place, where we try to unite with a piece of our human existance that is missing, that we try so hard to find... It is only a weak attempt, like a painting that can never represent the real. All I know is this: I will hopefully return another day, another time to praise the beauty of the simple impala,& to enjoy the UNBELIEVABLE and INCREDIBLE sounds of the African bush. To smell the grasses and wild fruits. This was a mere introductory to many many more backpack trails that will HOPEFULLY follow!!

I hope you all enjoyed it, and I believe the mission is accomplished! Again: THE BEAUTY OF NATURE IS REVEALED!



THE END
Kruger Selfdrive under review: click
HERE
to join the discussion and influence the future of Kruger's selfdrive options
Contribute to a viable solution and participate in the discussion!
---
---