…………… but definitely not the last!

I'm so pleased I discovered these superb forums. Reading about other people's experiences in the Kgalagadi in the months between deciding to go and actually going not only gave us a good idea of what to expect but added to the excitement as the big day approached. I thought the least I could do was to try put something back into the pot.

NB: I'm not an experienced photographer, and was using a camera I'd bought only a couple of weeks before, so my efforts don't compare with the stunning pictures posted by many people on this forum.

Click on the pictures if you'd like to link to larger images.

We drove up to the Kgalagadi with a friend from Cape Town who's been visiting regularly for almost 30 years and loves it. It's a long drive, but the alternative of flying to Upington and renting a car would have meant missing the spectacular scenery of the Western and Northern Capes.

About 160 km East of Springbok we turned off the N14 just past Pofadder to visit an oasis in the desert regions of Namaqualand. The road descends a few km from the N14 and ends at Pella - a small village surrounded by arid hills. It's hot - 43 degrees when we were there.
There, in the middle of nowhere, is an imposing Roman/Gothic style cathedral surrounded by date palms.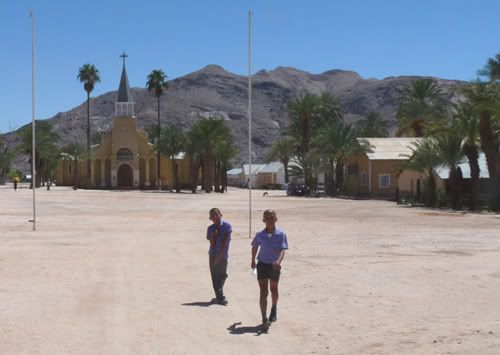 Pella Mission Station, which includes a large school, is run by a small community of nuns.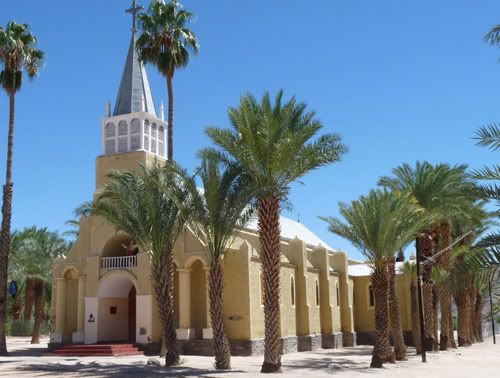 Pella Cathedral, completed in 1895, was built by two young French missionaries.
It took them 7 years. They had no building plans. They copied the design from an encyclopaedia - which also served as their building manual!

We were lucky to be shown around the Cathedral and small museum by Sister Leonie, a warm friendly lady in her early 70s who was born and bred in Pella. Her account of Pella's history was fascinating – she has the gift of being able to make history come alive as she tells it.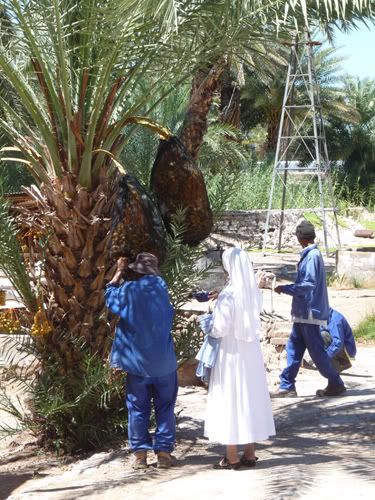 Freshest dates we've ever eaten - straight from the tree!

I've included Pella in my trip report because it adds only an hour to the journey and might be of interest to people who drive up the N7/N14 from Cape Town. Hope that's OK.

Monday afternoon was spent in the 'lunar landscape' of Augrabies Falls National Park.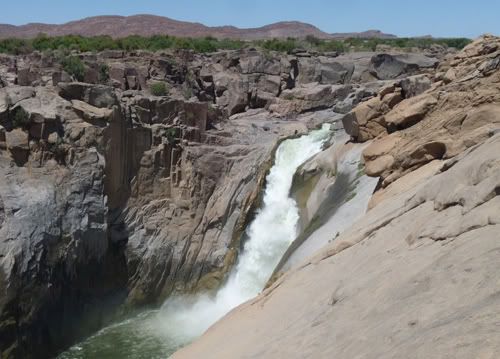 The Orange River drops about 60 metres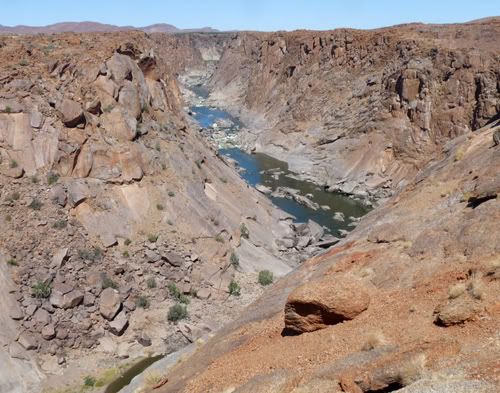 Back towards the Falls

Down the Orange River Gorge


First 'wildlife' sighting -



Klipspringer in the shade of a small tree


Next: First day in the Kgalagadi.
Last edited by
Astazou
on Sat Mar 28, 2009 9:51 pm, edited 7 times in total.
---
Thanks for the warm welcome to the forum.


Tuesday 17th Feb
Depart Augrabies for the Kgalagadi

We'd thoroughly enjoyed our drive from Cape Town - so many interesting and varied sights - but it was exciting to be setting off on the final stage of our journey to the Kgalagadi. Yet again, the scenery didn't disappoint.

Most of the landscape of the Northern Cape is a vast arid plain with koppies and gigantic haphazard rock piles which look as if they are about to topple at any moment, but there's a fertile area in the environs of the lower Orange River - known as the Green Kalahari. Little did we know at the time that the Kalahari Desert would also be very green!!

The lush green vineyards we'd seen around Augrabies continued for many km, surrounded by black granite rocks and sand dunes. The dunes became increasingly red the closer we got to the Kalahari. The large farms produce grapes for the Orange River wine co-operative and sultanas for making raisins. We saw them being dried – on large concrete slabs in the sun and on wire racks/wooden trays in the shade, the drying method depending upon the type of raisin being produced.

While buying supplies at Upington, we learnt it was cloudy in the Kgalagadi. Cloudy??
We hadn't seen a cloud since we left CT. Hard to believe as we continued our journey under a glorious cobalt blue sky with not a cloud in sight.
But, by the time we reached Twee Rivieren, occasional puffy white clouds had gradually increased into a cloudy sky.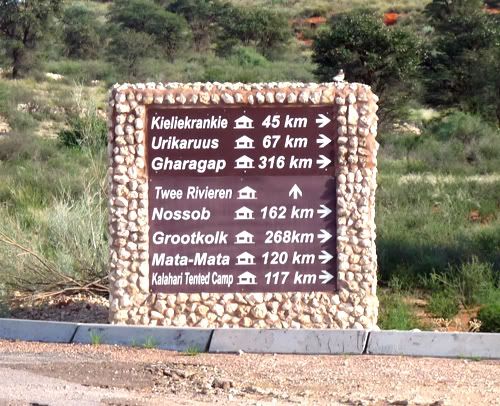 Here at last.
(No large image)


The restaurant was closed for lunch (!) and there was no activity at the nearby watering-hole so we set off in search of wildlife on our way to Kielie Krankie where we were spending the first night.
We naturally hoped to see as wide a variety of wildlife as possible during our stay and a leopard would be a lucky bonus but, most of all, I was looking forward to seeing the famed Kalahari lion.

We soon saw our first Gemsbok at the side of the road.





First lesson learnt. If there's a chance of a close-up picture of a gemsbok, make sure the first shot is a good one because there probably won't be a second chance before it quickly moves away. Don't chop off the top of those magnificent horns next time!
I was surprised how timid gemsbok are - much more so than the smaller antelope. But what striking animals, with such dramatic features.

We saw herds of springbok playing and wildebeest wandering aimlessly in the Auob riverbed, and these young Springbok sheltering in the shade of trees near the road.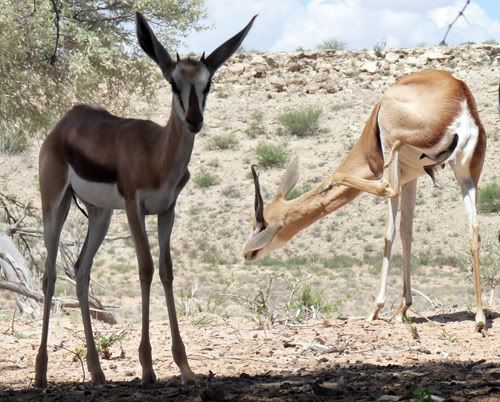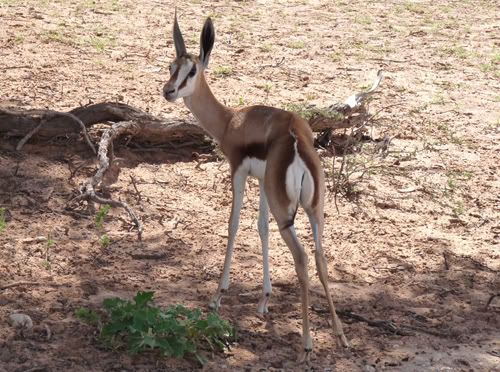 We noticed how quickly the weather changes in the Kgalagadi. Thick cloud and a rain shower as we left Twee Rivieren was followed by a mostly very sunny afternoon and then cloud again as afternoon turned into evening.

After calling at Kielie Krankie to check in, we set off again on an evening drive.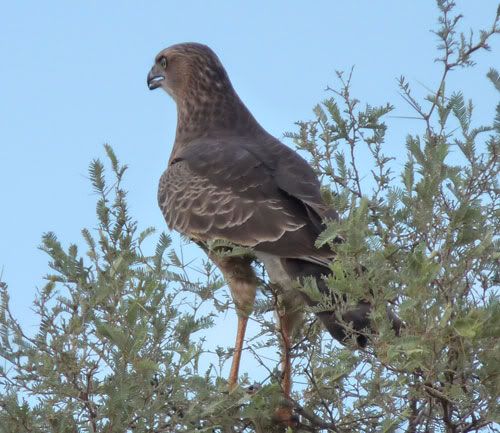 Southern Pale Chanting Goshawk (Juvenile)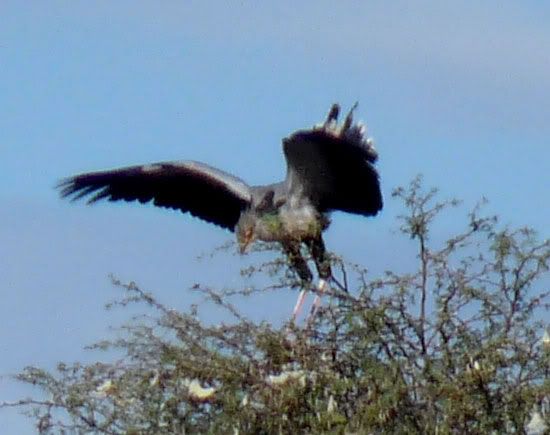 Secretary Bird
(No large image link - too blurred)




Sociable Weaver Colony
It used to be much bigger. Our friend who took us had watched it grow over many years until it eventually became so heavy a branch broke off.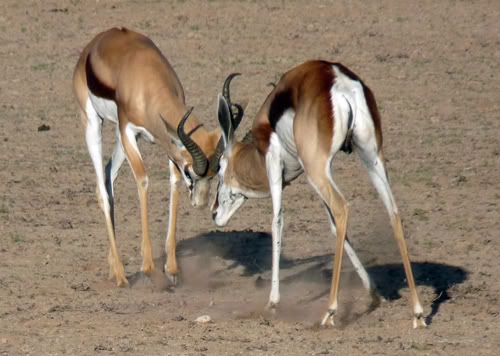 Springbok fighting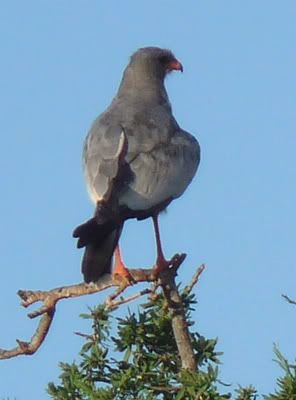 Southern Pale Chanting Goshawk


We got back to Kielie Krankie as the sun was beginning to go down.
A fascinating first day in the Kgalagadi - so many sights we'd never seen before.
No lions spotted yet
.
Maybe tomorrow?

But, before that, there's the famous Kielie Krankie sunset to see.
Hmmm. A lot of cloud around again now, and it's building quite quickly. We're staying for only one night. Will there be enough open sky left to see a sunset?
.
Last edited by
Astazou
on Fri Mar 27, 2009 1:56 am, edited 6 times in total.
---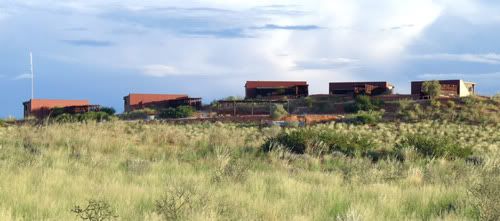 Staying overnight at Kielie Krankie Wilderness Camp is such a special experience that it's difficult to find adequate words to describe it.

The camp is perched on top of a high sand dune - giving breathtaking views over a vast open expanse of red dunes and scrub in all directions, literally as far as the eye can see.

(Click on the pictures if you'd like to see larger images.)



Looking back across the approach road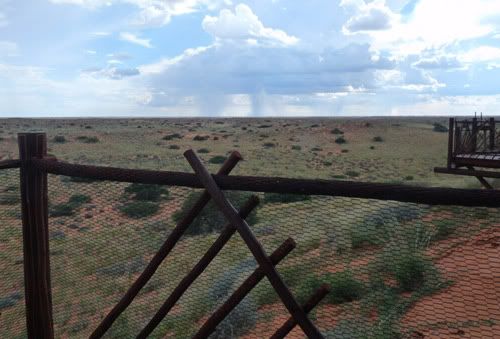 View from our deck - with rain falling in the distance
(The rain shows more clearly in the large image.)


If the rare opportunity to experience a night in the wilds of the desert appeals, Kielie Krankie is the place to go.

There are just four cabins for visitors (and one for the camp attendant) and no shops or other facilities which would detract from the atmosphere of being out in the unspoilt wilderness - although a couple staying in another cabin were surprised and disappointed to find there was nowhere to buy beer. In the middle of a wilderness?


The cabins were comfortable and spotlessly clean. We were lucky to be in #3 and #4, the two furthest to the right as viewed from the road. Although a few metres further away from the water-hole (which makes no practical difference), they are in the best position to watch the sun set. We enjoyed chatting to Oliver (camp attendant) about the Kgalagadi so invited him to join us for our braai to continue the conversation.

The camp is unfenced so you feel completely at one with the Kalahari.
Each cabin is equipped with a whistle to summon the camp attendant. No, not Room Service. He'll arrive with a rifle if the pleasure of being so close to nature turns out to be a little too close to nature!!

Kielie Krankie apparently means 'almost sick' in Afrikaans. I wonder who gave such a curious name to such an idyllic place.



Thankfully, my earlier worry that it might become too cloudy for us to see a famous Kielie Krankie sunset turned out to be needless. The active sky added to the beautiful spectacle which unfolded before us as we relaxed with sundowners on the deck.

(The linked larger images do more justice to the scenes we saw, but no picture can truly capture what it was like to be there.)


19:08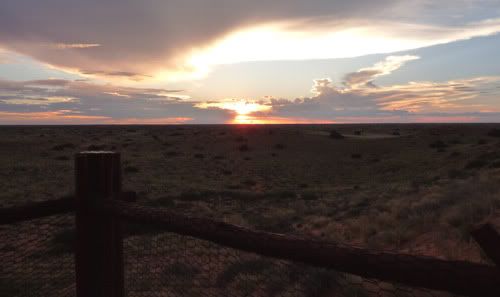 19:11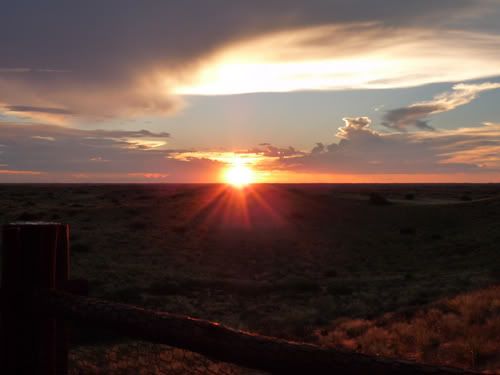 19:15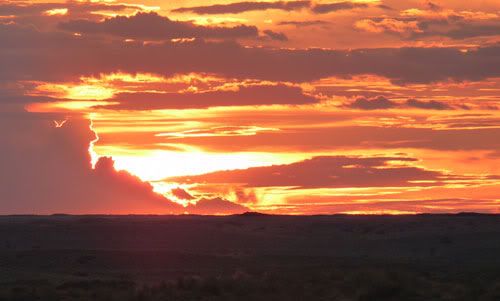 19:17
19:22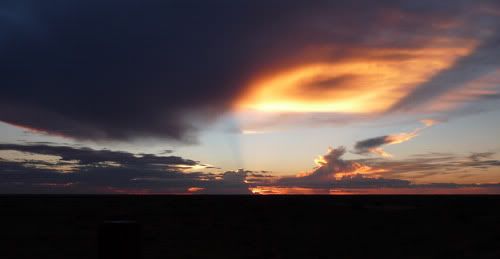 19:25
19:27
19:43




After an enjoyable braai on the deck in the tranquility of the wilderness - the silence broken only by the occasional roar of distant lion - drifting off to sleep to the sound of a gecko night chorus was the perfect end to our first day.


(Edited to fix broken links)



Last edited by
Astazou
on Mon Mar 30, 2009 11:57 am, edited 11 times in total.
---
Caracal wrote:I always find it strange to see a secretary bird perched on top of a tree .
So do I. More than a metre in both height and length, they are big birds and do look odd perched on a branch.
I haven't reached that part of my TR yet but, as you're about to set off to the Kgalagadi, here's another one to whet your appetite.
It was perched at the top of a big Camel Thorn.
Link to larger image
Hope you have an enjoyable time with lots of interesting viewing. Look forward to reading your report.
Last edited by
Astazou
on Sun Mar 29, 2009 10:58 pm, edited 1 time in total.
---
18 February (1)

We left Kielie Krankie early and drove towards Kij Kij - in search of wildlife searching for breakfast.

(Click on pics for larger images)

Korhaan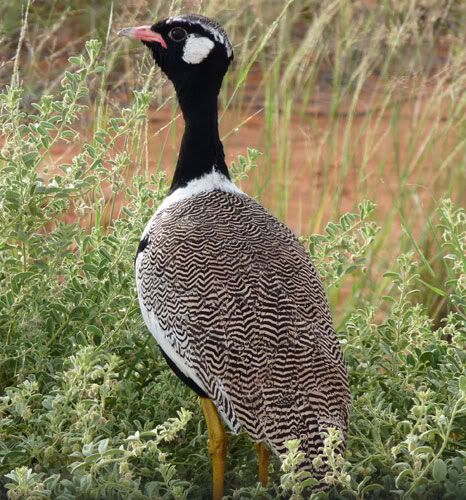 Steenbok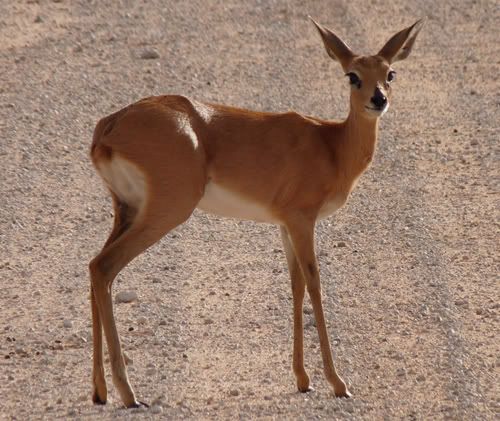 Bat-eared Fox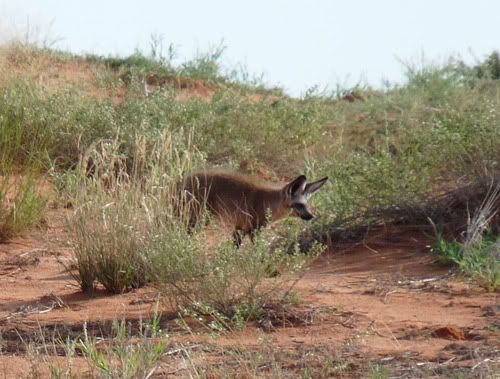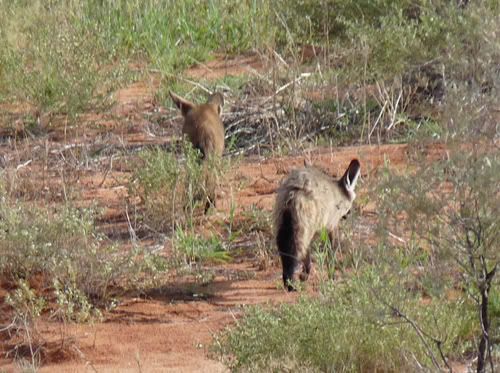 Black-backed Jackal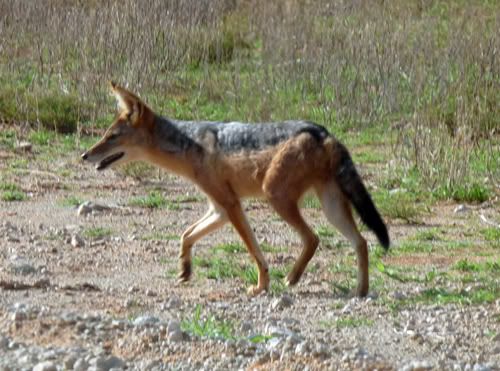 Cape Fox 'humans viewing'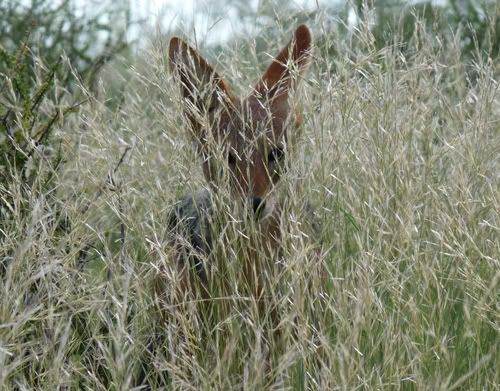 Not a great shot (larger image slightly better), but he looked cute.


Bateleur Eagle breakfast



Breakfast – that's a good idea. We stopped at Melkvlei picnic site near Kij Kij, where our South African friend produced something we Brits (who've never camped) hadn't seen before – a skottel. A traditional English breakfast had never tasted so good!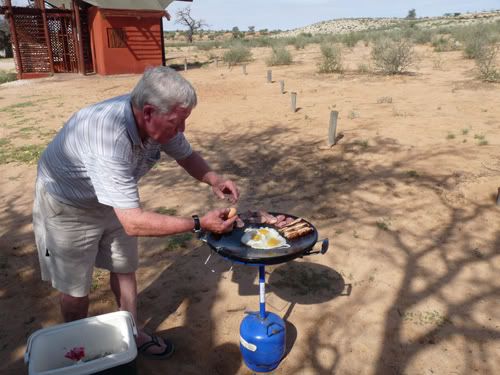 Breakfast in the Bush

We were joined by a couple of new friends .....



Cape Glossy Starlings


For the next couple of hours, we didn't see any 'new' wildlife but enjoyed the scenery of the Kalahari which, after so much rain, was rather less 'semi arid' than its usual description suggests.

Nossob River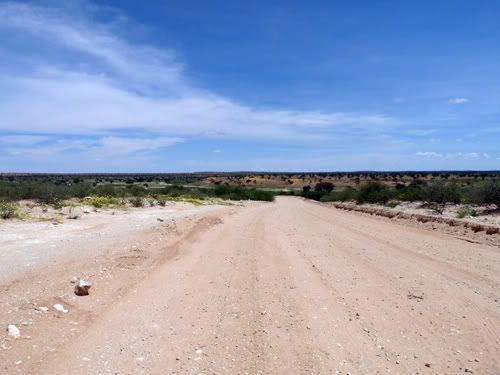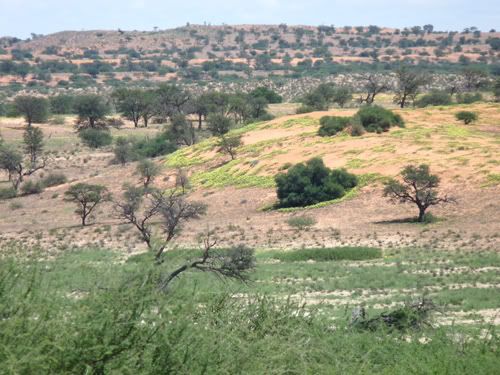 Almost mid-day and still no lions.
We'd heard them roar the previous evening so there must be some. Somewhere.


Maybe more luck later .......... ?
Last edited by
Astazou
on Thu Apr 02, 2009 10:58 am, edited 3 times in total.
---
18 Feb continued .....

A very helpful Namibian told us, with Germanic precision, that he'd see a lion and lioness asleep in the shade of some trees 3.9 km from Dikbaardskolk. We set off, hoping they'd still be there.


Success at last!!!


And, as we watched, they woke up.

(Click on pics for larger images.)


Sheltering from the mid-day sun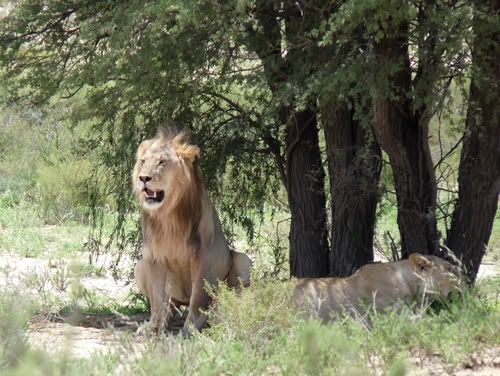 When a man's gotta go, a man's gotta go
Phew! That's disgusting, let's move
No, it's good here
Please yourself
Hang on, I'm the king of the jungle!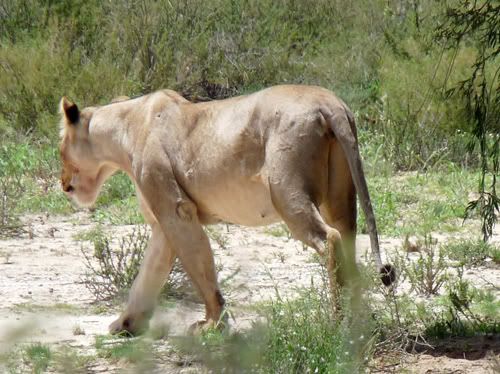 Yeah, yeah, yeah, but I'm the one who gets our food.
Women!!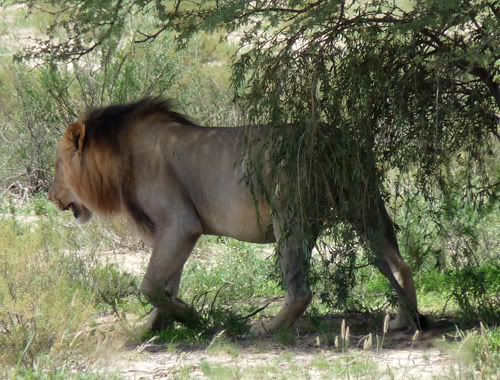 Alright ..... just this once
OK, I'm here. Happy now?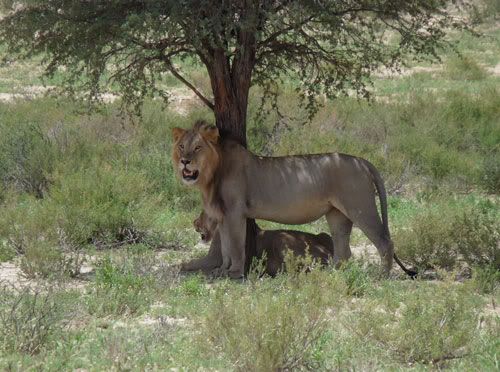 Just sit down and stop posing for the visitors
You can be very bossy sometimes.
.
Last edited by
Astazou
on Fri Apr 17, 2009 9:31 am, edited 5 times in total.
---
---
Who is online
Users browsing this forum: Robbert and 3 guests