Senior Virtual Ranger

Posts: 1347
Joined: Sun Jun 17, 2007 9:34 pm
Location: Heart - Grootkolk, Soul - KTP, Body - far too far south most of the time!
Eagle Eyes has been waiting for me to finish my KTP report so that we can report on our trip to BNP. She will report on the campsite and our daily and nightly visitors, while I will try and give an overview of the park. I have been told to go first, so here goes!
4th to 7th December 2007
It was with quite a bit of trepidation that we left for our camping trip in Bontebok NP. Eagle Eyes wanted to experience camping so here we were giving it a bash.(We last camped about 15 years ago before the kids came along) I did not advertise our trip on the forum as I had visions of us returning to CT after just 1 night, and it would have been embarrassing admitting that camping had got the better of us. We knew that BNP was a small park a few hours drive from Cape Town, with lots of bontebok and good birding, and a rest camp that had just been revamped, situated right next to the Breede river.
Well, we were blown away!
The wind blew from time to time ,it was overcast and rained one night, and we could not swim in the river because the river had flooded a week before, and was still busy receding, with staff busy mopping up debris. Taking all the above into account, I can still say that BNP knocked our socks off!
It is a really special little park - the backdrop of the Swellendam mountains, the vegatation along the river that reminds you of Kruger, the unique "renosterveld", and the beautiful scattering of flowers and fynbos. Add to this the great birding, the herds of buck and zebra, the strange and beautiful little creatures, and the peacefulness, and you have got a Dynamite park!
Sunrise.......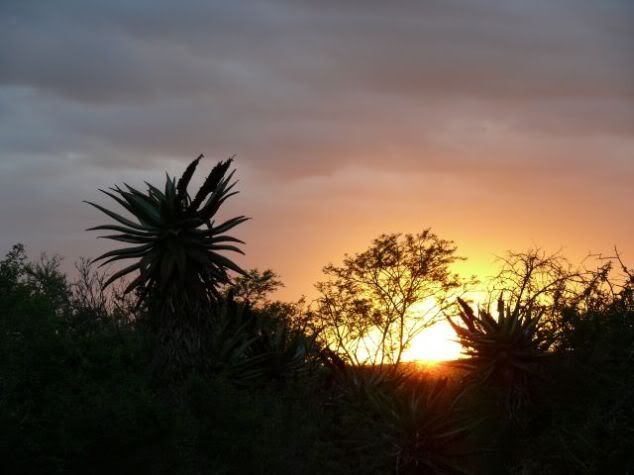 And the veld.....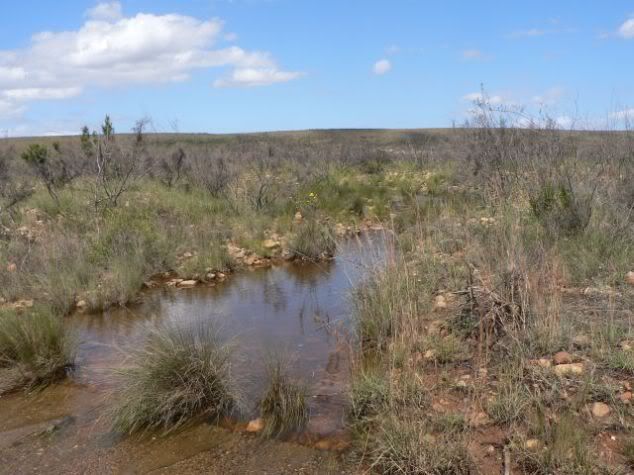 To be continued.......(animals, birds, bees, flowers and trees)
---
Senior Virtual Ranger

Posts: 1347
Joined: Sun Jun 17, 2007 9:34 pm
Location: Heart - Grootkolk, Soul - KTP, Body - far too far south most of the time!
Coming from CT on the N2, you pass the little town of Swellendam on your left, and after the road turns in an easterly direction(towards Mossel Bay), you will see the green Sanparks sign. You turn right onto a good gravel road and after a further 4 or 5 kms, you will come to the unassuming entrance gate of BNP. After going thru the gate, reception and a tiny shop(all in one) is a further 2 km further on. The shop sells a few souvenirs, as well as icecreams, chips and cooldrinks. If you need provisions, Swellendam is about10 kms away. The Lang Elsie's Kraal rest camp is about 5 kms away, on the banks of the Breede river.'Lang Elsie' was a female Khoi Khoi Chieftain, who lived in the area between 1734 and 1800.
The roads are gravel(reminded us of the KTP) and a bit stony in parts, but generally smooth so that all vehicles can travel on them, with the occupants being relatively comfortable. There is an eastern loop to drive, with a few view sites along the way, as well as a western drive, which winds along the river for a short distance then climbs up a hill, and ends at the scenic picnic site on the banks of the Breede river - called 'Die Stroom'(translation - the stream). The picnic site is also the turnaround point of the 'river' hike.
As for the animals......we were told that bat eared fox, cape fox and caracal occurred there, so we kept our eyes peeled. One of the rangers also told us that he had seen a bat eared fox with young ones a day before we arrived, so that really got us into spotting mode. At the end of this trip we would add 3 more 'lifers' to our list of mammal species seen.
Some of the buck.......
Bontebok and babe.....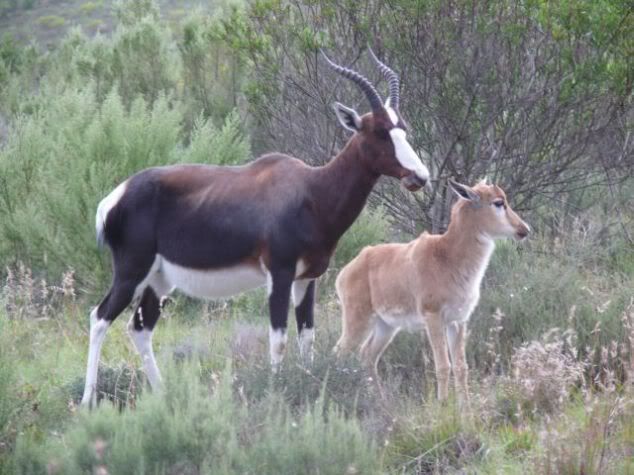 Grey Rhebok(first time seen)....
The birds........
Hamerkop.....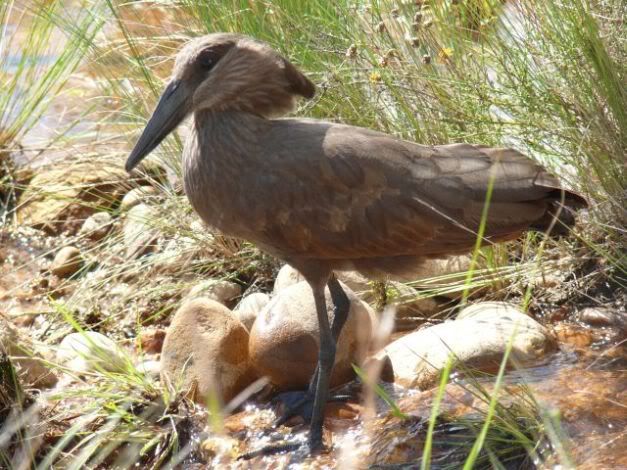 Blue Crane......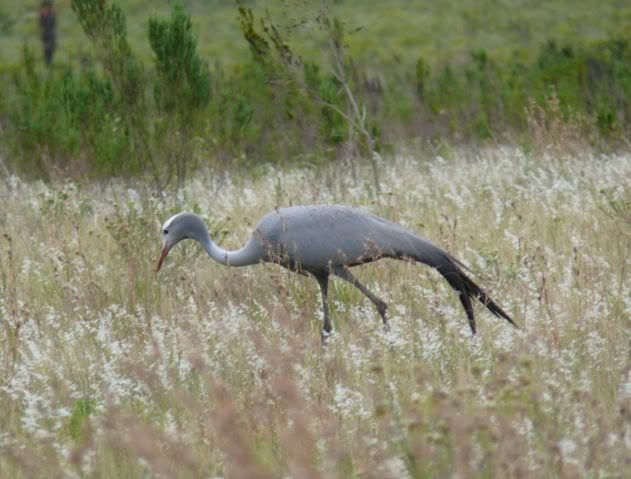 And Black Harrier.......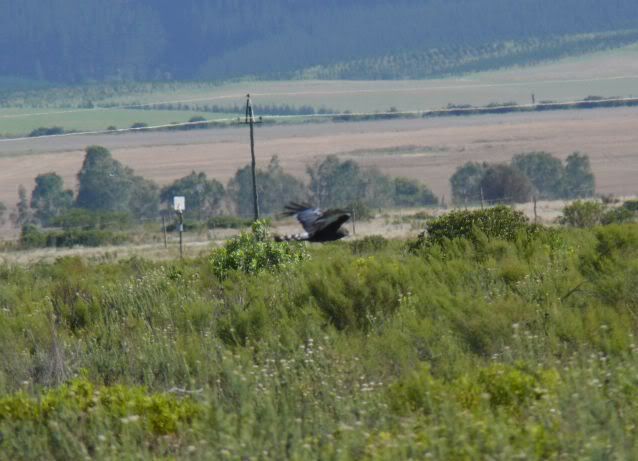 We unwittingly flushed out this guy right next to the road, by the time we had the camera aimed, this was the best pic we could manage. We saw black harriers every day we were there, flying low and fast, and not conducive to great pics I'm afraid.
Not quite a bee.......but enjoying the flower none the less!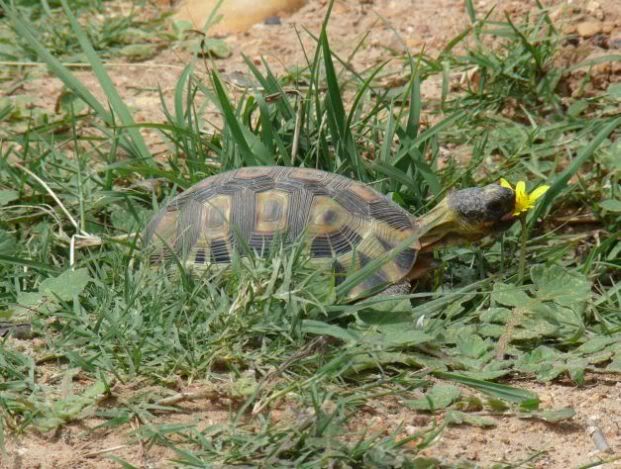 The flowers.......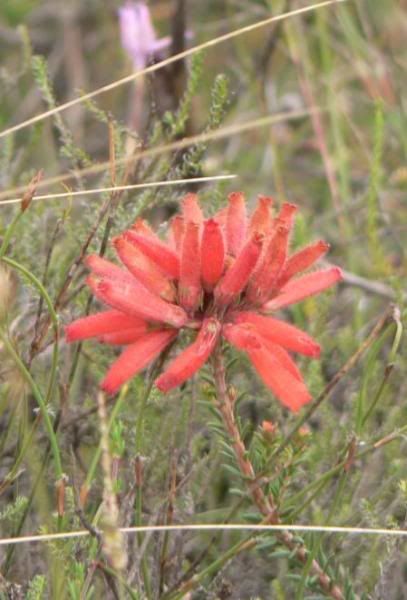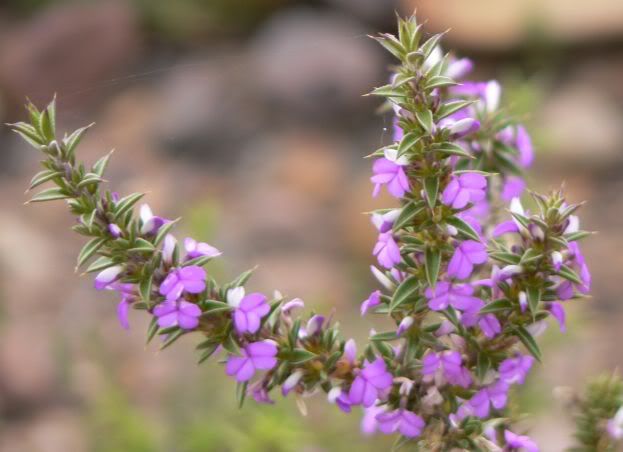 And the trees..... actually the birds inside and out.........
(Apologies - subjects were very small quite a distance away)
An Acacia Pied Barbet was very busy in the nest........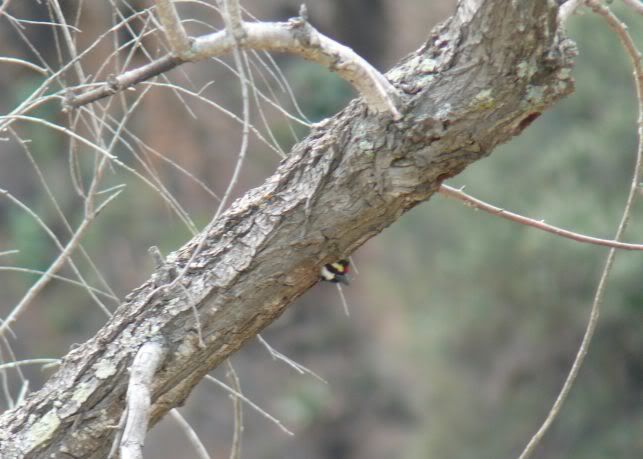 And the Cardinal Woodpecker just had to see what was going on.......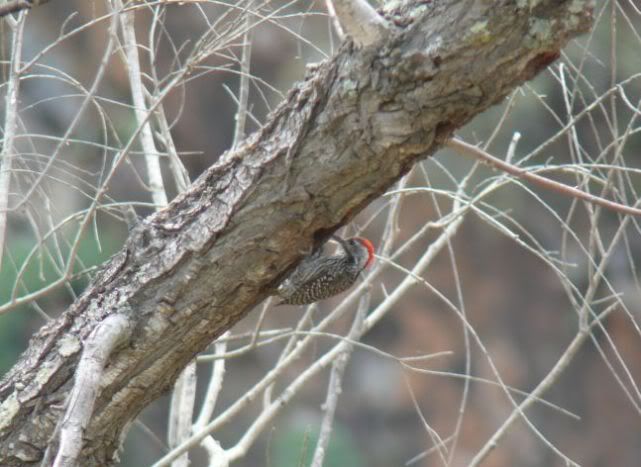 The woodpecker pair had their nest at the top of the same dead tree.(At 'Die Stroom')
And of course .......Hapoor and his harem........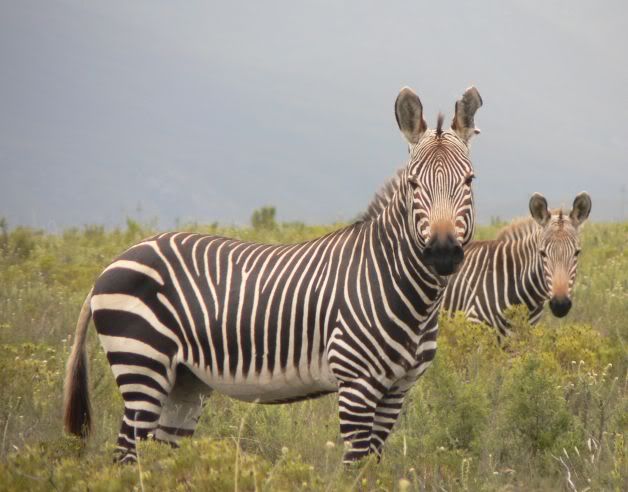 Just a tiny part of his harem.....
'Hapoor' translates as 'bite ear'! Hapoor was a very protective 'mountain zebra' stallion(there were quite a few other herds as well), and snorted at us telling us to keep our distance, as well as trying to keep between us and the herd. The other herds seemed to have 'calmer' stallions. Going by the state of his ear, you could tell he was more than willing to fight for his mares.
To be continued......(the hikes and more animals, birds, not quite a bee, flower and trees)
---
---
Junior Virtual Ranger

Posts: 162
Joined: Wed Jan 31, 2007 11:05 am
Location: THE FAIREST CAPE
---
Senior Virtual Ranger

Posts: 1347
Joined: Sun Jun 17, 2007 9:34 pm
Location: Heart - Grootkolk, Soul - KTP, Body - far too far south most of the time!
Thanx anne-marie, jb72 and p@m!
@jb72 - a weekend would be perfect! And pitching a tent only for 2 nights is not a problem for us, we have a very basic camping setup as we have just started. Might be different for you and C.O'Dee if you are organised and have a more complex setup. Also, the new chalets look great, so that is another option. Last thing - pick your weekend carefully! The park tends to get quite full over long weekends, and I can imagine, can be a bit chaotic, when all 10 chalets are full and all 40 campsites are occupied. We shared the rest camp with one other camping couple and two lots of people in the chalets, so it was an absolute pleasure - quiet and therefore lots of 4 legged visitors day and night, but Eagle Eyes will be telling you more about that later!
@C.O'Dee - We meandered there and back but I would say it would take you approx 2,5 hours from CT using a direct route.
I better get cracking on the next instalment as the page has turned! Thank you everyone!
---
Senior Virtual Ranger

Posts: 1347
Joined: Sun Jun 17, 2007 9:34 pm
Location: Heart - Grootkolk, Soul - KTP, Body - far too far south most of the time!
About a km along the western drive, you come to a small parking area on the riverside of the road. This is where the hiking trails start. There are 3 to choose from. The Acacia trail is about 1,5 km long and leads you on a circular walk thru the veld - the park states that this is a good game viewing trail. Best to do this one early morning or late afternoon as there did not seem to be much shade - you are walking in the open veld. The Aloe Hill trail is about 3,3 km long and cuts back towards the rest camp and continues up the hill on the other side of the camp You can also start this trail from the rest camp, you still get a great view of the river and it cuts down the kms a bit. Mark did this trail and met a mongoose along the way, as well as lots of birds.
The 3rd and last trail is the Bushbuck Trail - you walk along the river to 'Die Stroom' and back. This is 5,4 kms long. There is a viewing deck along the way and we opted for this trail - to the viewing deck and back which was about 2kms. (
It was really getting hot then ) We surprised a steenbok, who was gone in a flash, met up with lots of birds, toads and skinks, and came across the remains of a kill - looked like the feathers of a spotted eagle owl - we wondered what had made the kill. At the viewing deck we spotted a distant pair of fish eagles. Some pics taken on the hike......
Paradise Flycatcher......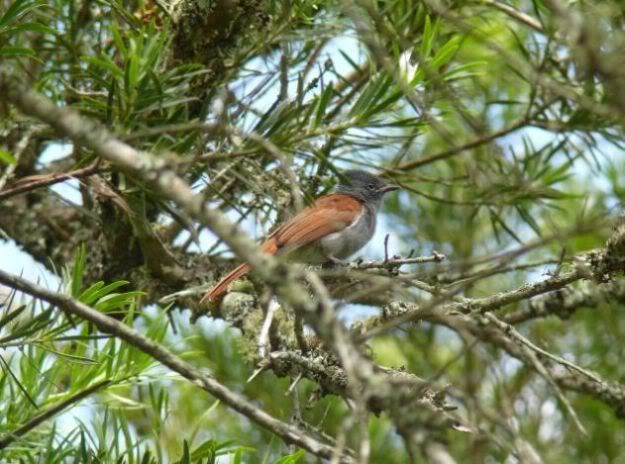 Another flower......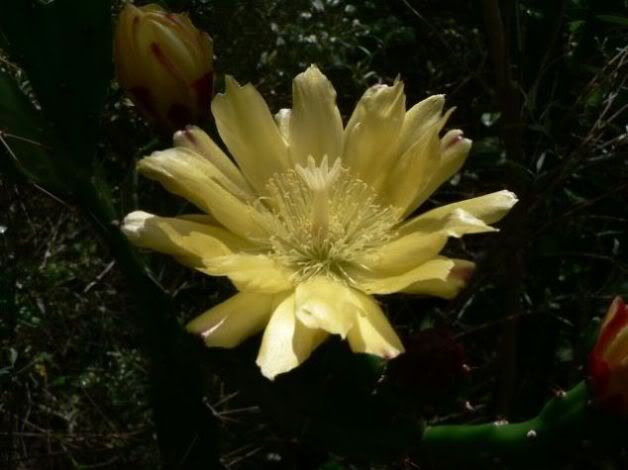 And......much cuter than a bee!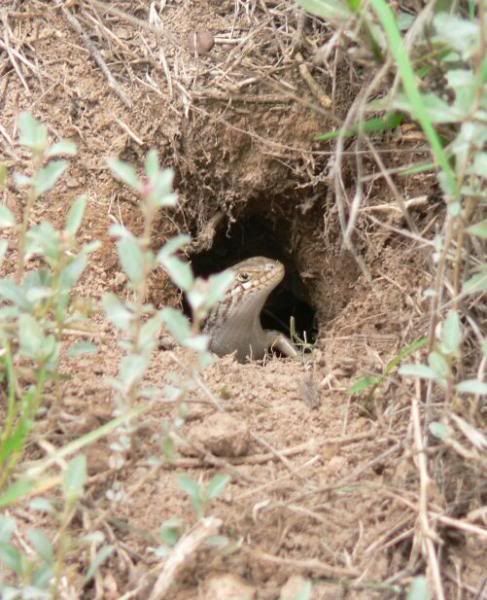 A pic of 'Die Stroom'....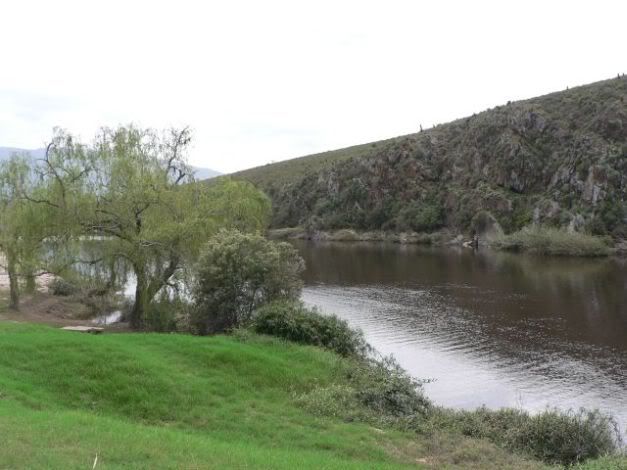 Some more birds........
Stanley's Bustard (lifer) and the mountains......(light was not great)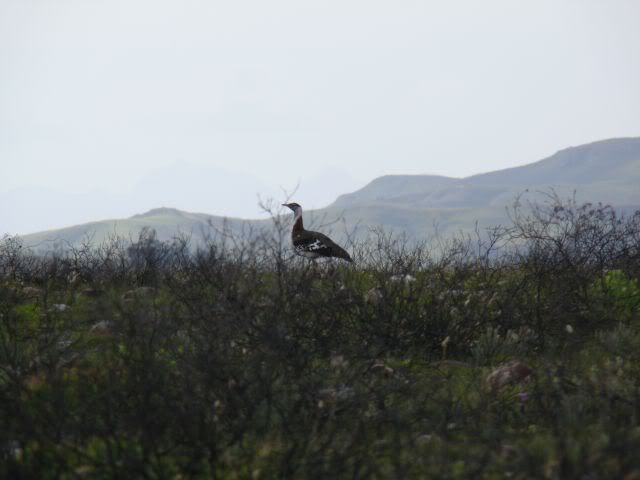 Masked weaver........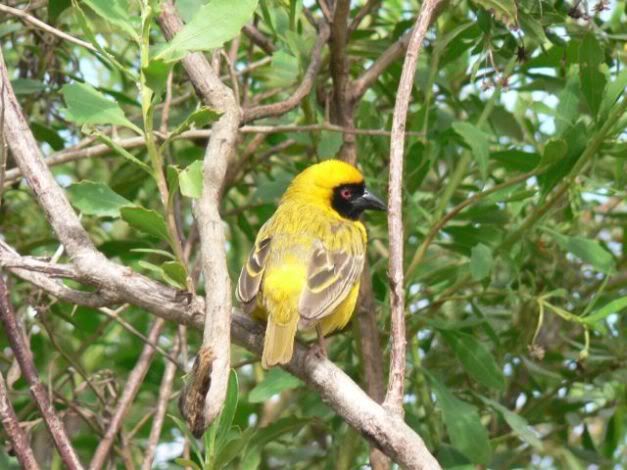 A feathered family........(found them right on the park border - very far so please excuse pic quality)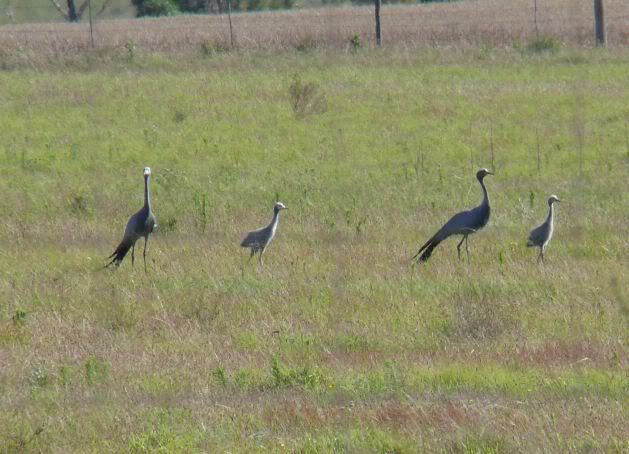 More buck.........
Bontebok babe......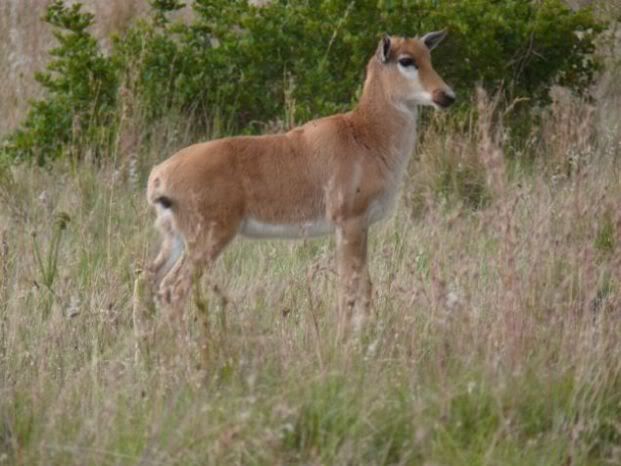 Steenbok.....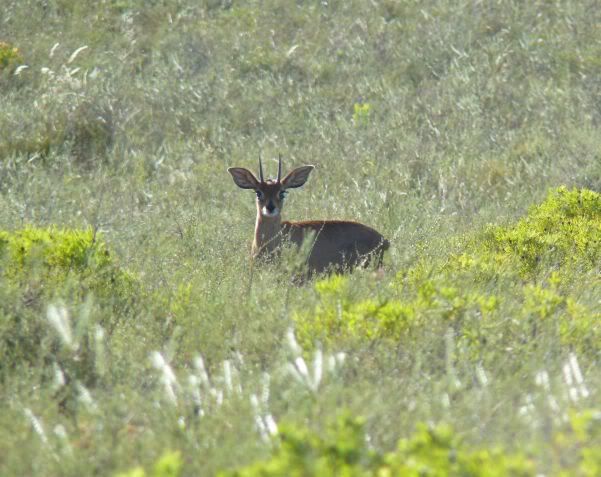 And a Hartebeest.....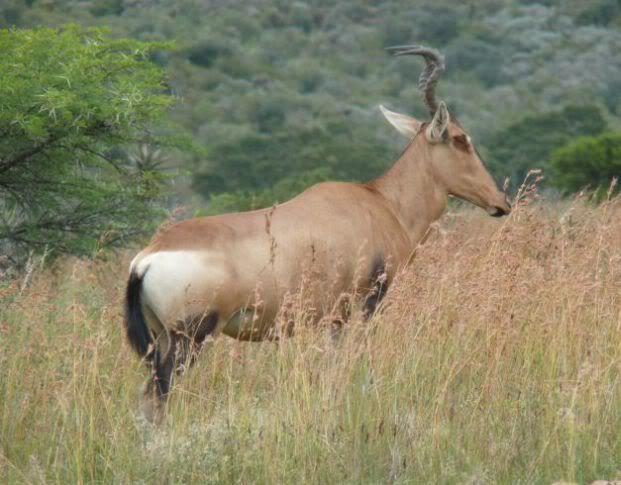 And of course..... the bum shot!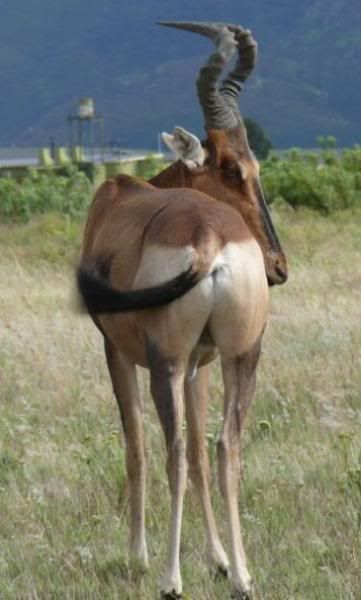 A few more stripes.........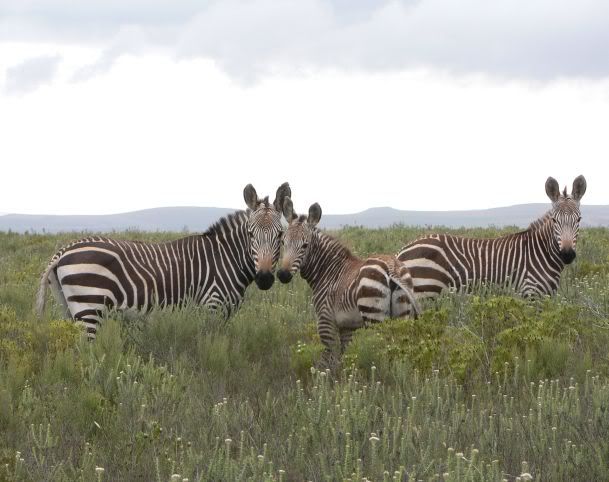 View from the rest camp of the mountains and river..........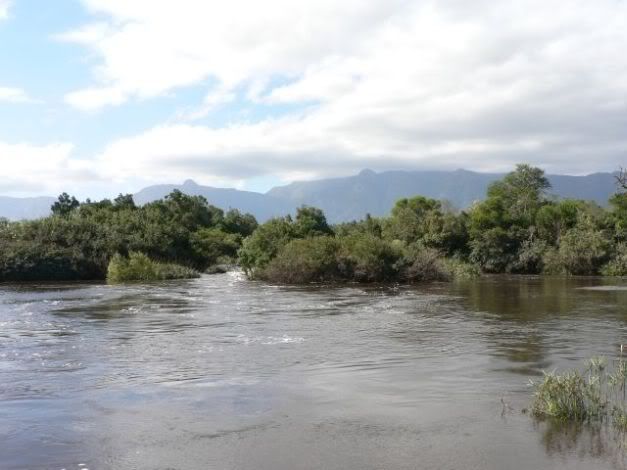 And an Eye spied.........(feels kinda strange when you are being watched
)
(999kb)
To be continued...... the camp site and things that bump toes in the night!(Eagle Eyes' report)
---
Posts: 28
Joined: Sun Sep 02, 2007 4:31 pm
Location: Cape Town
I had always wanted to go camping. When our tents were erected and the chairs and the table set up, it looked really cosy!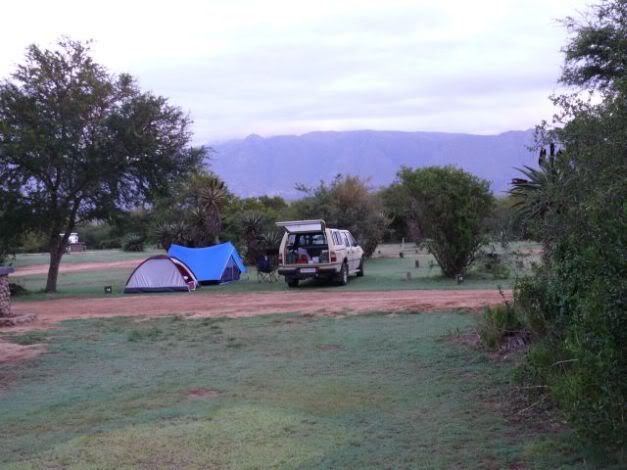 A picture of the campsite.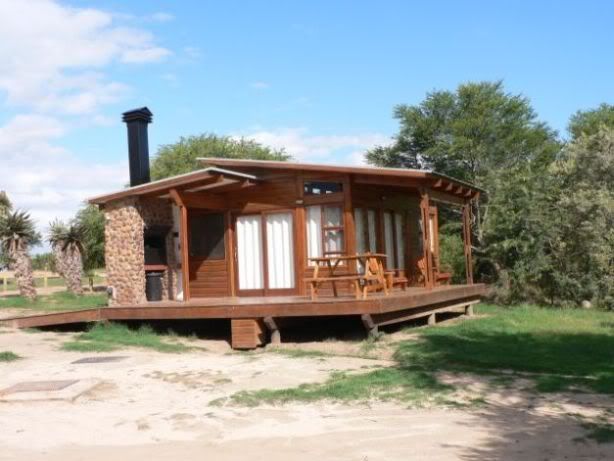 A picture of one of the new chalets looking very grand!
The next morning we were visited by an unusual visitor...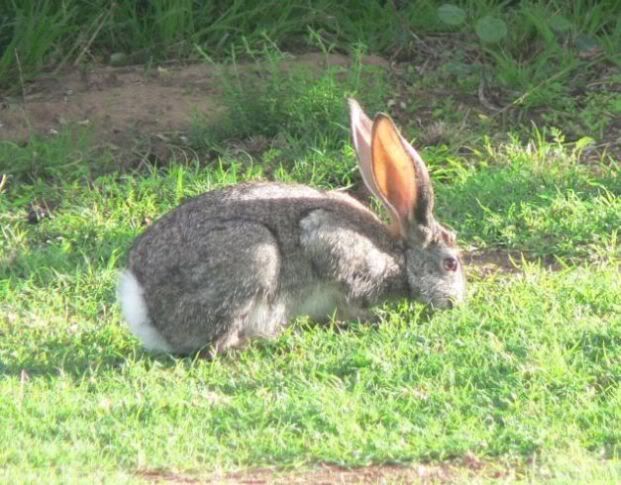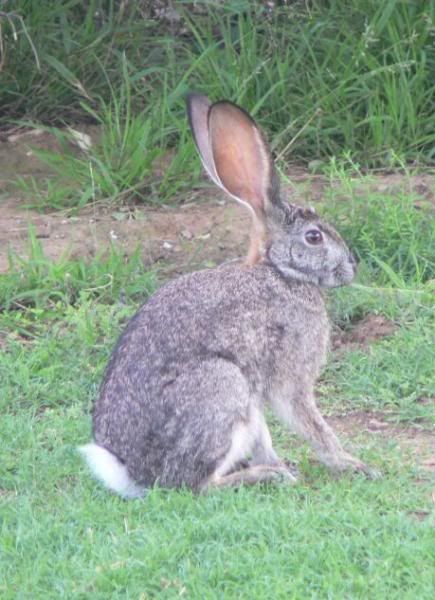 a scrub hare with floppy, pinky ears!
BUT..........the previous night there was something a little more interesting. [and scary!]
Caution! This report may be alarming for young and sensitive viewers!
We were all sitting at the table, except me! I was under it....because we had a shortage of chairs and who got stuck on a crate?
ME!
We had enjoyed a nice braai and we were enjoying the silence. [Our area of the rest camp was deserted!] I noticed some movement coming from the bushes at the edge of one campsite. I told mom and dad. Dad immediately shone the flash light. There was a black and white shape scurrying about. I got VERY scared.
Nobody else had seen it's colours and mom was creeping too close for comfort......
---
Senior Virtual Ranger

Posts: 3866
Joined: Sun Mar 20, 2005 5:53 pm
Location: Cambridge, MA (and home from home in Darling, WC)
---
Senior Virtual Ranger

Posts: 1347
Joined: Sun Jun 17, 2007 9:34 pm
Location: Heart - Grootkolk, Soul - KTP, Body - far too far south most of the time!
EE should really be called Eagle Owl Eyes
- she has fantastic night vision! I on the other hand?
I was creeping forward to see what the movement was, and when I eventually saw the colours,
I froze!
---
Posts: 28
Joined: Sun Sep 02, 2007 4:31 pm
Location: Cape Town
Thanx Everybody!
Shhhhh Arks!
It was a.......[drumroll please!] POLECAT! Our first ever sighting!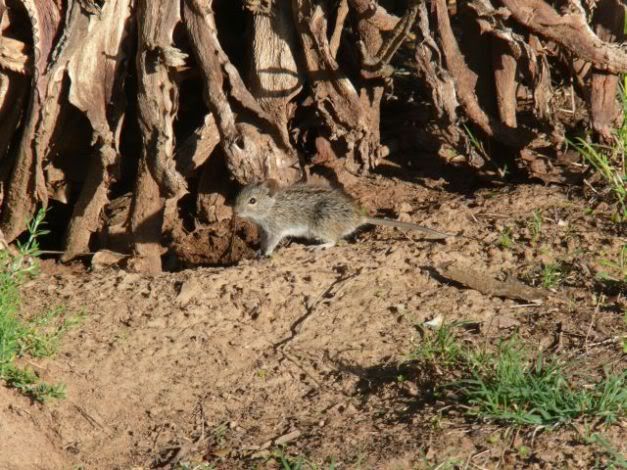 During our stay we met these delightful creatures! The striped fieldmice really were very brave!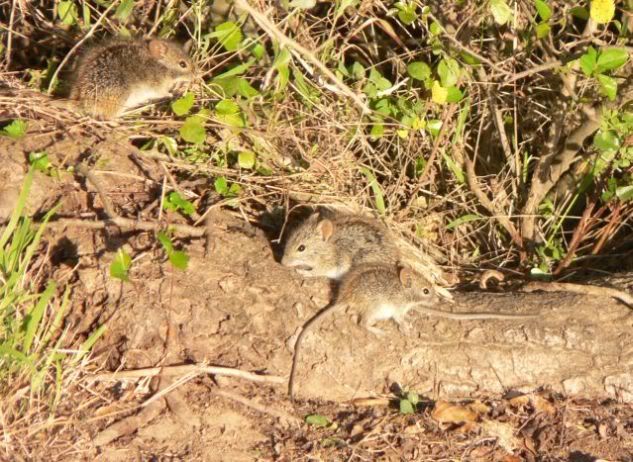 On the second last day five bontebok wandered through the campsite. One was looking very uncomfortable.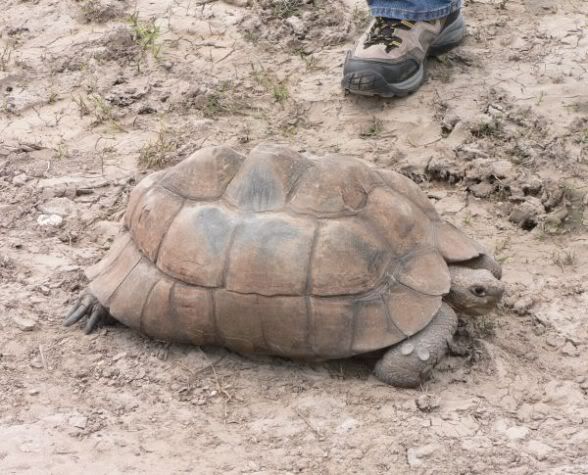 We also met up with this oupa. Dad's size ten shoe is dwarfed by this guy!
On the last night something banged into dad's foot while we were chatting outside.
We soon spotted the culprit. We watched the gerbil for a while. I liked him until he crashed into my foot.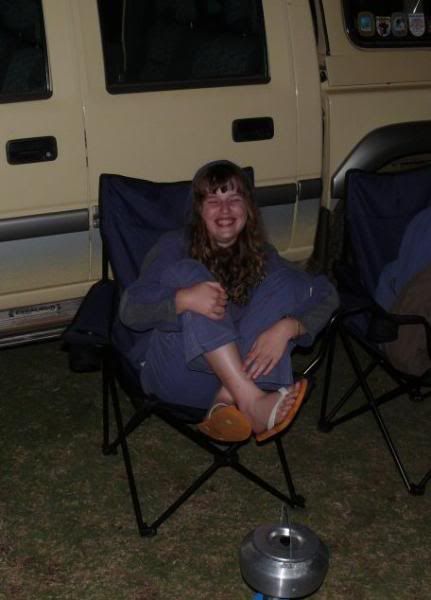 After that I kept my feet as high as possible! Another first sighting!(of the gerbil
)
---
Posts: 28
Joined: Sun Sep 02, 2007 4:31 pm
Location: Cape Town
---
---