Legendary Virtual Ranger

Posts: 2545
Joined: Wed Sep 06, 2006 3:33 pm
Location: Jam Street
I got some good pix of a red-eyed bulbul in my backyard during the past few weeks. Then I realised that this bird is well out of range - Standerton being 160 km east of the edge of the distribution map. While reading up about the red-eyed bulbul I learnt that they inter-breed with the dark-capped bulbul. Now some sense is starting to surface, I think...
I cannot find any reference to hybrids being able to breed or not. I know most other hybrids are sterile, but if that applies to a hybrid red-eyed/dark-capped bulbul I am not sure. If it holds firm for bulbuls, my dilemma is solved - the "red-eyed bulbul" I have been seeing is always in the company of a dark-capped bulbul AND another bulbul that appears young and seems to have an eyering somewhere in between (like a hybrid would probably have). So, the "family" would prove that the red-eyed bulbul is fertile and therefore a true-blue thorough-bred...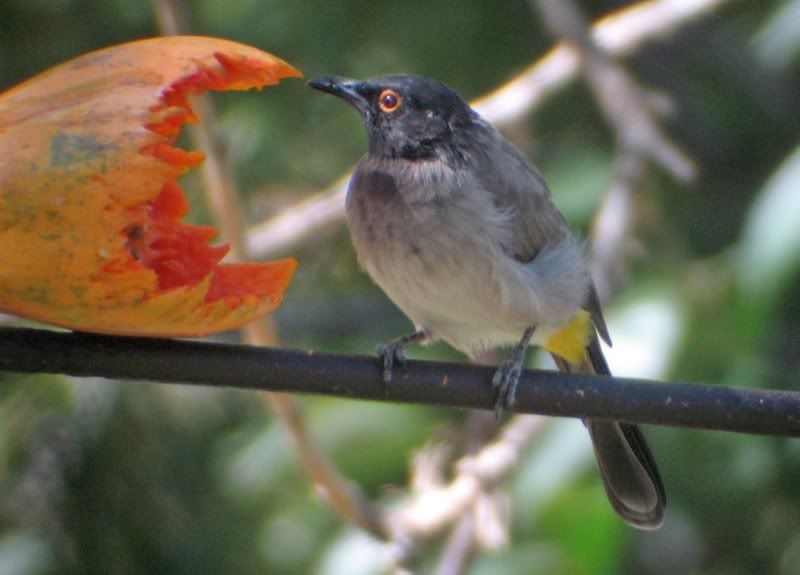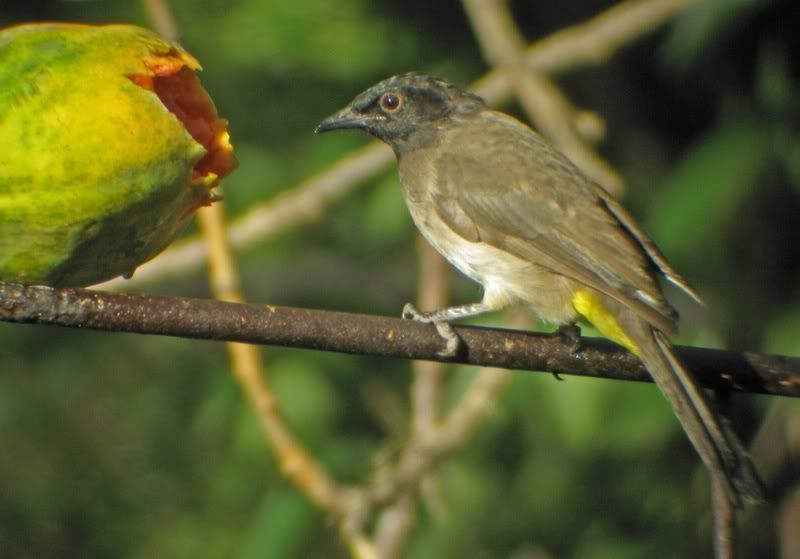 The red-eyed-, hybrid and dark-capped bulbuls are shown here is that order.
728 Latest lifers: Hartlaub's babbler, Coppery-tailed coucal, Red-billed spurfowl, White-browed coucal, Scharlow's turaco, Copper sunbird, Long-toed lapwing, Eastern bronze-naped pigeon, Malagasy pond heron, Soft-plumaged petrel, Orange-winged pytilia.
---
Virtual Ranger

Posts: 604
Joined: Fri Dec 30, 2005 10:33 am
These birds are really awesome & extremely common in the Free State and arid areas, you hear them from 4am in the morning...
Interesting Link
---
Dear Johan,

I posted a similar query on the South African Bird Network in May 2005 after observing Dark-capped coupling with Cape in Addo Elephant NP. I got many replies which I have kept on file and paste below. I also was sent 2 scientific articles in pdf which if you PM me your address I can mail to you.

The correspondence on bulbul hybridization is as follows:

In the same vein as the recent discussion on prinias, on a recent trip to Addo Elephant National Park last week, I was intrigued to see a pair of bulbuls with one bird Cape and the other Dark-capped outside of my chalet. Both birds were adults and at first seemed agitated in each other's presence (making the typical bulbul social bubbling calls), but later perched on the same branch next to each other like a genuine pair. The next morning I saw another "mixed marriage" in the game viewing part of the park (several km from original sighting and unlikely to be same birds).

The red-eyed, Cape and dark-capped bulbuls are undoubtedly from a common ancestor, and can surely interbreed with only habitat preference separating them. Have any of the other SABN-netters come across interaction between these 2 species or their red-eyed relative. If previously observed, does anyone know what the dark-capped Cape offspring look like (or one of the other combinations)? What I am wondering is whether the white or red eye wattles are dominant or recessive genes?

Chris Patton
_____________________________
Hi Chris

there is a well-known hybrid zone of the bulbuls. As
far as I remember all 3 spp hybridise with each other.
Folks at Rhodes U have spent some time studying it.
Contact Adrian Craig in the Zoo Dept there - he should
be able to help you.

Raurie Bowie of the U of Stellenbosch said at a recent
talk that he's struggling to distinguish Cape from
Blackeyed genetically - they're basically the same.

Cheers

Adam Welz
_______________________________
Many years ago we used to get "Brown-eyed Bulbuls" at Abe Bailey Nature Reserve near Carltonville in what is now Gauteng. I remember reading something in the early 1980s about someone doing a study on the sibling bulbul species in the Eastern Cape I think. Richard Liversidge's name comes to mind, but I'm far from sure about that.

Cheers

John McAllistair
____________________________________
Hi Chris

While staying at Betty's Bay last year I was very excited when I THOUGHT I had found a Cape/Red-eyed cross -- a bird in all other respects Cape Bulbul, but with bright orange eye-ring! Of course, I was soon disabused when I saw several other birds that had been feeding on the same aloe flower.

Thanks for the interesting news of Addo, which is a park I still look forward to visiting.

Regards

James McFarlane
___________________________
Dear Chris,

There is an excellent paper on the hybridisation between the bulbuls in the Eastern Cape by Penn Lloyd:

Lloyd, P., Craig, A.J.F.K., Hulley, P.E., Essop, M.F., Bloomer, P. & Crowe, T.M. 1998. Ecology and genetics of hyrid zones in the southern African Pycnonotus bulbul species complex. Ostrich 68: 90-96.

All the best,
Callan Cohen
___________________________
Hi All

Just a few more comments on species hybrids...

A few years ago I saw a pair of Bulbuls feeding fledged young in our garden (Lightenburg - Mafikeng area), one parent was Red-eyed and the other was Black-eyed, the offspring had reddish-brown eyes. This pair was observed breeding in our garden over a period of approx. two years.
Both bulbul species occur in this area, with Black-eyed more dominant in bushveld in the east towards Zeerust and Red-eyed, further west and south towards the Kalahari. On our farm there are however many "reddish-brown-eyed Bulbuls".
Cape White-eye and the recently split Orange-river White-eye also overlap on our farm and there are many intermediate birds (dark green with brownish flanks), but I have not seen evidence of hybridizing between these two species here. We also have a pair of Fiscal Shrikes, one with a white eye-brow ("Latakoo Fiscal"?), defending a territory together. In this area, the white eye-browed form is dominant in thornveld, while the normal form is dominant in the broad-leaved savanna and grassland.

Regards
Ben Smit
_______________________________________
Dear Chris

We farm just outside Somerset East (3225DA) where some years back we recorded a blackeyed (as it was then) and a redeyed bulbul hybridising. The nest was about 3m above the ground in a large old oak tree in the garden.
I wrote a short article on this for the Bea-Eater, as at the time I recall the having been one or two other articles on the matter.
I often struggle with the bulbuls on the farm as what would seem to be a Black-eyed will suddenly become a wannabe red-eyed as it turns its head and catches some direct sunlight on the ring around its eye.

Incidentally Neil Turner who lives on a farm near Middleton (Somerset East district) has recorded all three bulbuls in a shrub in his garden. They also have all three bustards on their farm.

I hope you enjoyed my two cents worth,

Regards
Greg
_________________________________
Addo is a well known place for Cape / Blackeyed occurring together & inter-breeding (as is Sundays River Mouth). The main camp tends to have Blackeyed (presumably due to the trees) whereas the game area tends to have Cape. At Somerset East all three bulbul species occur togehter and inter-breed. Adrian Craig at Rhodes Univ has done work on them.

My limited observation of hybrids (Black - Cape and Black - Redeyed) is that the wattle is much smaller on the hybrids.

Dr Paul Martin
____________________________________
On my son's farm, just south of Heidelberg, situated on the Suikerbosrand River, both the Red-eyed and Black-eyed Bulbuls are present. The Black-eyed seem to be dominant, but there has definitely been hybridisation as one sees birds with reddish brown eyes. Here, in the NE Free State (Harrismith) we get only the Black-eyed, while the Red-eyed are found towards Bethlehem and Warden in the west and Golden Gate in the south. By the time one gets to Ficksburg they are all Red-eyed. I don't know if any one has noticed hybridisation towards those areas.
Best wishes,
Hazel Vickery
_______________________________________
---
Virtual Ranger

Posts: 604
Joined: Fri Dec 30, 2005 10:33 am
Pycnonotus Nigricans
In this species of bulbuls the red eye-ring is diagnostic and distinguishes it from the other bulbuls. It is slightly smaller than the
black-eyed bulbul
and it's head colour is more darker and it contrasts with the greyish buff collar and breast. These birds are approximately 21cm in size and they make easily recognizable liquid whistles. They are found in thornveld and riverine bush. However they do not occur in Kruger.
---
Augrabies Falls NP - May 2009
- Dalene
---
Look deep into nature, and then you will understand everything better.
Albert Einstein

Latest lifers from Kruger NP:
Thick-billed Cuckoo Pachycoccyx audeberti Dikbekkoekoek
Northern Wheatear Oenanthe oenanthe Europese skaapwagter
---
Twee Rivieren
What is the left bird?
---
Hi Toko,

Nice photo.

The bird on the left is an adult male Cape Sparrow - Face pattern, grey nape and chestnut back.

Barcud
---
Junior Virtual Ranger

Posts: 1513
Joined: Tue May 19, 2009 2:15 pm
Location: Johannesburg - too far from the closest Sanpark
Hi all, please help me with the following birds. All shots were taken in the Fish River Canyon in Namibia. All have been quite heavily cropped.
Bird 3: Red-eyed Bulbul
The 'mite formerly known as joshilewis
FGASA Level 1 Guide
Glen Reenen TR
15-18 June: Berg-en-dal
---
Josh, most of your ID's are correct.
---
---
Return to "Birding in Southern Africa"
Who is online
Users browsing this forum: No registered users and 2 guests