Junior Virtual Ranger

Posts: 86
Joined: Mon Apr 02, 2007 12:40 pm
Location: Centurion / Knights
The formalities
I'll try and split this report into several replies, based on location and categories.
At the outset, I must make an excuse regarding photography. I have a 1GB (good for around 280 images) card in my Nikon, and tend to take a few photos of each subject, to choose the best when doing processing back behind the PC. The SO on the other hand, thought she'd be doing us a favour, by deleting multiple images on the camera, using the miserable screen to judge, in spite of still having loads of space on the card. My first squizz through my photos shows that indeed, some images that look OK on a 2.5" LCD, are poor on screen.
The Route and Roads
Pretoria - Polokwane - Phalaborwa - Olifants (via Letaba) - Satara - Pretoriuskop - Out at Numbi - N4 to Home.
It all started with melodrama on the N1 north. I had some juice in the tank from a Natal trip six weeks ago, and the idea was to go as far as possible on it, to enable us to get to the south of the park to top up, because it's cheaper. At the first Engen 1-stop at Kranskop, the OBC said I had 140km left to empty, and the light normally comes on at around 100km. I don't like running with the light on for too long. The sign said fuel at Naboomspruit was 44km (?) away. Perfect. It didn't say that one had to leave the highway to get it. So we cruised through Naboom, looking for the second 1-stop, with the light having been on for 15km. It remained on for the next 40-odd to the 1-stop at Potties. Filled up, she took 67 litres, with a capacity of 70. :eek: I was sweating bullets. The tribe were all asleep and were none the wiser.
Generally though, the N1 is a lovely road.
From Polokwane down through Moria, the road itself is fine. Double carriageway, and a decent surface. There are however, some daft speed limits, e.g. 80, when 100 would be quite safe and far more appropriate. Once into the hills, the scenery is lovely, but the road is narrow. So don't do this stretch in the dark, or if tired.
Turning right at Haenertzburg, there are some chronically slippery patches, but the surface is generally good, with no potholes or big bumps.
Once through Tzaneen, one can cane it. The road is super, wide, in good condition, and with excellent visibility.
Coming back from Numbi side, although the R538 appears to be more direct, you would be well advised to use the R40 to Hazyview, it is just better. There is still a plethora of trucks, taxis and buses to obstruct and annoy, but you would be ill-advised to use the alternate.
My small tongue-in-cheek rant against moron drivers may be found as a reply at another forum I frequent,
here
.
21 May, Phalaborwa to Olifants
Firstly, it was JUST SO GOOD to be back!
12h00-ish. It took around ten minutes to sign up for a Wild Card and pay the shortfall due to the accommodation change, and we were in. The first thing that struck us, was how dry it was. And it was hot... between 31 and 33 degrees.
Our first spot was the ubiquitous Lilac Breasted Roller. Which dictated an explanation of what LBR stood for to my daughter. As well as the differences between LBR and LBJ! She has phenomenal spotting eyes, and the many many birds in particular she spotted were fantastic.
We also saw some Lappet-faced vultures on a tree top, took some photos, but these were deleted. Grrrrr.
Very little fauna on the trip to Letaba, because we'd decided we just wanted to get to camp, and that meant tar all the way. Our first find of significance was buff. A loner, standing right next to the road...
Shortly thereafter, our first funt. Behind a tree on the right hand side of the road, that we almost missed him!
And then a giraffe. But look how dark he is...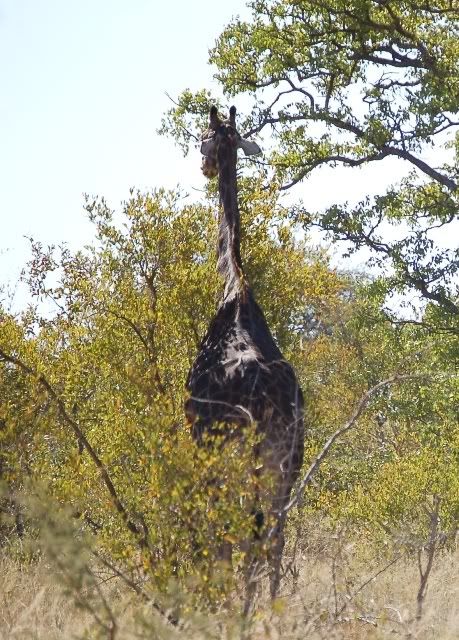 Down at one of the loops to the dam / river, we found our first hippo...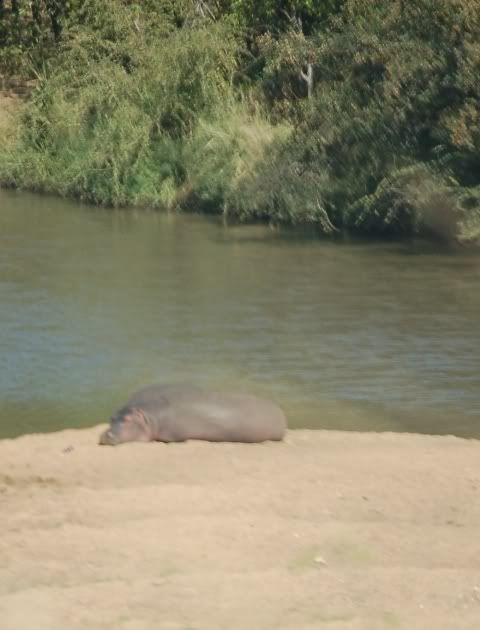 (A case of having taking a few photos, and the SO only having kept one, and it's a bit of a shocker.)
In the vicinity of Nhlanganini waterhole, a herd of funt were heading north across the road, having been down to drink. 40+, and lots of babies. The head honcho was this chap. Definitely one of THE biggest elephant I have ever seen. Tusks edging toward the metre mark.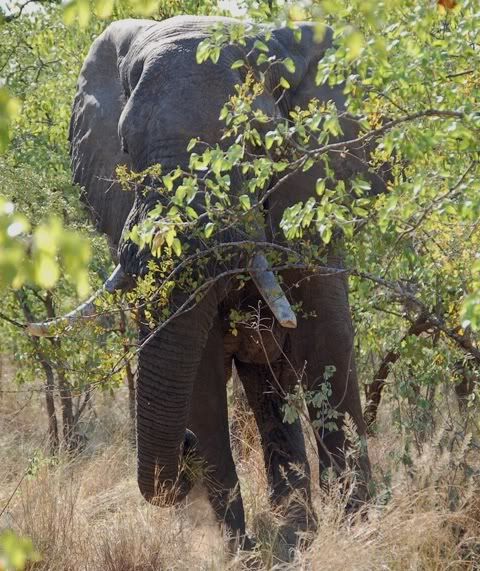 We drove into Letaba to have a bio break, and of course found the resident sentinel at the gate...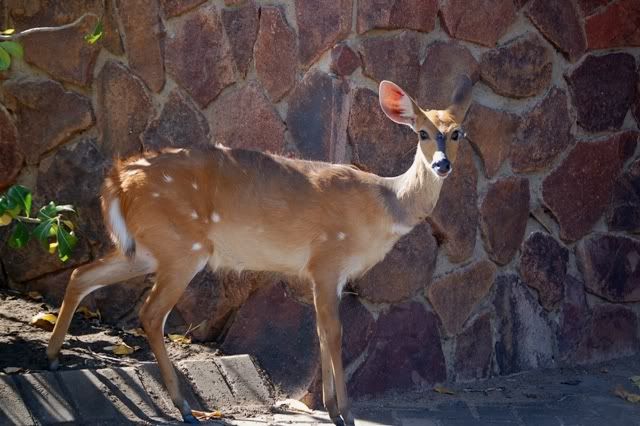 (Apologies to Letaba residents and regulars who were prevented from entering or exiting the camp by Mrs P furiously snapping away, while Perks was rolling eyes at the kommin-ness of it!)
In the shop, a jeep jockey who had seen us keeping our distance from the breeding herd, told Mrs P that that specific herd was one of the more tolerant herds around, and wouldn't mind cars drawing alongside for pics. So noted!
It was now truly heat of the day, and we saw very little on the drive in to Olifants. Olifants is a lovely camp, perched high on the hillside. It's not the most kid-friendly camp though, with little by way of grass or even dust for them to muck around in. But neat and quaint, and with some good route potential.
We were given hut 28, which was one row back from the river front units, and a short walk to the lookout. We unpacked, set ourselves up, and went to have a look from the top of the cliffs. We saw some lovely fish eagles, couple of herons and the like, and some impala off in the distance.
Tangent - The Primate Problem
I know I'm preaching to the converted, but why oh why do monkeys and baboons rule the roost in every camp? Do people not understand that the minute we remove the food source, they will go elsewhere? Yet they (I'd love to know precisely who 'they' are, to give them a good smack) continue to feed the little bast@rds, which keeps them coming back for more. Gawd, it grates my nuts.
At Olifants, the brazen little sh!ts harassed one young lass, to the extent that she was screaming, running for the shelter of the restaurant / shop, with a furious little vervet attached to her trousers, hoping for the something she was carrying in her hands. It's just not acceptable.
Back on track...
We decided since we'd had a long drive in, we'd take a short afternoon trip, to the view site north east of camp, and call it quits for the day. We had a lovely sunset over the bush, and spotted this big fella basking on the bank of the river. We'd switched the 55-200 for a 70-300 by now, and with the poor light, and no beanbag, we battled for a decent image...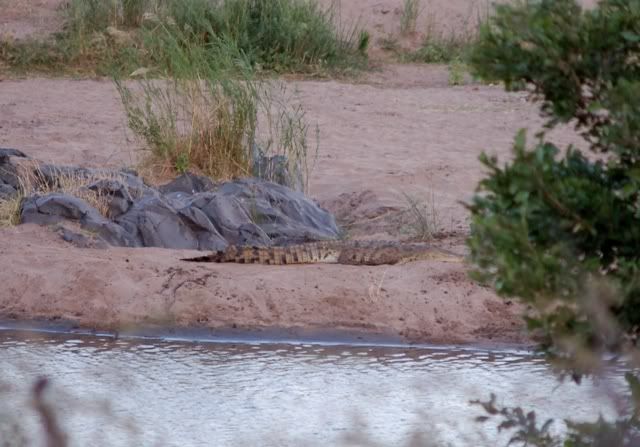 It got quite dark very quick after 17h00, and we drove back to camp in the twilight.
After a good braai, dishes done, and shower, we hit the sack. 21h00 or so... laughable!
Didn't even have the energy to read my Car magazine saved for the trip, or to make a start on my new book.[/b]
Last trip: New Years in Skuks and Satara
Next: ....................................................
---
Junior Virtual Ranger

Posts: 86
Joined: Mon Apr 02, 2007 12:40 pm
Location: Centurion / Knights
22 May - Olifants and Surrounds to Satara
Although we wanted to get out early, to come back and check out by 09h00, we were a bit slack, and only got underway around 06h30. The planned route was to go to Balule via gravel, look for the Pel's and possible leopard at the river, have some coffee and rusks, and return to camp on the main road.
Unfortunately no Pel's, even fewer leopard! Some elephant faaaaaaaar in the distance, and a couple of waterbirds mucking around in the pools.
Whilst having our coffee just outside Balule, we could hear lion in the bush, but saw nought.
On our way back to camp, we hit a traffic jam, and it was pointed out that there was a lioness, presumed to have cubs, to doooooer 'n' gone in the veld, across a plain. I was convinced we'd see better lion than that during the week, so we turned up our noses and left.
After packing up, we stopped at the view site just off the H1, for a quick look-see, and were again annoyed by The Menace. A group of foreign tourists thought it was rather charming, and were firing off video and stills for Africa. They were rather less impressed when one of the little fackwits climbed in through the window of their rental Sharan, and had a good rummage before being chased out. Anyways, here was one on the car. Note the yellow ribbon peoples!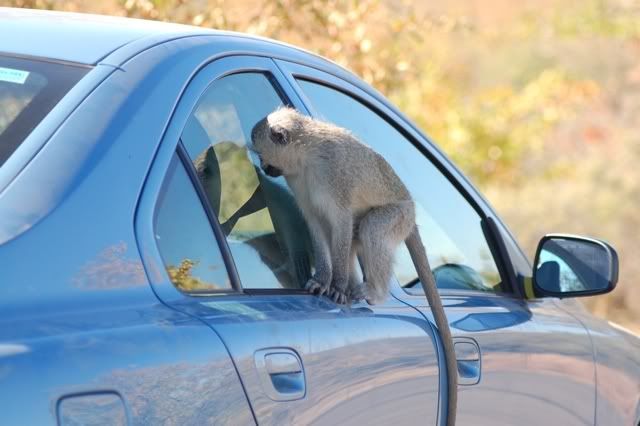 Back on the road, as we hit the plains of central KNP, we found our first zebras.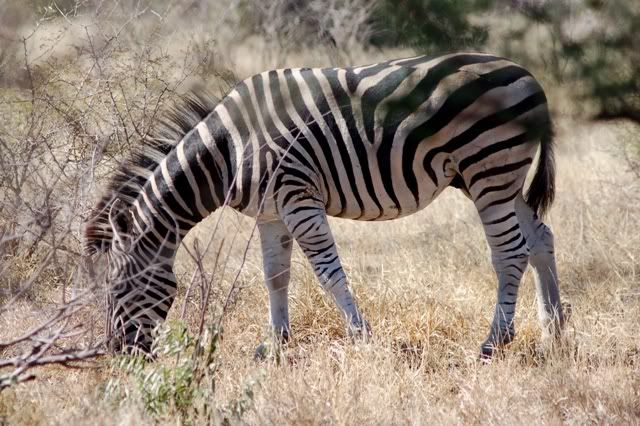 Accompanied, as per normal, by their chums...
We also found this bloke strutting around the savannah. Watched him for quite a while, but he didn't produce the goods of a kill.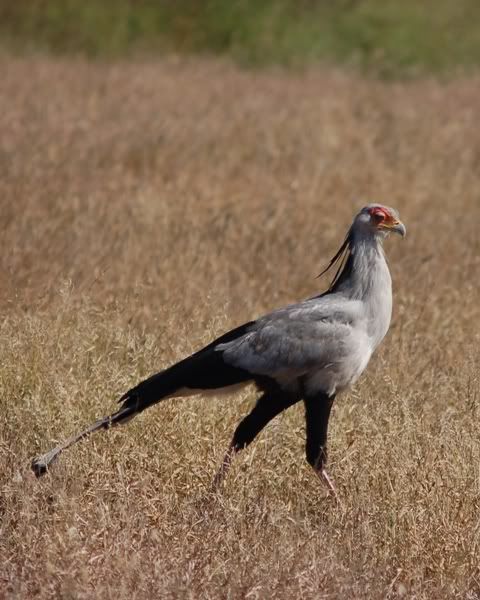 We decided we would get off the main road, and head into Satara via Timbavati, hoping for some cats. Regrettably none, but we did spot a couple of reedbuck, and a suni. Also our first waterbuck.
Timbavati was lovely, with no primates to disturb the peace, and our planned brunch became lunch. Fried up some bacon, sausages and tomatoes, and made sarmies.
Back on the road, the tribe drifted off to sleep, and I was sole spotter in charge. Saw an ENORMOUS warthog, that I actually thought, just by looking at the hump of the back above the grass, was a baby rhino.
On the Orpen-Satara road, found some nyala under a tree, SO deleted, grrrrrrrrr. Also lots of kudu, and one chap in particular using his curlies to pull branches down to get at the leaves, deleted, double grrrrrrr.
We got into camp quite late, testament to my ability to travel really slowly, and average 17km/h!!! Kids got bored quite quickly, and started getting quite edgy after a couple of hours in the car.
I took a walk around the camping area to find some mates of ours, whilst the SO did the brunch dishes. Was a little melancholy that Satara has become so dry, and a little dilapidated in a way, but I guess that is nature's way. Found the birding in camp to be superb, with loads of hoepoo, crested barbet, loerie, and reportedly some plum coloured starlings.
Said mates found us when we returned from the shop, and said that whereas we'd gone west and experienced lean viewing, they'd seen pretty much everything in the east (Gudzani road), and concluded their afternoon with lion at Nsemani dam. Even a hyena alongside the road, heading into camp.
We cooked up our dinner, cleaned up, prepped for a late-ish departure, and then the cold hit. OMG. After initially planning to go across to the caravan folks for coffee, we chickened out, apologised via SMS, and climbed into bed to read.
Last edited by
Perks.
on Mon May 28, 2007 2:03 pm, edited 1 time in total.
Last trip: New Years in Skuks and Satara
Next: ....................................................
---
Junior Virtual Ranger

Posts: 86
Joined: Mon Apr 02, 2007 12:40 pm
Location: Centurion / Knights
Apologies BB, herewith Part 3, moved, and I will henceforth try for smaller chunks. Problem is, I love writing, and can dab away for ages without realising the length problem!
23 May - Satara to Skukuza
I was up and about at 6, as per normal, while the tribe took advantage of dad's grudgingly sanctioned lie-in.
Some of the birdies in camp...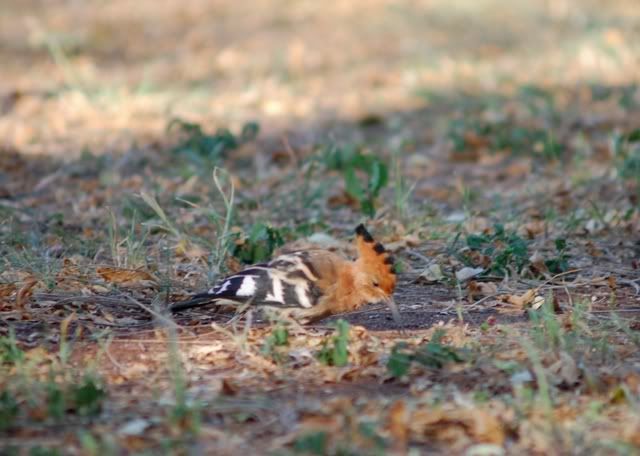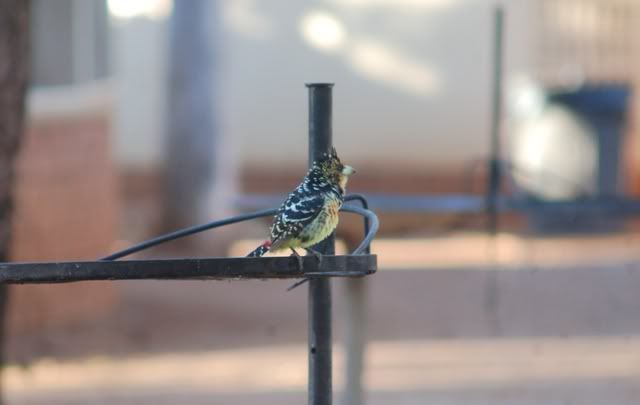 Planned route for the day: spot the leopard at the river just south of camp, then head west for breakies at Muzanzene, get back on the tar, take a break at Tshokwane, stroll into Skuk.
No leopard, but just outside camp we found a lone baboon in a tree. Not a fair trade!
At Sweni waterhole, we found this big chappie...
The Sweni road was desparately quiet in terms of game, but we got these two just outside Muzanzene. The perfect photo for highlighting waterbuck features... the male's horns, the female's absence thereof, and of course, the target!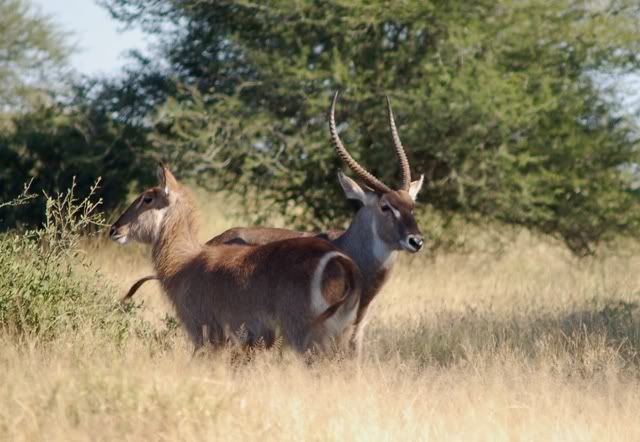 We also saw lots of coucal, this guy stuck around long enough for a portrait...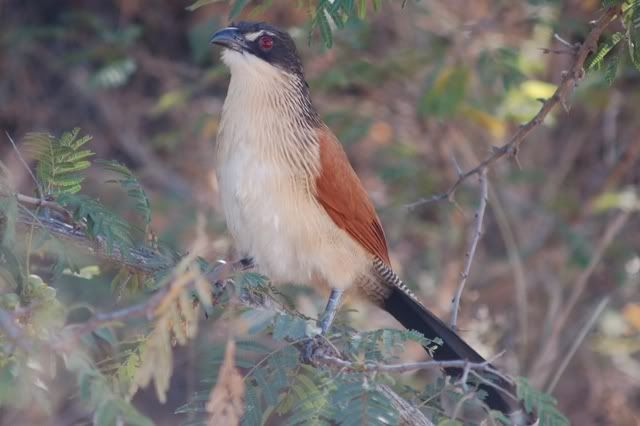 My first time ever to Muzanzene, and it was lovely. Peaceful, and no primates for a change. I am reliably informed that the girls' loo did have a bit of a pong about it though. At breakfast I got a bit of my cereal wedged in a tooth that has been giving me some grief of late, and as a result, got the mother of all toothaches. Which is just dandy when you have 37km of gravel ahead of you, a trailer behind you, and some severe corrugations to combine it all.
As a result, I just wanted to get onto asphalt, and drove as fast as I dared, within the limit though, to get it over and done with. As a result, any game there was, was either chased away, or was not seen. We still saw the usual impala and kudu, including this delightful chap...
In spite of my haste, it still took a good hour and a half to cover those 37km, and my tooth was raging when we hit the tar.
It was now well past lunch time, and we were low on petrol, so we decided to concoct some lunch at Tshokwane. Grabbed the cooler and the picnic basket and what bread we had, bought some extras at the ridiculous shop, and had a meal fit for a prince. Pies, leftover braai meat, cold meats, sarmies with wholegrain mustard, peppadews, coolies, and for me, two panados, followed a short while later by a frosty Kassel. All credit to my Camp Master 12V cooler, which does an amazing job of keeping frozen stuff frozen, and the drinks chilled, on long drives between camps. (Not to flog a dead horse or anything, but once again, the only negative was The Primate Problem of course.)
Problem. Petrol. Although Tshokwane is listed as having fuel, this is apparently not for sale to the general public, and we would be forced to limp into Skukuza with what we had. The gravel done at a good lick with the trailer had taken its toll, and we were on the last dregs in the tank. Fortunately the bush south of Tshok becomes riverine and dense, and sightings become few and far between, so we could move on at a constant 35km/h or so, designed to reduce fuel consumption, what with the warning light already glaring at me menacingly.
As we toured down the H1, we saw on the map a little shortcut, 2km vs 4km, and although it's gravel, felt it would save us some fuel. So whereas everyone else used the tar, we went the dirt, drove around the first corner, and found this...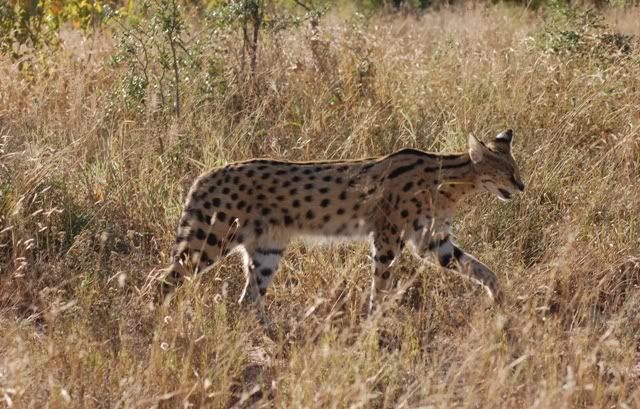 A serval! Walking in the road, I stopped and fired off three frames (of which only one has been retained, so we'll never know) before he disappeared into the bush. He was so close, I had to pull the lens back to 103mm. At least that made my day!
Nonetheless, we pressed on, and did the legendary Marula Loop, but saw nought. Sightings board at Skuk showed leopard on the day, as well as the previous day, so we felt a touch unlucky.
On arrival in Skukuza, the missus went across to check in, while I went to put petrol. I told the bloke to stop at R450, before the bank phoned to ask 'what the f$@# are you doing?', and it still wasn't full yet. Only ever ran out of petrol once in my life, and that was as a youngster, and here, in the space of three days, in an ultra hostile environment, I'd almost done it twice! Oops.
Our hut, 160, was down by the caravan sites, and was comfortable enough. Again we had lots of dishes left from our meals on the road, which left no time for a late drive. Not that we were in the mood, all feeling a bit shattered after limping into camp.
We did a nice braai for dinner, and called it an early night. I read my book, but barely managed five pages before sleep overtook me.
Thursday would bring with it the drive into the south proper, and Pretoriuskop, where we'd be stationed for three full nights, not burdened with the daily slog of packing and trekking.
Last trip: New Years in Skuks and Satara
Next: ....................................................
---
Junior Virtual Ranger

Posts: 86
Joined: Mon Apr 02, 2007 12:40 pm
Location: Centurion / Knights
A break from the tedium of my volumes, let's talk about something else!
I will carry on with trip reports tonight.
Cars 'n' Stuff
On our two previous trips we had a hatchback, and an estate, and in both cases, we folded down the back seats, put in a blanket, chucked in a bunch of toys and pillows, and the kids were set. When the spotting got tedious they had a nap, or played.
This time we were in the Awesome Blue Volvo. Which is an S60, and is a sedan. So we were worried the kids would play up when the going got boring. And we were dead right! We will have to give this a long hard think before our next trip.
Nonetheless, the car was brilliant. Being an auto, it's always in the right gear, and there's no bunny-hopping or stalling when you forget to hit the clutch in a manual. Like I did when I took some folks out in my dad's Touran!
On the drive to the gate, we averaged 11.5 l/100km, because of the twisties around Tzaneen and Polokwane. Which for a large car and chokkablock trailer, is quite good I think. Then, as per MM, once in the park, the consumption dropped, which had me seriously confused. By the time we filled up, it was down to 9.91l/100km. Admittedly that was from doing mostly tar, from Olifants down to Skukuza.
Between Skukuza and the splash 'n' dash I did at the Middelburg Ultra City, we did mostly gravel around P'kop, and a lot of soft sand to boot, and the consumption was 11.2l/100km. This was what I expected, with all the stop-start driving, as well as getting up the escarpment on the N4.
But the car is remarkable. I love it to bits, it has taken us on so many long trips with consummate ease, and outstanding economy and comfort. It got truly abused this week, and come the weekend, will get a good polish, vacuum, and all the trim bits buffed up. It just had a wash, and I simply could not fathom the amount of dirt, gunge and elephant poo that came off!!!
But the wife and I had a good chat. If we really get into this, we are going to need a vehicle more suited to the park. First prize would be an oldish (90s) Microbus... loads of room for kids, and being oldish, would not feel too put out by abusing it from time to time. Problem, it would be a second under-utilised vehicle, unless we sell the Getz. But then again, the Getz gets used all the time in the city role, where it is perfect. Plus all the negatives associated with the Microbus. Oi vey.
An alternative is to flog the ABV, and get something more mod, but that suits our needs in terms of the park. Judging by the popularity of vehicles seen in the park, the two that stood out for me, were the X-Trail and the Touran. And driving my dad's Touran, I have to agree. It has better height than a sedan, lots of space, and is well bolted together. Pity it's a VW, and pity that if you want a turbocharger, it has to be diesel. Why can't VW put in the 2.0T FSI engine? Or even the old 141kW 1.8T from the old range of VW/Audi models?
Last trip: New Years in Skuks and Satara
Next: ....................................................
---
Junior Virtual Ranger

Posts: 86
Joined: Mon Apr 02, 2007 12:40 pm
Location: Centurion / Knights
No trip report last night, left the camera at work, and all the images on this PC! And had geyser failure this morning, brrrrrr, so not the best day I'm having. Nonetheless....
24 May - Skukuza to Pretoriuskop
Another lie-in for the tribe, and I was getting anxious. Two out of the big five, no sure sign of lion or rhino, let alone leopard. But we had our skottel brekvis at camp, and hit the road around 9, after first scratching the bejaysis out of the car, by reversing into the trailer.
We basically had three hours to kill, with checkin only allowed at 12, but we also knew that being the heat of the day, game would be scarce.
We left the H1 5km out of camp, for Shirimantanga. A lovely brown snake eagle, and some baboons, but generally quiet, not even funt. Had a good look around the massive rock outcrop, and spent some time at the adjacent waterhole. Masses of impala, zebra, waterbuck, willies, lovely.
We then rejoined the main road, and I forgot all about Mathekenyane.
Hit the H1 (Napi), first port of call, Transport Dam. Very quiet, save for a lone flatdog...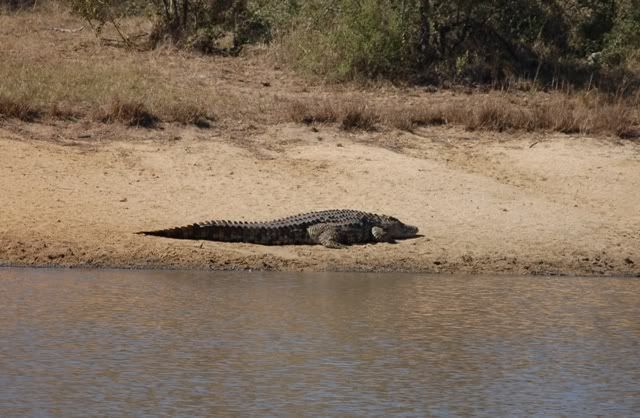 Back on the road, we got our first "kill" of the trip, Bataleur having a nice lunch of sushi field mouse (or similar)...
We took all the gravel roads available, and strolled into camp just after 12. In Pretoriuskop, we got hut 135, which the camp map has transposed with hut 136. So we nearly had a verbal altercation with some lovely Canadian folks, before we realised the mixup was minor.
My folks had family cottages 113 and 114, for them, and the family, and were already on site, so the kids were thrilled to see Nan and Grampa.
After settling in (for three nights, so no more packing up schlep, yay!), I took a stroll down to the fence, and found black collared barbet in the trees. Off to the shops to get some bread for our toasties, and the leftover tomato offcuts were placed on a concrete drain surround, with the blessing of the camp staff, who allowed me to leave the inner fenced area.
After lunch, strolled across to the folks, and on the way, saw that our tomato bits had been partly consumed! Trust it was the barbets, and not the thieving little bast@rd monkeys.
We decided that since I had been so obliging with late lie-ins, we would have a long afternoon drive, as well as sparrows-fart Friday AM drive. We decided to do the famed Voortrekker Road, drive as far as possible, set a cutoff time, then U-turn and return. This would also be my SO's first drive in KNP!
Loads of impala, kudu, waterbuck, jeeraff and zebra, but oddly no wildebeest. 4.7km from the H2-S14 intersection, we came across what SO and I thought was simply more impala, and drove by. But my daughter was adamant, that while there was one impala, there was a buck that was bigger, and didn't have black stripes on its bum. Bless it, it is so observant, I could have burst with the pride of it, this is what she found...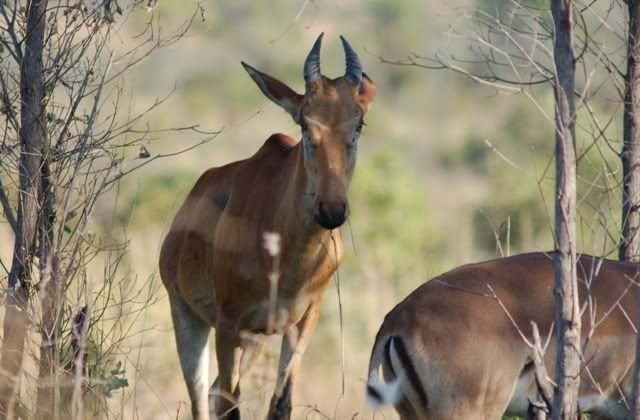 Liechtenstein's hartebees, one of the rare species of antelope, which we duly transcribed into the appropriate register back at camp.
The SO also got this opportunistic pic that we called,
Kiss my @rse
...
A couple of further kays down the road, the SO saw something dark in the road, across a valley. She was convinced it was rhino, and have the car a bit of welly. Truly...
The arrival of the delivery van had scared the second guy out the bush, and both were kinda spooked, and they came running down the road, towards us. Which had the SO furiously selecting reverse, and tearing back down the road! But we were thrilled, our big five drought was broken.
On the drive back, adjacent to the quarantine camp fences, we encountered another pair, mum and baba...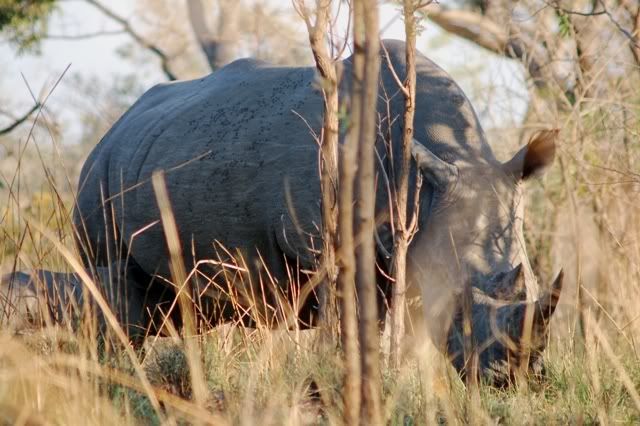 All in all it was a super drive, and pending time constraints, I would have liked to exit the park on the Sunday morning, down Voortrekker, and out at Malelane, given we had the whole day. I was convinced the road would also offer up sable, and possibly some cheetah in the open scrub between the sticks left by the fire.
Back in camp, our folks had also come back from their drive, and found another couple from their complex at Mestel Dam, and duly invited them to the evening braai, and the weekend's festivities, more on that later.
We had a super braai for dinner, but it got cold quite quickly, and we all scooted indoors to eat. Must say, was rather green with envy at the luxury of the family cottages, compared to kaya 135! With an early morning ahead of us, we called it quits.[/b]
Last trip: New Years in Skuks and Satara
Next: ....................................................
---
Junior Virtual Ranger

Posts: 86
Joined: Mon Apr 02, 2007 12:40 pm
Location: Centurion / Knights
05h45 - Wake Up! This is your Nokia! Wake Up!
25 May - Nan's 60th Birthday
Boiled the kettle, prepped the coffee basket and rusks, hauled on some track kit over the jammies, and piled in the car. Out of the gate by 06h05. Which was kinda pointless... it was still dark, and I am nightblind. Doh.
Nonetheless, the plan was to have coffee at Mestel, then do the loop back, then a bit of the Napi road, and a first look at Shitlhave Dam.
At the entrance to Mestel, we encountered a herd of buff heading down to drink. Kept our distance, switched off, and enjoyed. When along came Mr Jeep Jockey. Untamed Something Safarais and Tours or something. Drove right up to them, which got them
moerig
, and they all about-faced and went back west, away from the water. I was so cross.
It was 4 degrees at Mestel, and spooky, with the mist rising off the water...
We enjoyed a lovely sunrise though...
... amply improved with fantastic coffee and rusks.
Tangent...
A couple of product endorsements at this time, if I may. Firstly, cups: we've been using the boggo plastic jobs out of our picnic basket, but acquired some of those Kruger branded, f@*% expensive jobs with tops. They are great. Keep the brew warm, prevent major spillages, and if you prep the ingredients before you leave, you don't have to schlep your coffee / hot choc / sugar containers with on the drive. So whilst not specifically thumbs-upping the Kruger models, mugs with lids are winner! Secondly, flasks. My mum gave us this jug type effort for our anniversary, with a trigger release button for pouring. I was a bit skeptical about it sealing well, and would have simply used one of the many stainless steel plain ones I have received at conferences. Nonetheless, we took the jug one on the trip, and it is sublimely good. We had tanked up on boiling water at Skuk the day before (~ 09h00), never used it, and when we emptied it out for this drive, it was still lukewarm, 21 hours later!!! It's a Leisure Quip branded one I think, and holds 1.5 litres, which is enough for a complete first round of coffees, as well as a smaller topup dop.
Anyways, we continued our drive, same collection of herbivores, more rhino, not much photo-worthy, barring this rather handsome waterbuck...
At Shitlhave Dam we spotted heron and plovers, hippo, and a herd of zebs came down to drink, right on the eastern edge, by the dam wall. They were completely spooked by
something
in the water, and resorted to tearing across the front of all the parked vehicles, to drink at the north-west side. We also managed a second helping of hot drinks.
The folks pulled in too, and reported much the same as we had seen. They had done the circular / Fayi combination.
Back in camp we pottered around for the morning, and welcomed more of the friends and family who'd be joining us for the big paaaarty. Around 13h30, Oom Jan drove in to tell us about seven lion seen off the road just north (0.5km) of Mestel, so we piled into the Touran, and tore off, leaving messages with all and sundry where to find. At this point, some clarification required... my map, and the
Kruger Map Online
show the access road to Mestel as the S1. But I had seen on the morning trek, that it was marked S3. So instead of giving instructions with road numbers, I just told them all, go to the Mestel Dam road!
Anyways, after a rather brisk drive (no ticket, the man in his silver Astra with blue light was around, and we obeyed the law), we came across motor vehicular 'carnage'... cars for Africa. Uncle in his Prado could see over the cars, and pointed out the lions, so we drove through, made a U-ey, and returned. At which point the differences between our cruddy Vivitar binocs, and mum's Nikon pair, became evident. So guess what I want for Christmas!!! Took a photo or two, but as can be seen, one needs a wee bit of instruction and or imagination to recognise the tan coloured object as
panthera leo
!
We drove back towards Mestel, and found the buffalo herd within spitting distance of the lions, as well as couple of rhinos that plonked themselves down in the midst of the herd, much to their consternation. Turned in at the dam, to watch some more hippies...
... and to give instruction to everyone turning in, to head half a kay up the road, for the rather special occasion of having three of the big five, within 300 yards of each other, barely ten minutes after entering the park at Numbi!
Our late afternoon drive on the Fayi and circle road in a clockwise fashion didn't offer up anything, and we were back in camp to set up for the shindig.
This being the reason we were all gathered, my mom's 60th. Much to my dad's chagrin, my mum had their trailer packed full of odds and ends, that would all combine for the big do. As well as enough grog to put Makro out of business.
My mum and all her helpers did a fantastic job with decorations, lighting under the trees, food (snacky starters, five different main courses, dessert), logistics, everything. The camp were superb with their assistance, specifically providing us with large tubs of solid ice for coolers, at no charge (pre-arranged from Jhb), an extra braai for the next evening, getting the gas oven going properly, and allowing Philip, the excellent chap who ordinarily maintains the unit, to do so after hours, for dishes and glasses.
Unfortunately my boet arrived late, having only left GP at 14h00, and needed an escort from the gate to camp (arranged en route), for which R150 was charged. But a super party was had. All in all we numbered 40. Think about that... the logistics of catering a complete function for 40 people, 450km away from home. And of course the effort made by all the attendees to actually be there. There were folks distributed in huts and caravans all around the camp. Top effort all round!
Fortunately we were down in the bottom corner of the camp, and hopefully didn't disturb the peace too much. We deliberately played no music, and after 21h00 (official camp quiet time), moved closer in to the cottage, to contain the chatter.
By 22h30 it was pretty much all over, and we hit the sack. No serious early drive planned, what with communal skottel brekvis the next morning at 9.
Last trip: New Years in Skuks and Satara
Next: ....................................................
---
Junior Virtual Ranger

Posts: 86
Joined: Mon Apr 02, 2007 12:40 pm
Location: Centurion / Knights
26 May - The Aftermath
Roused from my slumber...
Alive? Check.
Is it morning? Check. Have heard cars starting, and there's light coming through the curtain edges.
Hangover? Check. Marginal though, a very tolerable 2.5 on the Richter Scale.
Re-attempt sleep? Not possible. I am in the KNP d@mmit, if I don't go out, I'll be berating myself this afternoon, that I
might
have seen something if I had gone out.
So I'm up, in my boxers, t-shirt, a jersey, and slops. With a hot brew, in the car, in the bush, 06h45. Solo. Did the circle road, all the little loopies, ending up doing Fayi counterclockwise. Unfortunately only one pair of eyes, and using that pair to follow the road, pickings are poor, and I'm back in camp at 08h00.
Shower up the kids, grab our stuff, and we're off to the communal greasy fry-up at 9. And it's organised chaos, with bacon and eggs and mushrooms and toast and tomatoes and I dunno what else being prepared and scoffed. Marvelous organisation again, with skottels brought in to assist. Another equipment endorsement again at this point! Cadac's new paella pan. It fits over the blue base of the normal skottel, but is flat, so much better for stir fry or fried eggs, where the normal skottel sees everything sliding down into the middle. It has a machined base for good heat distribution, and is surfaced like Bauer cookware, rather than the smooth enamel / teflon of the skottel. I don't have one, my dad does, but it's very good. Downside is the price... R300 apparently, but it does come with it's own bag.
After breakies, everyone's just lying or sitting around, enjoying being together in the bush, chatting, kids playing on the grass (cricket, running races, with a soccer ball etc), chasing the ...
Around lunchtime, although it's warm and sightings should be minimal, my mom decides she needs a drive. Well deserved, seeing as though she did all the legwork for the party, and forewent a morning drive. So I take her, my sister in law, and her kids, for a quick drive down Voortrekker in the Touran. Not much to see I'm afraid, and we're back by mid-afternoon.
Everyone is still mucking about on the lawn, and my missus goes to the Touran to get dad's camera, to take some photos. Disaster! She slams her thumb in the car door. But so tight that she can't just pull it out, has to re-open the door.
Within minutes it's puce, and swollen. Several pain killers later, it's tolerable.
Some of us trot up to the shop area, where they've set up the rugby. Where my cuz discovered another use for the drinks holders in our camping chairs...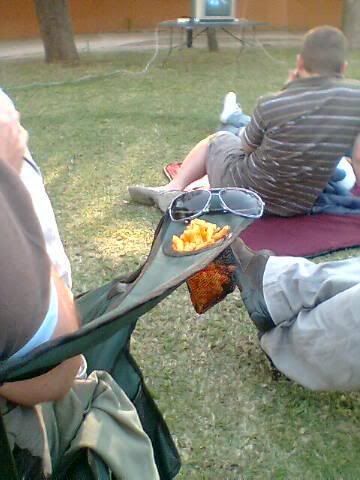 (Yip, NikNaks storage during the game! Cellphone pic, 'scuse quality.)
Late afternoon, second half, with the boks drilling the poms, just the two of us go for a last drive, kids opt to stay with assorted grannies, grampses, aunties and uncles. On the main road, we find yet another rhino, walking under a power line, in the servitude...
And at the spot where the lions had been the previous day, we find another two...
And yet more on the road back into camp.
Back in camp, a kindly gent tells us that if we go here, there, and so many kays there, so many feet into the bush, we'll find rhino.
So we bite our tongues, trying not to tell the guy that we've seen every flippin' rhino within a ten mile radius of Pretoriuskop, and not to bother!
Our dinner for the evening is a communal bring 'n' braai. With most folks having arrived on the Friday, leaving them quite tired at the official party, most are now well rested, and a jovial get together ensues, what with the mountains of food and drink left over, to go with the braai. Again, apologies if the peace was disturbed, but we did try to keep it down, and isolated to the cottage.
The SO's thumb is now in agony, and any thoughts of a long drive out, and lazy drive back to Centurion are banished. She needs to have that digit X-rayed. I'm also reluctant to try a local hospital, in case it needs surgery, necessitating a stay down in the lowveld. So Unitas it will be, as direct as possible.
27 May - Departure
It takes us an age to pack up, and my brother is quite tardy in particular, so my dad wants to pack the campcot in the trailer, and it's still at boetie's hut. Nevermind, we all get done and out by 9, and after faffing at the shops (coolies for the road) and petrol station (tyre pressures), we're on the road. At 09h50, we're back in the real world.
For what it's worth, the SO's thumb was not broken, but the massive haematoma underneath the nail did need draining to ease the agony, for which two holes were lanced.
We'll be back though! With Wild Card in hand, we are doing ourselves an injustice not to return. Planning on the following short trips...
21-24 September (long w/e, so will have to get jacked up re a booking)
30 April - 4 May 08 (1/5 is P/H, 2/5 will probably be school holiday, plus the w/e)
We will in all likelihood camp, and probably look at Berg n Dal and Croc Bridge, since we haven't stayed there yet. Bring it on!
[/b]
Last trip: New Years in Skuks and Satara
Next: ....................................................
---
Junior Virtual Ranger

Posts: 86
Joined: Mon Apr 02, 2007 12:40 pm
Location: Centurion / Knights
To Conclude - A Word about Pretoriuskop

I'll be honest, before this trip, my memories of P'kop were not that nice. My first trip to the Park that I could remember, 1976 or so, we stayed a night in each of P'kop, L/S, and Skukuza. And P'kop was grim (to my then five year old's mind).

In our 1984 trip (which was also our first ever in a caravan), our first night was in P'kop, we arrived in the dark, it was puking with rain, six of us (mom, dad, three kids, plus cuzzin) in a Jurgens Fleetline II, my mom trying to fry up some boerie for dinner, dad doing something of a job to put the caravan feet down, no chance of putting up the side tent, and mud for Africa should you have needed to go to the loo.

On a school tour two months later, we had no hot water, and the master in charge insisted that we shower anyway, middle of June, nice one, wise @rse.

Plus of course the benchmark for me is Lower Sabie, so as we approached this weekend, P'kop was on a bit of a hiding to nothing. Moreso having seen first hand the 'regression' of Satara in the heat and drought.

But boy was I surprised. There's lots of lawn for the kids to play, very few thorns compared to the circles at Satara, and the whole camp was super neat. The trees are losing their leaves, which exposes the huts to the winter sun, but when they return in the spring, they provide shade.

The impala and guinea fowl roaming the camp are a delight, and warthog can also be seen on the strip between inner and outer fences.

P'kop also has a fair number of budget units, which is my cup of tea... I just want a place to sleep, and boil myself some water for a mug. Even if I have to stroll to communal ablutions blocks or kitchen, I am OK with that.

Of course it does also have more upmarket accommdation, the family cottages being fantastic IMO.

Up at the shop and amphitheatre, they are still watering a bit, and the lawns and gardens are green, and would clearly be lush in summer.

Route-wise, you've got three directions, and diversity is such that you could do the same roads daily for five days, and see different things.

All in all then, I was thoroughly impressed with the camp. Plus of course the staff, who were so helpful, as alluded to above.

And that, ends my report!
Last trip: New Years in Skuks and Satara
Next: ....................................................
---
---
Who is online
Users browsing this forum: Jesscan1 and 4 guests