Virtual Ranger

Posts: 1848
Joined: Fri May 12, 2006 4:10 pm
Location: SA
Contact:
Water or Marsh mongoose

The long-haired, shaggy coat is grizzled dark brown or black to reddish brown.
The fur on the legs is short and sleek. Water mongooses are good swimmers, often submerging themselves, with only the nose exposed.
The palms of the feet are naked.
A rare mongoose species in Kruger, most reports being from Sabie River, but there have also been reports from the Olifants, Levhuvhu, and Madzaringwe rivers.
They like habitats with water.

The contact calls include grunts, snorts, meows, bleats and purrs.
Alarm calls include screams, barks and growls.
Alarm signals:
Bristle hair on the back and neck to appear larger.
Often flee to water when threatened, fully submerging themselves leaving only the nose exposed.
Aggression is shown as they bristle their hair on the back of the neck to appear larger.
Staring, crouching, with open-mouthed gape, rushing snapping and biting.
To deter predators, an odourous liquid is discharged from the anal glands while backing away of rolling into a ball.

Predominantly nocturnal, and can be active at dawn and dusk.
Predominantly solitary. Home-ranges are marked with cheek gland secretions, with black and gland secretions that turn creamish with age, and with urine and dung middens. Home-ranges include well-defined paths that run along shore lines. Abandoned burrows, termite mounds and thick vegetation is used as burrows.

Breed in the summer rainy season.
1-3 cubs, weighing 125g each, are born after a gestation period that is presumed to be 60 days.
Cubs are born in a nest made of grass, reeds and sticks, in burrows, termite mounds and hollow trees and logs.
They are blind at birth and fully furred.
Their eyes and ears open at 3 weeks, and they are weaned at 1 month.

Found in riverine habitats of the Kruger park.
Back to Letaba in April, July and September
Birding Weekend 2014 - Satara 3
Exploring Letaba - '13-'14
Letaba Ladies, 3rd Edition
- '14 - '15
---
Virtual Ranger

Posts: 604
Joined: Fri Dec 30, 2005 10:33 am
I have seen them quite often at the local vlei, they are very skittish & dificult to photograph, very very rare in Kruger, the best place to spot them is along the Sabie River.
---
W@h saw a water mongoose in KNP. He mentions it in his
trip report.
I'm almost sure someone else has too, and even posted a picture, but I can't remember who.
---
Storms River - July 2008
- Dalene
---
Junior Virtual Ranger

Posts: 2357
Joined: Tue Sep 16, 2008 11:11 pm
Location: Sunninghill(JHB), Vaalwater & Beauty(Waterberg), Grahamstown(E.C)
Great Photos
I've seen these guys in the Shingwetsi Camp before, aswel as below the Skukuza restuarant........Also in Roodeplaat Dam NR, and found the spoor on my property in the Waterberg! Always solitary, and to skittish for a photo!!
So congrats on getting such good ones!!
STIFFNECKS MEMBER
FGASA LEVEL 1
---
Had 1 sighting of this species about 5-10km from Skukuza along the Sand River in the Sabi Sands. Only heard of 1 or 2 other sightings during my 2 years there.

(Also only 1 Meller's Mongoose sighting in the Sands!)
Mana Pools: 11th - 20th Oct
KNP: 27th Nov - 5 Dec
---
Oh and a great place to see them is at the Geelbek Hide in the WCNP...seen them there a couple of times!
Mana Pools: 11th - 20th Oct
KNP: 27th Nov - 5 Dec
---
Hi all, could someone please help to ID him.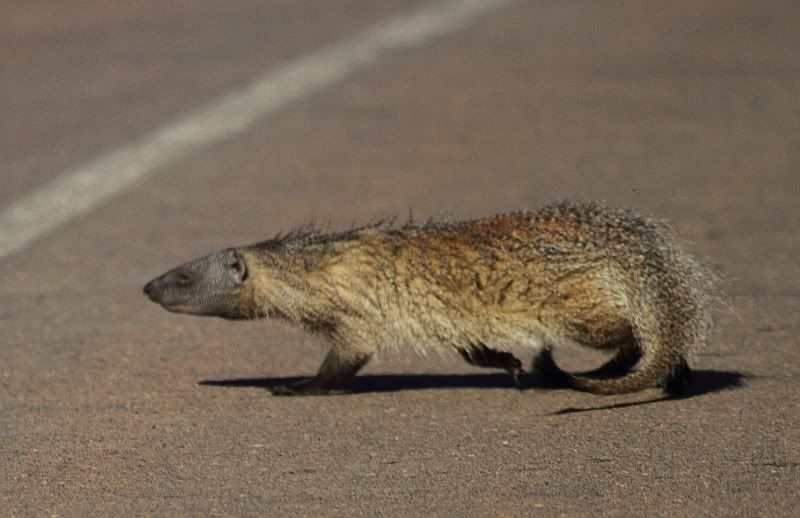 We saw him on the road, early in the morning, in the Berg.
---
Legendary Virtual Ranger

Posts: 2545
Joined: Wed Sep 06, 2006 3:33 pm
Location: Jam Street
Because us birding oaks do what we do (sit quietly hours on end...) we sometimes get some very special mammal sightings... Like this critter that came so close to my car that I battled to it in get focus!
Innitially I had no idea what this was. Only later on when I hit the books did I realise what a special sighting this was!
I got some lekka info from the Googling: This is a large and robust mongoose. It reportedly can weigh up to 4kg. This animal has a large brain that is associated with increased tactile sensitivity and muscular control of the forepaws. These characteristics enable the semi-aquatic mongoose to locate and eat crabs and other relatively hard-bodied prey. Their teeth are adapted to crush the hard outer shells of shell fish, rather than to shear. This is the only member of the family Herpestidae with unwebbed feet that splay on soft substrates. This trait results in a very distinctive spoor.
They are supposedly solitary in habits, a semi-aquatic and nocturnal species. Supposedly so I say, because I saw six of them running together down well-defined pathways along the shorelines of the road underneath the power lines that cross the wetlands near the Hadeda Bird Hide in the Marievale bird sactuary.
An interesting habit they use to catch a bird: the mongoose lies on its back and looks as if it's sunbathing. In this position, the pale, pink anal area assumes a startling prominence against the surrounding dark fur. This display is claimed to induce birds to approach and peck at the anus, whereupon the mongoose seizes the bird.
When the mongoose is cornered or distressed, it reportedly ejects jets of foul brown fluid from its anal sacs.
Useful thing, that anus!
728 Latest lifers: Hartlaub's babbler, Coppery-tailed coucal, Red-billed spurfowl, White-browed coucal, Scharlow's turaco, Copper sunbird, Long-toed lapwing, Eastern bronze-naped pigeon, Malagasy pond heron, Soft-plumaged petrel, Orange-winged pytilia.
---
Forum Assistant

FAC Member (2017)
FAC Member (2016)
Posts: 5006
Joined: Fri Sep 08, 2006 6:06 am
Location: Boons NW
Johan.
Stunning pic/sighting
---
Junior Virtual Ranger

Posts: 179
Joined: Tue May 19, 2009 7:47 am
Location: Amanzimtoti, KZN, RSA.
These creatures are common residents in the sugar cane fields along the Natal coastal areas.

Seen daily should you be driving through cane fields.

Gerrie.
---
Quite common in the Cape . Afrikaans name " kommetjiesgatmuishond " -- " little-dish-hole-mouse-dog ".
Tread softly , and let your departure not be spoiled by the damage of your arrival
Next :
3 - 6 Sept 2013 - Punda.
7 - 10 Sept 2013 -Shingwedzi .
11 - 13 Sept 2013 - Balule .
14 - 17 Sept 2013 - Satara .
---
---
Who is online
Users browsing this forum: No registered users and 2 guests